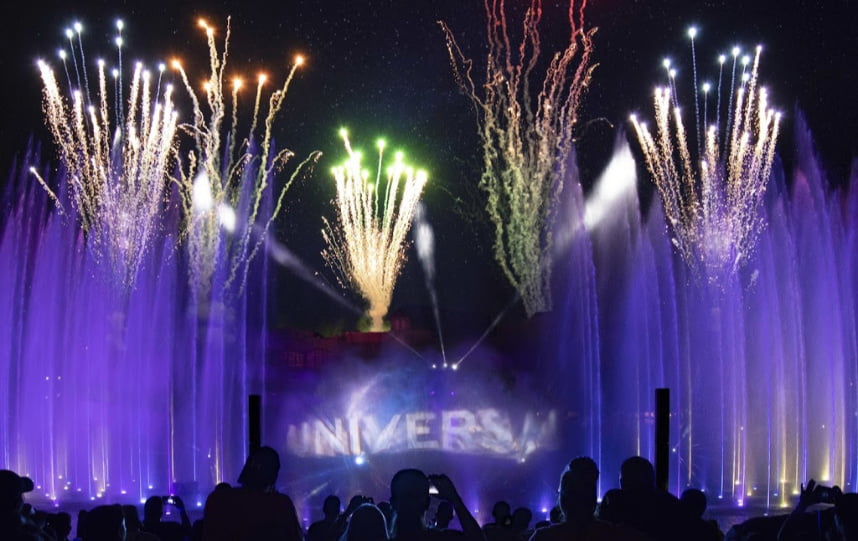 From December 24 to December 30, 2018, Universal Orlando Resort will offer an all-new Exclusive Holiday Viewing Area & Dessert Party experience, which gives guests the opportunity to view Universal's Holiday Parade featuring Macy's and Universal Orlando's Cinematic Celebration from an exclusive, VIP viewing area.
The experience starts at 7pm with a fabulous vantage point of the Universal's Holiday Parade featuring Macy's in the Hollywood area of the park and includes:
An assortment of beverages, including coffee and hot chocolate.
Prime viewing of the incredible floats, larger-than-life balloons and favorite characters that take to the streets of Universal Studios during the parade.
Then, starting at 8:45pm, guests will gain access to a special viewing area for Universal's Cinematic Celebration. The experience includes:
A variety of specialty and seasonal desserts, sparkling wine, sparkling cider and more before the show.
Prime viewing of the show, where guests will watch as a colossal celebration of characters and some of the world's biggest films come to life in the Universal Studios lagoon. As music from the films fills the air, scores of shining, dancing fountains erupt. Massive walls of water blaze with incredible movie moments and powerful projections bring the entire waterfront into the movies.
DETAILS
The "Exclusive Holiday Viewing Area & Dessert Party" is available daily from December 24 through December 30, 2018 and tickets are on sale now.
TICKETS
Tickets for adults are $49.99 plus tax, and tickets for children (ages 3 – 9) are $29.99 plus tax. Separate theme park admission is required. For more information and to purchase tickets, visit www.universalorlando.com.
All images by Universal Orlando