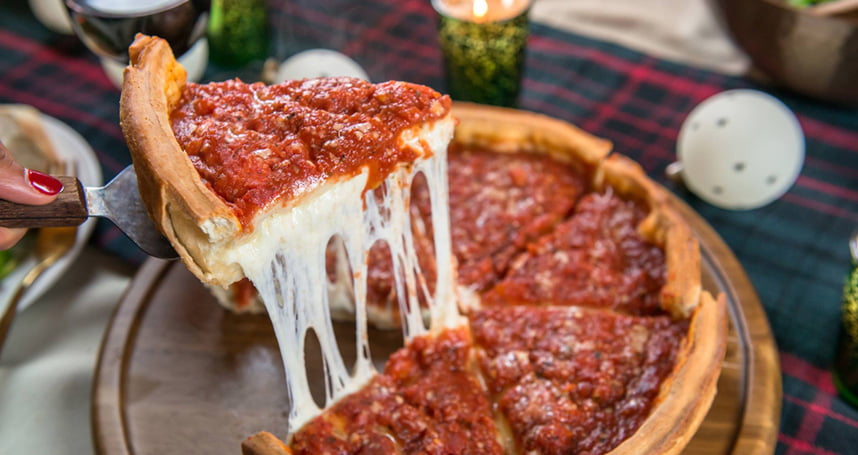 The Windy City couldn't be more different than the Sunshine State. But thanks to long, dark winters, many midwesterners flock to warmer climates for several months of the year, meaning the influence of Chicago has made its way south as well. If you know where to look, you'll find elements of Chicago's food, arts, and culture all around "The City Beautiful." These Chicago style dates will make you feel like you're in the bustling metropolis of Chi-town for the night–no travel (or dealing with snow) required.
Second City Comedy –> Sak Comedy Lab
Chicago is famous for churning out the nation's best improv comedians from theaters like The Second City and iO. Keegan Michael-Key, Aidy Bryant, and Tina Fey are a few notable names who got their start in Chi-town. In Orlando, you can laugh the night away at improv clubs like SAK Comedy Lab, AdLib Theater, and the Orlando Improv. Some of these theaters offer classes, too, allowing you to take center stage.
Chicago River cruise –> Winter Park Scenic Boat Tour
The Chicago River defines the landscape of the third most populous city in the US. Locals and visitors alike enjoy the river cruise, a slow tour of the city's notable architecture and history. If you're in the mood for a relaxing amble over water in Orlando, try the Winter Park Scenic Boat Tour. This hour-long leisure ride takes you through Winter Park's Venetian-style canals while cruising by some of Winter Park's most extravagant lakefront homes and architecture.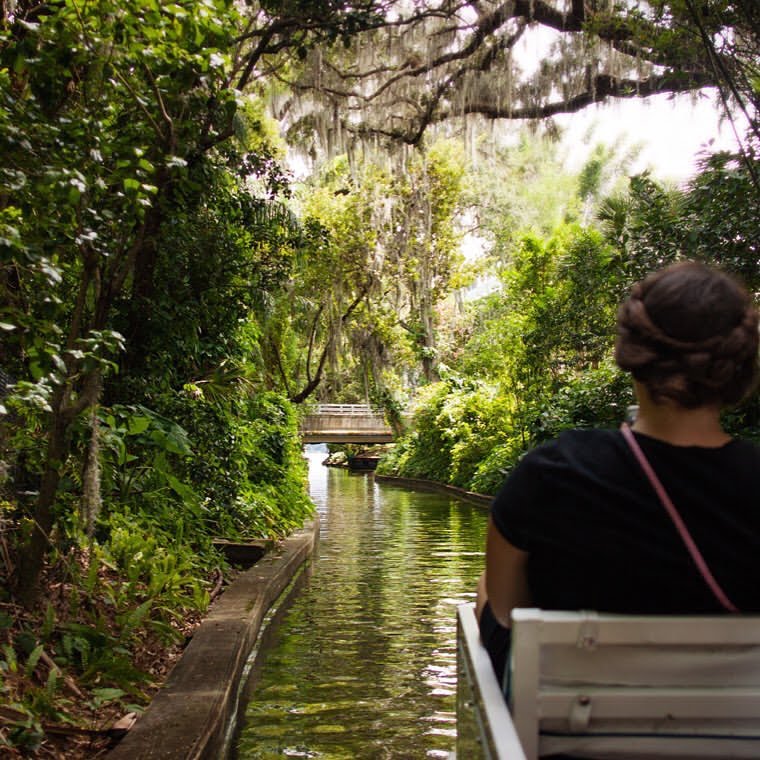 Chicago Dogs –> Hot Dog Heaven
Any Chicagoan will tell you that the Chicago Dog is an integral part of the city's identity. These souped-up hot dogs feature an all-beef frank (specifically, Vienna Beef), a poppyseed bun, and a healthy helping of yellow mustard, onions, relish, sport peppers, tomato, and a pickle spear.
For an authentic Chicago dog experience in Orlando, there is only one place to go–Hot Dog Heaven. Located just off of 436, you can't miss the giant hot dog sign towering just beyond the Colonial overpass. Expect a line if you dine in for lunch, but know the wait is well worth it. Whatever you do, don't add ketchup–a Chicago sin.
Chicago style Pizza –> Giordano's Deep Dish Pizza
Chicagoans also boast about their creation of a true American staple–the deep dish pizza. The key to a proper deep dish is a crispy, buttery crust, chunky tomato sauce, and a gooey cheese pull. Get a group of Chicagoans together and they'll argue about the true creator of the deep dish–Lou Malnati or Ike Sewell? Regardless, the closest you'll get to an authentic deep dish pie in Orlando is at Giordano's–a Chicago chain with a few locations in South Orlando.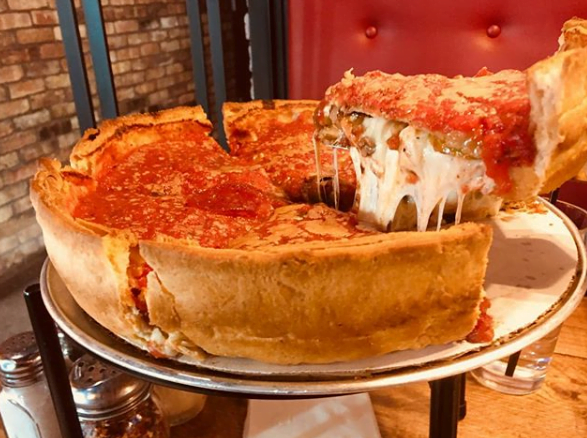 Jazz at the Shed Aquarium –> Jazz at the Alfond Inn or Blue Bamboo Center
Summer is incredibly short in Chicago, at least by Florida standards. Chicagoans make the most of it by spending their free time enjoying the outdoors. One of the most popular summertime experiences is a night at Chicago's waterfront aquarium, The Shed, where guests are serenaded by live jazz musicians. If you're a lover of live music outdoors, don't miss seasonal Get Your Jazz On events at The Alfond Inn in Winter Park. You'll also love the weekly sessions at the Blue Bamboo Center for the Arts. Here are a few other go-to places to hear live jazz in Orlando.
Chicago Cubs Game–> Spring training in Central Florida
There is nothing more Chicago than attending a Cubs game (home of the Chicago dog). Although Orlando doesn't have anything quite as magnificent as Wrigley Field, you can still catch major league teams practicing in Central Florida for spring training.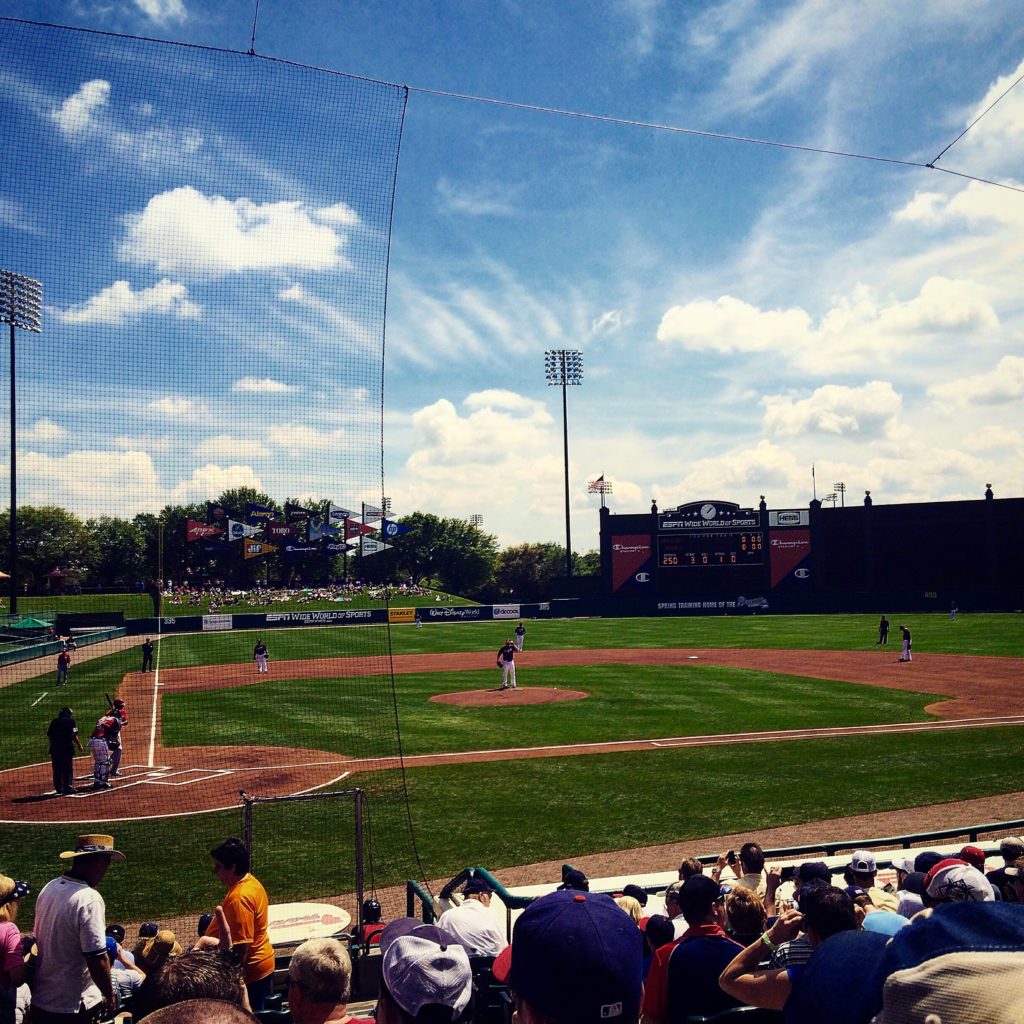 Ice Skating at Millenium Park –> Ice Skating at Central Park
Chicagoans get through the long winters by partaking in winter activities, like ice skating. The city's notable Millenium Park is home to a giant ice skating rink each year. Locals flock to the park to skate beneath skyscrapers. While outdoor skating rinks are rare In Orlando, you can lace up your skates and experience ice skating year-round at indoor rinks like RDV's Ice Den and Kissimmee's Ice Factory. Seasonally, head to Light Up UCF for holiday lights and ice skating.
Feature image credit: Giordano's