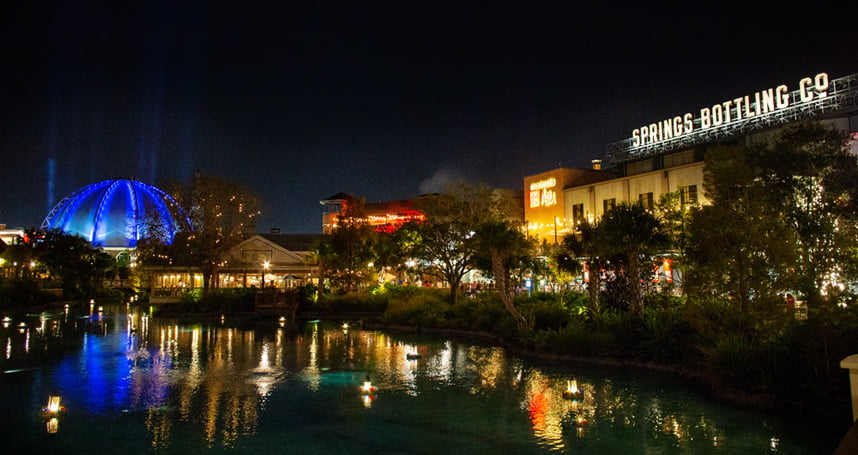 Recently engaged and starting the party planning process? We checked in with local married couple Jessica & Tyler of @theorlandoduo for their top Orlando bachelor and bachelorette party ideas.
As we're both big theme park fans, we knew we wanted to incorporate them into our wedding as much as possible. We accomplished this in a big way by getting married at the Loews Royal Pacific Resort on Universal property, but we wanted to make sure Disney was in there, too. This is why we each chose to celebrate our bachelor and bachelorette parties at Disney Springs. Outside of Disney Springs, there are tons of fun and unique places to celebrate before your big day. Below you'll find the itineraries for our respective parties at Disney Springs, as well as some other fun places to have your bachelor and bachelorette party in Orlando.
Disney Springs For The Guys, by Tyler
Stop 1: The Art of Shaving
I had my bachelor party the day before our wedding, so I figured what better way to be clean shaven for my big day than by having a professional barber do it? This is why I chose to go to The Art of Shaving for the ultimate in men's grooming. I experienced The Premium Shave which combines a shave with an express facial. The experience includes cleansing and exfoliation, a warm towel infused with essential oils, lotion, and an aftershave mask.
Our tip: The Art of Shaving has three barber chairs, so if you have a big party and plan on doing a full experience, book ahead of time! I had a small party, so I booked my experience a week in advance.
Stop 2: The Void
If you are a fan of Star Wars and enjoy activities such as laser tag and paintball, this is an absolute must-do! The Void is a completely immersive Virtual Reality (VR) action game where you're given a VR headset and backpack and go undercover as a member of the rebellion.
You'll begin with a background on the rebellion. Next, you decide what your Stormtrooper will look like. This is how you'll be able to tell each other apart when you are in the experience, so choose different colors. From there, you get your gear and your storm blaster and head off to infiltrate the Stormtrooper base.
The entire experience lasts about half an hour, although the time you are in the VR portion is a little less than 15 minutes. The cost is around $40 per person, but it's definitely worth it. You're getting married after all!
Our tip: Reserve well ahead of time. Depending on the size of your group, it may be difficult to fit your entire group in back to back slots. This virtual reality experience is done in groups of four, so you may get paired with another party.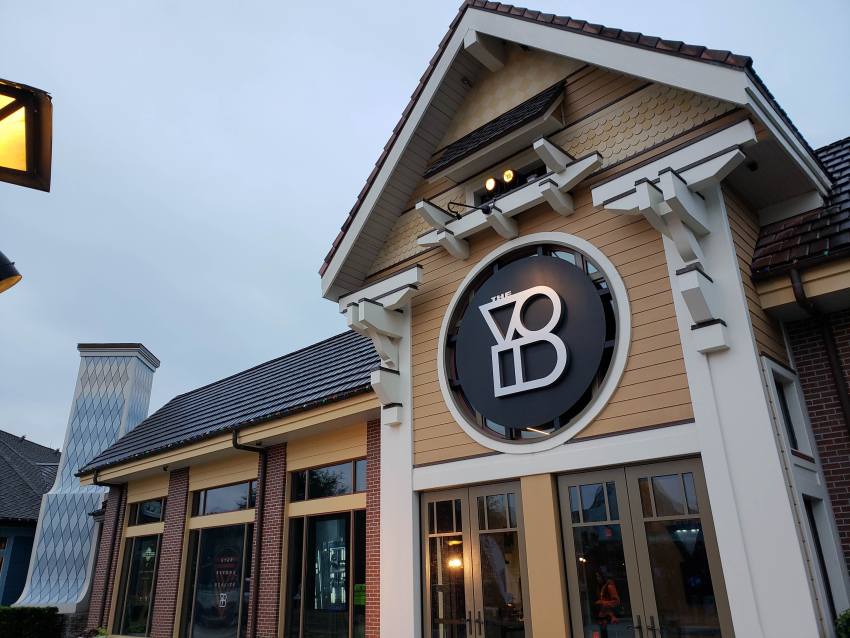 Stop 3: Jock Lindsey's Hangar Bar
Jock Lindsey's Hangar Bar is a pub/bar inspired by Indiana Jones' pilot from Raiders of the Lost Ark and is by far one of the most unique bars at Disney Springs. Even if you aren't a huge Indiana Jones fan, there is enough here to keep you entertained. The drinks and relaxed atmosphere coupled with delicious appetizers make this the perfect spot to end the night.
The drink menu consists of craft beers and interesting cocktails that will please any guy's palate. While you're there, be sure and ask about the Knob Creek Disney Select Single Barrel Reserve Bourbon — a special bourbon only found at Jock Lindsey's.
Our tip: Grab some seats outside on the boat to enjoy views of The Boathouse and live entertainment.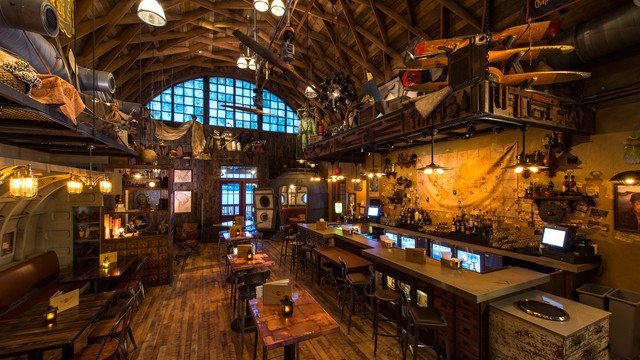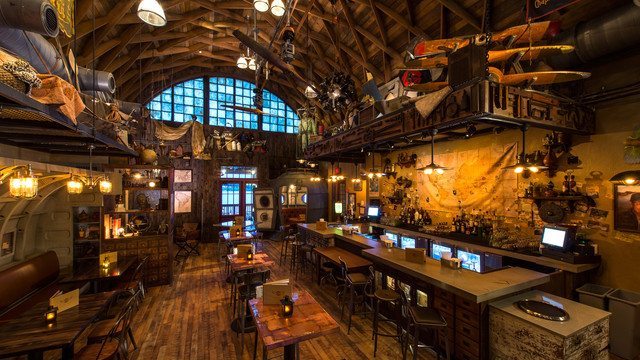 Disney Springs For The Girls, By Jessica
Stop 1: L'Occitane En Provence
While there isn't a spa at Disney Springs, L'Occitane En Provence has a spa-like ambience that helped our night get off to a relaxing start. Stepping inside the store instantly transports you to the French countryside. Take advantage of a complimentary mini facial and hand massage to help you unwind. You and your girls can even mix your own essential oils to create a special product to have as a keepsake.
Our tip: Strike some poses at the photo booth. There is a really pretty backdrop and some fun props which will make for a fun picture!
Stop 2: Splitsville Luxury Lanes
Tyler and I bowled at Splitsville when we visited Orlando while we were dating, so it was fun to return to the bowling alley the night before our wedding day.
Splitsville is a two-story bowling alley complete with a restaurant and retail shop. Reserving lanes for two hours allows enough time to order food, socialize and play a couple of games. Plus, with side-by-side lanes, you can mix and mingle between the seating areas.
The menu is varied and extensive with a full bar and everything from pizza to sushi. We made sure to order our food pretty early on when we got our lanes to make sure everyone had enough time to eat and bowl.
Our tip: Reserve in advance if you want two side-by-side lanes. You'll sign a simple contract and pay ahead of time, so you'll have peace of mind knowing everything will be set and ready for your group. Don't forget socks! Splitsville does sell socks if anyone in your party forgets.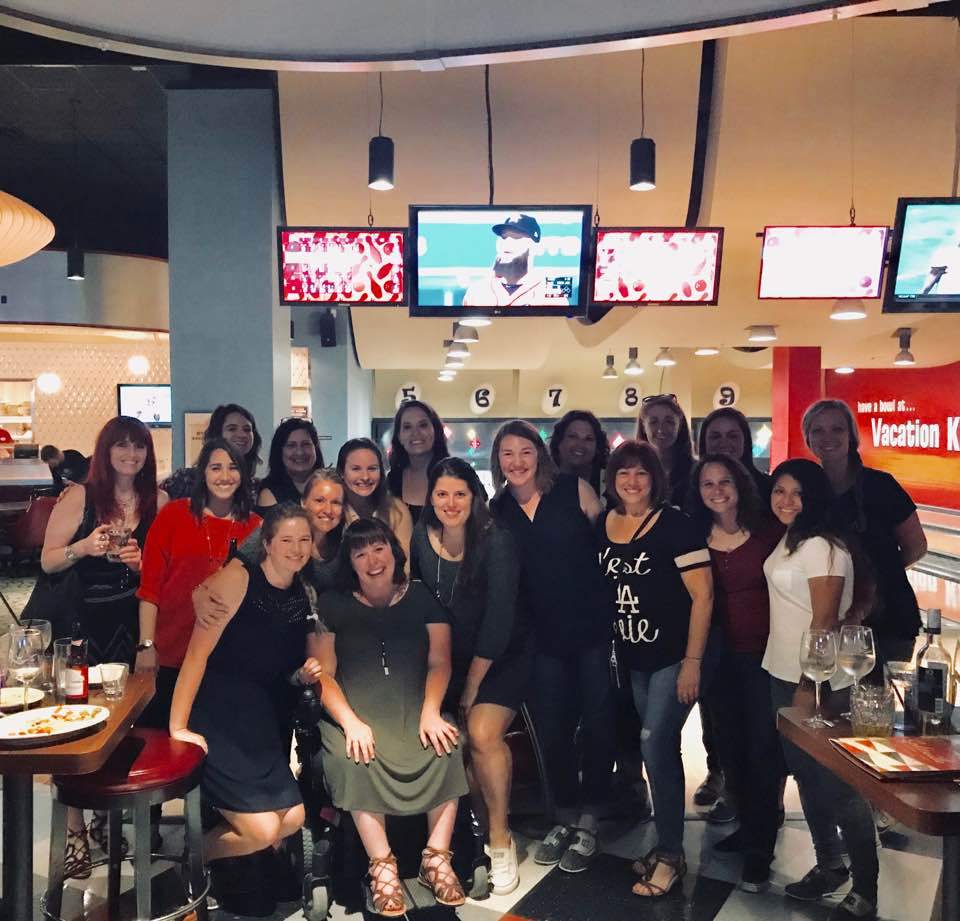 Stop 3: Stargazers Bar
There are plenty of bars around Disney Springs. With the guys taking up shop at Jock Lindsey's Hangar Bar, we decided to end our night by visiting Stargazers Bar. It's located underneath Planet Hollywood and even though it's tucked away, you are still able to people watch and take in the Disney Springs ambiance. The staff was really accommodating here for a larger group and the drinks were nice.
Our tip: Be sure to check out the bar's local draft beers (there are 16 choices). If you can't decide on one, there are draft beer flights available.
More Ideas for Celebrating Around Orlando
Disney's BoardWalk
We can't discuss Disney without mentioning the entertainment and dining options found at Disney's BoardWalk.
Here are a few ideas to inspire your party planning: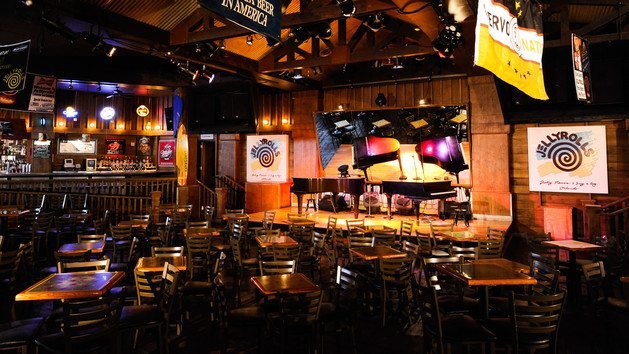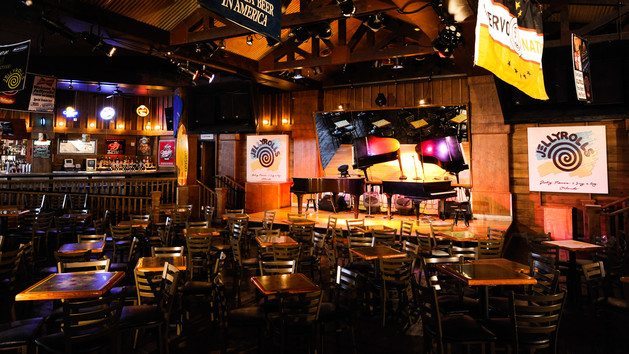 International Drive
Outside of the theme parks, International Drive (I-Drive to us locals) has the biggest assortment of activities, restaurants and bars you'll find in the whole city. No matter how big, small, young or old your party is, there is something for everyone.
Here are some awesome activities you'll find there: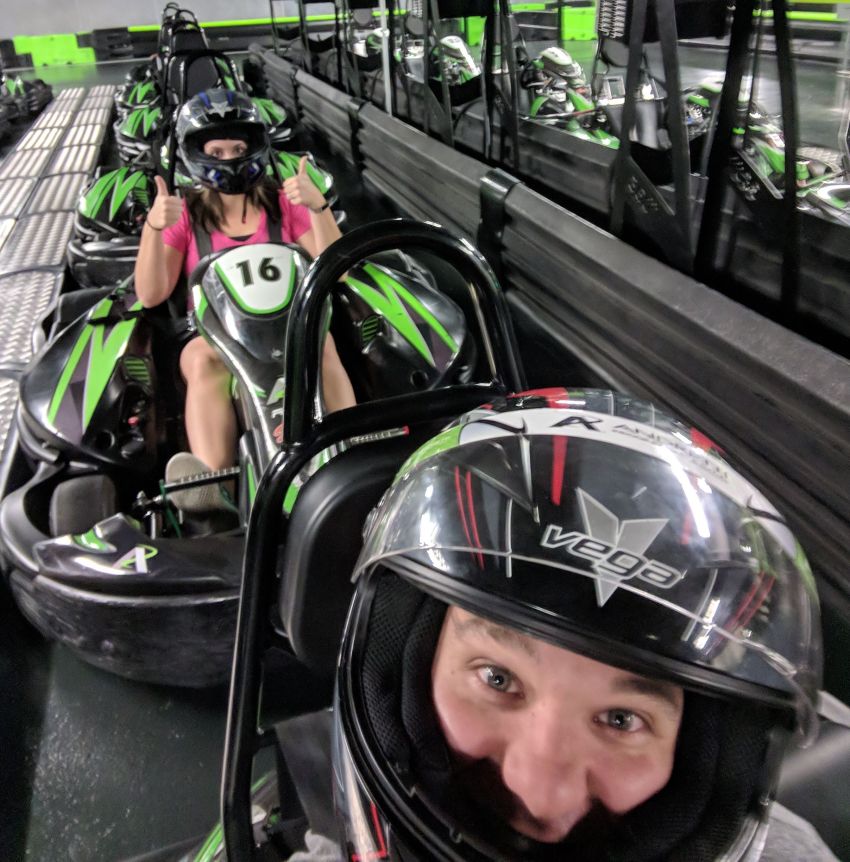 CityWalk Orlando
CityWalk is the Universal Orlando Resort equivalent to Disney Springs. CityWalk has more than just bars and restaurants. They also have clubs and the best sports bar in Orlando.
Parking for CityWalk is on Universal property, but the good news is that if you arrive after 6 p.m., parking is free. Arriving anytime before that will require you to pay or use a local friend's annual pass.
Some of CityWalk's highlights are: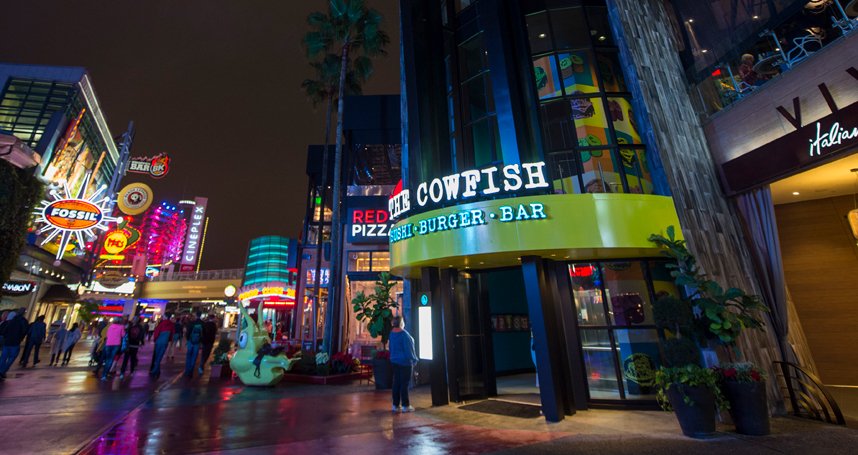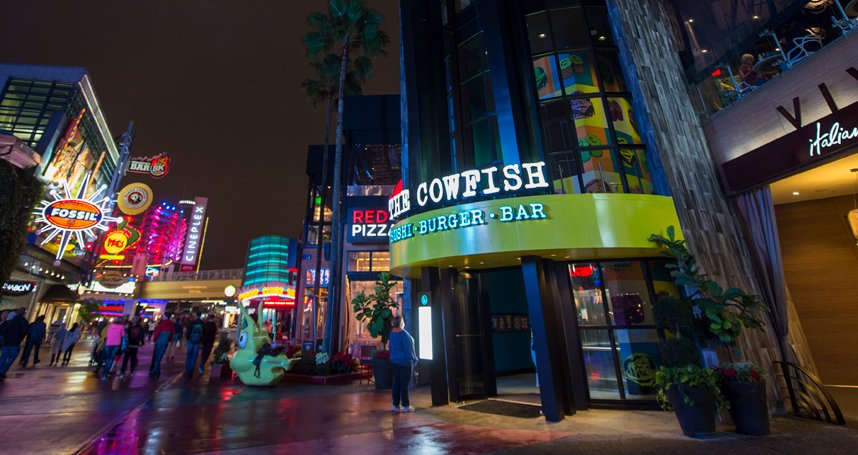 Downtown Orlando
Downtown Orlando has a great selection of bars all within a few block of one another and some great entertainment options. This is a great spot for an activity followed by a pub crawl.
Here are some of the highlights of downtown:
Off the beaten path
Want to really get away and see some of Florida outside of the city? If you have a group that likes to be active, here are a couple of places we highly recommend.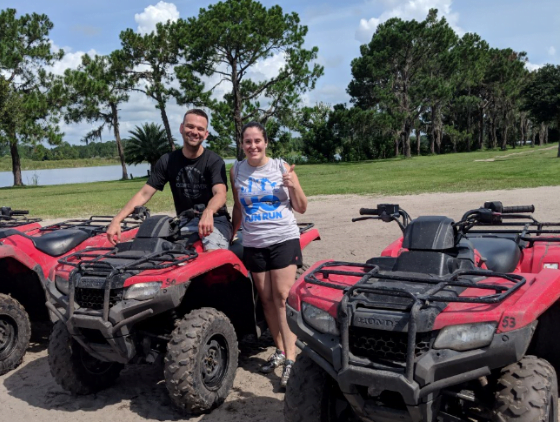 Make it a Day Trip!
Overnight stays can cost a ton of dough, especially when dealing with multiple rooms. Luckily, we live in one of the best cities in the state for being centrally located amidst a ton of amazing destinations for bachelorette day trips. And since you wouldn't want to give any of your besties the chore of driving your crew around all day, we recommend using GOGO Charters as your transportation for the day! For more details, visit the GOGO Charters Orlando website.
About The Orlando Duo
Growing up in the Midwest always meant going to Orlando for a Disney vacation, but since moving here we realized there is so much more to The City Beautiful than theme parks. Come join us as we highlight local eateries, activities and, yes, the theme parks. Want to see more? Follow us on Instagram, Facebook or our blog!
All images by @theorlandoduo unless otherwise noted. Feature image by Stephanie Patterson.