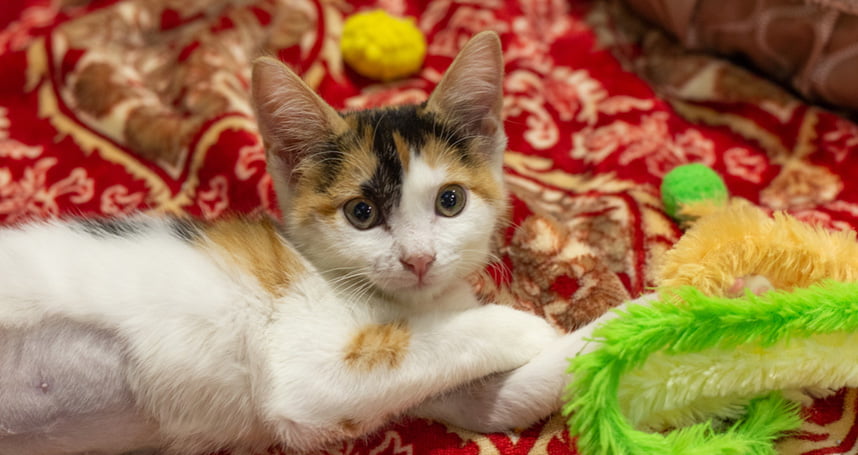 An Orlando cat cafe with a cat play area, cat yoga classes and local coffee? You've got to be kitten us! We recently visited the Orlando Cat Cafe to get purrsonal with these furry felines, grabbing coffee and performing our best cat pose.
About the Orlando Cat Cafe
Owner and property manager Sandra Cagan was inspired to open Florida's first cat cafe after hearing about the concept in an NBC story in 2014. By January 2015, she started researching everything she could to make the Orlando Cat Cafe a reality.
"You want to leave sort of a legacy," Sandra said. "I have 20 years of property management experience, but I am a lifelong lover of cats."
The Orlando Cat Cafe, located in Clermont's Cagan Crossings shopping center, opened in September 2016. Sandy partnered with a sustainable coffee company, Axum Coffee, to bring coffee and cats together.
The cafe and the cat play area are connected by way of a door, but the food and drinks are kept completely separate from the play area.
Since opening the cafe, there have been more than 42,000 visitors and 327 cat adoptions.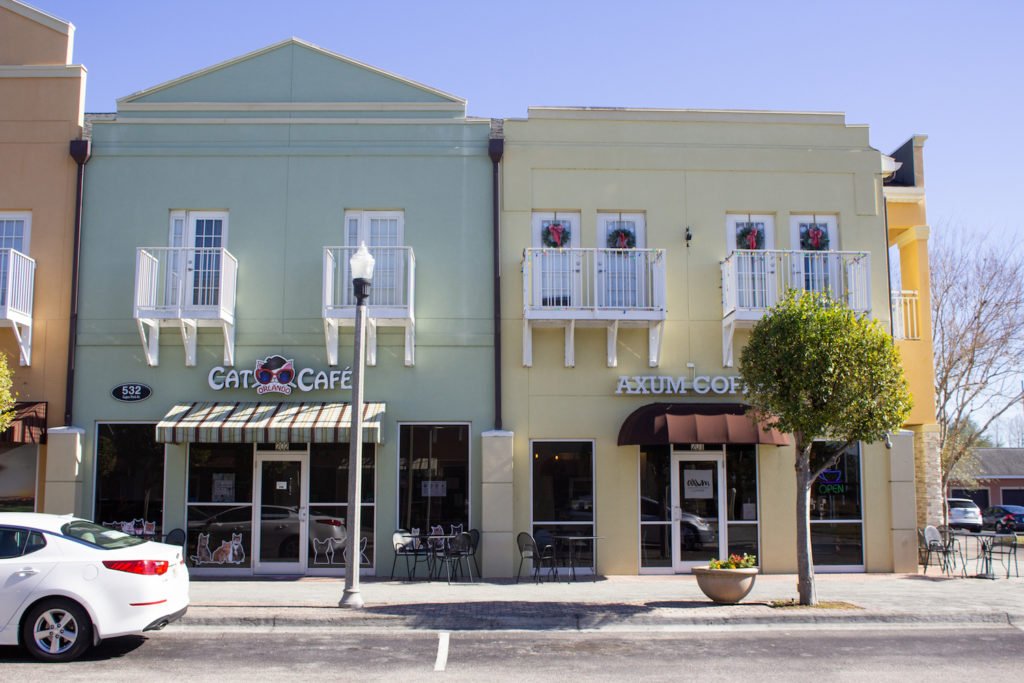 Coffee with Catitude
Winter Garden-based Axum Coffee serves coffee with a purpose. The company's mission is to help residents in Axum, Ethiopa live a better life. They donate all profits in hopes of delivering fresh water and other healthy habits to the city in Ethiopa.
Teas, coffee, espresso, signature drinks and other treats (the desserts are delicious!) await visitors at the cafe.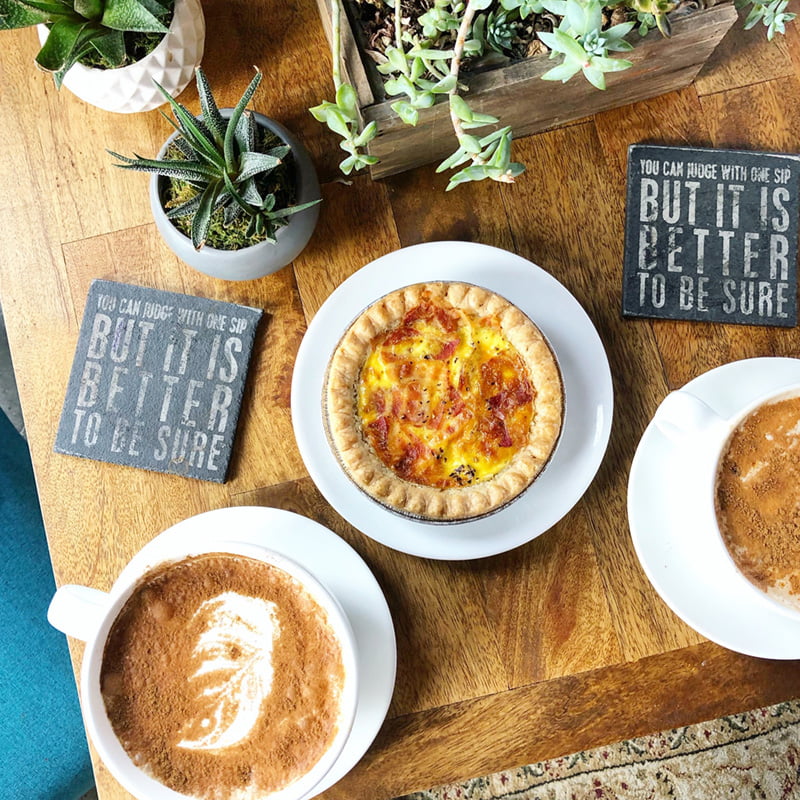 Once you walk through the doors, Axum Coffee will serve as your check-in point. The entrance fee to the cat play/adoption area is $8 per adult, and $4 per kid under 12 (with supervision) for one hour of playtime. You may also purchase food and drinks to bring into the cat play/adoption area.
You can enter the play area right away if it isn't too busy. Volunteers will guide you through interacting with the cats and answer any questions. You'll have one hour to play, pet, and nuzzle with the cats. The café recommends making a reservation in case it's a busy day.
"It's unbelievably meaningful work," Sandra told us. "This is truly a labor of love. It's been the most rewarding thing I've worked on professionally."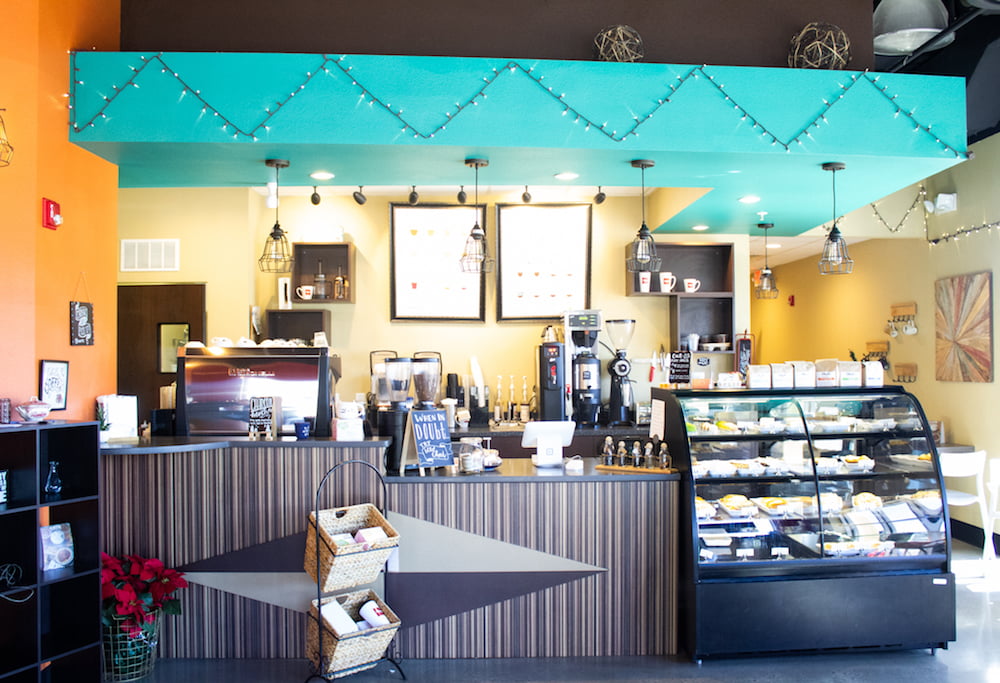 Cat Play Area and Rescue Cats
10-25 adoptable rescue cats hang out and roam freely in the play area. The best thing about the cafe for cat lovers is the opportunity to interact with the cats as they walk around, jump on fixtures, and play.
Some of the cats are nervous when they first get to the café because of their previous living conditions, but they become very comfortable once they socialize.
The kittens are kept in a separate tent from the roaming adult cats until they "graduate" from the kitten tent. These little ones are full of energy at certain times of the day and require more attention. Once you walk into the tent, you won't want to leave!
If you're looking to adopt a furry family member, all of the cats are spayed, neutered, microchipped, tested, and receive vaccinations. Lakeland's SPCA Florida handles these tasks before sending the cats to the cafe. The Orlando Cat Cafe provides a helpful list of items for friends who would like to adopt a cat.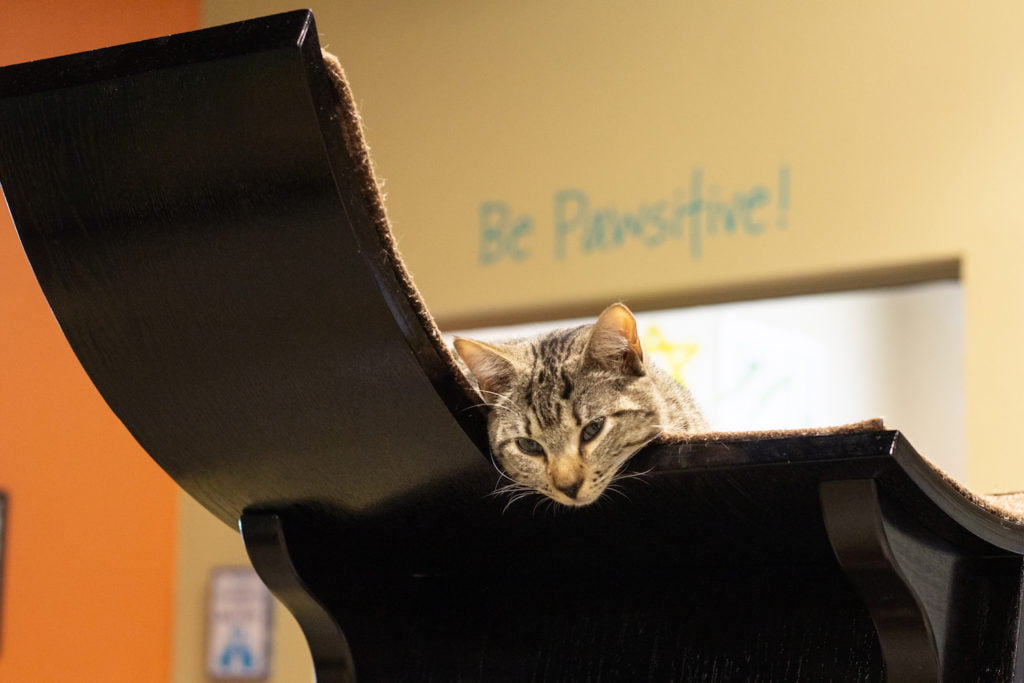 Cat Yoga: Paws…and breathe
Yoga with Cats, just one of many "cativities" at the cafe, welcomes cat lovers and yogis alike. Prepare for major, adorable distractions. You might be twisting into a pose when a cat comes over and sits right on your mat. You won't be going anywhere until that cat moves!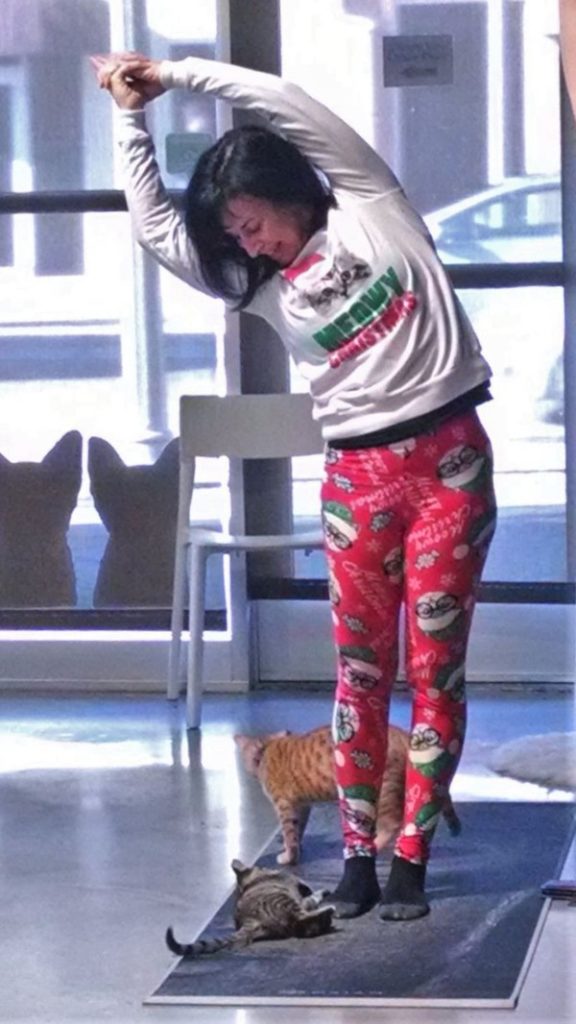 Yoga with Cats is offered on the 2nd and 4th Saturday of each month for $15/person.
Our yoga instructor dressed for the occasion, guiding us through the class wearing a "Meowy Christmas" sweater and cat yoga pants.
I fell in love with an orange cat named Wednesday, a friendly feline who made sure I couldn't get up from my mat by curling up by my feet. Be sure to bring your own mat to the yoga class. Taking photos is strongly encouraged during the class! So, don't be afraid to take plenty of pictures of the cats.
Outside of yoga, Palettes & Pets offers a 2-hour painting session with a local artist from SPCA while the furry friends walk around the play area to distract you even more.
The Orlando Cat Cafe also hosts trivia nights, a free event – just make a reservation online and bring a donation item for the cats.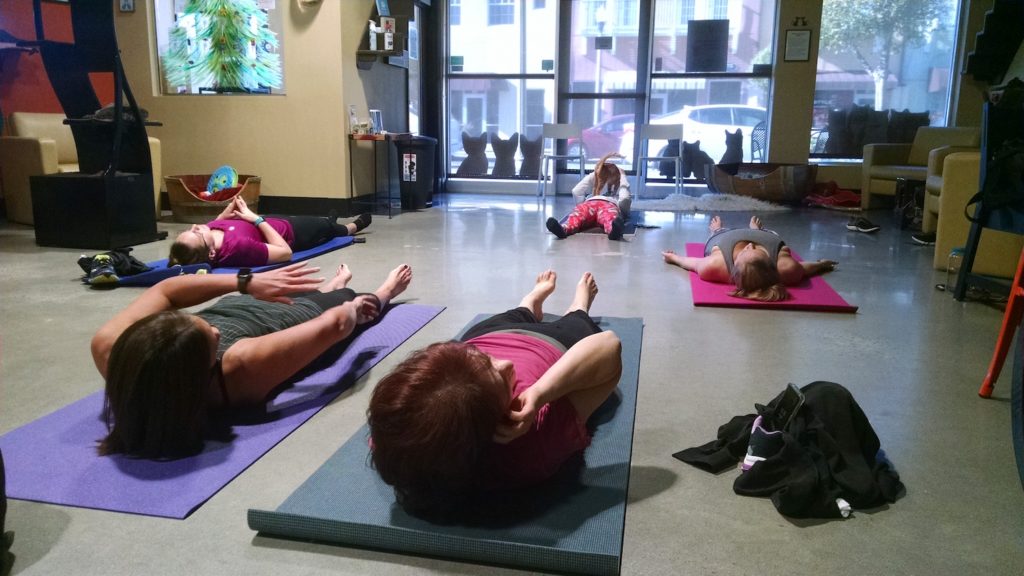 DETAILS
The entrance fee to the cat play/adoption area is $8 per adult, and $4 per kid under 12 for one hour of playtime.
Booking a reservation is strongly recommended to secure a spot in the cat play/adoption area. The last reservation is 5 p.m. You may also purchase food and drinks to bring into the cat play/adoption area.
Visit the cafe's Facebook page and keep an eye on this month's Yoga with Cats classes – January 12 and 26. Sign up to make a reservation, and pay when you get to the cafe.
Check out more Orlando Cat Cafe special events, such as High Tea with Kitties, Yoga with Cats, and Palettes & Pets.
Orlando Cat Café
532 Cagan Park Ave
Suite 201-203
Clermont, FL 34714
Open Monday, 12–6PM
Tuesday through Sunday, 10AM–6PM
(352) 989-4820
www.orlandocatcafe.com
Axum Coffee
Monday-Friday, 7 a.m. – 7 p.m.
Saturday, 8 a.m. – 7 p.m.
Sunday, 8 a.m. – 7 p.m.
(407) 654-7900
http://axumcoffee.com
About the Author
Born and raised in Orlando, Kelly Lamano works in the digital publishing industry by day, and provides print publishing solutions by night. When she's not writing or taking photos, she loves walking nature trails and rewatching The Office. Follow Kelly's lifestyle blog, Twentysomething Vision, at www.twentysomethingvision.com.
All photos by Kelly Lamano unless otherwise noted