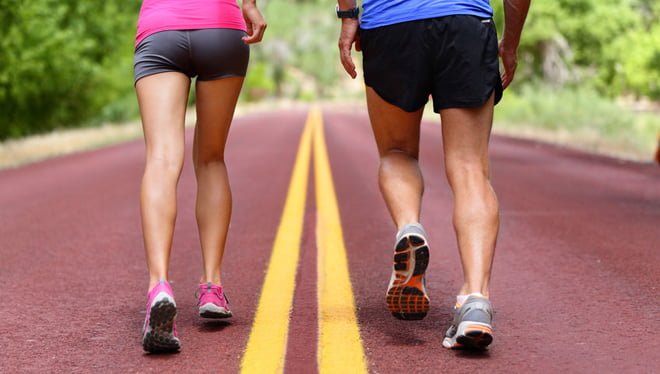 Updated September 2019
2019 is underway, how are your resolutions holding up? If you and your sidekick have committed to keeping healthy habits, chances are jogging or running together is on your radar. We've sorted through hundreds of running events in the Orlando area and located some weekly run clubs too. This guide to running dates in Central Florida for 2019 is sure to help you both keep up a healthy running habit.
Upcoming Fall Runs for Couples
Parrothead 5K & Fun Run
Saturday, September 21, 2019, 9am
LandShark Bar & Grill
471 South Atlantic Ave.
Daytona Beach, FL 32118
Calling all Jimmy Buffet fans! Bust out your Parrot head-themed hats and attire and sign up for this fun run celebrating all things Jimmy Buffet. The ocean waves and tropical rock tunes will be your playlist during this fun run welcoming runners and walkers. As an added bonus, a portion of race proceeds benefit the Marine Science Center's sea turtle rehabilitation programs. After the run, head to the awards ceremony for food and a free drink. Hard Rock Hotel Daytona Beach will be hosting the after party, with live tunes from Caribbean Chillers, a Jimmy Buffet tribute band, on the Wave Terrace beginning at 8pm. Make it an overnight with 20% off room rates (code: Chill19) and two free drinks at the pool.
The Color Run 5K
Saturday, September 21, 2019, 9am
Osceola Heritage Park
1875 Silver Spur Ln
Kissimmee, FL 34744
The party starts before the fun run even begins with music and dancing while you stretch, and continues well after with the finish festival. But the real draw of this fun, untimed race is of course the blasts of color powder at each kilometer mark that will transform you into a living rainbow by the end of the run. FYI: there is a $10 cash-only charge for parking.
Run Nona 5k & Nemours Kids' Run
Saturday, September 28, 2019, 5:45pm
Lake Nona Town Center – Tavistock Lakes Blvd. & Lake Nona Blvd. Intersection
6941 Lake Nona Blvd
Offering fun for the whole family, this annual run includes a kids run followed by a 5k (new route this year!), all culminating in an epic block party. Once you reach the finish line, stick around to enjoy live music and complimentary beer, plus a $5 voucher redeemable at the Lake Nona Town Center restaurants (including Boxi Park restaurants).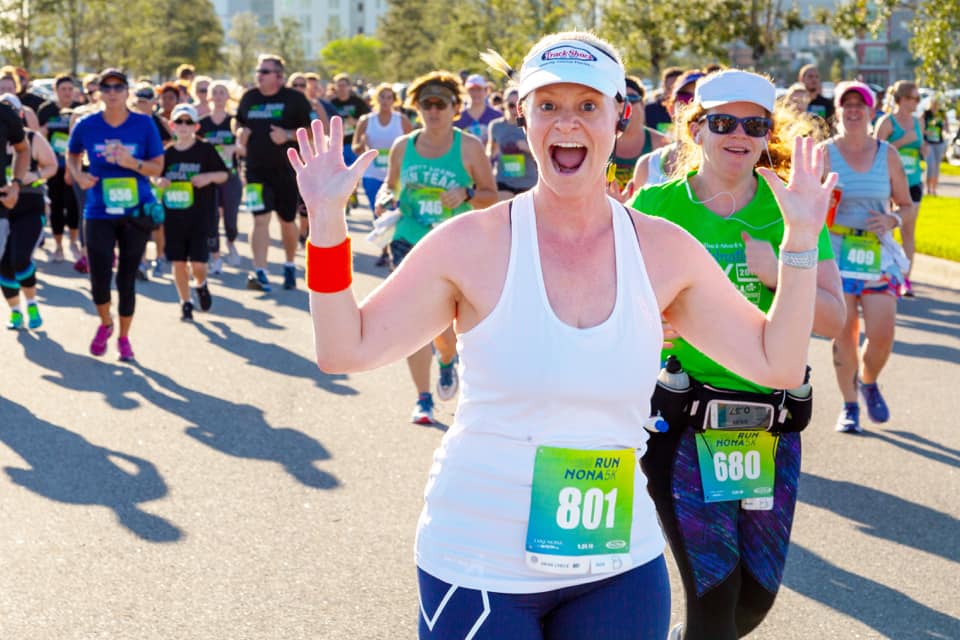 Track Shack's Halloween 5k & Kids' Run
Saturday, October 12, 2019, 8am
Harbor Park (Baldwin Park)
4982 New Broad St.
Orlando, FL 32814
Take your Halloween costume for a test run during this Halloween-themed run with candy stops throughout the race route. Bring the kiddos along for a kids' run, bounce houses, face painters, trick or treating and more.
Seniors First Turkey Trot 5K
Thursday, November 28, 2019, 8am
Lake Eola Park
227 N. Eola Dr.
Orlando, FL 32801
Prepare for the Thanksgiving feast to follow by starting your morning with a run. This annual Orlando tradition benefitting Meals on Wheels and more is now in its 30th year. Don't forget to dress up in your best Thanksgiving costume or hat!
Epic Character Race 5K and 10K
February 1 and 2, 2020, 5:30am
6000 Universal Boulevard; Orlando, FL 32819
(Volcano Bay section on the first level of the Universal Orlando parking garage)
Race through the heart of Universal Orlando Resort, meet your favorite characters, take home brag-worthy medals and awesome commemorative swag.
Weekly Run Clubs
Orlando Runners Club
Sundays, Mondays, and Wednesdays; Morning and evening runs depending on day and location
Winter Park, College Park, and Mills 50
This is perhaps one of Orlando's very first running groups. Founded in 1976!
Running for Brews Orlando
Every Wednesday
700 E Washington St, Orlando, Florida 32801
Choose from a 1-mile, 2-mile, or 3.1-mile course and cap it off with some food and drink at Graffiti Junktion. Enjoy downtown Orlando and Thornton Park!
St. Johns River Runners
Days and locations vary
Tuesday, Wednesdays, and Fridays, usually around 5am
Saturdays, usually around 7am
This group covers the St. Johns River area with runs scheduled in DeBary, Deltona, DeLand, Orange City, Sanford and Lake Mary. Be sure to check their Meetup site for the latest schedule and locations, and to request to join the group.
Ten10 Run Club
Every Tuesday, 6:30pm
1010 Virginia Dr Orlando, Florida
Ten10 Run Club is one of Orlando's first brewery associated running groups. There are 2 mile, 5k, and 10k routes to follow. The location is great because it is right on the Orlando Urban Trail.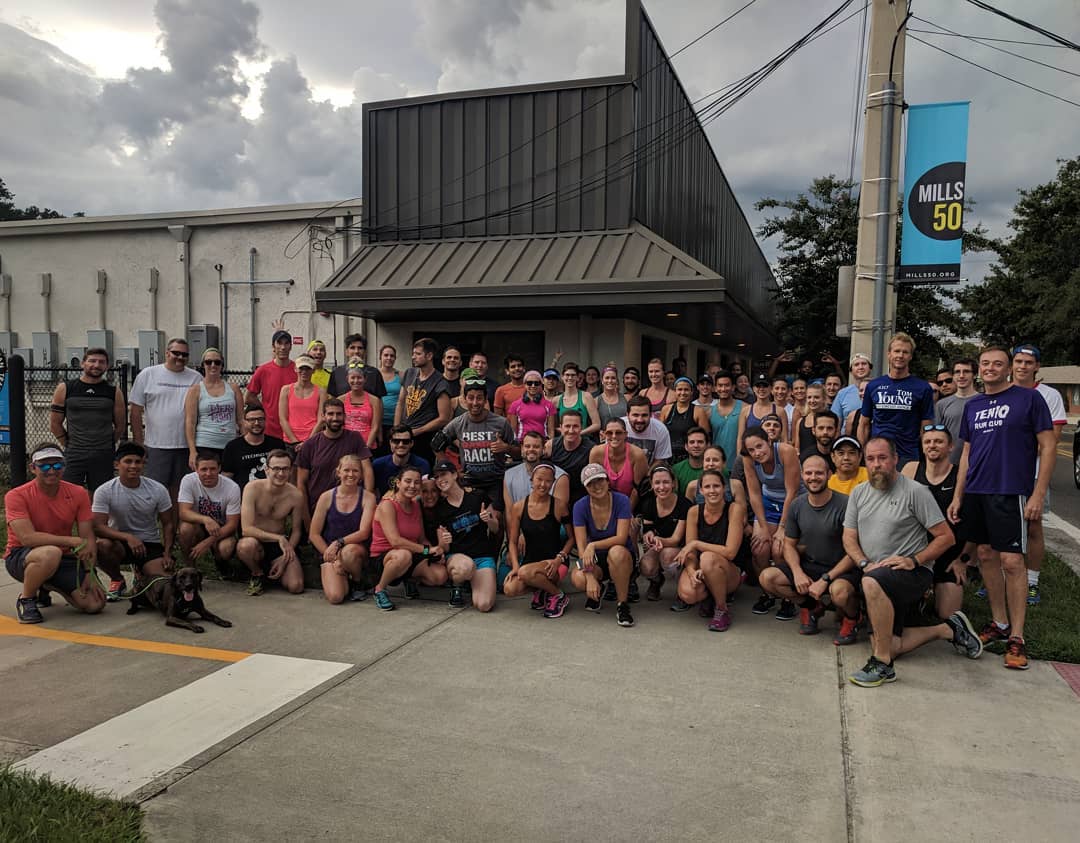 Playalinda Run Club
1st and 3rd Tuesdays
Playalinda Brewing Company Hardware Store
305 S Washington Ave, Titusville, Florida 32796
This run club serves the Titusville area and is well connected in the community. Family and pet friendly runs begin and end at this much loved brewery.
Hunter's Creek Running Club
Wednesdays, 6:30pm and Sundays, 7am
5100 Town Center Blvd Orlando, FL 32837
Saturdays, 6am
14101 Town Loop Blvd Orlando, FL 32837
This run club is a supportive and community-oriented group in Hunter's Creek. There is an annual fee, but it is only $25.
Lake Nona Run Club
Tuesday and Thursday mornings 5:30am
Tuesday and Thursday nights: 7pm
Saturday mornings: 5:30am
Email lakenonarunclub@gmail.com for locations
More 2019 Runs and Races
Charity-Loving Runs and Races
Have a great time together while doing some good for charities and philanthropic organizations.
Strawberry Jam 5K
Saturday, March 2, 2019
8am
McPherson Complex
Ocala, FL
The early days of spring mean the arrival of Florida strawberries and plenty of spring festivals. Ocala's Strawberry Jam 5K is part of the Annual Habitat Strawberry Festival. The race benefits a program for home-ownership for low income families in Marion County and the finish line is at the Strawberry Festival itself!
Jenny Albert Hatchling Dash 5K
Saturday, March 25, 2019
8:30am
Bill Frederick Park
3401 S. Hiawassee Rd
Orlando, FL 32835
If you enjoy supporting the natural world this 5K race is a great choice. During her 12 year career with SeaWorld, Jenny Albert helped to rescue and rehabilitate over 900 sea turtles. This 5K takes place in Bill Frederick Park, a very popular venue for many running events in Orlando. Enjoy the natural scenery along Turkey Lake as you help fund support for sea turtle rescue and research.
Southeastern Guide Dogs Walkathon
Saturday April 13, 2019
9am
Cranes Roost Park
Altamonte Springs, FL
This event is absolutely perfect for couples that love doggies. This 3K walkathon is dog-friendly, resulting in an adorable cavalcade of fur-babies and it takes place on a scenic walking route around the lake. This event benefits Southeastern Guide Dogs which trains and provides guide dogs and lifetime services for those in need of a guide dog, particularly Armed Forces veterans.
The Florida Run
Saturday, April 27, 2019
Colt Creek State Park
16000 FL-471
Lakeland, FL 33809
Saturday, November 9, 2019
Lake Louisa State Park
7305 U.S. Highway 27
Clermont, FL 34711
Do you love the Sunshine State? Then there is no better way to enjoy the natural beauty of the southernmost state than with a run, or even a walk, through one of the state's best state parks. Participate in April at Colt Creek Park or in November at Lake Louisa to enjoy Florida's natural beauty. This race benefits Florida State Parks. What a great way to preserve the state that we all know and love! Both races offer a 1-mile, 5K, 10K, or Half Marathon option. If you participate in both races (Colt Creek in April and Lake Louisa in Clermont) you'll earn a third medal!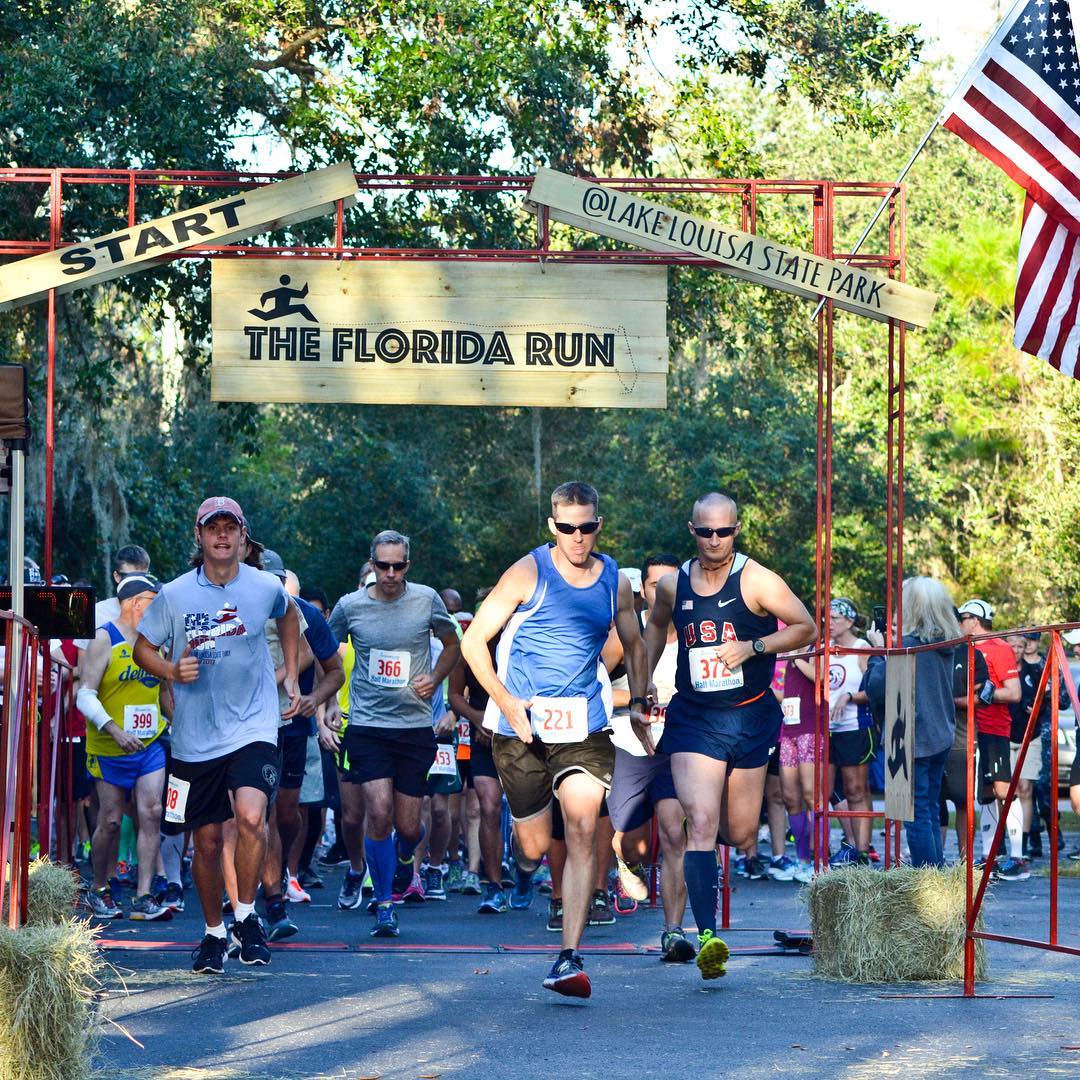 4th Annual Melissa's Race 5K to Battle Brain Cancer
Saturday May 18, 2019
7am
Fort Mellon Park – Sanford, FL
600 E 1st St, Sanford, FL 32771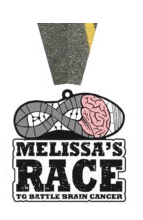 Each year Melissa's Race grows, raising more awareness for brain cancer and more money for brain cancer research. Serious runners will be glad to know that this is a chip-timed race, while casual runners and walkers will enjoy the beautiful scenery of the St. Johns River and charming storefronts in this bustling, historic city.
If you can't make it to Sanford you can participate virtually, anywhere, anytime before May 18, 2019. Either way you'll earn a t-shirt, a unique medal, and support a great cause! Melissa's Race is created by Melissa Vosburg Inc, a non-profit organization created in memory of Melissa Vosburg, a Sanford-area teacher who passed away in 2013 from Gioblastoma Multiforme, the most common form of brain cancer. Prizes will be awarded to individuals and teams who have top fundraising results! All funds raised for Melissa's Race benefit the Florida Hospital Cancer Institute.
New this year: Melissa's Race is working to create a "Beers for Brains" block party along 1st Street in downtown Sanford, which is part of the race route. Whether you participate in the race or not, you can take part of this block party with some Sanford's best breweries, eateries, and more! More information will be shared on MelissasRace.org and on Melissa's Race Facebook and Instagram pages.
Sign up before noon on Valentine's Day with your running buddy and you'll automatically get $10 off. In order to receive this discount, two people need to register together under one order.
Adventurous and Themed
Think fun and adventurous runs like the color runs, glow in the dark, and more!
Track Shack's Run 4 Love 4 Mile
Saturday, February 9, 2019
7:30am
Showalter Field
2525 Cady Way
Winter Park, FL 32792
Get an early (and healthy) start to Valentine's Day celebrations by participating in this fun love-themed run. This annual run celebrates love and the love of running. Wear your best costume for a chance to win the costume contest.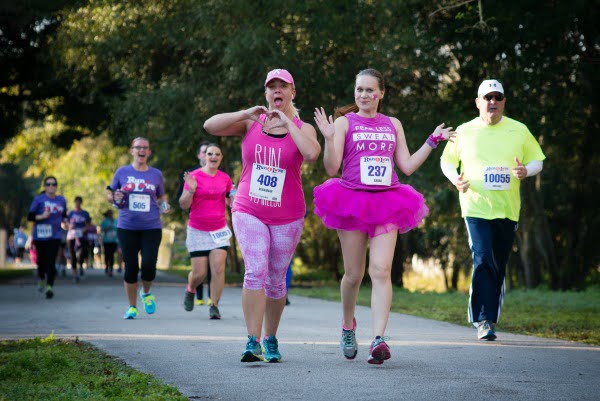 Cupid's Undie Run
Saturday, February 9, 2019
12-4pm
Elixir, 9 W. Washington St. in Orlando
Keep it PG-13, but as the name suggests, for this event you'll go for a run…in your undies! (Don't worry, it's for a good cause.) All proceeds benefit neurofibromatosis research. This "brief" run (get it?) is a short run that ends in a fun party, certainly a fun way to run with your valentine.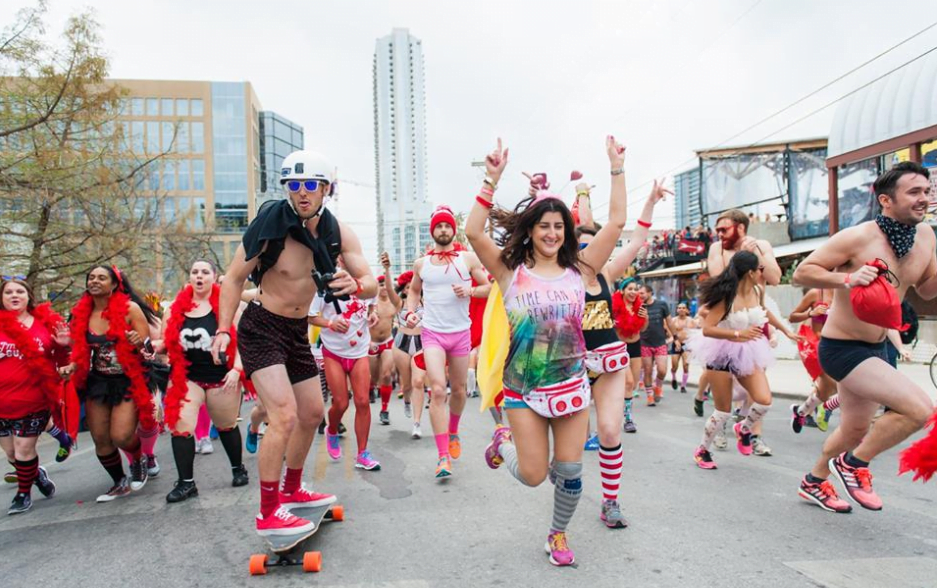 Purple Pride 5K
Saturday, February 23, 2019
8am
Orlando City Stadium
655 W. Church Street Orlando, FL 32801
Join Orlando City's top fans on a run to kick off the start of soccer season in Orlando. Registration includes a t-shirt, finishers medal, and a ticket to the Orlando City Home Opener on Saturday, March 2nd against NYCFC. This run is extra fun for fans because the course includes a lap through the concourse of the stadium.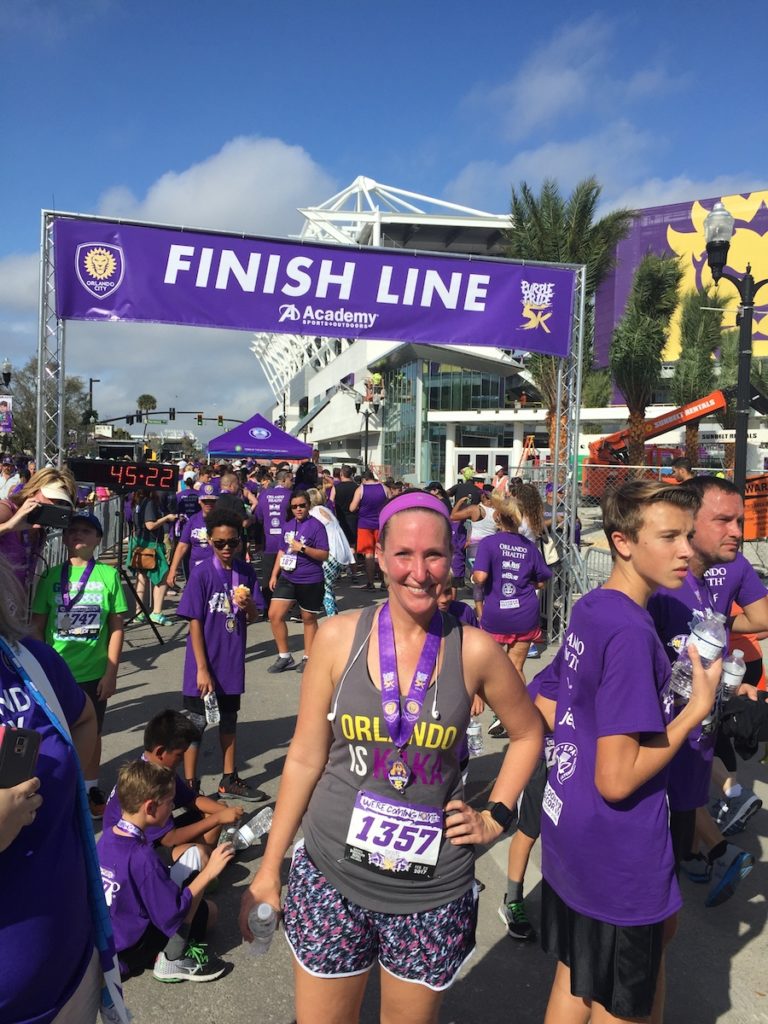 Fiddler's Green 5K
Saturday, March 2, 2019
7:30am
Fiddler's Green Pub
544 W Fairbanks Ave, Winter Park, FL 32789
Get an early start on St. Patrick's Day fun with one of Central Florida's most fun 5Ks. It's dog friendly too! Wear your best green or Irish gear and run through the Fairbanks Ave neighborhood. After the race and awards, runners are invited for beer and fun at Fiddler's Green Irish Pub. 100% of the proceeds from the event will benefit local charities: Habitat for Humanity of Winter Park-Maitland and Conductive Education Center of Orlando.
Born to Be a Unicorn – 5K, 10K, or Half Marathon
March 30th and 31st, 2019
All races begin at 7:30am; Fun Run at 9am
Blue Jacket Park
2501 General Rees Avenue
Orlando, FL 32802
This series of races is perfect for anyone in need of a little extra encouragement. The course is on a two-mile loop. This enables you to be surrounded by encouragement as you pass the beverage, food, and aid station. Additionally, runners of all distances are given four hours to complete their race, and the after-party keeps going until the last runner crosses the finish line.
The Great Inflatable Race 5K
Saturday, April 13, 2019
9am
Bill Frederick Park
3401 S Hiawassee Rd.
Orlando, FL 32835
Not for the faint of heart, this race is sure to challenge anyone, but in a fun way. Inflatable obstacles await throughout the course. You're sure to make some unforgettable memories together during this race!
Night Nation Run
Saturday, September 7, 2019
Pre-party 6:30pm, race begins at 8pm
Orlando Amphitheater at the Central Florida Fair
4603 W. Colonial Drive in Orlando
You just can't beat the energy of this event, which is best described as a music festival and running event in one! High-energy EDM DJs will keep you moving before, during, and after the run. The course includes such zones as "lantern land" and "bubble world" with DJs stationed throughout at multiple party zones.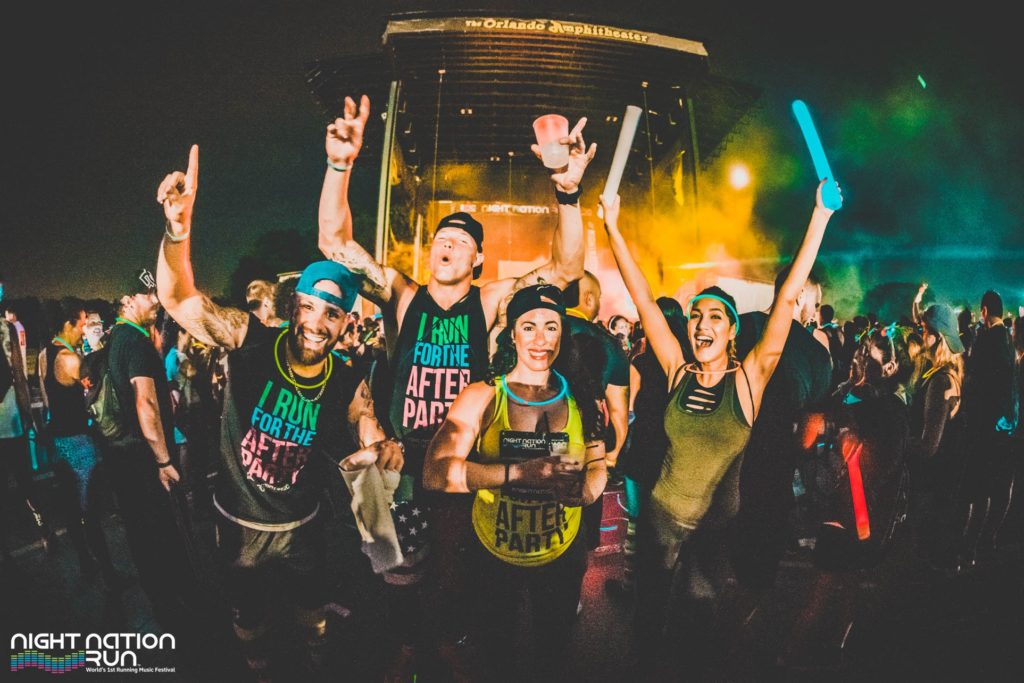 Food/Drink Themed Runs
Foodies and beer lovers, these runs are sure to get your appetite into shape!
Annual PIG RUN of Lake Nona
Saturday, April 20, 2019
9am
YMCA @ Northlake Park
9055 Northlake Parkway
Orlando, FL 32827
The sole purpose of this run is to discover how many donuts you can consume at the halfway point of the race. Don't worry about the extra calories, you're sure to burn them off. And don't worry about trying to finish at a certain time, this is all about fun and consuming as many donuts as possible.
Clermont Clay U Run U Pick Blueberry 5K
Saturday, April 27, 2019
7:30am
Southern Hill Farms
16651 Schofield Road
Clermont, FL US 34714
Southern Hill Farms in Clermont welcomes you with clay roads, countryside rolling hills and fresh Florida blueberries. After the race enjoy a pancake breakfast and then pick a pound of blueberries.

Bottoms Up Beer Run 4K
Saturday, June 8, 2019
Registration begins at 4:30pm
Wickham Park
2500 Parkway Drive
Melbourne, FL
This evening run (or walk) is all about beer! Enjoy a small tasting of beer before embarking on your race. Then enjoy beer shots along the way. Brewers from SAAZ will be providing five different home-brews along the race course. Participants (21 years and older) can consume four beer shots during the race and a full beer at the finish. **This race is capped at 400 participants**
Extreme
There's nothing more extreme than these races! Be prepared, these will put you to the test.
Insane Inflatable Race 5K
Saturday, March 16, 2019
2500 Parkway Dr
Melbourne, FL
Inflatable obstacles are pretty fun. But insane inflatable races go to a whole new level. You'll conquer some of the most insane inflated obstacles known to man, or woman. Both race venues are near the coast, so make it a beach trip!
Ron Jon Cocoa Beach Triathlon
Sunday, April 14, 2019
4800 Tom Warriner Boulevard,
Cocoa Beach, Fl. 32932
(adjacent to Cocoa Beach Golf Course and Cocoa Beach Aquatic Center)
This Space Coast Triathlon is an enjoyable one for established athletes, but has proven itself as a great test for first-time triathletes. It all starts with a .25 mile swim in the Banana River. The swim is a beach entry and beach exit, followed by a 12.5-mile out and back bike route. Finally, the run portion weaves through the Cocoa Beach Bike Path and a riverfront neighborhood. With its beach town location many participants don tropical attire at the after party!
Moss Park Forest Run
Saturday, July 20, 2019
12901 Moss Park Rd
Orlando, FL 32832-6228
5K / 10K / 15K Challenge
Moss Park Forest is claimed as one of the best off-road running venues in the state of Florida. Enjoy the shady trail and natural environment during this challenging but rewarding running experience. Benefits the Green Beret Foundation.
Disclosure: Lake Nona and Hard Rock Hotel Daytona Beach are some of our valued advertising partners.
Feature image credit: maridav / 123RF Stock Photo