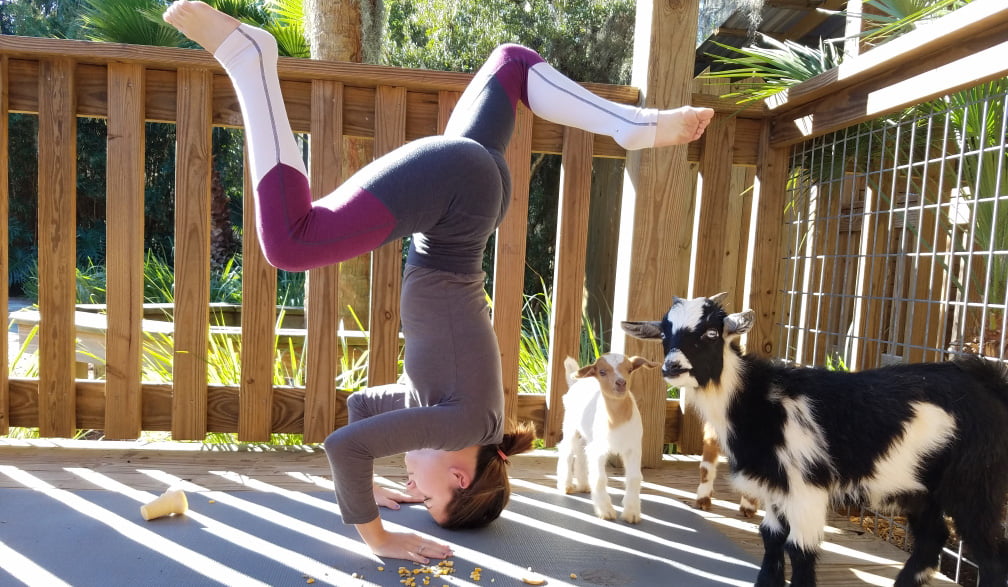 It's Saturday morning and you're adding a touch of zen to your routine, flowing through a peaceful outdoor yoga class. Feeling tranquil in tabletop pose, you suddenly feel a jolt as four little hooves take up residence on your back. Welcome to goat yoga.
One of the latest crazes in the yoga world, goat yoga is your chance to de-stress amongst a horde of adorable goats. Goats are curious and love interacting with people, as evidenced by their tendency to hop straight onto your back or snuggle up on your mat for a nap. Besides the mind-calming and body-strengthening benefits of yoga, you'll get an extra dose of animal therapy.
Lucky for us, there are a handful of places to practice goat yoga in Central Florida. Stretching from Sanford to Sarasota, here are our top picks.
[Need some great workout clothes?]
Original Goat Yoga Orlando – Sanford
When: Saturdays at 10am and Sundays at 11:30am
Where: Dancing Moon Farm of Orlando, 725 Myrtle Street, Sanford
Cost: $37/person
Yoga mat needed: Yes
Finding Dancing Moon Farm of Orlando poses a bit of challenge since the farm is not well marked from the street. But once you do, you're rewarded with a beautiful outdoor setting and plenty of goat buddies. The class, hosted by Original Goat Yoga Orlando, includes about 45 minutes of yoga. You'll have equal time to interact with the goats and take photos. Farm staff lead the goats around from person to person with treats, so you will have multiple chances for silly goat selfies and doing some actual yoga. The yoga area is covered, providing ample shade on warmer days. This class is perfect for animal loving yogis who value the yoga experience just as much as interacting with the goats.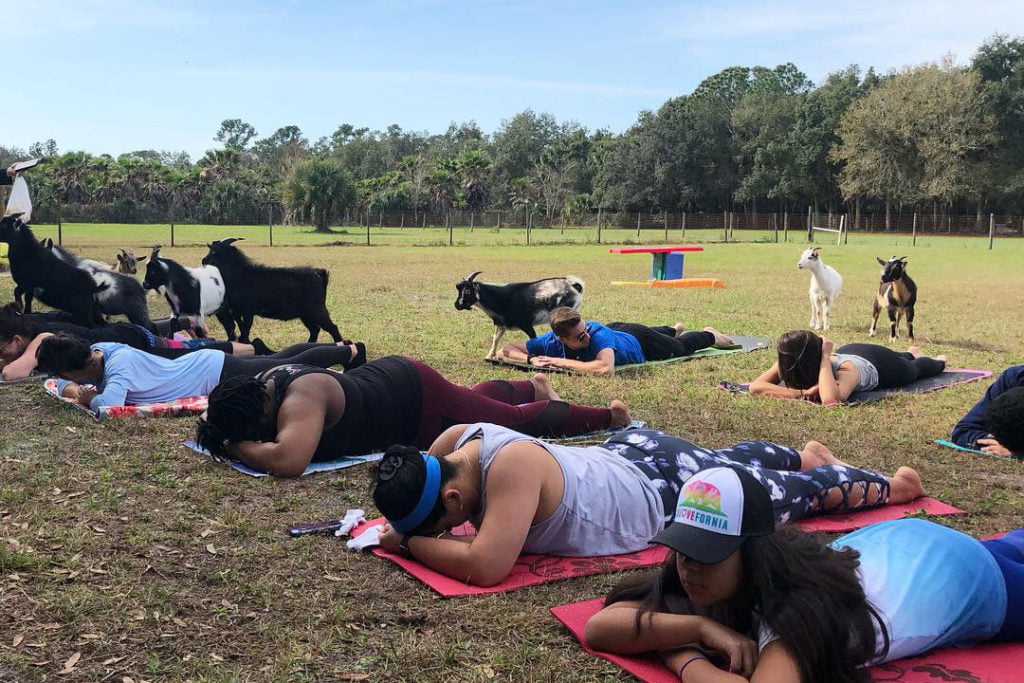 Wild Florida – Kenansville
When: March 9, 9am (future event dates to be announced)
Where: Wild Florida, 3301 Lake Cypress Rd., Kenansville
Cost: $20/person, including Gator Park admission
Yoga mat needed: Yes
You may be familiar with Wild Florida thanks to their epic animal experiences (the VIP sloth experience is on my bucket list). Now they're adding periodic goat yoga to the lineup. Each class features between 10-15 goat companions, and the class size is capped at around 25 people. Plan for 45 minutes to an hour of yoga (led by a certified instructor). Throughout class, you're welcome to pause for goat snuggles and selfies. In fact, it's encouraged!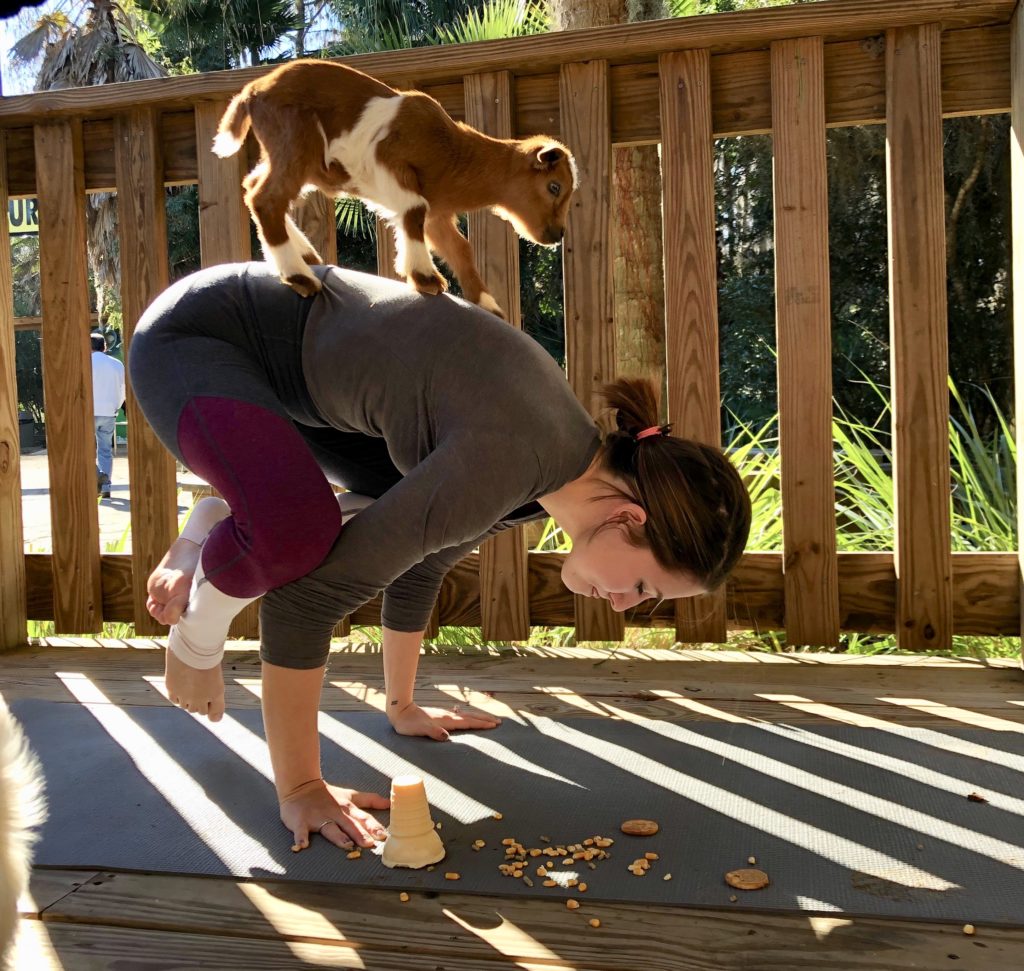 Grady Goat Yoga Tampa Bay – Thonotosassa
When: Saturdays and Sundays at 10am
Where: Hat Trick Ranch, 12551 Franklin Road, Thonotosassa
Cost: $35/person
Yoga mat needed: Yes
The goat yoga experience at Grady Goat is best described as delightful, hilarious chaos. There are no words for the moment the goats are released into the fenced-in area where class takes place. As the gate is opened, a herd of playful goats gallop out, dispersing through the crowd. There's an instant eruption of laughter, Instagram photoshoots, and a palpable sense of happiness. Goats jump on your back, nibble on your hair, jump from your back to your neighbor's back and more. If you want to partake in a goat yoga class that doesn't take itself too seriously, this is your ticket. Expect 95% goat love and 5% yoga. Afterwards, stick around for lunch and craft beer at Two Henry's Brewing/Keel and Curley Winery nearby.
Bonus: Attending this class benefits the Grady Goat Foundation, a non-profit that supports children facing physical, mental, or economic adversity.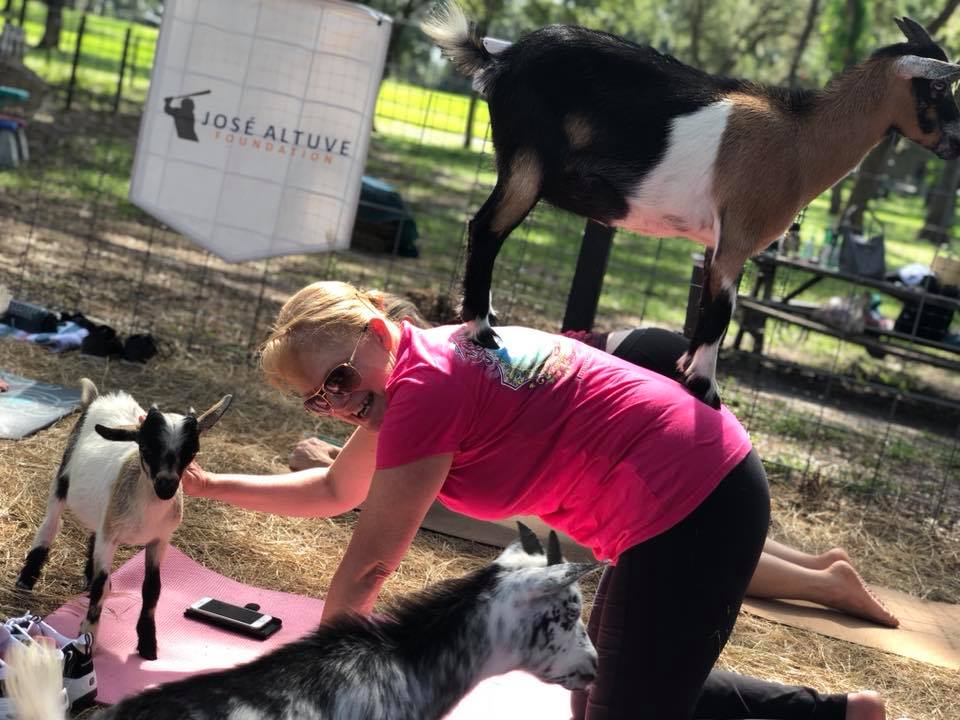 Goat Yoga SRQ – Sarasota
When: Select Saturdays (no classes in March; classes will resume in April)
Where: Fruitville Grove, 7410 Fruitville Road, Sarasota
Cost: $25/person in advance; $30 at gate
Yoga mat needed: Yes
You'll want to namaste all day at this peaceful farm market in Sarasota, which hosts weekly goat yoga classes. Friendly and inquisitive goats roam about as you perfect your poses in the shady, fenced-in goat yoga area. While classes are on pause until the end of March, there is a special class scheduled for March 13 at The Market at Lakewood Ranch. Weekly classes will resume after the conclusion of the farm's annual Berry Festival happening weekends in March.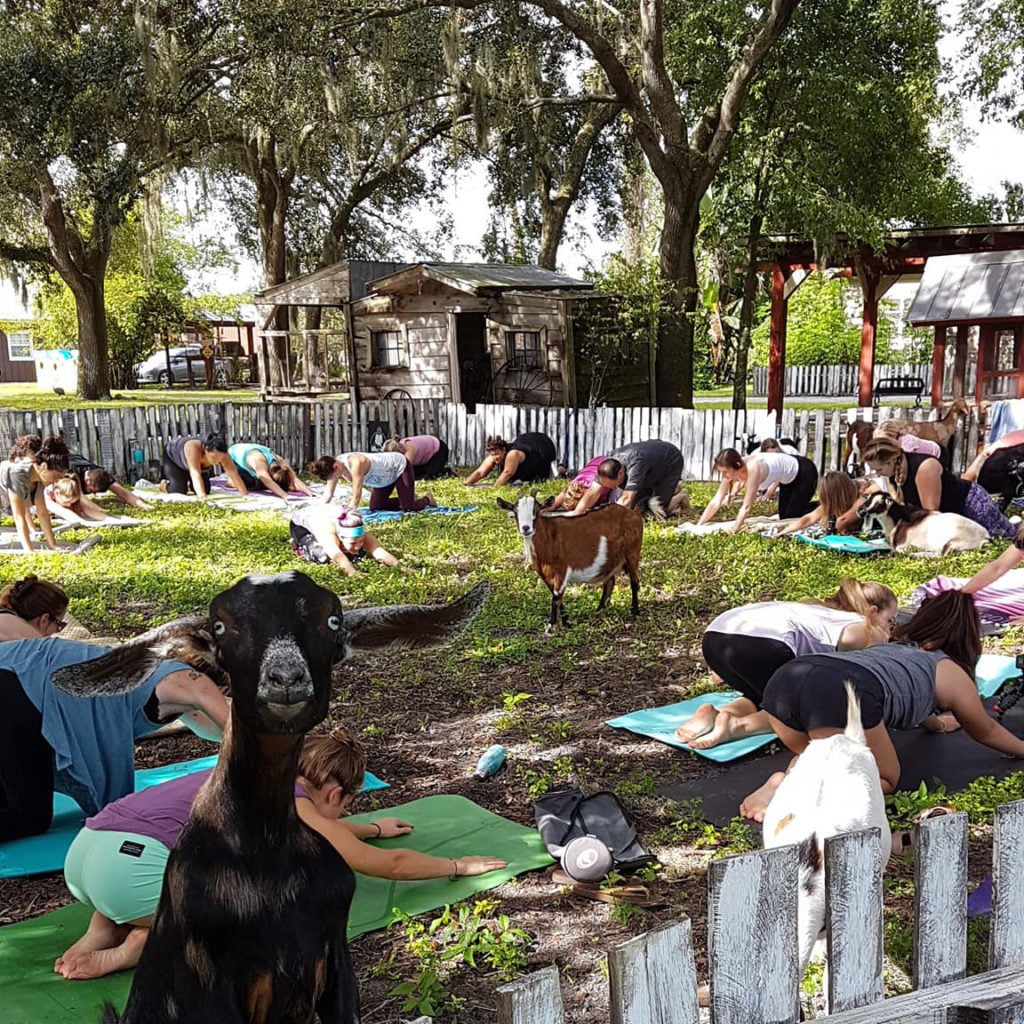 ALSO TRY:
Zenn Naturals offers seasonal goat yoga classes on their farm in Groveland. Classes are scheduled to resume in early April. Follow their Facebook page for updates.
The Lazy H – Eustis
THE ELEPHANT IN THE ROOM…
Yes, you should expect the goats to do their "business" throughout class. It may even happen on you or on your mat (so don't bring your fanciest yoga mat). But, in my experience, it's cleaned up before you even have time to realize it happened. If the thought makes you squeamish, you might want to skip goat yoga.
More places to do animal yoga
Peaceful Peacock Orlando
Head to this zen yoga studio in the Hourglass District for quarterly yoga classes with puppies, kittens and exotic rescue animals. Keep up with their Facebook page for upcoming events.
Firefly Yoga Company
This Ocoee-based studio is hosting quarterly bunny yoga. Yep, you read that right. Watch their Facebook page for upcoming events to be announced.
ZooTampa at Lowry Park
On March 9, ZooTampa is hosting Yoga in the Wild. Class includes a special 30-minute animal mingle. Tickets are $35 for non members and include zoo admission.
Orlando Cat Café
Partake in a one-hour yoga class while mingling with adoptable cats and kittens. Class is followed by plenty of time to interact with the cats and hang out in the kitten tent. Classes are offered on the 2nd and 4th Saturday of each month and the cost is $15.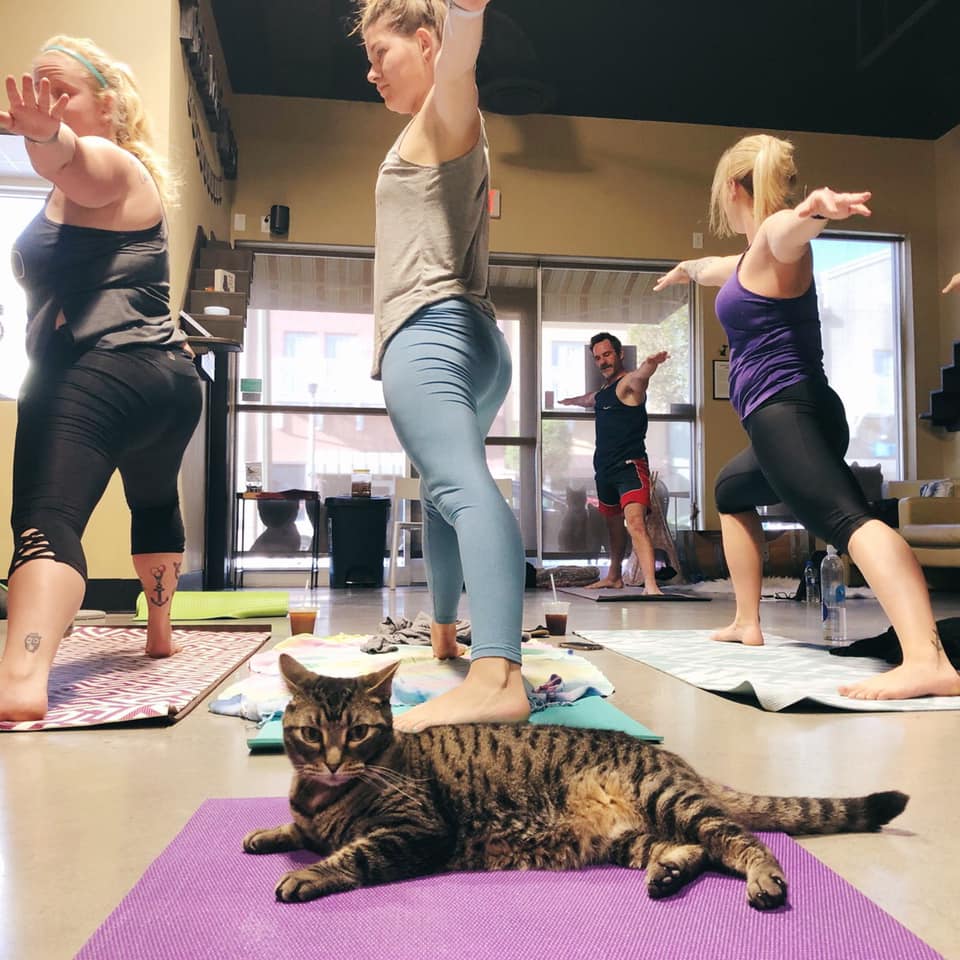 Disclosure: Wild Florida is one of our valued advertising partners.
Feature image credit: Wild Florida