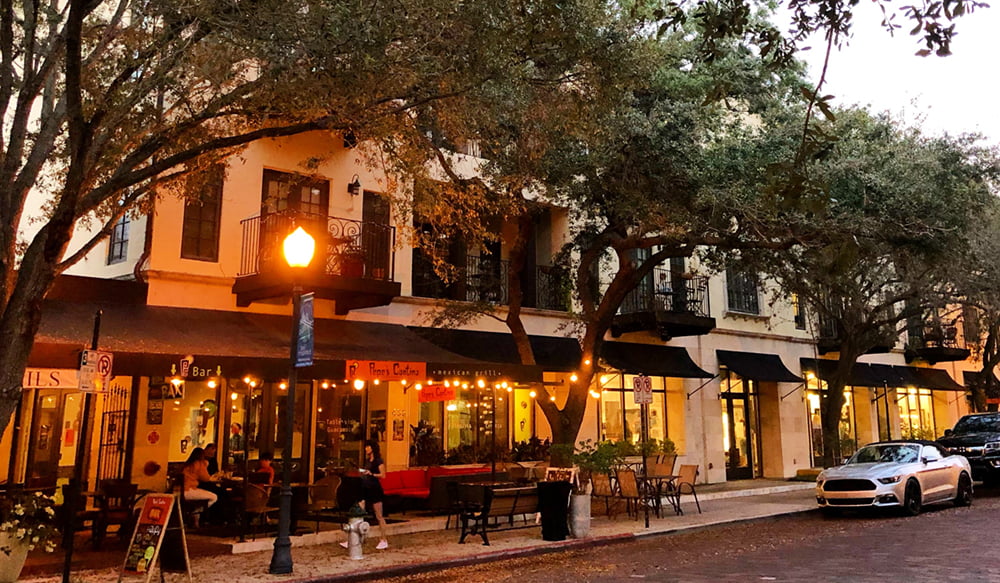 Updated May 2019
Written by Stephanie Patterson and Jeanne Amend
Just minutes from Winter Park's famed Park Avenue, Hannibal Square boasts many of the same charms in a more compact form with a quieter atmosphere. Romantic restaurants line the brick streets, boutiques and museums beckon you inside, and lengthy happy hours make dates budget-friendly. You'll find most of the action concentrated along W New England Ave between S Pennsylvania Ave and Virginia Ave. Here are a few of our favorite ways to do date night in this charming square.
Wine and Dine…
Vinia Wine Bar
444 W New England Ave
viniawinebar.com
Since opening in late 2018, Vinia Wine Bar has developed a loyal following of regulars coming from near and far. Owned by husband and wife team Paula and Fabio, the cozy space oozes charm and class. Work from local artists lines the walls, candles dot every table, and the backlit bar is the perfect place to meet new friends. The wine list features primarily European wines from France, Italy, and Spain (I love the Cortese). There are also frequent wine dinners and tastings, plus live music select nights.
Savory dishes from Chef Ronnie Vance complement the curated wine list. Bite into the succulent Vinia surf & turf (slow braised brisket and roasted prawns) or melt-in-your-mouth Pancetta al Forno (roasted pork belly served with burnt onions and cantaloupe). Don't skip dessert—the dessert flight allows you to try small portions of all three desserts for just $10.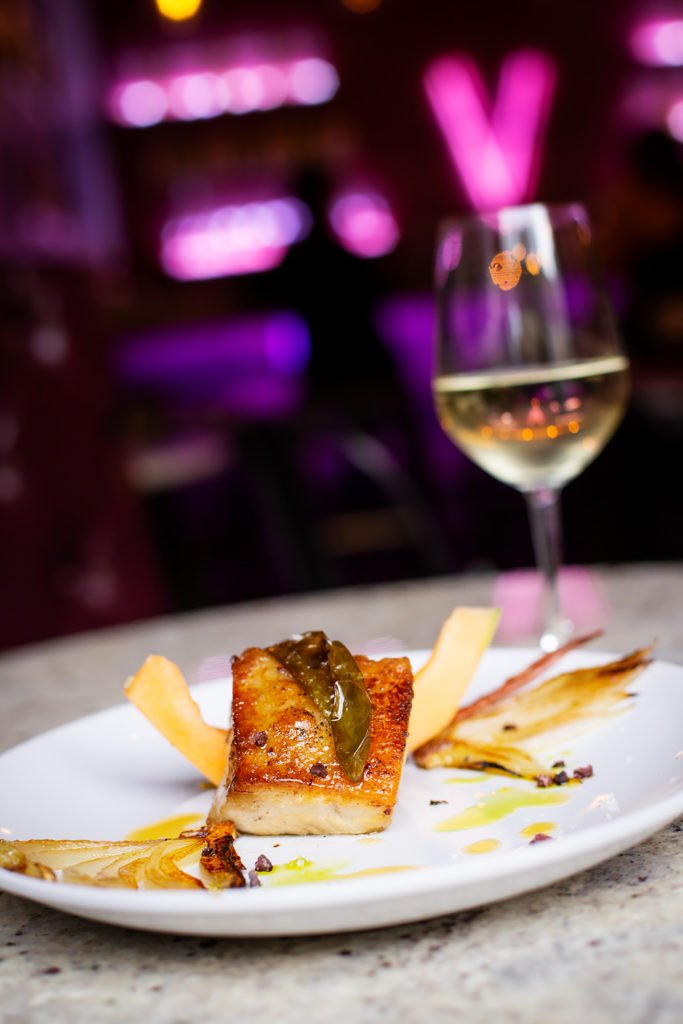 Hit up Happy Hour…
Pepe's Cantina
433 W New England Ave
pepescantina.com
The food, the drinks, and the upbeat atmosphere make Pepe's Cantina a real Winter Park gem. They offer an extensive menu of classic Tex-Mex cuisine, plus fun and innovative twists on the favorites you know and love. Pepe's is a great place for vegetarians and vegans, as they offer multiple veggie-centric selections plus vegan cheese and Beyond Meat. No matter when you go, you're sure to find a great drink deal at their adorable outdoor bar. They offer happy hour daily—even on weekends—from 11am-7pm (and again late night on Fridays and Saturdays from 10pm-midnight). Happy hour includes $3.99 house margaritas, sangria, well liquors, and Tecate & Miller Light. Plus you get a free order of queso and chips with purchase.
If you miss happy hour, there are specials almost every day, which include:
Margarita Monday: $3.99 house margaritas
Taco Tuesday: $2.99 shredded chicken & ground beef tacos (dine-in only); $1.99 house tequila shots
Wine Down Wednesdays: From 6pm-9pm, Pepe's offers bottomless wine, sangria, and Tecate light, plus an unlimited food buffet as well—the whole deal is only $15 per person and tons of fun.
Sunday Funday: Brunch and bottomless mimosas from 11:30am-3:00pm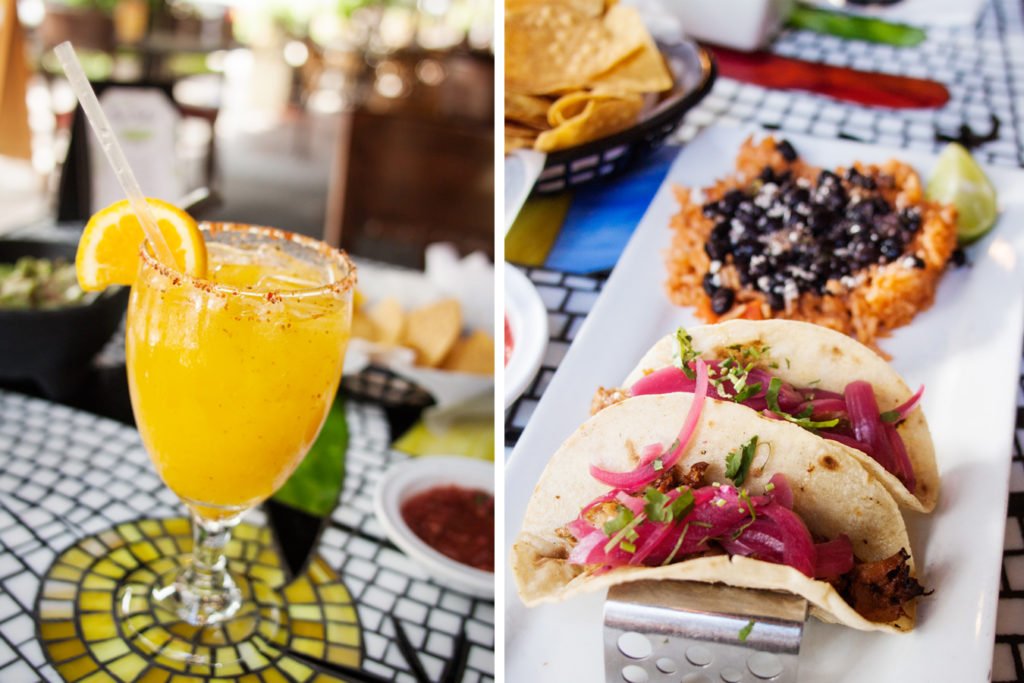 Sausage Shack
400 W New England Ave
sausageshackwp.com
Sausage Shack is great for a casual date in the heart of Hannibal Square. The entire setup is in a beautiful outdoor courtyard. Choose from the extensive menu of tasty sausage sandwiches, plus other options like bangers & mash and mac & cheese. The sausage lineup includes 12 different sausages to choose from, and a fun mustard bar to top it off. Vegetarians and vegans, don't be shy: they have some great options for you, too, like alternative sausage and jackfruit sandwiches. Stick around for fun games like Jenga and cornhole. A rotating selection of craft beers is available daily.
Tip: happy hour is served Tuesday-Thursday from 6pm-9pm, including $3 wine and cocktails, $2 draft beer, and $1 off sausage sandwiches.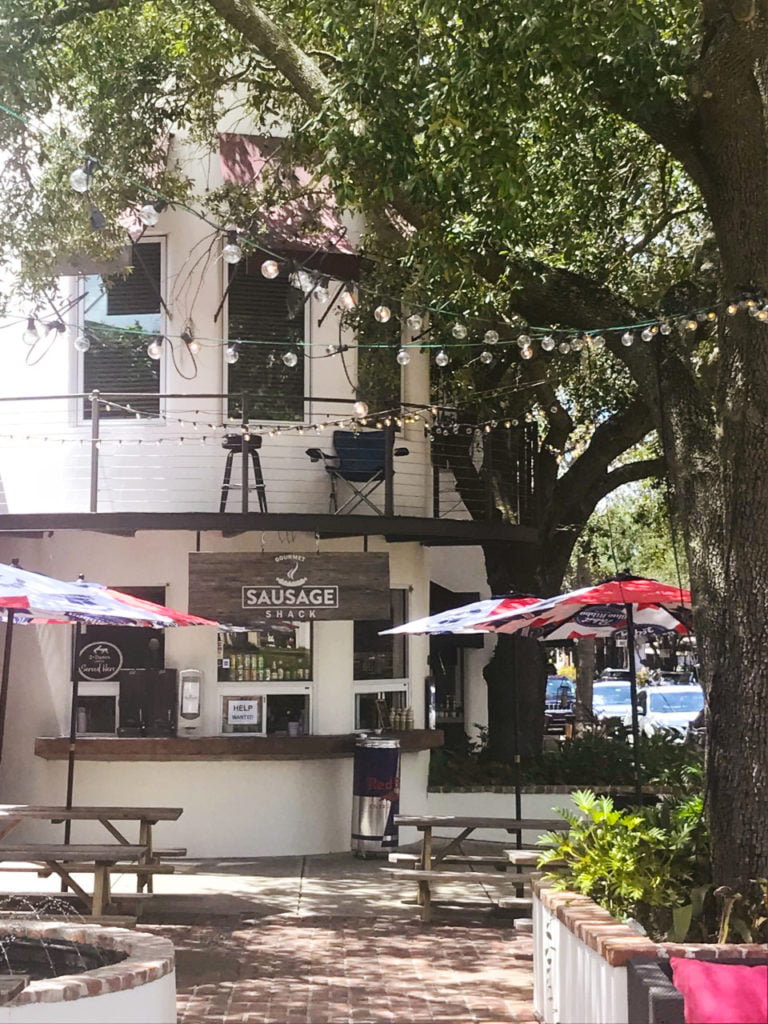 Explore Free Things to Do…
You don't need to spend a dime to visit this charming corner of Winter Park. For a totally free date, start the day perusing the local shops, like Rifle Paper Co. Inside you'll find an assortment of colorful paper goods, like art prints, stationary, planners and more.
Pause for a picnic in Shady Park, a small but scenic city park with paved walkways, picnic tables, benches, and plenty of green space. Bring along your own provisions or pick up budget bites from the aforementioned Sausage Shack.
Lastly, plan a visit to the Hannibal Square Heritage Center. This free museum, opened by the Crealdé School of Art, is an ode to the area's African American community and history. Inside you'll find an impressive permanent exhibition, which includes oral histories and photographs from the community, plus traveling art exhibits. For a more in depth experience, join the monthly Hannibal Square walking tour led by Chief Historian Fairolyn Livingston (3rd Saturday of each month from 10-11:30am). The museum also hosts an annual Folk and Urban Art Festival in April.
Dine at a Date Night Fav…
Mynt Fine Indian Cuisine
535 W New England Ave
myntorlando.com
One thing to love about Hannibal Square, and Winter Park in general, is the diversity of global cuisine available at every corner. A favorite among date nighters (and a runner-up for Best Indian in this year's Orlando Sentinel Foodie Awards), Mynt is a go-to for authentic and artfully presented Indian cuisine in an upscale setting. There are a few outdoor tables for dining al fresco.
Armando's
463 W New England Ave
armandosorlando.com
Armando's is ideal for a romantic date night. There's a large and lively indoor dining area, and a more toned-down outdoor patio. The menu is comprised of classic Italian favorites plus unique Armando's specialties. We highly recommend trying one of their handcrafted pizzas—our favorites are the San Giovanni (mushrooms, mozzarella, truffle oil, fried eggs) and the Prosciutto E Fichi (mozzarella, gorgonzola, prosciutto, fig jam). Armando's also offers a great brunch menu on weekends, and a weekly happy hour at the bar with $2-$5 drink specials.
Chez Vincent & Hannibal's on the Square
533 and 511 W New England Ave
chezvincent.com; hannibalslounge.com
Owned by Chef/Owner Vincent Gagliano and his wife, Teri Gagliano, Chez Vincent and Hannibal's on the Square are date night staples in Hannibal Square. The former has been in business for more than 20 years, specializing in traditional French cuisine served in an upscale setting. Next door, you'll find Hannibal's on the Square, a trendy lounge with live music on the weekends, a spacious bar, and intimate dining. The menu focuses on classic French cuisine and global wines. The real stunner is the underground wine cellar, available for private dinners and events.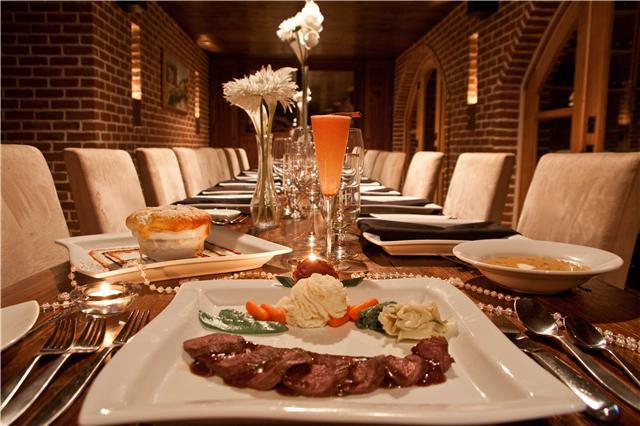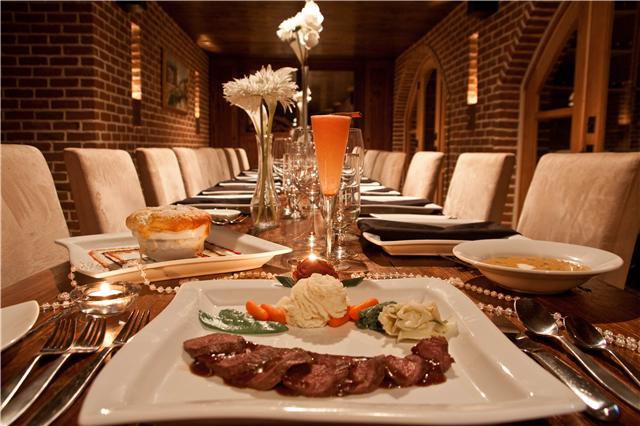 Find Your Zen…
The Heart of Hatha – CLOSED
216 W Lyman Ave
theheartofhatha.com
The Heart of Hatha is the newest addition to the Hannibal Square area. Located in a historic chapel, this new yoga studio hosts weekly yoga and meditation classes designed to align body, mind and soul. Expect a relaxing, gentle practice great for beginners and experienced yogis. The studio owner also hosts periodic couples yoga events called Lovsana. Check out the upcoming grand opening on March 9 including a yoga class with live music, crystal bowl meditation, henna art, wellness consultations, and local refreshments.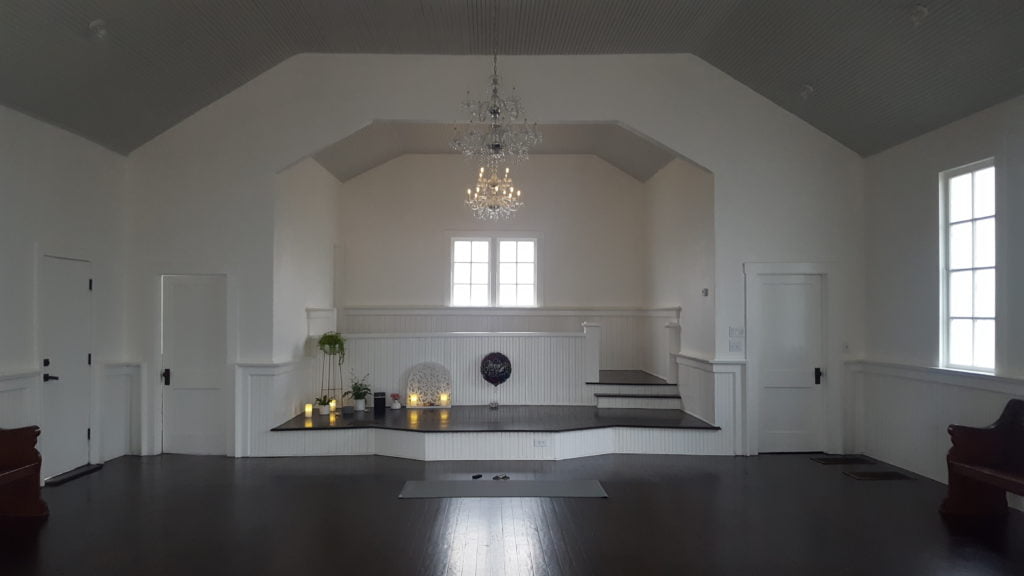 Cozy Up with Coffee…
CFS Coffee
430 W New England Ave
cfscoffee.com
Located next door to Sausage Shack, CFS Coffee (short for Café Frutos Selectos) is a warm and inviting place to savor coffee or linger over a light meal. In addition to Colombian coffee, CFS also serves tea, wine, beer, sangria, salads, smoothie bowls, toast, sandwiches, pastries and more. The highlight of the Winter Park location is the picturesque corner seating area, complete with decorative pillows, eclectic art on the walls, and a coffee table. If a world nomad decided to open a local coffee shop, I imagine it would look a lot like CFS.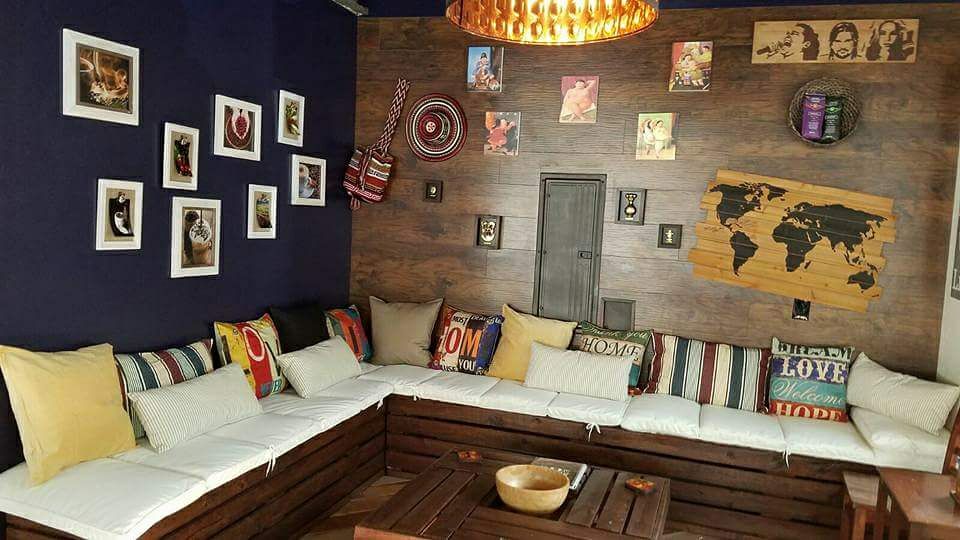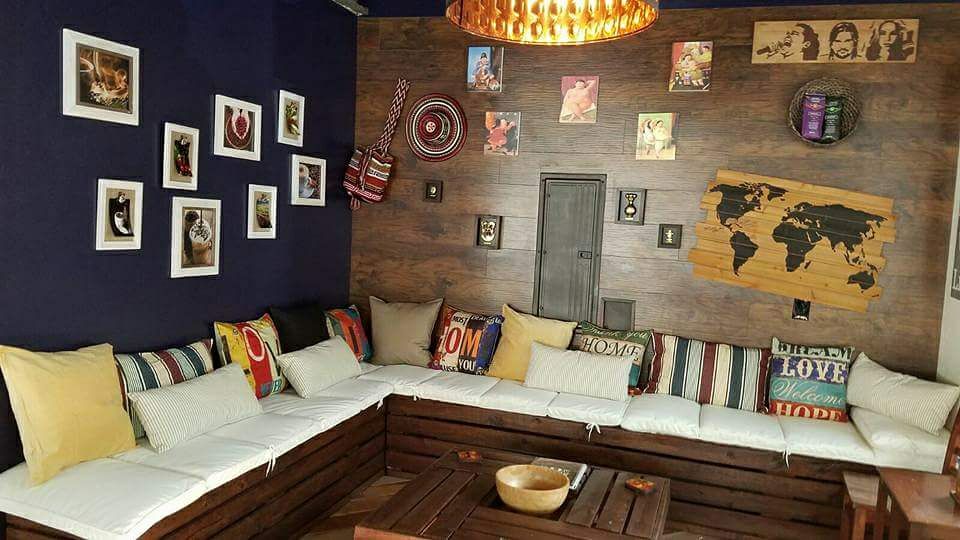 Disclosure: Vinia Wine Bar is one of our valued advertising partners.