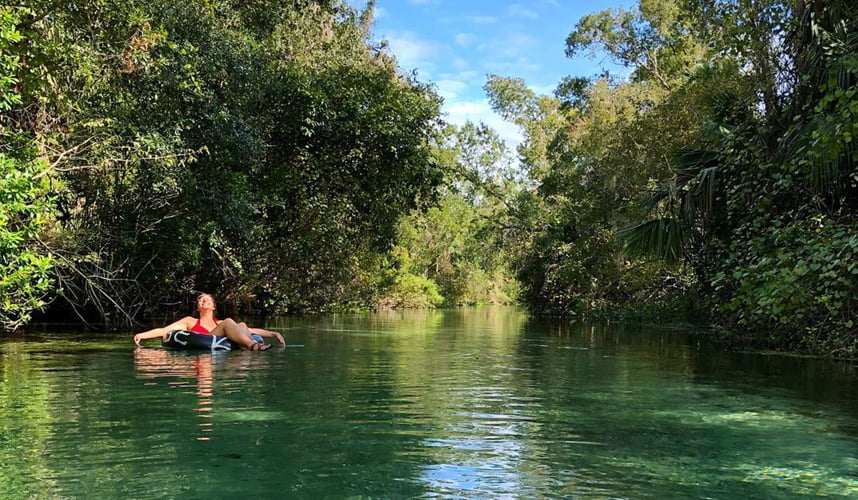 Central Florida has long attracted visitors and residents looking to enjoy its lush subtropical landscapes, mystical springs, and inviting green spaces. Explore them with your sweetheart while connecting out in nature. To help you plan, we've compiled a complete list of the best Central Florida springs, parks, and gardens. Plus, we've included a few locations that are worth a day trip, and our picks for parks when you have little ones in tow.
Remember, as you set out to enjoy Florida's natural beauty, do your part to ensure your visit does not have a negative impact on the land. Stay on marked trails, pick up after yourself and reduce waste. Look for sunscreen and other products that do not have chemicals that can harm Florida's aquatic ecosystem. As they say, take only photos and leave only footprints.
SPRINGS
400 E Kelly Park Rd, Apopka
Kelly Park is very popular for tubing, but the park is still worth visiting for a swim in the refreshing spring water, a DIY picnic by the water, or a nature hike. Either way, a visit to Kelly Park and Rock Springs is often seen as a right of passage for Central Florida residents. There are picnic facilities, restrooms, and a concession stand. Tube rental is available just outside the park, or you can bring your own. We recommend visiting during the week or outside of the busy summer season (October is a surprisingly great time to tube!). If you do visit in the summer, be sure to arrive very early (before 10am) as the park fills up quickly.
$3 per vehicle for 1-2 people; $5 per vehicle for 3-8 people; $1 for additional person/walk-ins/motorcycles/bikes
1800 Wekiwa Cir., Apopka
Wekiwa Springs State Park's beautiful spring waters made for Central Florida's first tourist attraction, with a bathhouse and hotel established in 1870 (sadly those structures are not still standing). The swimming area is an average depth of four feet, making for a relaxing, refreshing dip. Bring a picnic and beach gear to really enhance your experience. There are over 25 miles of hiking trails too! We love arriving early, renting a canoe or kayak, and then cooling off for the afternoon in the refreshing spring water. You can launch your canoe or kayak from the springs area, follow the Wekiva River for about a mile, and then you'll come across Weikva Island, Florida's best outdoor bar. Pull your vessle in, tie off, and grab a drink before heading back. Weekends are very popular.
$6 per vehicle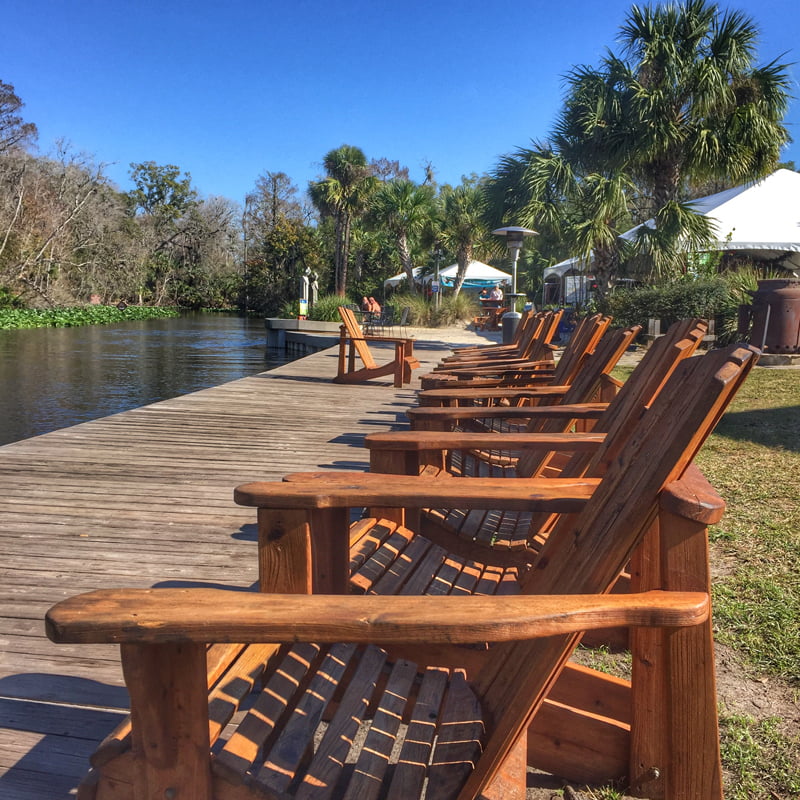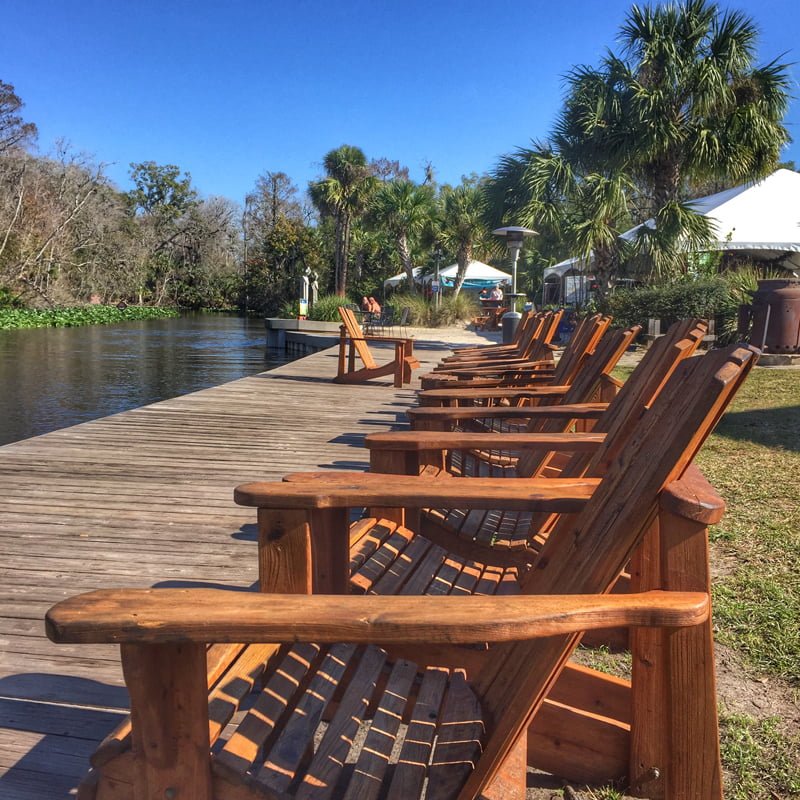 2100 W French Avenue, Orange City
Did you know Florida has a Blue Spring State Park and a Blue Springs State Park? Here in Central Florida, Blue Spring (singular) State Park is known for its incredible manatee watching on cold winter days. In the spring and summer when the manatees have gone, you can snorkel, swim, or scuba dive in the crystalline waters. Take a walk along the hiking trail or lovely boardwalk winding through the woods and along the water's edge to the headwaters of the spring. A camp store and concession stand offer good, basic food, or bring along a picnic. There is also a guided river boat tour along the St. Johns River. This park is very popular on the weekends, especially in manatee season.
$6 per vehicle
601 Ponce de Leon Blvd., De Leon Springs
You'll feel like you're soaking in the fountain of youth in the beautiful spring waters of De Leon Springs. This state park harkens back to the swimming hole days of old. A large swimming area with steps leading into the water, a concrete wraparound deck, and seating make this a great spot for swimming in a nature-made pool. The Old Sugar MIll restaurant is a must-do! Sit around a table with a griddle in the middle and make your own pancakes, with loads of topping choices. If there is a long wait for a table then hop aboard the St. Johns River boat tour and if your table becomes ready while you're on the tour, it'll be ready for you when you get back. This service is subject to change so be sure to verify when you arrive. Be sure to take a quick walk through the museum while you're there. On your way home, stop by downtown DeLand for a stroll down their award-winning Main Street for shopping and dining after your morning in the park.
$6 per vehicle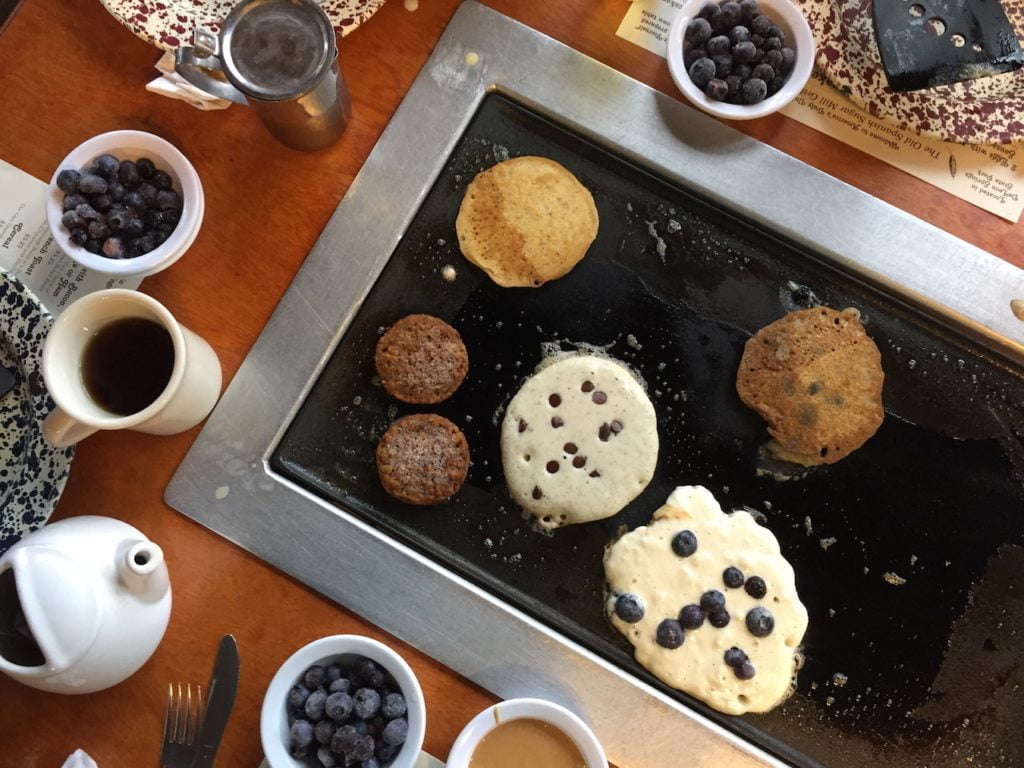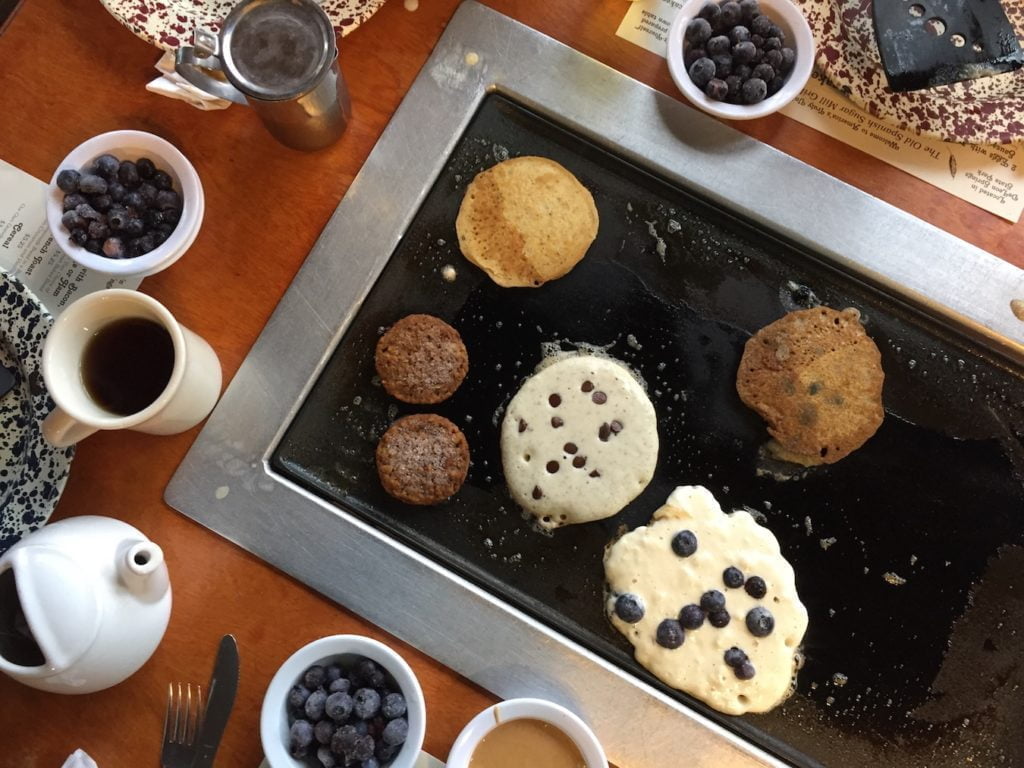 37 Dirksen Drive, DeBary
One of the largest parks in the Central Florida area, Gemini Springs clocks in at over 200 acres. This land was original settled for cattle farming, and there are still remnants of the settlement such as the Spring House and several bridges. There is a 3/4-mile walking trail and a 1-mile bike trail. One downside to this park is swimming is not permitted. But the beauty of the park and the water as it connects with the northwest bayou of Lake Monroe are worth the visit.
WORTH A DAY TRIP
Silver Springs State Park – Silver Springs / Ocala
5656 Silver Springs Rd, Silver Springs
One of Florida's first tourist attractions, this private park was purchased by the state to become a state park and preserve this beautiful area. Famous for the glass bottom boat tour (which is a must-do), you'll see Florida's famous spring waters in a different way. Silver Springs State Park was designated a National Natural Landmark in 1971. You can enjoy a variety of walking trails, a horse riding trail, bike trail, and a museum.
$2 per vehicle
Rainbow Springs State Park and Rainbow River Run – Dunnellon / Ocala
19158 SW 81st, Dunnellon
Many Floridians consider a visit to Rainbow Springs to be a rite of passage. Popular for tubing, swimming, canoeing and kayaking, the Rainbow River Run accessible from this park is a must do for water and nature lovers. Tube rental fees are extra, and you'll need to arrive at the designated tubing entrance for the park (10830 SW 180th Ave. Rd., 4.5 miles south of State Road 40 or 0.9 miles north of County Road 484). From this entrance you can rent a tube, be shuttled up to the river's tubing entrance, then float back down river. It is about an hour and a half float and you'll disembark near Rainbow Springs State Park. The park itself offers beautiful vistas; be sure to check out the Native Plant Garden. Early spring is the ideal time to go as most of the flowers are in bloom. Parking does fill up quickly, usually by 10am in the summer and weekends.
$2 per person plus tube rental fees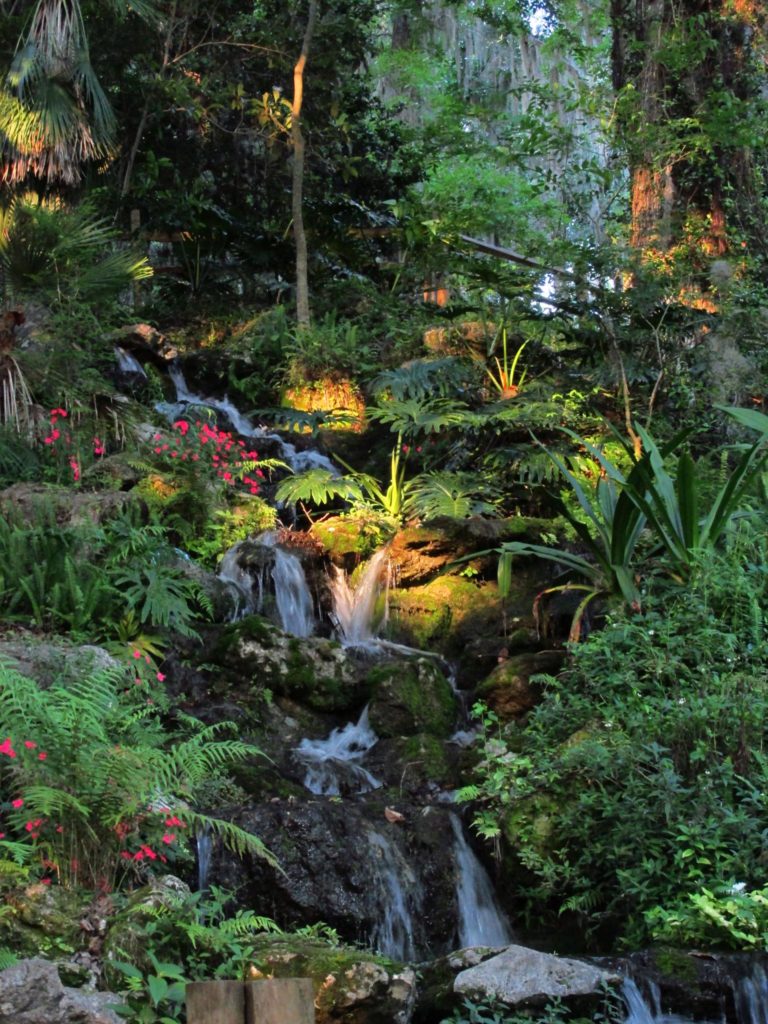 Juniper Springs – Ocala National Forest
26701 East Highway 40, Silver Springs
Swimming is ideal here, but there are a few features that make this park worth the trip from Orlando. Its location within the Ocala National Forest provides one of the most vast encounters with Florida's natural beauty. There is also a millhouse with a working waterwheel that adds a unique charm. A limestone wall acts as inviting entrance into the crystal clear waters. There is also Juniper Creek, which offers 7 miles of canoeing or kayaking, and a 1-mile hiking trail that leads to another spring, Fern Hammock Spring.
$5.50 per vehicle
Weeki Wachee Springs State Park – Spring Hill
6131 Commercial Way, Spring Hill
You haven't seen old Florida until you've been to Weeki Wachee Springs State Park and seen the famous Weeki Wachee mermaids. See swimming mermaids in the live mermaid show, take a boat tour, and enjoy Florida's only spring-fed water park, Buccaneer Bay. The parks four water slides, kid's swimming area, and lazy river-esque area will help you beat the summer heat. FYI – the mermaid shows, river boat and wildlife program are currently CLOSED for renovations and expected to reopen in June 2019.
$13/person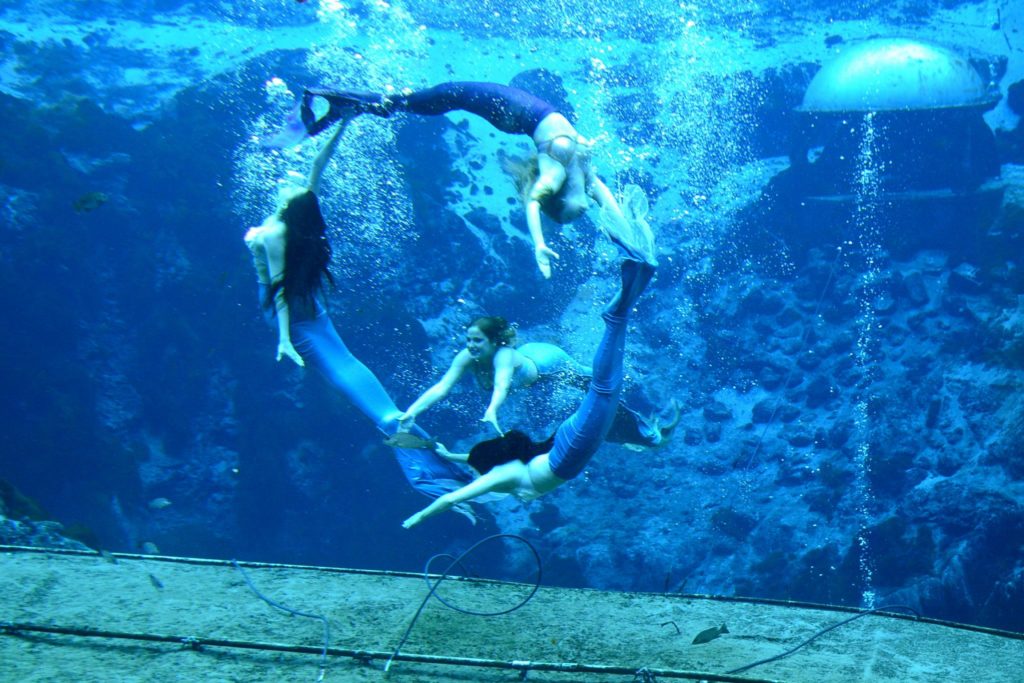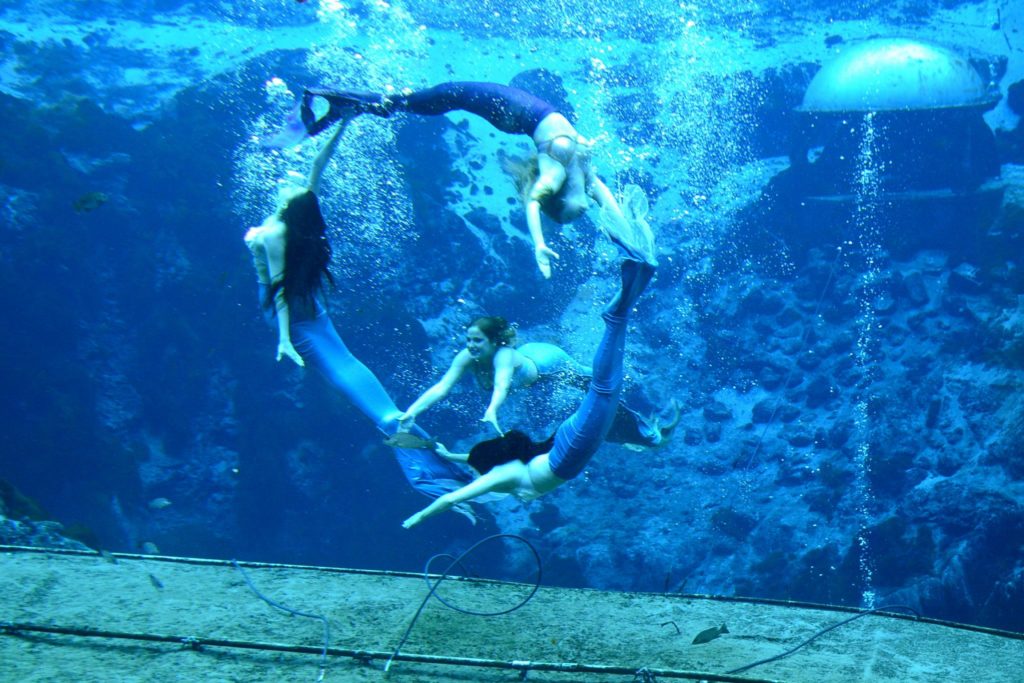 PARKS
4801 W. Colonial Dr., Orlando
Bask in the beauty of cypress trees, an estate built in 1925, and stroll along the lakeside. The estate and charming garden pavilion area make this a popular spot for celebrating a special occasion.
5100 Turkey Lake Rd, Orlando
There's lots of recreation at this 111-acre park. Trails, playgrounds, fishing, and a 17-court tennis center with pro shop. This park is popular with Orlando residents, couples, and families.
2501 General Rees Avenue, Orlando
Home of a former Naval base, Blue Jacket Park is a 75-acre loving tribute to this legacy. The white stone arch bridge makes for a scenic setting. There are pavilions and grills great for gatherings and celebrations. You'll be just 10 minutes from East End Market…may we suggest stopping by to pick up some provisions for a picnic?
512 E Washington St, Orlando
Orlando's landmark park is not to be missed. Rent a swan paddle boat, or stroll the beautiful walkway that wraps around all of Lake Eola. Enjoy live music and other events year round. And, of course, take in the incredible vistas of Downtown Orlando's skyline enveloping the park.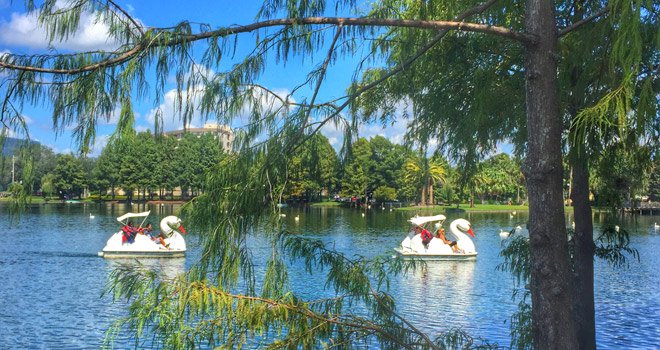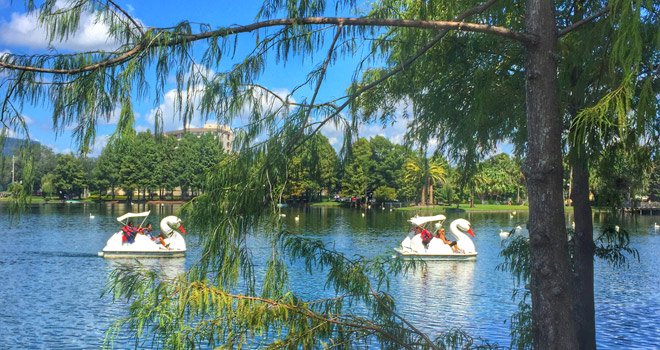 100 Rosearden Drive, Orlando
Central Florida is home to multiple azalea parks, which are a must-visit during azalea season (late February to mid-March). Dickson Azalea Park is beautiful year round. This park has been part of Orlando's history since the city's birth in 1924. The Washington Street Bridge built in 1926 is a definite highlight. Grab something to go from one of the many wonderful eateries in Mills 50 or The MIlk District and bring it to this park for a lovely lunch outdoors.
150 W Morse Blvd, Winter Park
Similar to Lake Eola, this park is surrounded by a city, but in this case the city of Winter Park and its landmark Park Avenue. This park has been the gathering place of Winter Park residents and visitors since the late 1800s. You'll find events here throughout the week, and annual events include the Winter Park Sidewalk Art Festival and charming holiday events.
701 Lake Lily Drive, Maitland
Here you'll be able to walk hand in hand with your honey along Florida's oldest brick road. There is a weekly farmer's market held here every Sunday from 9am-2pm. Progressive date idea: Start with drinks and appetizers at Luke's Kitchen. Walk across the street to Antonnio's Italian Restaurant for entrees and dessert. Then take an evening stroll around Lake Lily Park.
1153 Lake Lotus Park Rd, Altamonte Springs
One of Seminole County's best parks, Lake Lotus Park features a one-mile long raised boardwalk, scenic views of Lake Lotus, an education center, fishing pier, multiple pavilions, and a playground. The park is comprised of over 120 acres of woods and wetlands! Make sure to venture over to the enclosed "Window on the Lake" building overlooking Lake Lotus. Parking during the week is at the park, whereas on the weekends it is off site with a tram service.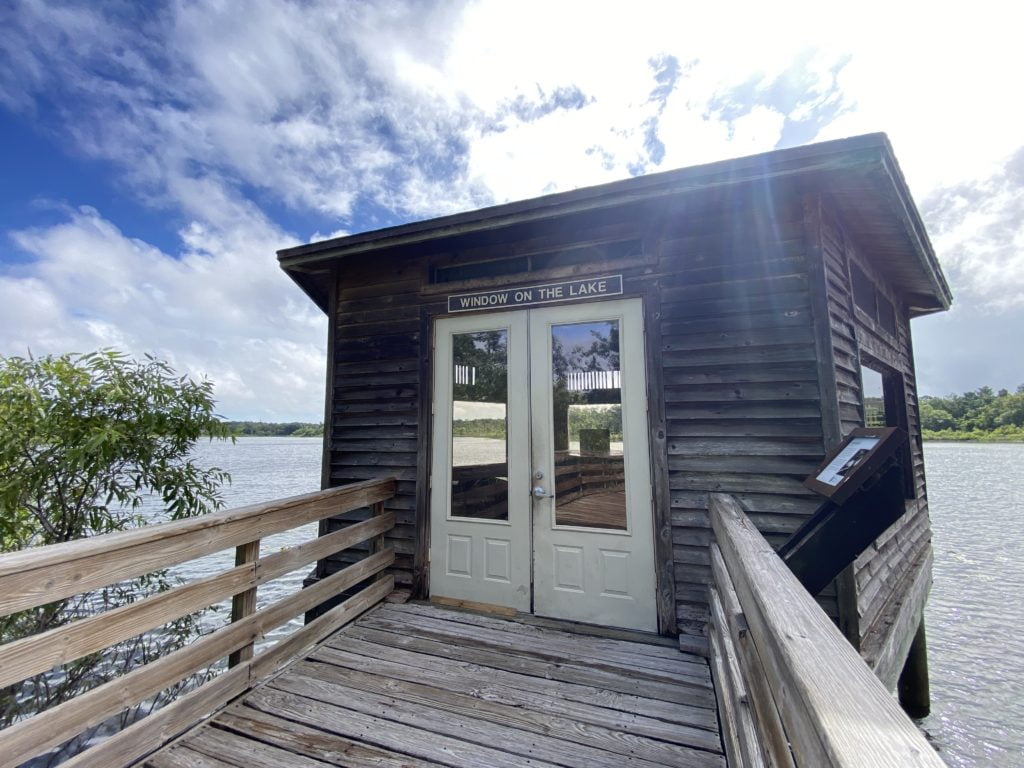 761 General Hutchinson Parkway, Longwood
Big Tree Park is part of a larger conservation area in Seminole County known as Spring Hammock Preserve. This park can be accessed via the Cross Seminole Trail, a 23-mile trail with five trail heads. Big Tree Park is home to dense woods and a boardwalk. The old historic cypress tree, known as the "Senator" was 3,500 years old – until it was sadly destroyed in an act of arson. A memorial pays homage to the park's namesake, and a clone of the tree has been planted near the playground.
1301 Tropical Avenue, Chuluota
Inside Lake MIlls Park you will find Florida's natural, subtropical landscape all around. The boardwalk trail brings you up close with a variety of Florida trees, mixed hard and soft woods. There is a sandy shore along the lake ideal for a hand-in-hand stroll, or laying out a blanket to sit and admire the views. On site camping, a fishing dock, and canoe launch add to the rustic charm of this park, while a small soccer field and pavilions provide recreation opportunities.
2929 S Binion Rd, Apopka
This small but mighty park is a charmer. The Lake Apopka Loop Trail winds through wooded areas and near Lake Apopka. A sand volleyball court offers a chance to have some fun. You might even catch sight of a peacock or two!
WORTH A DAY TRIP
Ravine Gardens State Park
1600 Twigg Street, Palatka
One line sums it all up: "Ancient ravines transformed into a rustic tropical garden." Ravine Gardens is a great stop if you're in the St. Augustine general area. Once inside the park a 1.8 mile paved road offers dramatic views of the ravines and gardens. There are picnic facilities and walking trails. The best time to visit is January – March, especially early March which is azalea season. For hiking enthusiasts, this park offers terrain that is different than most of Florida's hiking, thanks to the ravines.
$5 per vehicle (cash)
Paynes Prairie Preserve State Park – Micanopy
100 Savannah Blvd., Micanopy
Attention wildlife lovers, this is your park! This is the only park in Florida where you can see wild-roaming bison and horses. Nearly 300 species of birds also frequent the park along with alligators, deer and many other animals. Start your visit by catching breathtaking views at the top of the observation tower. A total of eight trails wait to be explored (sometimes high or low rain levels can cause a few of the trails to temporarily close). Be sure to stop into the Visitor Center. Pair your visit with an afternoon spent in the charming, Old Florida town of Micanopy.
$6 per vehicle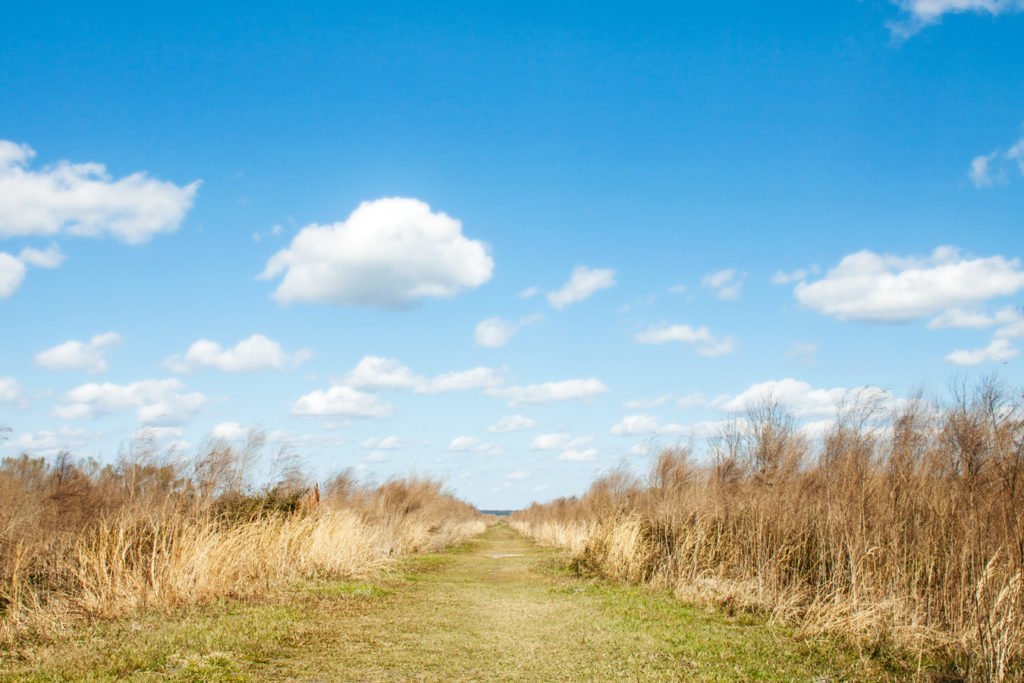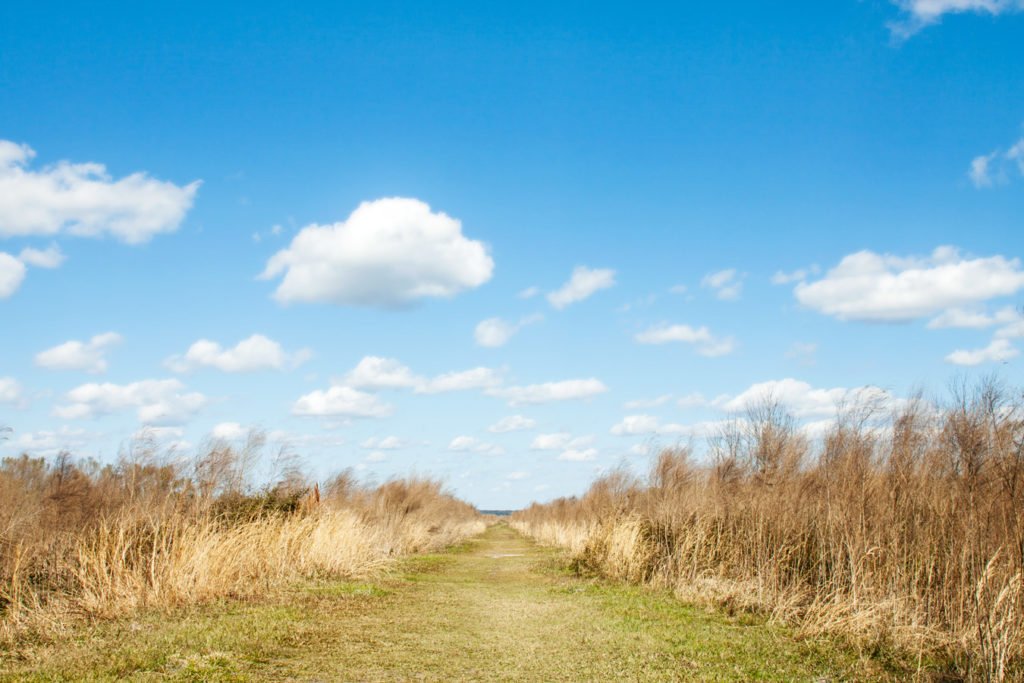 NATURE PRESERVES and WILDERNESS AREAS
8777 Winter Garden – Vineland Rd., Orlando
This 438-acre preserve provides multiple trails and a large education center for connecting with nature. Educational programs are offered every Saturday, check out the website for the current schedule. Some visitors claim they can hear the faint whistle of the train at Walt Disney World's Magic Kingdom, if the wind is just right.
747 Machette Trail, Oakland
Located just off the West Orange Trail near Kilarney Station, the jewel of this 128-acre preserve is the 2/3-mile boardwalk leading to the shores of Lake Apopka. Once you've arrived, soak up the views from the comfort of a rocking chair facing the water. Other perks include nature trails, wildlife spotting, and a spacious visitor center.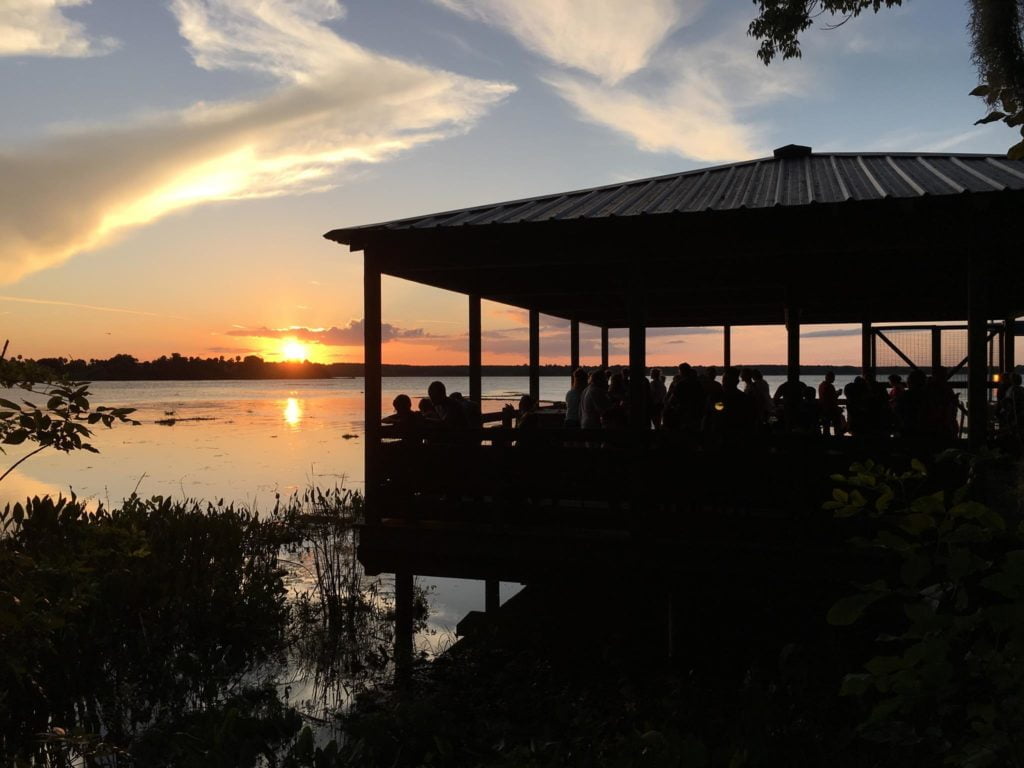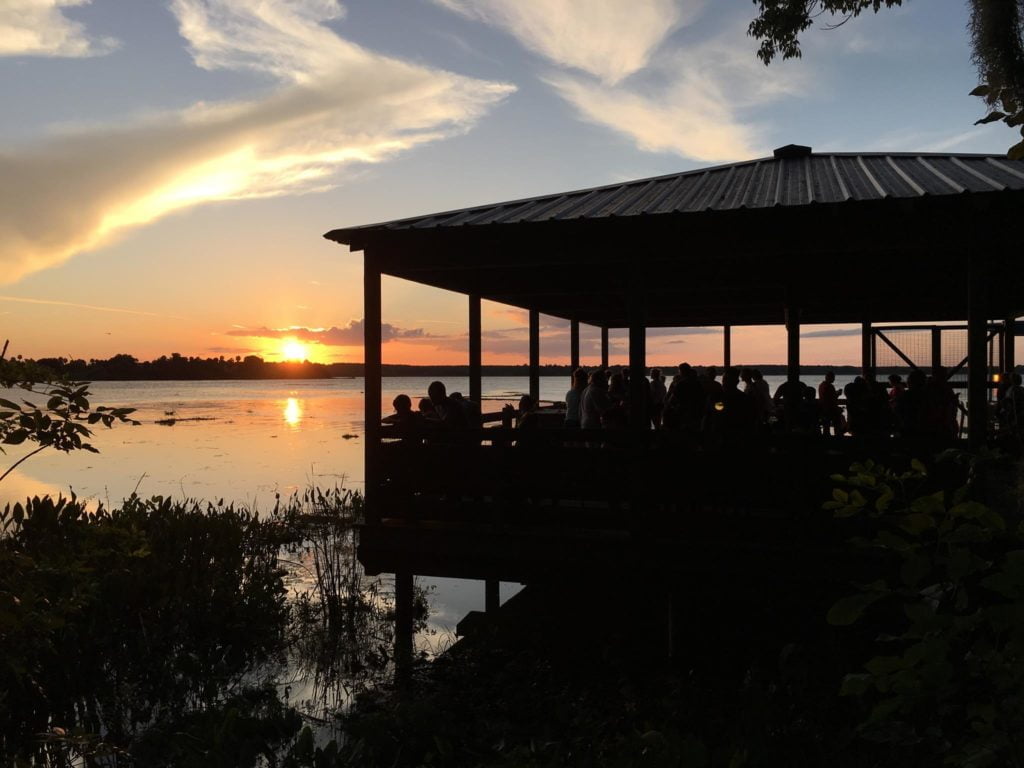 3795 Old Lockwood Rd, Oviedo
One of Central Florida's wildest, natural areas, this park has a 3-mile trail popular with runners and hikers. Views of the river and wetlands are found throughout the trail. This park is best visited outside of our rainy season, as the trail can get a bit soggy.
1555 Winter Springs Blvd, Winter Springs
This small, but mighty 1-mile trail and park allows you to soak up nature in the middle of suburban Seminole County. There are picnic facilities and a well-maintained trail, ideal for a morning or late afternoon visit.
25155 Wheeler Road, Christmas
One of Central Florida's most natural parks and full of wild Florida terrain, Orlando Wetlands Park is perfect for nature enthusiasts. There are hiking trails, overlooks, and observation areas. You'll definitely want to dress in comfortable clothes (and closed toed shoes) for hiking.
3485 N. CR 426, Geneva
Explore 180 acres of native Florida plants, woods, and wild animals. The diverse natural wonders make for beautiful surrounds. Hiking trails offer glimpses at a variety of wildlife including white-tailed deer and grey fox. A nature center offers space for education programs and can also be booked for private events.
GARDENS
1920 North Forest Avenue, Orlando
Leu Gardens is one of Orlando's iconic spaces. Monthly and annual events are offered, including a monthly outdoor movie night. A butterfly garden, rose garden, and shady pathways add a romantic atmosphere. It is worth mentioning that one of the garden's features, the Leu House Museum is closed due to damage from Hurricane Irma.
$10/person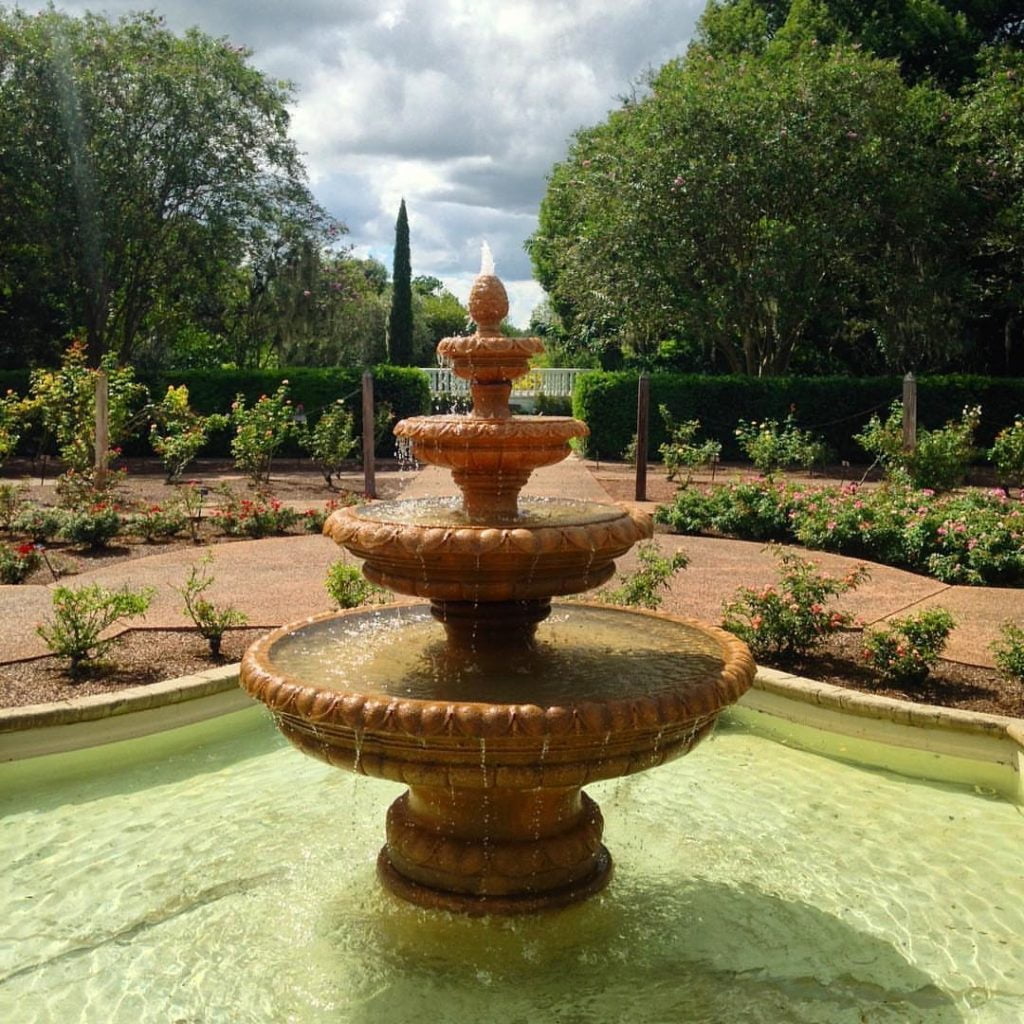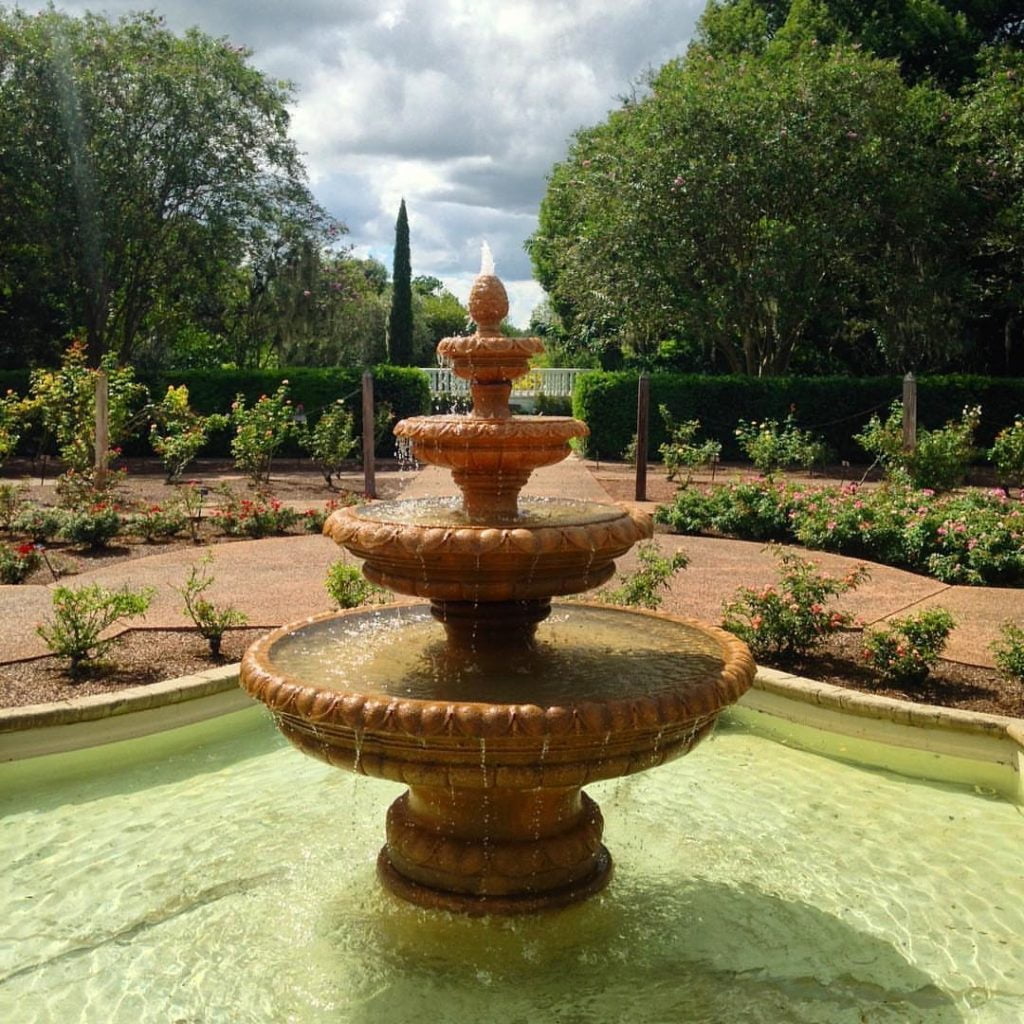 1365 Alabama Dr, Winter Park
This little park packs a picturesque punch. Nestled on Lake Maitland, Kraft Azalea Garden is a scenic spot beloved by many. Enormous cypress trees provide old Florida charm. The Exedra monument creates a regal atmosphere and makes for a popular picture spot. Consider a visit in early March to see the bright brilliant colors of the azalea plants.
1300 S. Denning Drive,
Winter Park, FL 32789
Mead Garden is the hub of nature within Winter Park. This stunning park is popular with Winter Park residents and visitors. Explore the trails, bike path, pavilions, and gardens. In fact, there are five different gardens including a butterfly garden and bee garden. Be sure to check out the website to view all the events held here including concerts and guided hikes.
WORTH A DAY TRIP
Bok Tower Gardens
1151 Tower Boulevard
Lake Wales, Florida 33853
This place is sure to take your breath away and is one of Central Florida's most exquisite places. Quiet romantic hideaways are sprinkled throughout the acres of dense ferns, ancient oak trees, ponds, pines, and palms. There are special events and concerts throughout the year, with notable activities in the holiday season and beautiful blossoms in the early spring. The website offers sample itineraries based on the amount of time you wish to spend at the park. The on site Blue Palmetto Cafe is a great place to grab a fresh lunch, or you can pack your own picnic.
$15/person ages 12 and older, $5/child ages 5-12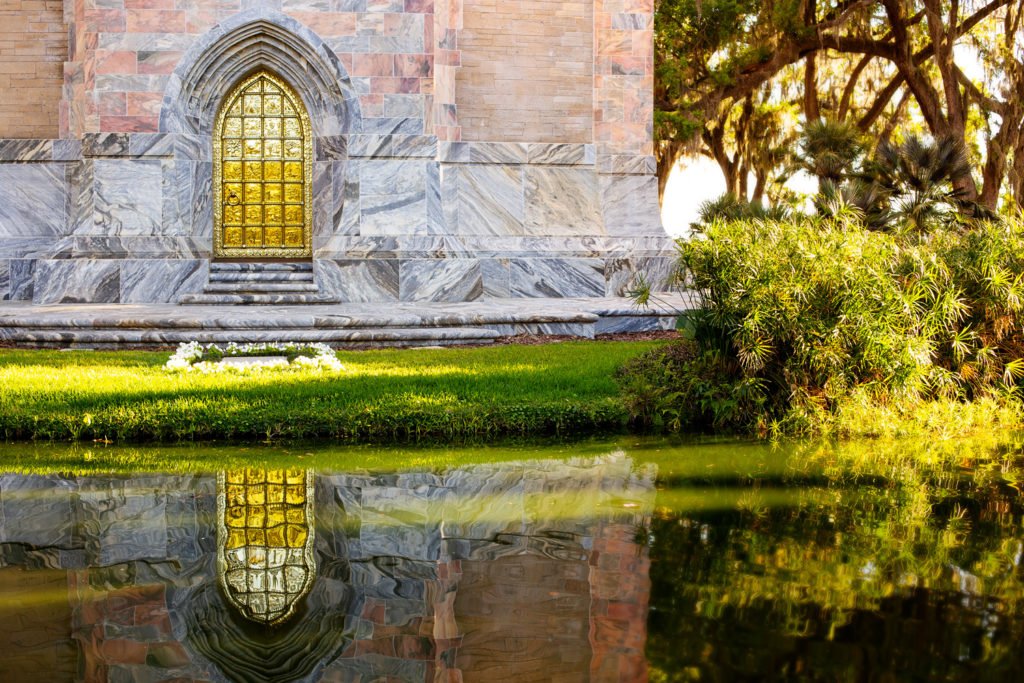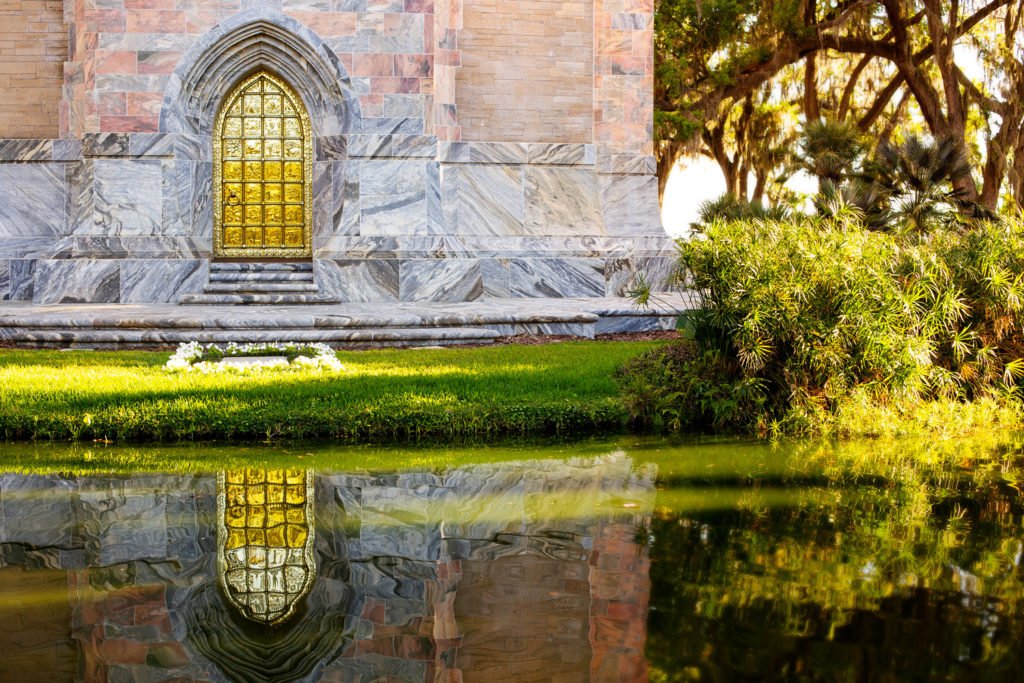 TAKE THE KIDS
8249 Buenavista Woods Bv, Orlando
This spacious 43-acre park is one of the best parks for Orlando residents with children. The playground is somewhat lacking, but the large splash pad park makes up for it and then some. There is plenty of room from spreading out, fountains and sprayers are everywhere, and water spray cannons for family water fights. ou'll find picnic facilities, a beautiful 0.6-mile nature trail, and sport fields.
Splash park admission: $1/person/session on weekends and holidays March-October and weekdays June-August
501 West Crown Point Cross Road
Winter Garden, FL
Combine a beautiful family bike ride with some quality time at a community park. Located on the West Orange Trail, this park is a great place to start your bike ride. Enjoy the playgrounds and the Path of Life engraved brick pathway winding through the garden. It is important to note that bike rental is not available at this park, so you'll need to bring your own, or visit nearby Winter Garden Station for rental.
100 3rd St., Clermont
Waterfront Park is the hub of activity for the city of Clermont. Nearly every weekend there is some sort of event. The main feature for families is the large Champions Splash park – one of the largest splash parks in Central Florida.
$2/person (CASH) for splash park
600 E. 1st Street, Sanford
Fort Mellon Park offers one of the largest playgrounds in the area, a 2-5 year old playground, a splash pad, picnic pavilions, a basketball court, tennis court, and expansive greens pace near Lake Monroe. After enjoying the park, bike along the Sanford Riverwalk. The free Sanford trolley stops here, so hop on board, go for a ride, and stop off at some of Sanford's other sights along 1st Street, Sanford Avenue, and Palmetto Ave.
100 E. Ruby Street, Tavares
Tavares is known for its lakes and seaplanes. Wooton Park is the perfect encapsulation of this, with its lakeside location, views of incoming and outgoing seaplanes, and its spectacular seaplane-themed splash pad. The splash pad is one of Central Florida's best, with a mini water tower topped with a seaplane that sprays water in all kinds of ways, and multiple other features like cattail themed fountains. Right next to it is the Wooton Wonderland, a beautiful wood playground sheltered by shady southern oaks. This lakeside park also has canoe and kayak rental, picnic facilities, and a boat ramp.
Gilbert Park, Graham Point Park, and Mount Dora Lighthouse – Mount Dora
310 South Tremain Street, Mount Dora
Gilbert Park offers one of Central Florida's most whimsical playgrounds. It has a wood castle theme with unique features and lots of additional small structures perfect for little ones ages 2-5 to explore. From Gilbert Park it is a two minute walk to Grantham Point Park, a lakeside park home to the Mount Dora Lighthouse. Grantham Park is a nautical, harbor like park, perfect for romantic views and for your little sailor too.