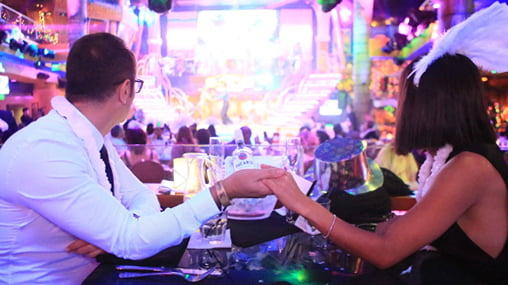 For some, date night is synonymous with "dinner and a movie." I prefer more interactive date nights that allow my partner and me to feel immersed in something new and exciting. This type of shared experience encourages us to engage in the entertainment and with each other which, ultimately, makes for cherished date night memories. There are tons of lively date night opportunities to explore in Orlando, including unique dinner and a show combos. So, why settle for a standard restaurant meal when you can pair dinner with an activity? Here are Orlando's most delish dinner and a show pairings.
For a Taste of Restaurant-Quality Flair…
Magic Dinner at Christner's Prime Steak & Lobster
729 Lee Rd Orlando, FL 32810 | (407) 645-4443 | kostyakimlat.com
In business for 25 years, Christner's Prime Steak & Lobster continues to dominate Orlando's restaurant scene with accolades from Orlando Magazine, Orlando Sentinel, Open Table, and Zagat. You might be surprised to learn that in addition to a piano lounge, every Saturday night from 7-9 pm patrons are entertained at this upscale eatery via tableside magicians.
Additionally, on a monthly basis, Christner's hosts An Evening of Magic Dinner Show, an event founded by Kostya Kimlat and starring his See Magic Live team. Tickets start at $150 (individual) and go up to $655 (VIP table for four). Table-side magic and two entertainment acts impress in between four courses. The menu includes Christner's house salad with freshly baked bread, a crab cake appetizer, an entrée choice of either 8-oz. filet, 12-oz. strip or 12-oz. salmon, sides of chateau potatoes and asparagus, plus chocolate mousse with tea and coffee (alcohol is additional).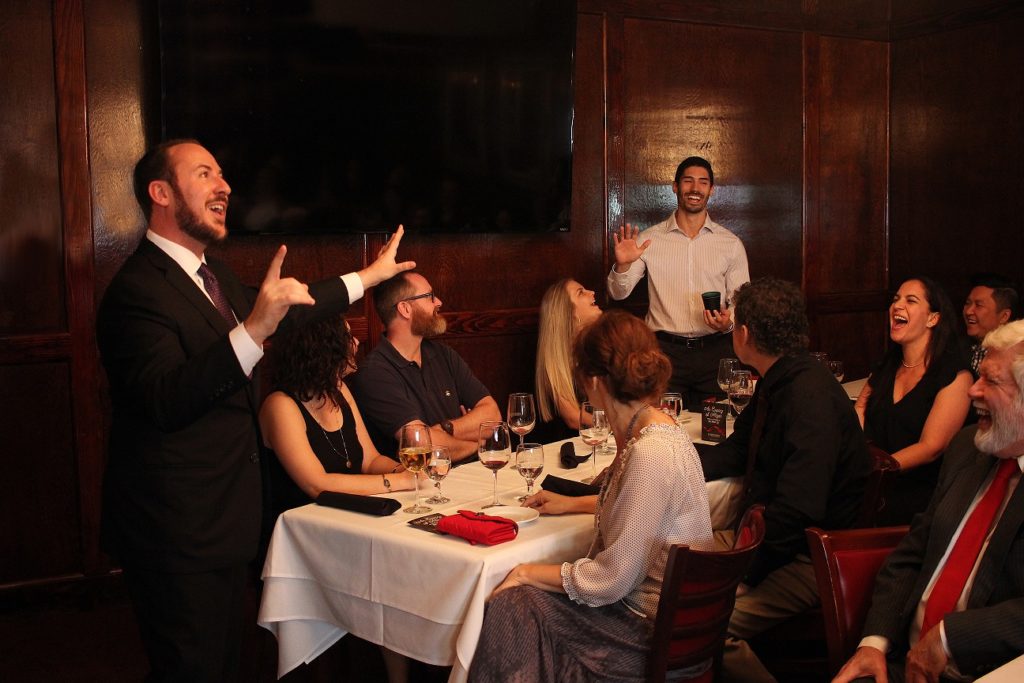 Ceviché Tapas Bar & Restaurant
125 W. Church Street, Orlando, FL 32801 | (321) 281-8140 | ceviche.com
Olé! Disclaimer: I am biased as I am married to a Spaniard… but watching flamenco dancing makes for an awesome date night. It's such a different experience to witness the beautiful traditional style versus, let's say, the silly dance crazes of today (um, 'stanky leg' I am calling you out). Ceviche is a gorgeous Spanish outpost in Church Street Station offering small plates, sangria and much more. Relish a wide array of tapas, such as ceviche (a given!), paella, chorizo, manchego, sizzling gambas (shrimp) and flan.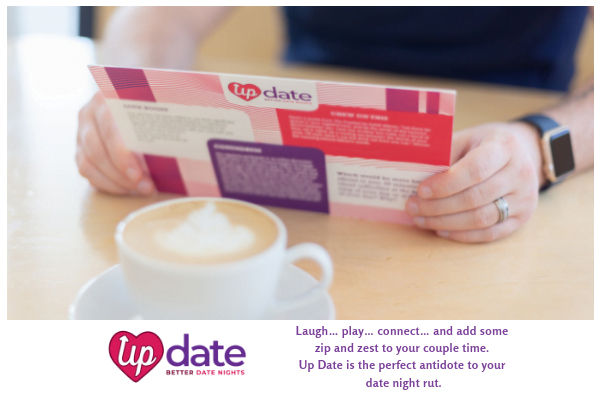 Raglan Road Irish Pub
1640 E Buena Vista Drive, Lake Buena Vista, FL 32830 | (407) 938-0300 | raglanroad.com
Located at Disney Springs, this pub is filled equally with tourists and locals, but it's legit. Ragland Road is owned by Irish businessmen, its bars were made in Ireland, and much of the staff is Irish too.
If alfresco dining is your thing, take a seat at an outside table to hear live musicians on the patio. However, I recommend making a reservation with a request to be seated near the main stage inside the dining room. Raglan Road has launched a "new 90-minute live spectacle of Irish music and dance featuring talented musicians and award-winning Irish dancers." I checked out the new show and can attest to the upgrade! The lively entertainment happens seven days a week, and you can also find specific bands and show times listed on the website. Savor traditional and non-traditional Irish grub including fresh catch; plus a fully stocked bar with Irish beers, Irish whiskeys, and all other libations.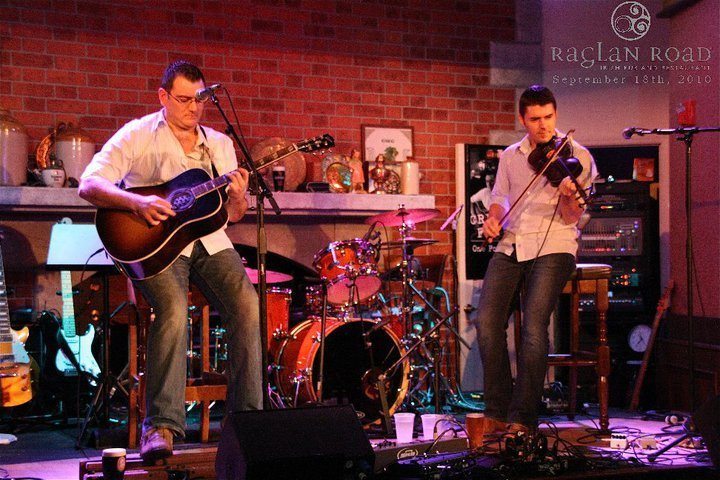 For Heaps of Laughs…
Orlando Improv
9101 International Drive Suite 2310, Orlando, FL 32819 | (407) 480-5233 | theimprovorlando.com
What's the glue helping couples stick together? Laughter! Laughing with a romantic partner is like a sipping love potion, according to a study published in the journal Personal Relationships. And why not pair that love potion with date night dinner, right? Located at Pointe Orlando off I-Drive, the Orlando Improv hosts nationally-known acts, typically Wednesday through Sunday nights. The theater boasts an impressive alumni list, including Lily Tomlin, Robin Williams, Adam Sandler, Jerry Seinfeld and Drew Carey, to name a few. The upcoming calendar includes Margaret Cho, Greg Hahn, Damon Williams, Bryan Callen, Jeremy Piven, and others. The menu includes sriracha candied bacon (yes please!) and a full menu of other fun American-style fare.
Bonkerz Comedy Club
10749 E Colonial Drive, Orlando, FL 32817 | (407) 629-2665 | bonkerzcomedyproductions.com
Making couples laughs on date night since 1984, Bonkerz produces multiple stand-up shows nationwide including several Vegas resort productions. In our hometown of Orlando, which happens to be one of the company's headquarters, touring comics perform twice-weekly at the Bonkerz lounge within the Boardwalk Bowl Entertainment Center on E. Colonial Drive. Yup, that means you could also work bowling into this dinner and a show itinerary. A roster of seasoned comics take to the stage every Friday at 8pm and Saturday at 7:30pm. Shows are typically 21 and up, and require a two item minimum purchase from the pub-style dinner menu and/or full liquor bar menu. Bonkerz also has clubs nearby in Daytona Beach, Deltona, and Ocala.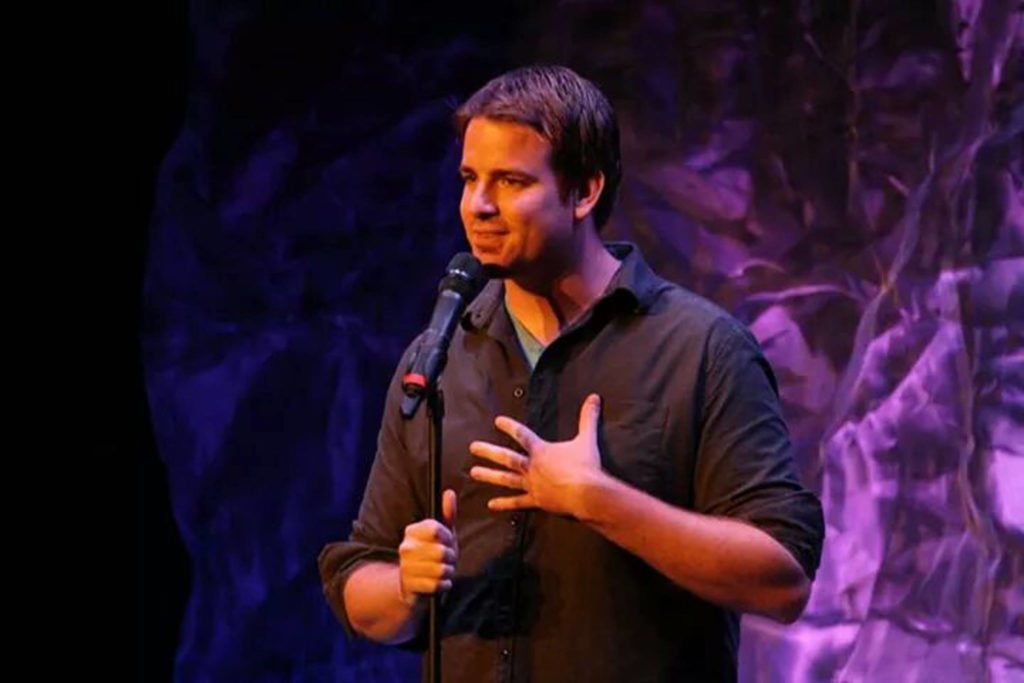 For a Nibble of Chill…
Enzian Theater
1300 South Orlando Avenue, Maitland, FL 32751 | (407) 629-0054 | enzian.org
Enzian Theater is a date night gem! Dinner and a movie is elevated way beyond standard theater seats and box office popcorn. You get the satisfaction of viewing (mostly) independent movies in the comforts of plush couches (inviting date night cuddles) or roomy dining tables. Don't settle for a hot dog and jumbo pretzel when you can savor a menu inclusive of delish sharables (dips, small bites, etc.), flatbreads, salads, sandwiches, and sweets, plus beer, wine and cocktails. You, of course, get to stay seated to watch the film and be served by a wait staff. Also, check out Enzian's alfresco restaurant, Eden Bar, anytime without catching a show.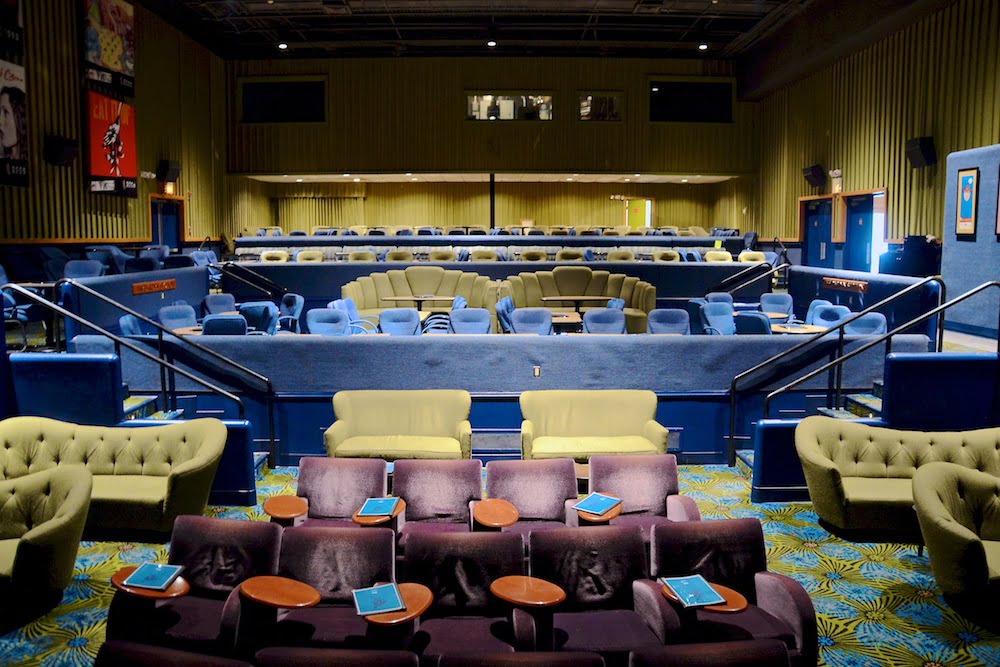 Austin's Coffee
929 W. Fairbanks Ave. Winter Park, FL 32789 | (407) 975-3364 | austinscoffee.com
Open 24 hours a day, you can enjoy a date at Austin's anytime your heart desires. However, nightly entertainment typically starts at 8 or 9pm and offers a chill twist on dinner and a show. The calendar includes a weekly Jazz Jamz (on Thursdays) and various themed open mic nights, like poetry, standup comedy, and hip hop. Nosh on crisp salads, hearty sandwiches and sweets, including tons of vegan desserts.
Maxine's on Shine
337 N. Shine Avenue, Orlando, FL | (407) 674-6841 | MaxinesOnShine.com
This little eatery is discretely hidden on a residential block within Colonial Town of Downtown Orlando. Maxine's eclectic mix of live musical acts includes some bold entertainment with the recent line-up including a burlesque show and sexy opera singers belting out flirty songs. Most evenings present talented singers and instrumentalists. In addition to patio seating, Maxine's has a small but funky dining room with walls lined with vibrant art and animal print tapestries. Give it a try for dinner or brunch!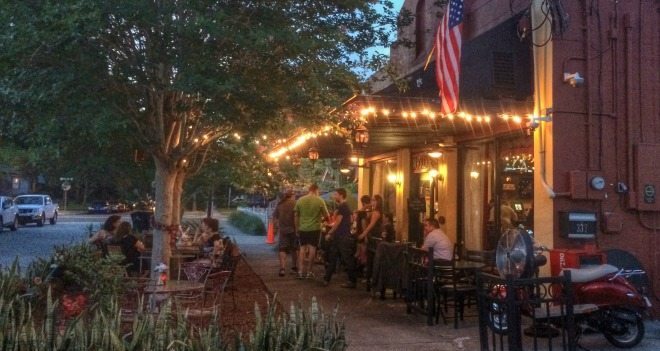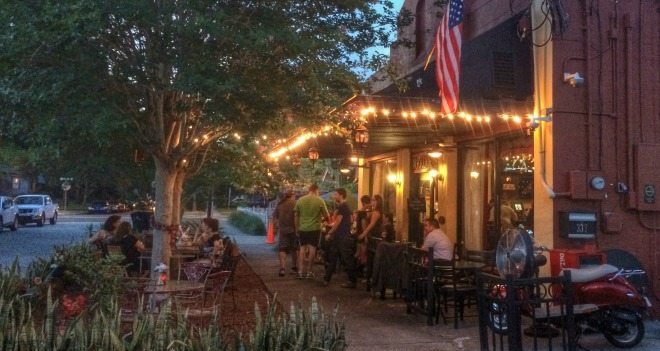 For High Energy…
Orlando Forum Rock Dinner Show
6362 International Drive, Orlando, FL 32819 | (407) 536-7943 | orlando-forum.com
This musical feast is a newcomer to the Orlando dinner show scene and thus a recent repeat offer on Groupon. Yelp reviewers have noted that some kinks still need to be ironed out but overall rank it as a 4-star experience. Performing live rather than lip-syncing, the impersonator cast includes Katie Perry, Justin Timberlake, Elvis, Prince, Michael Jackson, and other icons. The show includes a unique array of other entertainers like aerial artists, dancers, a band and visual effects.
Chef Russell Booth previously worked the kitchen for Disney and Hard Rock, plus he earned honors at the Orlando Mac-Down and other local foodie competitions. Now he's encouraging attendees to eat to the beat with a 3-course meal: wedge salad, entrée choice of scallopini of chicken, braised short rib or vegetarian pasta primavera and a "sweet emotions" dessert aka double chocolate mousse cupcake.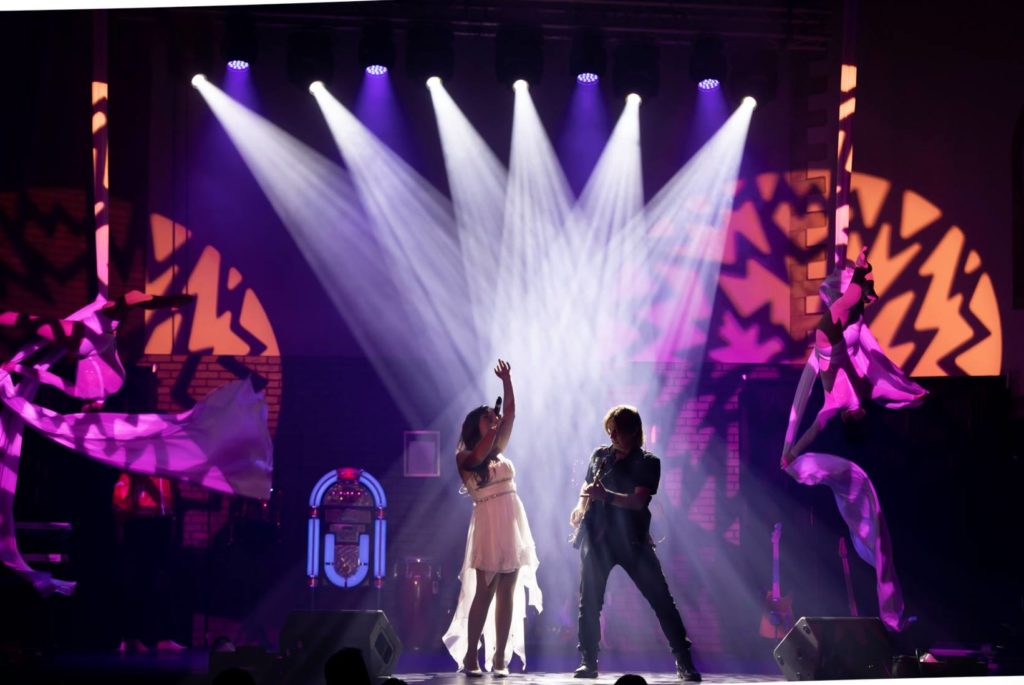 Cirque By Night
6400 Carrier Drive, Orlando, FL | (407) 206-5102 | cirquebynight.com
Bustling with rowdy cirque, burlesque and more, Treasure Tavern has reinvented itself with a new dining experience: Cirque By Night. It may be circus-themed, but the clowning around is an adult-themed spectacular full of comedy, magic, dancers and other vibrant performers. You won't catch a standard Ringling Bros. demonstration here. The theater is somewhat small so you can snag decent seats to watch the diverse acts.
For a Culture Course…
Mango's Tropical Café Orlando
8126 International Drive, Orlando, FL 32819 | (407) 673-4422 | mangos.com
Last year, Mango's took top ranks for Best Music Venue in our annual Orlando Date Night Awards. Part dinner show and part night club, date night begins with dinner and show (two seating times available). Expect a colorful performance in every sense of the word. Think energetic dancers, singers and impersonators, vibrant costumes, loud music, and bright lights. Jam to covers of Bruno Mars, Jennifer Lopez, Celia Cruz, Michael Jackson, Tina Turner, and Selena; and also an array of Latin music and dance genres, like hip hop, salsa and samba. Select your Latin-inspired fare from one of four dinner and a show menus ($39-$69 per person). Then, after the show, stay for the nightclub experience to dance into the wee hours to DJ tunes while sipping signature cocktails.
if you'd rather learn some of those dance moves yourself, stick around for the new Dinner & a Show After Party (beginning May 21, 2019). Exclusive and free for guests of the dinner show, the after party is a 1.5-hour experience that includes a basic steps dance class led by Mango's master emcee and dancers, plus meet and greets, happy hour specials and more. The after party takes place on the second floor inside the Voduo Room.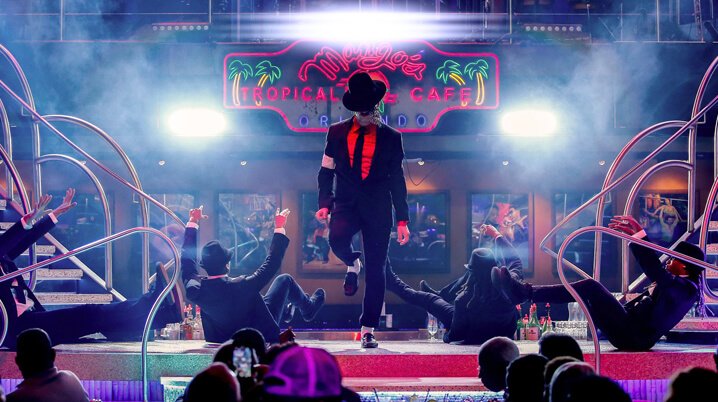 Disney's Spirit of Aloha Dinner Show
1600 Seven Seas Drive, Orlando, FL 32830 | (407) 939-5277 | disneyworld.disney.go.com
Wouldn't it be magical to escape to the Hawaiian Islands with your love? Of course! But you don't have to book a flight to savor a magical luau. Disney's Polynesian Village Resort hosts a tropical buffet that showcases traditions from Tahiti, Samoa, Tonga, New Zealand, and Hawaii with customary amusement like belly dancers, drummers and fire-knife performers. Served in an open-air venue, feast on authentic pulled pork, Polynesian ribs, pineapple-coconut guava cake and umbrella-dressed cocktails (alcohol is additional).
For Girls' Night Out & Boys' Night Out
Hamburger Mary's
110 W. Church Street, Orlando, FL 32801 | (321) 319-0600 | hamburgermarys.com
Many restaurants on Church Street in Downtown Orlando have come and go, but Hamburger Mary's continues to dominate girls' night outings (and date night) thanks to its tasty fare and spicy entertainment. Female impersonators perform several hilarious dinner shows each week. Catch "Twisted Sisters Bingo" on Tuesdays (and, yes, bingo morphs into a full-on show), the "Dining with the Divas" show on Fridays, "Leigh Shannon's Cabaret Dinner Show" on Saturday or "Broadway Brunch" on Sunday. As the name eludes, order one of 14 signature hamburgers (protein choice of beef, black bean, turkey patty or chicken breast). Then, sweeten the experience with Mary Tyler S'mores, a roasting kit overflowing with graham crackers, chocolate bars, and marshmallows to create culinary memories right at your table.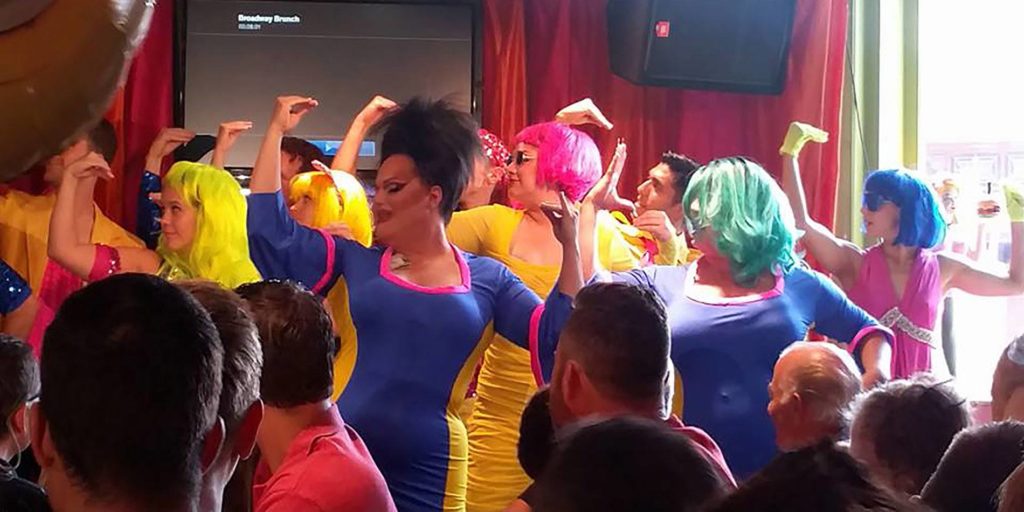 Manor Professional Wrestling Dinner Theater
1875 Silver Spurs Lane, Kissimmee FL 34744 | (863) 874-0361 | manorprowrestling.com
If you enjoy eclectic date nights and the theatrics of professional wrestling, this unique dinner show could be for you. But perhaps this experience is better suited for boys' night out! Held on select dates, the two-hour show serves up three body-slamming courses and seven wrestling matches. Ticket options even include meet-and-greets with the performers and in-the-ring photo opps. 10 % of each Manor Pro Wrestling ticket is donated to Second Harvest Food Bank.
Also try:
Feature image credit: Mango's Tropical Cafe