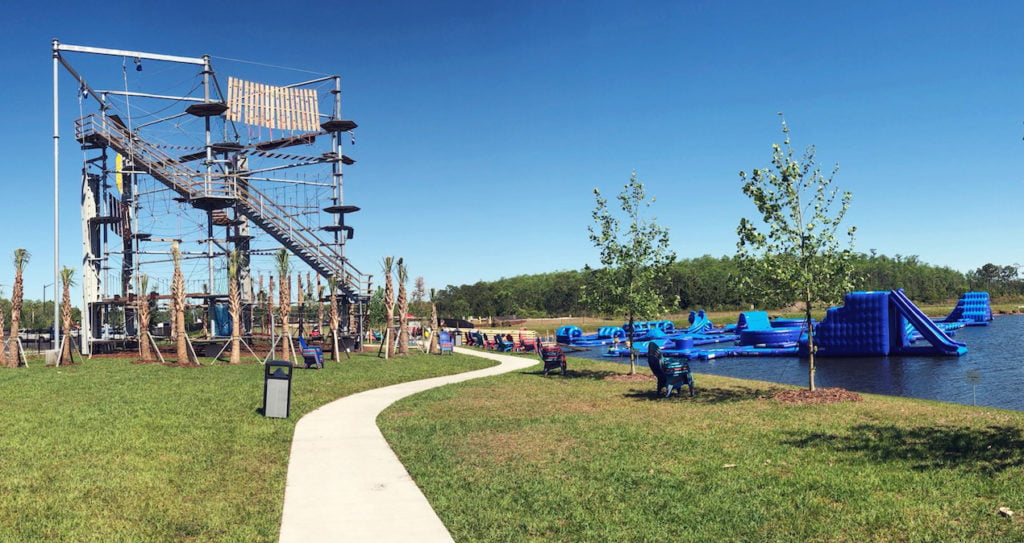 Itinerary: Get in touch with your inner kid at Nona Adventure Park followed by a Lake Nona food crawl
Lake Nona has got it going on for date night. New restaurants are constantly on the horizon, adding to the area's evolving culinary scene. Boxi Park, a shipping container food truck park and entertainment venue is currently in soft opening. Fun events take place on a regular basis, including quarterly outdoor movies, monthly Art After Dark, outdoor yoga, and a new weekly farmer's market.
Other date night favorites include Drive Shack, a sprawling golf entertainment venue, and the recently opened Nona Adventure Park, comprised of an inflatable water park, cable water ski/wake board park, and aerial ropes course. And soon, an autonomous shuttle service, Beep, will begin cruising around Lake Nona. Woohoo! Go Lake Nona!
To help you sift through all of the choices, we're reviving our Double Date series with a complete itinerary for this date night friendly corner of Orlando. Follow our ideas for an evening checking out what's new while hitting some of the dining highlights.
NONA ADVENTURE PARK
Sprawling from land to lake, Nona Adventure Park is one of Lake Nona's latest and greatest additions. The complex, complete with a waterpark, cable park, and aerial ropes course sits on a peaceful manmade lake just outside of the main town center.
Colorful Adirondack chairs line the shore, providing a view of the surrounding landscape and park action. Plus, there's a huge covered lakefront patio which also has a bistro and snack bar selling goodies like oven-baked pizzas, flatbreads, salads, sandwiches, dippin' dots (!!), beer and wine. There's free live music every Friday evening during the park's Songs at Sunset series.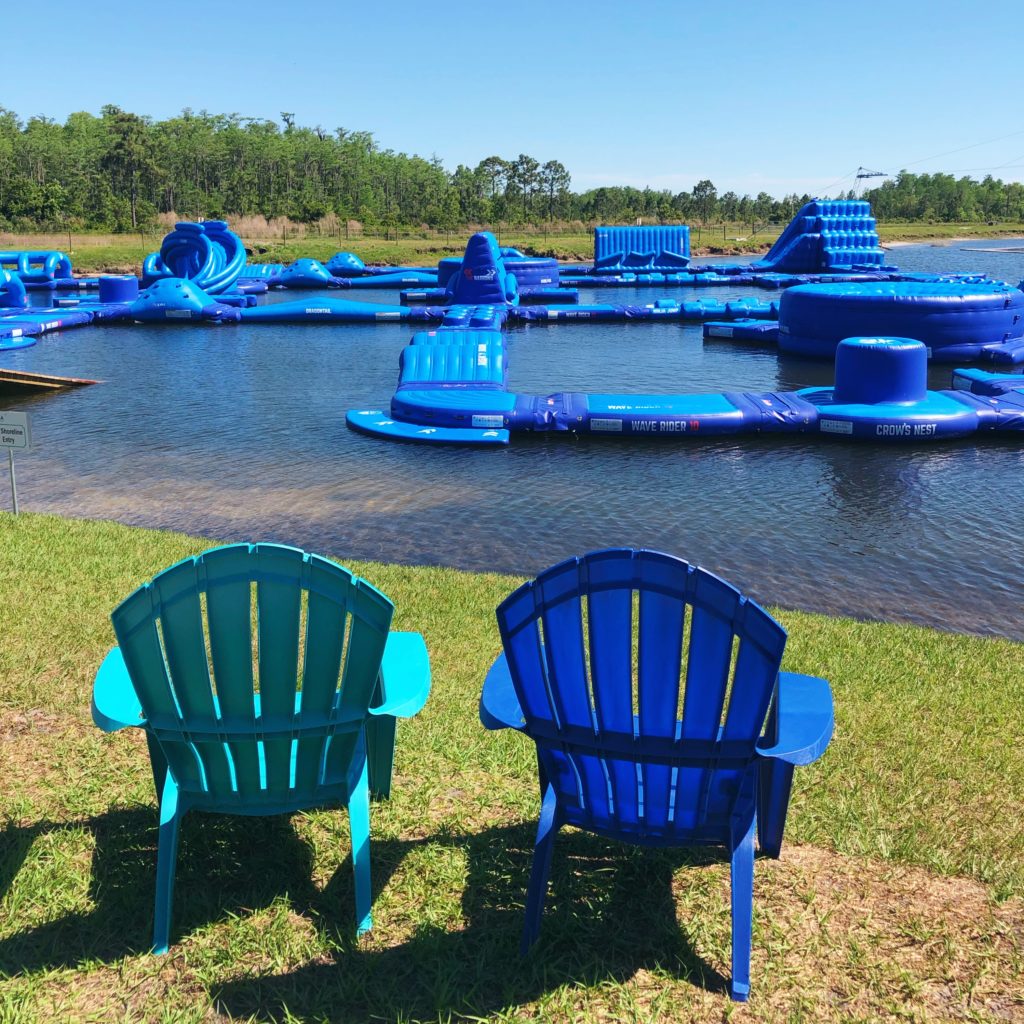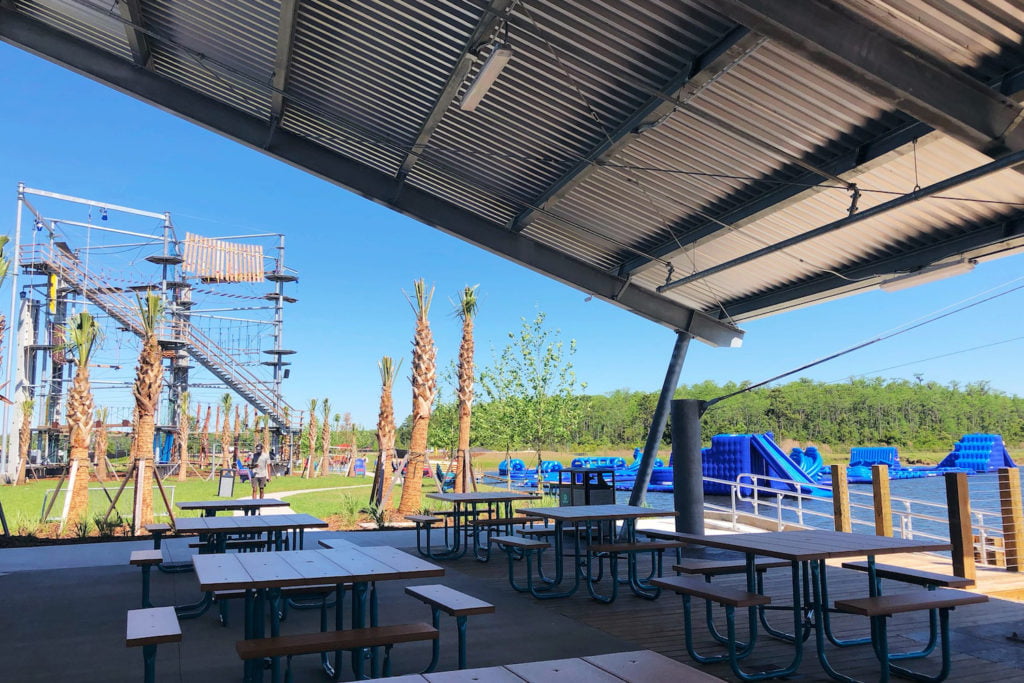 Start your date early with an afternoon visit. Parking is free, and you'll start by checking in at the pro shop to purchase a pass and wristband ($5). Choose between the aqua park, cable park, climbing tower/ropes course, or an all access pass to the entire park. While you could easily spend the better part of the day here, it's also great for a few hours of adult playtime.
There are multiple flavors of adventure here. The most buzz-worthy is no doubt the 1000'+ floating aqua park, a bright blue sea of floating obstacles like a Ninja jump, towering waterslides, a tire run and more. After entering the water through the dock access point, you'll swim out to the course to begin the fun.

For adventurous souls, the cable park is an exciting way to test our your wakeboarding and water skiing skills. You'll be attached to the overhead cables allowing you to zip around the course (and maybe even catch some air!) whether you're a beginner or seasoned pro. No worries if you fall off, as there's a floating dock surrounding the cable park allowing you to walk back to the entry point and get back on your board or skis.
On land, conquer your fears and build confidence together on the 60-foot high aerial ropes course. The course features three varying levels of difficulty (denoted by color) plus two 50-foot climbing walls, a free fall, and climbing ropes. Obstacles throughout the course include a wobble bridge and tilting boards. There's a ground level course for kiddos, too.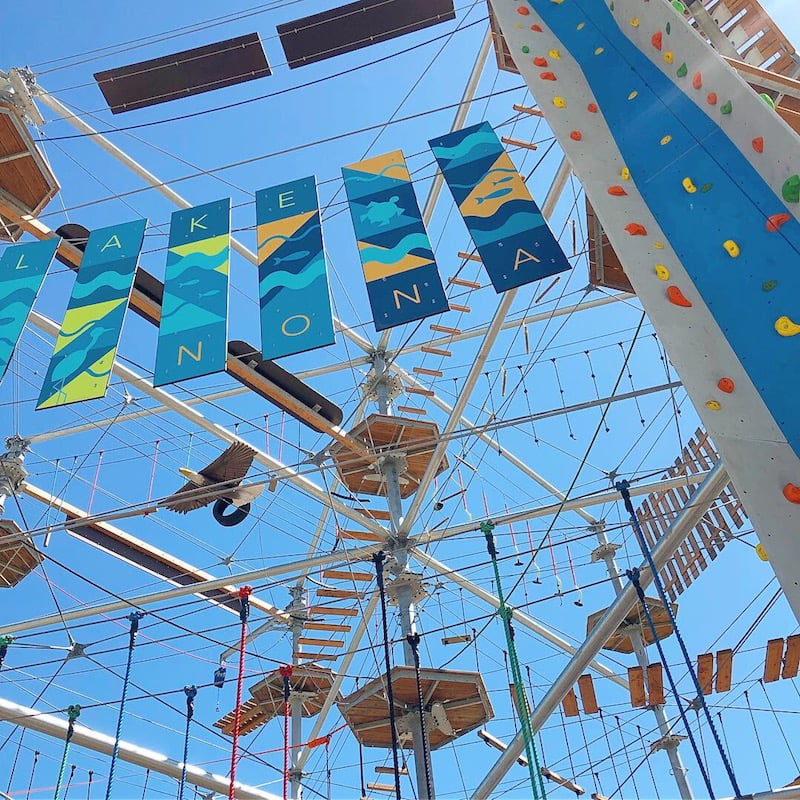 Pricing and Details
Aqua Park: $23 for 50 minutes, or $39 for an all day pass.
Tower Park: $32 for the ropes course plus climbing walls, free fall and climbing ropes, and $19 for the ground-level kids course (ages 3-8).
Cable Park: $29 for 1 hour, $34 for 2 hours, or $49 for all day, plus an extra $14-$34 for gear rentals.
You can also purchase a full day pass for $58 (tower and aqua parks only) or $85 (all three parks; equipment rental extra).
Nona Adventure Park
14086 Centerline Drive
Orlando, FL 32827
Monday – Friday 11am-7pm (Aqua Park 2-7pm)
Saturday – Sunday 10am-7pm
nonaadventurepark.com
LAKE NONA FOOD CRAWL
After working up an appetite conquering the obstacles at Nona Adventure Park, refuel with a progressive food crawl visiting some of Lake Nona's newest and longstanding eateries.
Stop 1: Happy Hour at Chroma Modern Bar + Kitchen
Kick off your feast at Chroma, a stylish Lake Nona staple with a bright interior, colorful accents, a spacious outdoor patio and tapas-style menu perfect for sharing. While no time is a bad time to visit, happy hour will save you a few bucks. Served Monday-Friday from 3:30-6:30pm, the menu includes multiple drink specials plus six small plates priced $3 – $8 each.
Treat this visit as your appetizer course, ordering 2-3 small plates to share plus a round of drinks. A few food favorites from the happy hour menu include the generous portion of sautéed mussels (that sauce!!), the shareable chicken satay with a heavenly peanut dipping sauce, and the savory goat cheese flatbread.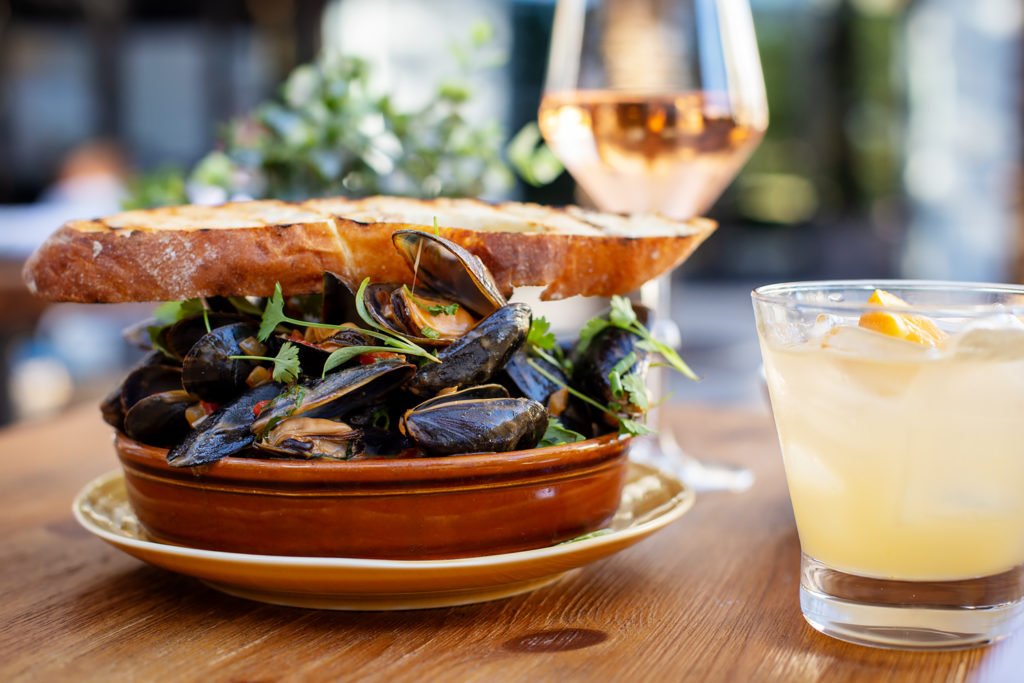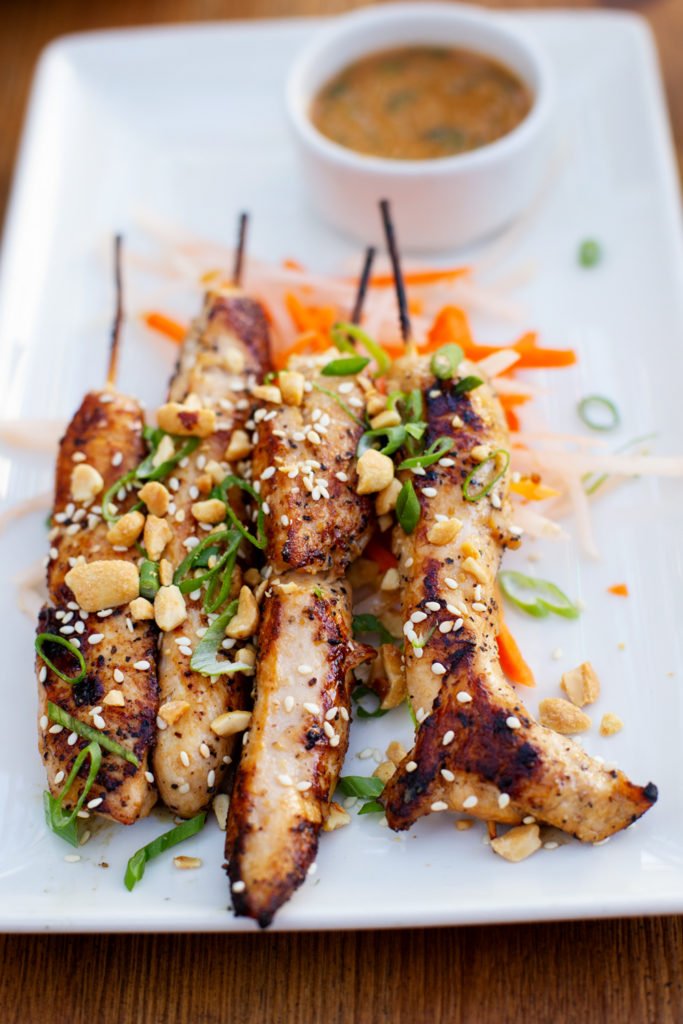 Seasonal cocktails are $3 off during happy hour (normally $9.50-$13 each). Try the Bottled Sunshine, a sunny yellow cocktail made with lemon, orange, tangerine, blood orange liqueur and vodka served in a cute bottle. It's basically Florida in a glass. Other drink specials include $5 call drinks, $4 draft beers, and $3 off 6oz and 9oz pours of wine.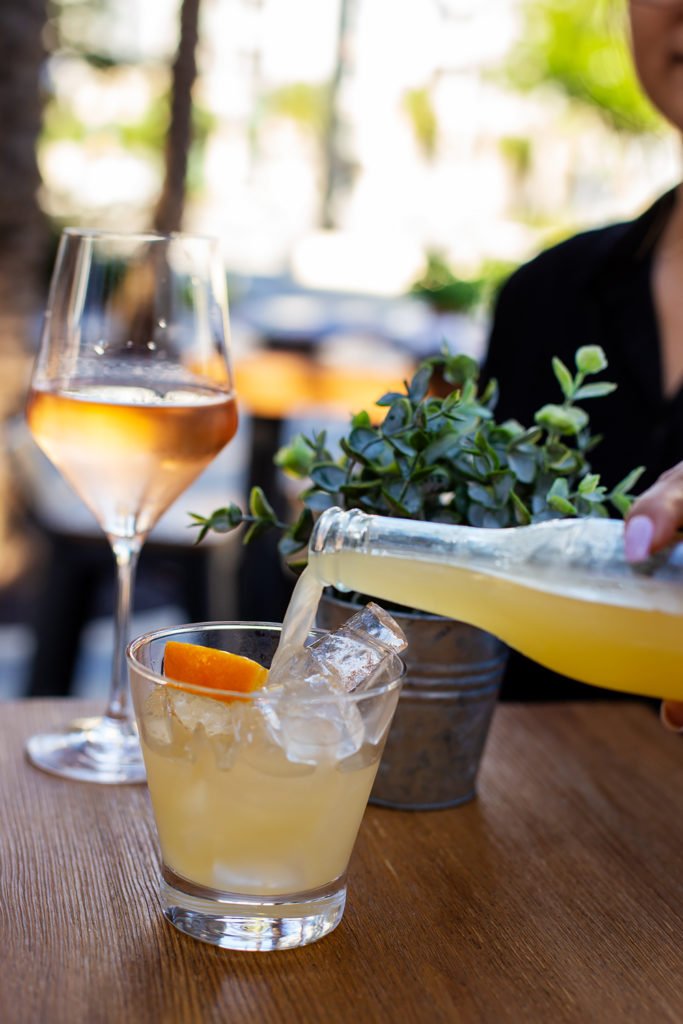 I can't say enough good things about Chroma's happy hour…it's such an awesome value in terms of portion size, price, atmosphere and quality.
Check out the full happy hour menu here.
Chroma Modern Bar + Kitchen
6967 Lake Nona Blvd
Orlando, FL 32827
Monday – Wednesday 11am – 11pm
Thursday 11am – 12am
Friday – Saturday 11am – 1am
Sunday 11am – 10pm
Happy Hour Weekdays 3:30 – 6:30pm
chromalakenona.com
Stop 2: Pizza and Beer at Park Pizza & Brewing Co.
After whetting your appetite at Canvas, you'll be literal steps away from your next destination. A Lake Nona newcomer, Park Pizza & Brewing Co. is your one stop shop for the ultimate combo: pizza and beer! Part brewery and part pizzeria, this newbie excels at both.
The interior is bright and colorful, with multiple murals (hand-painted by Tes One, a Florida artist) spanning the walls and bright decor accents. The bar and brewery is at one end, with the bustling pizzeria facing opposite. In between you'll find communal picnic tables, and there's also outdoor dining space.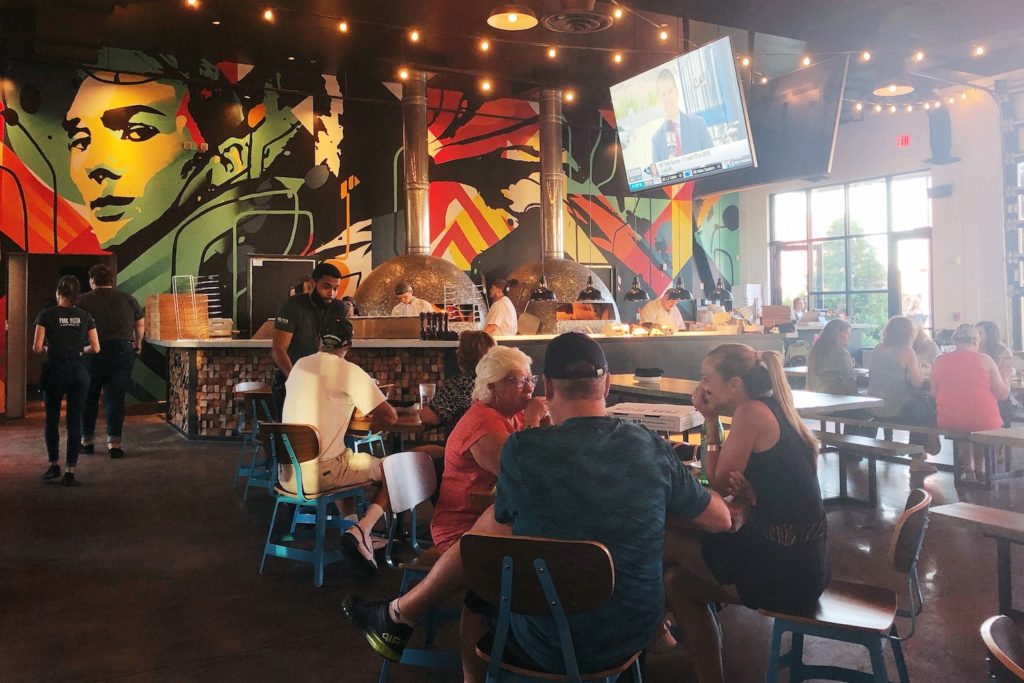 When asked about what sets Park Pizza's brews apart from other breweries, head brewer Marco Reyna proudly declared that his approach is to make "beer flavored beer." His passion for crafting classic beers exceptionally well is palpable, and the proof is in the pint glass.
A few personal favorites include the easy-drinking Belgian Whit and the Brown Ale, which will be loved by fans of Cigar City's Maduro brown ale. If this is your first visit, go with the $12 beer flight, which includes your choice of four 5oz pours. Free brewery tours are available on request.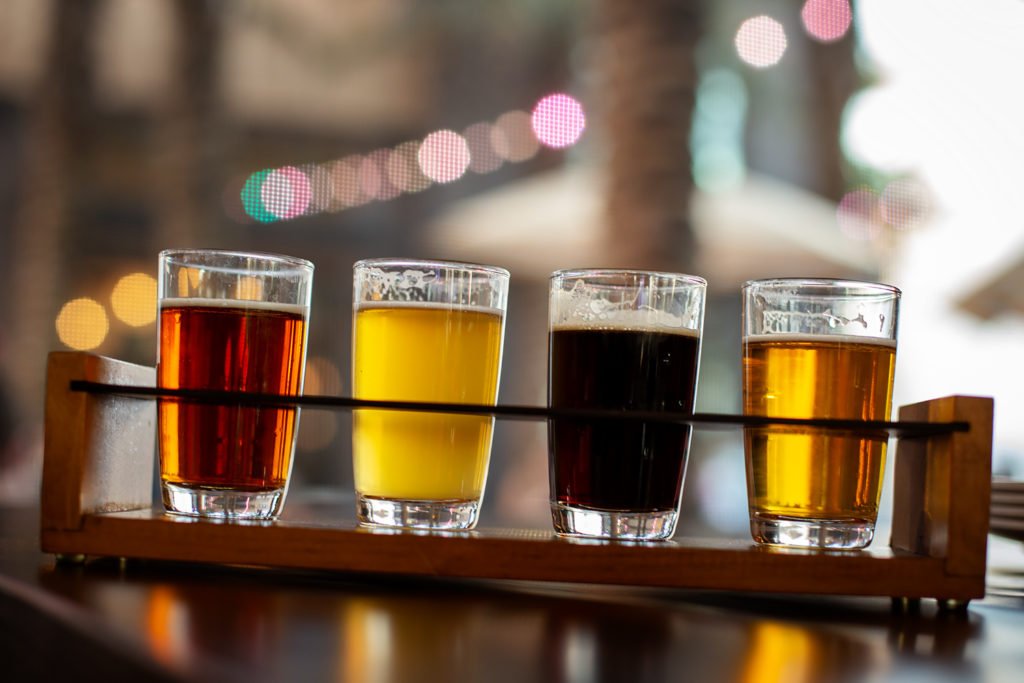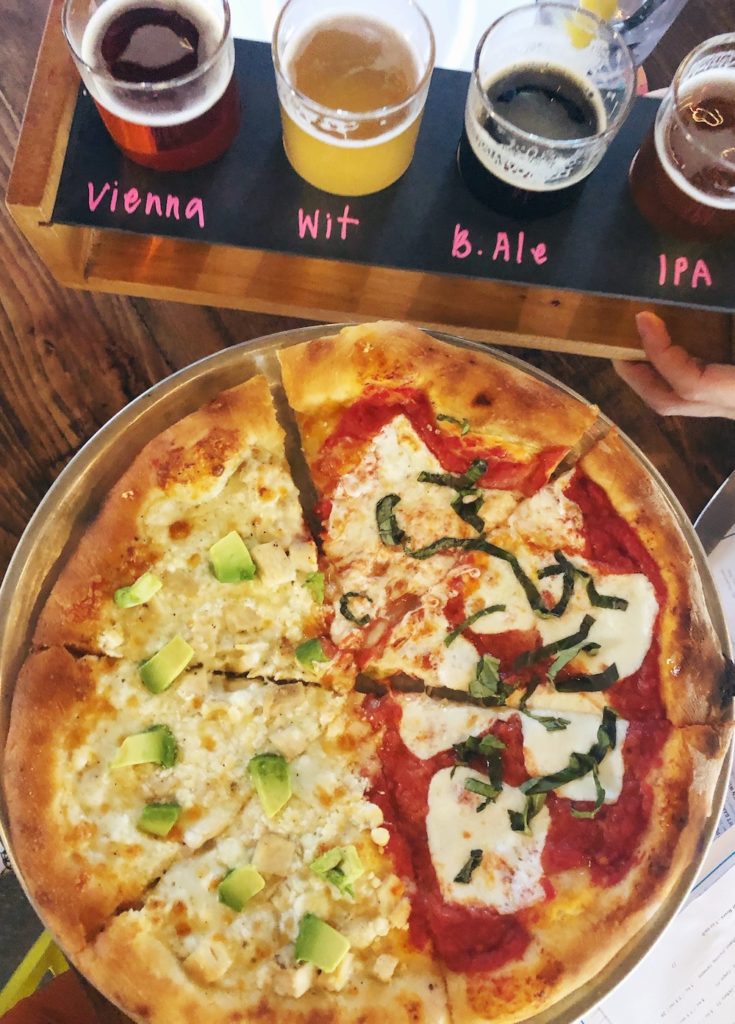 Moving onto the main course, continue piling on those carbs (you need energy after your adventure park workout!) with a few pizzas to share. If you're feeling creative, craft your own pie. Or, pick from one of the pizzeria's signature creations. If you're sharing a single pie, you can order a different flavor on each half of your pizza. I loved the Chicken and Goat (garlic cream, goat cheese, chicken and avocado) and classic Margherita (San Marzano tomato sauce, buffalo mozzarella, fresh basil, sea salt and olive oil).
Looking for a perfect pizza and beer pairing? Here are Marco's recommended pairings:
The Margherita paired with the Vienna Lager: this pizza is simple and classic, just like the beer!
Pesto Fazool paired with the Belgian Wit: the light and fresh flavors and spices are a match made in heaven.
Awesome Saus! paired with the Brown Ale: this pairing is for you if you're a fan of bold, dynamic flavors. Bonus: the pizza is topped with housemade sausage!
Pepperoni Picante paired with the IPA: the dynamic spices of this pizza work well with the IPA's hoppy and bitter characteristics.
Park Pizza & Brewing Co.
6941 Lake Nona Blvd
Orlando, FL 32827
Sunday – Thursday 11am – 12am
Friday & Saturday 11am – 2am
parkpizzalakenona.com
Stop 3: Sunset dessert and drinks at Canvas
While you could drive over to your next stop, Canvas, a fun alternative is to call the restaurant and take advantage of their free golf cart shuttle service. Your shuttle will pick you up right outside The Beacon, Lake Nona's iconic monument/art installation located directly across the green from Chroma.
Boasting floor to ceiling windows framing the lake outside and spectacular sunset views, Canvas has been a fixture of the local dining scene since it opened three years ago. It's also a spectacular place to wrap up your evening with dessert while watching the sunset.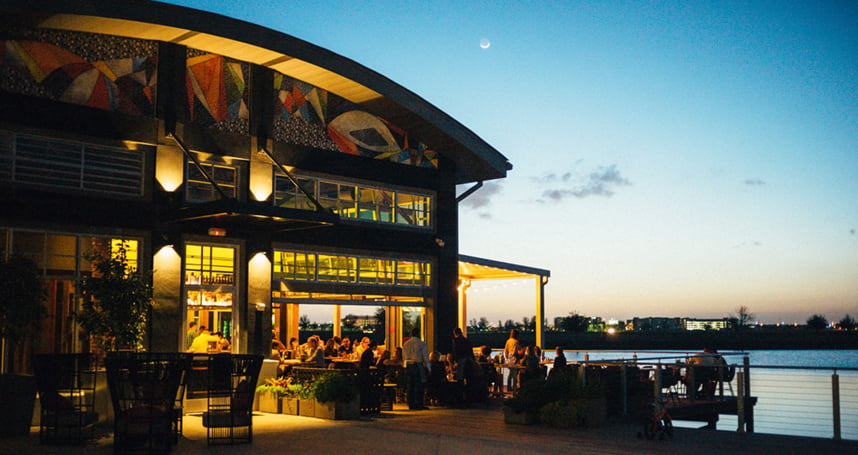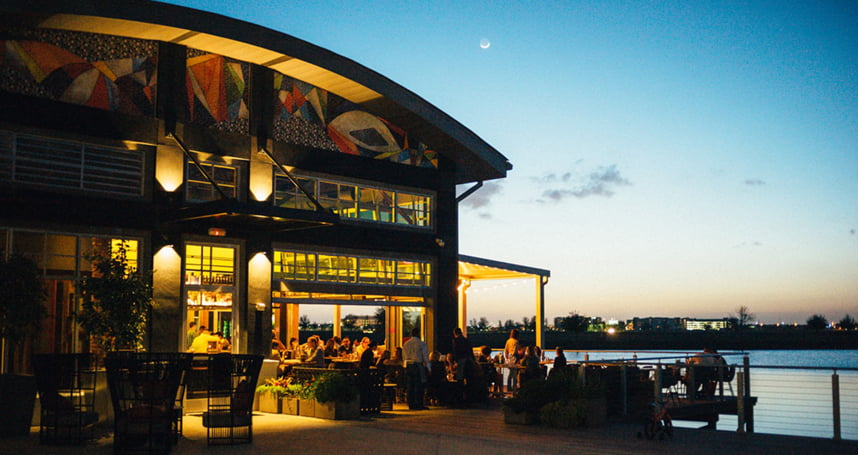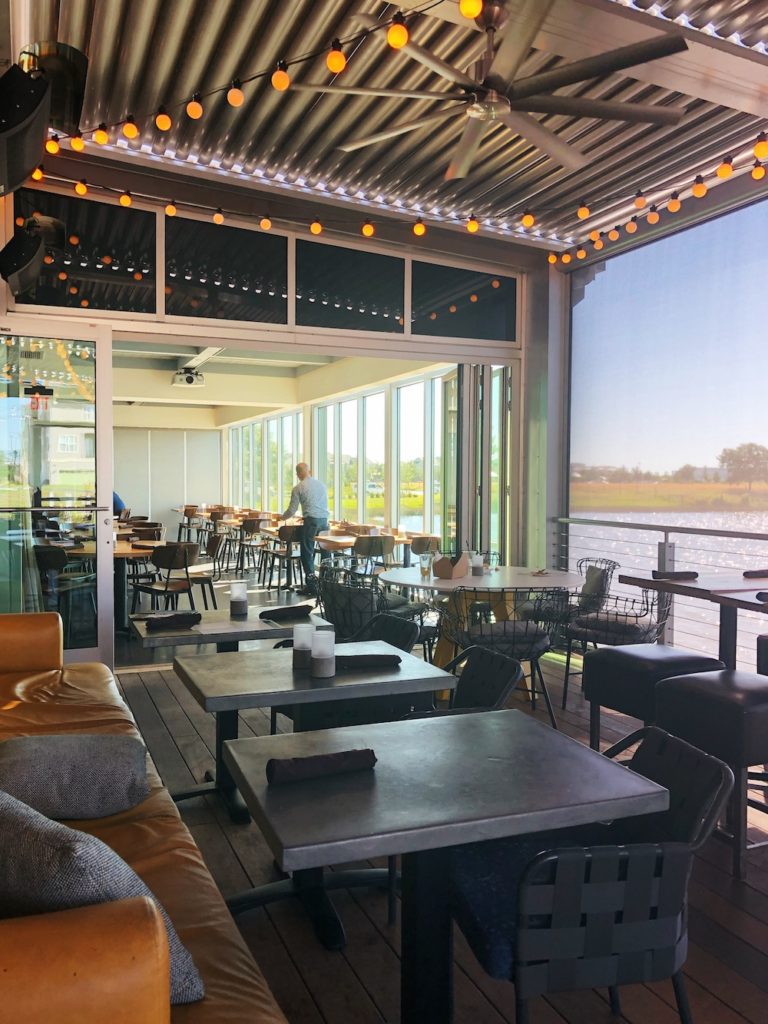 Canvas' menu is globally and seasonally inspired. Get a taste for what's fresh by ordering the seasonal cheesecake, which rotates regularly.
The current variety is a a spring-inspired Carrot Cake: vanilla bean cheesecake topped with carrot cake, sweet cream cheese mousse, candied orange peel and sliced pecans all served over salted caramel sauce. It's almost too pretty to eat.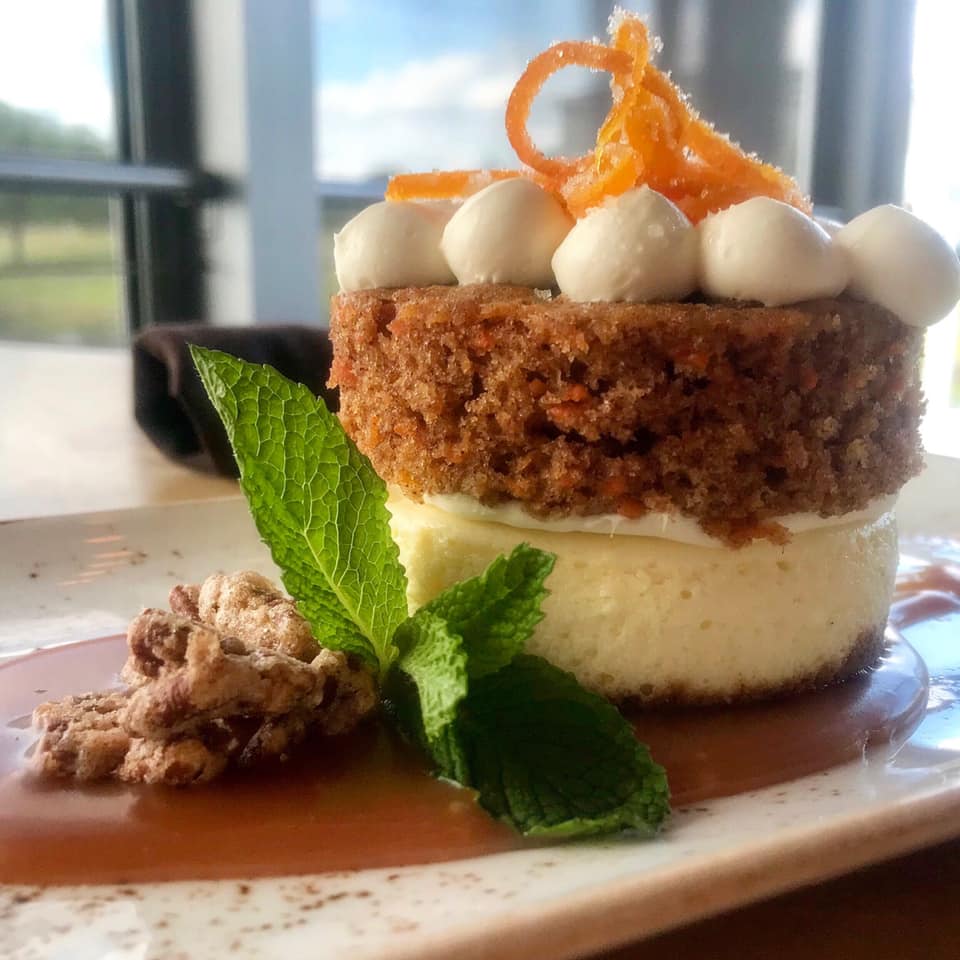 Pair your sweets with a cocktail to toast the end of your epic date day. One of my personal favorites is the Strawberry Rhubarb Mule (mint, housemade strawberry rhubarb jam, ginger beer and vodka). If you loved the presentation of the Bottled Sunshine at Chroma, Canvas has their bottled drink called the Nona Sunset, which is made with passion fruit, lemon, pineapple, blood orange liqueur and rum. Seasonal cocktails are $9-$12 each.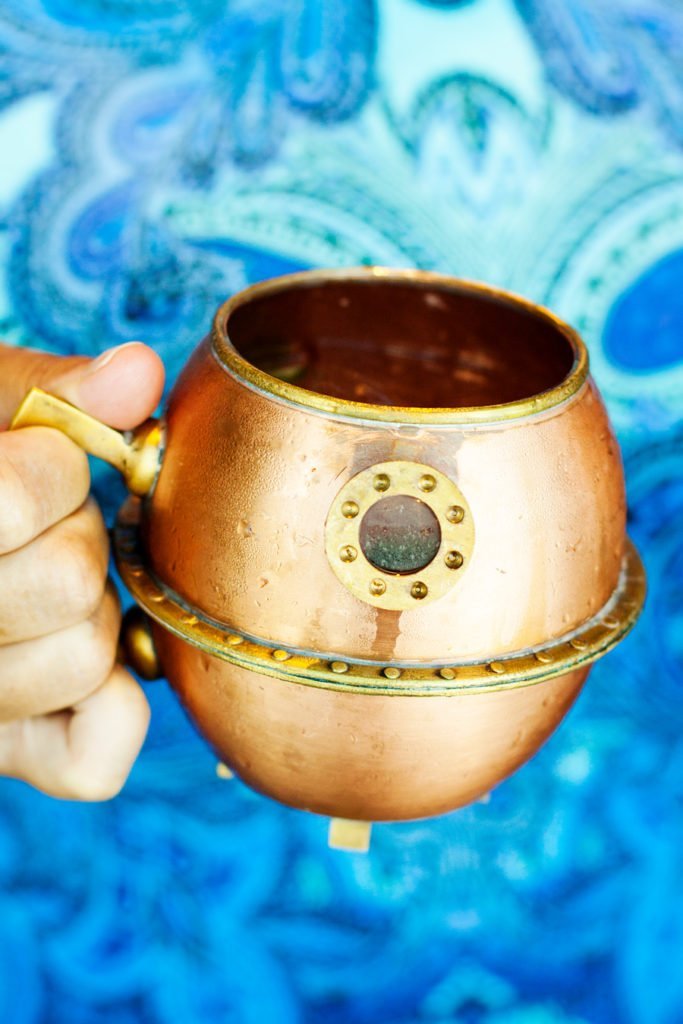 After wrapping up your meal, check out the artisan goodies available in the adjoining market, or take a stroll through the outdoor garden.
Check out our Culinary Map of Lake Nona for more restaurant recommendations around town.
Canvas Restaurant & Market
13615 Sachs Avenue
Orlando, FL 32827
Monday – Thursday: 11am – 10pm
Friday 11am – 11pm
Saturday 10am – 11pm
Sunday 10am – 9pm
canvaslakenona.com
Disclosure: Lake Nona is one of our valued advertising partners. Meals were provided at no cost to the writer.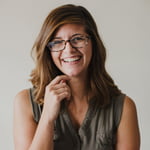 About the Author/Photographer:
Stephanie Patterson is the editor of Orlando Date Night Guide. She's a talented professional food and travel photographer and writer with a passion for creativity, the beach and great eats. When she's not taking photos or writing, you can find her exploring the state for her Florida travel blog, Travel Taste Click. Find her online at www.spattersoncreative.com and www.traveltasteclick.com.
All photos by Stephanie Patterson unless otherwise noted