With so many fun things to do around Orlando, consider trying something different by attending a workshop or class. There are dozens of fantastic classes happening each month all around our city! Here are our top picks for Orlando workshops and classes happening this May 2019.
Where to take Orlando workshops and classes:
ACTIVE CLASSES
Yoga, Sip, Shop
May 3, 7pm
Adjectives Altamonte
Come join us for a fun evening of gentle yoga, wine and shopping around Adjectives Market.
$20 per person
Bachata Downtown
May 3, 8pm
The Balcony Orlando
Arrive by 8pm ready to have fun and learn how to dance Bachata. After the class, we'll keep the music going until 11pm so you can practice your new moves!
$7 per person
Sunrise Vinyasa Yoga at Southern Hill Farms
May 5, 7:15am
Southern Hill Farms
Flow through a sunrise yoga class then sip a blueberry mimosa after class. The ticket price also includes a pound of u-pick berries, which can be picked after class.
$15 per person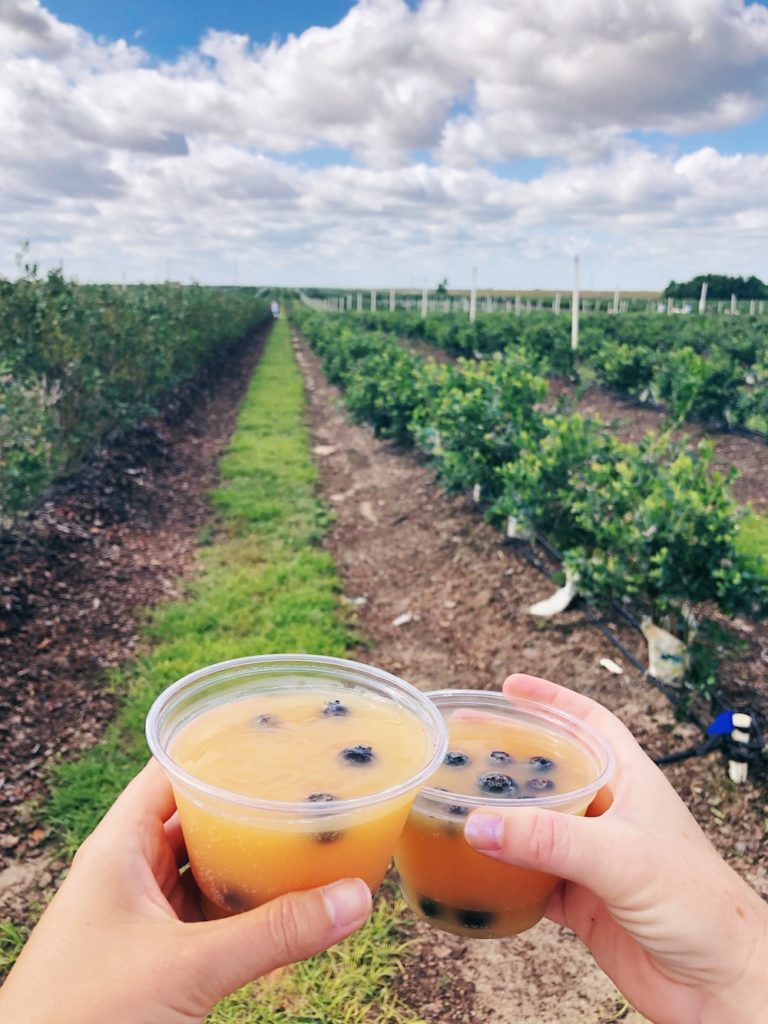 Thai and Wine Partner Stretching
May 11, 2pm
YogaMix Orlando
Curious about Thai massage aka Partner Stretching? Learn & do it with your partner or friend.
$25 per person/$40 per couple
Hula Workshop
May 12, 1pm
YogaMix Orlando
Take a tropical journey through the island of Hawaii as you learn proper technique, terminology, and a full Hula choreography.
$40 per person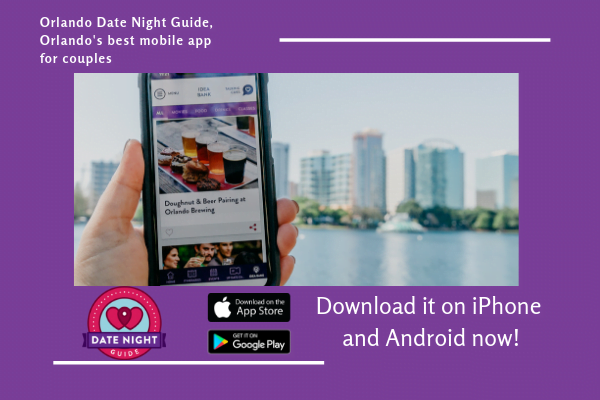 Rooftop Yoga
May 21, 6:30pm
The Balcony Orlando
Enjoy an instructor-led Yoga class while taking in beautiful views and a breath of fresh air.
$7 per person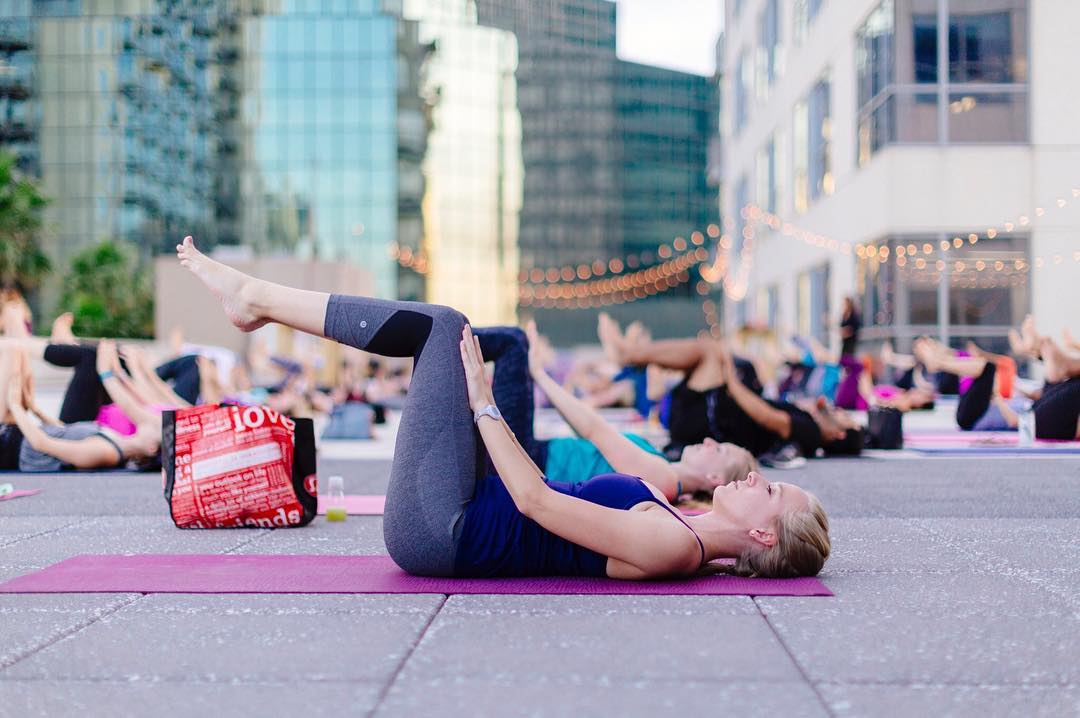 Flower Yoga Series
May 22, 29, June 5, 12, 19 and 26, 10am
Leu Gardens – Orlando
This is a six class series.
Join us for a nature inspired yoga practice! Moving with patience and breath we'll examine poses from the roots to the branches, finding ways to modify for all levels and bodies.
$72 per person
Rest and Replenish – Candlelight Yoga with CBD + Live Music
May 25, 8pm
Peaceful Peacock Orlando
An evening of tranquility, movement and mindfulness to the sounds of live music, in studio.
$20 per person
Yoga in the Mennello Museum Sculpture Garden
May 26, 9am
Mennello Museum of American Art
Start your Sunday morning out blissfully with a relaxing lakeside flow.
$10 per person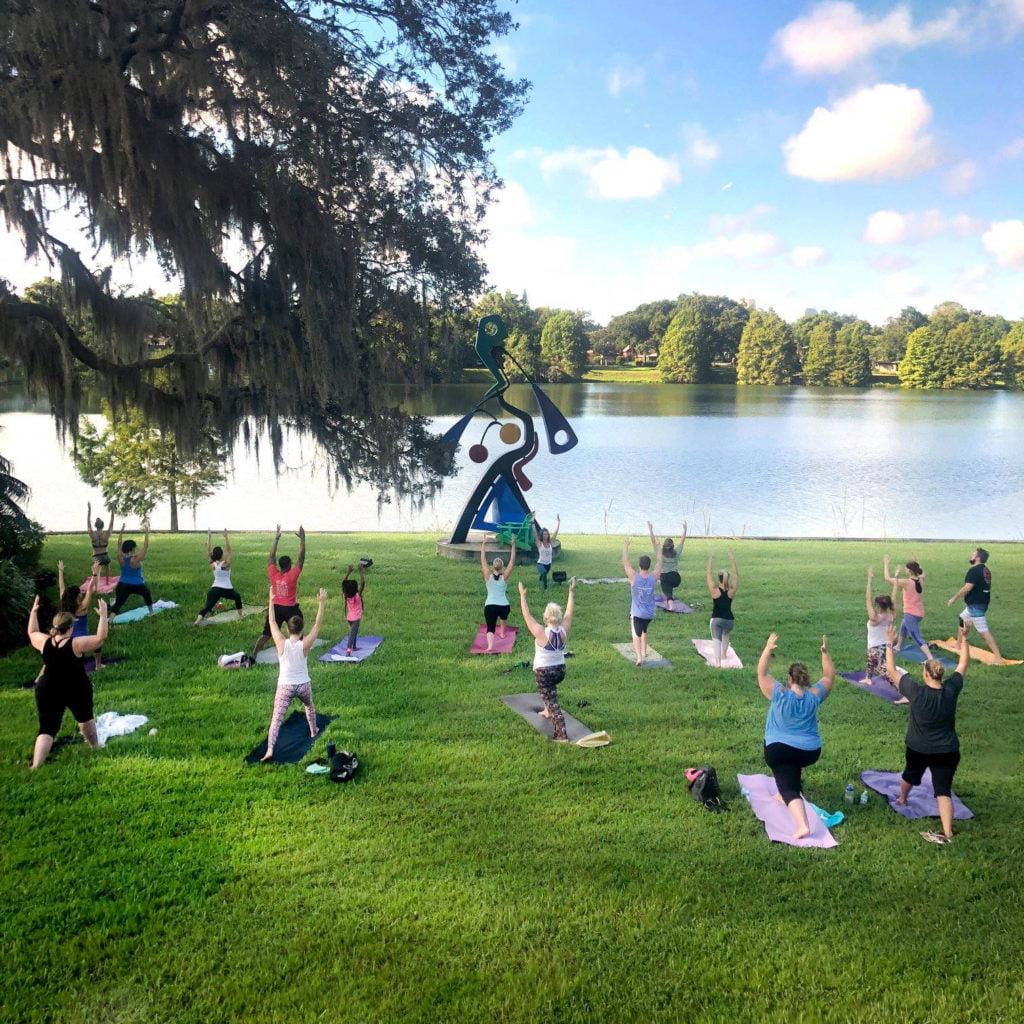 ART CLASSES
DIY Mini Pinata
May 1, 6pm
Paper Goat Post
Get ready for Cinco De Mayo with this DIY mini Pinata workshop! Leave with a bright, festive, Mini Pinata.
$30 per person
Candy Skull Painting Workshop
May 2, 7pm
Casa Tapas Winter Park
Cinco de Mayo is almost here so we're celebrating with a paint night and margaritas at Casa Tapas Wine Culture!
$35 per person
Date Night Ceramics
May 3, 7pm
Crealde School of Art – Winter Park
Make a clay project during this date night workshop! You're welcome to bring your own bottle of wine to enjoy. Snacks and all materials will be provided.
$120/couple
Mother's Day Keepsake Box
May 8, 7pm
Whippoorwill Beerhouse
Each student will bring a hand-drawn picture or note from their child to the class and Alyssa will walk you through the steps to transfer & wood burn the drawing or note onto a wooden keepsake box.
$40 per person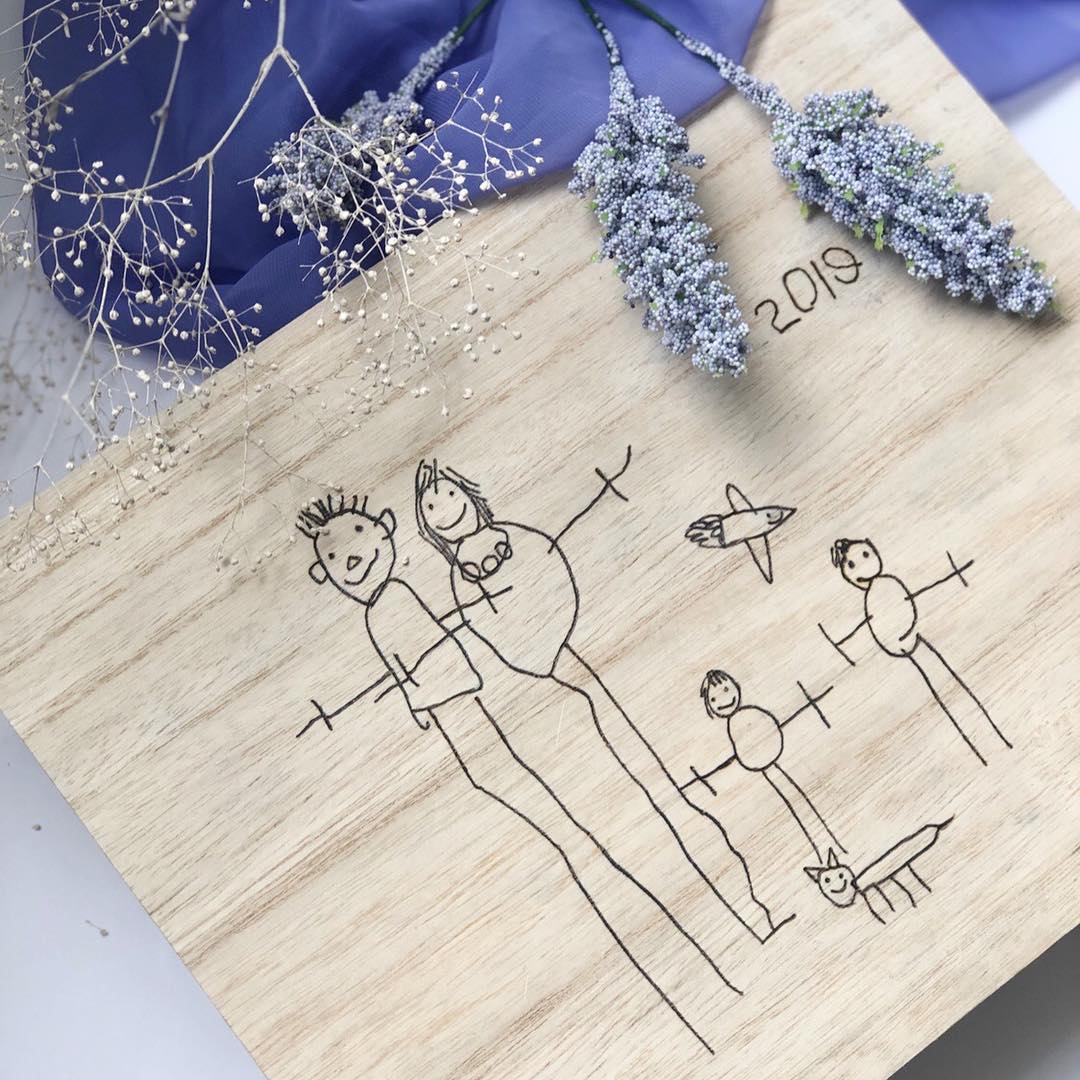 Girls' Night Out: Botanical Jewelry
May 9, 7pm
East End Market
Just in time for Mother's Day, create some fresh botanical jewelry using flowers and succulents.
$55 per person
Floral Workshop: Teapots and Mimosas
May 11, 2pm
Scribblespace
Partake in this special Mother's Day workshop where you'll make a teapot for mom complete with a flower arrangement. The workshop will be followed by a discussion over mimosas.
$40 per person
Mother's Day Pour in the Park
May 12, 10am
Orlando Park TBA
Guests will be walked through the process of creating a fluid painting on a 11×14″ canvas.
$75 for two
Doormat Workshop
May 15, 6:30pm
Hammer and Stain Clermont
Create a custom doormat and enjoy a glass of wine with friends.
$45 per person
Modern Calligraphy
May 15, 7pm
Paper Goat Post
A beginner's course on how pointed pen calligraphy works.
$75 per person
Porch Signs
May 16, 6pm
Driftwood Market
Grab your friends for a fun night out and come join us for some painting, wine, and lots of fun! You'll go home with a piece of decor for your porch, pool or beach house.
$45 per person
Starry Night and Wine Under the Stars Floral Workshop
May 16, 7pm
Devine Wine and Grill
Come to Devine Wine and Grill to create an arrangement inspired by the colors of the region, savor a gourmet appetizer, and gain knowledge about the wine you sip.
$75 per person
Macrame Earrings
May 17, 7pm
Craft and Common
You've seen macrame plant hangers and macrame wall art, but have you seen a macrame earring workshop?! Well, now you have!
$45 per person
Leather Revival Workshop
May 23, 6pm
West Elm Orlando
Have any leather bags, wallets, or belts (anything leather, really) you've kept for so long, they've come back into style? Want to add a modern flare (think colorful florals) and rock them again? If your answer is "YASSS QUEEN," then this class is a must for you.
$40 per person
Flowers, Tea and Scones
May 29, 2pm
The Lemon Lily Tea Room
This workshop includes a tea educational experience, a cup of tea served with scones and cream, and the opportunity to create a professional-looking flower arrangement!
$75 per person
Glass Blowing 101 Workshop
Multiple dates, 4-5pm
FACTUR
This glass workshop is essentially a guided tour throughout the glass blowing studio. The student will start by choosing the right colors, then shown the basic techniques, and will be helped along the process, so as to be able to complete the desired object.
$45/person
Art Night Out: Macrame 101
May 29, 6pm
Orlando Museum of Art
"Macramake" your very own wall hanging! Learn how to weave your fingers through three basic knots to sculpt beautiful, hand-knotted fiber art for your home.
$30 per person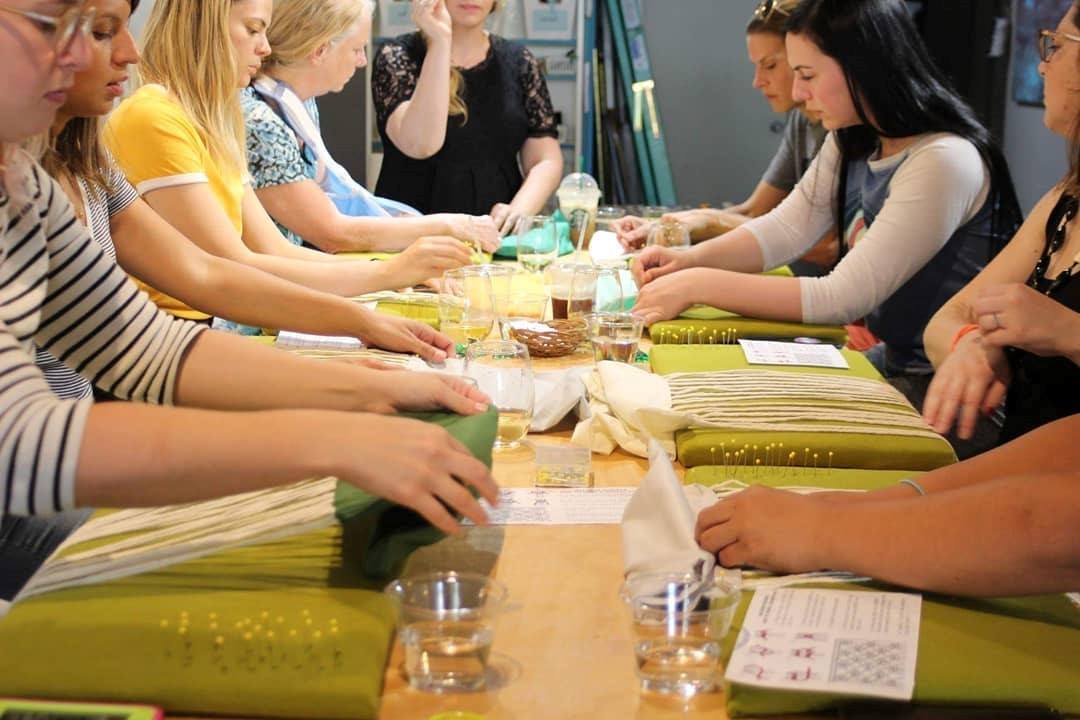 FOOD + WINE CLASSES
Looking for cooking classes? Check out our latest bi-monthly cooking class roundup.
Pop-Tart and Beer Pairing
May 2, 6:30pm
Orlando Brewing
Enjoy four mini vegan, CAYCAKES pop-tarts paired with four, preselected 5oz. organic beers.
$20 per person
Girls' Night Out Bubbles + Truffles Pairing
May 2, 7pm
Peterbrooke Chocolatier Winter Park
Sip a glass (or two!) of bubbly and enjoy a chocolate dipped strawberry as you decide which limited edition truffles you will dip into your choice of milk or dark chocolate.
$35 per person
Truffles & Bubbles
Every Friday at 7pm
Peterbrooke Chocolatier Winter Park
Sip a glass (or two!) of bubbly and enjoy a chocolate dipped strawberry as you decide which limited edition truffles you will dip into your choice of milk or dark chocolate.
$35 per person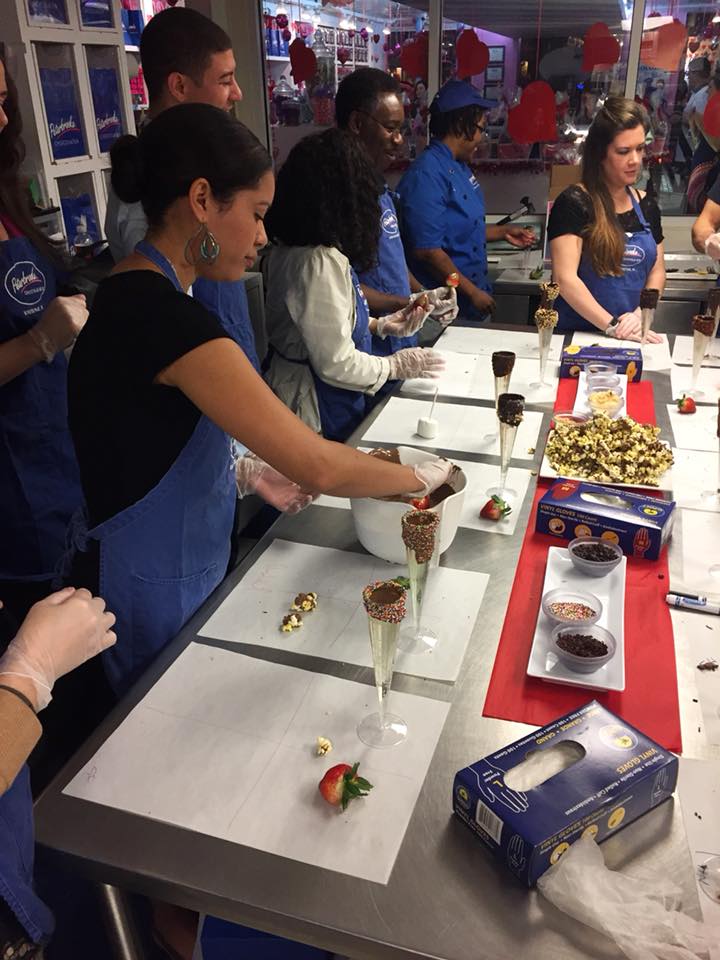 Wine Experience
May 8, 5pm
Terralina Crafted Italian
Join us in the Wine Room for a monthly wine experience and discussion lead by our Sommelier team featuring wine flights from around the globe and light bites from our kitchen.
$35 per person
Wine, Cheese and Chocolate Perfectly Paired!
May 9, 7pm
Quantum Leap Winery
Learn by doing– taste and experience how wine and food interact through the thoughtful pairings of 5 wines, 4 cheeses, and 4 Peterbrooke Chocolatier of Winter Park chocolate confections.
$45
Flower Power: Cooking with Edible Flowers
May 11, 11am
Leu Gardens
In this class we'll prepare a delicious assortment of sweet and savory recipes featuring edible flowers, such as Cookies with Candied Flower Petals, Squash Blossom Pizzas, Flower and Herbed Goat Cheese Salad, and more.
$65 per person
Crafting the Perfect Charcuterie
May 15, 6:30pm
The Ancient Olive
The focus of this class is on the art of crafting the perfect charcuterie board. From choosing cheeses based on texture, to how to pair jams with your cheese, to the placement & presentation – Alyssa will cover it all.
$65 per person
Doughnut & Beer Pairing
Wednesday, May 15, 7pm
Orlando Brewing
Dig into sweet & savory organic mini doughnuts from Orlandough paired perfectly with four of our organic brews (5 ounces).
$20; tickets available soon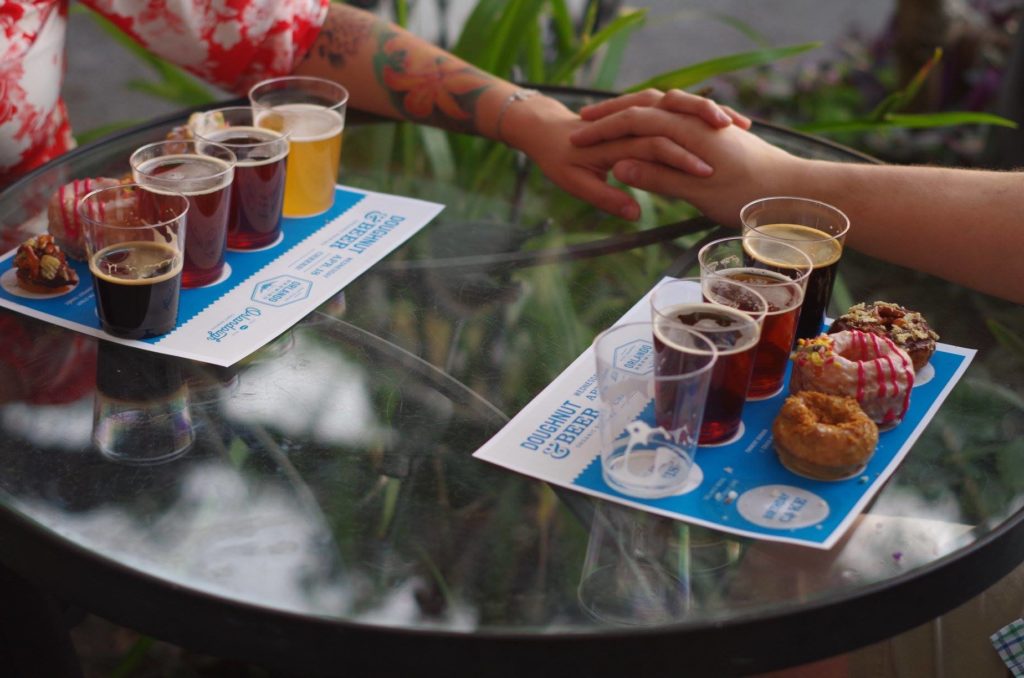 Tipsy Brownie and Beer Pairing
May 23, 7pm
Orlando Brewing
Enjoy four of our 5 oz. organic beers perfectly paired with four gourmet tipsy brownies.
Price coming soon
Wondermade Date Night Workshop
May 24, 8pm
Wondermade (Sanford)
Hear the story of Wondermade, get a tour of the kitchen, and create your own gourmet marshmallow treats. This workshop lasts for one hour and includes a complimentary hot chocolate and slab of marshmallows to take home.
$12 per person
OTHER CLASSES
Couples Massage Date Night
May 16, 6:30pm
East End Market
This intimate and hands-on (pun intended) class will allow you to help alleviate the stress and aches your partner may bring home after a long day.
$90 per couple
Evening Exchange Market and Workshops
May 17, 6pm
East End Market
The Evening Exchange is an expansion of this vision with a signature monthly event where our area's best, come together for an evening to delight, inspire and empower Central Floridians.
Event is free – workshop prices vary
DIY Aromatherapy Workshop
May 18, 9:30am
Leu Gardens
Make your very own custom perfume with 100% pure essential oils and botanicals with this DIY olfactory experience workshop.
$65 per person
Summer Beach Waves
May 30, 6:30pm
Massage or Knot Winter Park
This class is BYOB & BYOC (bring your own curling iron) so come ready to have fun and curl the night away. You'll leave this class excited to do your hair for your next date night!
$30 per person
Know of an awesome class we missed? Share it in the comments!
Disclosure: Some, but not all, of the events featured in this post are hosted by some of our valued advertising partners.
Feature image credit: Curated Dry Goods / Enlighten Us