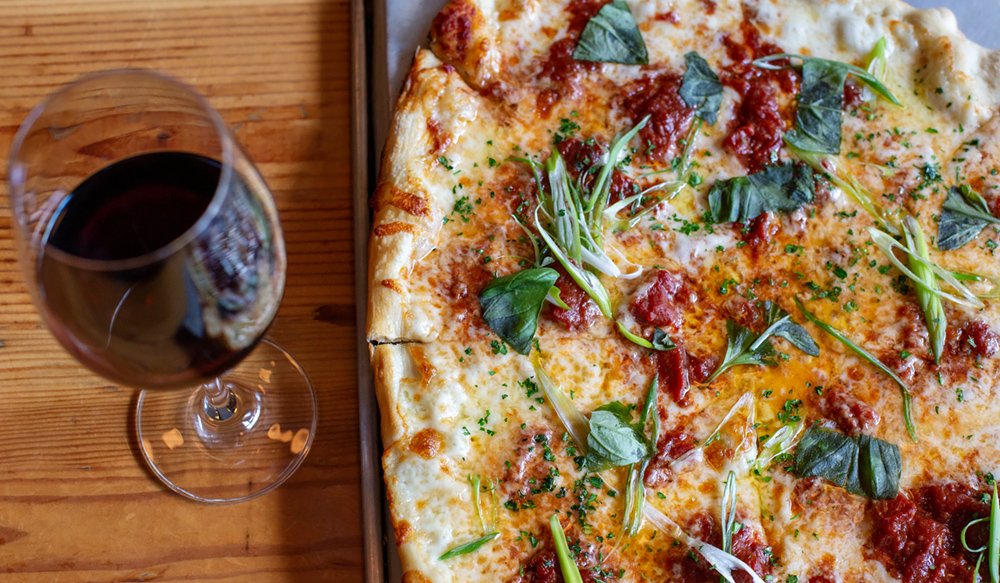 Pizza isn't just for casual nights at home spent snuggled up on the couch binging on the newest Netflix series. Trade in your sweatpants, beer, and takeout pizza for a night out at one of our local restaurants or pizzerias. Each specializes in affordable handcrafted pies ranging from NY-style to Neapolitan and wood-fired, which pair perfectly with a glass—or two—of vino. There's no need for a huge budget either; these pizza and wine deals are all $40 or less!
Pharmacy
The gigantic, shareable NY-style pizzas at Pharmacy are normally $28-$30, but visit on a Friday and you're in for a treat. Every Friday is Pie Day, where select pizzas are just $20 including one glass of red or white wine. The featured wines change on a weekly basis. There are three pizzas to choose from, including a traditional Margherita (pictured in feature image–topped with micro basil and sexy scallions), Portuguese Chourico, and a Four Cheese Spinach & Arugula Salad pizza. Plan to spend around $12 on your second glass of wine, brining your total to just under $35, plus tax and tip.
Pharmacy is a true speakeasy with a secret unmarked entrance and impressive menu of handcrafted cocktails. They recently added an outdoor patio complete with twinkling lights and chandeliers, oozing with European charm. For date night, sit at the secluded table offering a peek-a-boo view of the bustling kitchen.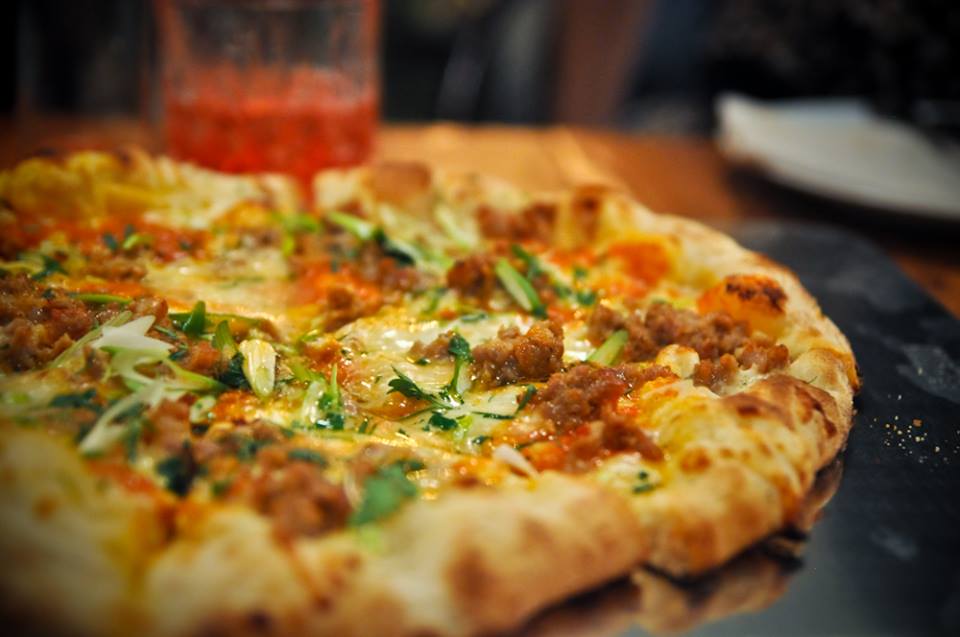 Pizza Bruno
Pizza Bruno's legendary Neapolitan pies have made this spot a favorite for a casual date. But did you know they have a weekly Late Night Date Night deal? Sundays – Thursdays from 8:30-10pm, Pizza Bruno offers couples a free Margherita pizza to share with the purchase of a bottle of wine (excluding house bottles). Wines by the bottle begin at $32 and go up to $56, but the vast majority are under $40. Wines by the glass are also available ($8-$13/glass) if you prefer to visit earlier or go the a la carte route. Also, it's totally worth it to blow your budget a little for an order of those famous garlic knots. You know you wanna. Pizza Bruno doesn't accept reservations and it can get extremely busy, but it's always worth the wait.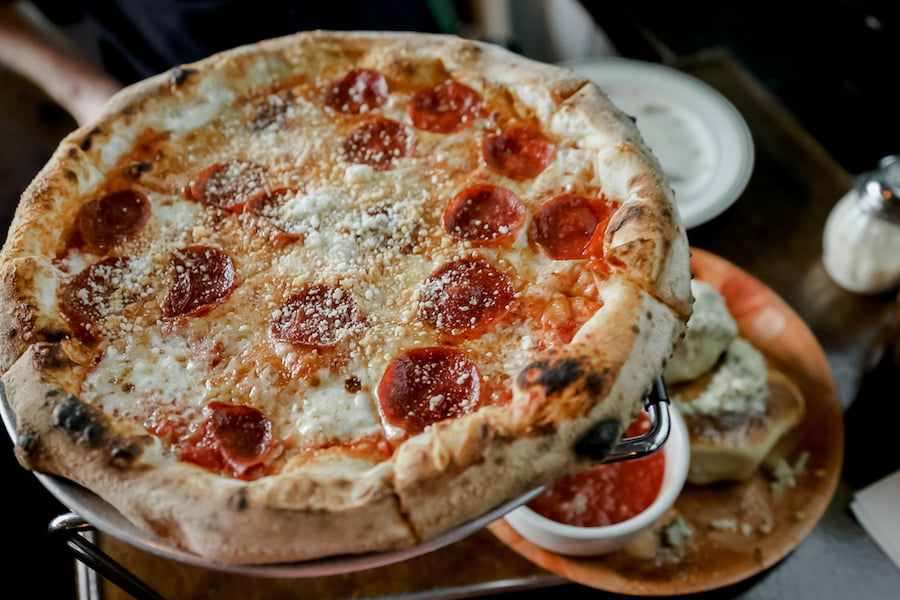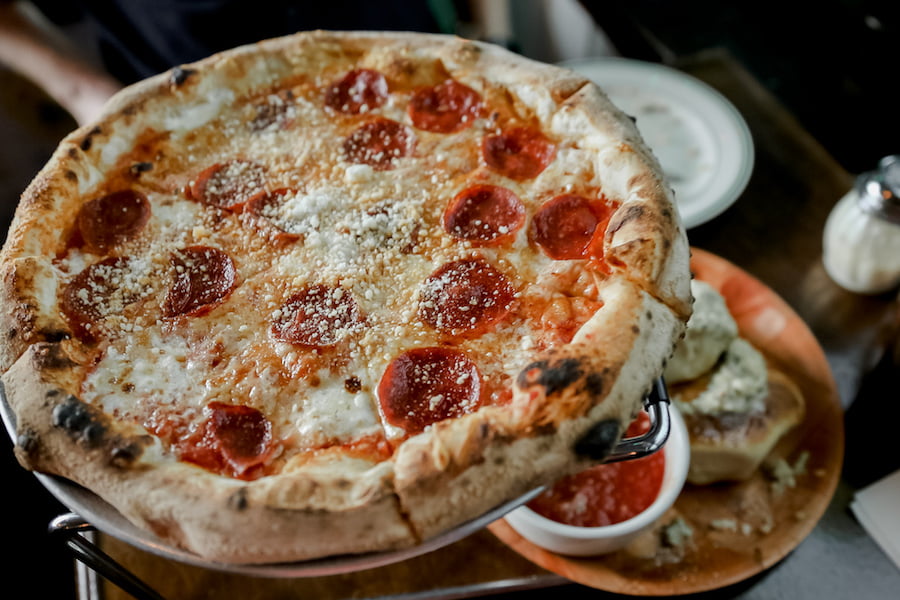 MidiCi – Maitland Winter Park and Kissimmee
Another favorite for Neapolitan pies, MidiCi is a fast-casual pizza concept with a mission to bring people together around the table. There are two locations in Orlando, each offering different weekly deals. At the Kissimmee location, you can score a Margherita pizza for $5 every Monday. Pair that deal with 2-for-1 wine and beer (excludes sangria and Corona) during happy hour served Monday-Friday from 3-7pm. If you can't visit on a Monday, all of the pizzas on the menu are regularly priced under $14, and wines by the glass are $10 or less. The service can be a little lacking when they're busy, but the food is always delicious.
For pizza and wine every day of the week, the Maitland Winter Park location offers happy hour deals Monday-Friday from 3-6pm. Specials include $5 Margherita pizzas and $5 house wines. On the weekends, take advantage of the brunch deal: $15.95 gets you a mimosa and an eggs n' bacon pizza. See more deals for this location here. Hello date night under $30!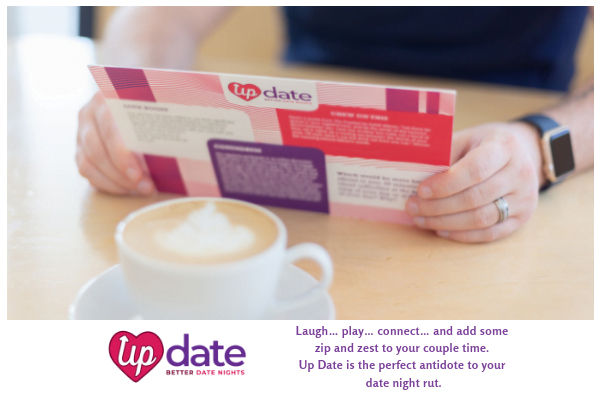 The Wine Barn
Wine shopping is a whole lot more fun at The Wine Barn, a cozy hangout which offers wood-fired pizzas for $12-$20 each plus hundreds of wines. There's no corkage fee for bottles purchased on site, so choose a moderately priced wine to pair with your pizzas. Wines by the glass are also available. You can easily do date night for $40 (plus tax and tip) including a bottle of wine to share and two pizzas. FYI, seating is limited so plan accordingly.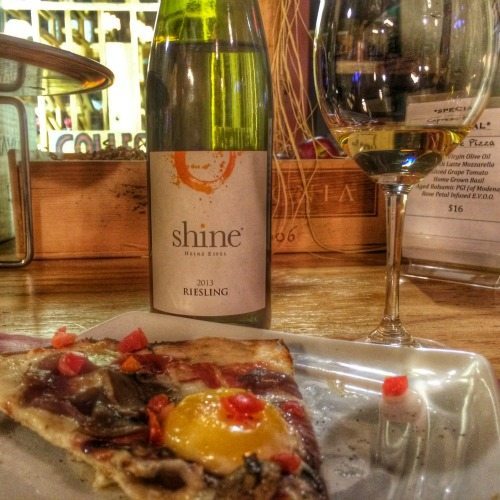 Prato
Happy hour is your chance to try Prato's famous pizzas at a fraction of the price. Served Monday-Friday from 4-6pm, happy hour includes select pizzas for $10 (normally $16) and select wines by the glass for $5. The menu also includes Italian light bites (like the Prato meatballs), a few cocktails, and beer. The pizzas are Neapolitan style and cooked in pizza ovens straight from Naples, Italy, so you know these pizzas are the real deal! Apart from the obvious savings, happy hour offers a more low-key atmosphere as the dinner hours are busy and it can be tough to get a table without a reservation. Plan to spend $30 for two pizzas and a few glasses of wine, plus tax and tip.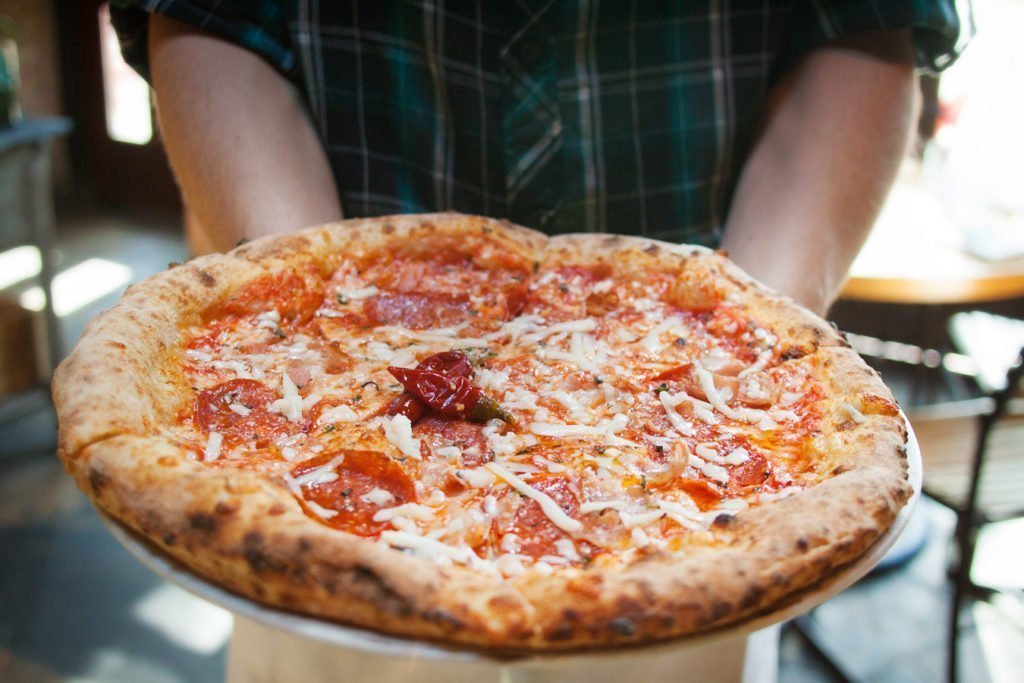 Lazy Moon
Looking for something a little more laid back? Lazy Moon is known for their signature gargantuan slices topped with an assortment of goodies. Each slice is literally larger than your head. Pizza slices range in price from $4.20-$7.50. If you and your date have got a voracious appetite or just want leftovers for days, a whole pie is $19-$26 plus an additional $3-$4 for toppings. Wines are categorized on the menu by good, decent and are priced at $5-$7 per glass, or $14-$19 per bottle. If you've got commitment issues, you can even order half a bottle of wine. Plan to spend around $30, plus tax and tip.
Also try:
Disclosure: Pharmacy is one of our valued advertisers. Pharmacy provided a meal at no cost to the writer.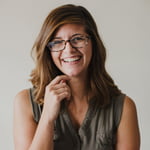 About the Author/Photographer:
Stephanie Patterson is the editor of Orlando Date Night Guide. She's a talented professional food and travel photographer and writer with a passion for creativity, the beach and great eats. When she's not taking photos or writing, you can find her exploring the state for her Florida travel blog, Travel Taste Click. Find her online at www.spattersoncreative.com and www.traveltasteclick.com.
All photos by Stephanie Patterson unless otherwise noted