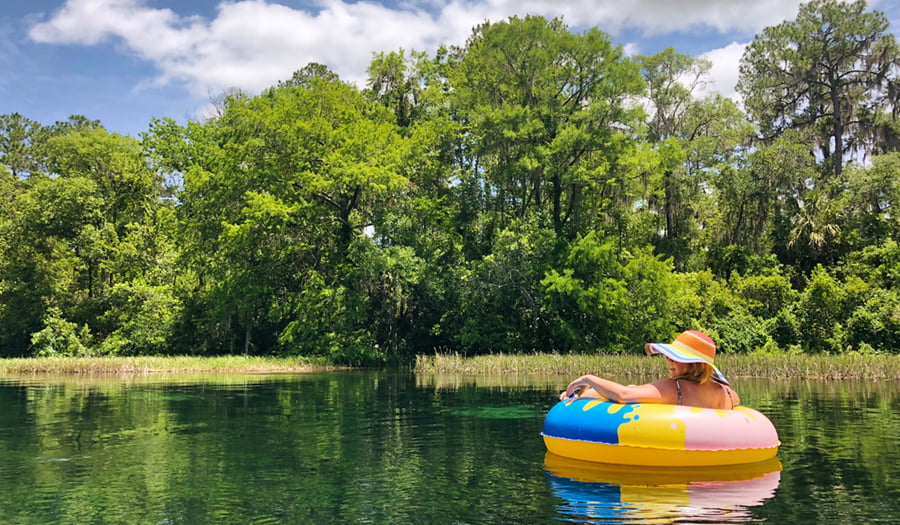 Ready to escape from normal life, if only for the day? You don't have to travel far. Central Florida is a natural playground for water activities like kayaking, paddle boarding, and my personal favorite: tubing.
From Orlando, tubing at Kelly Park is a natural choice. But the tube run, while beautiful, is short (3/4 mile) and can be overcrowded at times. Once you've ticked that quintessential Orlando activity off your date day bucket list, make the 1.5-hour road trip to Dunnellon for tubing at KP Hole. In this natural paradise, experience the real Florida on a peaceful 4.5-hour float down the Rainbow River.
Because the Rainbow River is spring fed, the water is a refreshing 72-degrees year round. The park is ideal for aquatic adventures during tubing season, which runs from April 1 – September 30.
After renting a tube for $25 (including park entry, rental, and return shuttle service), you'll hop in the water at the tube entry point and begin your ultra-leisurely float.
Once on the river, you'll be rewarded with views like this: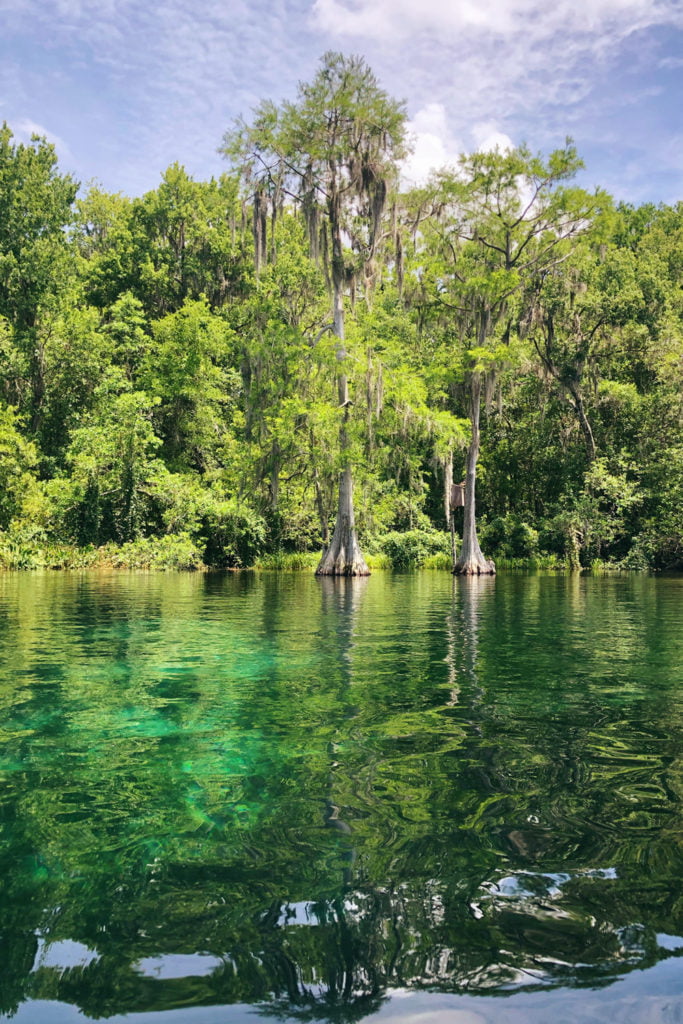 And this: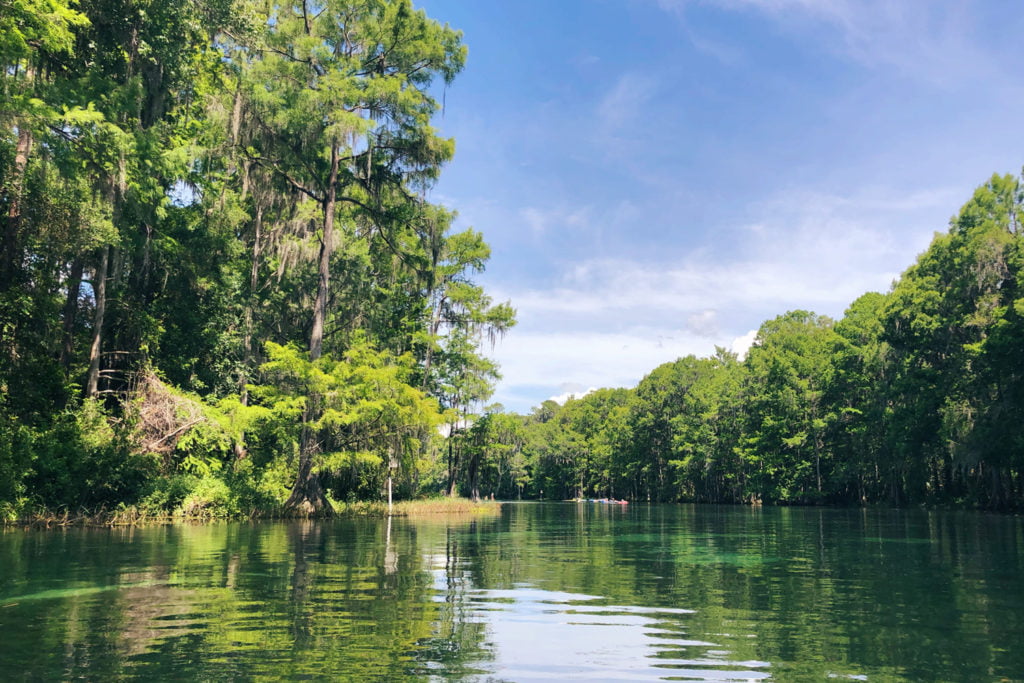 The float takes 4-4.5 hours and that's no exaggeration. The gentle current will slowly carry you past picturesque riverfront homes, lush greenery, and plenty of wildlife. Colorful dragonflies, playful otters (we spotted three), turtles sunning themselves on logs, fish, and birds serve as companions on your journey. When you're not busy looking up and around you, fix your gaze downwards as the clear water illuminates the grassy riverbed below.
The exit point is at Blue Run of Dunnellon Park, where a shuttle will arrive to take you back to the park. After freshening up, refuel at Swampy's, an inviting no-frills riverside eatery with outdoor picnic tables, Adirondack chairs lining the shore, and all the delicious fried foods you can eat. The Bayou wings are a must.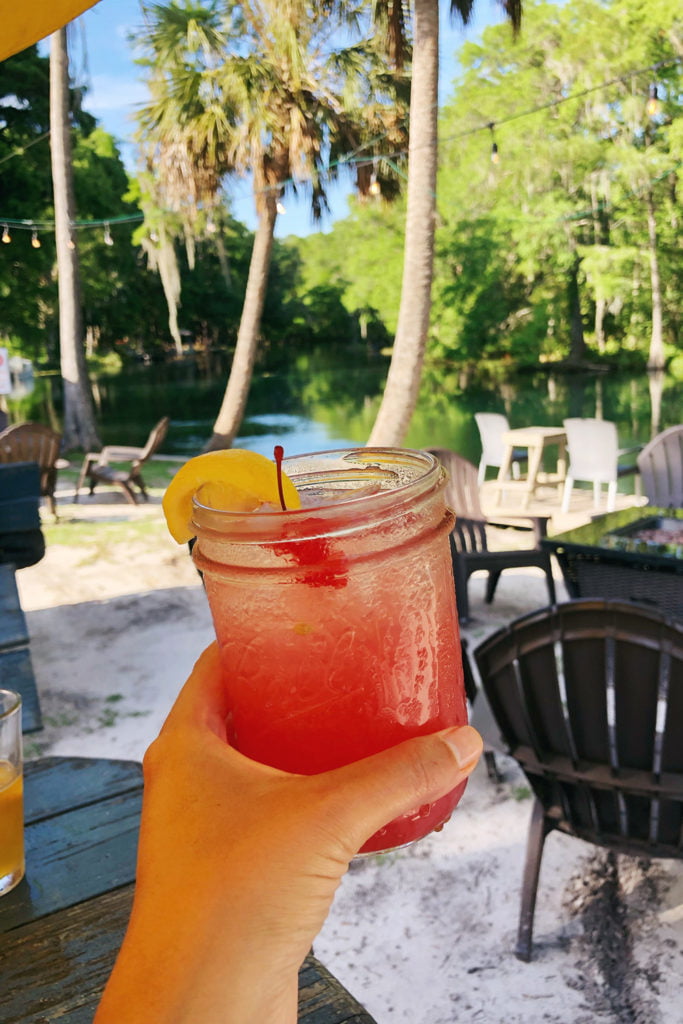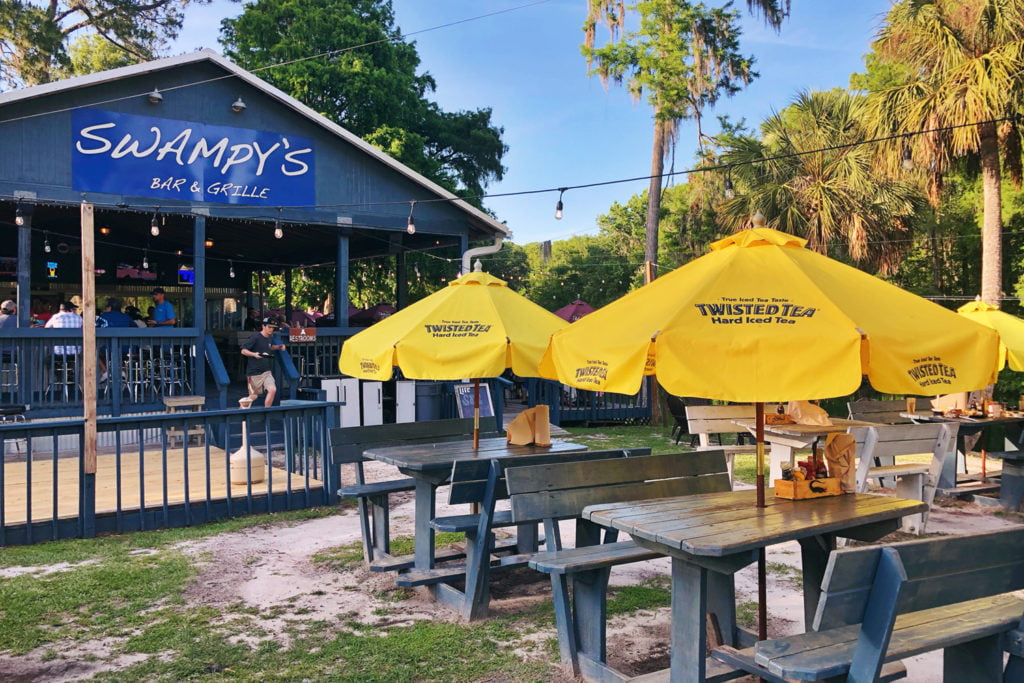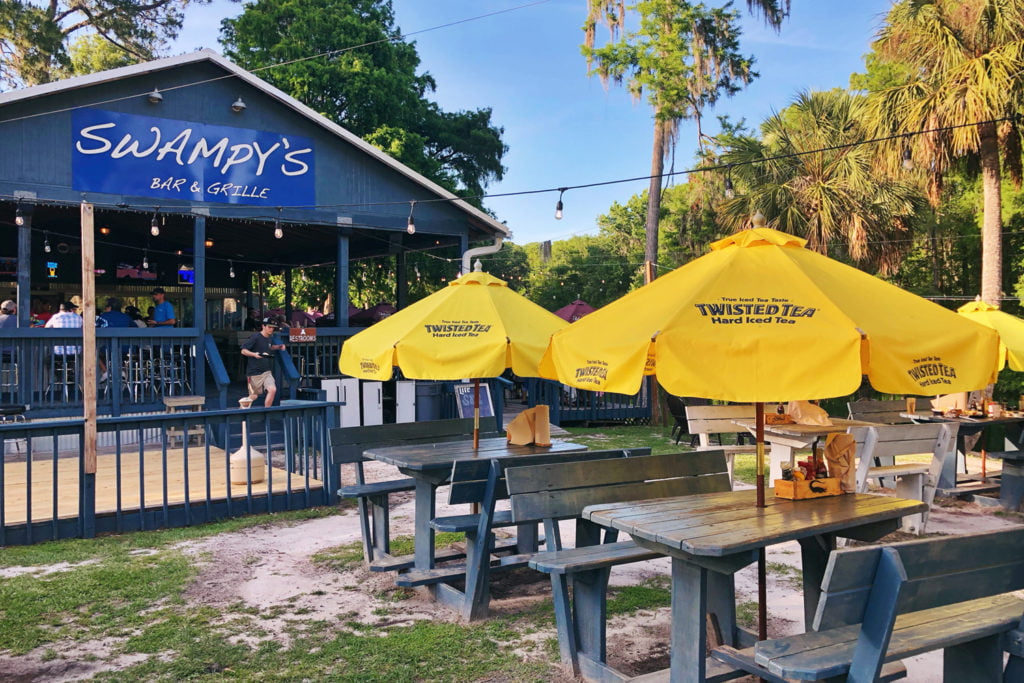 RENTAL COSTS
Tubing at KP hole costs $25/person for the full tubing package. This includes park entry, tube rental, and shuttle service from the exit point back to KP Hole Park.
If you've got your own tube, the cost is $17/person for park entry and utilizing the park's shuttle service.
Sans shuttle service, the cost is $10/person with your own tube and transportation method.
Check out this handy flyer for details on river etiquette and rental costs.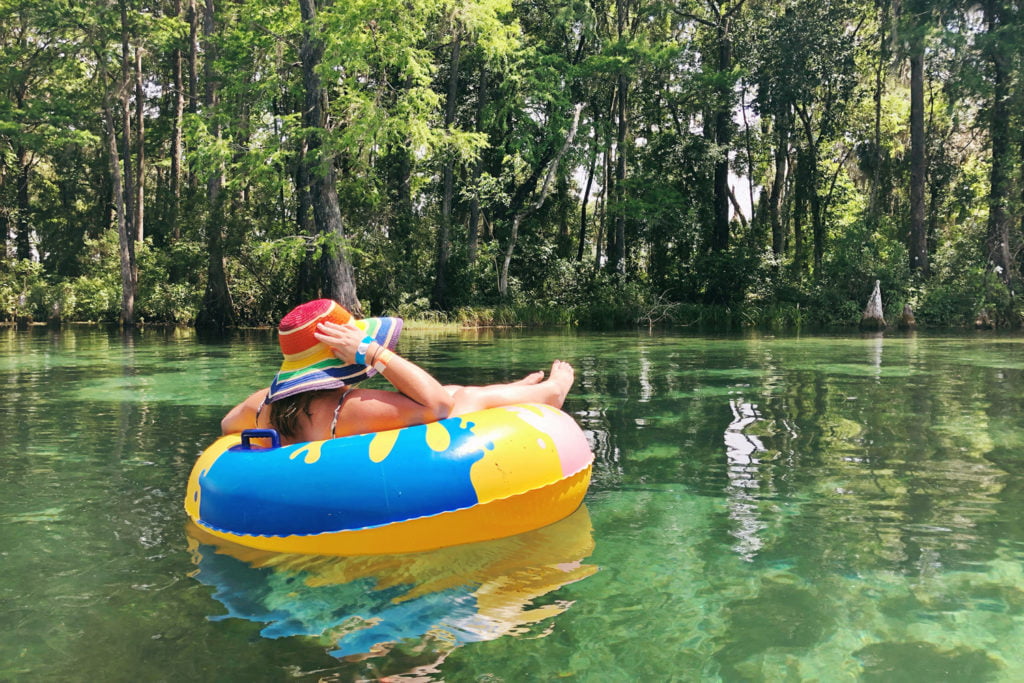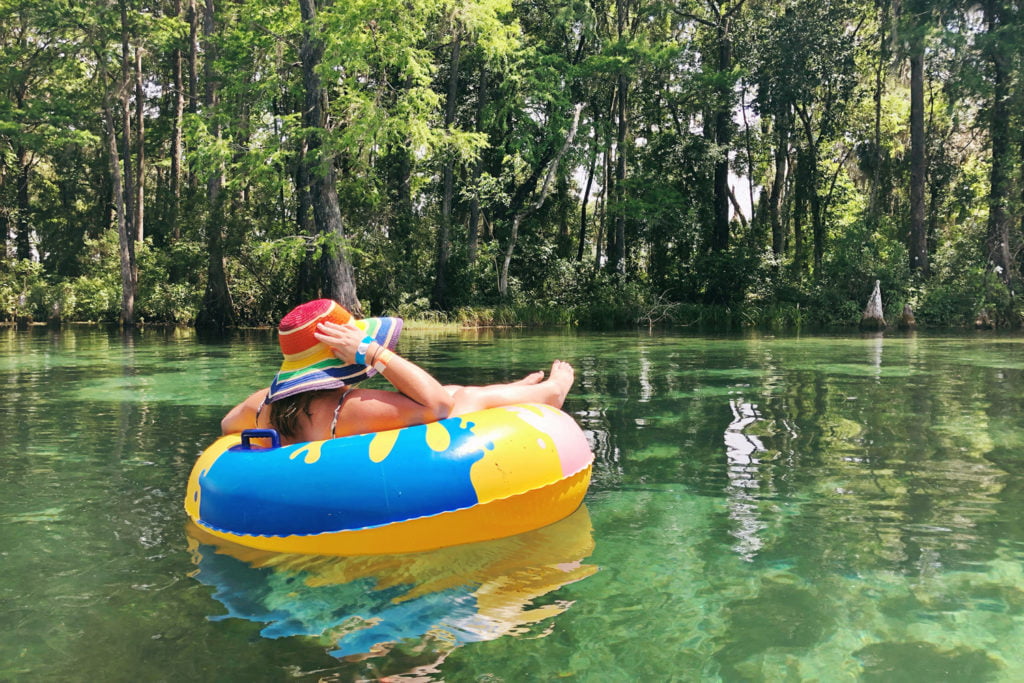 KNOW BEFORE YOU GO
You're allowed to bring along a cooler with snacks and (non-alcoholic) drinks in reusable containers.
Bring plenty of water.
The river does not have a tree canopy like Kelly Park, so pack sunscreen and reapply frequently.
Going with a group? Bring along a sturdy piece of rope to string your tubes together. It's easy to get separated. (We learned the hard way…)
Place valuables like your car keys, phone and/or camera in a dry bag just incase.
Prefer a shorter float? Rainbow Springs State Park offers tubing for $20/person. Tubing is offered daily after Memorial Day.
If you're visiting in the busy summer months, know that many popular tubing destinations and swimming holes reach capacity early. So arrive as close to opening as possible.
WHAT ABOUT ALLIGATORS?
Naturally, we're all taking a risk when we swim in any body of water in Florida. During our tubing journey, we didn't spot any alligators, but it'd be silly to assume there are none.
Our best tip is to stay alert. The river is wide and the water is clear with a grassy bottom. Stay in the center of the river rather than the riverbank. Be vigilant, and if alligators are a major concern for you, try an activity you're more comfortable with like kayaking, canoeing or paddle boarding. You can do all three from KP Hole.