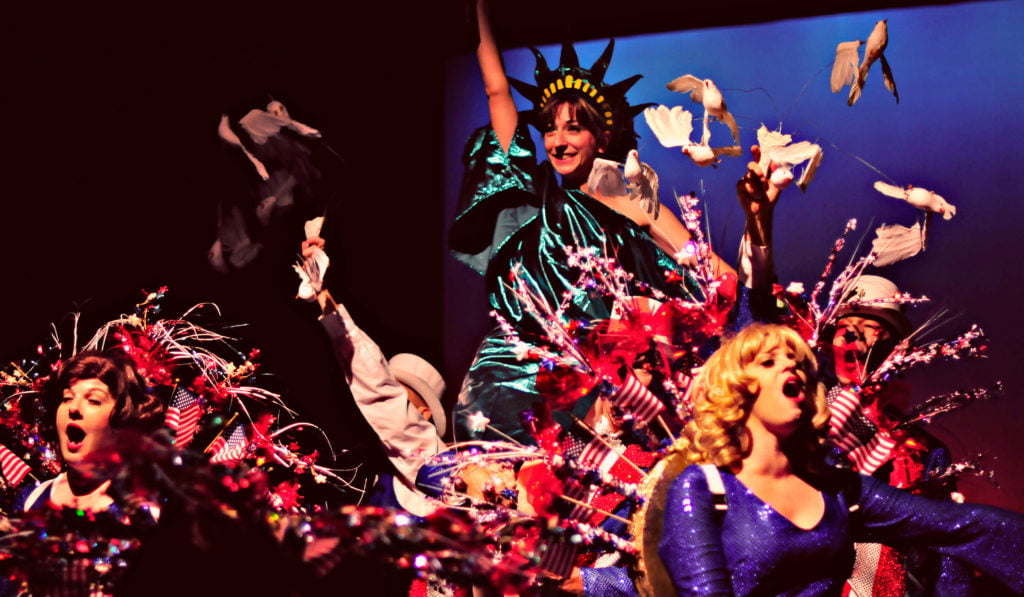 It's back!! Celebrate the wild, wacky and wonderful at Orlando Fringe, taking place at Loch Haven Park from May 14 – 27, 2019. If you've never been, the multi-day festival is an uncensored, unjuried, accessible and inclusive festival comprised of hundreds of creative acts from local and global performing artists. Ranging from comedy to burlesque, musicals to dramas, dance to puppetry and more, it's one of Orlando's most unique annual theatrical events. And best of all, 100% of show sales go directly to the artists.
Outside of the ticketed shows, there's also a sound stage with free live music acts, beer and booze tents, plus food trucks and vendors (the cheese curds are a Fringe must-eat). Take a break from the heat by walking through Visual Fringe, an art show celebrating visual arts.
Here are a few shows we've got our eye on:
To help you plan your own date night (or nights!) at Orlando Fringe, we checked in with the team for their recommendations on the best shows for couples, and are sharing our favorite tips for doing Fringe like a pro.
Best Orlando Fringe Shows for Couples
Whether it's your first Orlando Fringe or your 28th, trying to choose which shows to see is always a daunting task. For a little bit of everything, choose something musical, something wild and crazy that's generating a buzz (for me last year that was Multiple Organism), something funny, and something serious. This list from the Orlando Fringe team should help you narrow it down. PS – all shows range in price from free – $12/person. Check out the full show schedule here.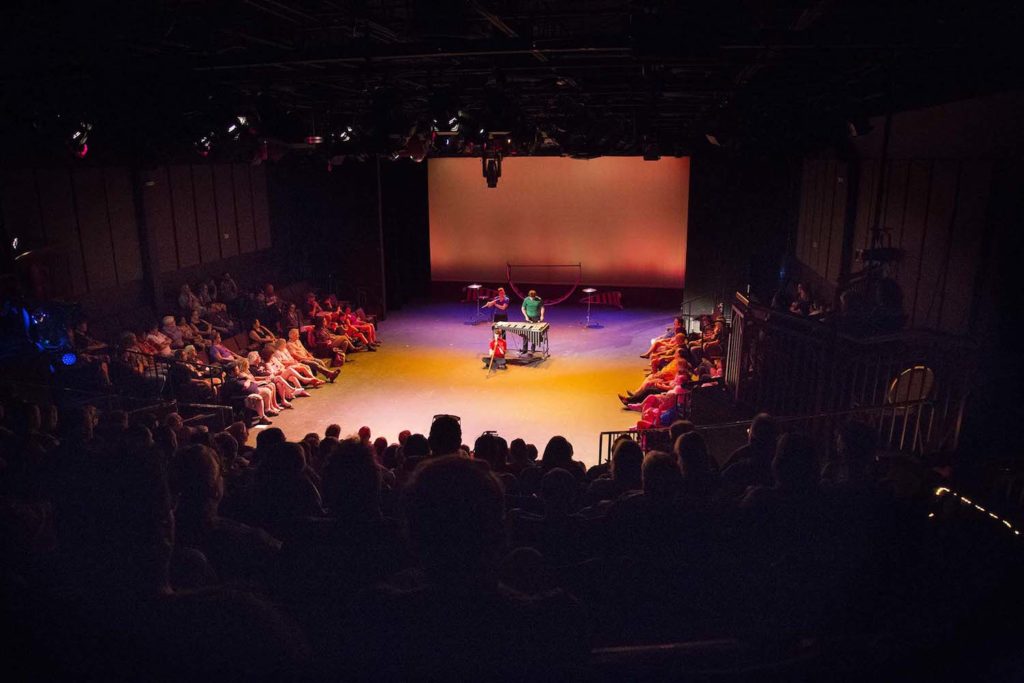 If you want to feel the romance…
From Here by Donald Rupe Productions (Orlando, FL)
Writer/Director Donald Rupe (Gorgeous-2018, Bitch Perfect-2016, Once I Laughed-2015) returns to Fringe with a new musical about Daniel, an Orlando native who is just trying his best to balance love, his difficult mother, and all the things life throws at him and his tight-knit group of friends. Quirky humor, original music written by Rupe and Jason Bailey, a predictable gay love story and an all-star cast make this a show you won't want to miss!
Fishtails and Swan Songs by BJ & CJ Productions (Orlando, FL)
Married couple and Fringe veterans, Rebecca Fisher & Joe Swanberg, grapple with Humanity's place in the Universe in this funny and poignant search for the answers to Life's Eternal questions: Why are we here? What is my Purpose? What's next? (Is there a Next?) The show is a theatrical mix of storytelling, music, and multimedia that is a feast for the eyes and ears, created in collaboration with Chad Lewis & Jason Donnelly (DonLewi' Enterprises).
Goodbye by JMJ Productions (Orlando, FL)
From the creative team behind last year's "HELLO". A new play, based on a true story, written by John Mark Jernigan. "If you think you know, you don't, and that's precisely the point." Directed by Chris Crawford with music by Anthony R. Smith. Starring T. Robert Pigott, Meghan Colleen Moroney, Lauren Culver, Jeffrey Correia, Brian Brammer, and John Mark Jernigan.
Le Cirque Nuit by Houlihandler Productions (Orlando, FL)
Join us at Le Cirque Nuit, an enchanted circus that offers breathtaking acrobatics and mysterious wonders around every corner. Behind the scenes, a fierce competition keeps this circus alive but can have consequences that reverberate through the lives of everyone touched by the circus. Gates open at nightfall and close at dawn. Starring Brandon Roberts and Tymisha Harris.
If you want to have fun…
Pepe's Playhouse by SAK Comedy Lab (Orlando, FL)
What happens when Orlando Fringe legends Pepe and SAK Comedy Lab team up to take over America's favorite Playhouse (Yes, that Playhouse)? It's a wild party full of sketch comedy, Improv, music, and probably a few scandals. Don't forget to check @pepebeetches on Instagram before each show to learn the word of the day, mamis and papis!
PeeVira's Scareavan: 80's Baby by The Fringy Mime Queen of DulceArt (Orlando, FL)
Madame PeeVira (The Fringy Mime Queen) is back with the favorite LGBTQ award-winning show that is unlike any other. Hop in her spooky SCAREavan for a fun, absurd and sensational 30 minute 80's sing-along satire. It includes skits, games, drag numbers, pop culture trivia, and sing-alongs to hit songs from the '80s. Each show is a different interactive experience picked by the audience. Take an immersive ride to the 80's you will never forget.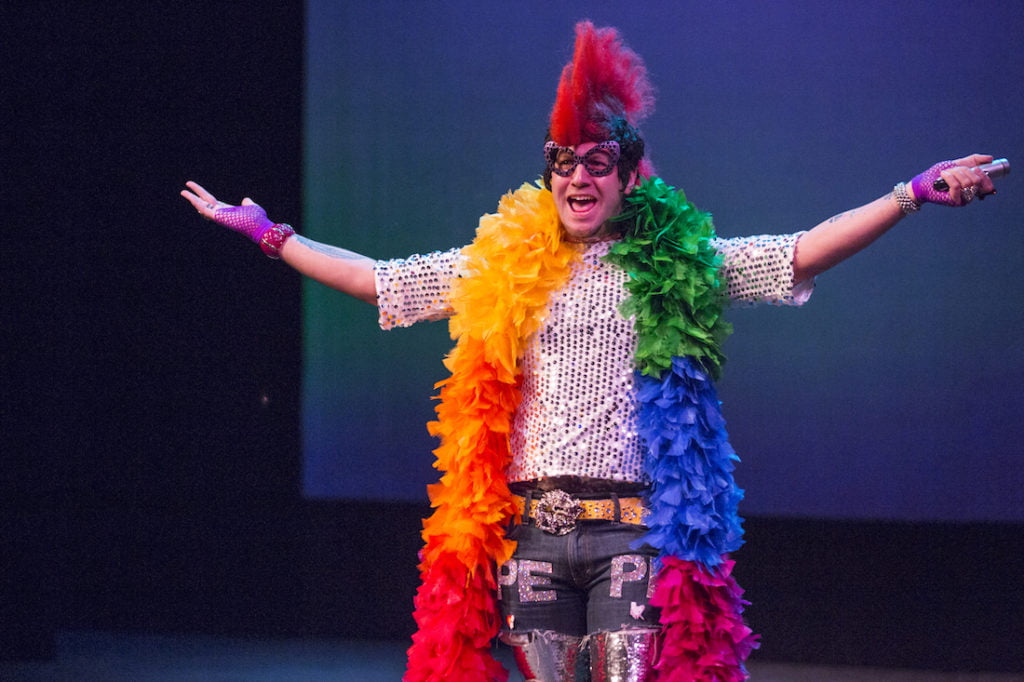 If you want to get in the mood…
A Briefs History of Time by Boylesque T.O. (Toronto, Ontario, Canada)
BoylesqueTO, Canada's premiere all-male burlesque troupe and creator of hit show Oh Manada!, is back with an adventure of ass-tronomical proportions! A Briefs History of Time features Imperator Furry Rosa, a warrior from a distant future in which men have gone extinct. She has traveled back in time seeking prime specimens of sexy 21st Century men–you know, for research–and, boy oh boy, does she find some!
I'm Coming by Molly Brenner (Brooklyn, NY)
Comedian Molly Brenner finally had an orgasm. How did it happen? The answers may surprise you! I'm Coming chronicles Molly's long, infuriating, hilarious and ultimately empowering journey to the Big O. An intimate, honest, sex-positive take on female pleasure, I'm Coming is directed by Joanna Simmons (Upright Citizens Brigade). It has been performed for sold-out crowds around NYC and beyond and will be at the Edinburgh Fringe Festival in 2019.
Foxy's Den by Feeling Foxy (Orlando, FL)
The party is starting, all that's missing is you! Singing, dancing, and a whole lot of skin. A fully choreographed burlesque production created by Elaine Hoxie, aka Foxy, featuring some of Orlando's finest talent. There's something for everyone at Foxy's Den and you never know, you may just end up a part of the show too!
If you want to laugh together…
Chris Turner: Raps by Chris Turner (Manchester, England, United Kingdom)
A one-man comedy and hip-hop spectacular. Hilarious stand-up, jaw-dropping freestyles, dextrous raps, finger-snapping poetry, and head-nodding musical interludes from UK improv sensation, Chris Turner. Patrons' Pick winner ('Turner's Masterpieces', 2018).
Are You Lovin' It? by Theatre Group Gumbo (Osaka, Japan)
Winner of "BEST in Fest" at Tampa Fringe Festival, "Outstanding Comedy" and "Artists' Pick Award" at San Diego Fringe Festival. Japanese GUMBO invites you to a surreal romp with dancing Japanese businessmen, everyone's favorite Krazy Kitty, many Poos and delicious WacDonalds for all. We won't let you stop your laughter! GUMBO has received many international awards. Their works are frantic, high energy, grotesque and full of black humor.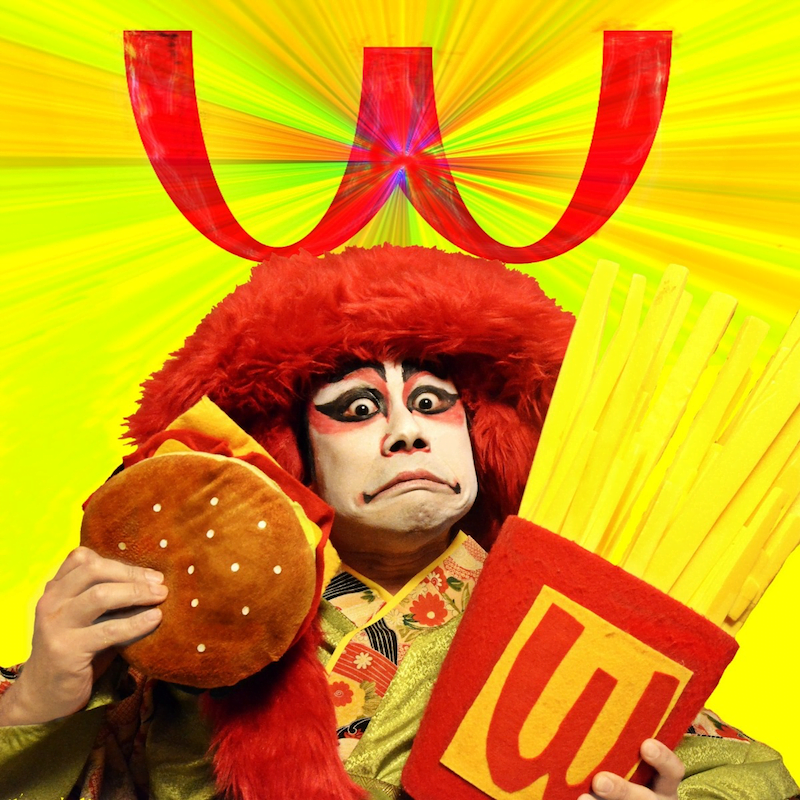 If you want to learn something new…
Field Guide to Not Being an Asshole by Logan Donahoo (Orlando, FL)
Award-winning comic Logan Donahoo returns with an ALL NEW stand-up experience! Part intervention, part TED Talk: Learn how to be a better person in just a few easy steps! Come for the free doughnuts, stay for the dirty laughs! Bring a friend that really needs to "see the light!" From the creator of the international hit "Field Guide To The Gays," and local fave "Slut Like Me," comes a show that's as funny as it is important – DO NOT MISS IT!
If you've got kiddos at home…
EYE CANDY by Stephanie Morin-Robert (Vancouver, British Columbia, Canada)
Sharing the stage with her real-life baby, one-eyed Moth Storyslam Champion recounts her pregnancy and epic 56-hour labour as she mines laughs from her most embarrassing sex story yet. From the creator of the multi-award winning hit shows BLINDSIDE, THE MERKIN SISTERS and BUSHEL AND PECK.
Juice Box Heroes: Stories of Stay at Home Dads by Kevin Burke (Indianapolis, IN)
JUICE BOX HEROES is a hilarious celebration of stay-at-home-dads, with Kevin Burke the star of Broadway's DEFENDING THE CAVEMAN. In the late 1990's Kevin led the modern movement of Dads as primary caregivers. "Kevin is a comic champion for all men who send their wives off to work, then start the laundry. It's obvious his kids are his heart." IndyFringe Review. "The show careens from thoughtful to hilarious to heartfelt. I'll see again." R Clark
If you want something to talk about…
6 Guitars by Chase Padgett (Vancouver, WA)
6 Guitars is a pitch-perfect blend of music, comedy, and characters. 1 performer portrays 6 guitar players that each play Blues, Jazz, Rock, Classical, Folk & Country. "It's just one guy – and one guitar – but it's amazing" -Orlando Sentinel. 'There are exceedingly rare moments in the life of a reviewer when he or she feels content to bask in greatness. 6 Guitars is such a moment." -Orlando Weekly. "6 Guitars is note-perfect." -Ottawa Citizen
Editor's note: I saw this show last year and it was INCREDIBLE!
2 For Tea by James & Jamesy (Sussex, England, United Kingdom)
England's 20-time BEST-OF-FEST and 3x London IMPRESARIO AWARD WINNERS James & Jamesy sip tea and lure you into their delightfully bizarre world brimming with innocence and endearing chemistry.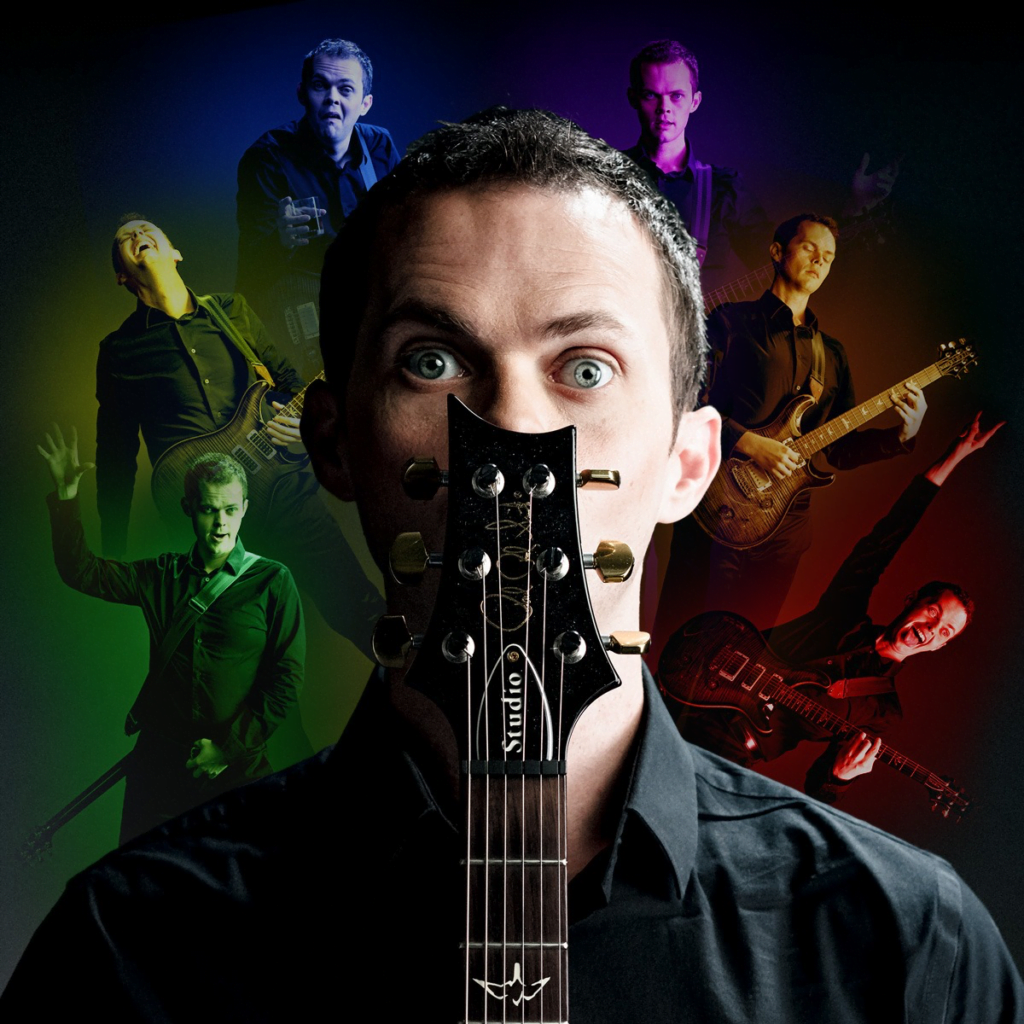 Tips for Orlando Fringe newbies
Fringe basics
Get your Fringe button. In order to see any shows, you'll need to purchase a Fringe button. You can't get into shows without it. Once you purchase online, you'll receive a voucher to pick up your button at the festival. Fringe buttons are $10 each.
Know where to park. There are about 500 free parking spaces available within Loch Haven Park. If the lot is full, you can also find limited parking along Mills Avenue and Princeton St.
Arrive early. Get to your show at least 15 minutes in advance, more for popular shows. If you're late, you won't be able to get into the show. Plus, arriving earlier means you'll get better seats!
Ask a volunteer! The Fringe volunteers are friendly and knowledgable and can help you answer questions like how much time it will take to walk from one venue to another, or recommended shows to add to your schedule. It's also fun to kill time in the show lines talking with fellow Fringers about the shows they've seen.
Enjoy the free entertainment. On a budget? There's no charge to explore the festival grounds and listen to live entertainment at the Outdoor Stage.
Purchase tickets in advance. If there's a show you absolutely MUST see, buy your tickets online ahead of time. This way, you won't have to worry about arriving at the box office only to find your desired show is sold out.
Have cash. The beer and booze tents are accepting credit cards this year. But some vendors are cash-only, so bring some just incase.
First time at Orlando Fringe? Head to the beer tent every Saturday and Sunday at 2pm for free fringe tours, new this year.
Get tons more festival tips and information here.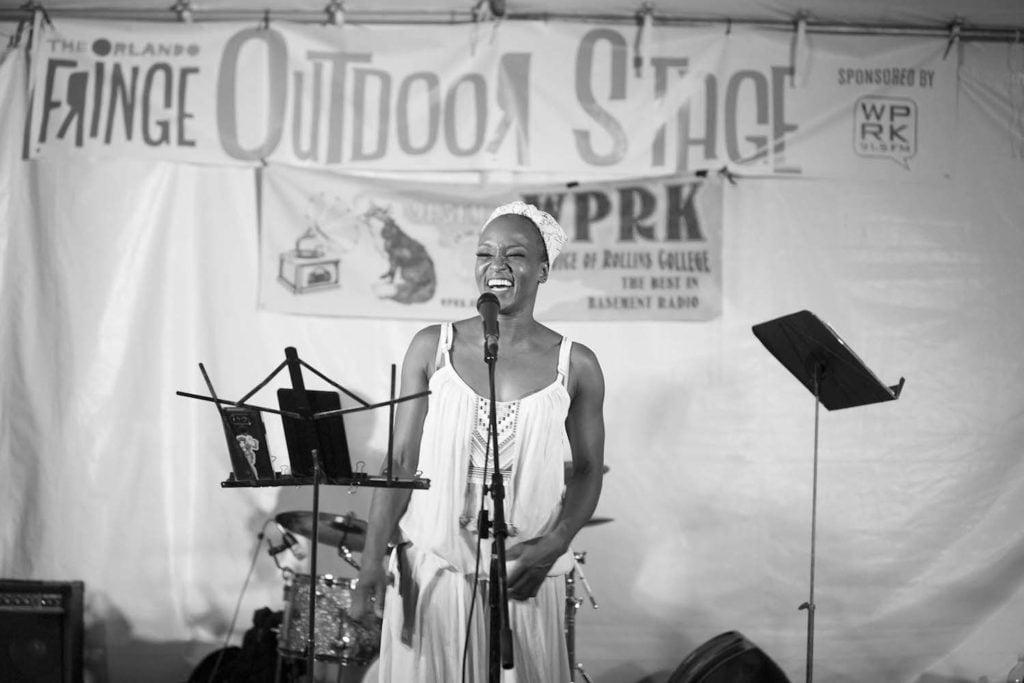 Know the venues
While most shows are concentrated within Loch Haven Park, a few are outside of the main festival area. Take note of the locations of each venue in advance and plan accordingly. Avoid my newbie mistake last year of having to run from one venue to another in order to make a show on time (although it does make for great exercise).
Here are this year's venues:
Green and Silver: Orlando Rep
Gold: Orlando Museum of Art
Blue, Brown, Orange, Pink, Purple, Red, and Yellow: Lowndes Shakespeare Center
Black: The Venue (0.9 miles from Loch Haven Park)
Rainbow Venue: The Center (1.1 miles from Loch Haven Park)
The Starlight Room at Savoy (0.6 miles from Loch Haven Park)
Breakthrough Theatre of Winter Park (2.2 miles from Loch Haven Park)
Use Fringe-O-Matic to create a show schedule
Fringe-o-Matic is a nifty free scheduling tool which allows you to create a show schedule based on what days you're fringing and the shows you're interested in. To use it, you'll need to connect with a Google account. Then, mark your interest level in shows and set your availability and the tool will automatically calculate a schedule for you.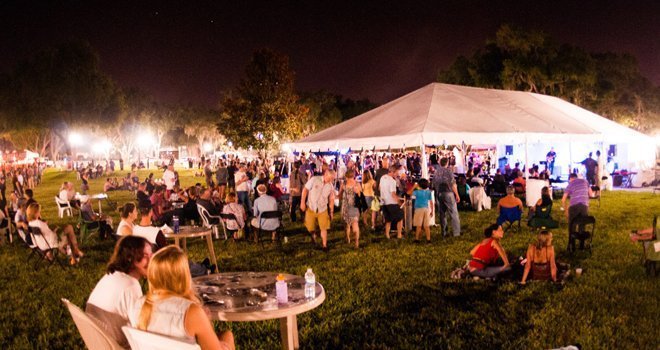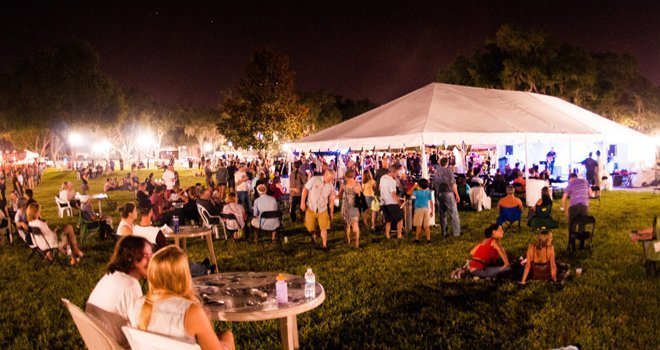 The 28th Annual Orlando International Fringe Theatre Festival
May 14 – 27, 2019
Loch Haven Park
The festival grounds will be open 5pm-midnight on weekdays, and 10am-1am both weekends.
For full details and to purchase tickets, visit http://orlandofringe.org.
Which Fringe shows are on your list? Hope to see you there!
All images courtesy of Orlando Fringe