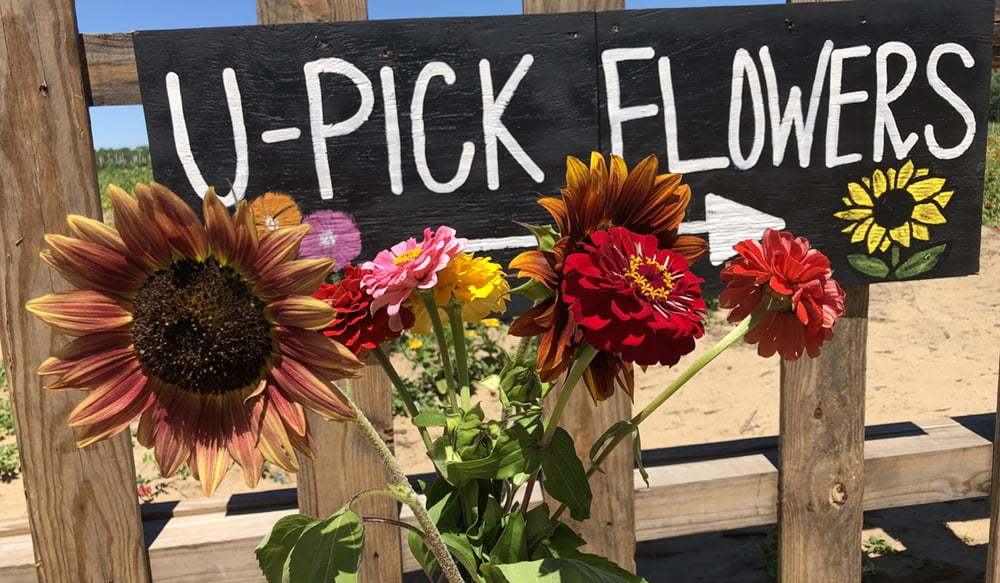 Spring is here and flowers are blooming everywhere! Did you know Orlando has some great spots where you can pick your own floral beauties? Whether you are into making your own arrangements or are looking for something different to do, these places to pick your own flowers in Central Florida offer a unique date day experience.
U-Pick Flowers in Orlando
Head to one of these farms in Orlando to pick your own flowers. Bringing your own scissors is a good idea in case the farm runs out.
AMBER BROOKE FARMS, EUSTIS
36111 County Rd 44A, Eustis, FL 32736
A charming farm awaits in Eustis, just under an hour's drive from Orlando. Amber Brooke Farms recently refreshed their family farm to include fun activities. Throughout the year you can enjoy seasonal events.
During the fall their Fall Festival and Pumpkin Patch are lots of fun. And during the fall, winter, and early spring you can pick your own sunflowers and zinnias. Plus the farm has other outdoor activities too.
Amber Brooke Farms in Eustis tops our list of places to pick your own flowers because of the great farm setting with included activities. Plus there is a small playground for young kids and a stand selling craft beer and wine, and soft drinks.
U-Pick Flowers at Southern Hill Farms
16651 Schofield Rd, Clermont, FL 34714
We recently visited Southern Hill Farms to pick flowers and blueberries and it was a perfect budget-friendly date day! This family owned farm is located in Clermont where the rolling hills and lush landscape will make you feel like you are not in Florida anymore.
In season, the farm offers Sunflower and Zinnia picking among other things. Flowers range from $1 for Zinnia and $2 per head for Sunflowers. You'll even get a cup with water to help keep your flowers fresh.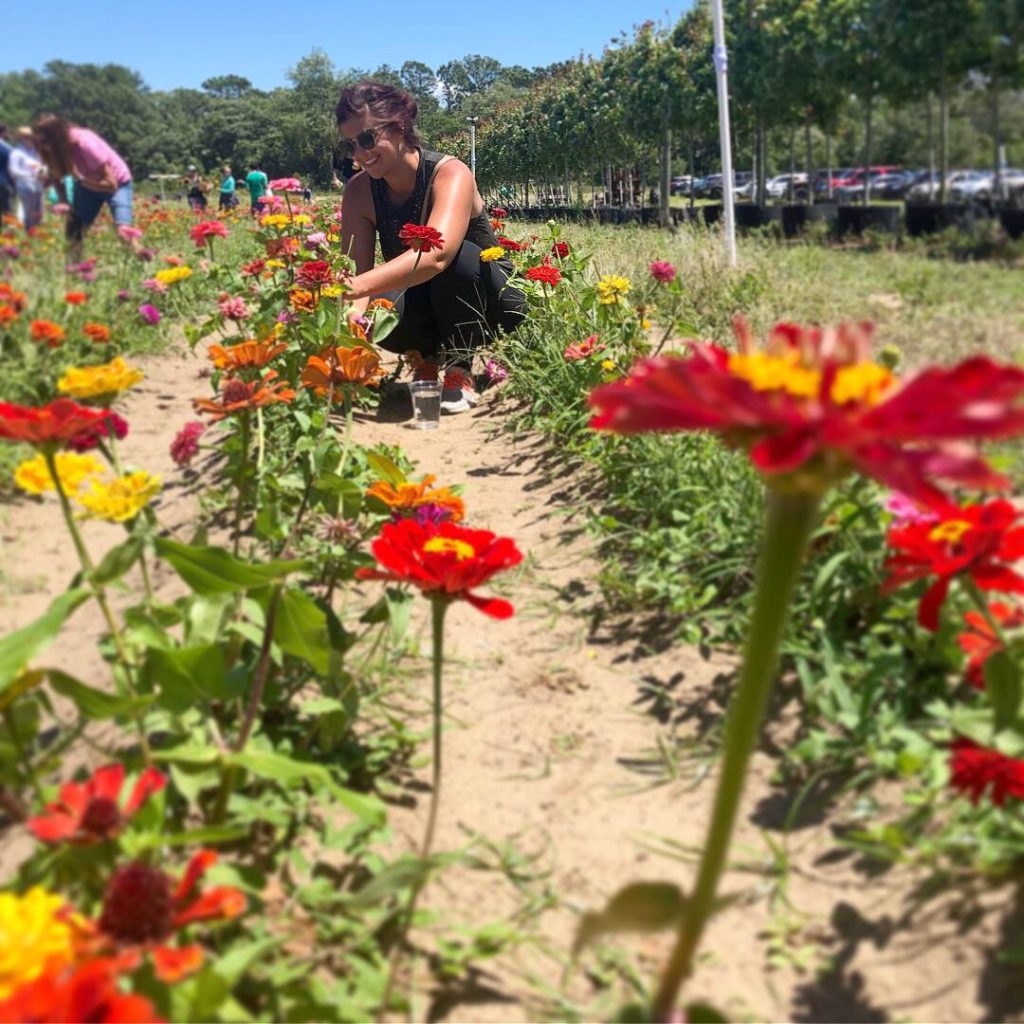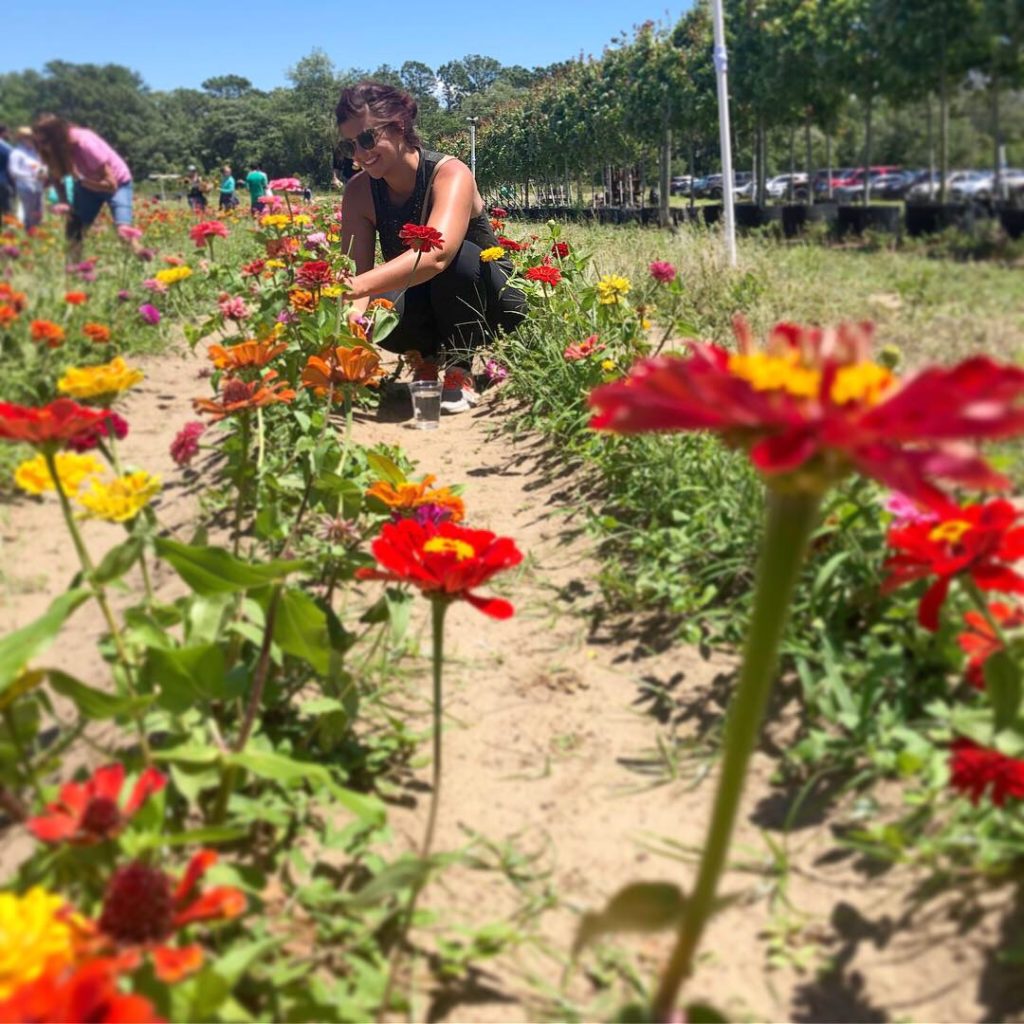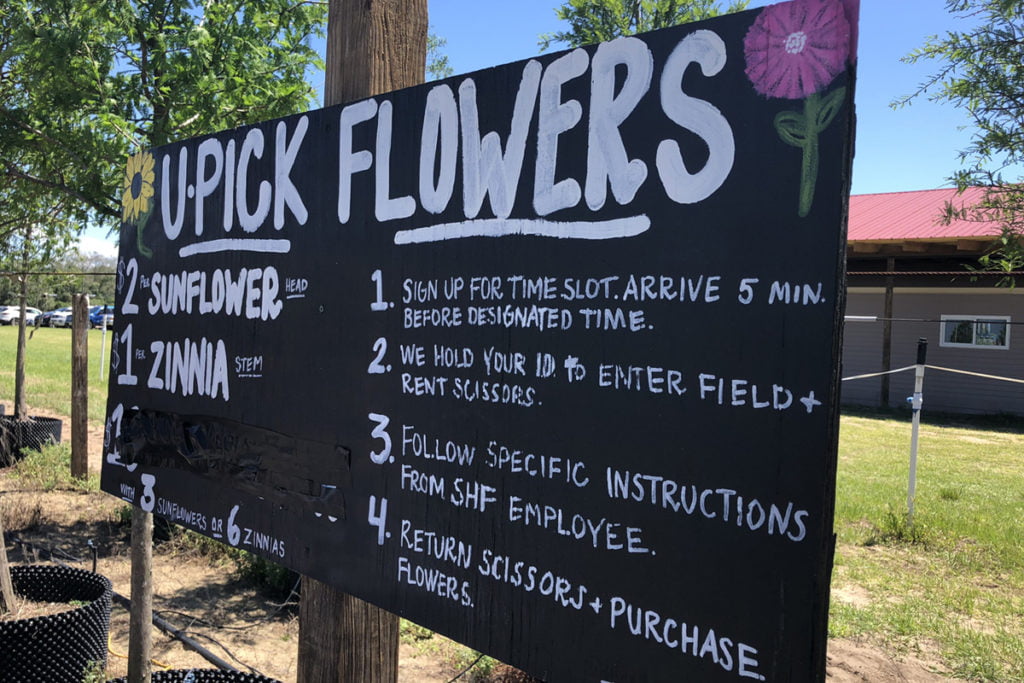 FYI: you'll need to leave an ID at the check-in table when you rent your scissors (free). If the fields are busy, you may be asked to return later in the day at a specific time slot. Otherwise you'll be able to walk right into the field and start picking your flowers.
The sunflower field is a beautiful location for pictures as well.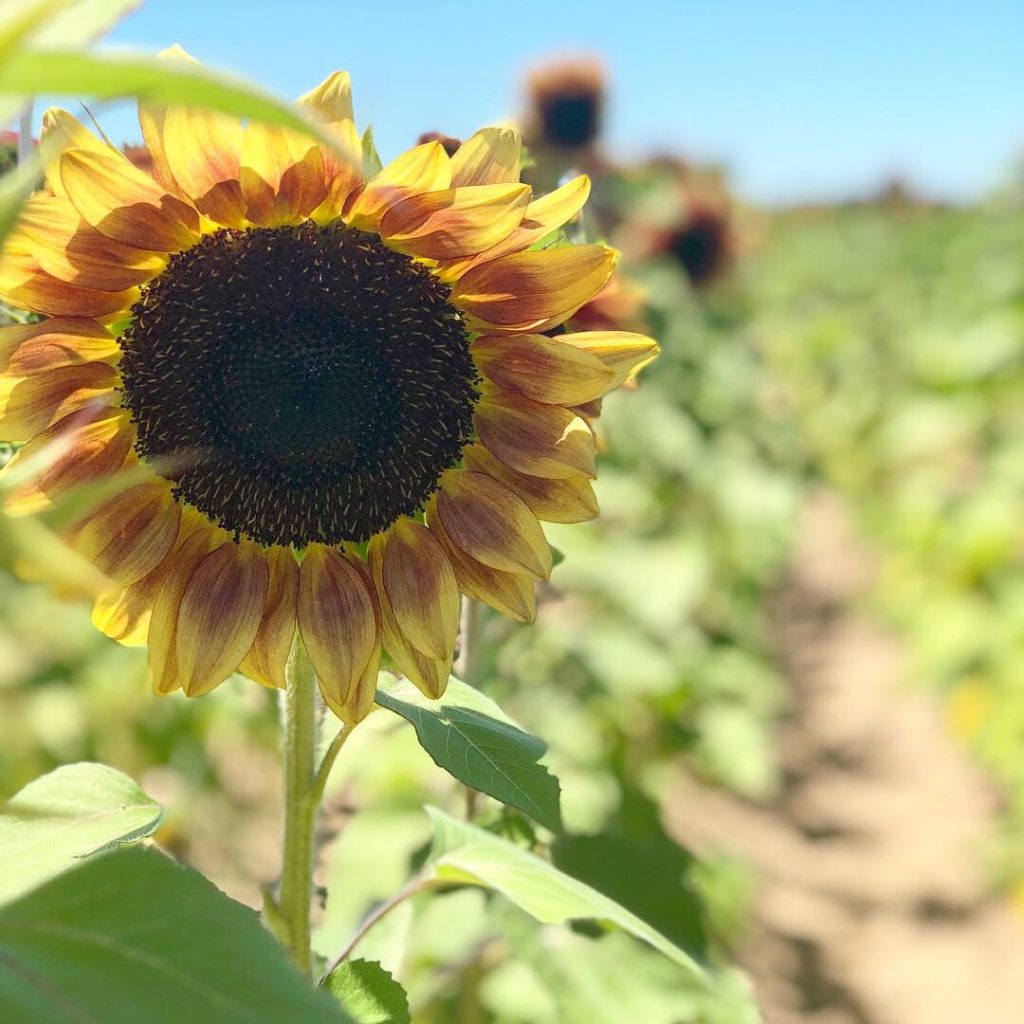 Southern Hill Farms is most popular for blueberry picking. They have acres and acres of blueberry fields. You can pick your own for $4 per pound. They have sweet and tart varieties and there is even a shuttle that takes you around the farm.
Another unique picking experience is the farm's fresh peaches. Beautiful peach trees line the property and can be picked for $4 per pound.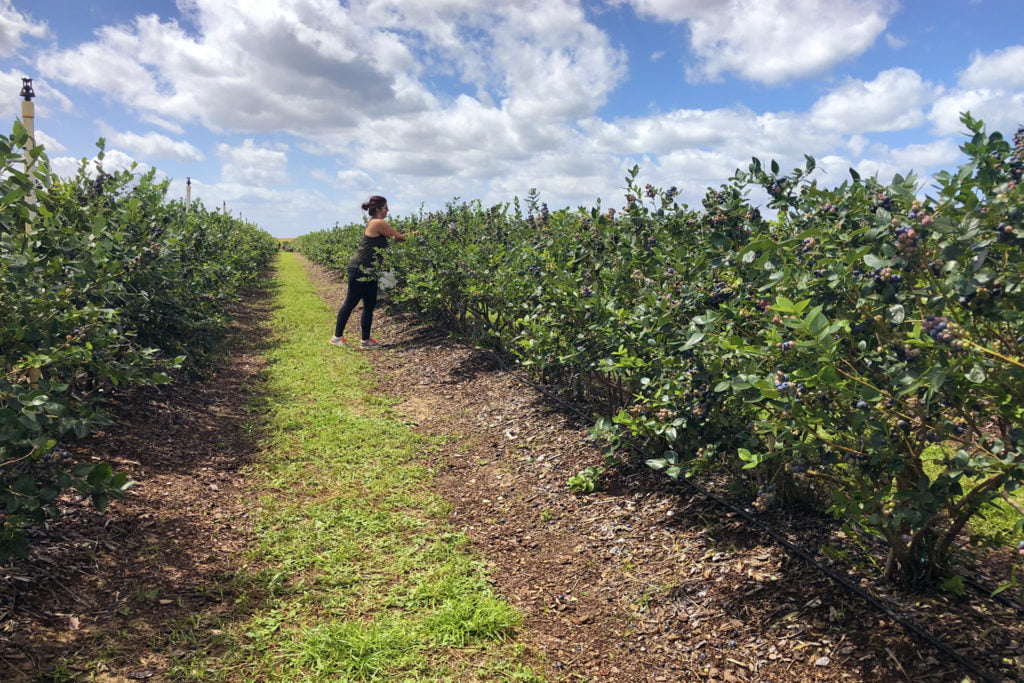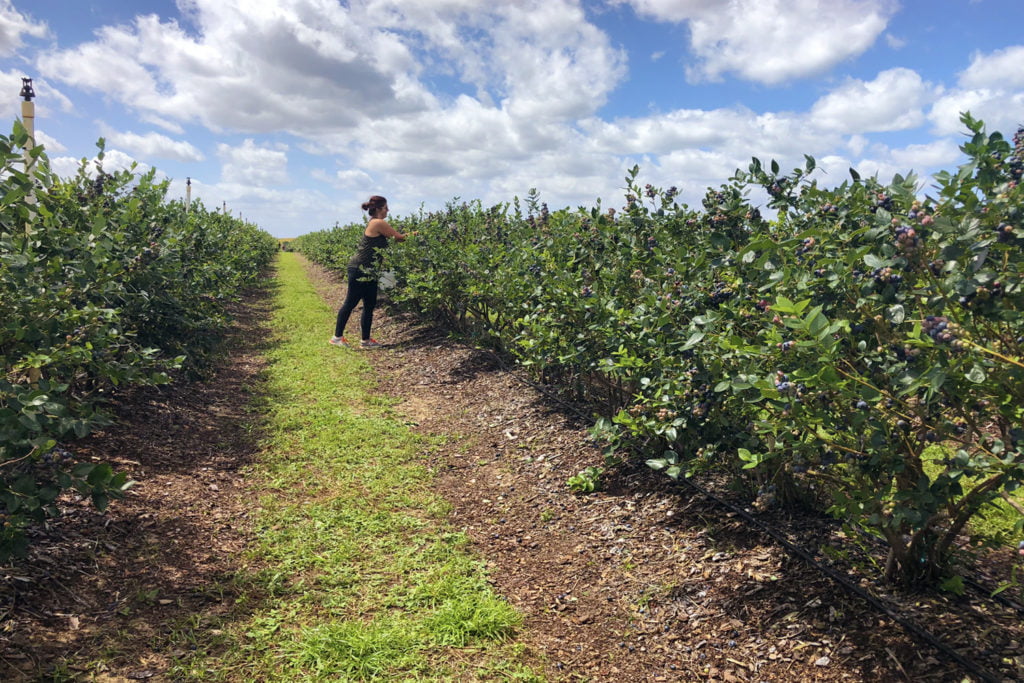 Stay a while and check out the food trucks offering a large variety of food. Their sweets truck has the warmest and most delicious blueberry donuts. They also have a BBQ truck with gouda and blueberry grilled cheese, chili dogs and more. Blueberry mimosas and beer varieties can be found in the beer truck. There is plenty of picnic table seating and grassy areas to set up a nice picnic.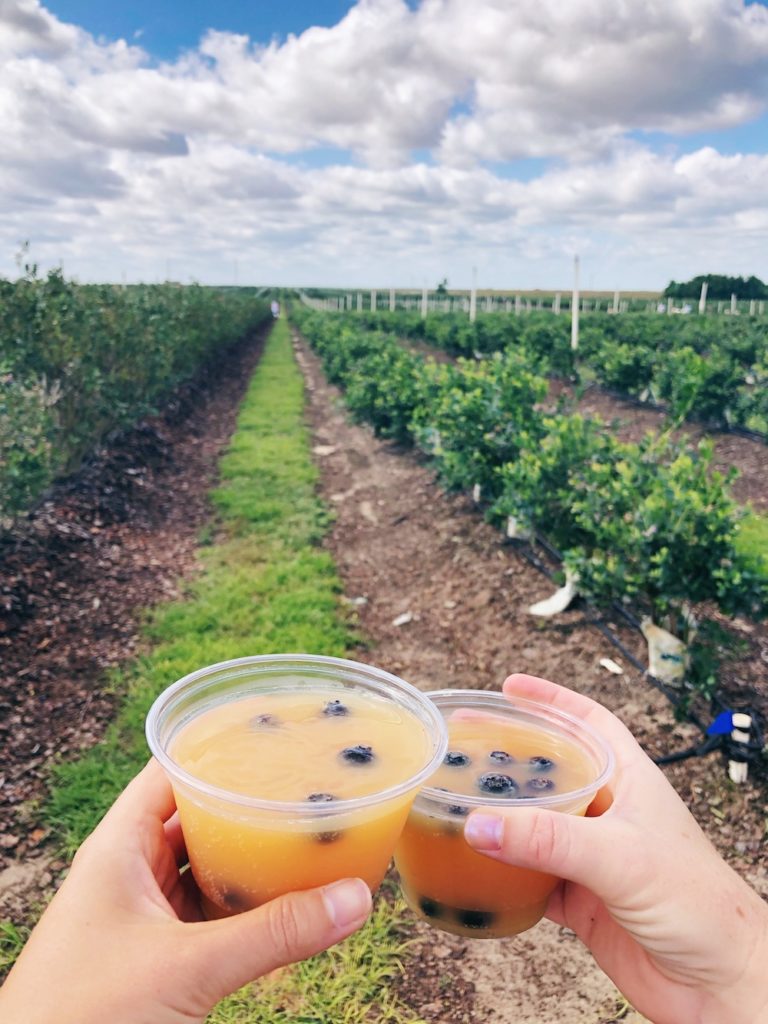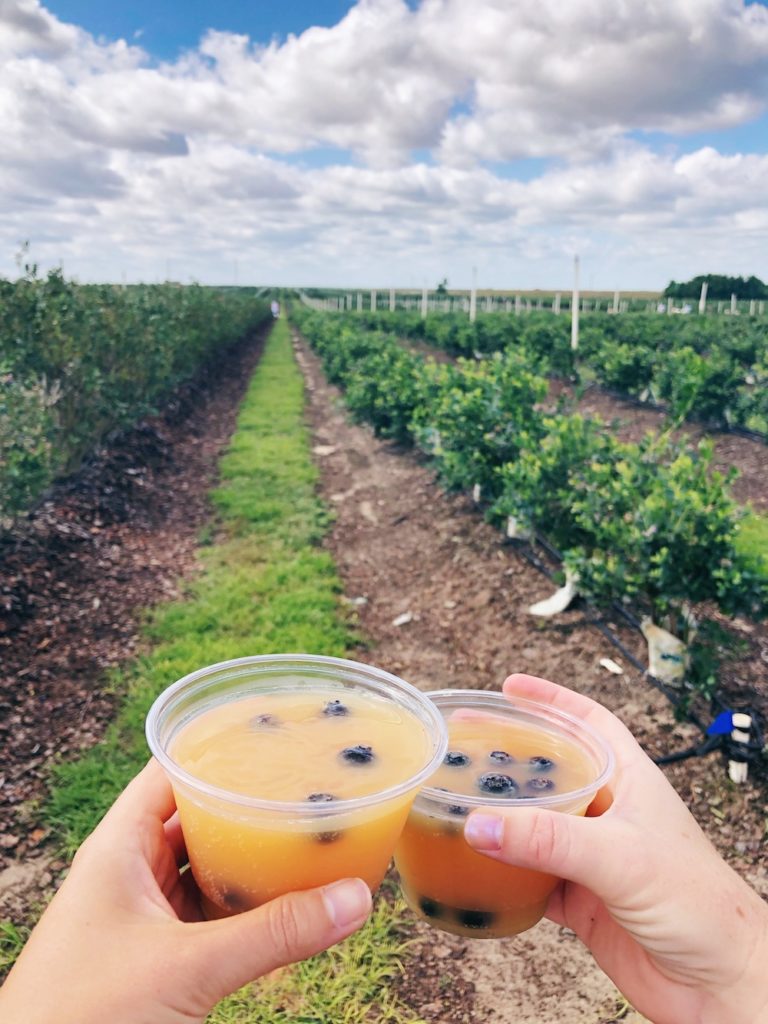 Take home a piece of the farm by visiting their shop with homemade goodies and gifts. Their hand poured candles have some amazing scents like orange grove and blueberry, of course. Jams, honeys and salsas are available to taste and to buy. Make sure to try the peach salsa – it is so tasty!
Admission and parking are free. You do have to be willing to drive a bit off the beaten path to get there. The road is not paved and neither is the parking area, but the adventure is worth it! Southern Hill Farms is open Tuesday-Sunday from 9am-4pm.
Southern Hill Farms
16651 Schofield Rd
Clermont, Florida
407-986-5806
Also Try:
Sledd's U-Pick
Burkholm Rd &, Dixie Way
Mims, FL 32754
321-537-7003
Sledd's has a beautiful sunflower maze that is great for picking and photos. Admission is $5 per person and children under 3 are free. You do need to bring your own scissors or clippers to this farm. Sunflowers are $2 and they have deals if you buy bundles of them. They are cash-only and their hours vary, so check their Facebook page before you go.
Mick Farms
4261 Canoe Creek Road
Saint Cloud, Florida
407-791-6873
Mick Farms is a family-owned farm with a wide variety of veggies and fruits. During the fall you can pick your own pumpkins, but the real showstopper is their sunflower field. With big and small varieties, their sunflowers are true beauties. Follow along on their Facebook page to see when they are in bloom. Mick Farms has an admission fee of $5 to enter their pumpkin patch or sunflower fields. FYI: This spot is not u-pick, but the fields are so beautiful we had to mention it!
All photos by Stephanie Patterson