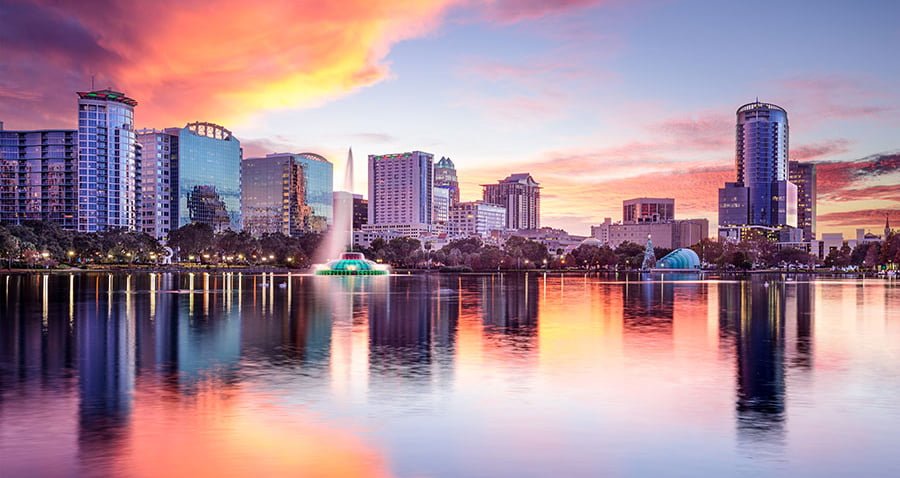 Did you know that the Lake Eola fountain is the City of Orlando's official emblem? Far from the crowded theme park district, Lake Eola Park literally and figuratively remains the heart of The City Beautiful. When was the last time you visited the heart of Orlando recently with the one who holds your heart? Sure, our downtown is relatively small compared to other metropolises – but it's none the less mighty. Lake Eola Park is a true gem surrounded by endless opportunities to play, stay and eat.
Here are 11 must-do Lake Eola Park date night adventures to try:
1. Partner Paddle
As iconic as the fountain itself, swan-shaped paddle boats are a sure way to make waves on date night. If you haven't boarded one of these big white birdie boats, drown your reservations and head to the small dock beside Relax Grill (close to the intersection of E. Robinson Street and N. Rosalind Avenue).
The first swan vessel launched in Orlando around 1925, and the latest pontoon-style fleet operates with pedal-power. Plan on gliding along for about for 30 minutes ($15) or so amidst swans, fish, ducks, and turtles with the city skyline as the picturesque backdrop. FYI, the city operates several swan boats, including one that is wheelchair accessible; and each holds up to five people. A waiting list is common, but you can easily pass the time relaxing with a drink in hand at Relax Grill. A swan boat excursion works any time – whether you're on your first date or popping the big question!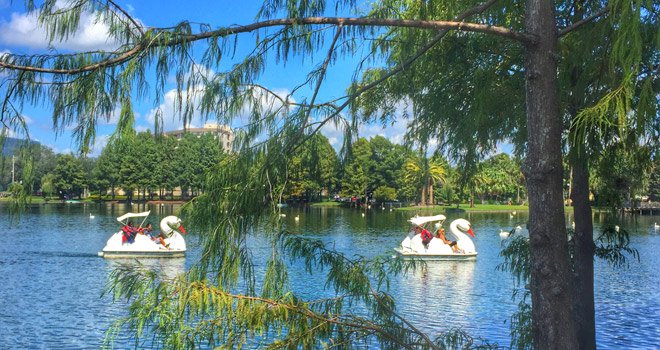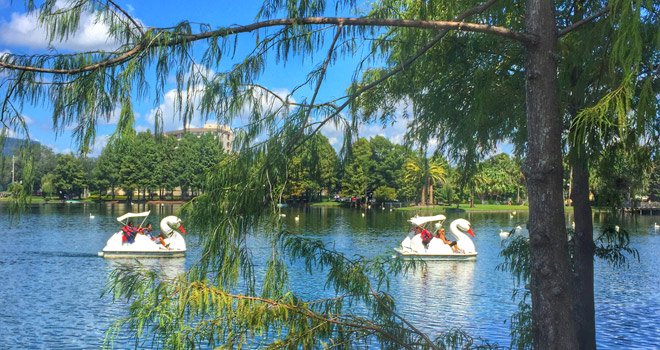 2. Park Picnic
There's nothing quite as romantic as a picnic surrounded by nature. The simplicity of peaceful alfresco dining on a cozy blanket encourages couples to eat and drink up each other's company. Lake Eola Park has 43-acres so you're bound to find the perfect picnic spot, whether it be on the green grass, near the playground (if the kiddos are in tow) or at the Chinese pagoda. Located on the east side of the park, this tall red monument offers a lovely view of the lake and is illuminated at night.
3. Sweet Suite Staycation
A few days away from the hustle and bustle of your normal lives can really recharge your relationship. Go ahead and fully immerse yourselves in The City Beautiful with an Orlando staycation at the Embassy Suites by Hilton Orlando Downtown, located on the corner of E. Central Boulevard and S. Rosalind Avenue (lobby entrance on E. Pine Street). It's the perfect launching pad for all of the activities on this list, with close proximity to more adventures in nearby neighborhoods.
After a suite slumber, conveniently start your day with a complimentary cooked-to-order breakfast before embarking on your local escapade. Pop back to the hotel to freshen up and to kick off happy hour with Embassy Suites' evening reception. But, trust us, you'll most appreciate your glorious balcony view of beautiful downtown with a crystal clear shot of the Lake Eola fountain in all its glory.
DISCLOSURE: This post was created by Orlando Date Night Guide as part of a sponsored campaign series with Hilton.
4. Libations for Lovers
With plenty of bars and restaurants surrounding Lake Eola Park, an exciting pub crawl or progressive dinner is easily doable. Grab a drink and bite at one place and then walk to another location for more noshing and such. Mini-breaks of strolling hand-in-hand beside the fountain and swans will be pleasurable. Here's a sample pub crawl itinerary.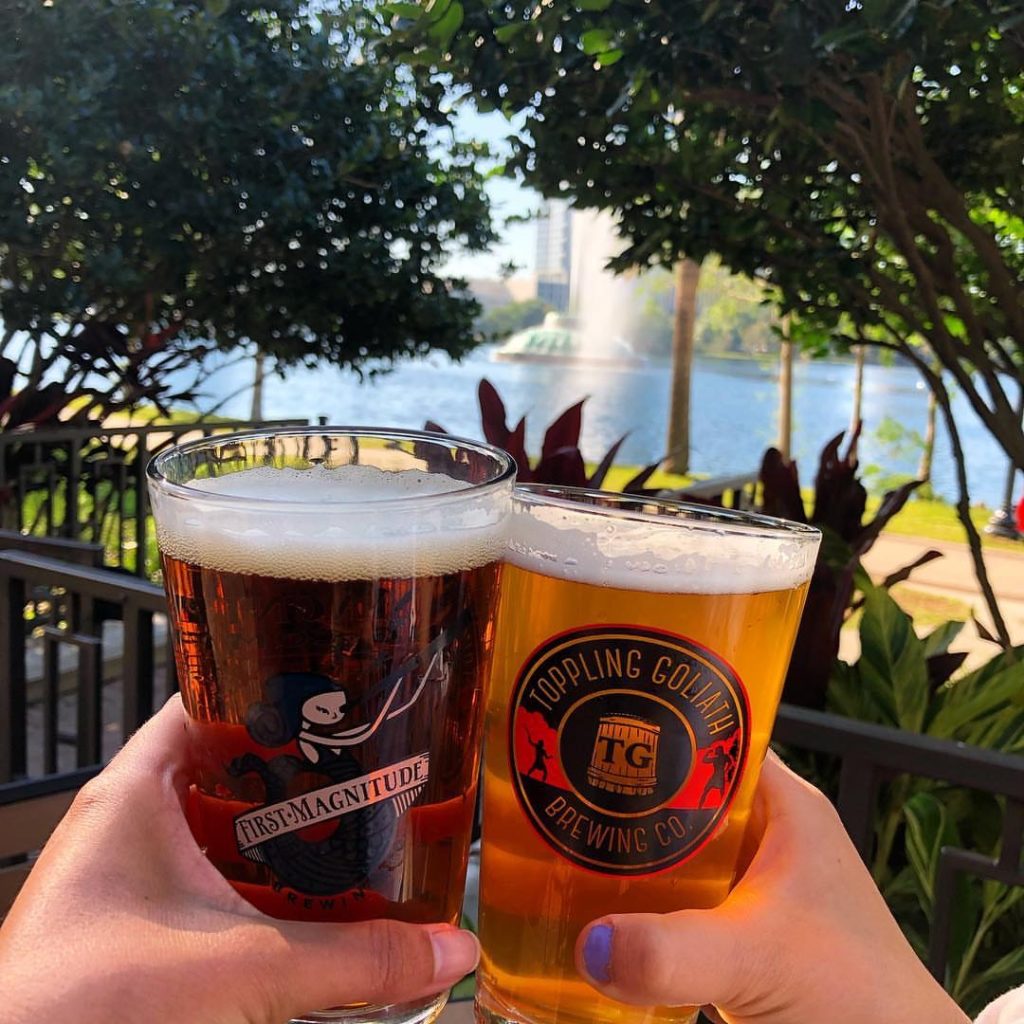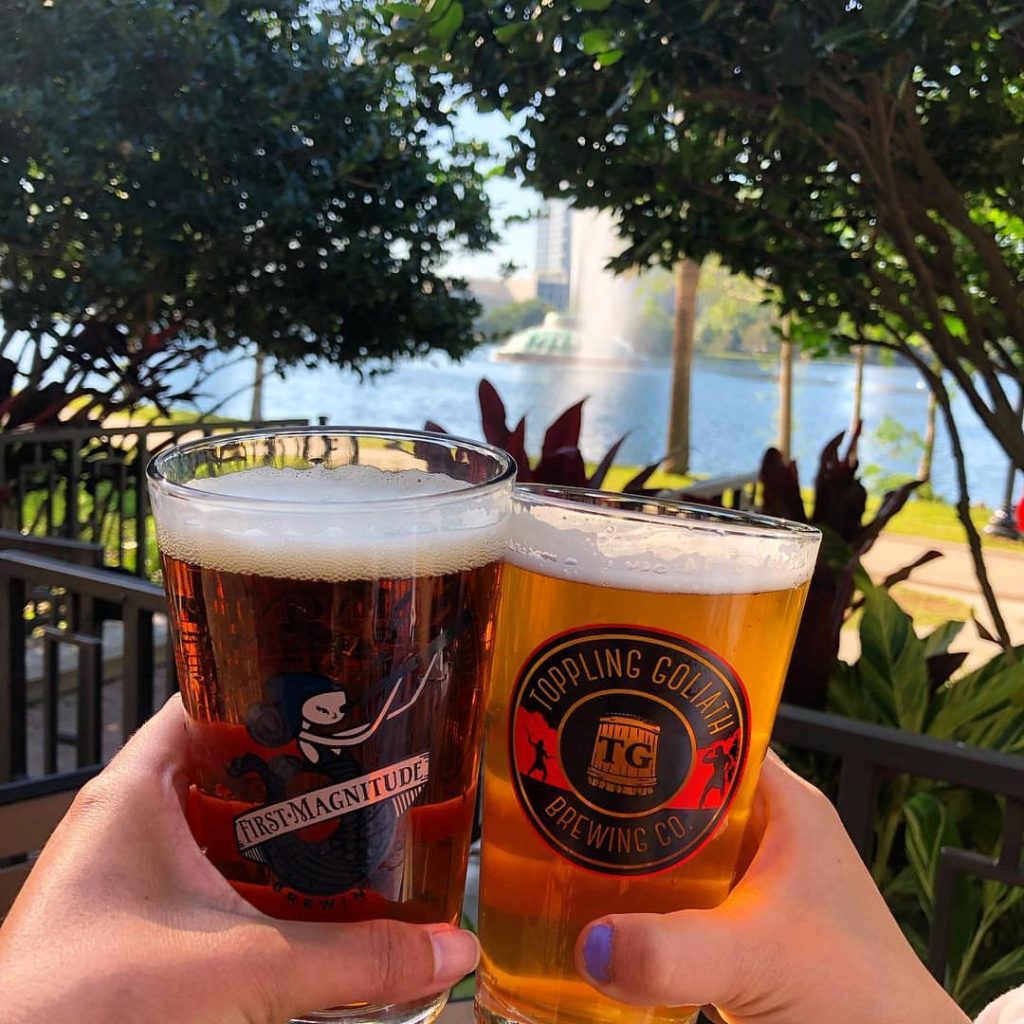 5. Amphitheatre Affair
The Walt Disney Amphitheater on the west end of Lake Eola offers couples an ideal, open-air venue to catch a concert, movie or play. The vibrant entertainment is presented in the colorful bandshell which, in 2016, received a rainbow makeover in honor of the victims of the Pulse tragedy. According to the designing artists, each color embodies specific representation: "red for love; orange for Orange County; yellow for faith and hope; green for life, its fragility and renewal; blue for the sadness we all collectively feel and to honor our police officers and medical staff; and purple for valor and bravery."
6. Market Match-Up
Savor time together by satisfying your hunger with a foodie quest outside the confines of a restaurant booth. A Sunday Funday spent at the Orlando Farmer's Market is a yummy way to feast on local bites and shop small businesses. Located at the southeast corner of Lake Eola Park (by the intersection of Eola Drive and Central Boulevard), the Orlando Farmer's Market has dominated as a weekend event for nearly three decades! Sure, the landscape and the vibe have evolved in that time, but this outdoorsy bazaar is still a go-to occurrence. Held every Sunday from 10am-4pm, adore the quaint wine/beer garden, live entertainment and tons of vendors offering everything from gourmet cheeses and artisan popsicles to one-of-a-kind art and handmade jewelry.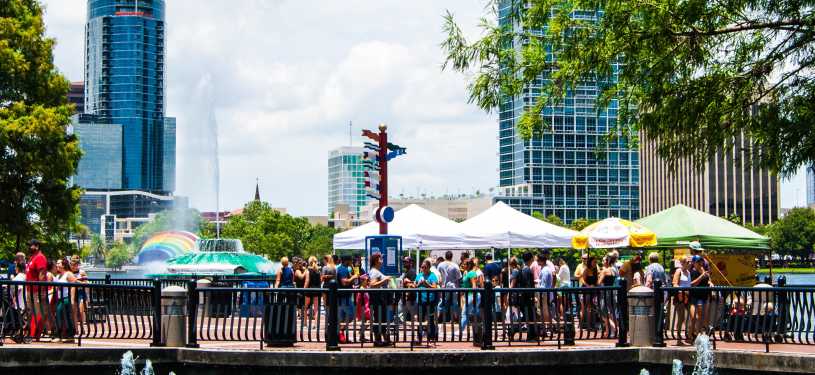 7. Running Rendezvous
Does your partner make your heart race? Awww, how sweet! Well, you can get your hearts racing together with a cardio date night. The paved path around Lake Eola is just shy of a mile with plenty of intriguing surroundings to keep you entertained along the route. It's a great destination for tandem heart-pounding workouts or a much more calming after-dinner stroll.
8. Flexible Fun
Stretch beyond your standard date night routine with a yoga class held far beyond the walls of a typical yoga studio. Since 2013, Yoga in Lake Eola Park has been held on the lawn near the corner of E. Robinson Street and N. Eola Drive, every Sunday at 11am. With a $5 donation, prepare to increase flexibility, deep breathing and amped up endorphins – all of which are good for both you and your relationship.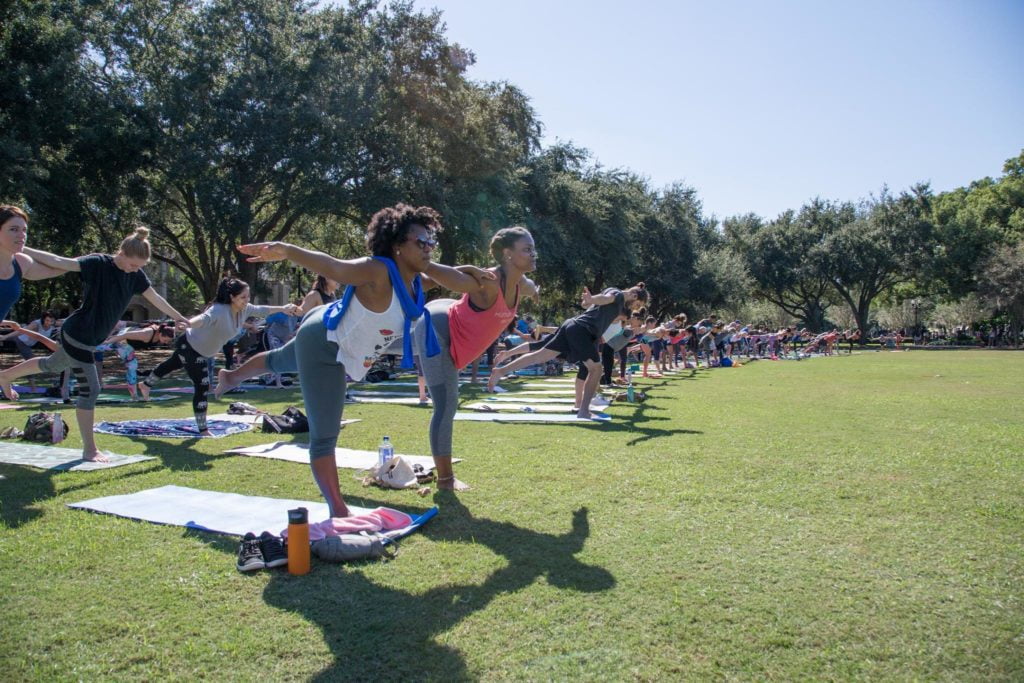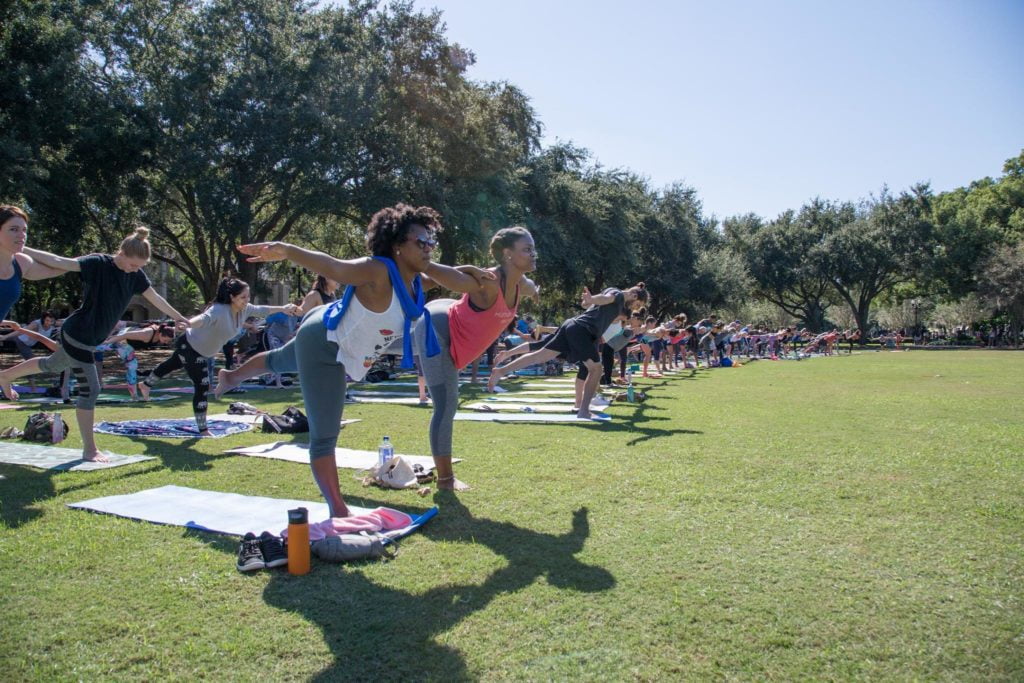 9. Epic Events
It's fun to explore special events with your special someone, right? Well, Lake Eola Park is host to a plethora of popular happenings, many of which have become must-do traditions. Some of the epic events include: Downtown Food & Wine Fest (February), Paws in the Park (February), Earth Day (April), Spring and Fall Fiesta in the Park (April), Corporate 5K, Come Out With Pride (October), MoviEola (quarterly) and countless fundraising walks.
For a dynamite date night this summer, be sure to watch the fireworks show on July 4th with your one-and-only firecracker at Fireworks at the Fountain. Aside from the Holiday Tree Lighting, Fireworks at the Fountain is perhaps the most celebrated festivity at Lake Eola, with this year marking the 42nd annual event!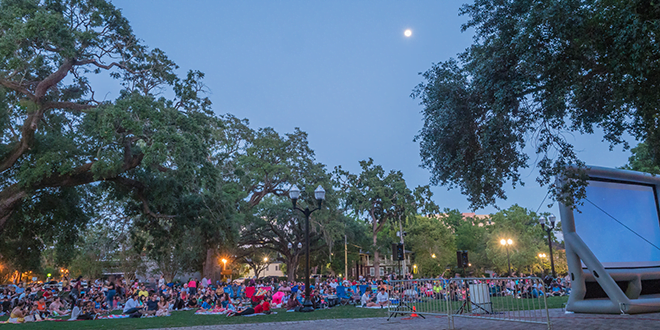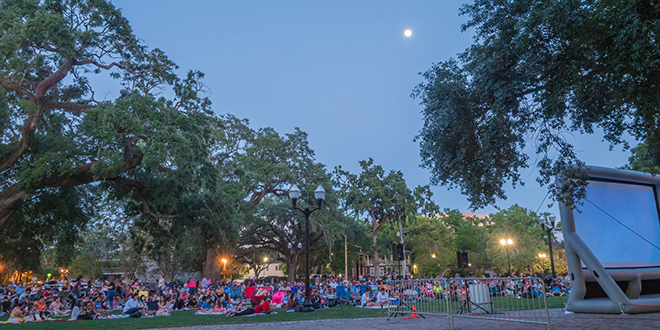 10. Scavenger Hunt with Your Wild One
Typical tours can be entertaining but, for a unique twist, try a mobile scavenger hunt. You just need your mobile device and your partner in crime. Shenanigans are a guarantee with the Crazy Dash Digital Adventure, a smartphone-led walking journey. As you explore Lake Eola Park and nearby sites, complete and document silly tasks. Lake Eola's Art Scene & Scenery adds culture to the trek inviting you to navigate downtown to find eight sculptures, all while completing challenges, snapping selfies and, oh yeah, actually learning something new about your hometown in a fun way. Or, if you dare to scare, try the Orlando Zombie Scavengers.
11. Bicycle Bonding
Freshen up your standard go-to date night with a two-wheeled tryst in the fresh downtown air. No wheels? No problem. In April, HOPR replaced Juice as Orlando's bike share company with 250 GPS-enabled dockless bikes stationed throughout the city. It's super easy to rent one of their blue rides. Just like you've mastered Uber, simply make a reservation using a mobile app. Next, scan the handlebars and hop on. These bike rentals are a cheap date option ─ pay only $1 to unlock a bike and pay 15 cents per minute for riding time; or opt for a $15 day pass, $20 monthly pass or $99 annual pass.
ITINERARIES
While you aren't allowed to ride bikes on Lake Eola Park's paved trail, you can hop on the Orlando Urban Trail (just a short ride from Lake Eola) to explore nearby districts like Mills 50 and Ivanhoe Village.
Alternatively, have an itinerary mapped out for you. Bike Cubed, for example, operates various seasonal electric bicycle (yes, electric!) tours throughout Orlando. Their City Tour explores downtown, including a pass by Lake Eola Park, plus Baldwin Park, Winter Park and beyond. Choose a 2-hour tour for $39 which includes 13 miles and snacks or a 4-hour tour for $79 which includes 19 miles and lunch. For future dates, book Bike Cubed for themed rides, like the Taco Tour and Manatee Tour.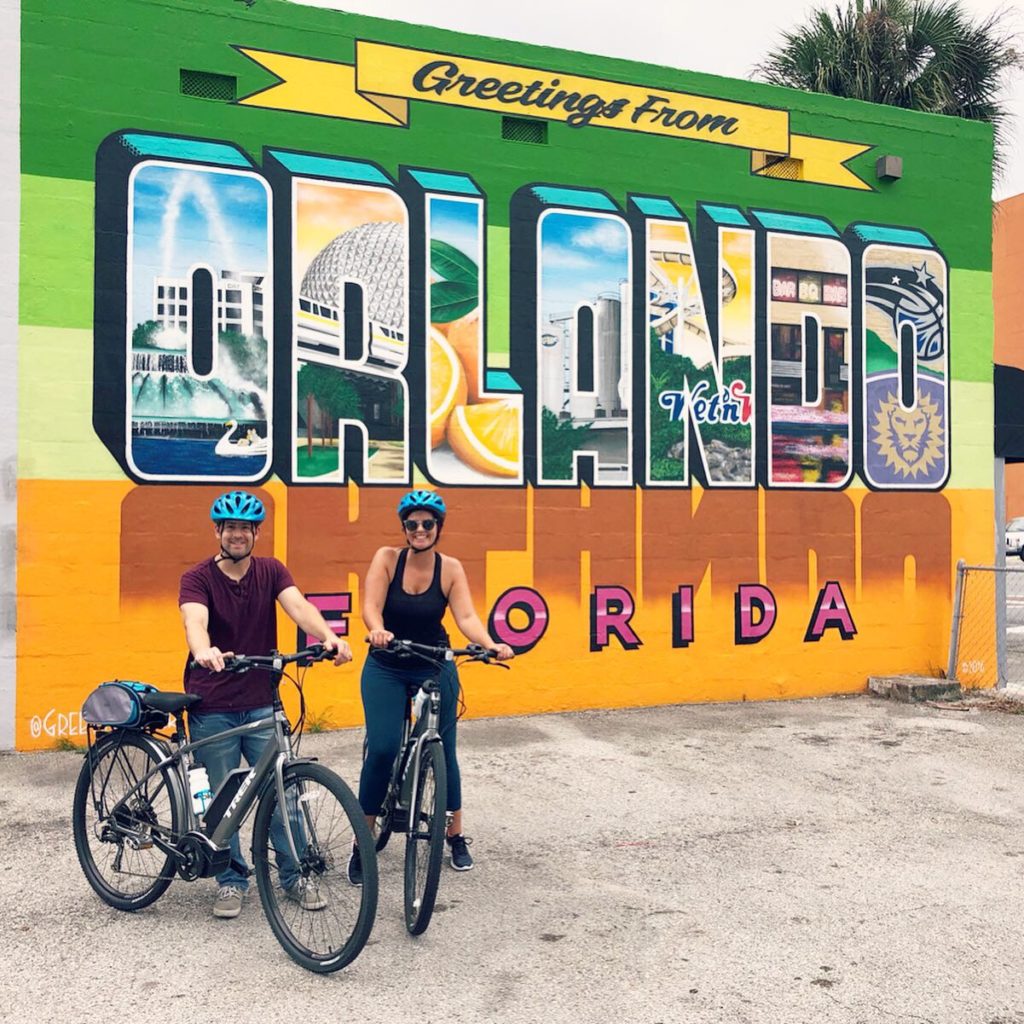 Also at Lake Eola Park:
Built in 1924, the Eola House is a beautiful rental venue for couples hosting celebratory events, such as a shower or wedding. This historic two-story home is decorated with stained glass, chandeliers and a wooden staircase. It has bride/groom rooms, a brick patio and a luxurious lawn.
Note: Lake Eola Park is officially open daily from 10am-10pm.
Feature image credit: City of Orlando