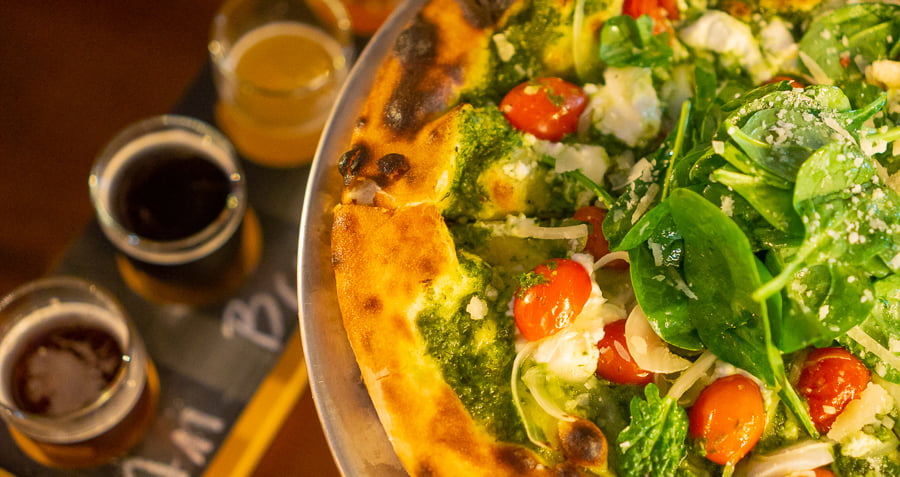 Inevitably, whenever we're enjoying a pint or two at one of Central Florida's breweries, we get the munchies. So it's nice when a brewery offers up a food menu, allowing us to stay seated or step just inches away from our glass to put in an order. Here's our list of Orlando-area breweries with food, who have not only enticed us with their malted masterpieces, but who pair their beers with bar food that will curb any appetite, making them a one stop shop for a casual and affordable date night.
1010 Virginia Dr, Orlando
Ten10 opened in the Mills 50 District in 2015 and has been pouring delicious brews ever since. There is a level of care and maturity in their brews that we love. But did you know they also serve up some ahhh-mazing sandwiches? We love pairing one of their ales with the "Chixbacavo" – a chicken breast sandwich topped with tomato-bacon jam, avocado, aged Swiss, basil dressing and crispy prosciutto, on garlic marble rye. Please try the pretzel with cinnamon sugar and cream cheese icing and report back.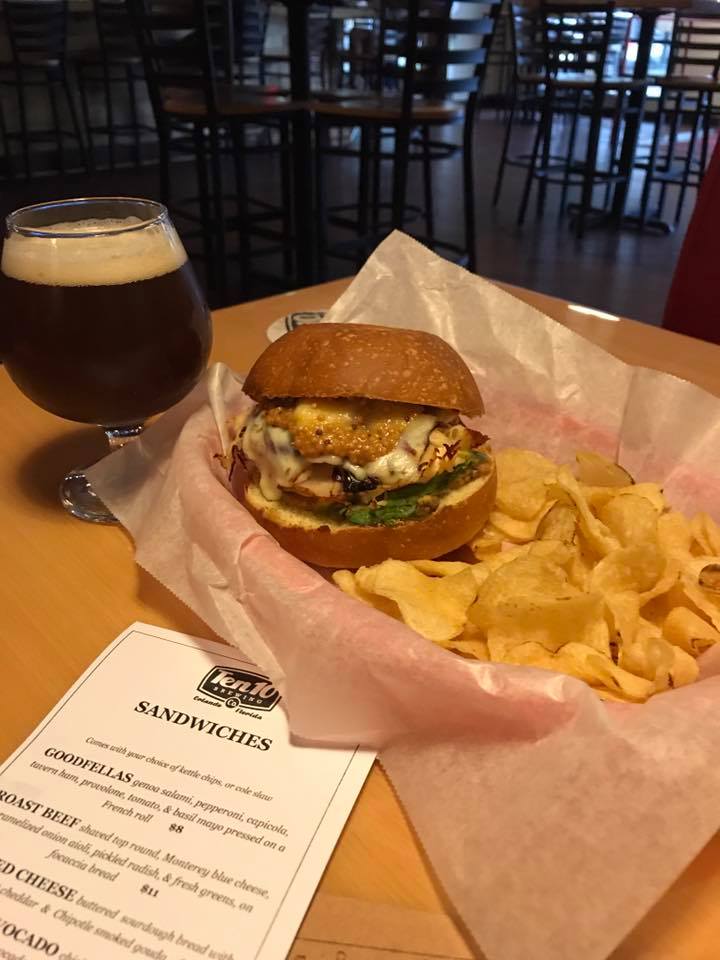 1117 International Parkway , Lake Mary
Pizza and beer lovers, rejoice! You can have it all at Orange County Brewers. Yes, sadly, we lost the Pizza Bruno that was housed alongside the brewery. BUT, the owners of Orlando Meats stepped in and saved the day, opening Recess Pizza in the pizza-shaped hole at OCB. If you've ever been to Orlando Meats, you know their Neopolitan-style pies are slightly unexpected but most certainly delicious. Which OCB beer will you pair with your pizza?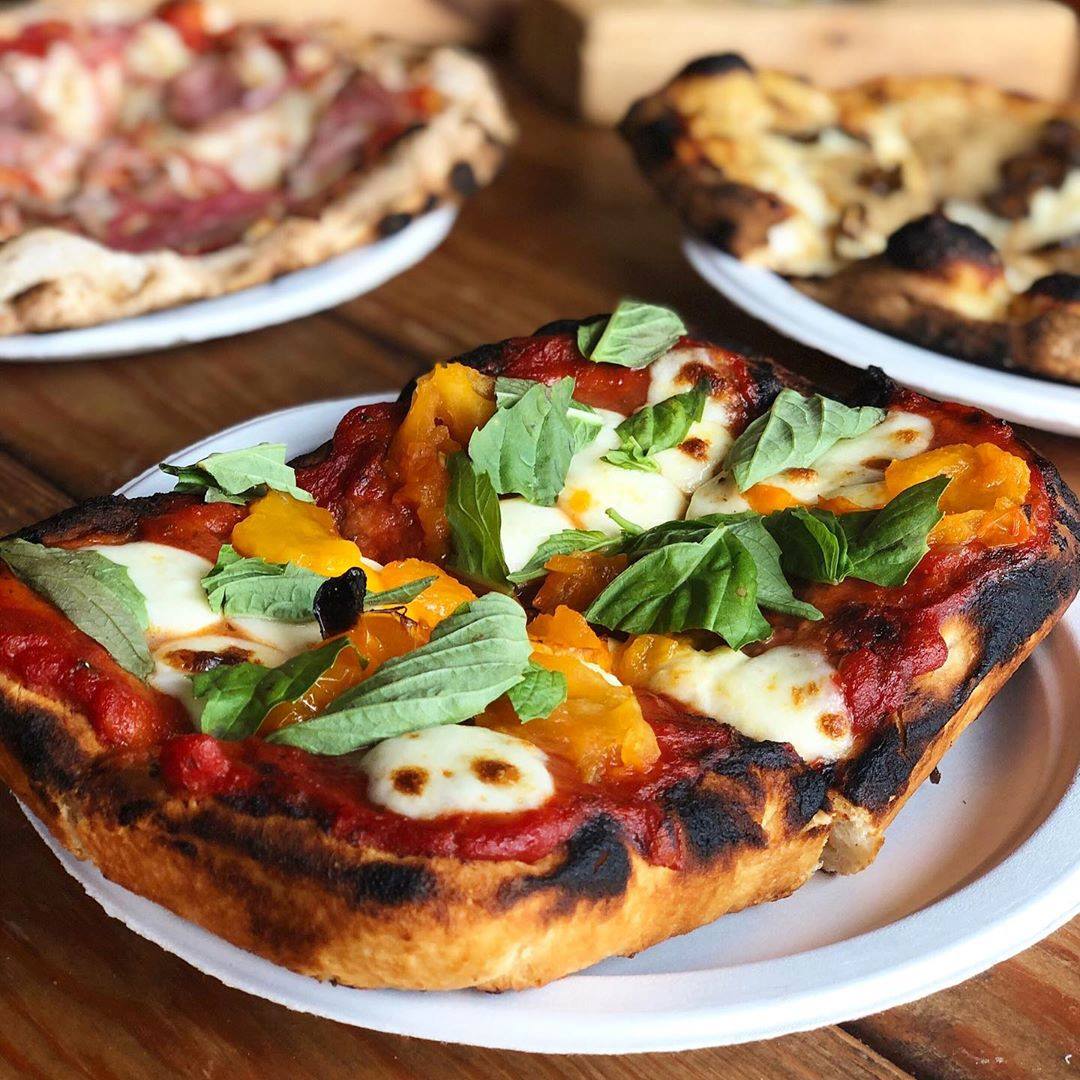 210 N Bumby Ave, Orlando
We first noticed Sideward when sharing some delicious tacos at MX Tacos several months ago. It hadn't yet opened, but the look and feel of the location and building had us excited for a brewery in The Milk District. Sideward opened last March with a solid group of brews, IPAs in particular. The team has gained experience from familiar places such as Cask & Larder, Red Cypress Brewery, Redlight Redlight and the Biltmore in Asheville. Sure, you're in one of the best foodie districts in Orlando, but relax and let Sideward serve up their bar treats – boiled peanuts, shareables and sandwiches.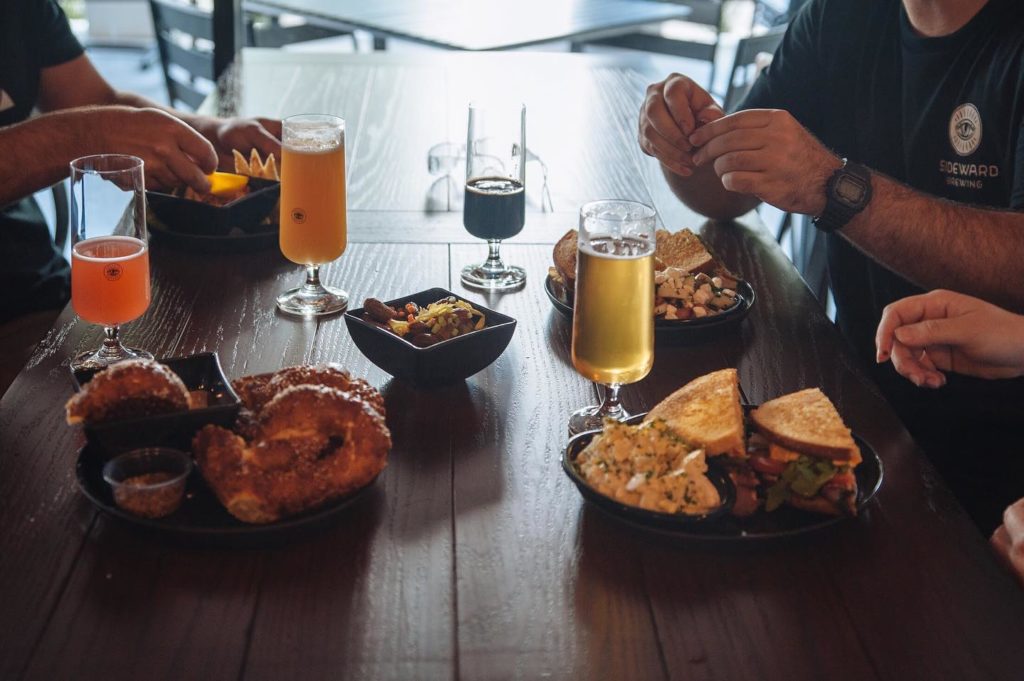 10 W Illiana St, Orlando
Built with locals in mind, this family and dog-friendly brewery in the SoDo District serves up a great range of beers with a food menu from Cecil's Texas Style Bar-B-Q. We are thrilled to see this fantastic BBQ joint paired up with a local brewery. Order the Texas-style brisket sliders or smoked meat tacos to go with your beer flight. Vegetarians can order the hefty grilled cheese – choosing from provolone, cheddar or jalapeno jack to sandwich between two slices of Texas toast. Rockpit also just released a sour called Jolly Quencher Watermelon Gose for the summer season.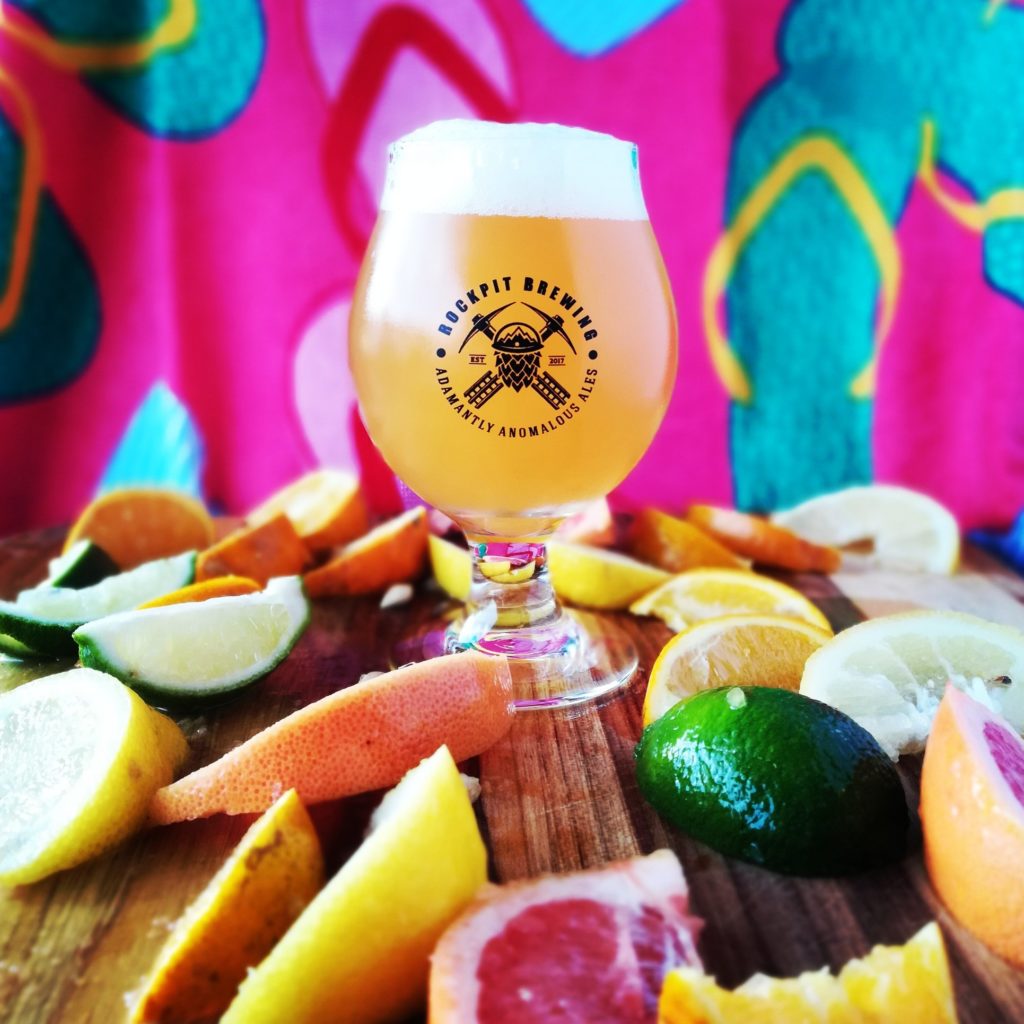 6941 Lake Nona Blvd, Orlando
At this Lake Nona brewery, you'll find exactly what the name says: pizza and brews. Choose your own toppings or order a signature pizza like the Chicken and Goat or Pepperoni Picante. Not feeling like pizza? Apps, salads, and gelato are also offered. Park Pizza offers 9 – 10 of their own beers on tap, complemented by a few other local brews. A visit to Park Pizza & Brewing Co. can turn into a great date day or evening. It is located next to Boxi Park, Central Florida's first shipping container park offering a mix of restaurants, bars, shops, beach volleyball courts and playgrounds for both dogs and kids.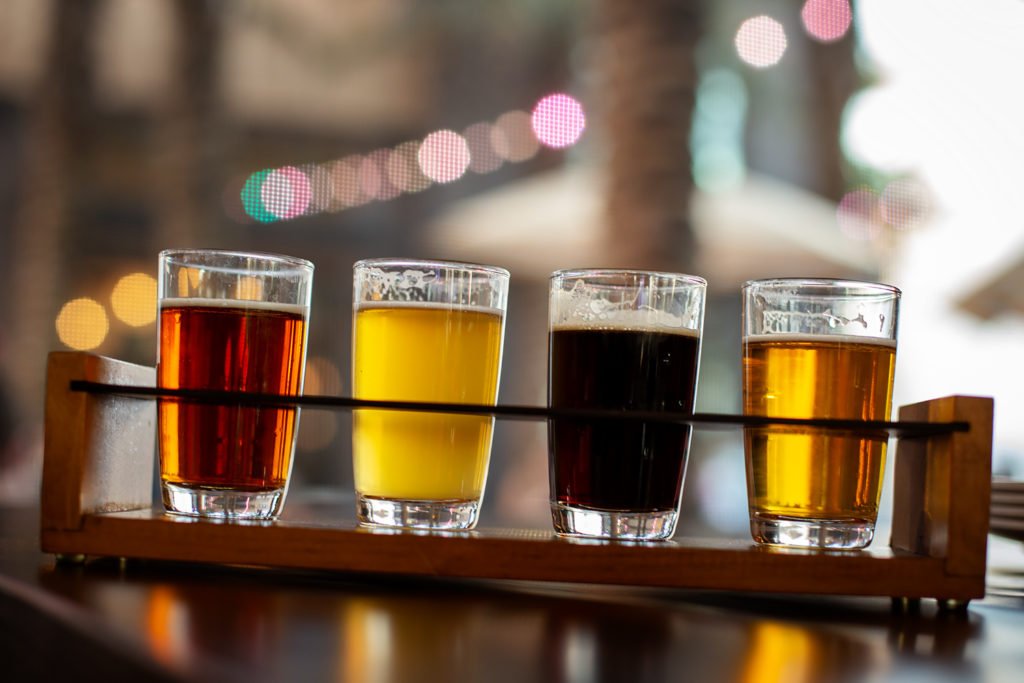 750 W Desoto St, Clermont
The newest of the bunch, Clermont Brewing Company offers a growing craft beer list alongside thin-crust pizza and gourmet salads for lunch and an expanded menu for the evenings. The old western farmhouse-style decor, backyard beer garden, and dog-friendly patio are lazy Saturday-afternoon worthy. They have nine of their beers on tap and it was nice to also see a list of craft cocktails. Share the Pesto Pizza with a flight of CBC beers and you won't be disappointed.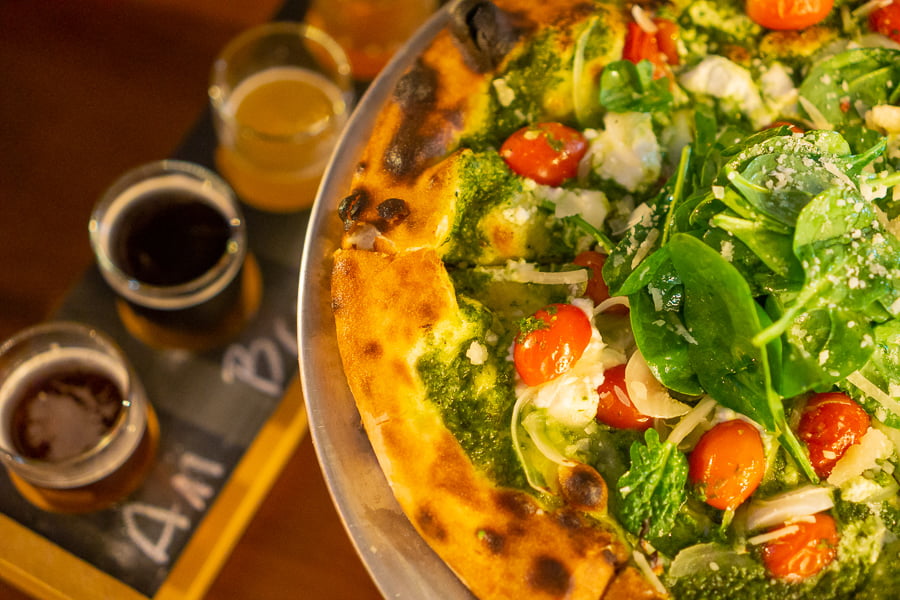 790 W Minneola Ave, Clermont
A quick walk from Clermont Brewing will land you at Suncreek where you will have the following three restaurants to choose from: Michael Ali's Coal Fired Pizza, Mac'd Out and Savoree. From pizzas and burgers, to custom mac and cheese, sandwiches and wraps, the food spectrum is covered. What we love most about Suncreek though is being able to look down into the brewery, observing Christian, the master brewer, working over the large tanks, and being able to smell the hops as "science" takes place and permeates through the space.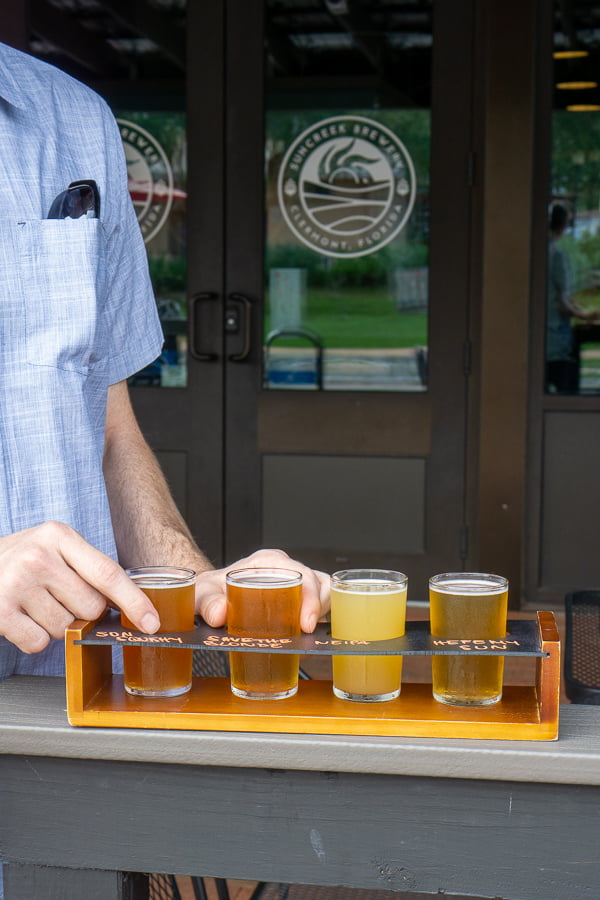 426 W Plant St, Winter Garden
Many breweries are finding great success in historic downtowns and Crooked Can is no exception. Located in Plant Street Market, Crooked Can has been brewing since 2014 and offers a dozen brews to quench your thirst. Multiple food vendors are mere steps away with options like fresh chips and guac, bbq, donuts, popsicles, pizza and sushi. Make a day of it and hit the West Orange Trail, stop for beers and bites, and walk around Downtown Winter Garden.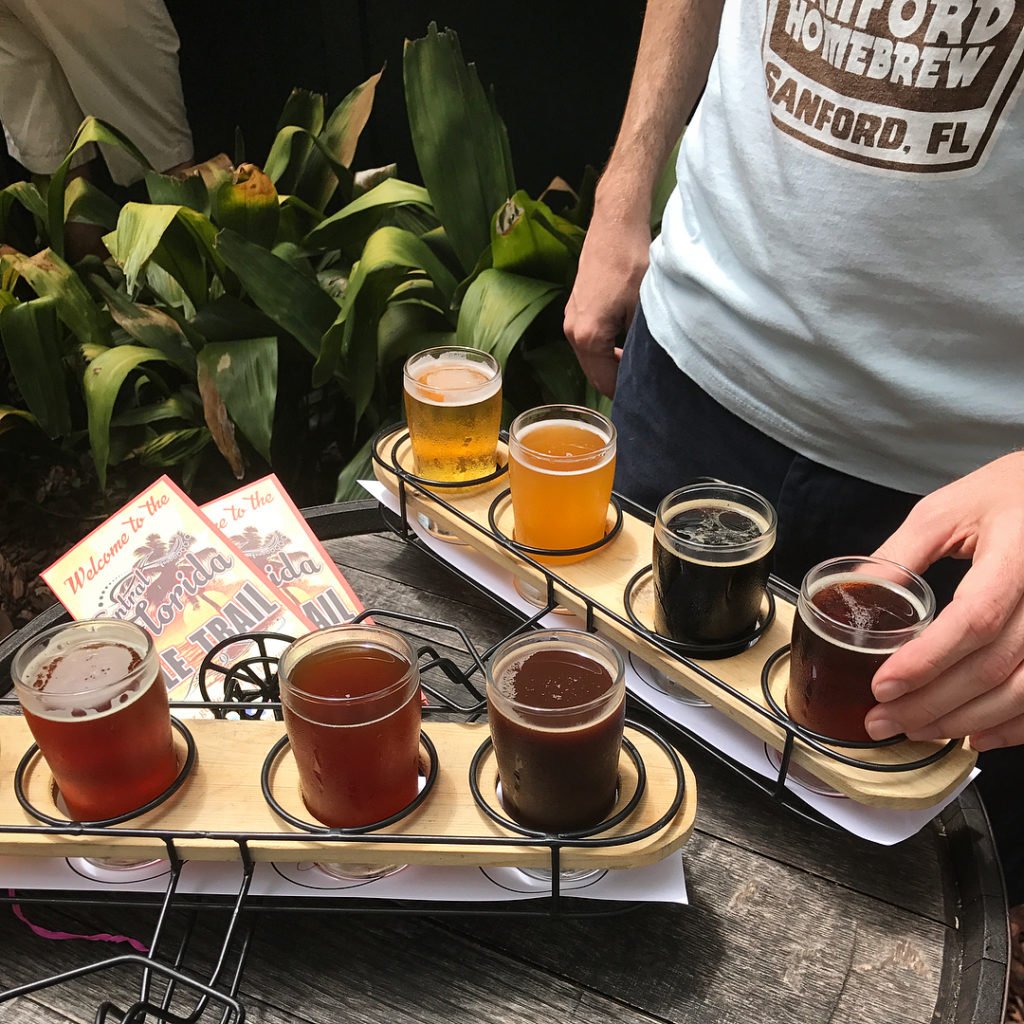 419 Sanford Ave, Sanford
Sanford's first microbrewery has one of the more extensive menus we've seen at a brewery, including a selection of menu items for man's best friend! We've always enjoyed Wop's Hops' creative one-offs and ales, but add some hearty appetizers, flatbreads, and sandwiches to that and we're golden. Try the signature house meatballs on a stick, smothered in marinara, parmesan, and pepperoncinis. These "Wop-sicles" are very popular. And every Thursday the brewery features a different pasta dish for dinner. But back to the doggo menu — Mutt-balls, Doggy Cigars, and Bowser Beer are available for your very good boy or girl.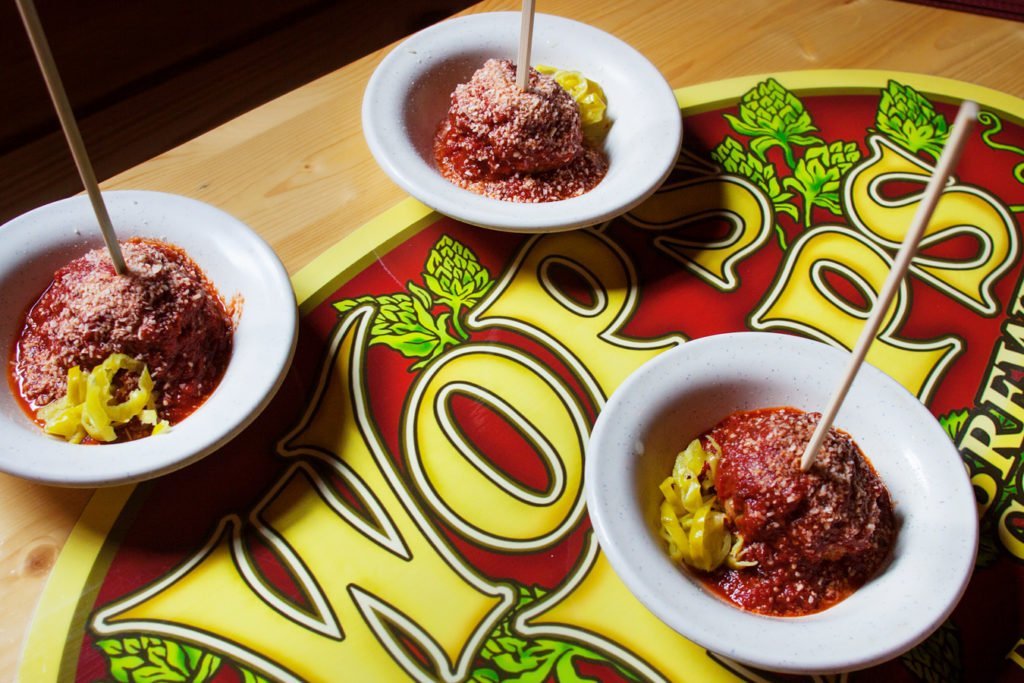 400 Sanford Ave, Sanford
Just across the street from Wop's Hops is Sanford Brewing Company (SBC). Time your visit so you can enjoy beer and food from both Sanford breweries offering food. SBC describes their menu as "Southern gastro comfort food" and we agree with that summation. We will have all the things that come with beer cheese, please. We also recommend the Smoked Mahi Fish Dip to share, SBC Burger, and the Taco Salad on the lighter side. SBC has been a huge hit in Sanford and they'll be sharing their brews and food at additional locations in Maitland and Oviedo soon!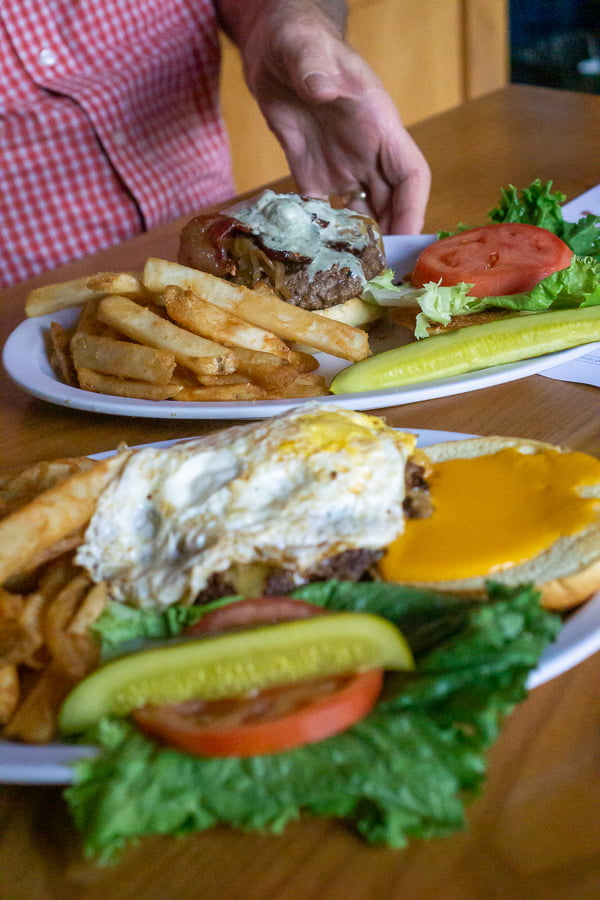 1280 Oviedo Mall Blvd, Oviedo
Wings, sliders, pizza, and tacos are on the menu at Oviedo Brewing Company. We're itching to try the Peanut Butter & Jelly Wings with satay peanut sauce and chili red raspberry jam. I may also be peeping the beignets to pair with their Rooster's Rising Stout. Right now they have eight of their own beers on tap with a nice selection of other craft beers (and a cider from Quantum Leap Winery). Oviedo Brewing is actually located at the Oviedo Mall so stop in for dinner before heading to the movie theater.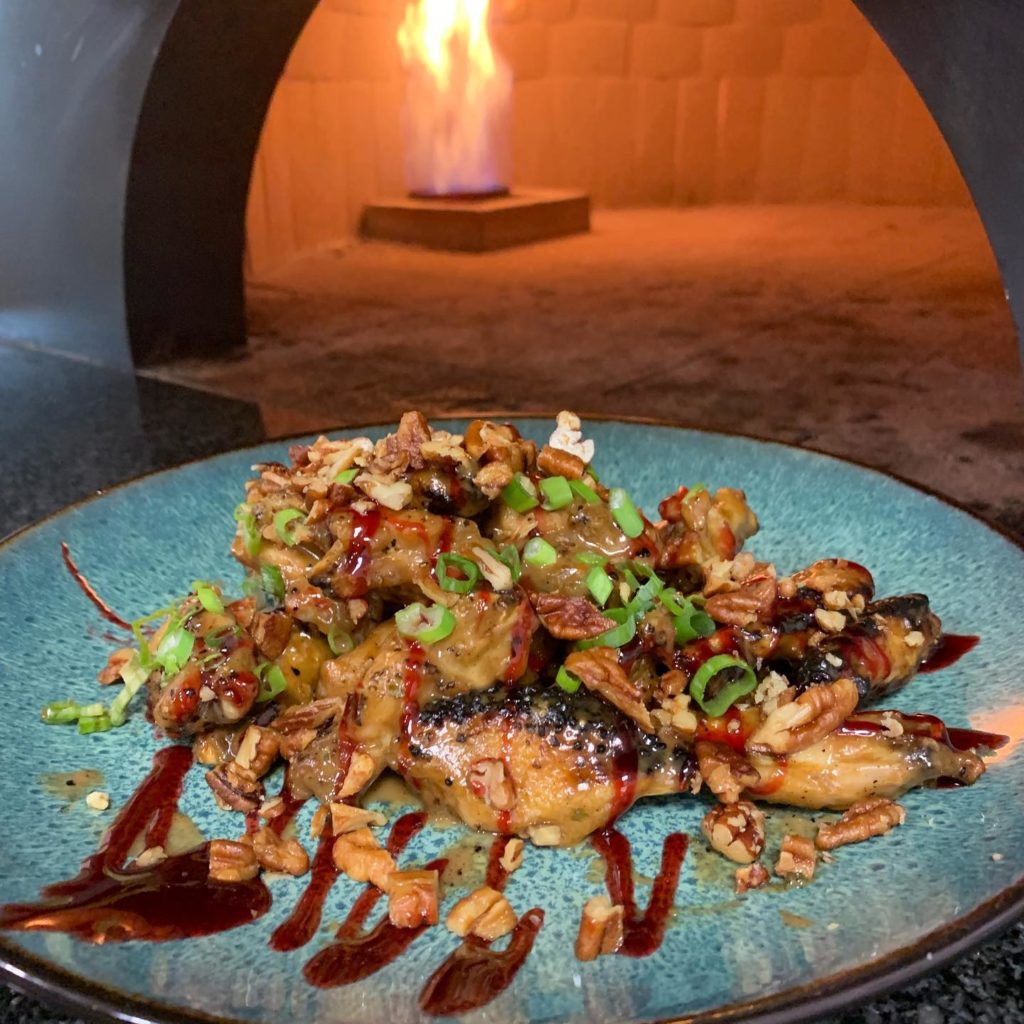 About the Authors
Drink Sanford is an art project that captures the imbibing journey of the Mr. & Mrs. through photography and written word. Celebrating the craft, history, and the people on both sides of the bar in Sanford, Florida (a drinking town with a historical problem) as well as in our travels around the world. Join our journey on DrinkSanford.com and @drinksanford on Instagram.
All photos courtesy of Drink Sanford unless otherwise noted
Disclosure: Lake Nona is one of our valued advertising partners.