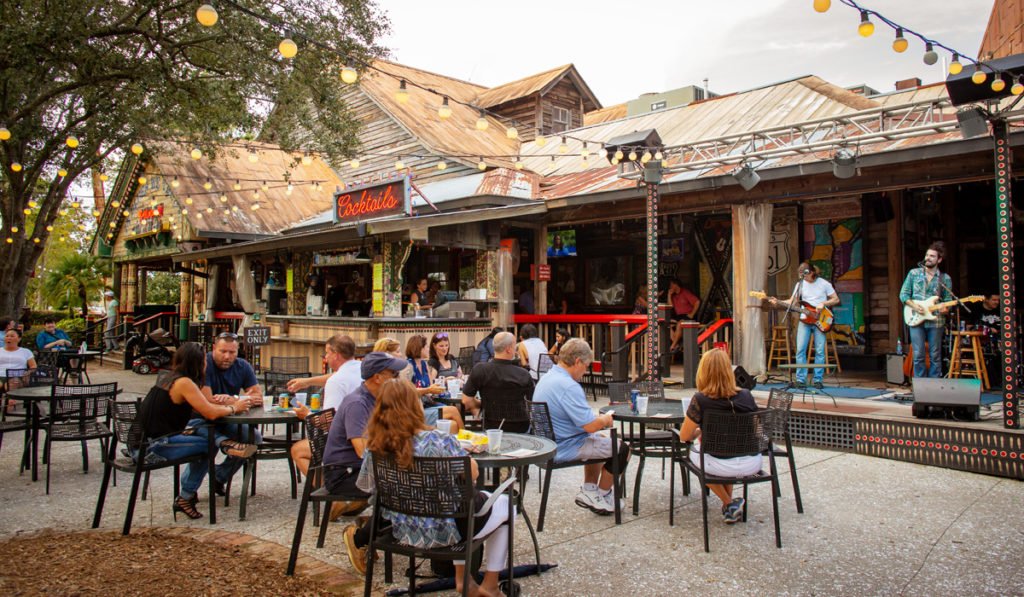 Music and the magic of Disney go hand in hand. Disney's theme parks have offered live music since the opening day of Disneyland in California in 1955. Here in Orlando, there are many venues inside the theme parks and outside the parks at Disney Springs and resort hotels. Enjoy a different side of Disney and enjoy some live music in the most magical place on Earth, with your honey by your side.
Disney Springs
Not only can you enjoy world-class dining and shopping at Disney Springs, you can enjoy great live music too!
Raglan Road Irish Pub: Live Irish Music
When: Patio Stage nightly from 8pm- 12:30am; Inside Stage nightly from 4:30pm – 1:30am
It is almost hard to believe the amount of live music that is offered each night at Raglan Road Irish Pub. Nine hours of live music every night, in fact! A variety of Irish bands delight guests throughout the year at this favorite Irish pub at Disney Springs. The music is always fantastic, and the experience is made even better with live Irish dancers.
Date idea: We suggest booking a reservation for dinner to avoid a long wait for a table. Enjoy dinner, drinks, and live music inside. When it's time for dessert head outside and grab a gourmet cookie or two from Raglan Road's quick service location, Cookes of Dublin, and a Guinness as you enjoy the live music at the Patio Stage.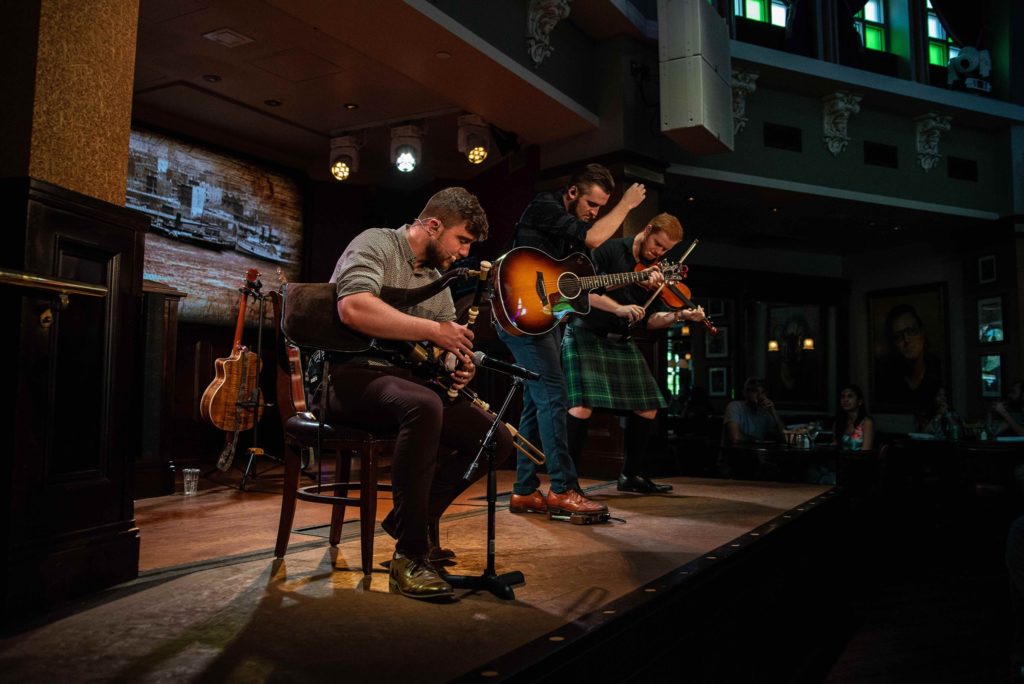 House of Blues: Live Music on the Porch
When: Daily beginning at 5pm
House of Blues is one of the best concert venues in Central Florida. But if you're not in the mood for a full concert experience, check out the live music on the venue's Front Porch. Each day a different performer belts out classic rock, blues, and a wide variety of other styles.
Date idea: Grab a drink at the outdoor bar; there's even a daily happy hour from 11:30 am – 5pm! You can also grab some BBQ at the quick service House of Blues Smokehouse. Enjoy the live music and then consider strolling along Disney Springs for some more live music as you go.
Marketplace Stage
When: Nightly from 7:30 – 11:15pm
A wide variety of entertainment graces the Marketplace Stage throughout the year, from musicians and singers to youth performing arts groups. With Lake Buena Vista as its backdrop, this stage has become a popular spot to stop and enjoy nightly entertainment.
Date idea: If you have kiddos with you this is a great family-friendly venue. Grab a sweet treat at the Ghirardelli Soda Fountain before enjoying a live performance under the stars.
Sunshine Highline Stage – West Side
When: Nightly from 7pm – 10:45pm
The live music offered at the Sunshine Highline Stage usually has an international flair. You are sure to hear something unique at this performance venue located beneath an elevated piece of railroad track.
Date idea: Grab a refreshing cocktail or soft drink from the Coca-Cola Rooftop Beverage Bar located on the rooftop of the Coca-Cola Store. Enjoy the views before heading over to enjoy the live music at the Sunshine Highline Stage. After the live music end your date on a high note by taking flight on the Aerophile Balloon, which offers 360-degree views of Walt Disney World.
Waterview Park Stage – The Landing
When: Nightly from 6:30 – 10:15pm (30 minute performances)
One of the most scenic spots in Disney Springs, the Waterview Park Stage is home to a diverse list of live musicians and bands. This is a popular spot for families and couples to dance along to live music.
Date idea: Visit The Basket, the quick-service window at Wine Bar George. You can build your own picnic basket with wine for $60, or choose from sandwiches, bites, and boxes to pair with wine on tap, speciality frozen cocktails and craft beer. Once you've got your yummy goodies grab a seat at the Waterview Park Stage during sunset. After the live music, pop into Jock Lindsay's Hangar Bar (an Indiana Jones themed bar) or over to The Boathouse for a night cap.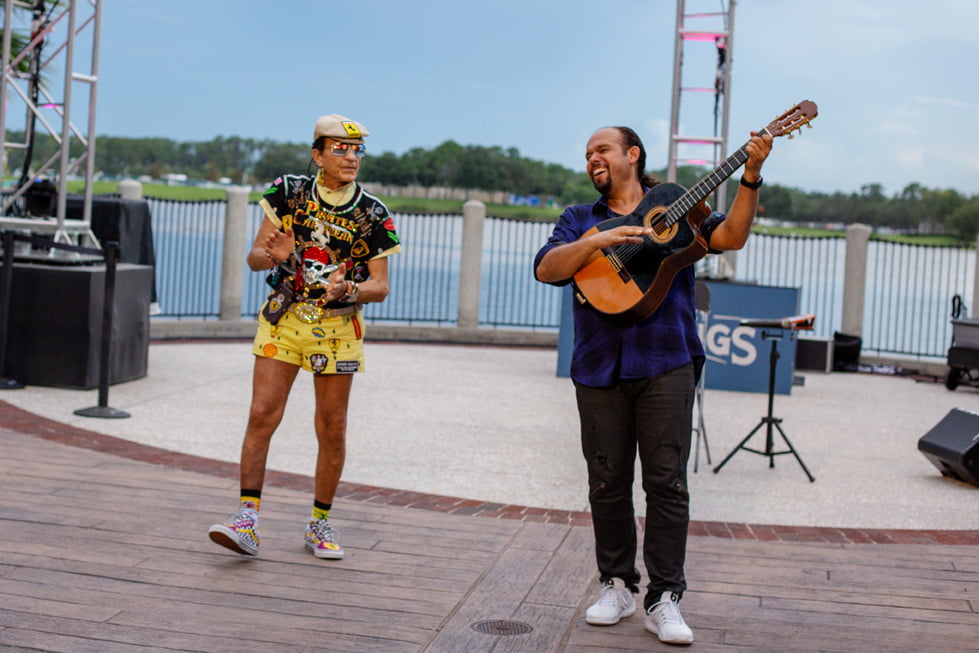 At the Disney Resort Hotels
Disney offers some great live music at many of their resort hotels. Please note that parking is sometimes limited and during peak times may require an advance dining reservation. It is best to plan to visit during slower seasons when parking policies are generally more relaxed. You will need a photo ID to present to Disney Security. Usually if you explain you are visiting the resort to grab a bite to eat and enjoy some of the live music, you'll be able to park.
Yehaa Bob Jackson at Disney's Port Orleans Resort – Riverside
When: Wednesday – Saturday from 8:30pm—Midnight
With a name like "Yehaa Bob" you know you're in for a lively good time. Disney's Port Orleans Riverside Resort is home to the River Roost Lounge, where you can enjoy Southern libations and bites. Yehaa Bob has been performing here for years and is a Disney fan favorite.
Date idea: Relax with a romantic horse-drawn carriage ride through the charming grounds of the Port Orleans resort. This 25-minute ride ($55) departs at the Riverside Levee Marina near the lobby. After your ride, head inside to the River Roost Lounge for a bite to eat and something cold to drink as you clap and sing along with Yehaa Bob.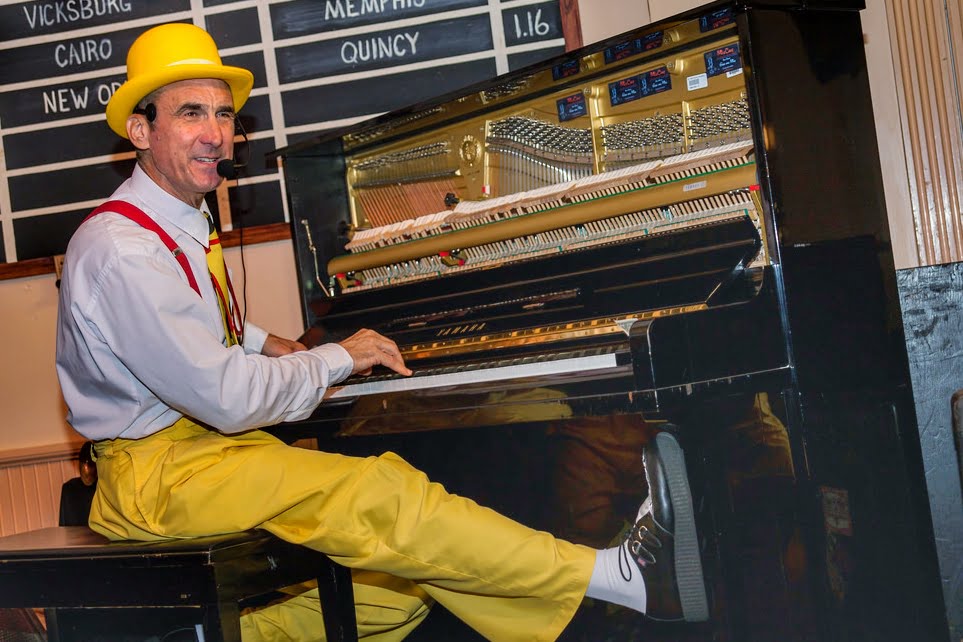 Scat Cat Club at Disney's Port Orleans Resort – French Quarter
When: Friday, Saturday, Sunday, and Monday nights from 8 – 11pm
Are you two cool cats big fans of jazz music? Then strut on over to at Disney's Port Orleans French Quarter Resort. A variety of musicians grace the Scat Cat Club stage throughout the year. Enjoy some live jazz music and pop music with a New Orleans twist at this lobby lounge, adorned with New Orleans decor.
Date idea: Grab some Mickey-shaped beignets at Floatworks, to the left of the lobby. Then enjoy a sunset stroll through the resort grounds, which truly resemble the French Quarter of New Orleans. Then head inside Scat Cat's for a cocktail and some live jazz.
Grand Floridian Society Orchestra at Disney's Grand Floridian Resort
When: Daily, usually at 3:45pm, 5:15pm, and 6:25pm
One of the most beautiful spots on Disney property, Disney's Grand Floridian Resort is a must-visit for anyone who is a true romantic. The Grand Floridian Society Orchestra sets the stage for an elegant evening. As they fill the lobby with stunning music, you're sure to hear Disney classics alongside swinging songs and ballads.
Date idea: Book a dining reservation at Citricos and request a table near the window. Before heading to dinner linger in the lobby for one of the orchestra's performances. You can also enjoy the lobby pianist who usually performs at 3pm, 4:15pm, and 6pm. After dinner, stroll through the resort towards Narcoossee's and watch the Magic Kingdom fireworks from along the shoreline. Or, continue the night with a DIY Monorail Pub Crawl!
Jellyrolls at Disney's Boardwalk Resort
When: Nightly from 7pm – 2am
Jellyrolls is a dueling piano nightclub in the middle of one of Disney's best resort districts. Disney's Boardwalk Resort is a hotel that is part of a large resort complex home to a ton of restaurants and lounges dispersed among five resort hotels. Disney's Boardwalk district is the perfect place for a progressive date night and Jellyrolls is perfect for live music lovers. Your night will be filled with lively and jovial commentary as two piano players banter back and forth playing requests and bartime favorites.
Date idea: There are so many date ideas for Disney's Boardwalk area. Our favorites can be found in our guide to a Progressive Date Night at Disney's Boardwalk.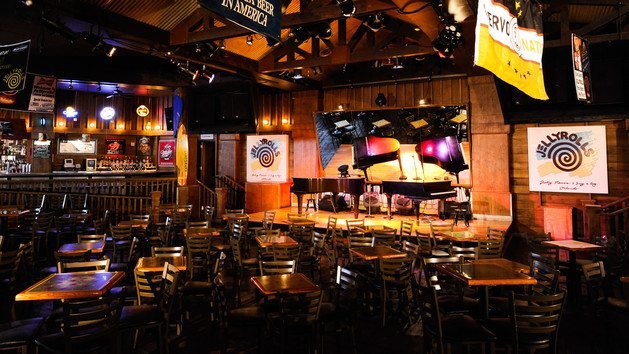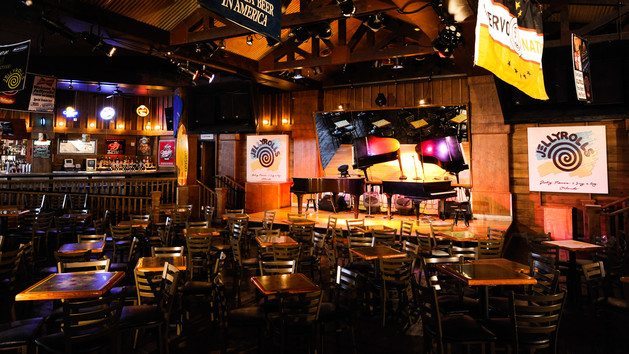 Inside the Disney Theme Parks
United Kingdom Pavilion at Epcot: The British Revolution
When: Daily (except Wednesday and Thursday), typically every hour and 15 minutes from 3 – 8pm
Want to rock out to some great rock songs? At Epcot's United Kingdom Pavillion, The British Revolution plays everything from psychedelic to punk and you may find yourself jamming along to songs you didn't even realize were made in the U.K.
Date idea: Grab some famous fish and chips from the location next to the Rose & Crown Pub. Grab a pint to go (inside or from the beer stand outside), and head over about 10 minutes before show time to try and snag a shaded spot. After the performance, take an interesting stroll through the miniature maze made of hedges alongside the stage.
American Adventure Pavilion at Epcot: Voices of Liberty
When: Daily, typically every 45 minutes from 12:15pm – 4:15pm
This acapella group may not fall into the typical live music category, but Voices of Liberty is definitely worth a listen. These talented vocalists performed underneath the rotunda inside the regal American Adventure pavilion. Their golden voices are sure to put you in awe as they perform traditional Americana, folk, and the occasional Disney song. Head inside the American Adventure Pavilion and sit on the cool floor underneath the rotunda in order to get the best sound from the performance – and a well deserved break from the Florida heat.
Date idea: After enjoying the performance, head inside and experience the American Adventure show. This unique attraction combines an exclusive movie about the incredible things that make America so unique with the creative use of moving sets and audio-animatroics. After your time in the American pavilion head next door to either the Italy Pavilion with a visit to Tutto Gusto, the intimate wine bar, or over to the Japan Pavilion for sushi and sake.
Mexico Pavilion at Epcot: Music of Mexico
When: Daily, approximately every hour and 15 minutes from 11:30am – 5pm
Sway along to the lively and passionate music of the Grammy award-winning ensemble, Mariachi Cobre. Members of this mariachi band have come and gone, but this group has been performing at Epcot since the very early days. Now, the show takes inspiration from the Disney PIxar film "Coco", showcasing the rich, musical culture of Mexico.
Date idea: Grab a refreshing margarita either outside at Choza de Margarita or inside at Cava de Tequila. Enjoy the live Music of Mexico show then head inside the Mexico pavilion to cool off and take a relaxing boat ride on the Gran Fiesta Tour.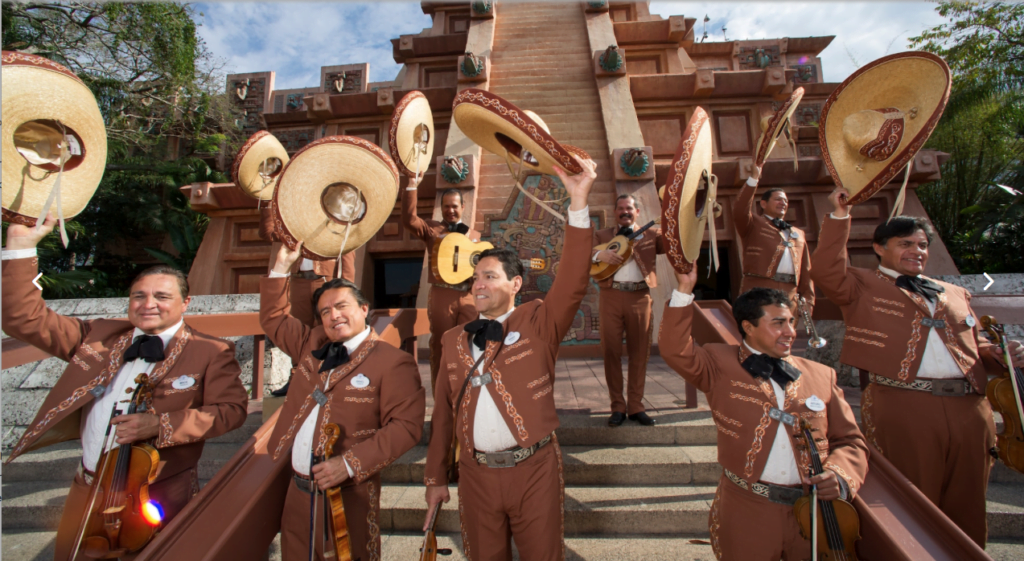 Main Street USA Magic Kingdom: The Dapper Dans, Main Street Philharmonic
Dapper Dans: Daily at 9am, 9:55am, 11am, 1pm, 1:45pm, 2:35pm, 3:45pm
Philharmonic: Daily at 1:40pm and 4pm
An absolute classic, The Dapper Dans have been a part of Disney entertainment since the opening day of Disneyland in California. Take a trip back to the turn of the 20th century as this barbershop quartet serenades guests, with a little humor too.
Anyone who was in marching band in school, or who appreciates the fine art of a brass band, will appreciate the Main Street Philharmonic. This band is comprised of some of Disney's most talented musicians, and when you think of the talent that DIsney attracts from all over the globe, that's saying something.
Date idea: Head to Main Street USA around 2pm. Grab an ice cream cone or shake from the Plaza Ice Cream Parlor, then snag a spot on the lawn, near the hub by Cinderella Castle. Relax and sit down with your honey on the lawn (it's astroturf), enjoy your sweet treats while you wait for the 3pm parade. By being on the hub grass you'll be away from the crowds, but will still be able to see the parade. Once the parade is over, head up Main Street, about halfway, where Uptown Jewelers faces The Emporium. Enjoy the 3:45pm performance of the Dapper Dans, followed by the 4pm performance of the Main Street Philharmonic.