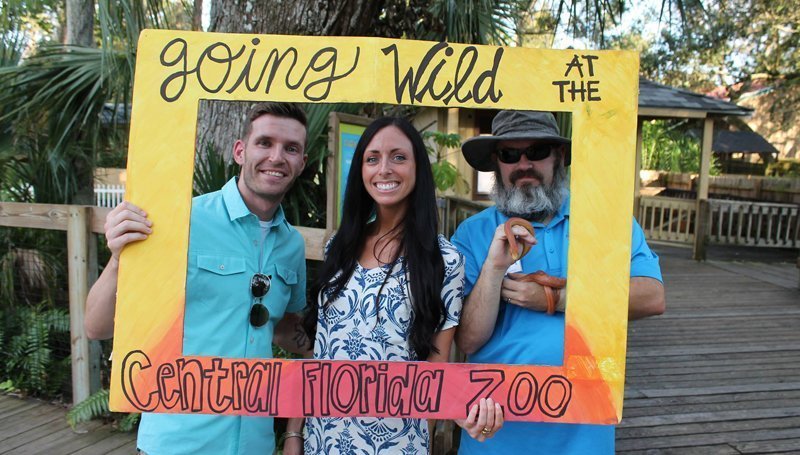 Whether you are looking for outdoor movies, Independence Day festivities, food pairings, or art strolls, this month is full of awesome date-worthy experiences for you and your honey! Don't be deterred by the unpredictable weather because we've included a variety of indoor events to keep you out of the heat and/or rain. Here are our favorite picks for July.
July 1 – 7
Movie Monday – The Hangover
Monday, July 1, 8-10pm
À La Cart Orlando
Steak It Easy, Adao Pastel Gourmet empanadas, Poke Kai, and Jacked Up Tacos will be on site with their delicious food options, and inside the bar will have a variety of drinks both alcoholic and non-alcoholic. These events are always free for everyone to attend. Bring blankets or low backed chairs to enjoy the movie on the lawn.
FREE Admission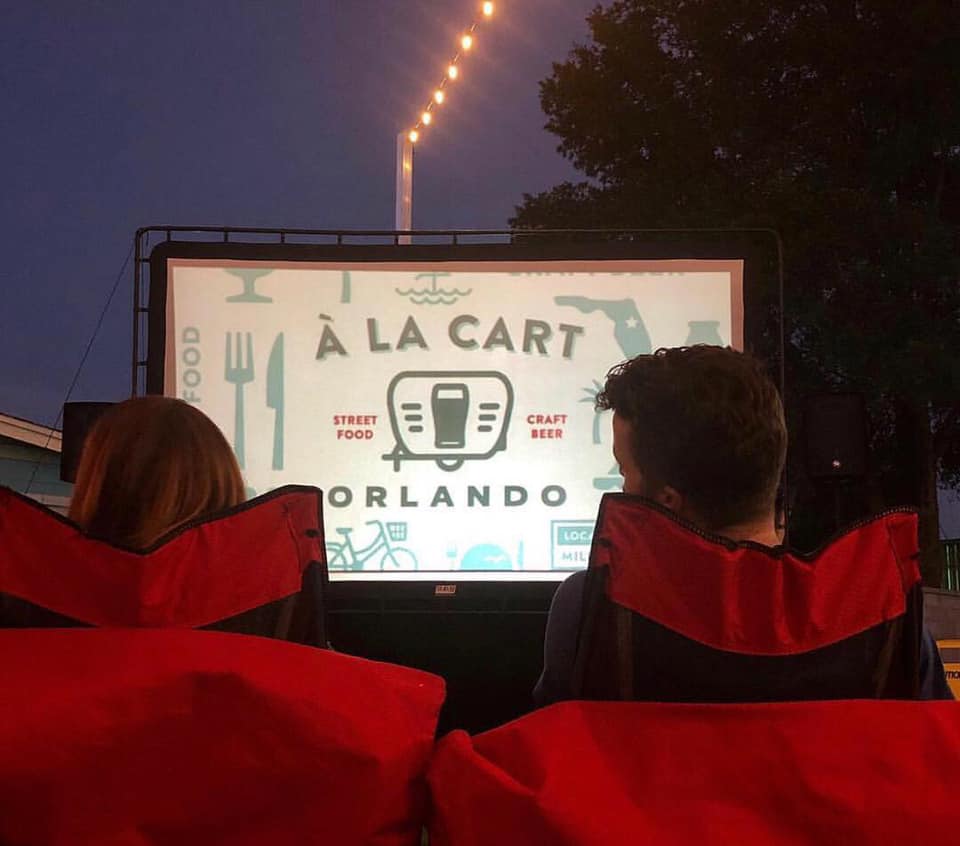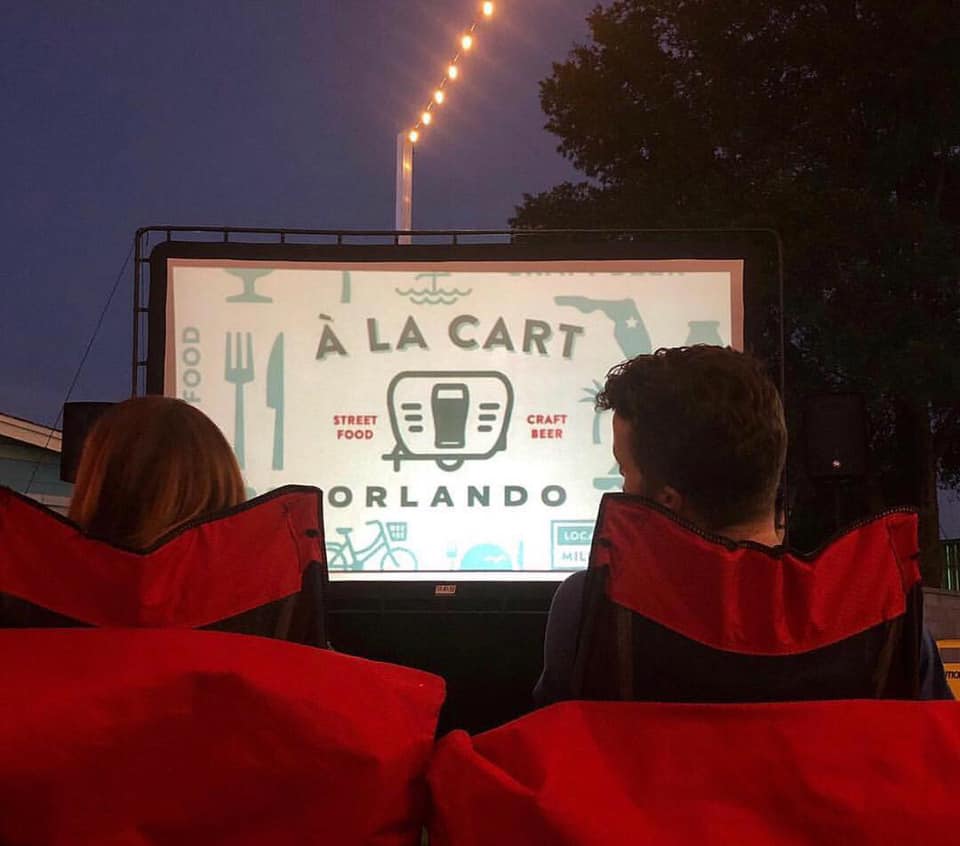 Hourglass Brewing – District Grand Opening
Wednesday, July 3, 11am-11pm
Hourglass Brewing
Grand opening celebration of Hourglass Brewing, featuring 40+ taps of Hourglass Ales and Lagers, an epic tap list of all your favorites like Banana Brain, Fatty Boom Boom, NomNom Blackberry Cobbler, Drunken Irish Curse, and Longwood Landbier.
FREE Admission
Red Hot & Boom
Wednesday, July 3, 4-11pm
Cranes Roost Park
With electric sounds, dazzling skies and plenty of patriotism, Red Hot & Boom is here to bring that feel-good, summer vibe. Guests will experience the magic of summer with performances on the iconic floating stage starting at 4 p.m.
FREE Admission
Eden Bar's July 4th BBQ
Thursday, July 4, 12-5pm
Eden Bar
From 12-5PM, Eden Bar's chef will be outside grilling up some hamburgers, hot dogs, and delicious sides for your enjoyment, as well as some specialty Eden Bar cocktails for the occasion, as well. So, come on out and celebrate with us under our beautiful foliage before heading off to see the fireworks!
FREE Admission, food and drink prices vary
Light Up I-Drive Independence Day Celebration
July 4 – 5
ICON Park
Patriotic pyrotechnic and light show to celebrate Independence Day, plus festive food and drink, live entertainment, incredible views on The Wheel, and fun lawn games for the whole family.
FREE Admission with ticket for The Wheel
Fireworks at the Fountain
Thursday, July 4, 4-10pm
Lake Eola Park
Join Orlando Mayor Buddy Dyer at Lake Eola Park on July 4 for the 42nd annual Fireworks at the Fountain. Festivities will begin at 4 p.m. and include a kids play area, live music, and food and beverages available for purchase.
FREE Admission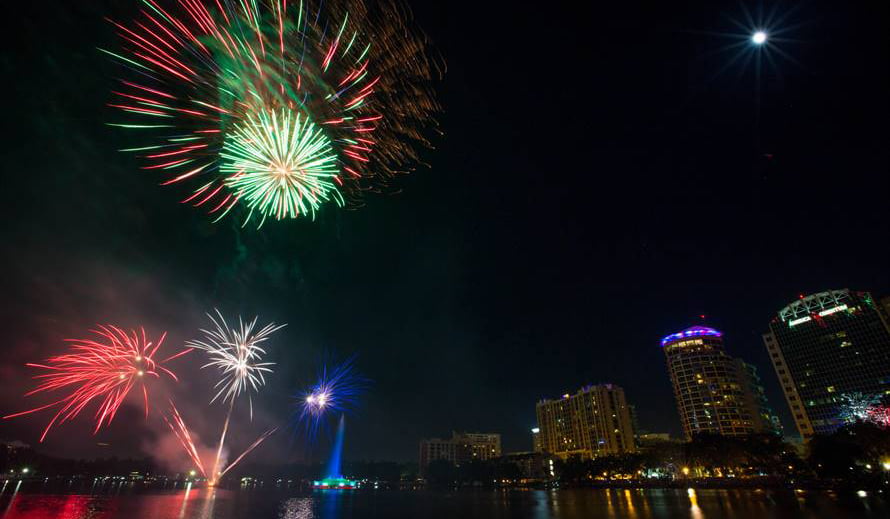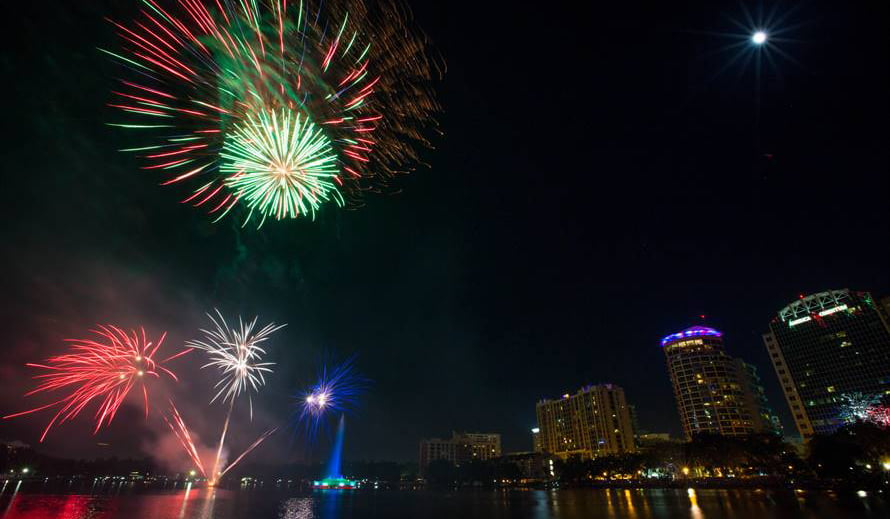 Red, White & Brew
Thursday, July 4, 6-10pm
World of Beer Downtown Orlando
Private event closed off to the public with live music and a great view of Lake Eola for the fireworks! Enjoy all you can drink (excluding ultra-premium liquors and shots) plus an all you can eat buffet with all of your 4th of July favorites, fried chicken, potato salad, baked beans, and much more!
$100
Girls Night Out Bubbles & Truffles pairing
Thursday, July 4, 7-8:30pm
Peterbrooke Chocolatier of Winter Park
Each attendee will enjoy: 2 glasses of bubbles, chocolate dipped strawberry, limited edition truffles, and the opportunity to dip and take home a gift box of eight hand dipped, limited edition truffles ($16 value) in flavors of your choosing. Reservation required; 407-644-3200.
$35
Flashdance The Musical
July 5 – 28, 2019
Garden Theatre
Dance like you've never danced before! Based on the Paramount Pictures film, FLASHDANCE boasts an iconic score and pop hits including "Maniac," "Gloria," "I Love Rock & Roll" and the sensational title track "Flashdance…What a Feeling".
$35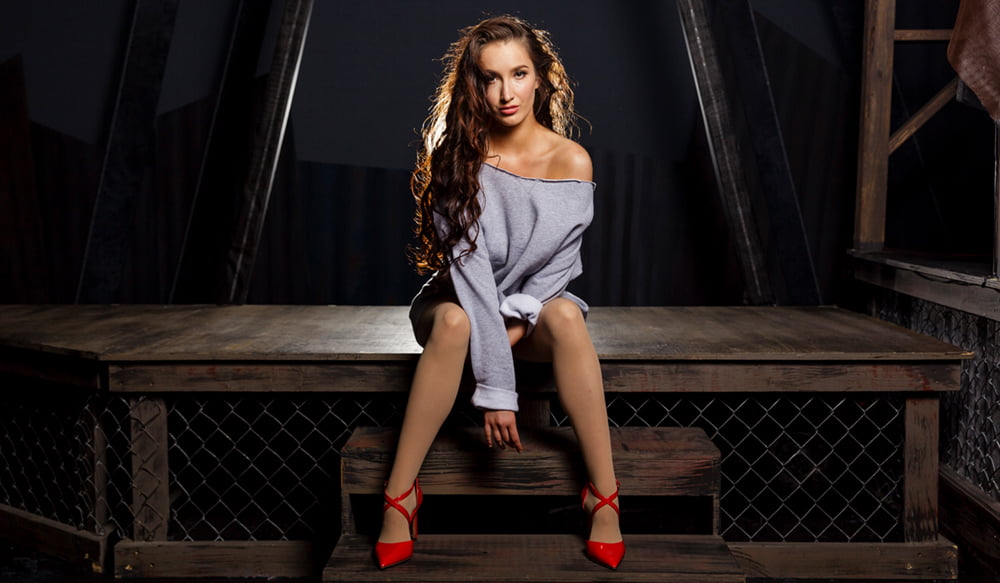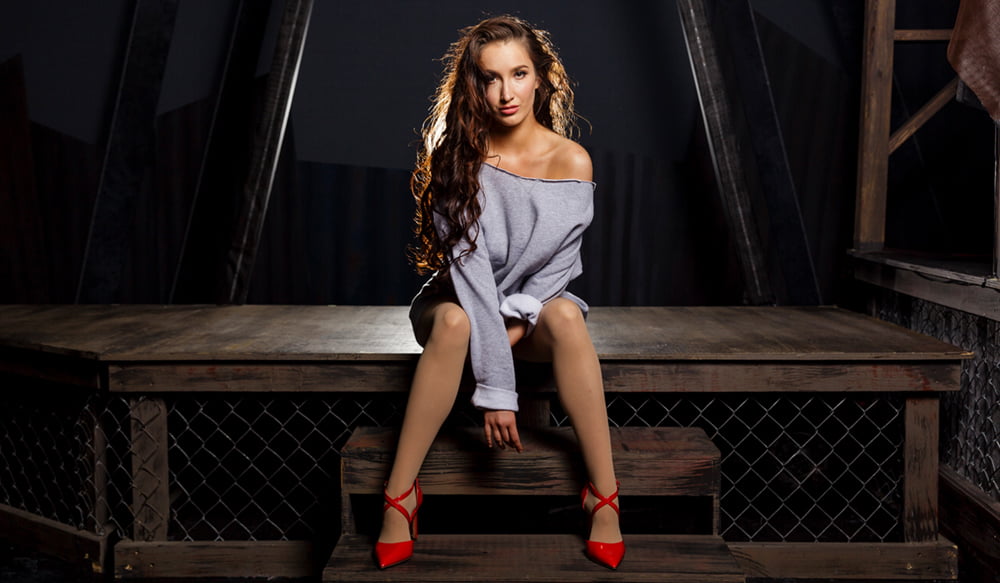 Baldwin Park First Friday Festival
Friday, July 5, 5:30-9:30pm
New Broad Street, Baldwin Park
Over 80 local artisans of all genres will display their art while guests shop and stroll through the heart of downtown Baldwin Park.
FREE Admission
Science After Sundown
Fridays & Saturdays July 5 – August 10, 5-11pm
Orlando Science Center
Visit Orlando Science Center for special after-hours programming featuring films, laser shows, stargazing in the observatory, and more!
Included with regular admission
Summer Music Series
Saturdays in July, 12-4pm
Lakeridge Winery
Each Saturday afternoon during the month of July, enjoy live music on the outdoor stage and inside at the Wine & Cheese Bar, plus complimentary winery tours and tastings.
FREE Admission
Independence Weekend Boat Party
Saturday, July 6, 8pm
620 Glen Cheek Drive Port Canaveral, FL
What better way to spend this special day than having fun out in the water at a boat party? With just your ticket in hand, enjoy a wide variety of good drinks and of course, food and good music. Enjoy a fun filled cruise with beautiful people from all over the world. Don't miss out, book your tickets now and get ready for wild fun.
Tickets start at $35
Red, White & Blues on the Plaza
Saturday, July 6, 6-8pm
Centennial Plaza
Celebration featuring live musical performance by the Grimes Alley Blues Band at the Gazebo to extend Fourth of July celebration through the weekend in downtown.
FREE Admission
July 8 – 14
Rooftop Wine Experience: New Wines of Italy, A Tour of Itay
Tuesday, July 9, 5-6pm
Paddlefish
Head to the 3rd deck for a monthly wine experience and discussion lead by Paddlefish's Sommelier team featuring wine flights from around the globe and light bites from the kitchen.
$40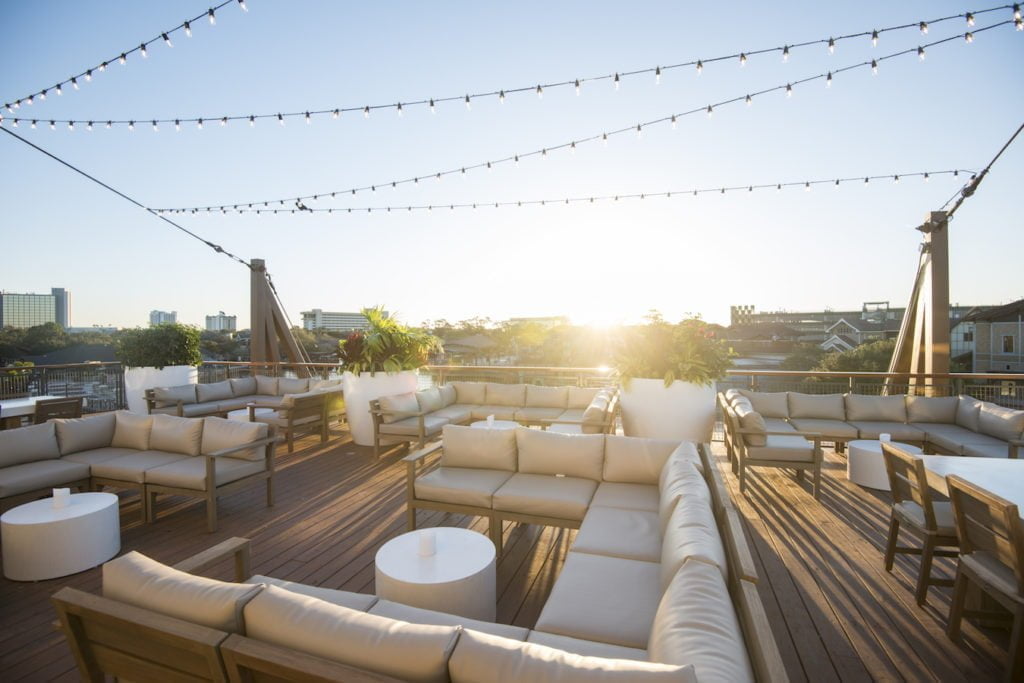 Wine Experience
Wednesday, July 10, 5-6pm
Terralina Crafted Italian
Monthly wine experience and discussion lead by the Sommelier team featuring wine flights from around the globe and light bites from the kitchen.
$35
Beer & Artisanal Cheese Pairing
Wednesday, July 10, 7pm
Orlando Brewing
Obsessed with Cheese? Join Orlando Brewing for a night of cheese and beer with DAN THE CHEESE MAN (Certified Cheese Expert) and THE SALTY COW. Includes: 4- 5 oz. organic beers and 4 artisanal cheeses (with pallet cleansers), and a "Pairing Map" with educational information will be provided.
Orlando Story Club: Cake for Breakfast
Wednesday, July 10, 7-9:30pm
The Abbey
OSC is a live storytelling competition. Anyone can enter by putting their name in the story hat, where 10 names will be randomly selected to compete. Each storyteller is given 5 mins to impress the audience and the top 3 tellers take home prizes. All proceeds benefit local charities.
$5

Nerd Nite Orlando
Thursday, July 11, 6-9pm
Stardust Video & Coffee
Nerd Nite is an evening of entertaining and educational presentations. Speakers present for 15 minutes, followed by a brief Q&A with the audience.
FREE Admission
Thursday, July 11, 6:30pm
Thornton Park District
Neighborhood stroll with over 25 places to stop for a tasty libation along with art vendors, live music, DJs, and all sorts of fun. Glass pick up is at Jinya Ramen Bar.
$10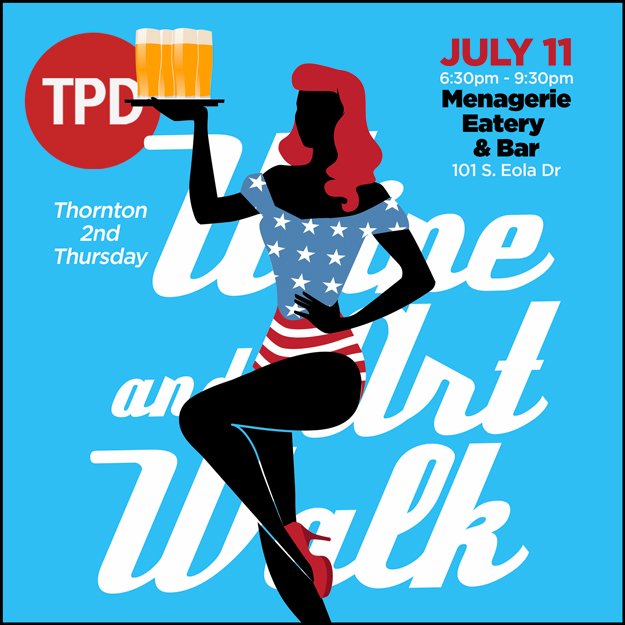 Popcorn Flicks in the Park – The Little Mermaid
Thursday, July 11, 7pm
Winter Park Central Park
Free monthly outdoor movie series hosted by Enzian Theater in Winter Park's beautiful Central Park. Bring a blanket, a picnic or snacks, and some family and friends.
FREE Admission
Newsies
July 12 – August 4
Presented by Osceola Arts
This Disney film turned popular musical tells the invigorating tale of a band of young "newsies" and their charismatic leader, Jack Kelly. Inspired by the real-life Newsboys Strike of 1899, this hit is packed with stellar dance numbers, uplifting anthems and a timeless message.
$22
Art & Music in the Park and The Food Truck Bazaar
Friday, July 12, 6-9pm
Lake Concord Park
Monthly art market featuring live music and food trucks on the 2nd Friday of each month.
FREE Admission
Summer Star Party and Laser Fest
Friday, July 12, 7-11pm
Emil Buehler Planetarium at Seminole State College
Enjoy a night under the stars (weather permitting) observing the planets Jupiter and Saturn and the Moon. Telescopes will be setup in the south patio of the E. Ann McGee Student Center adjacent to the planetarium. Indoors, there will be 4 different laser shows playing hourly from 8-11pm.
FREE Admission; laser shows $10 each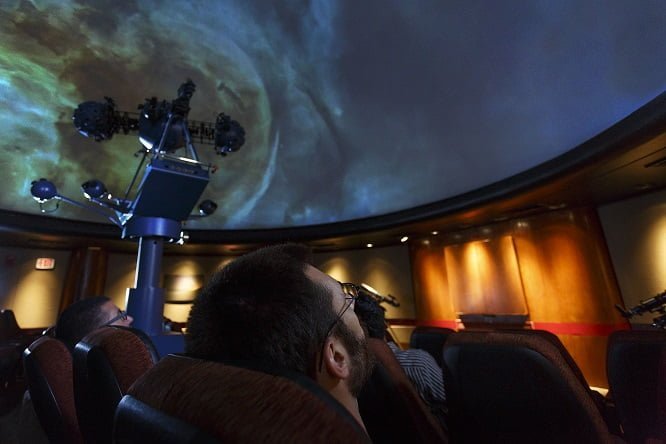 Bastille Bash 2019
Saturday, July 13, 3-9pm
Audubon Park Garden District
APGD's 11th Annual Bastille Bash will be the biggest and best one yet. Don't miss live music, specials throughout the district, plus a special appearance by Marie Antoinette (times and locations TBA).
FREE Admission
Wine 101 Tasting
Saturday, July 13, 3-5pm
K Restaurant and Bar
Do you ever have a question about wine but were afraid to ask? K is giving you a chance to learn about wine from Rachel Masters, Sommelier, in our Wine 101 Tasting.
$25/person
Chicken and Waffles Brunch
Saturday, July 13, 11:30am-2:30pm
East End Market
Enjoy this fancy brunch in beautiful East End Market featuring a three-course meal, all you can drink mimosas & gratuity. This is a sit-down brunch with servers & fancy place settings. You can even bring your own alcoholic or non-alcoholic beverages.
Tickets start at $50
8th Annual Wine & Cheese Pairing
Saturday, July 13, 4-6pm
Audubon Park Garden District
During this class you'll enjoy learning the stories behind the makers of the cheese selections, while also discovering new wines you'll want to taste and discover. Ticket holders enjoy five selections of artisanal cheese, perfectly paired with wines, followed by a sweet treat.
$35
July 15 – 21
Collaboration Dinner with SideWard Brewing
Monday, July 15th, 6:30pm
The Ravenous Pig
Larry Foor of The Ravenous Pig Brewing Co. and Garret Ward of SideWard Brewing invite you to their first collaboration dinner.
$65/person + tax and gratuity. Call 407-628-2333 to reserve.
Warriors In Pink Celebration
Tuesday, July 16, 6pm
Duffy's Sports Grill
Join Susan G. Komen Florida as our guest at this high-spirited and free event to honor survivors, co-survivors, those currently on the journey, individuals living with metastatic breast cancer, advocates, and supporters of Susan G. Komen. Enjoy complimentary appetizers, drinks, prizes and giveaways, including a $10 Duffy's gift card for all who attend.
FREE Admission
Gourmet Ice Cream & Craft Beer Pairing
Tuesday, July 16, 7pm
Ivanhoe Park Brewing Co.
You'll start the class off by making an ice cream base, then Alyssa will teach you different techniques to create your own flavors by using ingredients you probably already have in your kitchen! After the ice cream is made, you'll be pairing it with a flight of craft beers made by Ivanhoe Park Brewing Co. Lastly, you'll get to take home a hand lettered recipe of the ice cream you made in class.
$55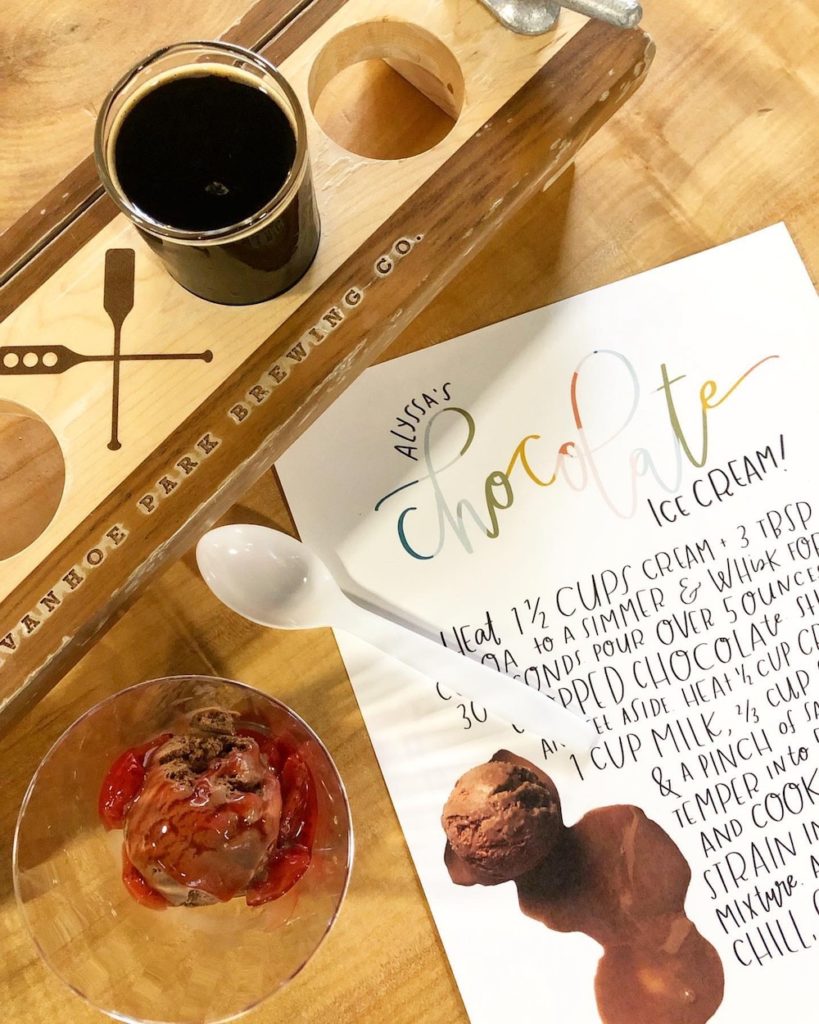 Doughnut & Beer Pairing
Wednesday, July 17, 7pm
Orlando Brewing
Four rich donuts + four 5oz. organic beers = dinner! Join Orlando Brewing and Orlandough for this monthly guided pairing.
$20
Girl's Club Presented by Jane – SOLD OUT
Wednesday, July 17, 7-9pm
Downtown Orlando
The concept is simple: we plan a wildly fun girls' night out experience but we don't disclose the location or details other than the date/time until 48 hours in advance. You mark it in your calendar and then wait for the email from us with all the juicy details!
$5
Collective Arts Beer Dinner
Wednesday, July 17, 7-9pm
À La Cart
Beer dinner featuring beer from Collective Arts paired with food from À La Cart's food trucks.
$40
Sunset at the Zoo
Thursday, July 18, 5:30pm
Central Florida Zoo
Take happy hour outside with this adults-only event at the zoo including live music, animal meet and greets, and beer and wine for purchase.
$5
3rd Thursday Gallery Hop
Thursday, July 18, 6-9pm
Downtown Arts District Orlando
Hop to all of the participating venues and check out their new exhibits! Venues include CityArts, Grand Bohemian Gallery, The Falcon, Eola Gallery, Aloft Orlando Downtown and more.
FREE
Velvet Sessions featuring John Waite
Thursday, July 18, 6:30pm
Hard Rock Hotel at Universal Orlando
Rock along to hits that include "Missing You," "Every Step Of The Way," "Tears" and more. Before the show, sip on specialty cocktails, munch on fabulous finger foods and mingle with other Session'ers.
$38
Movie Classics: The Sound of Music Sing-a-long!
Thursday, July 18, 7:26pm
Wayne Densch Performing Arts Center
$5 at the door
Orlando Poetry Slam
Thursdays, July 18, 8pm
The Milk Bar, 2424 E Robinson St, Orlando
Our slams are a two-round events with a feature performing between rounds.Round 1 will have 12 poets with all new poems at every slam. Some weeks, our first round will have a theme. The five highest scores will advance to a second round where the poets can do any poem they'd like. No props or costumes are allowed unless stated otherwise for a special event. The time limit for all poems is 3minutes with a 10second grace period. Poets will receive a penalty of -1point for every second over the time limit and grace period.
Cabernet and Namaste!
Friday, July 19, 5:30-8pm
Quantum Leap Winery
Admission includes two glasses of wine, and a hot yoga class. All proceeds (after costs and fees) of every ticket will benefit Harbor House. Harbor House seeks to eliminate domestic violence in Central Florida by providing safety, shelter, empowerment, education and justice.
$22
Evening Exchange at East End
Friday, July 19, 6-10pm
East End Market, East End Market hosts an event called the Evening Exchange (EvEx) where incredible local makers, retailers, and local food purveyors pop up for one night. A variety of workshops are also held throughout the night.
FREE Admission, workshop prices vary.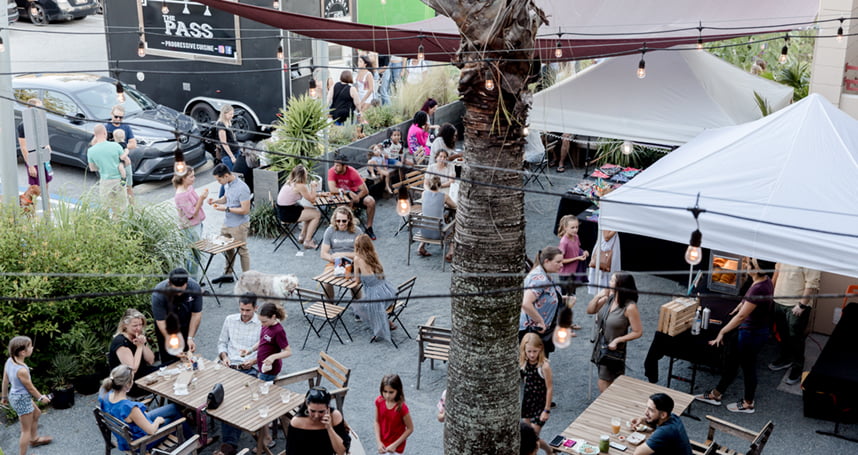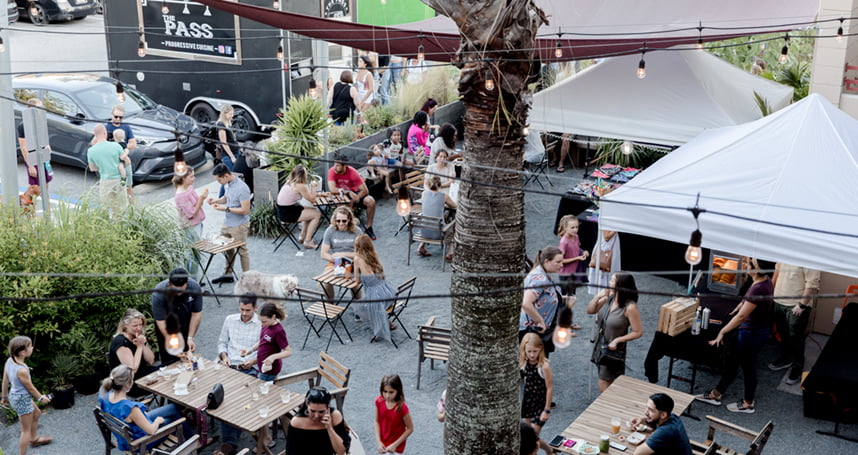 Wine Flight Friday
Friday, July 19, 6:30-8pm
K Restaurant
Monthly themes wine flight tasting experience featuring a curated flight of one white and three red wines. Located in the garden area.
$25
Yoga Under the Stars
Friday, July 19, 7pm
Orlando Brewing
Each ticket includes a 16 oz. Orlando Brewing beer of your choice as well as 1 hour yoga class.
$12-14
Moon Fest
July 20-21, 10am
Orlando Science Center
Celebrate the 50th anniversary of the first moon landing at Moon Fest! Discover the wonders of space, engage in space-themed activities like the Mars Landing Egg Drop Challenge and even learn from local astronomers during this out-of-this-world event on July 20 and 21.
Tacos & Tequila 2019
Saturday, July 20,1-4pm
Cheyenne Saloon
Tacos & Tequila celebrates the city's tastiest, most delectable delight: TACOS! Sample and vote on your favorite tacos among competing food trucks, taco shops and restaurants! There will also be tequila samplings, plenty of beer, and live entertainment.
$30-55
Saturday, July 20
5pm – midnight
114 S. Palmetto Avenue, Sanford, FL
Admission is free; food and drinks are pay as you go.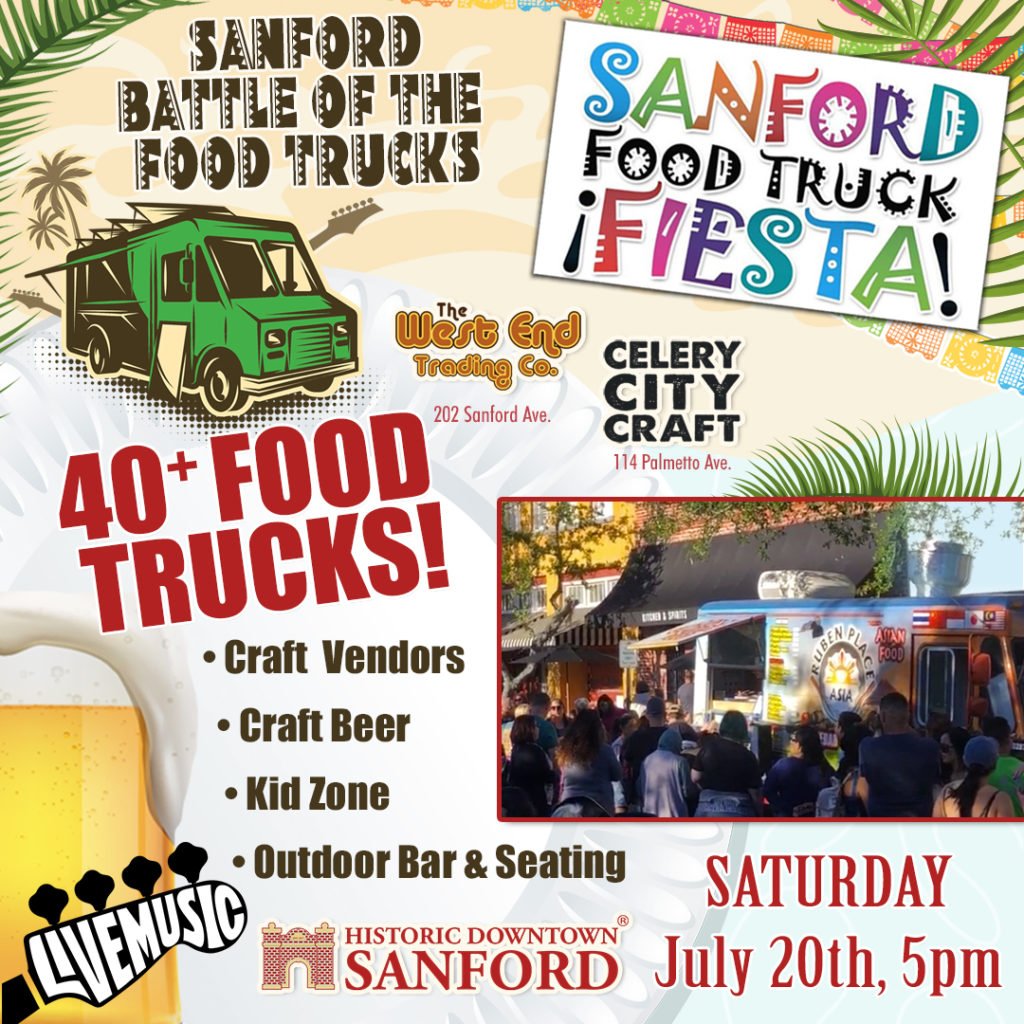 Sanford Art Walk – "Aperture"
Saturday, July 20, 6-9pm
Sanford Welcome Center
A juried art show and walking tour of the art venues located in historic downtown Sanford.
FREE Admission
The 14th Annual Crazy 80's Pub Crawl
Saturday, July 20, 8pm
Sideshow
80's themed pub crawl taking place in downtown Orlando, stopping in a number of bars throughout the night.
$20
Sea. Salt. Sake. Sharpen.
Sunday, July 21, 1-3pm
Morimoto Asia
A seafood-driven educational seminar and tasting, the event will feature demonstrations and food stations for guests to learn the ins and outs of preparing fish from onsite experts while also sampling the products.
$50, ages 21+ only
National Ice Cream Day Celebration at Kelly's on Corrine
Sunday, July 21, 11am-3pm
Kelly's Homemade Ice Cream (Corrine Dr)
$1 scoops to celebrate National Ice Cream Day
A la cart
July 22 – 28
Date Night at K Restaurant
July 22 – August 3
K Restaurant and Bar
Special four-course prix fixe dinner menu that includes a glass of champagne where you can sample and share with your other half.
Prices start at $80 per couple
Jennifer Lopez
Tuesday, July 23, 8pm
Amway Center
$53 and up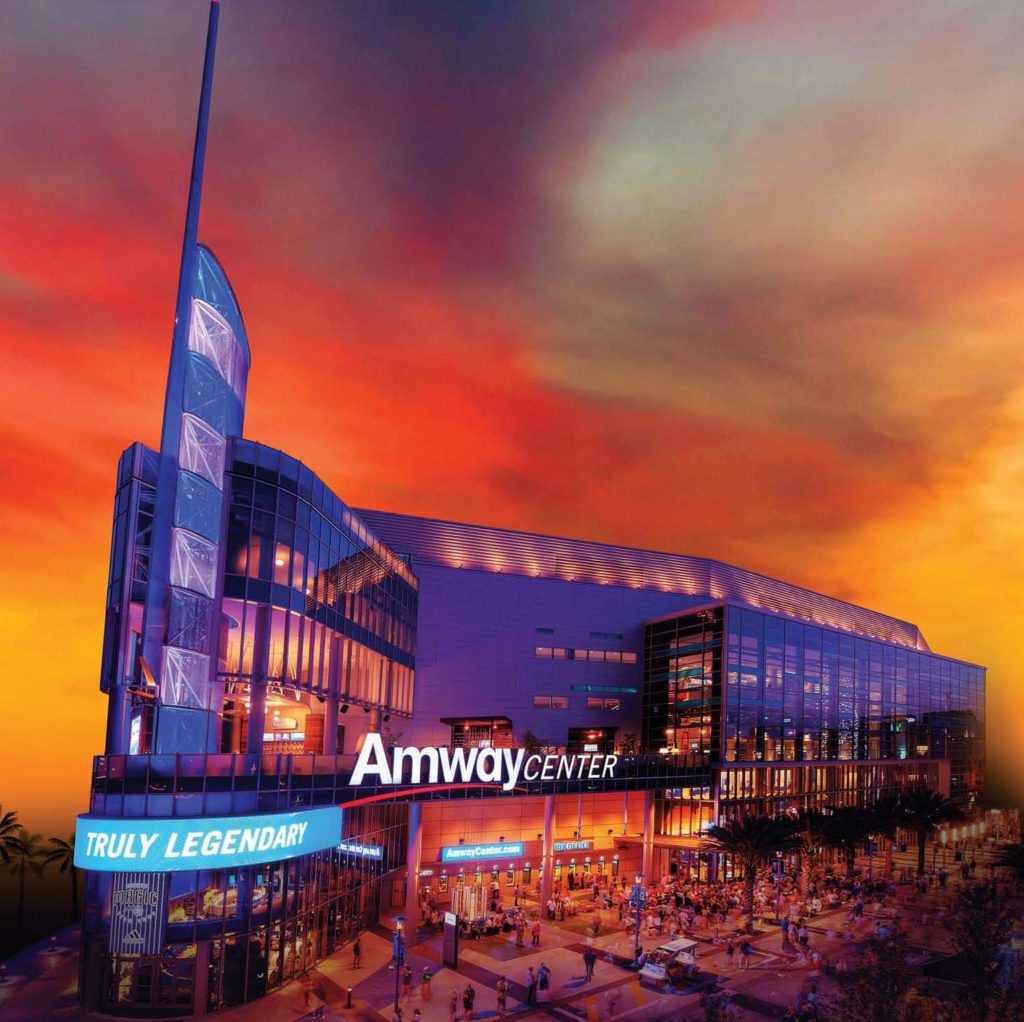 Paint & Wine Tasting
Wednesday, July 24, 6-8pm
Quantum Leap Winery
Enjoy an afternoon in the elegant, intimate and private barrel room at Quantum Leap Winery. Receive step by step instruction as you create a beautiful painting whilst also enjoying a wine tasting experience like no other. Learn about various blends and how they are produced. Sample three different wines as you paint.
$45/person including materials. Very limited seating so please pre-book to reserve your space.
En La Cocina Cooking Class
Thursday, July 25, 6:30pm
Tapa Toro
Enjoy an evening of cooking and eating around the paella pit as Tapa Toro's talented chefs guide you in creating some of their favorite recipes. Tapas & dessert included. July's menu features Ceviche (market catch/lime/shallot/cherry tomato/cilantro/avocade/olive oil), Calçots (charred spring onions/lemon oil/romesco sauce), and Bacalao Pil Pil (pan seared atlantic cod/roasted tomatoes/fennel/yukon potato/chorizo/mahou/saffron butter emulsion).
$49
Liquid Geography – An Education Class on Washington State
Thursday, July 25, 7-9pm
Quantum Leap Winery
Join Quantum Leap's Matt Uva and Sarah Weech as we drink our way through the state and explore the vast and diverse Columbia Valley.
$35
Gin Cocktail Class
Saturday, July 27, 3:30-5pm
Bitters & Brass
Cocktail class series with a focus on Gin, it's history, the differences in styles, and together we will make three cocktails showcasing Gin's diversity as a spirit.
$50/person
TPD Putt N' Pour Pub Crawl
Saturday, July 27, 2019 at 12-4pm
Thornton Park District
Part pub crawl, part miniature golf tournament and all fun, Thornton Park District's Putt N' Pour is an opportunity for participants to visit ten Thornton Park District bars and restaurants to be challenged by holes designed and built by each host location while enjoying drink specials and prizes.
$15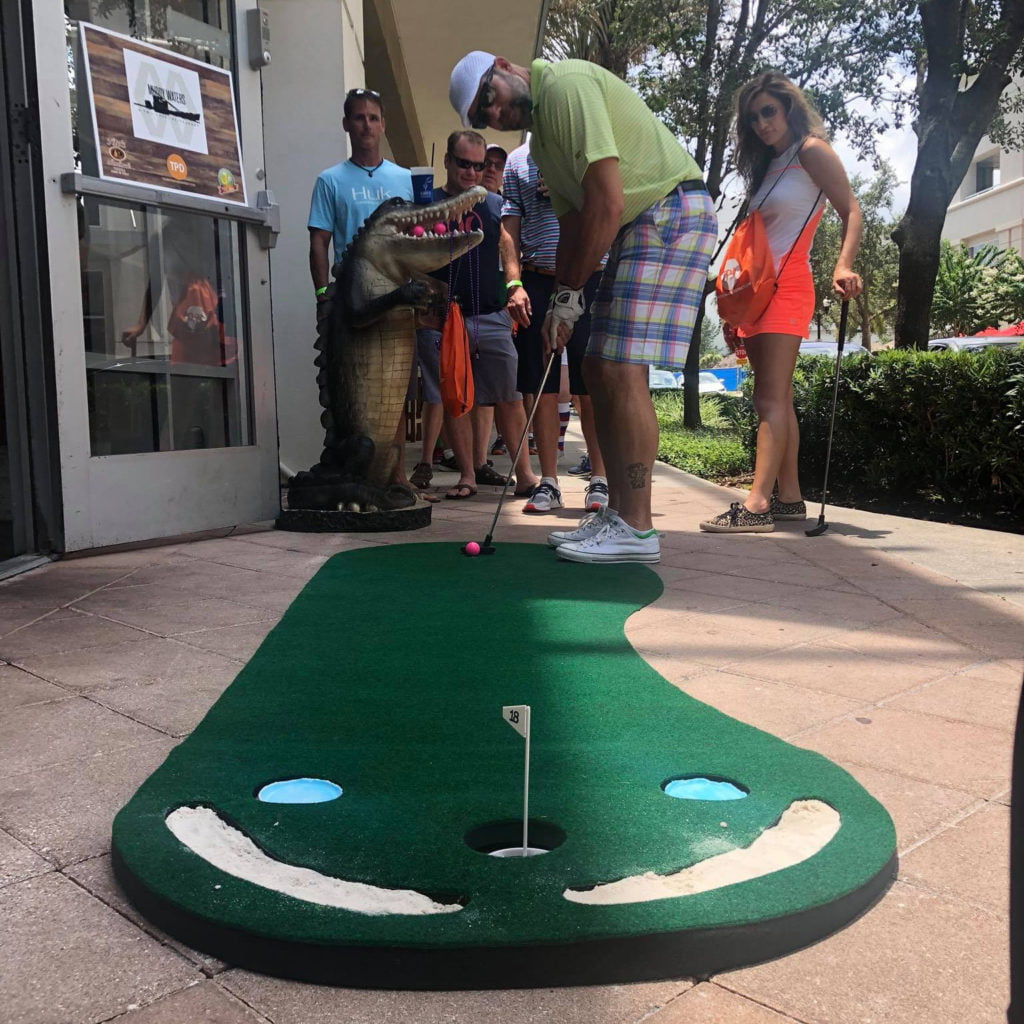 CB's Sunday Supper, Feat. Lombardi's Seafood & Rockpit Brewing
Sunday, July 28, 6pm
Lombardi's Seafood
Take part of a live audience for the taping of CB's inaugural Sunday Supper! Guests will enjoy 3 culinary demos with Chef Bob's tips, tricks and pointers on preparing and serving oysters, crab legs and live lobsters, while sipping on Rockpit Brewing's beer pairings. The evening culminates in a full Sunday Supper featuring Lombardi's fresh seafood, sides and accompaniments, more Rockpit beer, and Lombardi's famous Key Lime Pie.
$95-150
Vaudeville Dinner Show
Tuesday, July 30, 6-8:30pm
Maxine's on Shine
Four Captivating Performances by local Orlando Variety Artists! Your choice of specialty entrée from
the exclusive chef's menu, appetizer or dessert plus 1 beer, wine or specialty cocktail!
$40
Art Night Out: Painted Paper Collage with Susan Surprise-Kumiski
Wednesday, July 31, 6-8:30pm
Orlando Museum of Art
Join in as we create a mixed media, painted paper collage. Participants will paint their own paper, and then trade with others to make a vibrant, layered collage.
$30
Harry Potter Day
Wednesday, July 31, 4pm
Playalinda Brewing Company – Hardware Store
Celebrate Harry's b-day with a special release of Platform 9/3 Porters, a porter treated with butterscotch and English toffee – fit for a wizard, as well as a costume contest for the best dressed Potterhead.
FREE Admission
Space Trivia
Wednesday, July 31, 7pm
Playalinda Brewing Company – Hardware Store
Bring your nerdy space friends, because we're getting DEEP into Space. Topics will be broad – spanning many galaxies, sci-fi, pop culture, basically all things space. You can play solo, or on a team of up to four people, as you battle your way through level after level of brain-boggling trivia on a quest to win Playalinda prizes.
FREE Admission
DIY Workshop at Orlando Brewing
Wednesday, July 31, 7-9pm
Orlando Brewing
Enjoy a night of DIY fun and craft beer with friends at Orlando Brewing with Pine2Posh.
Register in advance at www.pine2posh.com Choose your project and paint it to make it your own!
Check out our guide to the Top Orlando Events for 2019 for more ideas.
Feature image credit: Central Florida Zoo
Disclosure: Some of the events mentioned in this post are hosted by some of our valued advertising partners.