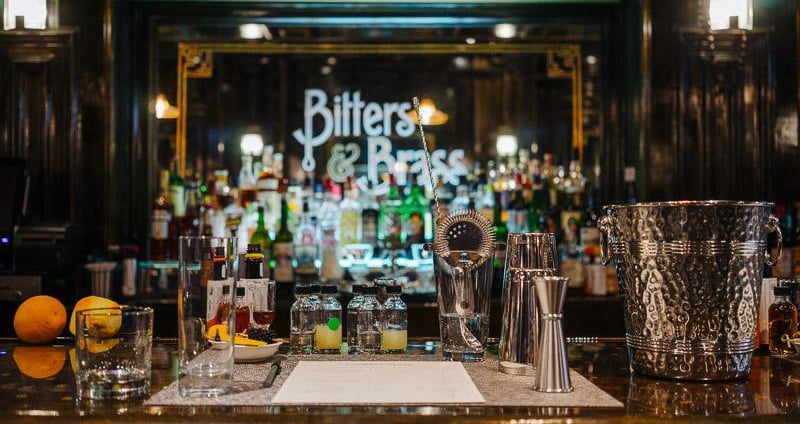 There are so many fun classes happening around Orlando. Spice up your date night by cooking something new together, creating your own jewelry or by working up a sweat. Here are our top picks for Orlando workshops + classes happening this August 2019.
WHERE TO TAKE ORLANDO WORKSHOPS + CLASSES:
ACTIVE CLASSES
Yoga in the Garden at Mead Botanical Garden
Every Saturday in August, 9am
Mead Botanical Garden
Connect with yourself and nature during this weekly yoga class at Mead Botanical Garden.
$10 per person
Hip Hop for Beginners
Every Thursday, 7pm
DGBEK Studios
Learn a choreographed dance to the latest hits and get a great workout in.
$10 per person
Naughty Girl Twerkshop
August 4, 12pm
YogaMix Orlando
Learn twerk techniques, tips, have fun, burn calories, and tone your legs, abs, and booty all at once!
$40 per person
Yoga Brunch
August 4, 1pm
Barley and Vine Biergarten
Tickets include your brunch meal, a beer, and an enlightening yoga session. A-la-carte menu items will also be available.
$20 per person
Orlando Ballet Barre Fitness with Tasha Golis
August 6 and 13, 7-8pm
Orlando Ballet School Central Campus
Barre Fitness is a fast paced dynamic whole body workout. This class incorporates elements of classical ballet training combined with postures from yoga and Pilates
$15 per class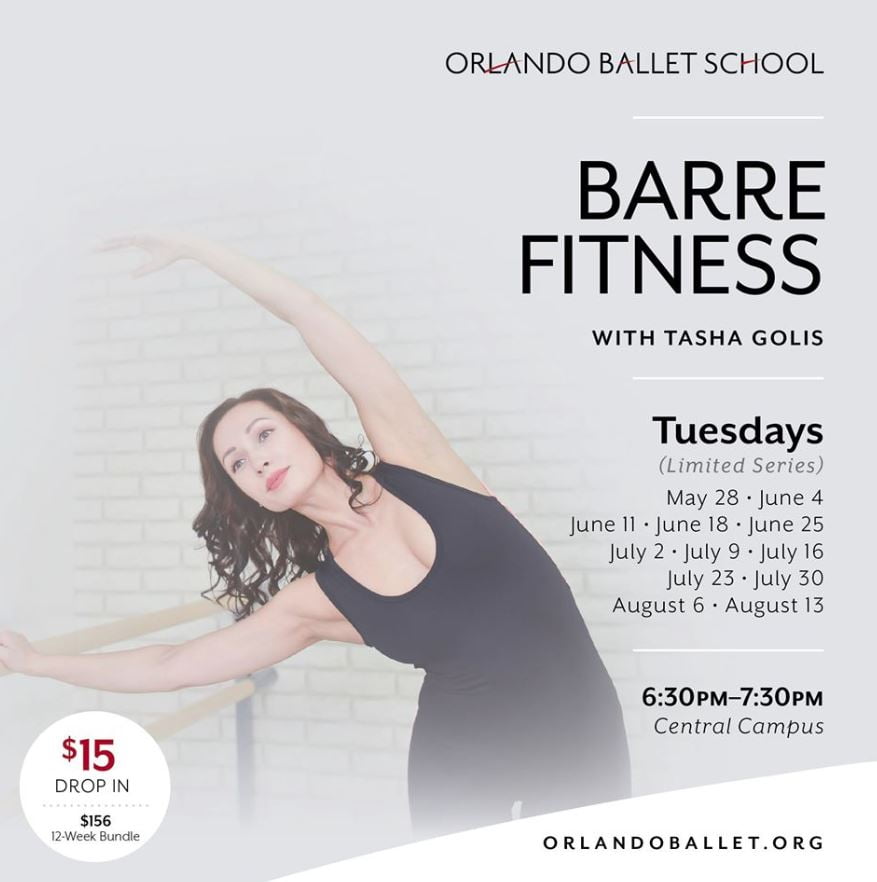 Tahitian Choreography Class
August 7, 14, 21 and 28, 8:15pm
YogaMix Orlando
Come learn the beautiful art of Ori Tahiti! You learn proper Tahitian dance technique, drills, and fun jungle-themed choreography to "Mataloa" by Te Vaka.
$15 per person
Orlando Ballet Yoga with Dimitri Delazanos
August 7 and 14, 7-8pm
Orlando Ballet School Central Campus
Dimitri's style of yoga is elemental, and grounded by accessibility and inclusion. The main area of focus for his class is the upper body: shoulders, chest and neck.
$15 per class
Yoga in the Galleries
August 11, 4pm
Orlando Museum of Art
Join us for a highlights tour of the galleries followed by a yoga practice led by College Park Yoga.
$15 per person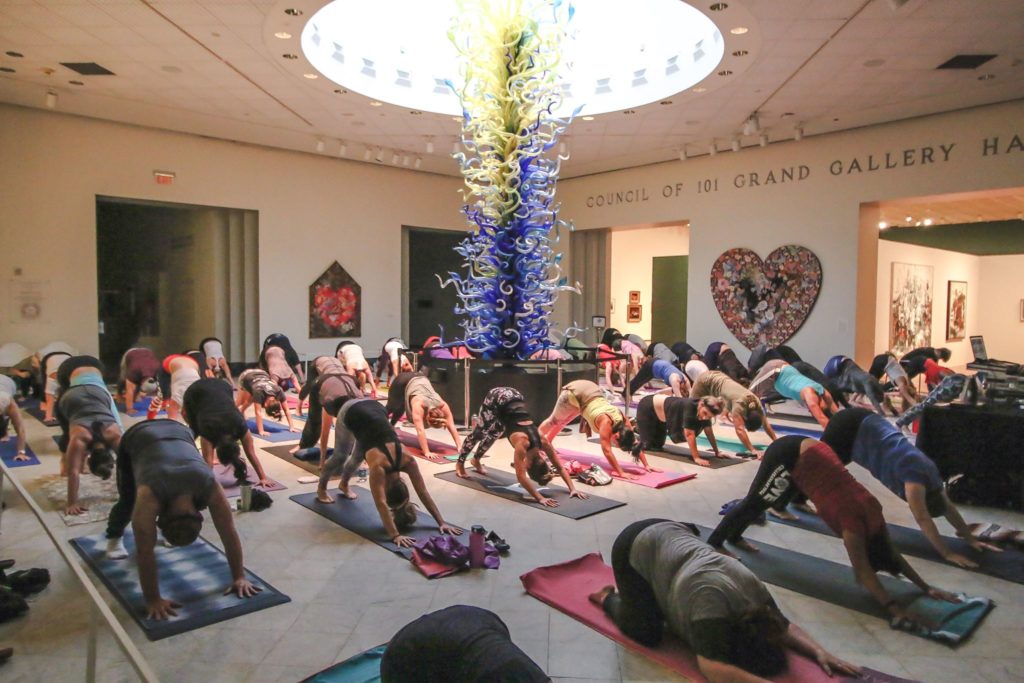 Yoga and Beer
August 17, 9:30am
Suncreek Brewery
Beer yoga! We have no idea what a "vinyasa flow" class is or means (we just brew the beer) but we hope you do and will consider attending this monthly class.
$10 per person
Candlelight Yoga
August 17, 8pm
Peaceful Peacock
A divine evening of tranquility, movement and mindfulness to the sounds of live music, in studio.
$20 per person
Salsa Downtown
August 23, 8pm
The Balcony Orlando
Arrive by 8pm ready to have fun and learn how to dance Salsa. After the class, we'll keep the music going until 11pm so you can practice your new moves!
$7 per person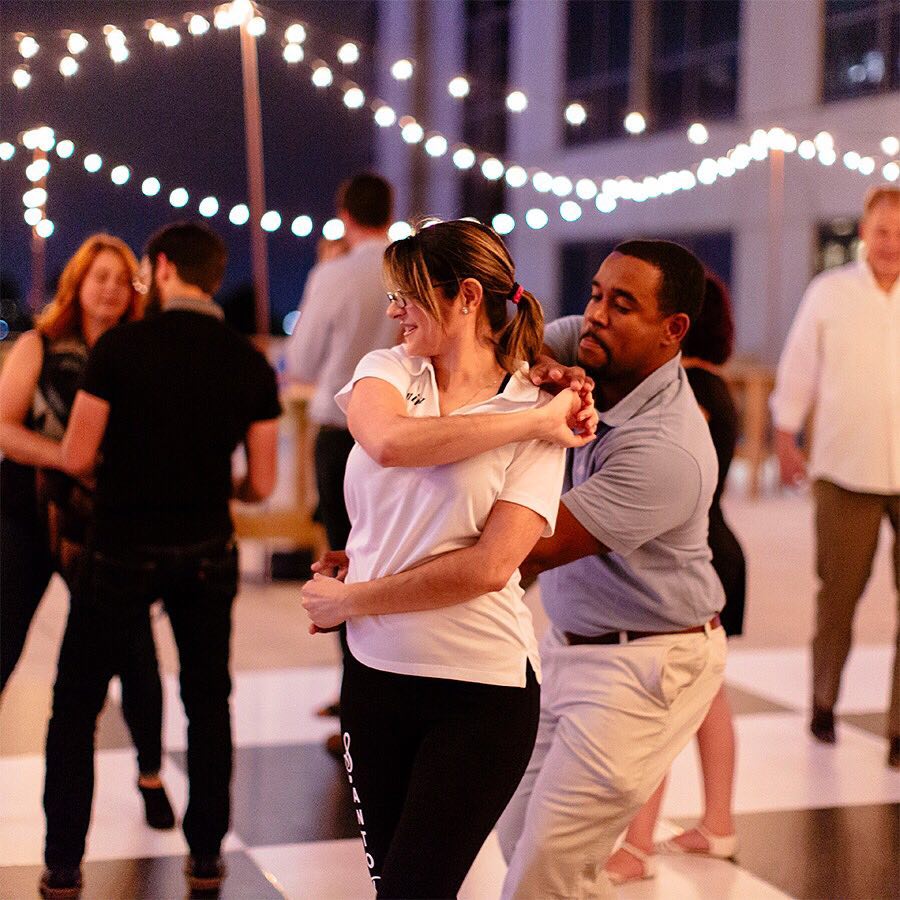 Yoga in the Mennello Museum Sculpture Garden
August 25, 9am
Mennello Museum of American Art
Start your Sunday morning out blissfully with a relaxing lakeside flow.
$10 per person
Rooftop Yoga
August 27, 6:30pm
The Balcony Orlando
Come enjoy an instructor-led Yoga class while taking in beautiful views and a breath of fresh air.
$7 per person
Poses for Pups
August 31, 9am
East End Market
Discover the true meaning of downward dog as you practice surrounded by adoptable dogs from Hound Haven.
$25 per person
COOKING + FOOD CLASSES
Truffles & Bubbles
Every Friday at 7pm
Peterbrooke Chocolatier Winter Park
Sip a glass (or two!) of bubbly and enjoy a chocolate dipped strawberry as you decide which limited edition truffles you will dip into your choice of milk or dark chocolate to take home.
$35 per person
Girls' Night Out Bubbles + Truffles Pairing
August 1, 7pm
Peterbrooke Chocolatier Winter Park
Sip a glass (or two!) of bubbly and enjoy a chocolate dipped strawberry as you decide which limited edition truffles you will dip into your choice of milk or dark chocolate to take home.
$35 per person
Couples Cooking: Street Eats Greece 
August 2, 6pm
Publix Aprons Cooking School – The Marketplace Dr. Phillips
Enjoy some traditional Greek street fare, all from the comfort of your Aprons Cooking School kitchen.
$100 per couple
Date Night: California Dreaming
August 3, 6:30pm
Truffles and Trifles
Cook alongside your date and try out some California style recipes!
$150 per couple
Whiskey Cocktails
August 10, 3:30pm
Bitters & Brass
Enjoy working at a personal cocktail station as you learn the history behind the drinks. From preparation to execution, examine the reasons behind each step, including proper jiggering, choosing the correct ingredients and using the right garnish to complement your cocktail. Each class is uniquely themed.
$50 per person
August 14, 6:30pm
Mia's Italian Kitchen
Personalize your own cutting board with a wood burner (think punny sayings, cute designs, or whatever your heart desires) and then learn how to craft the perfect charcuterie board.
$60 per person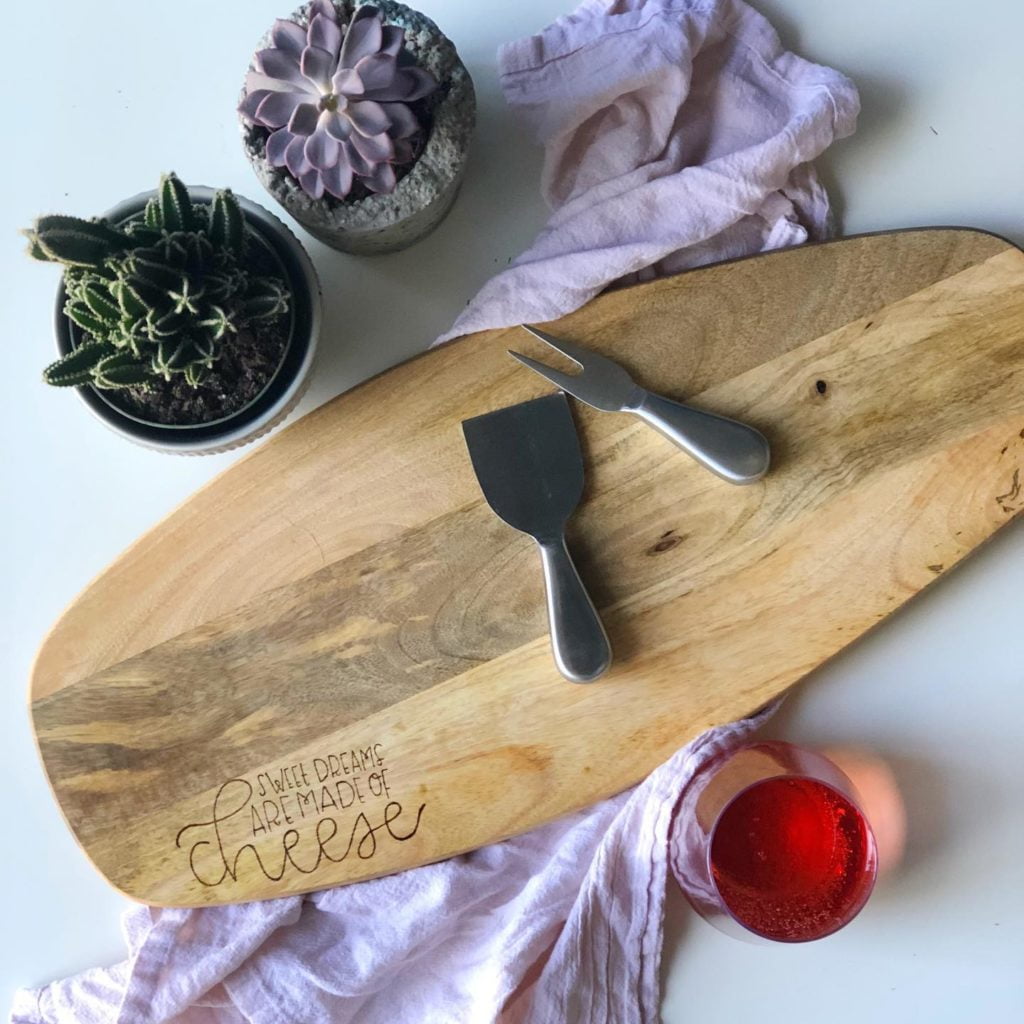 Meal Prep Express Cooking Class
August 16, 6pm, 7:15pm and 8:30pm
East End Market
Come and learn tips for meal prep success from Carly Paige, integrative nutrition health coach and chef, and create your very own mason jar salad and energy bites!
$35 per person
Taste of Argentina
August 16, 6:30pm
Publix Aprons Cooking School – Winter Park Village
With Spanish and Mediterranean influences, the cuisine of Argentina is as vibrant as the people that call it home.
$50 per person
Glorious Indian
August 16, 6:30pm
Truffles and Trifles
Learn to make classic Indian dishes.
$59 per person
Doughnut and Beer Pairing
August 21, 7pm
Orlando Brewing
Dig into sweet & savory organic mini doughnuts from Orlandough paired perfectly with four Orlando Brewing organic brews.
$20 per person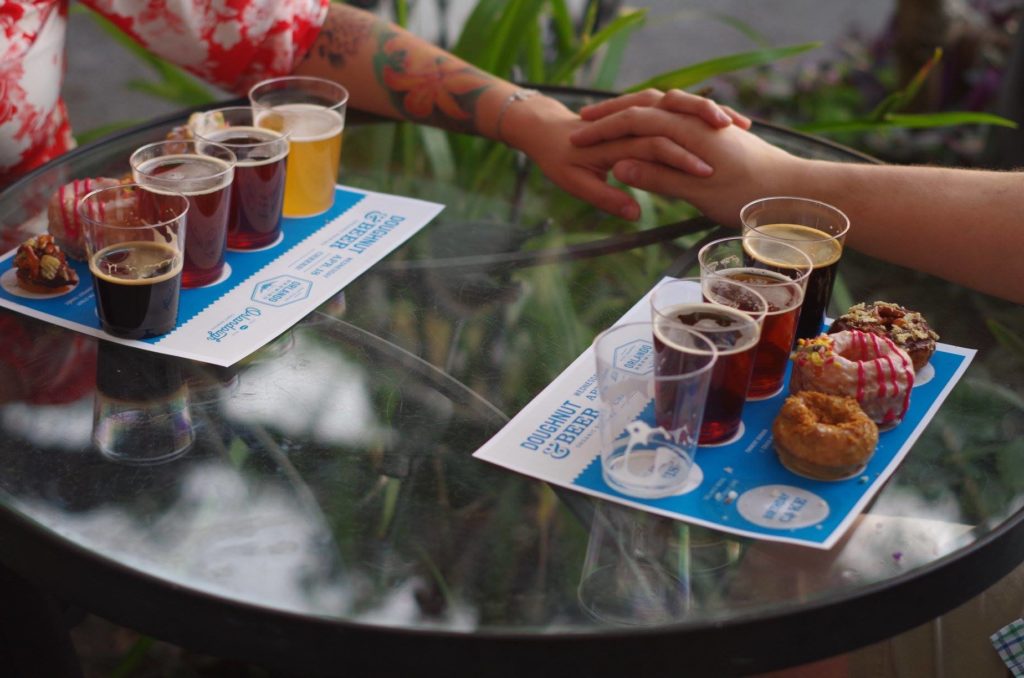 Couples Cooking: Street Eats Mexico
August 22, 6pm
Publix Aprons Cooking School Winter Park Village
Become inspired to make corn tortillas from scratch along with other simple Mexican-inspired dishes that will bring the flavor to the fiesta!
$100 per couple
Craft Cocktails: Tailgate Edition
August 23, 7pm
Brew Theory
You will learn how to make a elevated mimosa, a gin-based cocktail made with Monkey 47 Gin plus a surprise ingredient (come to class to find out), and a Julep made with Old Scout American Whiskey.
$75 per person
ART CLASSES
Hand Lettering Mini Sessions
August 1 and 2, various times
Driftwood Market – Winter Garden
In this condensed mini session, you will learn the basics and begin perfecting your very own personalized brush lettered alphabet.
$15 per person
Test Tube Propagation Station
August 2 and 3, 8 and 9:30pm
The Hive: A Makerspace at Orlando Science Center
Create your own miniature jungle with this unbeleafably fun workshop!
Included with Science Center admission
Powder Embossed Notebook
August 3, 10am
Good Crowd
In this class we will be learning how to apply powders, the heating process, and how to properly mix colors to create a perfect custom piece. Ticket includes your notebook too.
$30 per person
Macrame Vase Cover 
August 3, 1pm
Leu Gardens
Macrame a beautiful vase cover for your picked flower collection. It'll be a perfect match when used as a vase, terrarium or for your favorite dried potpourri!
$40 per person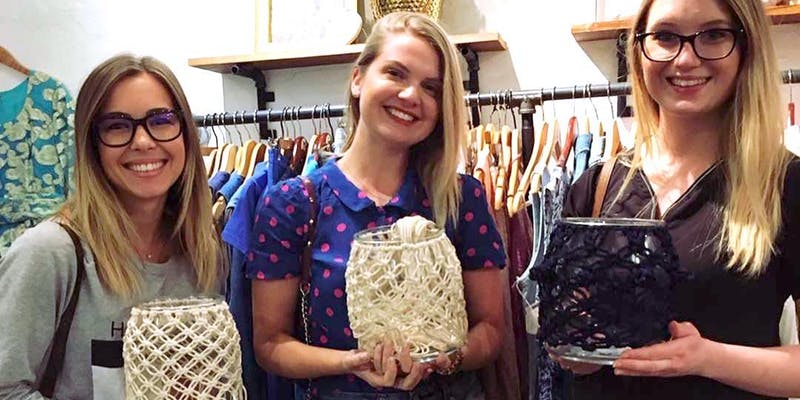 Make a Tote/6 Pack Carrier
August 10, 9am
FACTUR
This workshop will cover the basics of woodworking, starting with terminology, wood structure and safety.
$65 per person
Watercolor Botanicals
August 10, 2pm
Leu Gardens
In this fun and vibrant painting workshop, you will discover the many possibilities and techniques for using watercolor paints, with a focus on loose floral watercolors.
$75 per person
French Knit Necklace or Barrette
August 16, 7:30pm
East End Market, Evening Exchange
Join us for this special class with Macrame Momma and get ready to MacraMAKE! You will leave this workshop with one knotty accessory and take home a knitting loom.
$20 per person
Macrame Mini Plant Hanger
August 16, 9pm
East End Market, Evening Exchange
"Macramake" your very own mini macrame plant hangers!
$25 per person
Dirty Pour Paint Party
August 18, 3pm
Orlando Brewing
Come create a fluid painting canvas with us, while sipping on some of the tastiest craft beers in town!
$50 per person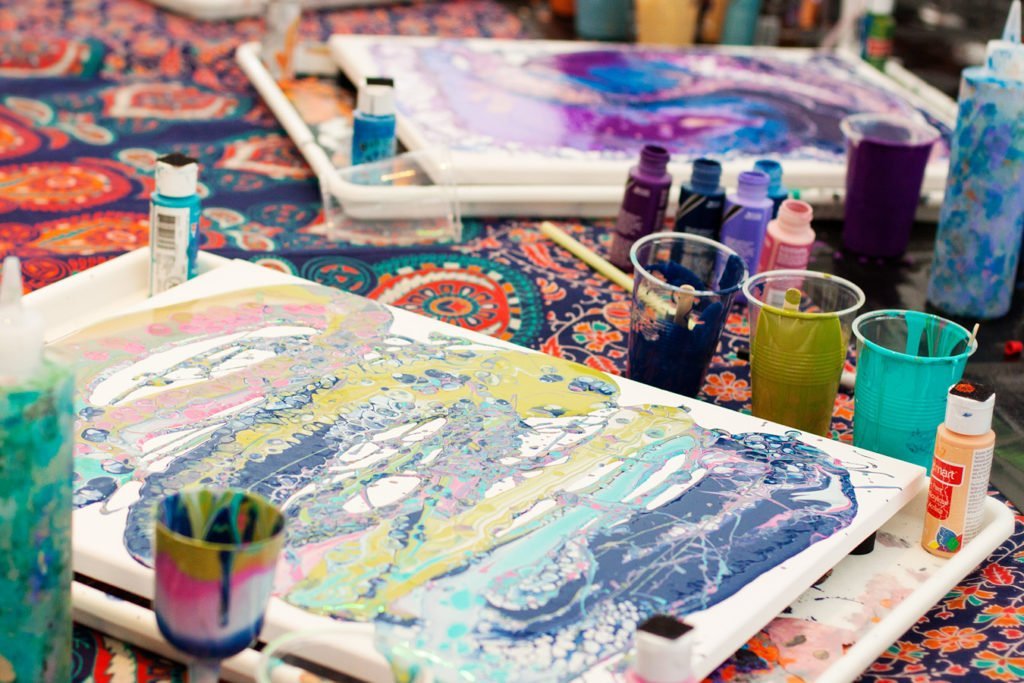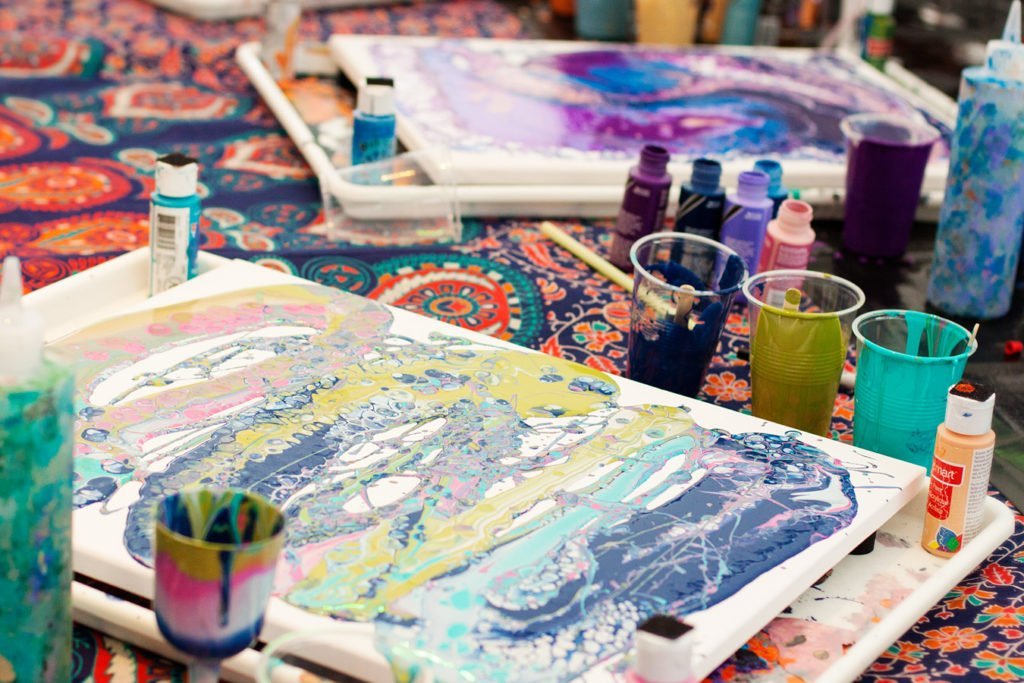 Wood Flowers Workshop
August 21, 6:30pm
Hammer and Stain Clermont
Our instructors will teach you to sand, stain, and paint (by stencil, not free-hand) your own wooden deco
$49 per person
Paint Night
August 22, 7pm
Lucky's Market South Downtown
Join Lucky's for a fun night painting in the Cafe on Wednesday, July 17th at 7pm! Paint Party and Play Orlando will be hosting the event and all equipment and supplies will be provided. Enjoy $3 glasses of wine or $2 pints while painting your masterpiece!
$25 per person
Art Night Out
August 28, 6pm
Orlando Museum of Art
Art Night Out is a monthly adult program where guests can enjoy a fun night of art! Bring a date or come alone and meet new friends! Each exciting evening features a different theme. Follow along with an art teacher as you create your own masterpiece!
$30 per person
Build Your Own Terrarium
August 29, 6:30pm
Lucky's Market Colonial
Join us for a hands-on terrarium workshop as we explore the world of these unique miniature indoor plant ecosystems.
$50 per person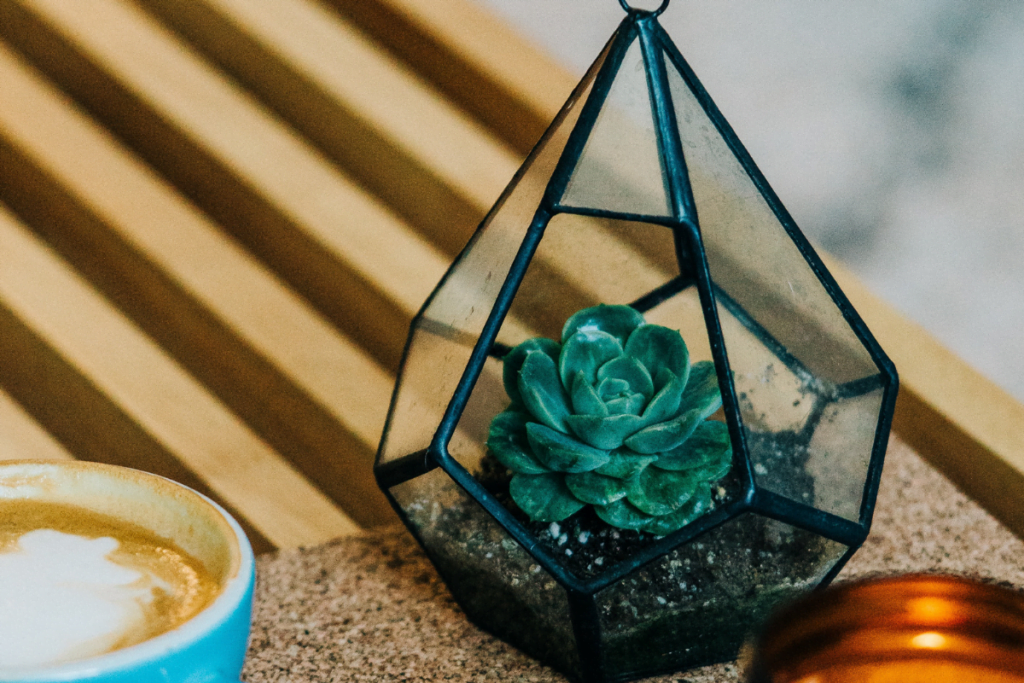 OTHER CLASSES
How to Start Your Own Podcast
August 1, 6:30pm
World of Beer Orlando
Tony McGehee, host of the Emerging Entrepreneurs podcast, is giving you the rundown on exactly what you'll need to get started on a podcast.
$20 per person
Improv Class
Sunday, August 4th at 1pm
Monday, August 5th at 7pm
Sak Comedy Lab
FREE
Master Your Makeup Routine
August 9, 6pm
Mia's Italian Kitchen
Join us for a fun, hands-on makeup class with tips on how to apply makeup to accentuate your features, feel more beautiful, boost your confidence, and save time on getting ready!
$30 per person
DIY Natural Skincare Workshop
August 16, 6pm
East End Market – Evening Exchange
In this 1 hour workshop, you'll gain an understanding of how natural ingredients bring balance to your skin and learn techniques & recipes that make natural skincare an enjoyable part of your everyday routine.
$30
Know of an awesome class we missed? Share it in the comments!
Feature image credit: Bitters & Brass
Disclosure: Some, but not all, of the workshops and classes listed in this post are hosted by our valued marketing partners.