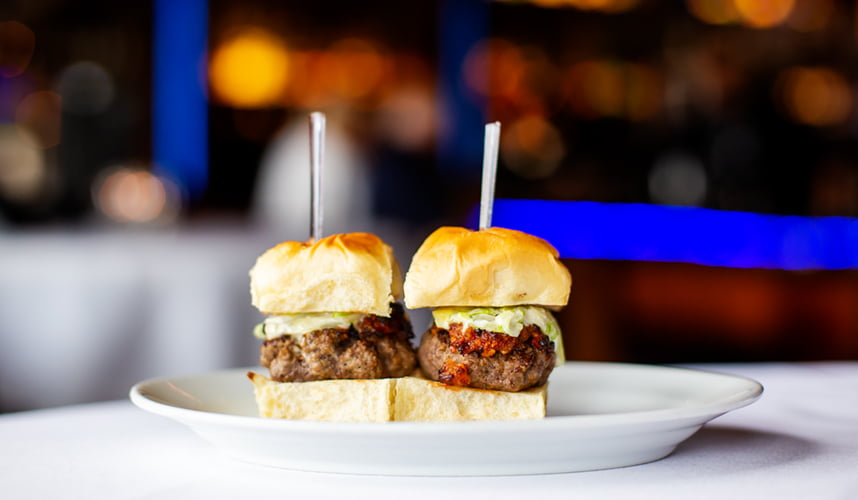 Restaurant Row is one of Orlando's crown jewels when it comes to dining, especially during happy hour when nearly every restaurant in the area offers killer deals on drinks and eats. From casual watering holes to upscale eateries, there truly is a happy hour to suit any budget and occasion.
When the occasion is date night, head straight to Ocean Prime Orlando. The restaurant's swanky and spacious Blue Lounge is host to the daily happy hour from 5-7pm. It's your chance to indulge in the upscale experience without totally blowing your budget.
Happy hour deals include $7 signature cocktails, select wine and beer specials ($4-$7), and $5 off all small plates and sushi offerings. A recent hosted visit totally exceeded my expectations and left me plotting a return visit ASAP.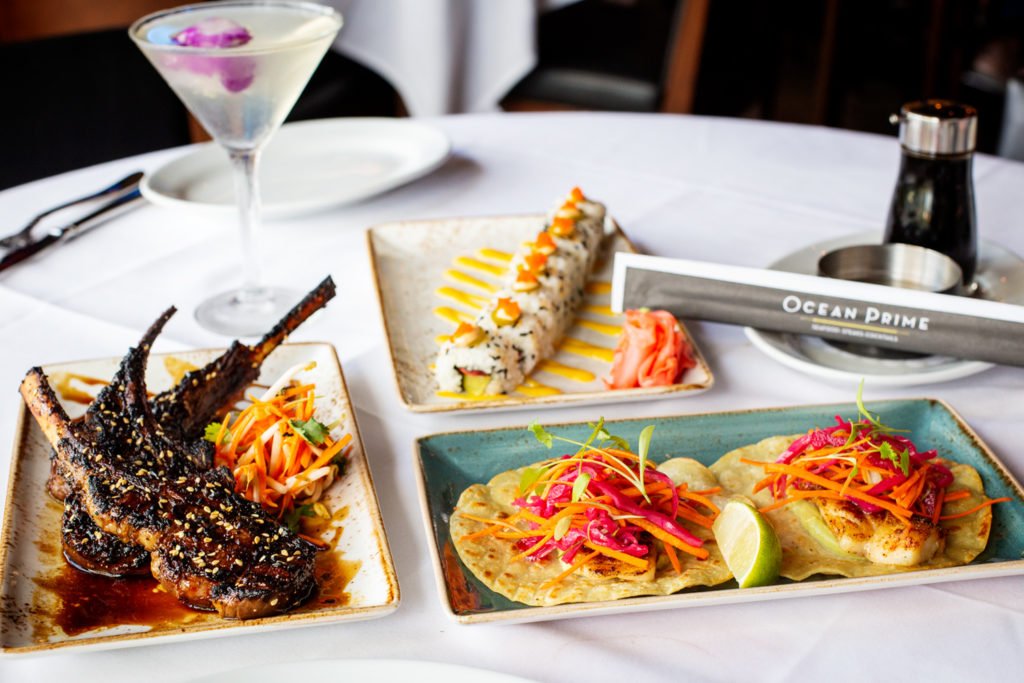 DRINKS
Select signature cocktails are a steal at $7 each, and some are poured tableside for an extra "wow" factor.
Start happy hour with a bang (and lots of bubbles) by ordering the Berries & Bubble cocktail. The smooth blend of Belvedere citrus vodka, Cassis, Domaine Chandon Brut, marinated berries and lemon is poured tableside into a frozen glass, causing the drink to bubble as dry ice envelopes the glass in smoke. Now this is my kind of science experiment.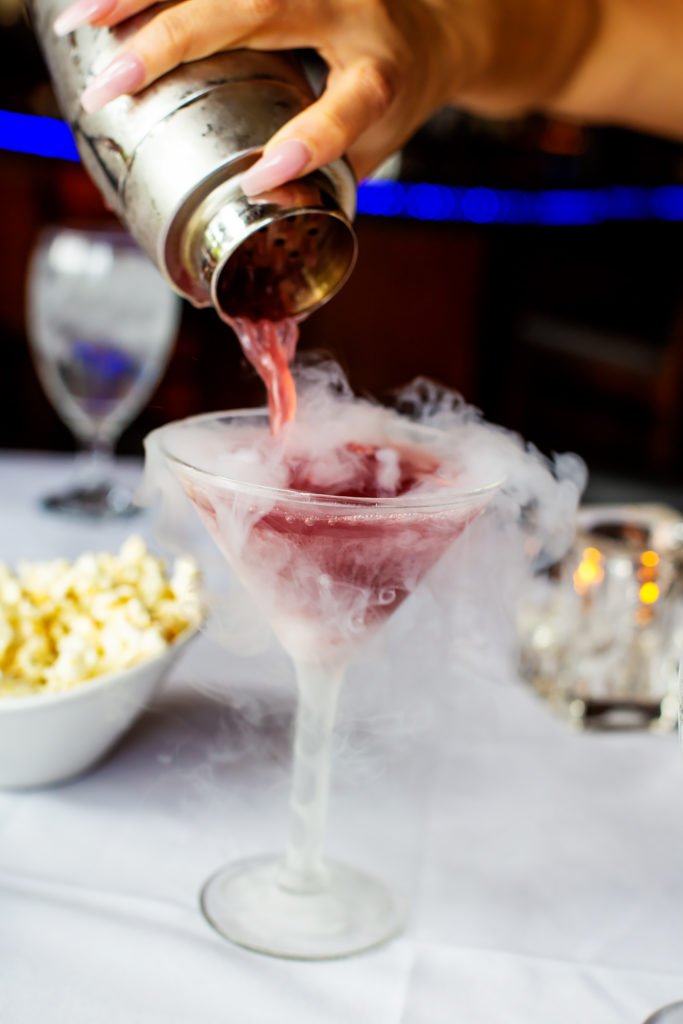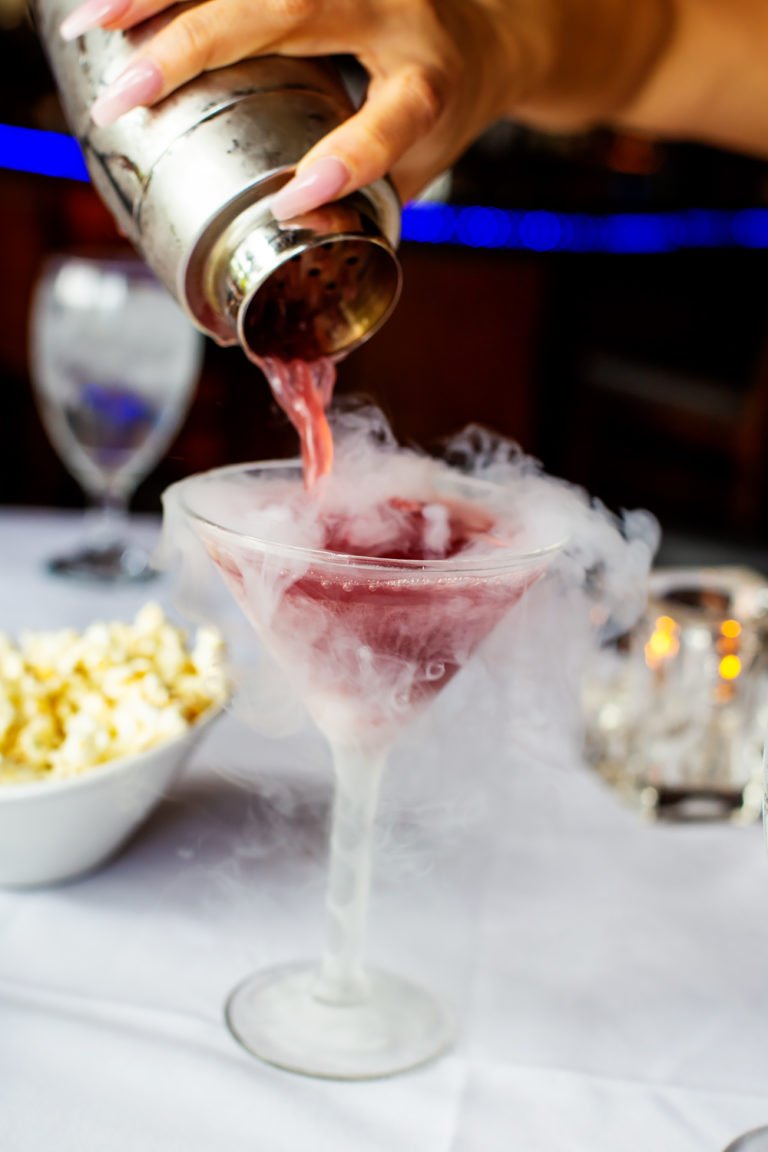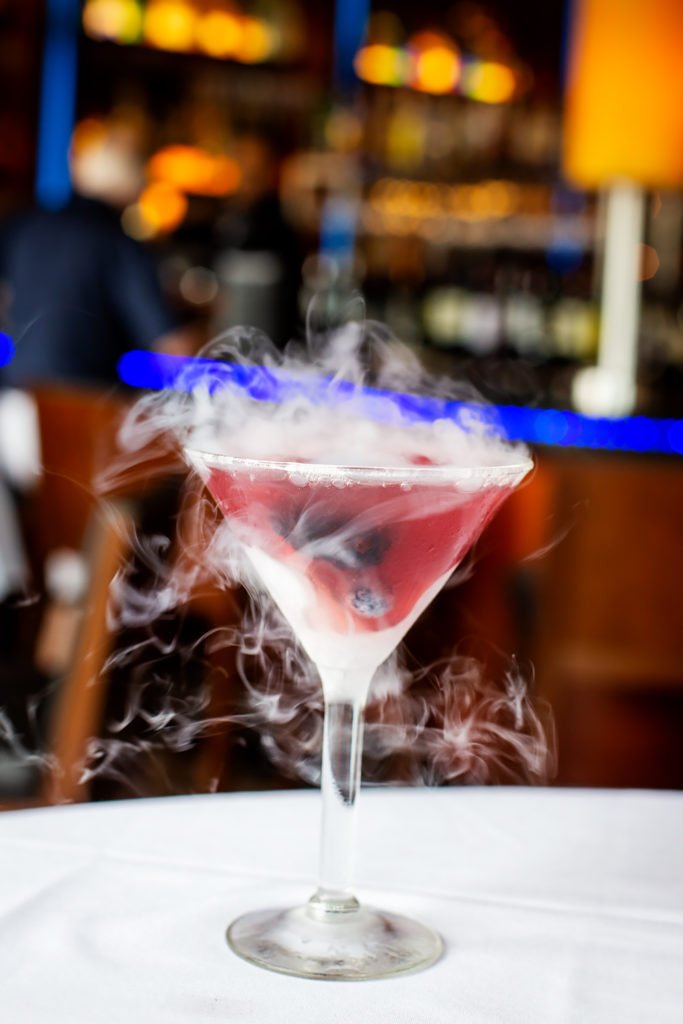 Although it's not yet listed on the menu, the Pineapple Picante has an incredible depth of flavor with pineapple-infused tequila, picante simple syrup, lemon juice and orange bitters creating a cocktail that's sweet with a hint of spice and goes down very easy.
I also enjoyed the Black Orchid, a sweet and light martini made with vodka, St. Germain, lemon and white cranberry finished with a photo-worthy orchid ice cube.
FOOD
All small plates and sushi offerings are $5 off during happy hour, bringing the cost down to $7 – $15 per dish. As an added bonus, you get free popcorn to munch on while you wait for your food to arrive.
Small plate offerings include:
Prime Sliders: Bacon, bleu cheese, sundried tomato ($7)
Sea Bass Ceviche: Shrimp, avocado, red pepper, mango vinaigrette and corn tortilla chips ($9)
Fish Tacos: Avocado, pickled cabbage and corn tortilla ($8)
Lamb Lollipops: Teriyaki marinated, sweet and spicy glaze ($14)
Carpaccio: Crispy fingerlings, arugula, truffle aioli ($11)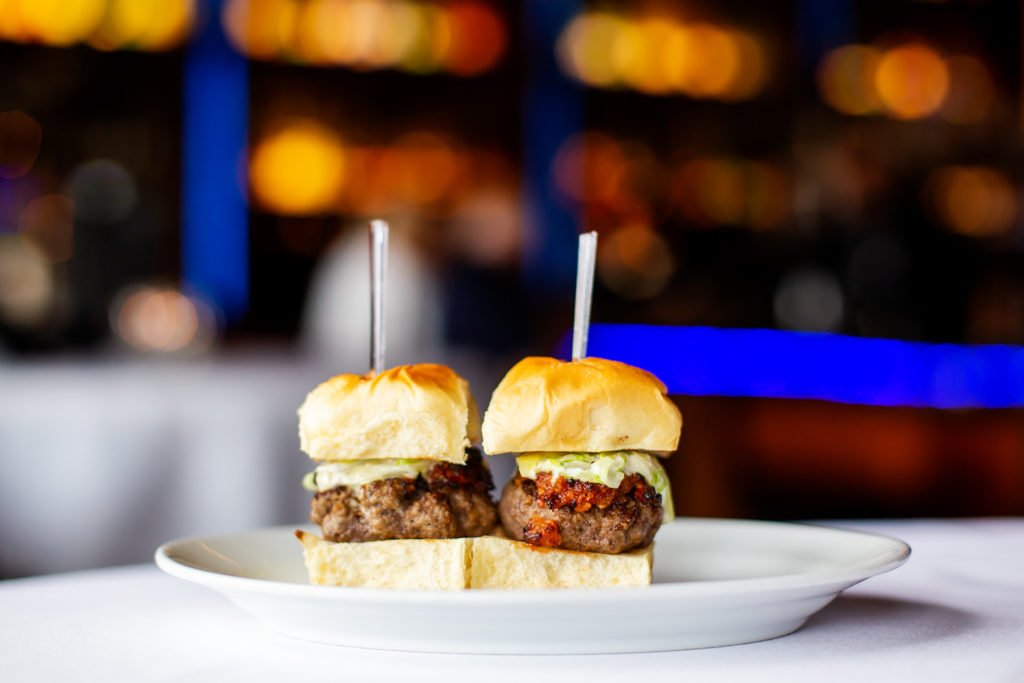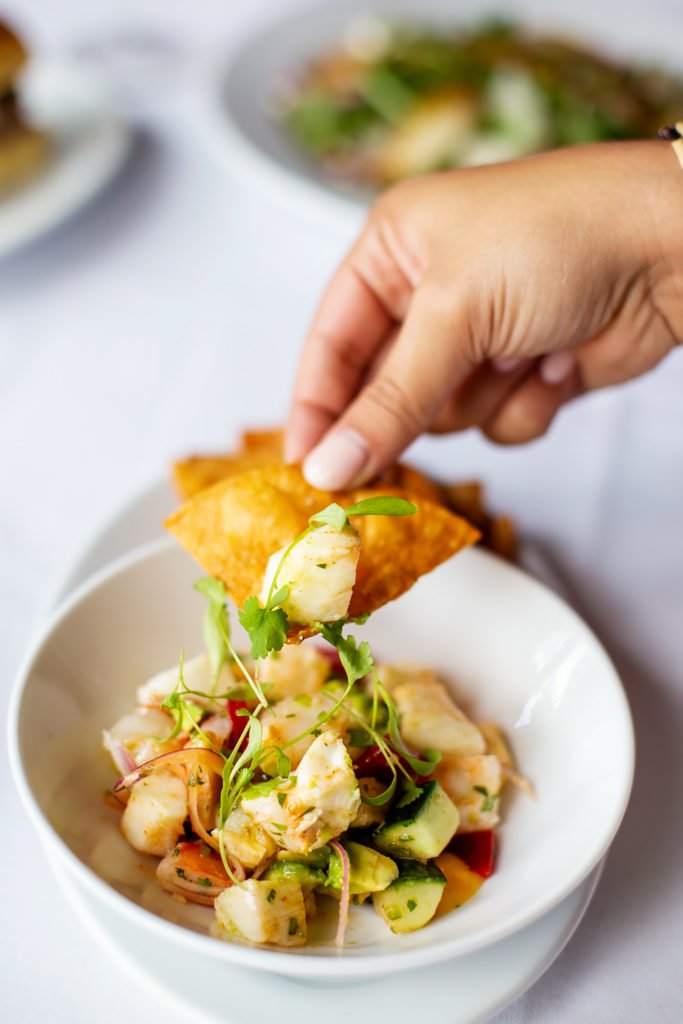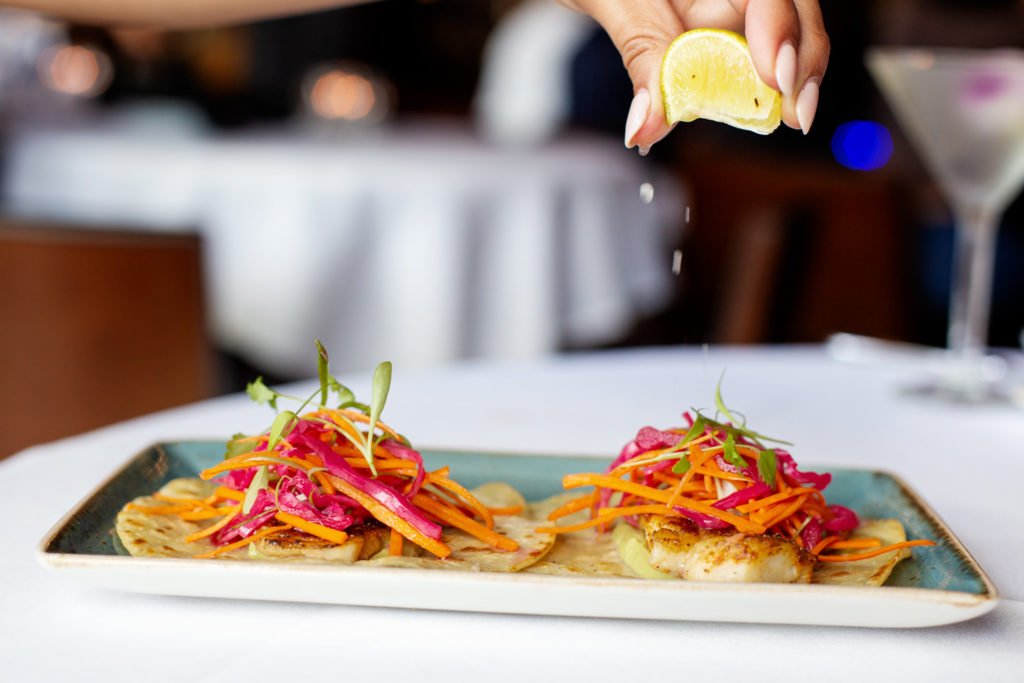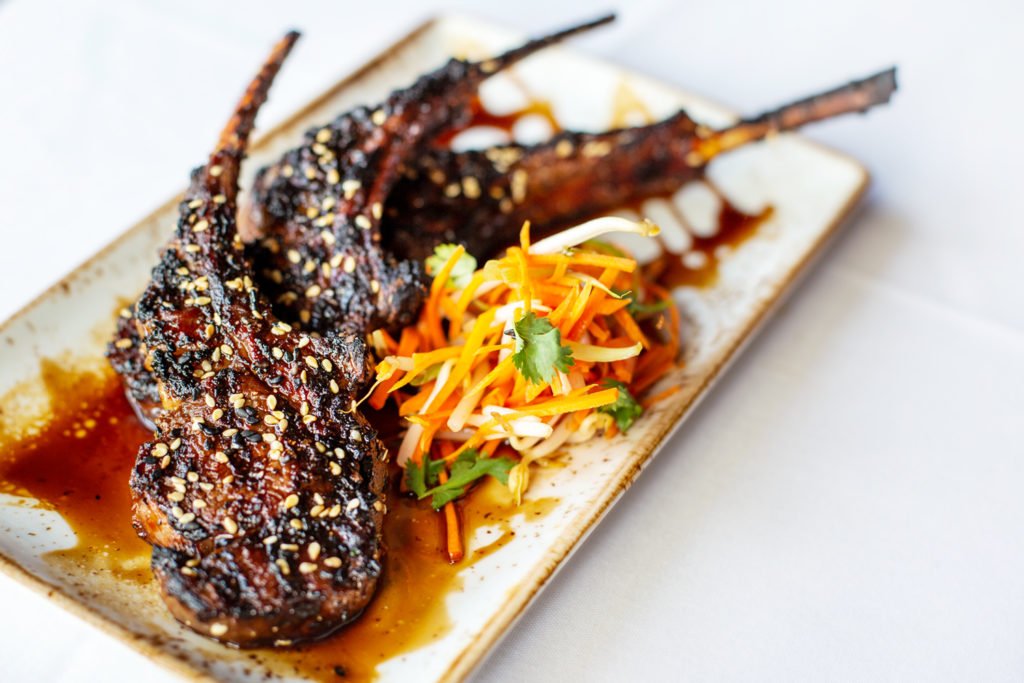 Sushi rolls on special include:
Prime Roll: Tempura Shrimp, Cream Cheese, Scallion, Beef Carpaccio ($15)
Lobster Roll: Poached Lobster Tail, Kiwi, Pickled Serrano, Masago, Spicy Mango Purée ($15)
Tuna Roll: Spicy Tuna, Avocado, Cucumber ($13)
Dynamite Roll: Tempura Shrimp, Spicy Mayo, Sesame Seeds ($15)
An assortment of raw bar selections is also available.
Ordering 2-3 small plates plus a sushi roll to share is plenty to fill you up. My perfect order would be the prime sliders, ceviche, lamp lollipops and the lobster roll. Paired with two drinks each you can do date night for under $75, plus tax and tip.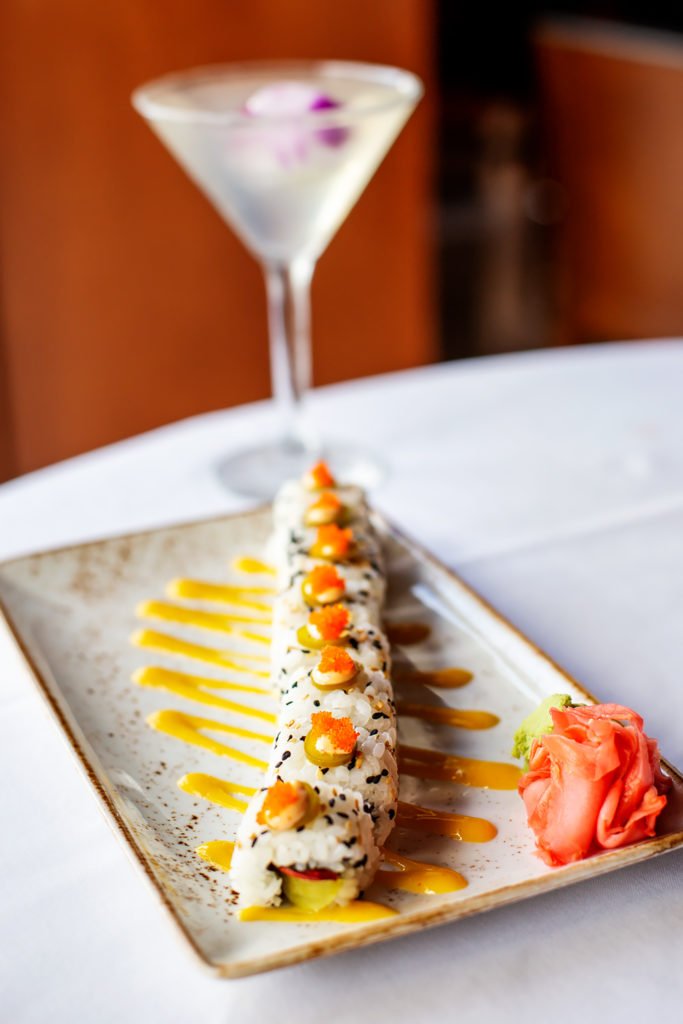 THE GRADE
Drinks: From tableside theatrics to layers of flavor, the cocktails we sampled were expertly balanced and dangerously drinkable. Don't skip the Berries & Bubbles.
Food: Design your own surf & turf style feast with a mix of small plates plus a sushi roll to share. Top picks include the lamp lollipops, sea bass ceviche, prime sliders, and the lobster roll. Each dish is plated beautifully.
Setting: The stylish Blue Lounge strikes a balance between swanky and inviting with plenty of space to cozy up at the bar, dining booths, and tables. On weekends, live music makes the atmosphere even more date night worthy.
Ocean Prime Orlando scores an A+. This may just be my new favorite happy hour in Orlando. A+ service (shout out to our great server, Aliya), fun drinks, and upscale eats at affordable prices make this a top pick amongst Restaurant Row's abundance of happy hours.
DETAILS
Happy hour is served in the Blue Lounge daily from 5-7pm.
Check out the full menu here. (Subject to change.)
Ocean Prime Orlando
Rialto at Sand Lake
7339 West Sand Lake Road
Orlando, FL 32819
(407) 781-4880
https://www.ocean-prime.com/locations-menus/orlando/menus
Want more happy hour info? Check out our guide to Orlando Happy Hours.
Disclosure: This meal was provided by Ocean Prime Orlando at no cost to the writer.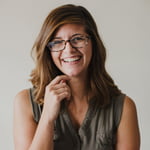 About the Author/Photographer:
Stephanie Patterson is the editor of Orlando Date Night Guide. She's a talented professional food and travel photographer and writer with a passion for creativity, the beach and great eats. When she's not taking photos or writing, you can find her exploring the state for her Florida travel blog, Travel Taste Click. Find her online at www.spattersoncreative.com and www.traveltasteclick.com.
All photos by Stephanie Patterson