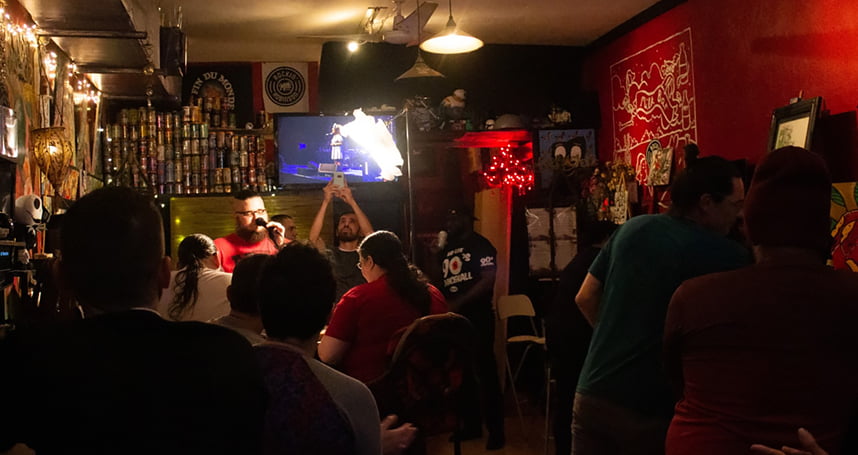 Orlando's art scene continues to grow, supporting its diverse group of writers, poets, artists, and storytellers. In the art scene, poetry slams have made a comeback with cozy events in coffee shops, bars, and cafes. We even have our own Poet Laureate, Susan Lilley.
All crowds are encouraged to attend Orlando poetry slams, from a first-time performer to a seasoned slam poet, to the couple sitting in the back observing. Performers recite their poetry on stage during the slams, and the performances are usually judged based on time, delivery, and originality.
Orlando offers a variety of poetry slam events, ranging from weekly events to biweekly events, consistently partnering with local venues to put the spotlight on artists.
Orlando Poetry Slam leader Raymond Jimenez makes it clear these events focus on supporting the community in a creative atmosphere.
"The Orlando community is really diverse and welcoming," Raymond said. "We want to make sure that everyone is welcome on the stage, that this is a safe place to perform. We're all rooting for each other."
Check out one of these Orlando poetry slams happening nearly every night of the week for a twist on your usual date night.
"Part of art is sometimes you go into places and think, oh, that was strange. And other places, sometimes you go into something that was totally unexpected, and it's beautiful, and that can't happen unless you take that risk," Raymond said. "It's something to be experienced, not just on paper."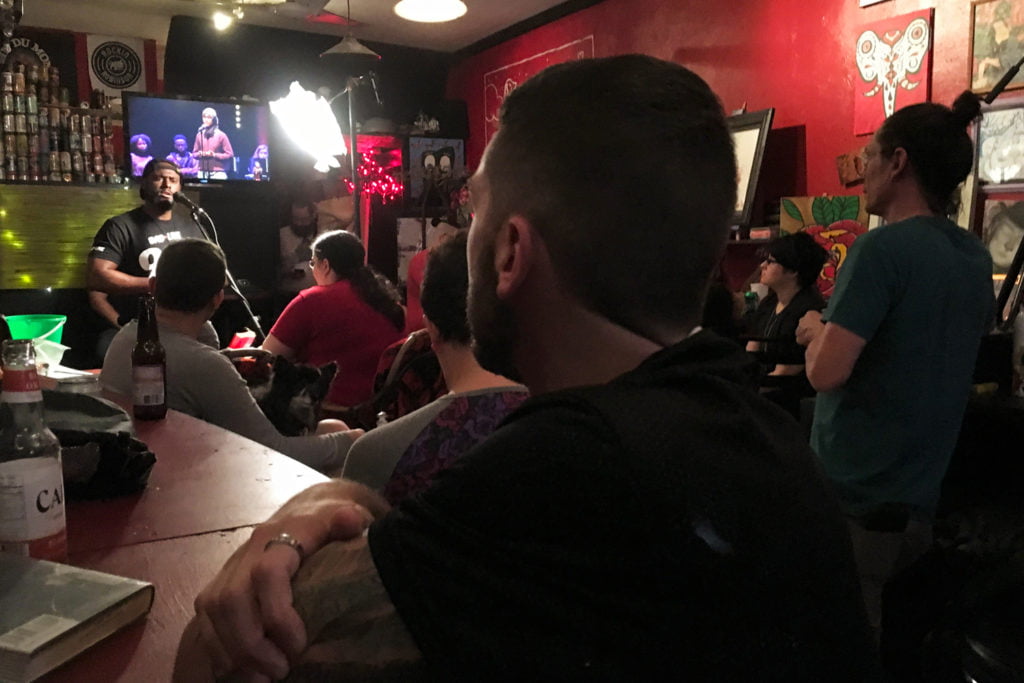 Monday
Open Mic Night at Loud Gallery
Every Monday, 8-11pm
1907 N Orange Ave
Orlando, FL 32804
$5
Open Mic Night at Loud Gallery offers a unique experience, setting the stage for creativity with poetry readings in an art gallery.
Poetic Mondays at Three Masks
Every Monday, 7pm
1023 W Colonial Dr
Orlando, FL 32804
$10
Three Masks displays masks, sculptures, and local art to promote "Sharing Africa from Within." The venue encourages performers to "Let your gift be heard" with its weekly poetry slam event.
Tuesday
Diverse Word at Dandelion Communitea Café
Every Tuesday, 7:30-10pm
618 Thornton Ave
Orlando, FL 32803
Free
Everyone is welcome on stage to perform a 4-minute piece on the Dandelion Patio. Shawn Welcome, the creator and host of Diverse Word, said he wanted to diversify the mic scene, to release suppression in an art form. Diverse Word serves up craft beer, comedy, poetry, and vegan-friendly food. According to Shawn's WFTV Locals Only interview, Diverse Word is a "Potluck of words." Everyone contributes with their own experiences and words.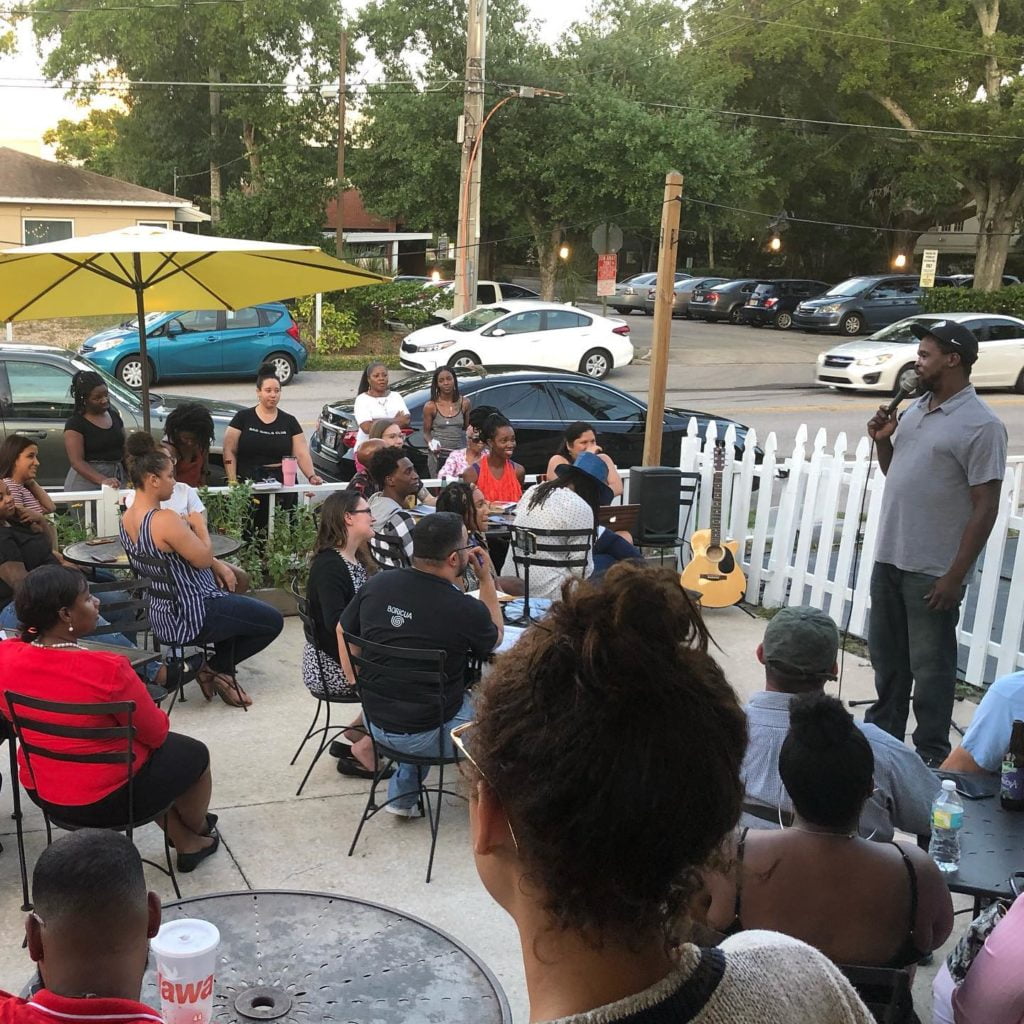 The Poetry Kettle at Infusion Tea
Tuesdays beginning September 10, 6:30pm
1600 Edgewater Dr
Orlando, Florida 32804
Free
This new weekly poetry night hosted by Bell Ring Books will take place at Infusion Tea and feature local writers and poets. Besides the featured poet for the evening, there will be open mic poetry for all.
Wednesday
Open Mic Poetry at Austin's Coffee
Every Wednesday, 9pm
929 W Fairbanks Ave
Winter Park, FL 32789
Free
Austin's Coffee prides itself on supporting community farmers, suppliers, and businesses. The shop tries to find local ingredients and produce and imports organic fair trade coffee beans. Its fair trade coffee is served 24/7, including during its open mic poetry nights.
Thursday
Thursday Live Vibe at The Legion
Every Thursday, 8:30pm
4325 Fairmont St
Orlando, FL 32808
$10
The Thursday Live Vibe showcases singers, dancers, poets, comedians, and other storytellers at the American Legion Post 331. The event also serves as a musical showcase, spotlighting their Live Vibe Band. A host leads this weekly event with a DJ-led after party.
Orlando Poetry Slam at The Milk Bar Lounge
First and Third Thursday of the month, 8pm
2424 E Robinson St
Orlando, Florida 32803
Free
There's a 3 minute and 10 second time limit at this poetry slam. 3 judges, randomly selected from the audience, provide feedback based on a scale of 0 – 10 based on performance, content and originality. First-round winners advance to a new round, and the night's slam winner takes home with a cash prize usually donated by The Milk Bar Lounge.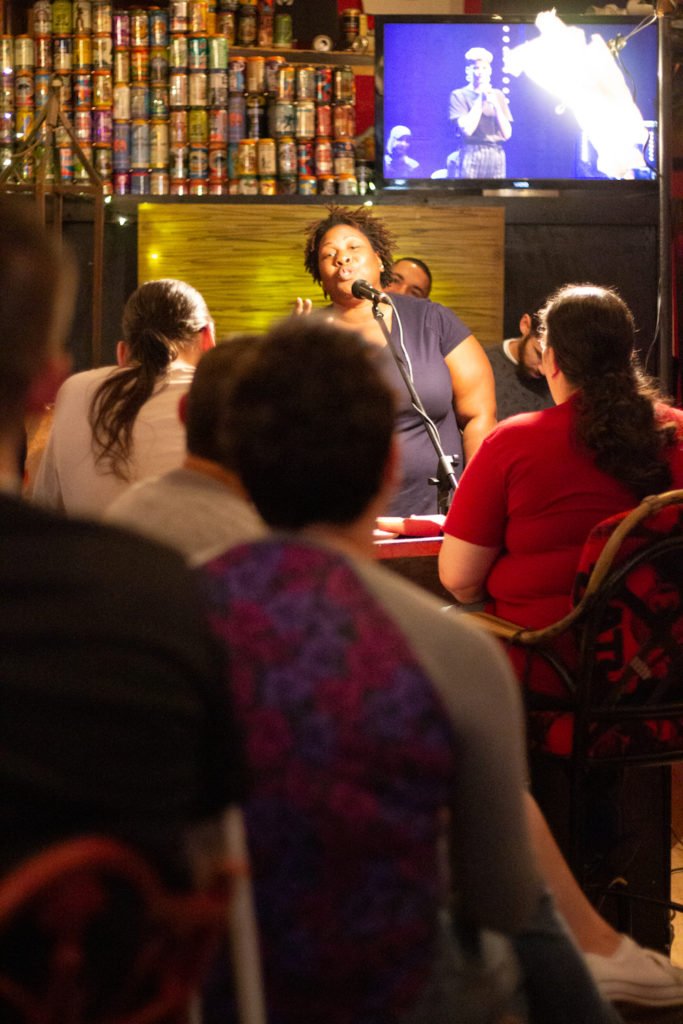 Sunday
Essence of the Soul: Poetry Show at 3in1 Café (West Oaks Mall)
Fourth Sunday of the month, 7pm
9401 W Colonial Drive #546
Ocoee, FL 34761
$10
Performers play live music and recite poetry in this café. Keep an eye out for drink specials and enjoy the café's soul food.
ALSO TRY…
"Poetry is something that you experience," Raymond said. "It's not something that belongs just in your high school poetry class. It belongs out in the open with people to be shared. You can't do that alone by yourself. It helps when you're with people, it's an art form that happens in a moment."
Did we miss any local poetry slams? Let us know! Looking for more events like this? Read our guide to Orlando Story Clubs.
Feature image by Kelly Lamano