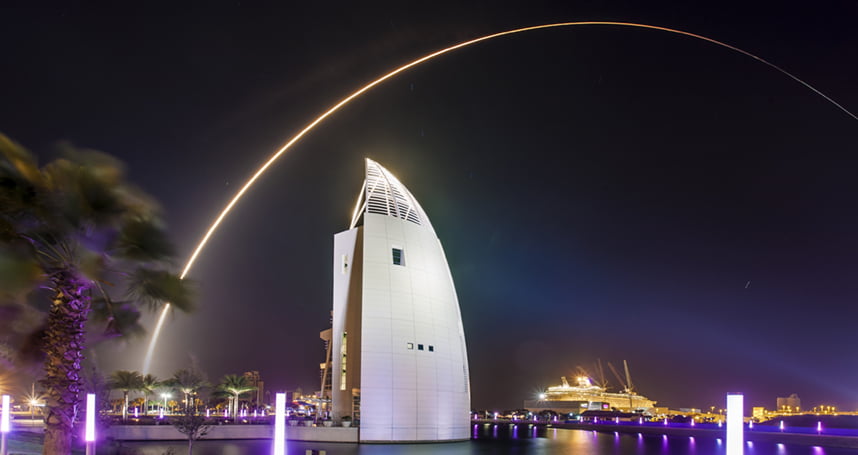 Rocket launches are now a nearly monthly occurrence thanks to United Launch Alliance (ULA) and Space X missions launching regularly from Kennedy Space Center. While there's something magical about being able to watch one from your own backyard, a little preplanning is worth the reward of a prime viewing spot. Impress your date by heading to one of these local spots to watch the next rocket launch in Central Florida.
PS: You can find a comprehensive list of upcoming launches and more rocket launch viewing locations at spacecoastlaunches.com. The Visit Space Coast website is also an excellent resource for things to do in the area, places to stay if you're making a getaway out of your launch viewing experience, where to eat and more.
Florida Citrus Tower
The recently renovated 226-foot Citrus Tower in Clermont is now decked out with an arcade bar, coffee shop, and air-conditioned observation deck offering 360-degree views. It's also home to periodic rocket launch viewing events for daytime and early evening launches. The observation deck's capacity is 30 people. Regular admission is $10, but is slightly more for special event rocket launch viewings. If the launch is scrubbed, stick around to play arcade games downstairs or head into downtown Clermont to explore.
For details on upcoming events, check the Tower's Facebook page.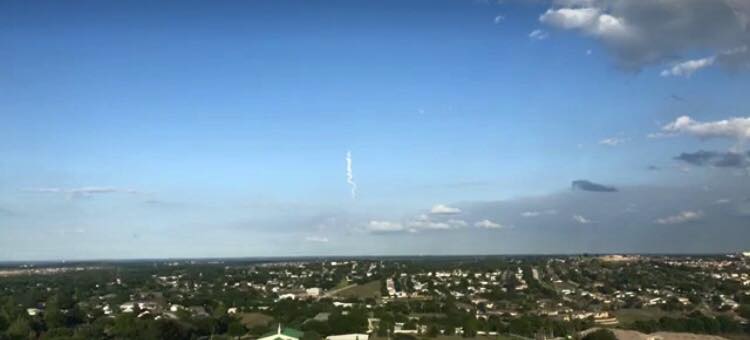 Orlando Science Center Crosby Observatory
If you've ever attended Science Night Live, you've likely been treated to star-studded views of the night sky and Orlando skyline from the Crosby Observatory. While the Orlando Science Center doesn't host special rocket launch viewing events, they do invite guests up to the Observation Deck if a launch takes place during operating hours (10am-5pm).
Also try: The Wheel at ICON Park if you time it just right!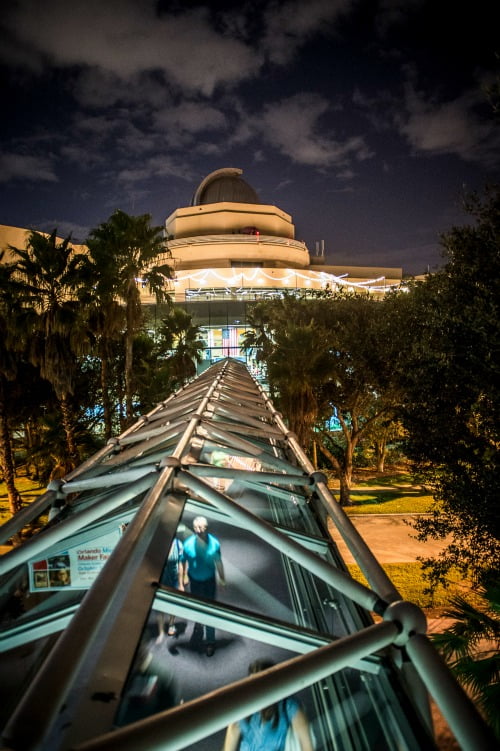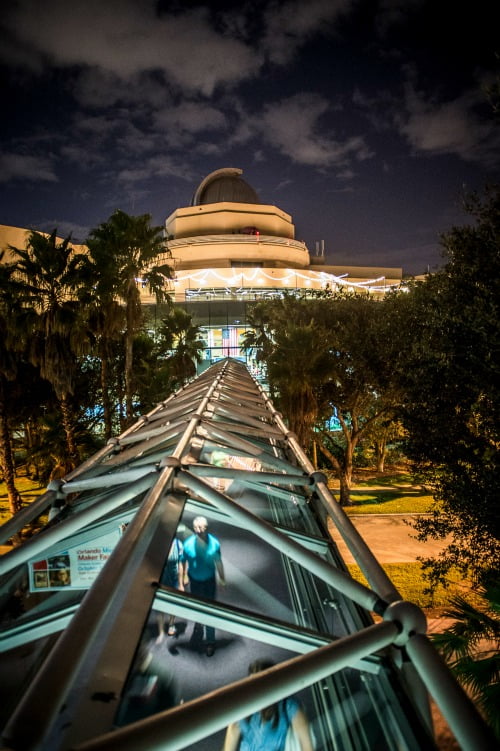 Indian River Lagoon / Mosquito Lagoon
Take in the breathtaking views of a rocket launch from a kayak in the Indian River Lagoon or Mosquito Lagoon. From here, enjoy views of the launch pads and the Vehicle Assembly Building (VAB). While launches are always subject to change at the last minute, this natural playground is teeming with wildlife, seasonal bioluminescence, and unparalleled views of the night sky. So even if it doesn't work out perfectly, you won't be disappointed with your paddle.
A Day Away Kayak Tours offers private tours for $75/person for up to 3 hours, and you can choose a custom time slot to line up with a scheduled launch. You can also join any regularly scheduled tour where seeing a rocket launch might just be icing on the cake.
FYI: the US Coast Guard enforces a special safety and security zone on the water during all rocket launches.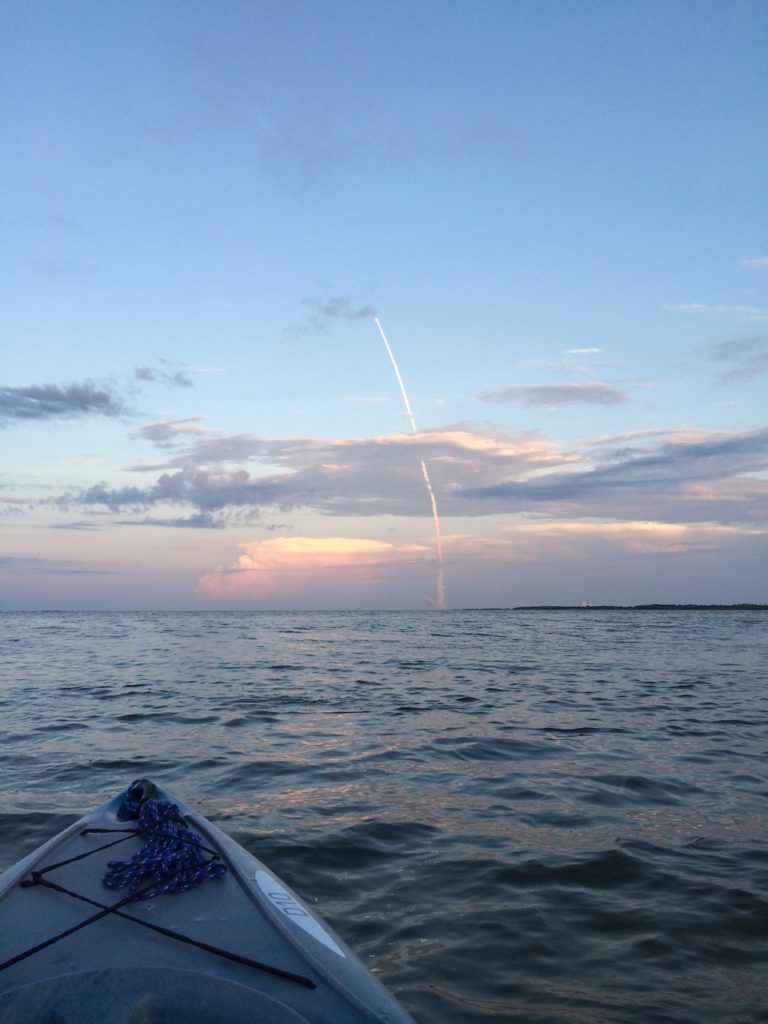 Westgate Cocoa Beach Pier
Drinks, food and a rocket launch view? Sign us up. The Westgate Cocoa Beach Pier is a quintessential viewing location where you can sip a beachy cocktail while watching a launch. While the pier doesn't host official launch parties, you can create your own with a tropical drink in hand at Rikki Tiki Tavern and a meal at one of the pier's five bars and eateries. FYI: it costs $2 to go out onto the pier. There's also a fee for parking.
For a complete date day, hit the beach early in the day and take surfing lessons with Cocoa Beach Surf School by Flohana. Or, make a weekend of it with a stay at Westgate's hotel near the Cocoa Beach Pier.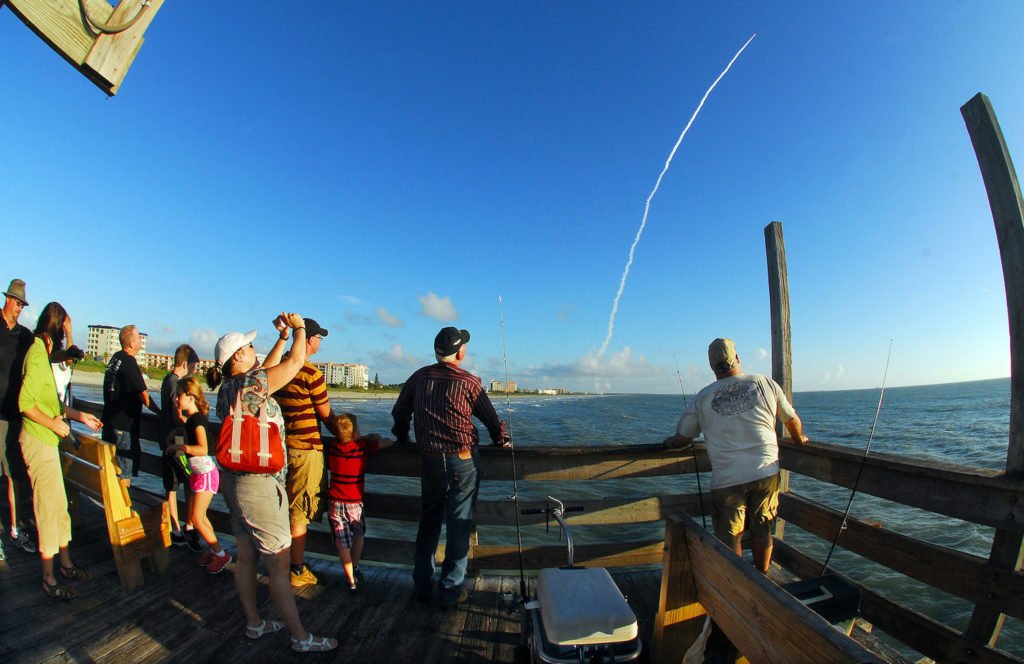 Exploration Tower
Watch the launch like a VIP from the 7th-floor outdoor observation deck at Port Canaveral's Exploration Tower. VIP launch viewing tickets are $15/person ($20 day of) and grant you early entry to the observation deck. If you purchase a ticket and the launch is rescheduled, delayed or scrubbed while you're there, your ticket will be good for the next scheduled date or time of that launch.
After the launch, explore each floor of the Exploration Tower, home to a variety of exhibits and a café. Continue the fun by visiting Florida Beer Company for some craft brews. The brewery is just a 4-minute drive away.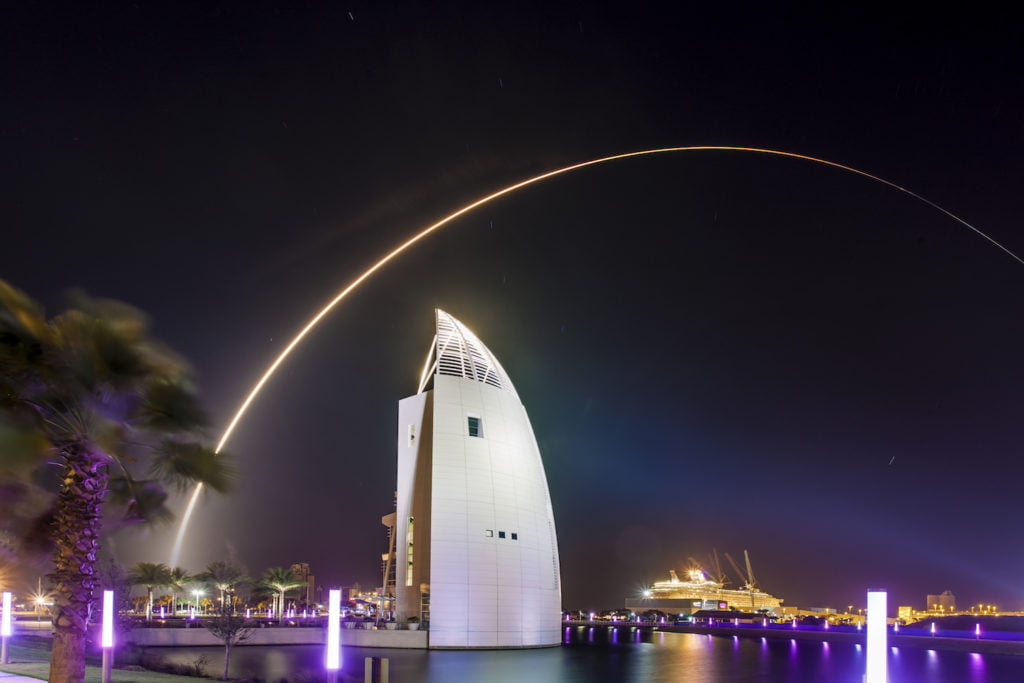 Jetty Park
Five minutes away from Exploration Tower lies Jetty Park, another popular viewing spot. Entry is $15 per car and grants you access to the shoreline and pier, offering clear views of rocket launches. As with all of the parks on this list, space is limited. So get there early and plan to wait around a bit to avoid heavy traffic after launch time.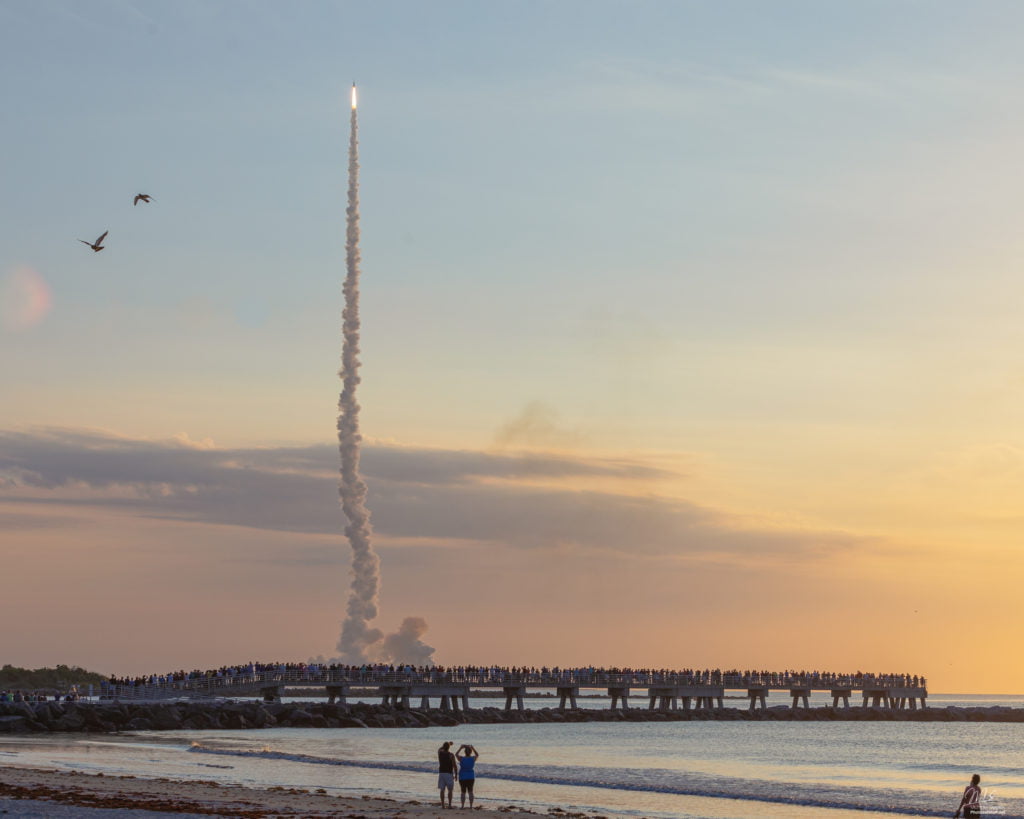 Kennedy Space Center
When it comes to classic viewing spots, nothing compares to watching a launch right from the Kennedy Space Center Visitor Complex. You have several location options to choose from, each with varying price points and distances from the launch pads. All options include launch commentary and seating is on a first come, first served basis.
Purchase general admission tickets ($57/person) and take a seat on the bleachers or lawn by Space Shuttle Atlantis, located just about 7 miles from the launch pad. This viewing area is included with regular admission.
If you want to get closer, purchase an additional ticket for the Apollo/Saturn V viewing area ($20) or the LC-39 Observation Gantry ($49). The former is located across the Banana Creek about 5-8 miles from the launch pads. The latter is a prime and popular viewing spot where you can see a launch from just over 5 miles from the launch pad.
Make the most of your ticket by spending the day exploring the Space Center afterwards.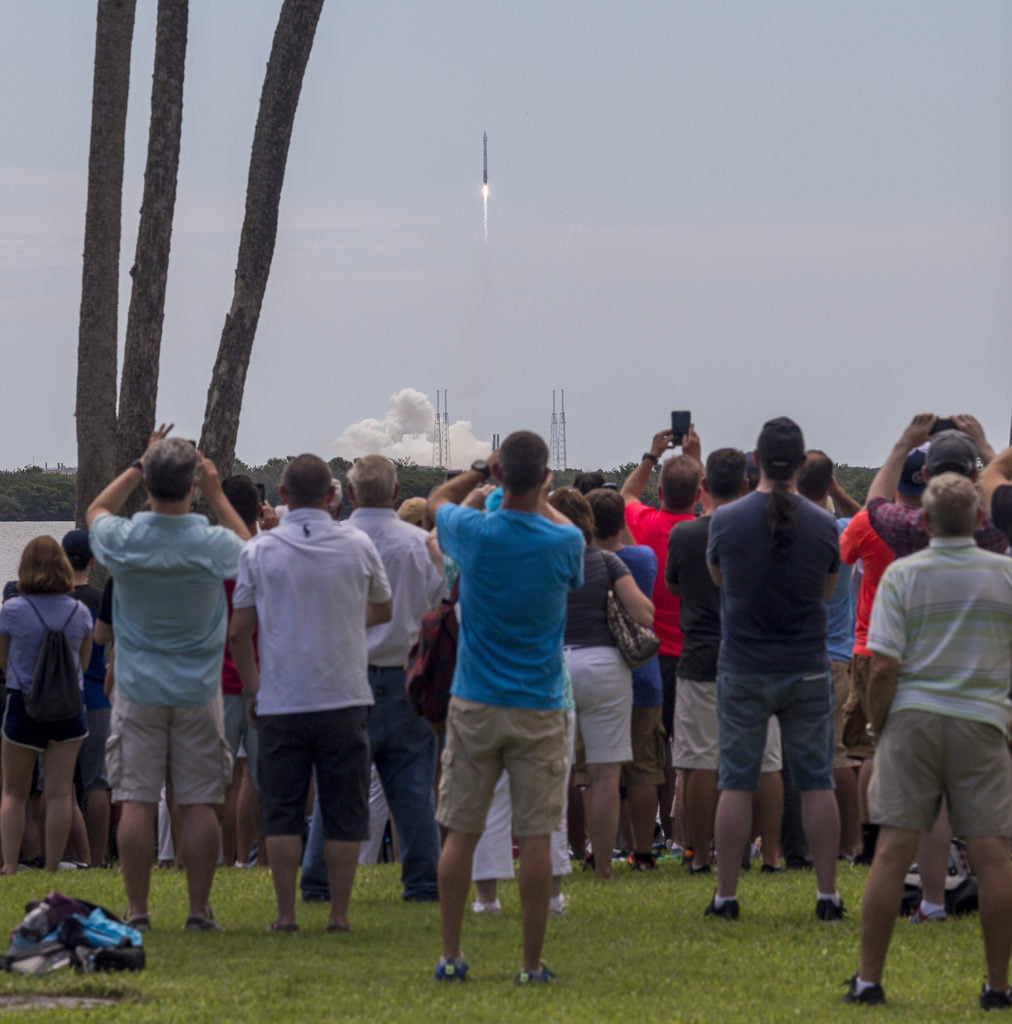 Space View Park
Brush up on your space history, check out bronze handprints of the original Mercury astronauts, and listen to NASA's live audio feed from the control room from Space View Park. This city park in Titusville is about 15 miles from the launch pads and provides an unobstructed view from across the Indian River.
Downtown Titusville is just a short walk away, where you can sip refreshing craft brews at Playalinda Brewing Company – Hardware Store or walk through the American Space Museum & Space Walk of Fame. Galleries include Project Mercury, Project Apollo, Project Gemini, Women in Space and more. Admission is $10/person.
Also try: Playalinda Beach ($15 vehicle entrance fee; view park and launch info here)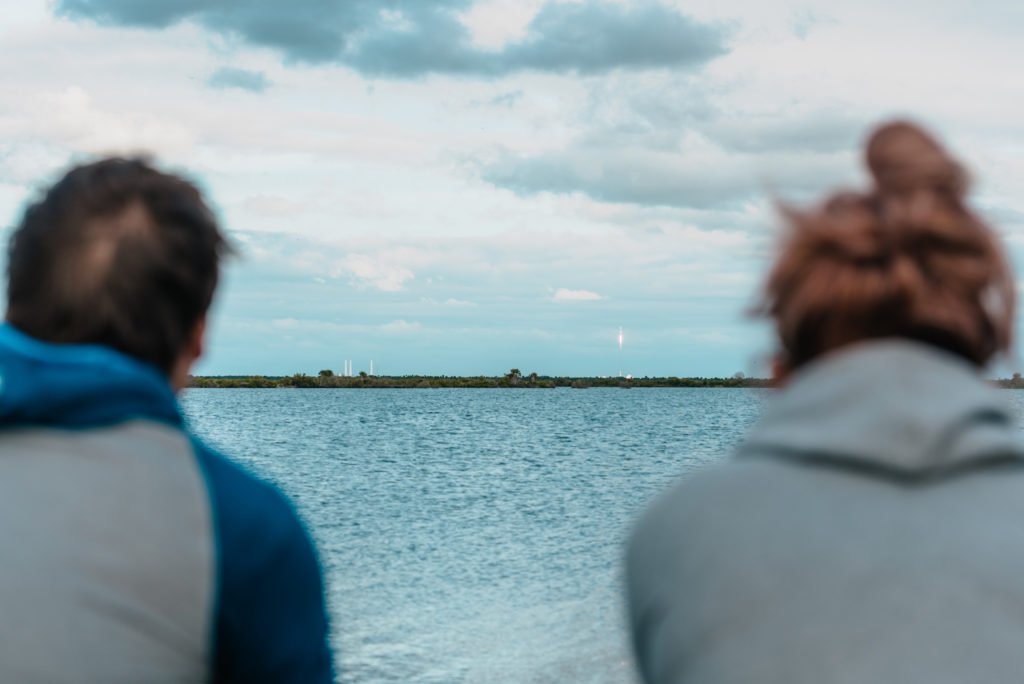 ** Special thanks to the Space Coast Office of Tourism and photographer Michael Seeley for providing the majority of the photos in this post.
Feature image credit: Space Coast Office of Tourism