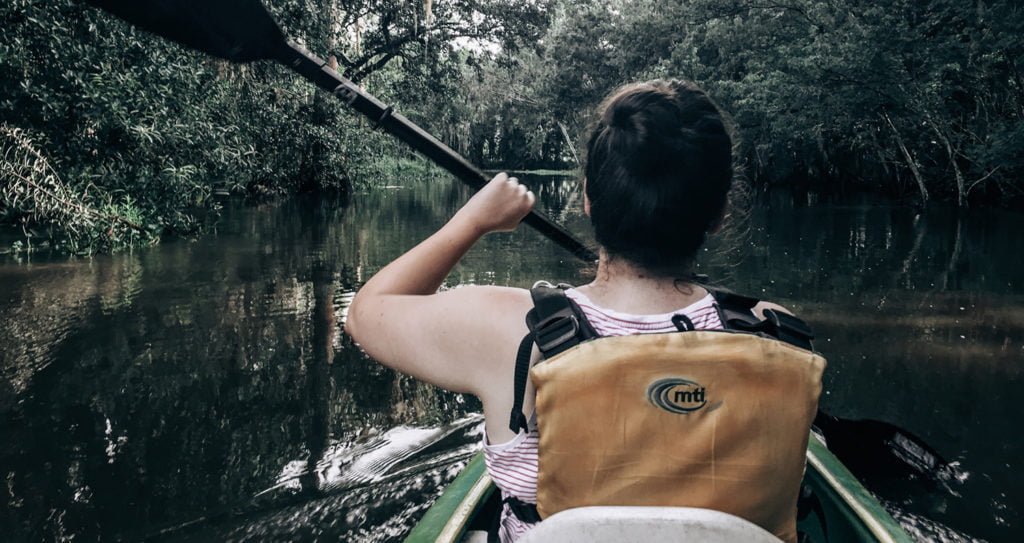 What better way to welcome the beginning of fall than renting a kayak and hitting the water? If you don't own your own kayaks, it can get a bit expensive to rent kayaks for each trip. My girlfriends and I put together this list to share our kayaking secrets for five kayaking rentals in Central Florida under $50. If you are obsessed with paddling like me, check out these reasonable kayaking rentals right here in Central Florida!
Rainbow River
11463 N Williams St Dunnellon, FL, 34432
Pick up your kayak for just $30 for a half day rental and hit the water! Rent a kayak from Rainbow River Kayak shack for just $45 for a half day rental ($30 for a single). You'll be transported to the entry point at KP Hole (a popular spot for tubing, too!), where the team will bring your kayak to the water and help you get settled. The team will be happy to give you a map of all of the canals, so you can work your way through all the breathtaking paddling Rainbow Springs has to offer. Expect to spend 2-3 hours on the water before exiting at Blue Run of Dunnellon Park where a shuttle will pick you up to go back to your car. This kayaking trip is one of my all time favorites! There is a $5 entrance fee to the park.
You can also rent a tandem kayak directly from KP Hole ($35, seasonal; call ahead to confirm) and Rainbow Springs State Park ($50 and up, shorter paddle).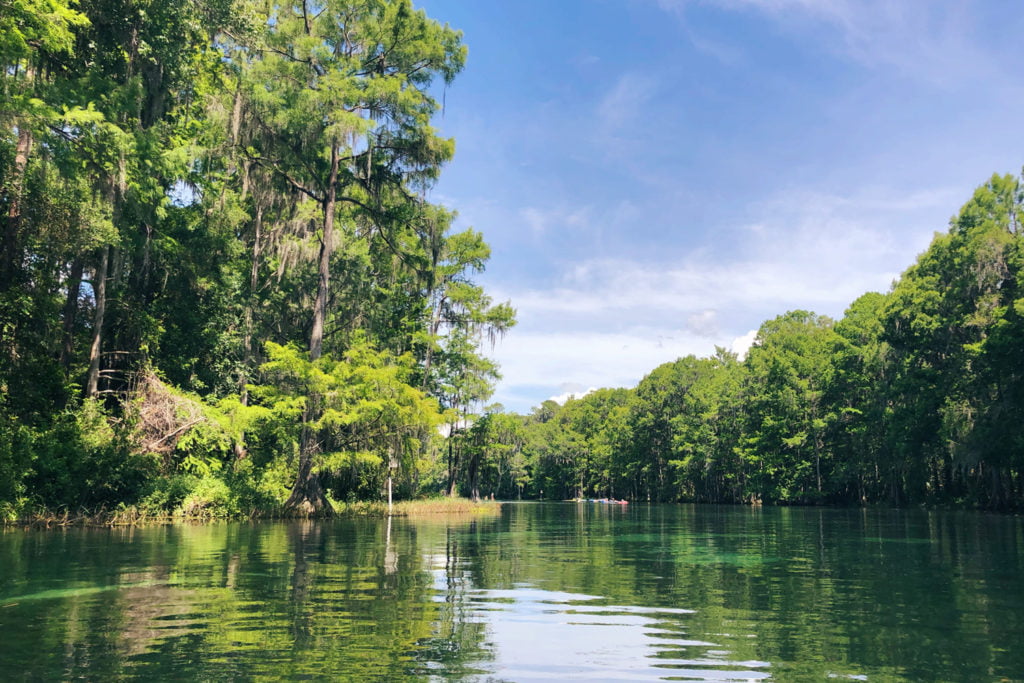 King's Landing (Rock Springs)
King's Landing in Apopka is another one of my favorites. Picture a crystal-clear, stunning waterway that weaves past large oaks draped in Spanish moss. For $50 for an entire afternoon of fun ($40 for a single kayak), you'll definitely need to put this on your list. You can also save a few bucks renting a canoe instead of a kayak. When my girlfriends and I paddled this trail, we saw some INCREDIBLE birds. Be sure to bring your binoculars. There is no shuttle service with this option, so be prepared to paddle back to the launch site.
If you really love the water and want to spend 4.5-5 hours exploring the area, arrive by 11am to embark on the full 8.5-mile paddling trip with shuttle service from the end point. The cost is $60 for a tandem kayak.
The Paddling Center (Shingle Creek)
4266 W Vine St, Kissimmee, FL 34741
Stay with me here, I know that kayaking next to the touristy highway 192 might not sound like everyone's cup of tea, but once you're on the water you'll hardly know you're anywhere near a busy roadway. Park under the shaded oaks and make your way to The Paddling Center's rental office to get situated. For $43, you can rent a tandem kayak for two hours ($30 for a single) or a stand up paddle board for $30.
Although two hours doesn't seem like enough time, trust me it will be. The paddling trails are a lot shorter, but the views are phenomenal. You'll wind under bridges and slowly paddle under giant oaks and through Cypress swamps, all part of Shingle Creek, the headwaters of The Everglades. You should be able to explore in both directions from the launch area within the allotted two hours.
FYI: There are alligators in this area, some of them large. The staff members at The Paddling Center usually have a pretty good idea of where you may spot them from day to day.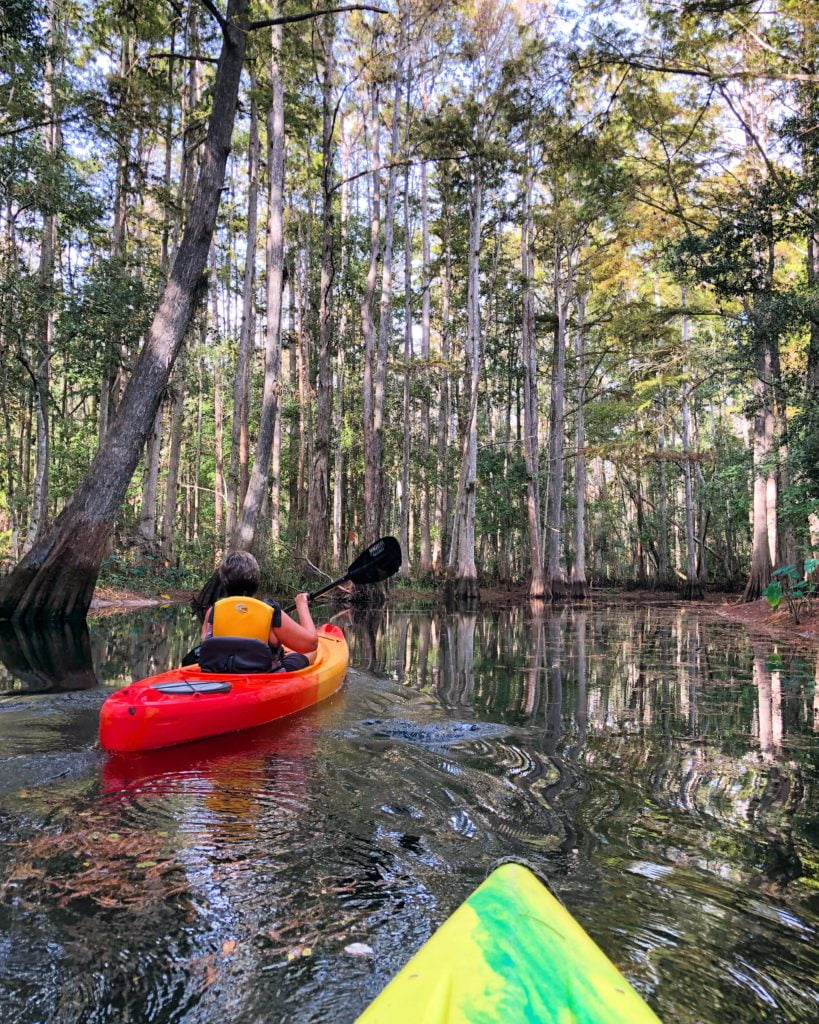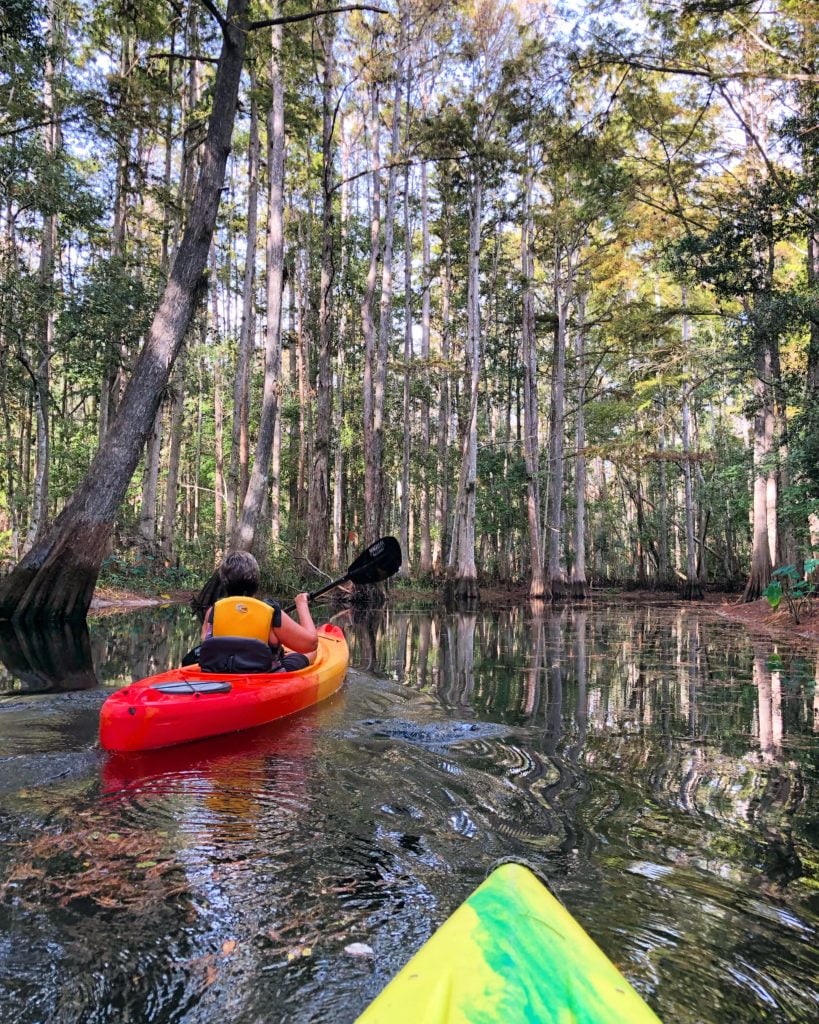 Blue Spring State Park
2100 W French Ave, Orange City, FL 32763
Manatees, manatees, manatees! Blue Spring State Park is one of the best local spots to see these gentle giants. You can rent a tandem kayak for $42 for up to four hours from St. Johns River Cruises. Paddle along the trails using the map provided at the ranger station, and then stick around for a walk along the boardwalk trails and gift shops. (There's even a delicious ice cream truck that pops up occasionally!) There are so many great picnic spots so be sure to bring alone a picnic lunch to refuel after your paddle. My husband and I rented a tandem kayak and paddled along the trails and ran into plenty of manatees. It was breathtaking to see all of these beautiful sea cows grazing below our kayaks.
FYI: the spring and spring run are closed to all water activities during manatee season from mid-November to March. Admission to the state park is $6 per vehicle.
Wekiva Island (Wekiva River)
1014 Miami Springs Drive, Longwood, FL 32779
This is the the place to be this summer and fall! From Wekiva Island (located outside of the state park), you can rent a tandem kayak for $40 for the entire day ($30 late day, $35 half day). Make your way down the Wekiva River at your leisure, then circle back to chill out at Wekiva Island, a local favorite. Spend the day at Wekiva to enjoy local eats, views and some of the BEST central Florida brews. There is a $2 entrance fee to the park.
Be sure to check out the state park's kayak rental options as well. On the northern side of the Wekiva River, you can rent kayaks and canoes right from Wekiwa Springs State Park.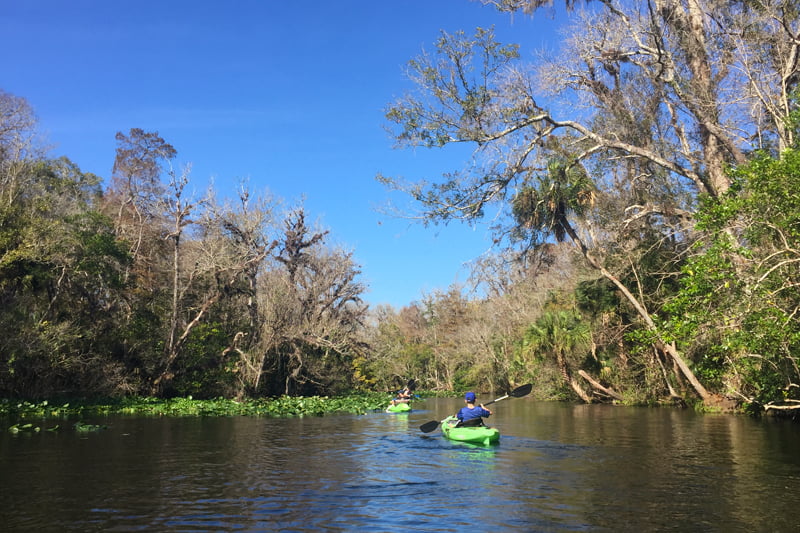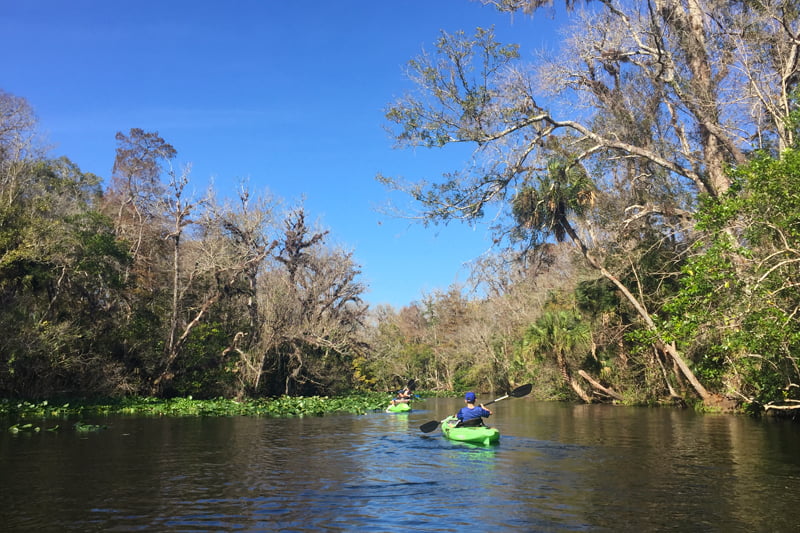 Feature image credit: Chelsie Alvin