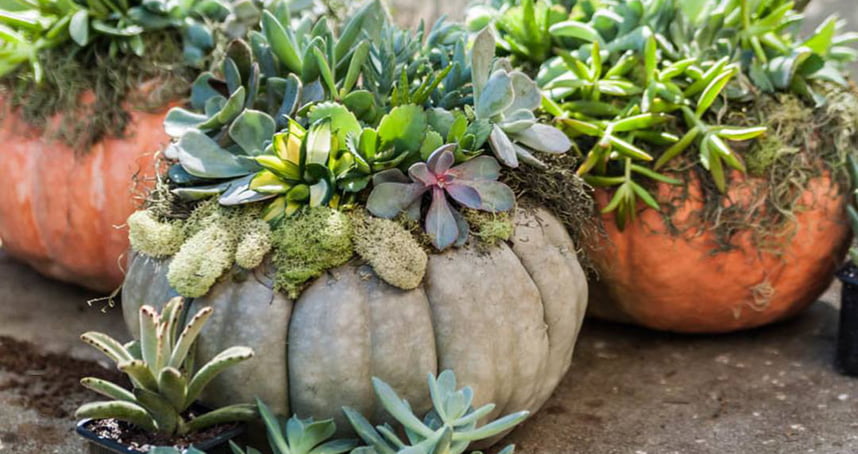 There are so many fun classes happening around Orlando. Try a new dance class, learn a new recipe or make something perfect for fall. Here are our top picks for Orlando workshops + classes happening this October 2019.
WHERE TO TAKE ORLANDO WORKSHOPS + CLASSES:
HALLOWEEN + FALL-THEMED CLASSES
Spooky Halloween Workshop
Tuesday, October 8, 6:30pm
Hammer and Stain Clermont
Create your own custom Halloween decorl!
$49
Paint Your Own Halloween Sign
Thursday, October 10, 6:30pm
Driftwood Market Winter Garden
Choose from 6 different Halloween designs to make your own wooden sign masterpiece just in time for the holiday.
$35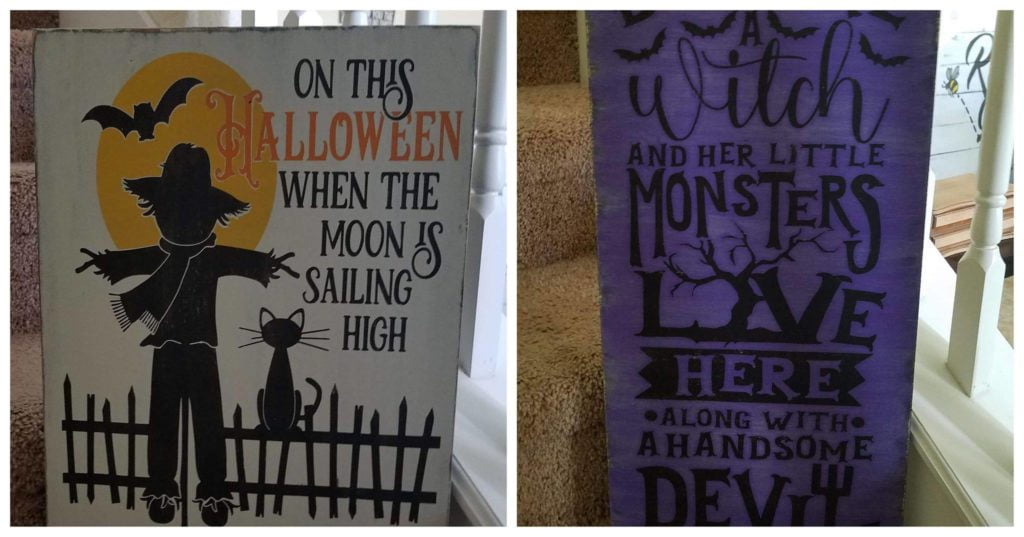 Punny Painted Pumpkins
Friday, October 11, 7pm
Brew Theory
Come make punny painted pumpkins to (pumpkin) spice up your fall decor!
$25
Succulent Pumpkins
Thursday, October 17, 7pm
Driftwood Market Winter Garden
You will leave with a gorgeous work of art as well as new succulent knowledge and techniques for transplanting your arrangement after the holidays.
$55
Halloween Cookie Decorating Workshop
Friday, October 18, 6pm
East End Market Evening Exchange
Come learn how to perfectly decorate cookies from our fave duo, 2 Smart Cookies! Kate & Autumn will teach you all about the royal icing they use day-to-day and how to decorate with it. You will learn how to outline, flood, and detail your cookies by using different tools and techniques. Take home 2 cookies!
$35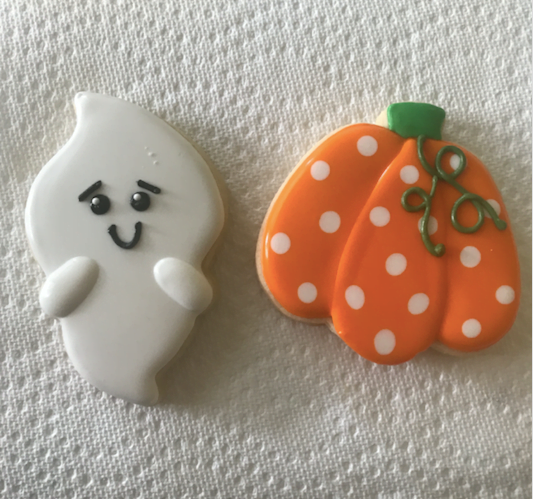 Witches and Reapers Halloween Paddle
Saturday, October 19, 8:30am
Lake Ivanhoe Park
It's the best time of the year! Let's dress up as witches and reapers and hit the water for an awesome Halloween parade on the water.
$36
Pumpkin Carving Workshop
Saturday, October 19, 10am
Leu Gardens
You will learn a few techniques on pumpkin selection, preparation, carving, decorating and preservation
$20
Succulent Pumpkin Workshop
Tuesday, October 22, 7pm
Brew Theory
This fun hands-on workshop will begin with informative basic succulent information followed by creating a succulent centerpiece using a medium-size heirloom pumpkin. You'll also get a complimentary beer from Brew Theory during class.
$45
Succulent Pumpkin Centerpiece Workshop
Thursday, October 24, 7pm
East End Market
oin FarmGal Flowers to create your very own Succulent Pumpkin. Please bring a medium (10"-12" wide) pumpkin (wide, Cinderella-type pumpkins work best) and floral scissors to class. All other materials provided.
$55
Painted Halloween Wine Glasses
Monday, October 28, 6:30pm
Calliope Street (Oviedo)
Show your Halloween Spirit sipping on your very own masterpiece!
$30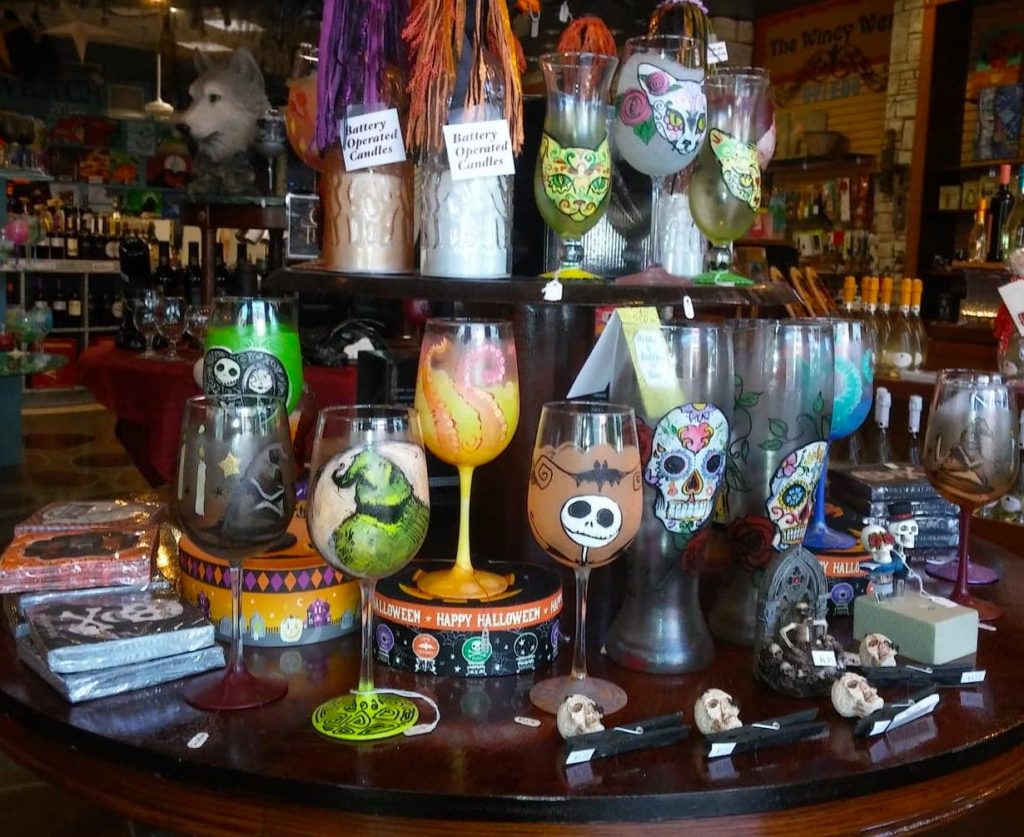 ACTIVE CLASSES
Orlando Ballet Heels Class
Tuesdays October 1 – November 5, 7pm
Orlando Ballet School
A class for all levels aimed at getting the dancer feeling foxy. Class consists of a warm-up, stretch, across the floor, improvisation, and choreography.
*Check out the full list of weekly classes offered by Orlando Ballet, including Yogalates, Barre Fitness and more.
$15
Lightsaber Fitness
Wednesdays, 7:30pm
Studio K
Using a lightsaber, our instructor will lead you through a class like none other merging fight choreography, toning and cardio techniques. Please bring your own lightsaber if you have it but if not, one will be provided!
$10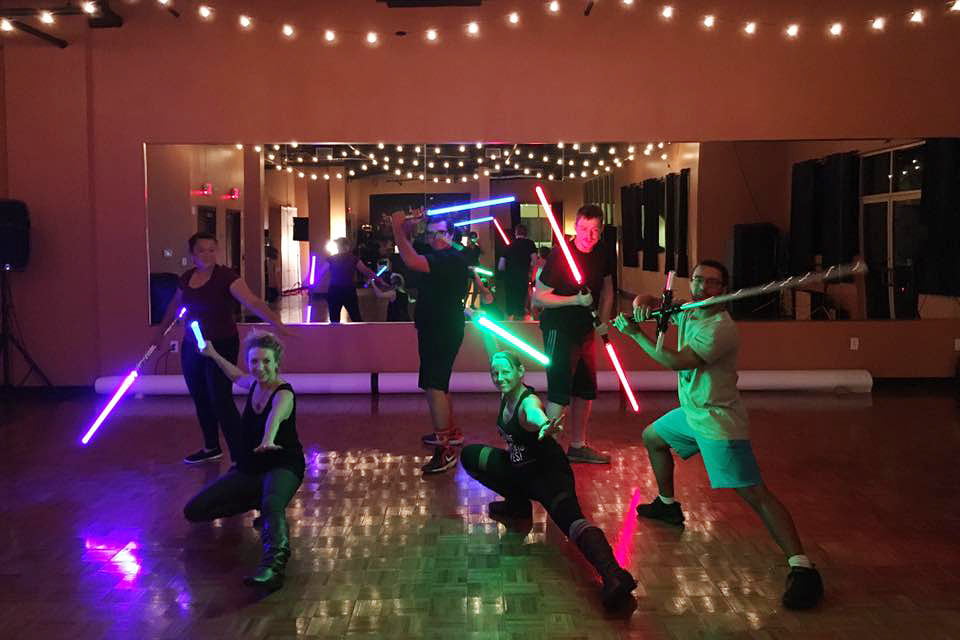 Tahitian Choreography Class
Wednesday, October 2 and Wednesday, October 9, 8:15pm
YogaMix Orlando
Come learn the beautiful art of Ori Tahiti! You learn proper Tahitian dance technique, drills, and fun jungle-themed choreography to "Mataloa" by Te Vaka.
$15
Hip Hop for Beginners
Every Thursday, 7pm
DGBEK Studios
Learn a choreographed dance to the latest hits and get in a great workout.
$10
Rest and Replenish: Candlelight Yoga
Saturday, October 5, 8pm
Peaceful Peacock
An evening of movement and mindfulness to the sounds of live acoustic music.
Get Down Dawg: #KeepDancingOrlando
Friday, October 11, 6pm
YogaMix Orlando
Are you ready to GET DOWN with the Dynamic Duo Gina and Kelsey?! This month's theme is Keep Dancing Orlando! Come pre-party for the #PrideParade!
Fitness and Frosé
Saturday, October 12, 11am
Grape and the Grain
Join in for a bootcamp class with Forte Fitness to sweat before you sip on frosè!
$15
Puppy Flow and Fundraiser
Sunday, October 13, 11am
YogaMix Orlando
For the yogi who loves animals, this class combines a fun yoga flow with a little pet therapy.
Yoga Under the Stars & More
Friday, October 18, 7:30pm
Orlando Brewing
1 pint of beer + 1 hour of all-levels yoga taught by Sarah Burnett, aka ACROSARAH.
$12 in advance; $14 walk in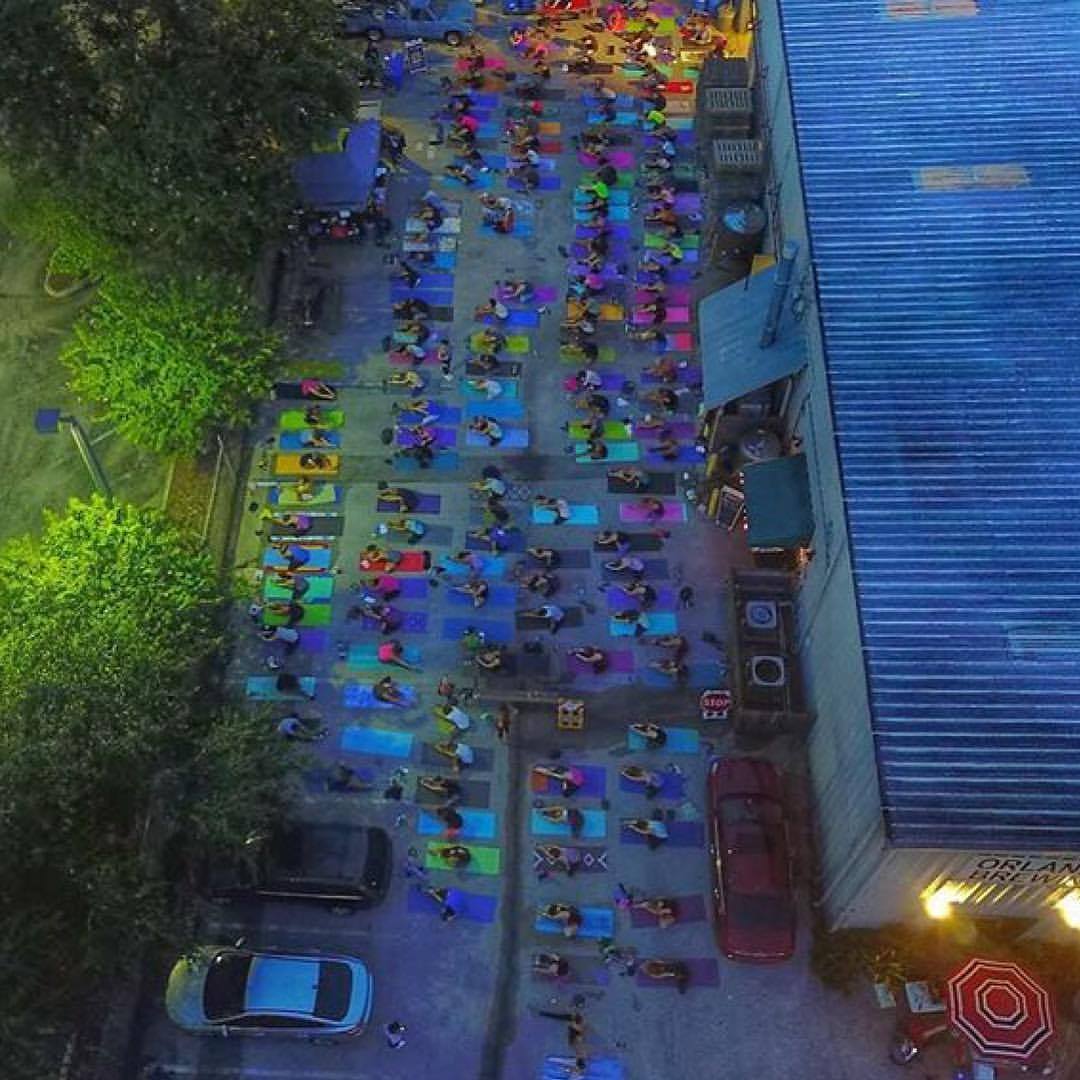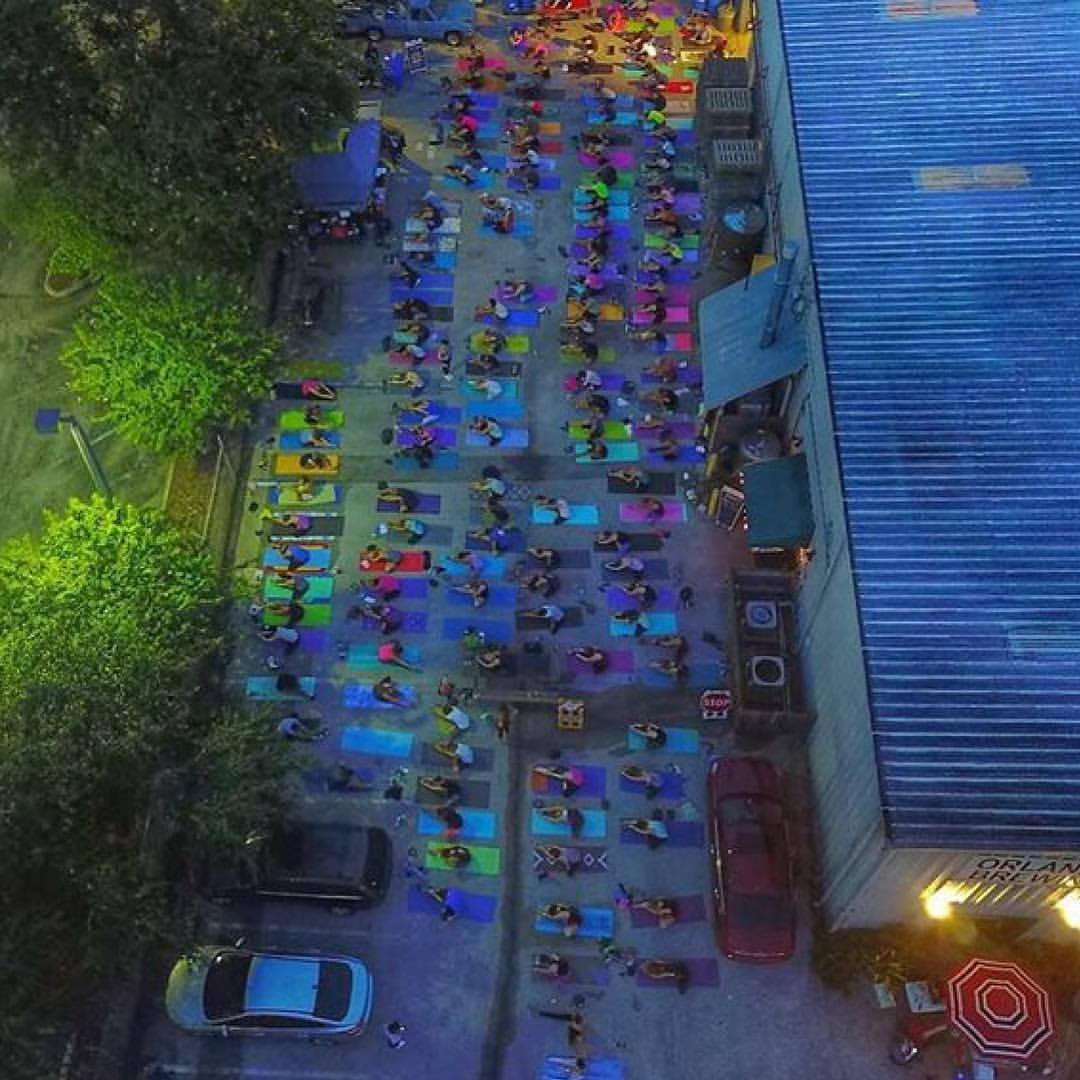 Yoga with Tigers
Saturday, October 26, 8:45am
Big Cat Habitat Gulf Coast
Join this unique yoga experience where tigers and other big cats will be safely in their enclosures and you will be practicing around their habitats.
$40
Yoga in the Mennello Museum Sculpture Garden
Sunday, October 27, 9am
Mennello Museum of American Art
Start your Sunday morning out blissfully with a relaxing lakeside flow.
$10
COOKING + DRINK CLASSES
Italian Feast: Best of Tuscany
Tuesday, October 1, 6:30pm
Truffles and Trifles
Cook alongside your date and try out some Italian style recipes!
$59
Wine, Cheese and Chocolate
Wednesday, October 2, 7pm
Quantum Leap Winery
Learn by doing– taste and experience how wine and food interact through the thoughtful pairings of 5 wines, 4 cheeses, and 4 Peterbrooke Chocolatier of Winter Park chocolate confections.
$45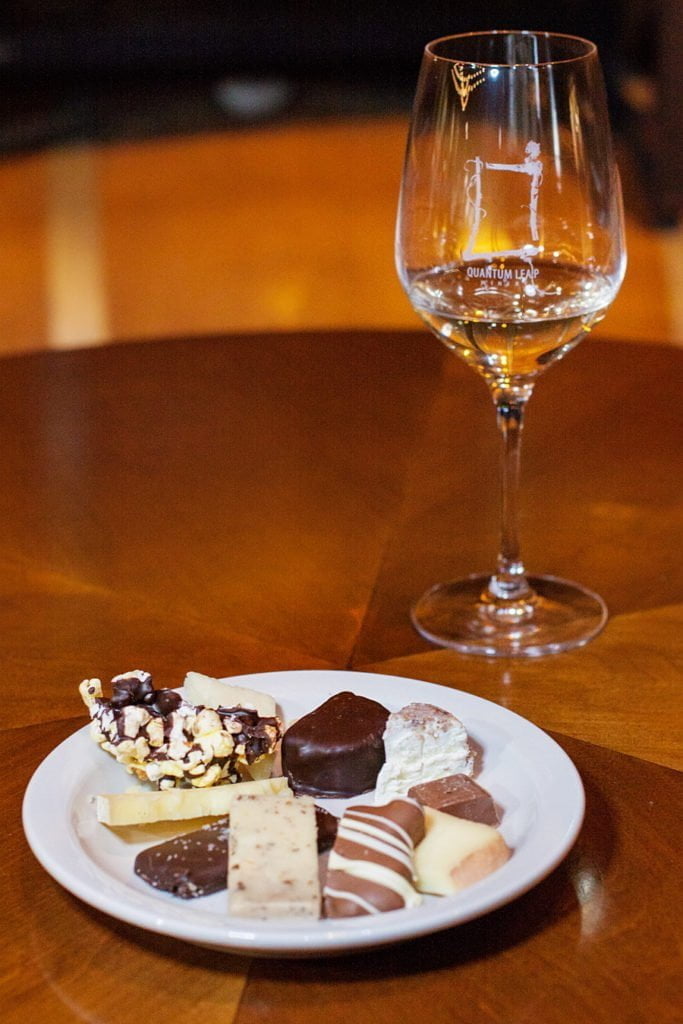 Girls' Night Out Bubbles + Truffles Pairing
Thursday, October 3, 7pm
Peterbrooke Chocolatier Winter Park
Sip a glass (or two!) of bubbly and enjoy a chocolate dipped strawberry as you decide which limited edition truffles you will dip into your choice of milk or dark chocolate to take home.
$35
Couples Cooking: World Tour of Soups
Friday, October 4, 6pm
Publix Aprons Cooking School – Dr. Phillips
Nothing warms your belly like a nice bowl of soup, so come with us and explore different recipes from around the globe.
$100/couple
Cheese Culture Series: Milk Menagerie
Sunday, October 6, 5:30pm
The Ancient Olive
Bring your favorite beverage and appetite to learn about the three animals who give us our favorite cheeses: cow, goat and sheep.
$40
Couples Cooking: Oktoberfest
Wednesday, October 9, 6pm
Publix Aprons Cooking School – Dr. Phillips
No passport needed for this trip to Germany. Skip the lines and enjoy our plate of "gemutlichkeit" served hospitality and good cheer (and beer).
$100/couple
Chinese Takeout
Thursday, October 10, 6pm
Publix Aprons Cooking School – Winter Park
Why pick up take out when you can learn to cook these dishes at home.
$40
Mastering Your Gut Health: Plant-Based Cooking Class
Thursday, October 10, 6pm
210 North Park Avenue
Learn the basics of gut health, while focusing on foods to promote a healthy microbiome which leads to increased energy, a stronger immune system, improved digestion and will help you feel your best from the inside out.
$85
Knife Skills Class
Thursday, October 10, 6:30pm
The Ancient Olive
Learn how to slice, dice, julienne, and chiffonade. Appetizers will be served during this class.
$50
Split Base Cocktails
Saturday, October 12, 3:30pm
Bitters & Brass
Learn to make split base cocktails which combine 2 spirits as a foundation for your cocktail, which is one way to reach a complexity of flavors.
$50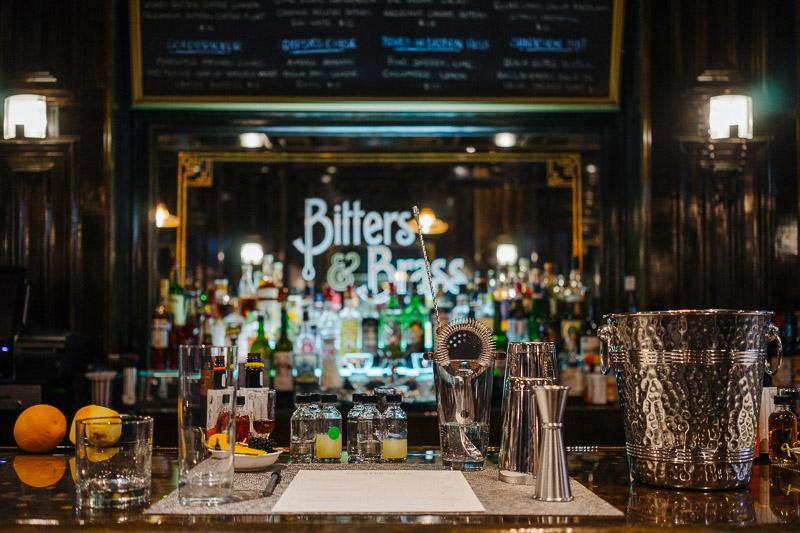 Paddlefish Fall Mixology Class
Wednesday, October 16, 1pm
Paddlefish – Disney Springs
Come aboard the 3rd deck rooftop and craft the perfect fall cocktail while enjoying light bites. Learn the history of your favorites, from the classics to new modern mixes.
$65
En La Cocina Cooking Class at Tapa Toro
Thursday, October 17
Tapa Toro
Enjoy an evening of cooking and eating around the paella pit as Tapa Toro's talented chefs guide you in creating some of their favorite recipes.
$49
Date Night: Beef and Bourbon
Friday, October 18, 6:30pm
Truffles & Trifles
$150/couple
Cooking with Wine
Saturday, October 19, 6:30pm
Publix Aprons Cooking School – Dr. Phillips
Trained culinarians know the secret to enhance flavor. The acidity in wine is a perfect ingredient to heighten the flavors in dishes. Wine—not just for drinking.
$50
Fall Celebration of Beer with Lagunitas Brewing
Saturday, October 19, 6:30pm
Publix Aprons Cooking School – Winter Park
The folks at Lagunitas Brewing Company have a passion for award winning beers. From the humble beginnings in the early 90's to now serving beers in over 20 countries and growing.
$45
MEAT the Substitute
Monday, October 21, 6pm
Publix Aprons Cooking School – Winter Park
With all the new products available let's revisit some classic meat focused dishes with the vegetarian substitute.
$45
Ice Cream & Wine Pairing with The Greenery Creamery
Thursday, October 24, 6:30pm
Whippoorwill Beer House & Package Store
Marie, owner of The Greenery Creamery, will be pairing 3 different ice creams with 3 different wines from Whippoorwill. Vegan ice cream available upon request.
$30
Marshmallow Date Night Workshop
Friday, October 25, 8pm
Wondermade
Come for a night filled with love and marshmallows. Hear the story of Wondermade, get a tour of the kitchen, and create your own gourmet marshmallow treats. This workshop lasts for one hour and includes a complimentary hot chocolate and slab of marshmallows to take home.
$12
Curries of the World
Friday, October 25, 6:30pm
Publix Aprons Cooking School – Dr. Phillips
A Curry is a great way to get a lot of flavor to the dinner table in no time!
$50
Sunday Jazz Fall Brunch
Sunday, October 27, 12pm
Publix Aprons Cooking School – Dr. Phillips
Sweet sounds of soul-soothing jazz will accompany brimming glasses filled with mimosas, sangria, or Bellini's. Sit back and enjoy a relaxing brunch experience as our Chefs serve you an array of creative mouthwatering dishes.
$40
The Great Pumpkin
Tuesday, October 29, 6:30pm
Truffles and Trifles
Learn to create recipes revolving around the fall favorite: pumpkin!
$59
DIY Cutting Board & Crafting the Perfect Charcuterie: October Edition
Tuesday, October 29, 7pm
Whippoorwill Beer House & Package Store
Instructor Alyssa of Alyssa Makes Something will walk you through how to personalize your own cutting board with a wood burner (think punny sayings, cute designs, or whatever your heart desires) and then teach you how to craft the perfect charcuterie board. You'll get to enjoy snacking on her creation all while enjoying some fine wine from Whippoorwill.
$65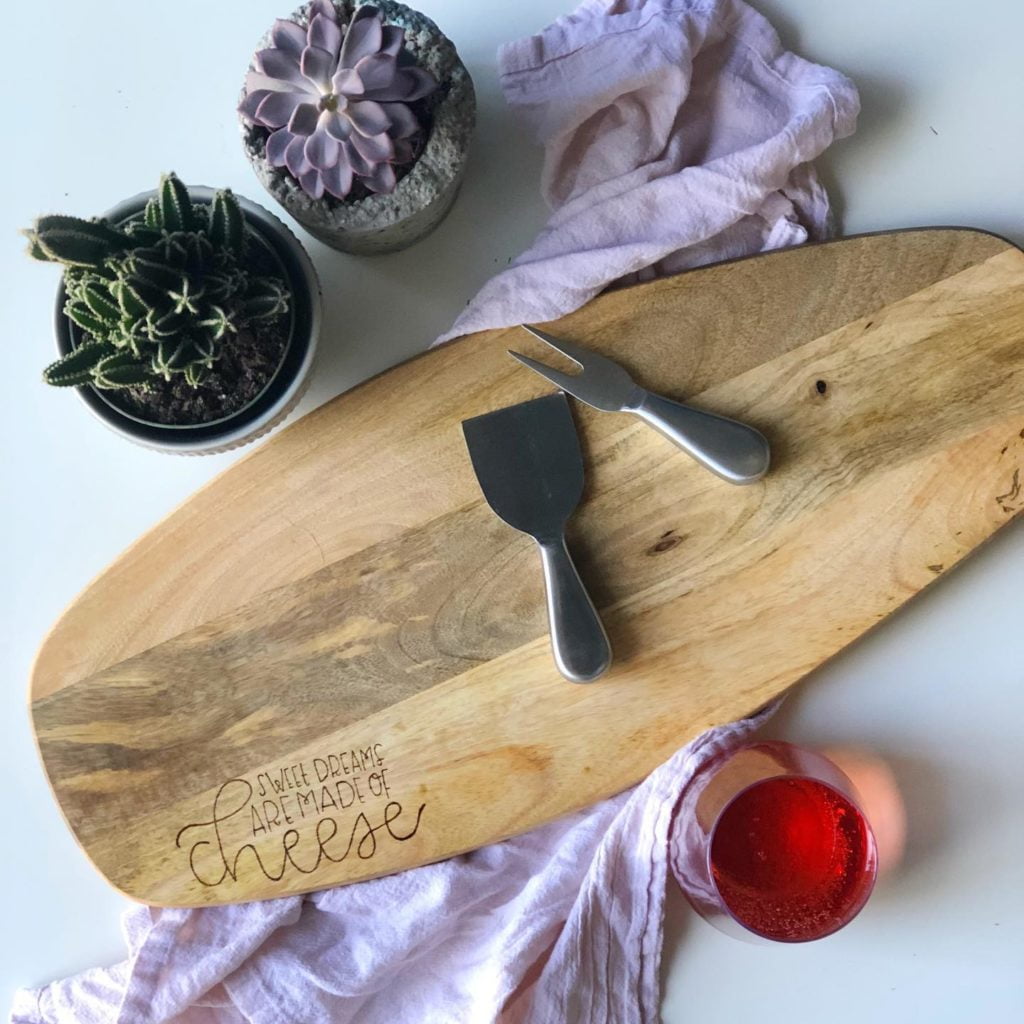 Cuisine Corner: Fig & Flour Bakery
Wednesday, October 30, 6:30
Orange County Public Library
Fall for delicious plant-based autumn treats. Fig & Flour bakery is a small batch bakery that uses fresh, local ingredients.
FREE with your OCLS card
Check out our guide to where to take a cooking class in Orlando for even more ideas.
ART CLASSES
DIY Alcohol Ink Serving Tray
Tuesday, October 8, 6:30pm
East End Market
Come learn ink techniques with Arielle Rassel, the artist and creative behind Lemesto. In this two hour workshop, you'll learn how to paint with alcohol inks to create beautiful, ethereal effects – no prior artistic skills or experience necessary! Then, apply what you've learned to paint a beautiful serving tray, complete with resin coating! All materials and supplies are included in the cost of the workshop.
$75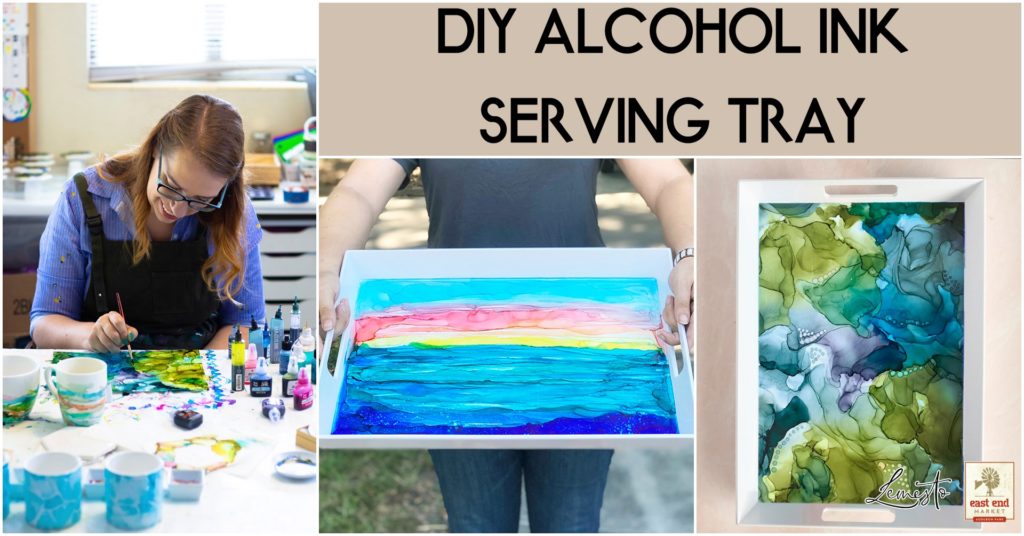 Palettes & Pets
Thursday, October 10, 5pm
Orlando Cat Cafe
You will be guided step-by-step by professional artist through the session's featured painted artwork in a fun, easy, stress-free 2-hour session.
$40
Paint Your State Workshop With Katie Holt
Friday, October 11, 6:30pm
Via Francesca – 152 North 4th Street, Lake Mary
Work in a small group learning watercolor techniques and create your own 8"x10" painting of the state of Florida with a few extra details to make it your own. Tickets include supplies, instruction and refreshments.
$40
Macrame Plant Holder DIY for Adults
Saturday, October 12, 1pm
Leu Gardens
"Macramake" your very own plant hanger! Learn how to weave four useful knots to sculpt a beautiful handmade work of art. A $10 materials fee will be due day of which will provide you with all the needed cord and materials, as well as your very own plant to complete the hanger.
$40
Macrame Owl Necklace or Key-chain Workshop
Sunday, October 13, 12pm
Art & History Museums – Maitland
This special fall macrame workshop will take you knot by knot to macrame an owl necklace or keychain. All materials are provided along with a signed print of the hand illustrated owl pattern, hands on instruction and some fun fall themed drinks and snacks
$30 + $10 materials fee
I Can Fly Painting Class
Friday, October 18, 10am
Art & History Museums – Maitland
It is a playful workshop in which you will paint a pair of wings large enough for it to appear as if they are your wings when standing in front of them!
$50
Charcuterie Styling & Photography Workshop
Friday, October 18, 6pm
East End Market Evening Exchange
Cheeseboards and Instagrammable photos – this is the class for you! You will learn how to curate and style an epic, party-worthy charcuterie & snack spread. Alyssa, of Alyssa Makes Something will be sharing all her tips and tricks for assembling the cheeseboard of your dreams. Then, Arlene of Arlene Laboy Photography will teach you how to capture the spread with your iPhone camera for the most insta-worthy foodie photos.
$35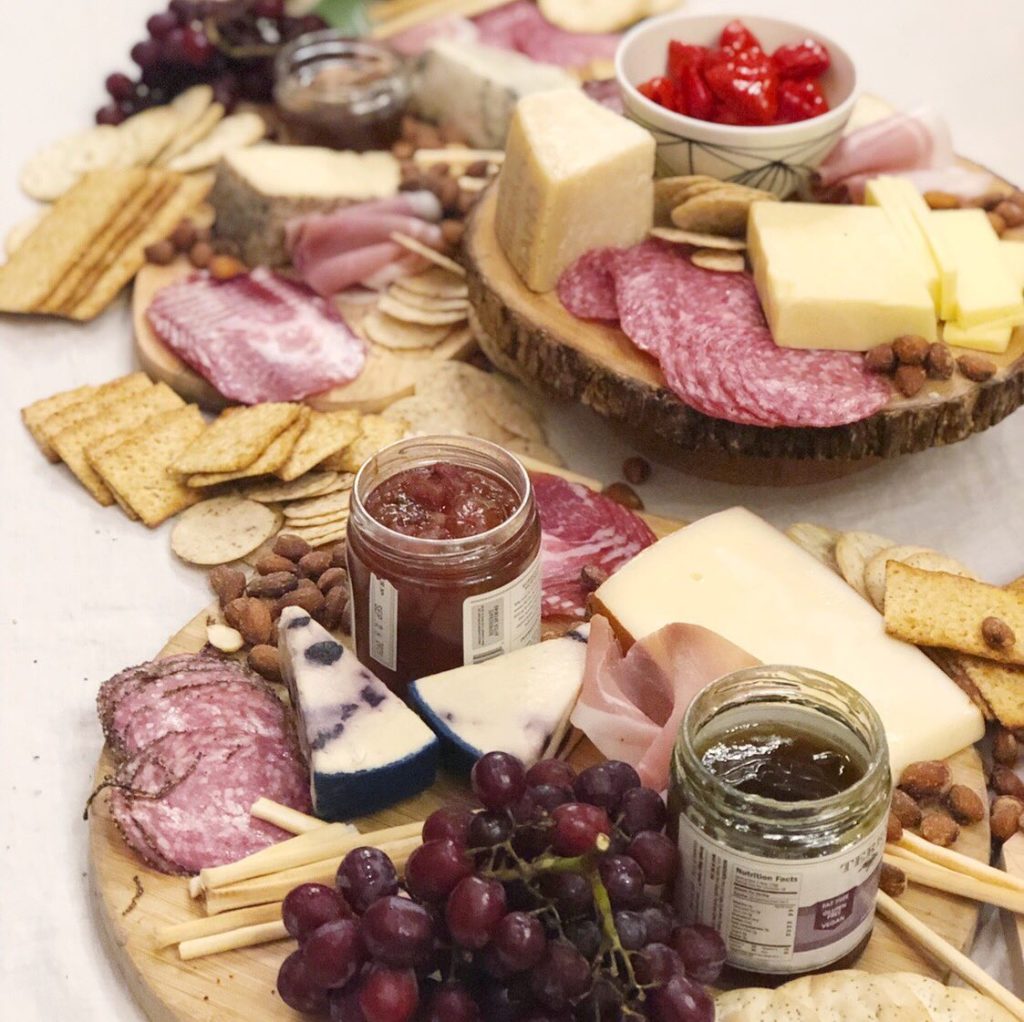 Hand Lettering Mini Session
Monday, October 21, 6pm and 7:15pm
Driftwood Market Winter Garden
In this condensed mini session, you will learn the basics and begin perfecting your very own personalized brush lettered alphabet.
$25
Healing Stone Bracelet Workshop
Friday, October 25, 7pm
Via Francesca – 152 North 4th Street, Lake Mary
Learn all about healing stones and crystals and create two of your own stretchy beaded bracelets to take home.
Tickets include supplies, instruction and refreshments.
$40
OTHER CLASSES + WORKSHOPS
Fragrances and Flights
Tuesday, October 1, 6:30pm
Ivanhoe Park Brewing Co
Go through the whole process from picking your base scents through to the very end, where you'll wrap your bottle in leather and pick the perfect name. Beer flight included!
$45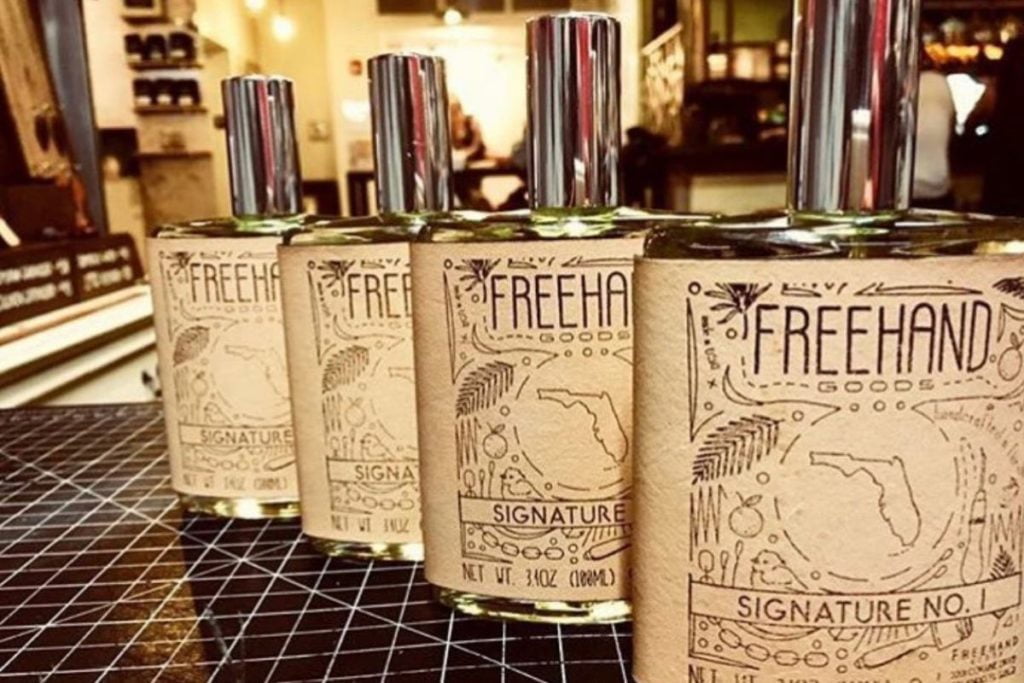 Fall Vegetable and Herb Garden
Saturday, October 5, 9:30am
Leu Gardens
Learn more about which varieties grow best here, proper garden spacing, and when to harvest.
$16
Free Improv Class
Saturday, October 5 and Sunday, October 6, 1pm
SAK Comedy Lab
Join us for two hours of group games and see how fun improv is for yourself! New students only.
FREE
Houseplant Workshop
Thursday, October 10, 7pm
The Heavy
Pick the perfect houseplant for you with instruction and guidance from The Heavy's plant specialist. You'll pick your plant, pot it and learn how to care for your new friend while sipping wine.
$40
Adult Improv
October 11-25, 7pm (3 sessions)
Garden Theater
Exercise your funny bone and learn the art of improv! Spice up your Friday nights in downtown Winter Garden, meet new friends, and join in the fun!
$120
Make a Tote/6 Pack Carrier
Saturday, October 12, 9am
FACTUR
This workshop will cover the basics of woodworking, starting with terminology, wood structure and safety.
$65
Know of an awesome class we missed? Share it in the comments!
Feature image credit: FarmGal Flowers
Disclosure: Some, but not all, of the workshops and classes listed in this post are hosted by our valued marketing partners.