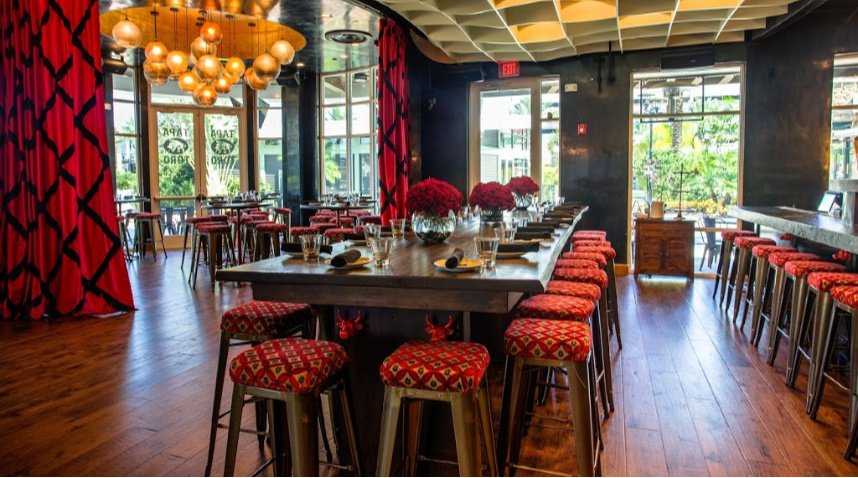 Got a birthday party, girls' night or group date coming up? Delight your guests with an interactive experience at Tapa Toro with the chance to craft your own signature cocktails while tasting delicious family-style Spanish tapas at your table.
Designed for a minimum of 10 and a maximum of 20 guests, groups are seated at Tapa Toro's Communal Table (shown above) in the bar area.
STEP ONE: Choose Two Cocktails for Your Group to Prepare
Before you start sipping, you'll get to start mixing! Tapa Toro's mixologists will teach your team to create two different cocktails with a hands-on, step-by-step lesson on crafting the perfect concoction.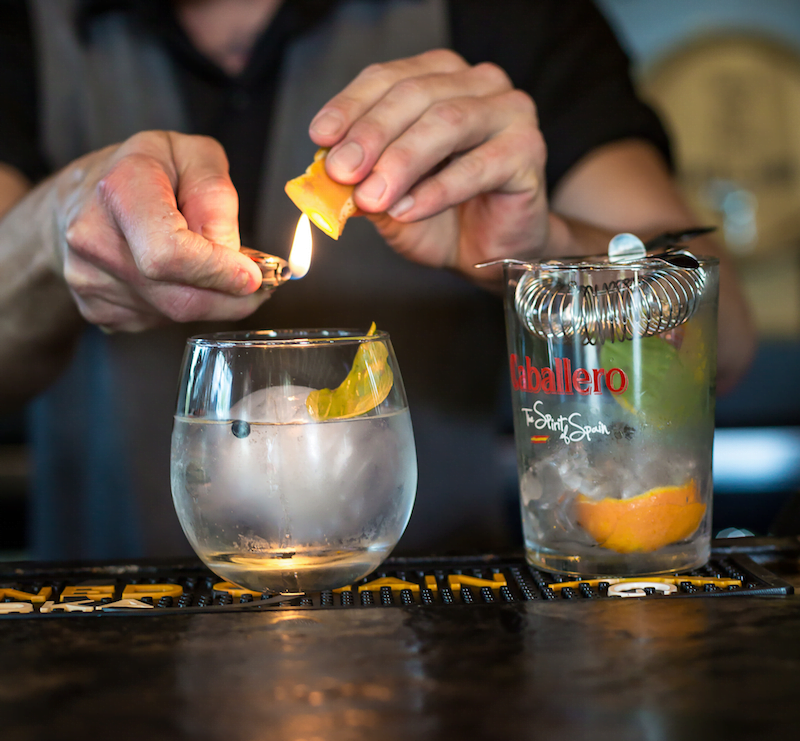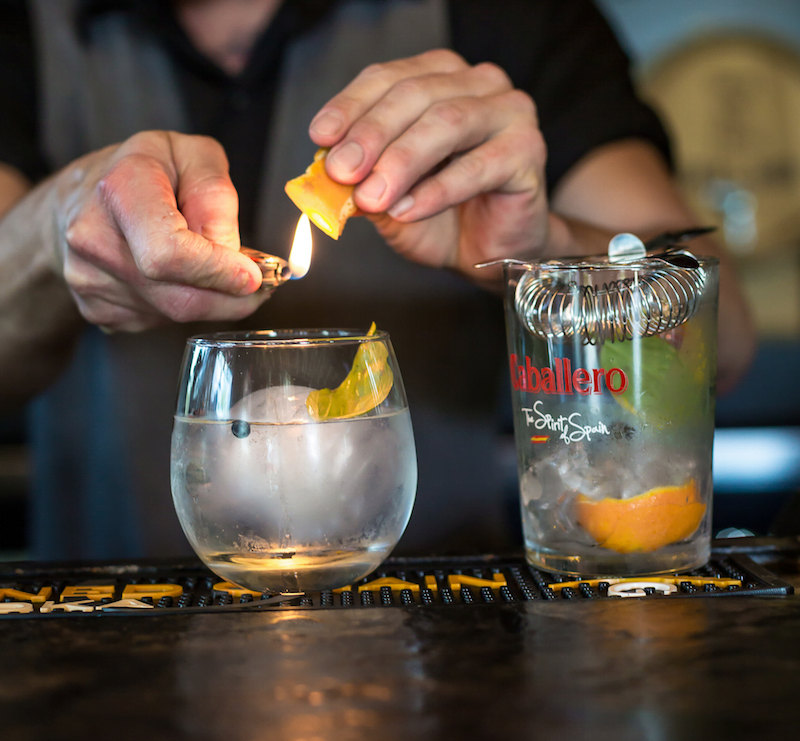 You'll select two cocktails to prepare from this list of six:
El Greco
EG Inspiration Rosemary Lavendar / Hendrick's Gin / St. Elder Liquor / St. Elder Espuma / lemon / simple syrup
Tapa Toro Mojito
Bacardi / seasonal fruit / mint / lime juice / simple syrup / soda water
Herbal Gin & Tonic
Gin Mare Mediterranean Gin / Torres Orange Liquor / dehydrated orange / juniper berries / tonic / seasonal herbs
Ibiza's Sunset
EG Windsor Earl Gray and Sage / Absolut Raspberry / pomegranate syrup / lime juice / lime soda
Caipiroska
Grey Goose Vodka / fresh limes / brown sugar
Mediterranean Mule
Figenza Fig Vodka / Tito's / Fever Tree Ginger Beer / mint / lime
STEP TWO: Choose Your Tapas
You'll want some hearty bites to pair with those cocktails. You'll choose four different tapas from the list below which will be served family style. Note: you can add a fifth tapa for $5 more per person.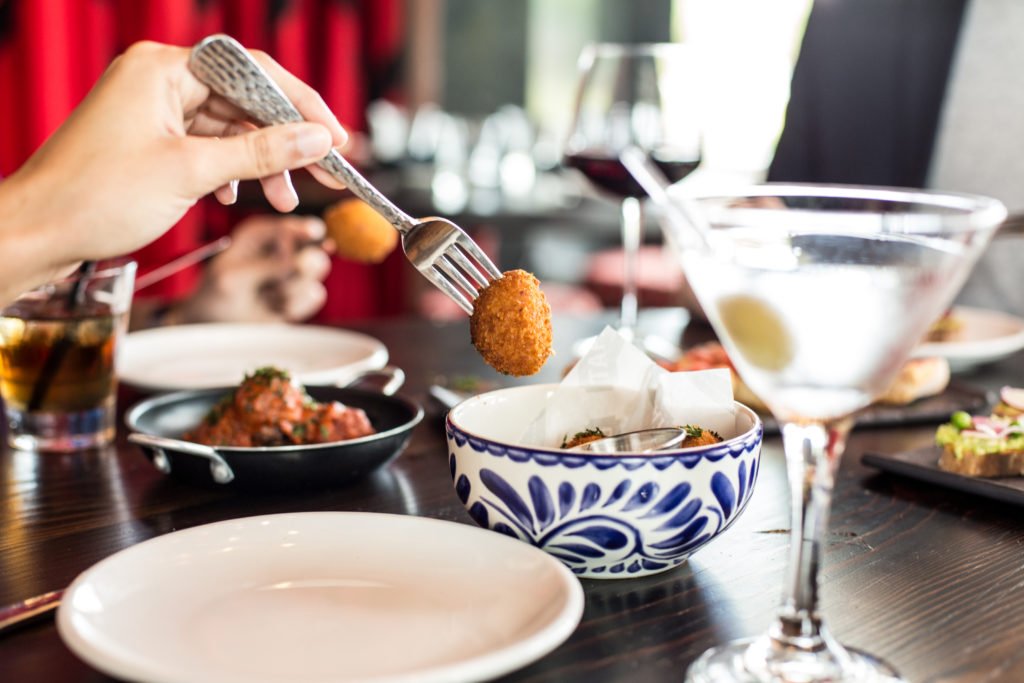 Fierce Potatoes
spicy tomato sauce / alioli
Garlic Shrimp
shrimp / garlic / lemon / olive oil
Tomato-Rubbed Bread
rustic bread / vine-ripe tomatoes / garlic-infused olive oil / sherry vinegar / sea salt
Ham Croquettes
ham / béchamel / alioli
Empanadas
chickpeas / tomato potatoes / cilantro yogurt
Meatballs
beef meatballs / tomato sauce / polenta
Spanish Frittata
eggs /potatoes / aioli
Iberian Caesar
romaine lettuce / rustic herbed croutons / garlic & anchovy dressing
Charcuterie & Cheese Board (add $2 per person)
chef selection / house pickles / seasonal jam / spiced pumpkin seeds
In addition, soft drinks are included at no extra charge.
DETAILS
The Mix & Munch Cocktail Class with Family Style Tapas is $49 per person plus tax & gratuity.
Bookings can be made by calling 407-226-2929 or sending an email to events@tapatoro.com.
This package is available for a minimum of 10 and maximum of 20 guests.
Tapa Toro is located at ICON Park
8441 International Dr.
Orlando, FL 32819
tapatoro.restaurant
Disclosure: Tapa Toro is one of our valued advertising partners.