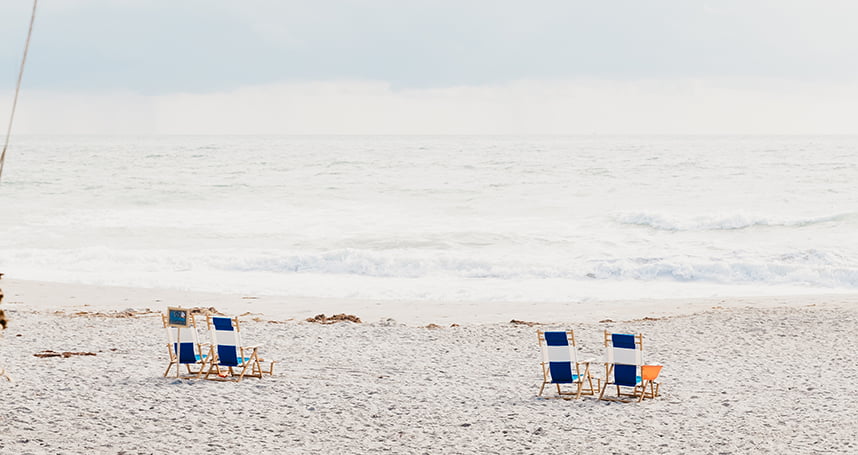 Complete with beautiful beaches, tropical cocktails, a chill vibe and proximity to Orlando, Cocoa Beach is optimal for a weekend getaway. The city is also known for their killer waves, so much so that Cocoa Beach is the home of the East Coast Surfing Hall of Fame. From hitting the Cocoa Beach Pier for drinks and live music, to exploring downtown, here's how you can spend a weekend at Cocoa Beach!
STAY
When it comes to finding a place to stay for a beachside weekend getaway, comfort is key. Westgate Cocoa Beach Resort (previously Wakulla Suites, a Westgate Resort) is the epitome of a home away from home. The recently redesigned resort boasts spacious suites with full kitchens, living and dining room area, separate bedrooms and bathrooms. Additionally, guests have private beach access along with a beach concierge who will assist you with getting your beach chairs in the most prime location. For an additional fee, you can request a beach umbrella or cabana.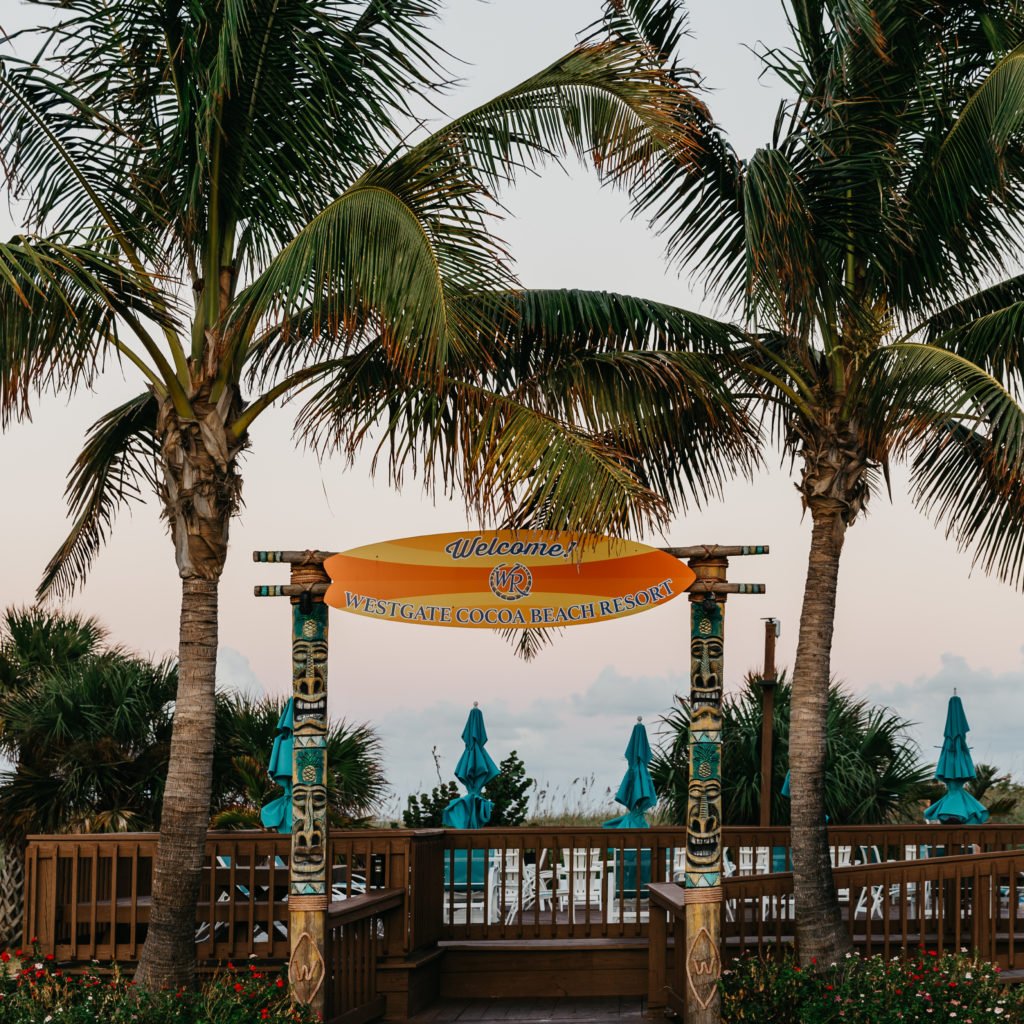 Westgate Cocoa Beach Resort doesn't have your typical pool – it has a mini water park smack dab in the middle of the resort! Wakulla Falls Water Park contains a heated pool, a lazy river with a 335-foot loop (tube included!), and a two-story splash pad for the kiddos. Be sure to head to the Makua Lanai Adult Relaxation Zone, a perfect place to sip a cocktail in front of the hot rock firepit.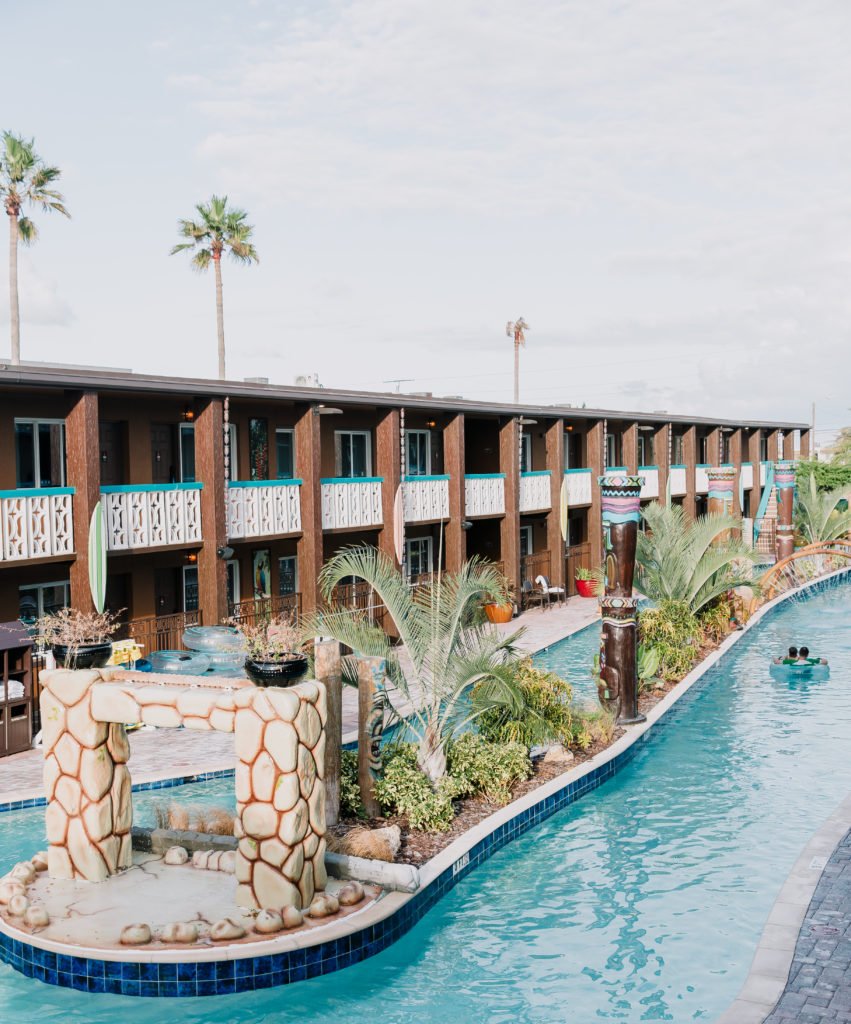 Also at the resort you'll find Aloha Tiki Bar Cafe, serving a number of bites and cocktails. In the mood for something cold (and sweet), try a frozen banana!
TIP: Heading to the Cocoa Beach Pier is a breeze via the resort's free Cocoa Beach Pier Trolley Service. The trolley leaves at the top of the hour at the following times: Sunday-Thursday from 9am–10pm and Friday-Saturday from 9am–11pm.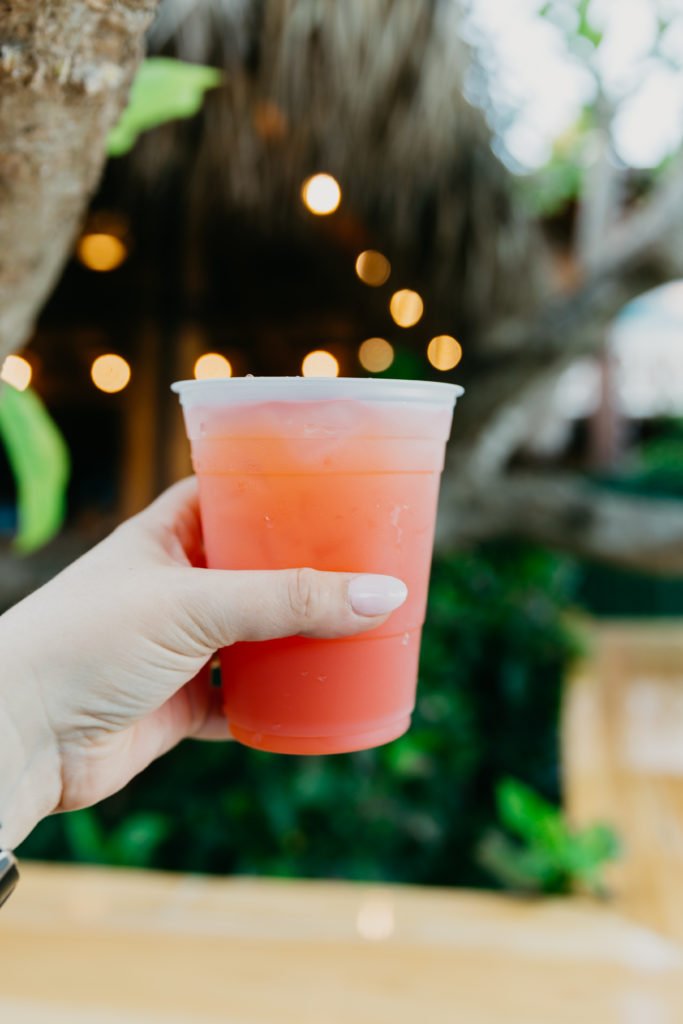 PLAY
For Relaxing….
Spend the day on Cocoa Beach!
There are few things better than a day spent with your toes in the sand enjoying the sea breeze. In addition to parking at the Westgate Cocoa Beach Pier, there are 4 parks that offer beach access:
All four facilities are ADA accessible, and offer parking and amenities such as restrooms, showers, and picnic tables.
If the waves begin to tempt you, Cocoa Beach Surf School offers hour-long surfing lessons on weekends. They are located at the Westgate Cocoa Beach Pier, and also offer stand up paddleboard rentals.
For The Adventurous…
If you and your honey love to bond during active dates, how's being suspended 45 feet in the air? You'll have your choice between 7 trails and 3 levels of difficulty, making it perfect for all adventure levels. Work together to get through the 49 challenges, and work up a sweat in the process. Cost is $44.99/person.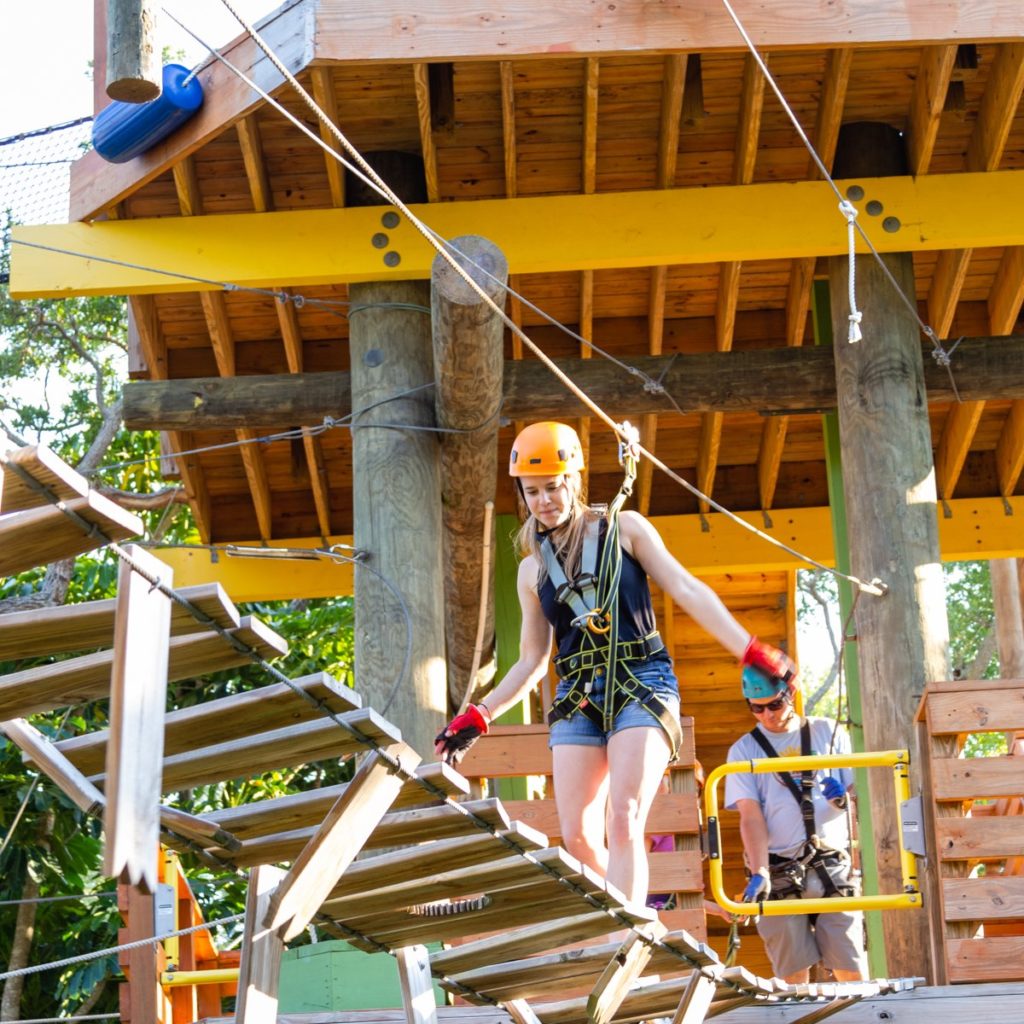 For a way to appreciate the nature around you and unplug from technology, a guided kayak tour is the way to go. Explore during the day, where you'll navigate through the 1000 Islands Conservation Area. Conversely, a sunset tour is bound to be an unforgettable experience! Your tour includes your kayak, paddle, and life jacket as well as sunscreen, polarized sunglasses and even bug spray. Cost starts at $35/person.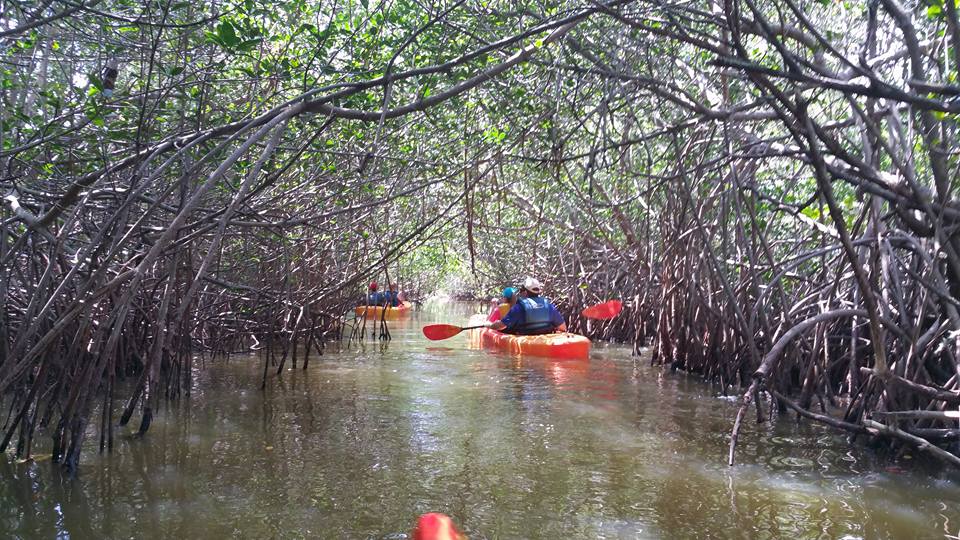 For an Artsty Date Night…
Cocoa Village Playhouse
After a day at the beach, how about a broadway night? The Historic Cocoa Village Playhouse is about a 20 minute drive from Cocoa Beach. The playhouse first opened its doors in 1924 and makes the theatre experience affordable for the community. In addition to musicals and screening movies, they do Broadway on Brevard performances, featuring original costumes with local actors. Individual tickets are $26.
DINE & DRINK
There's no shortage of things to do in Cocoa Beach, with most of the goings-on clustered on or around the Westgate Cocoa Beach Pier. Featuring a variety of shopping and dining options, the pier is a must-visit destination while in town. The new revitalization of Westgate Cocoa Beach Pier's function space, alongside the newly renovated Westgate Cocoa Beach Resort, have leveled-up this oceanfront destination in terms of upscale Cocoa Beach wedding venues to choose from.
TIP: Parking at the pier will cost you $20 for the day, but parking after 5pm is free. You can also bike to the pier or take the Trolley if staying at Westgate Cocoa Beach Resort.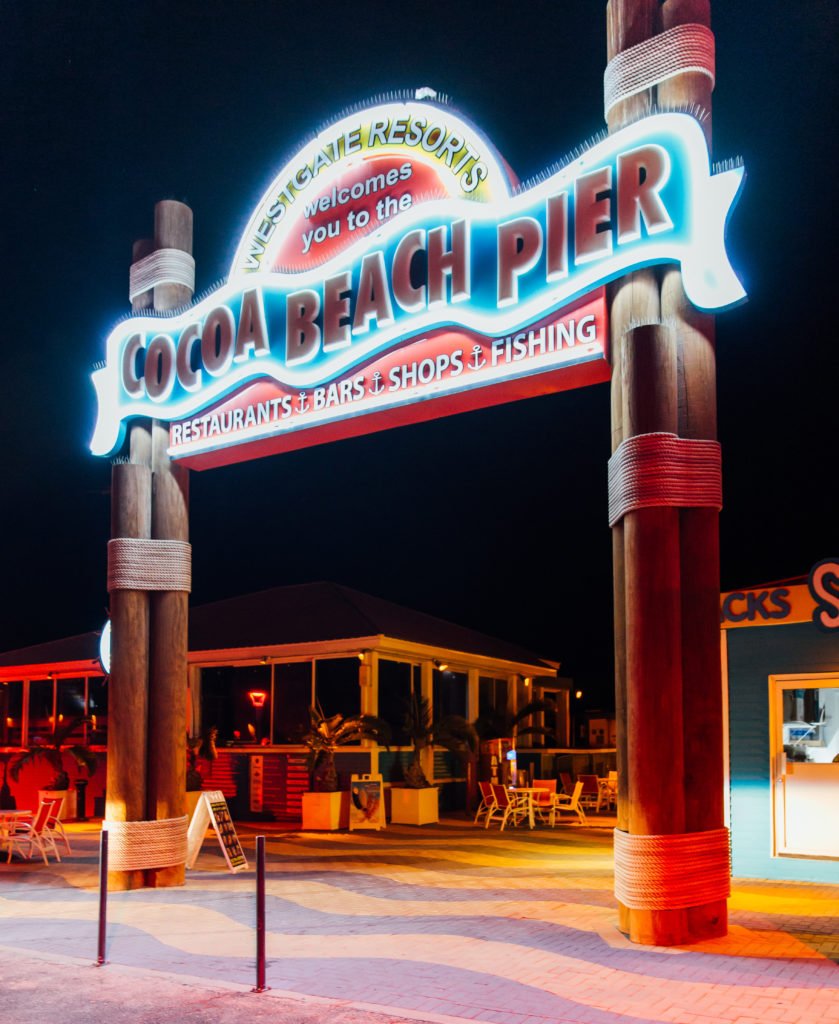 At the end of the Westgate Cocoa Beach Pier you'll find Riki Tiki Tavern, providing the best view of the water along with a number of food and drink options. We visited on a Friday afternoon and were treated to a live musical performance and tried a few cocktails while enjoying the sunset. For a fun twist on a Pina Colada, try Rikki Tikki's Cocoa Set Sail. The traditional beach cocktail is given a pretty blue ocean hue with the addition of Puerto Rican spiced rum and blue curacao. Other drinks we sampled include the Hurricane and Fun at the Beach.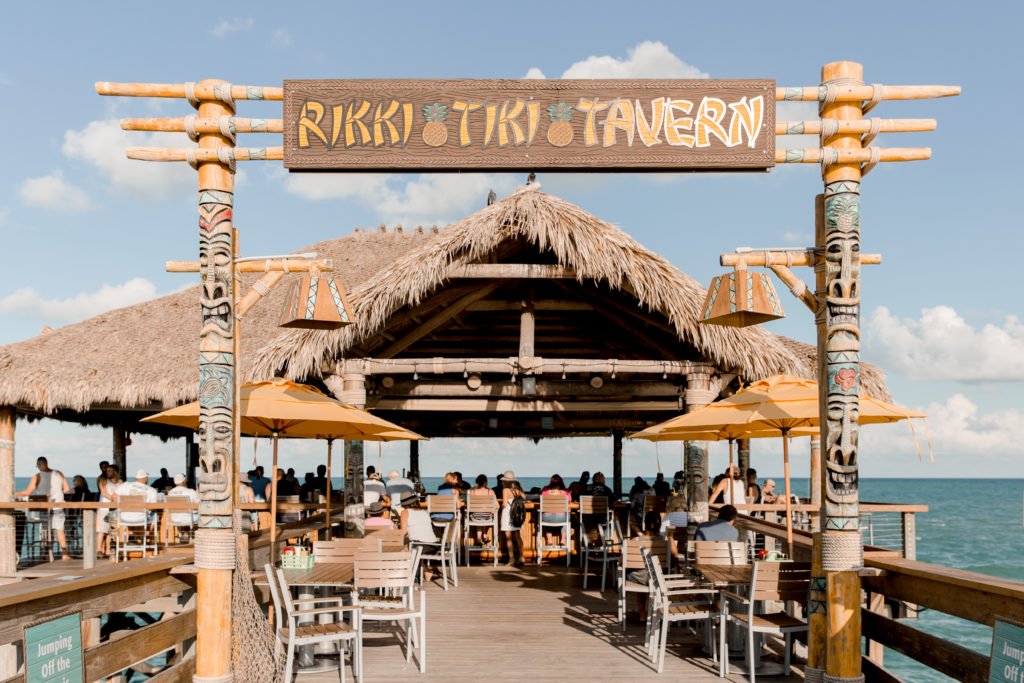 Let's be honest – Florida is hot for a good 9 months of the year. I love sunshine but after being at the beach for a few hours, I typically seek a place to eat indoors. For an air-conditioned lunch or dinner without sacrificing the view of the ocean, opt for Pelican's Bar & Grill. The relaxed eatery is filled with large windows and feels like you're hovering over the ocean while you dine. Dinner here around sunset would make for an amazing date night, with the pier and ocean as the backdrop. For dinner, we tried the Thai Shrimp Pasta, which was a seasonal dish, but I recommend ordering one of the special dishes when you visit! To drink we tried the Original Pieradise and a fun twist on a White Russian called the Russian Monkey (Kahlua coffee liqueur, banana liqueur, milk and Hershey's® chocolate syrup over ice).
TIP: If you'd prefer to dine al fresco, The Boardwalk Bar is adjacent to Pelican's and offers the same menu, with the addition of happy hour Monday-Friday from 4-7pm.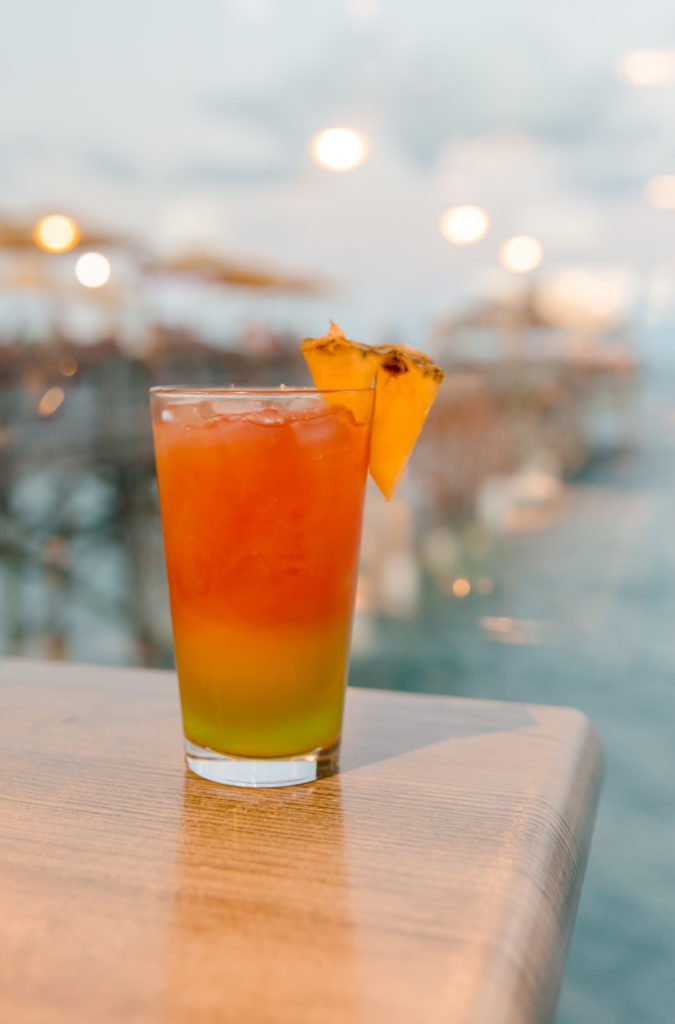 When I saw there was a local restaurant bringing the flavors of Puerto Rico to Cocoa Beach, I knew a visit was necessary! The Tiny Turtle serves up their brand of Puerto Rican fusion cuisine to hungry beachgoers in downtown Cocoa Beach. Sofrito, a seasoning base commonly used in the Caribbean consisting of of bell peppers, garlic, onions, and cilantro among other things, is the secret to their menu and flavors. From Sofrito Bowls to Sofrito Nachos and sandwiches, no dish you select will be bland. We went with the Sofrito Bowl with Braised Island Chicken and double maduros in lieu of coleslaw. All bowls are topped with fresh guacamole, sour cream, and creme caribe, resulting in a wonderful explosion of flavors. The casual restaurant also serves wine and beer from local breweries.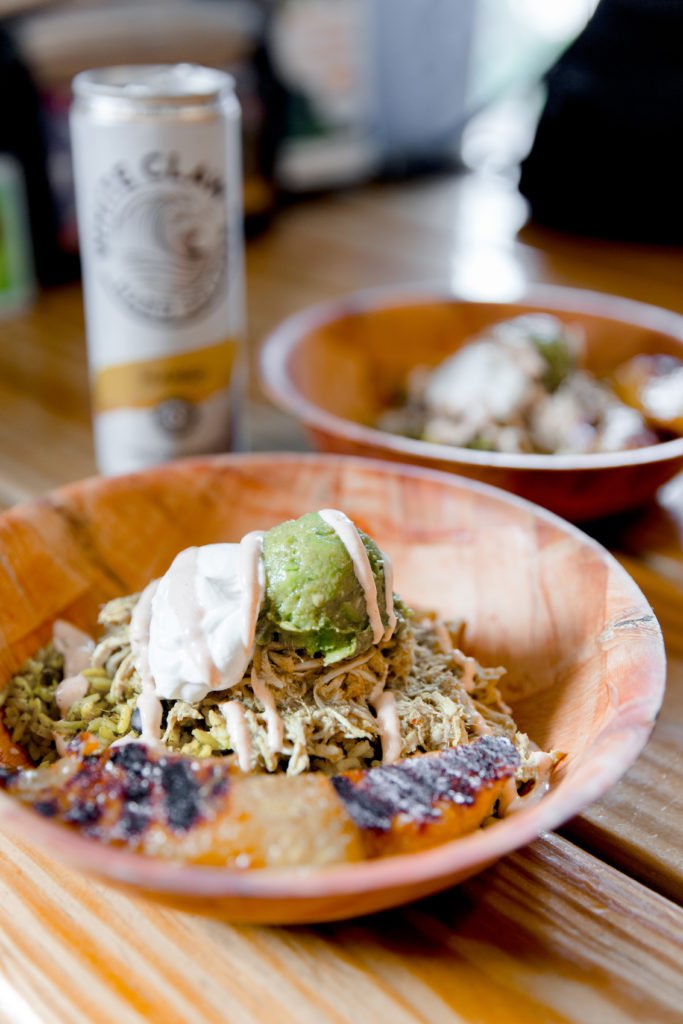 Conveniently located next door to The Tiny Turtle is The Fat Donkey Ice Cream. Offering a myriad of ice cream flavors, sorbet and soft serve, this is a perfect lunch and dessert date combo! For a refreshing dessert, try the Zonkey: soft serve ice cream layered with either sorbet or water ice. If you want something more decadent, their ice cream sandwiches sound divine and may require additional research. I decided on a waffle cone filled with delicious (and apparently popular) Butterscotch Bomb ice cream.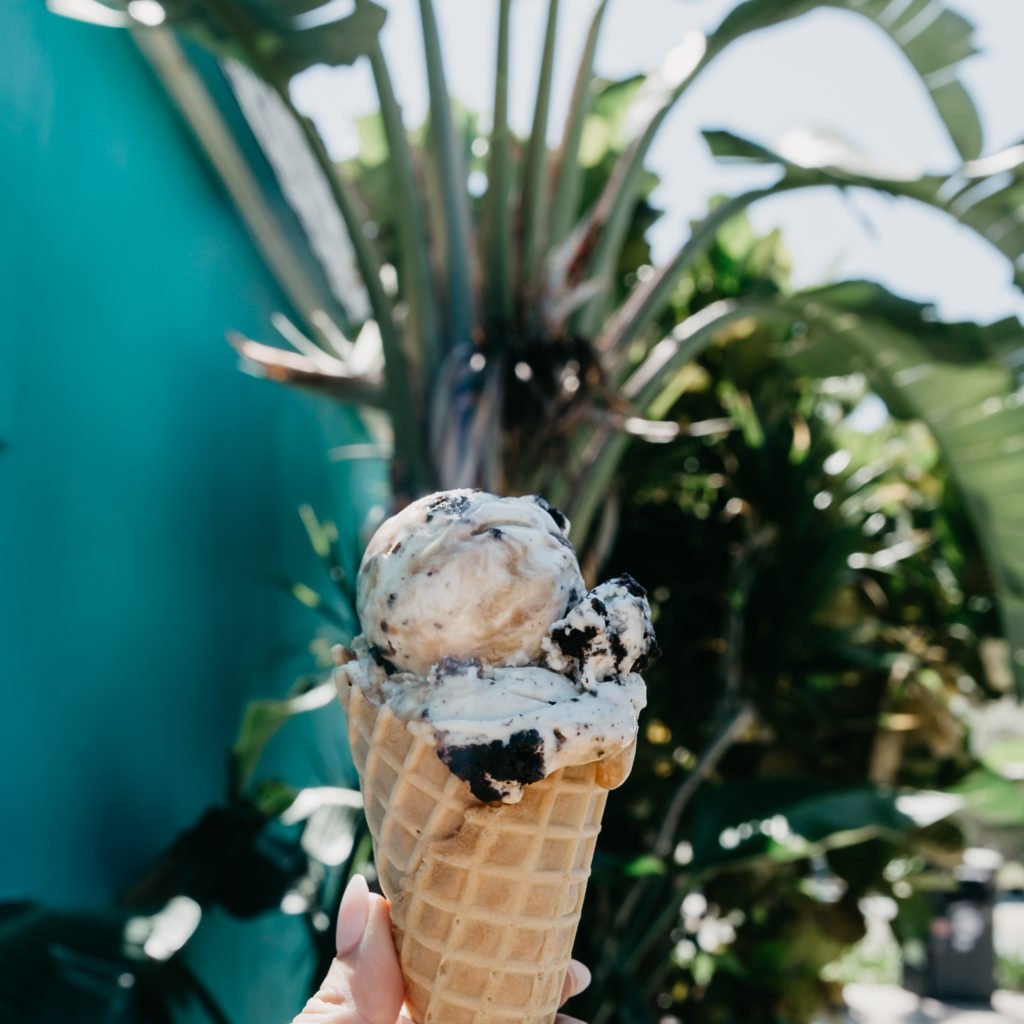 Part gastropub, part gas station, this laid back restaurant and bar boasts 26 craft beers on tap and a menu featuring a variety of tacos, poke bowls, burgers, sandwiches, and salads. In addition, there are lots of plant based options, ensuring only dedicated kitchen equipment is utilized during preparation. Happy hour is offered Monday-Friday from 3-6pm and Sunday-Wednesday from 10pm-midnight featuring $5 houes wine, cocktails and martinis. Beer lovers will enjoy $2.50 domestic and $1 off craft drafts.
More notable eats:
Florida's Fresh Grill would be another fantastic dinner date spot, and they have happy hour Monday-Thursday from 4:30-6pm featuring $4 glasses of wine and $5 drinks.
The Fat Snook is known for their seafood and locally sourced ingredients, and also offers wine and local beer.
Flavour Kitchen & Wine Bar combines a casual ambiance with great dining, and also features Sunday Brunch. Happy hour is Monday, Wednesday, and Thursday from 4-6pm.
Disclosure: Westgate Cocoa Beach Resort provided a hosted stay at no cost to the writer.
All photos by Arlene Laboy unless otherwise stated.