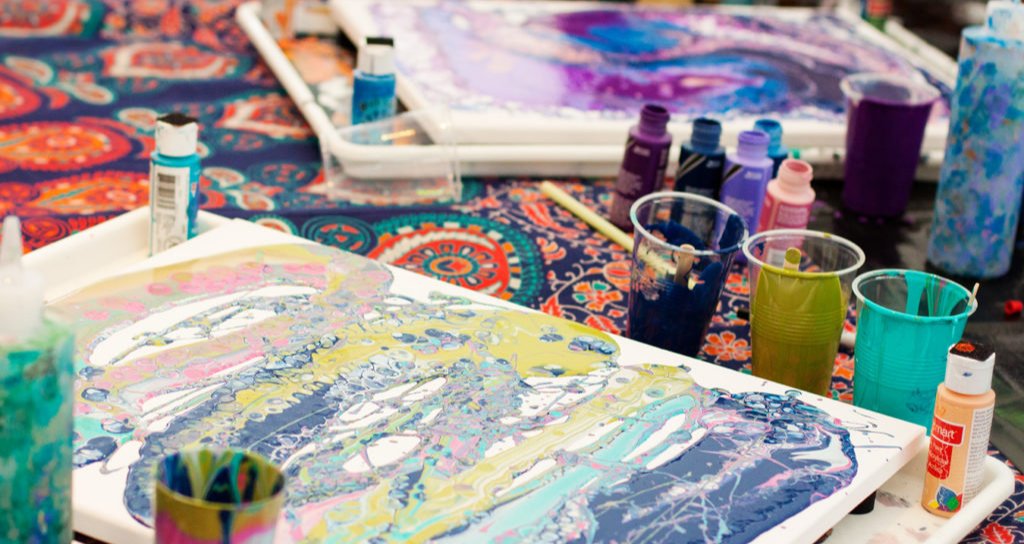 Welcome to Week #6 of our Funnected Challenge, an experiment to see what happens when we intentionally add more fun and connective activities to our relationship.
It's our last week of this six-week challenge and I'm wondering how it went for you. Please feel free to leave some thoughts in the comment section below. I'd love to hear from you.
For us, this challenge completely reoriented the way we plan our date nights. Previously, we spent our weekly date night going out to dinner. It was kind of an uncreative rut we were in because we weren't setting aside the time to plan anything else. But now, thanks to the past six weeks, we anchor our night in a fun activity.
We've enjoyed this change so much. And even though I've had this website for 12 years, the Funnected Challenge helped us discover things to do that we have never tried before. As far as results go, I can definitely report that by adding fun and connective activities to our relationship it made our marriage feel more fun and connective. It was such a great experiment!
By the way, here are links to the previous five weeks so you can bookmark them for future reference:
THIS WEEK'S IDEAS
THINGS TO DO
The City of Orlando rents pedal-powered swan boats on historic Lake Eola so you can view the park from the lake and enjoy the fountain up close. Swan boats are available on a first-come, first-served basis, weather permitting, Sunday – Tuesday, 10am-7pm, Wednesday – Saturday, 10am-9pm.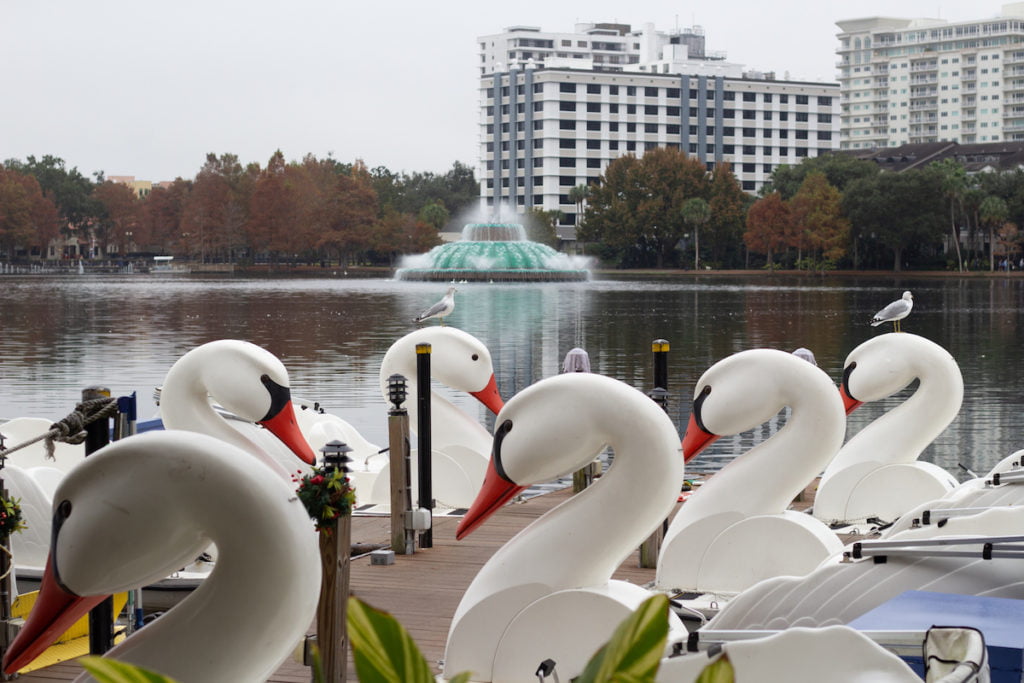 Nomadic at Pointe Orlando combines elements of virtual reality with gripping storytelling and clever tactile elements to create immersive adventures that thrill everyone who walks through the doors. You're given a VR headset and a small backpack before being immersed in a new reality where you're free to interact with and explore the magic around you.
Orlando Resort Pool Day Pass
While you may have access to your own refreshing pool, sometimes it's more fun to grab your honey and relax in the lap of luxury without spending a fortune. We've put together a list of Orlando resort pools offering spa and day pass packages that allow you to take advantage of resort amenities without booking an overnight stay. Details here: www.orlandodatenightguide.com/2017/07/orlando-resort-pools-locals-can-use/.
Rent a bay, enjoy drinks and great food, and even take lessons. Topgolf is great for a twosome or for a group date with several couples.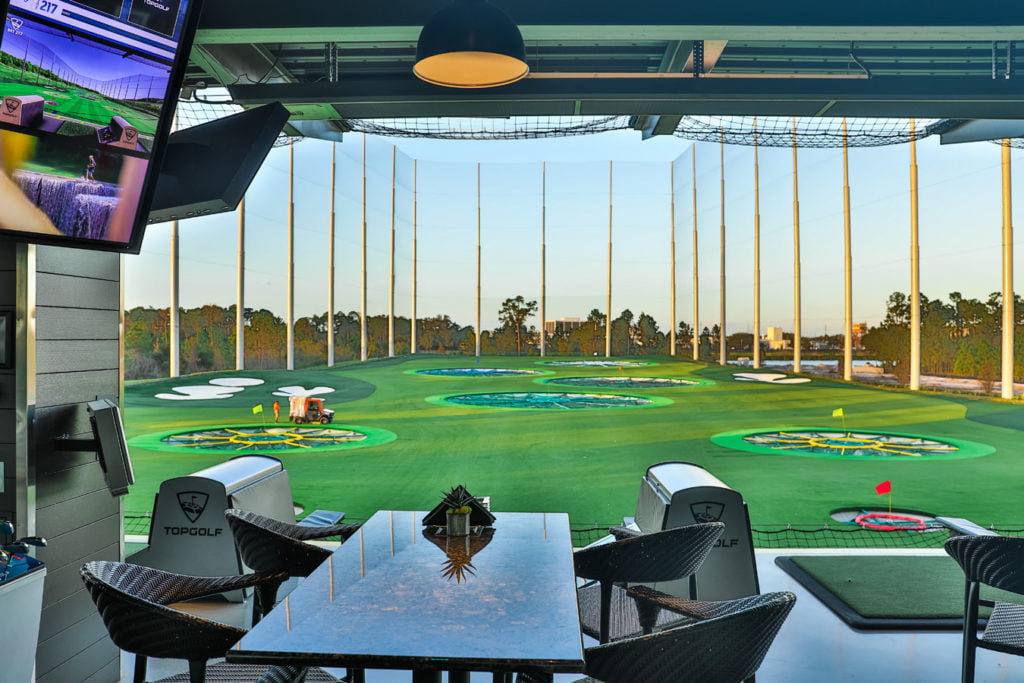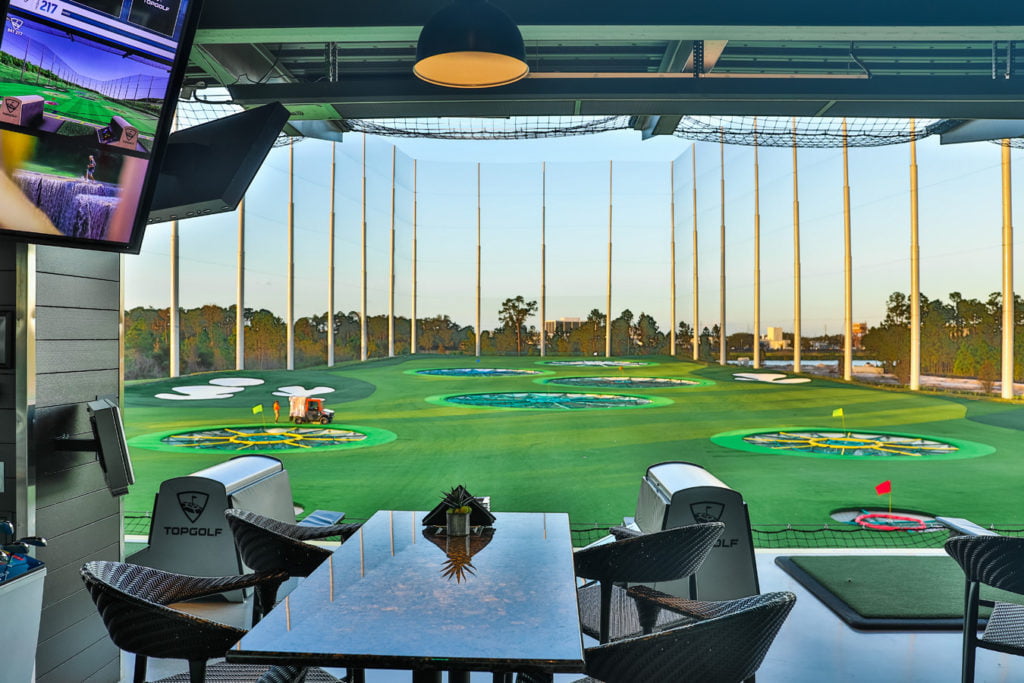 Trampolining
Ponce de Leon Inlet Lighthouse & Museum in Ponce Inlet
Tackle the challenge of climbing the 203 steps to the top of Florida's tallest lighthouse. Additionally, the site hosts a monthly moon climb during the full moon. Tickets tend to sell out fast!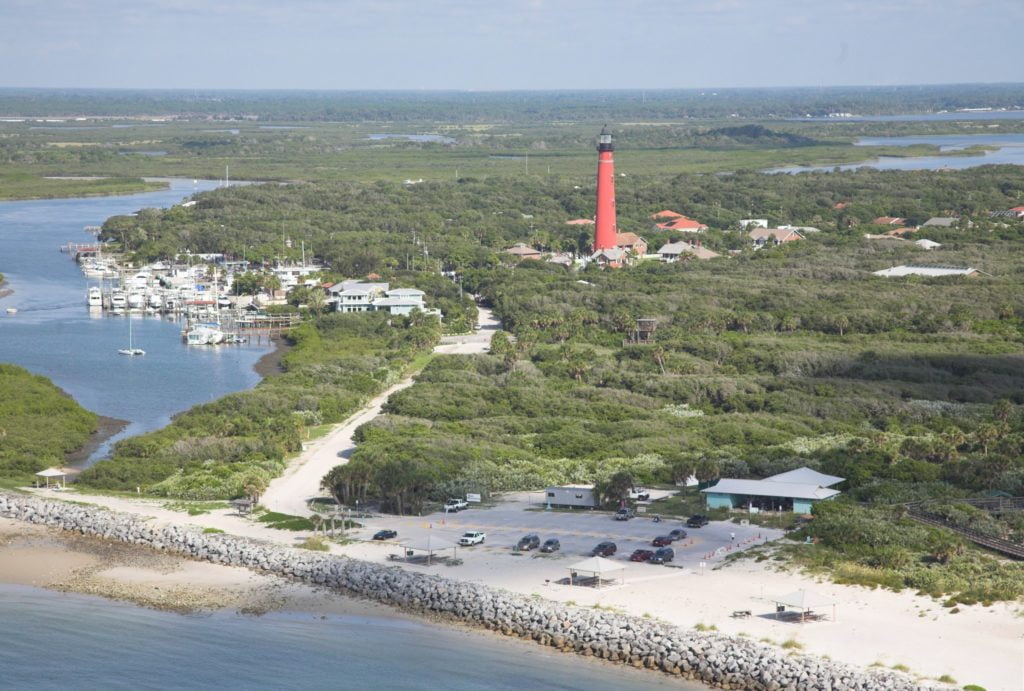 Crystal River – Manatees and More
Located just an hour and a half west of Orlando, Crystal River is best known for the hordes of manatees that flock to the spring-fed waters of Kings Bay each winter. Thanks to stable year-round temperatures between 72-75 degrees, springs serve as a natural refuge for manatees in search of warmer waters. And with more than 70 springs comprising Kings Bay, it's no surprise that Crystal River has been deemed the Manatee Capital of the World. It's also the only place in the country where you're legally permitted to swim with the gentle giants, hence the area's popularity. Read all the details of a Crystal River date day here: www.orlandodatenightguide.com/2018/10/crystal-river-date-day/.
A few more ideas to try: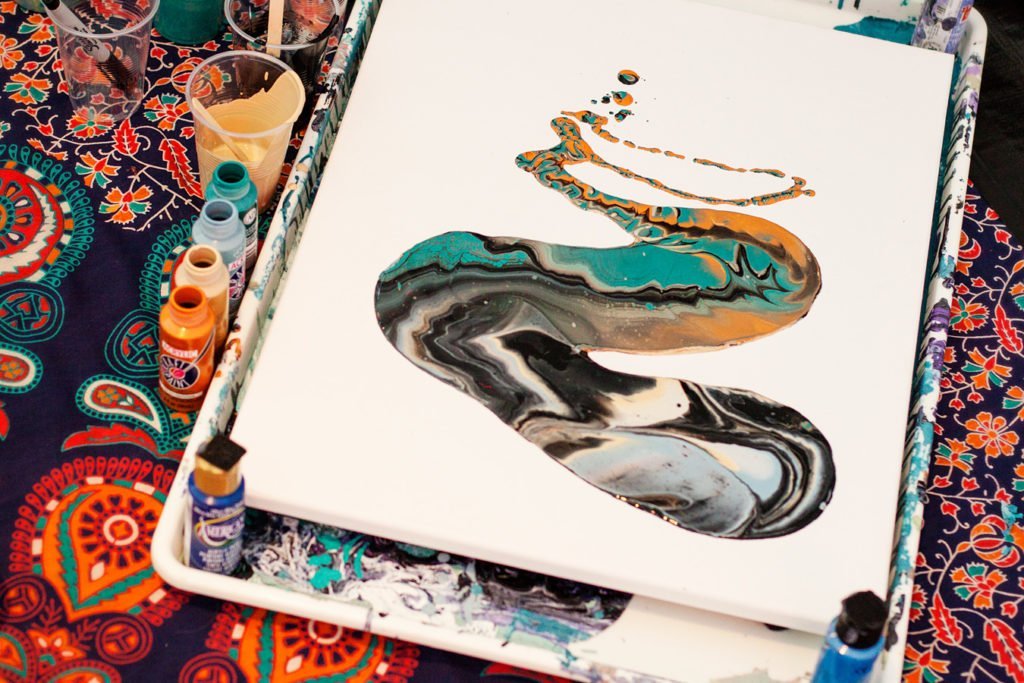 EVENTS
Let's Go M.A.D! Music, Arts & Drinks
Tuesday, November 12, 6:30pm
Orlando Brewing
Let your creativity flourish! Ticket includes your 16×20″ canvas (all supplies included) + 1 glass of tap beer, 30 organic options!
$35
Alive After 5: Chili Cookoff
Thursday, November 14, 5-8pm
Sanford Welcome Center
Central Florida's largest recurring monthly street party in Historic Downtown Sanford. Festival goers come to celebrate the community and local artistry, and to partake in an evening of music, food, craft beers, and shopping.
FREE Admission
Thornton 2nd Thursday Wine & Art Walk
Thursday, November 14, 6:30-9:30pm
Thornton Park District
Attendees come to celebrate the community, art, and partake in an evening of sights, sounds, food, shopping, and some tasty tastings all along the walk. For $15 (cash only), you'll get a glass and a map of over 25 businesses that will be offering you a tasty tasting. Along the way there will be live music, art vendors, DJ's and more.
FREE Admission
Orlando Balloon Glow 2019
November 14 – 17
Blue Jacket Park
Hot air balloons glowing at dusk with tethered rides available subject to suitable weather conditions! Food vendors, retail vendors and activities for the kids!
$1 (All guests must have a ticket for capacity and event insurance reasons)
Palettes & Pets
Thursday, November 14, 5pm
Orlando Cat Cafe
You will be guided step-by-step by professional artist through the session's featured painted artwork in a fun, easy, stress-free 2-hour session. Includes special kitty bonding/painting time as the cats purr-use the room and offer their assistance.
$40
Evening Exchange at East End
Friday, November 15, 6-10pm
East End Market
East End Market hosts an event called the Evening Exchange (EvEx) where incredible local makers, retailers, and local food purveyors pop up for one night. A variety of workshops are also held throughout the night.
FREE Admission, workshop prices vary.
DIY Ice Cream Cookie Sandwich with The Greenery Creamery
Friday, November 15, 6, 6:45, 7:30, 8:15 and 9pm
East End Market
Learn from the "Ice Cream Lady" herself, as she shares with you how she makes the perfect ice cream cookie sandwich. Vegan options available.
$10
Diner en Blanc
Friday, November 15, 6pm
Secret Location
Thousands of people, dressed all in white, and conducting themselves with the greatest decorum, elegance, and etiquette, all meet for a mass "chic picnic" in a public space.Over the course of the evening, guests experience the beauty and value of their city's public spaces by participating in the unexpected.
$53
Do Good Date Night at United Against Poverty
Friday, November 15, 7-9pm
United Against Poverty
Join us for our last Do Good Date Night of 2019 with our new partner, United Against Poverty. We'll enjoy dinner together (provided by Tony Roma's!!) plus wine and beer. Then we will spend about 90 minutes working together on various projects inside UAP's grocery store. Can't wait to see you there!
$25
Karma for Kittens- Rescue Yoga Event with Liberation Cat House
Saturday, November 16, 12-2pm
Peaceful Peacock Orlando
Adorable feline yogis will be allowed to ROAM FREELY and interact with you during this 60-Minute Hatha Yoga class, suitable for all levels.
$25
Watercolor Ornaments
Saturday, November 16, 10am-12:30pm
Leu Gardens
Learn how to create and paint special watercolor ornaments for this holiday season. All supplies, including two specially primed ornaments, watercolors, brushes and ribbon are included in this workshop, along with step by step instructions from Kara.
$75
Tiki Brunch Cocktail Class
Saturday, November 16, 3-5pm
Luke's Kitchen and Bar
The cocktail masters at Luke's will will teach you to craft three classic tiki cocktails with a chance to put your own spin on them. Ticket price includes your 3 cocktails and 3 brunch courses.
$40
Orlando's Eve: An Immersive Downtown Experience & Roaring 20's Party Presented by Mosquito County Tours
Saturday, November 16, 6-10pm
Downtown Orlando
Orlando's Eve is an immersive adventure through the historic streets of Downtown Orlando, highlighted by an interactive theater experience that culminates in a roaring 1920's party at a secret speakeasy. The evening features live music, food and drink, as well as burlesque and vaudeville performances.
$75-95
Sunset & Birding Paddle & A Pint
Sunday, November 17, 4:15pm
Playalinda Brewing Company – Hardware Store
The Sunset Birding tour centers you for 90 minutes in the majesty of sunset colors while birds swirl overhead! Ticket includes a 90-minute kayak tour, followed by a Playalinda beer with your fellow paddlers at Playalinda Brewing Company – Hardware Store.
$40
AT-HOME IDEAS
Create an at-home fancy ice cream sundae bar.
Learn about the constellations and stargaze from the backyard.
Get out old photos or family home movies, and spend some time walking down memory lane.
Host a fondue night and create all your own homemade dipping sauces.
Have fun!