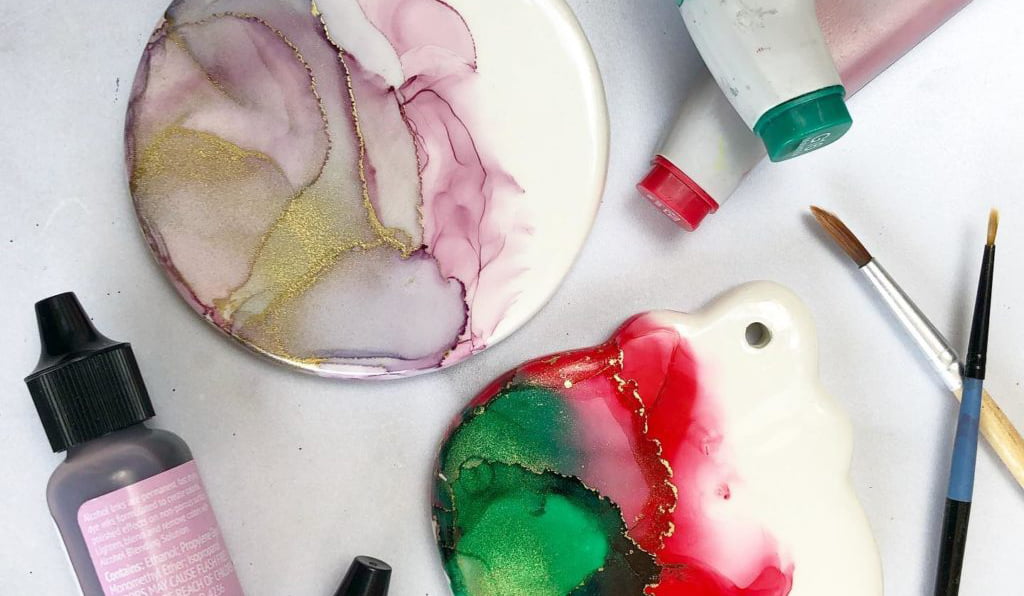 This content is proudly supported by Orange County Library System (OCLS)
As the temperature cools down, there are even more things to try in our city. Check out a new dance class, learn a new recipe or make something perfect for the holidays. Here are our top picks for Orlando workshops + classes happening this December 2019.
WHERE TO TAKE ORLANDO WORKSHOPS + CLASSES: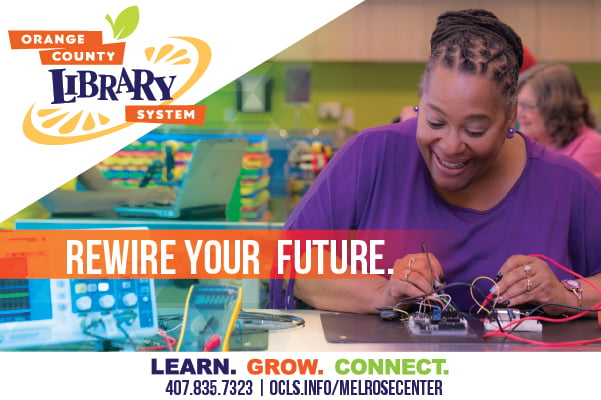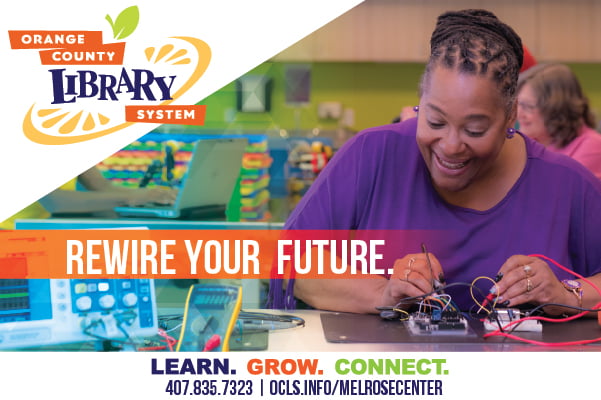 HOLIDAY THEMED CLASSES
Christmas Wreath Workshop
Tuesday, December 3, 7pm
The Grape and the Grain
Build a grapevine wreath that will give you all the Christmas feels.
$70
Holiday Hoop Wreath Workshop
Tuesday, December 3, 7pm
Lakehouse, Lake Nona
Join the duo behind Buds Flower Co as they give you the materials and inspiration to create your own custom Pinterest worthy wreath.
$40
Holiday Wooden Monogram Sign
Thursday, December 5, 6:30pm
Driftwood Market Winter Garden
Create your very own personalized wooden monogram
$45
Wreath Making Workshop
Saturday, December 7, 10:30am
Good Crowd
Enjoy a hands-on workshop where you will create a fresh 14″ diameter asymmetric wreath incorporating fresh evergreens, eucalyptus, berries, and natural element accents.
$50
Holiday Baking: Mediterranean Christmas Sweets
Saturday, December 7, 11am
Leu Gardens
Prepare an assortment of unique, traditional holiday confections from cultures such as Greece, Italy, France, and Spain.
$65
Brass Hoop Wreath Workshop
Saturday, December 7, 5pm
The Heavy
Turn up your Holiday spirit by creating a beautiful decorative piece for your home! Embellish a brass hoop to create a minimalist-style wreath with the help of our talented florists.
$65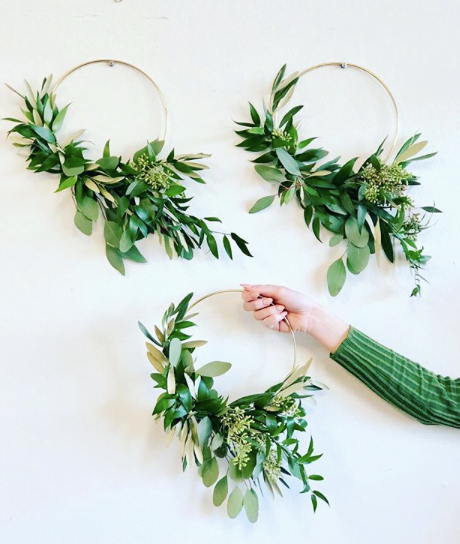 Paint Your Pet on an Ornament or Wine Glass
Saturday, December 7, 5:30pm
Via Francesca
Learn how to use acrylic paint on glassware and paint your pet with step by step instruction.
$40
Holiday Macrame Wreath/Ornament
Sunday, December 8, 1pm
Art & History Museums – Maitland
Choose between two special holiday macrame patterns and macraMAKE yourself or a loved one a hand knotted wreath or a set of two ornaments.
$20 + $10 materials fee
Abstract Art – Coastal Inspired Ornaments with Kate Shore
Sunday, December 8, 2pm
Via Francesca
Learn the basics of acrylic on wood and make two coastal-inspired abstract ornaments with guided instruction by artist Kate Shore.
$45
Bubbles & Ginger
Thursday, December 12, 7pm
Ritz-Carlton Orlando, Grande Lakes
Celebrate National Gingerbread House Day in good company with champagne and savory treats while creating your own version of a Gingerbread House. Space is limited, reservations required; 407-393-4648.
$255 per group (maximum 4 per group; must be 21 or older)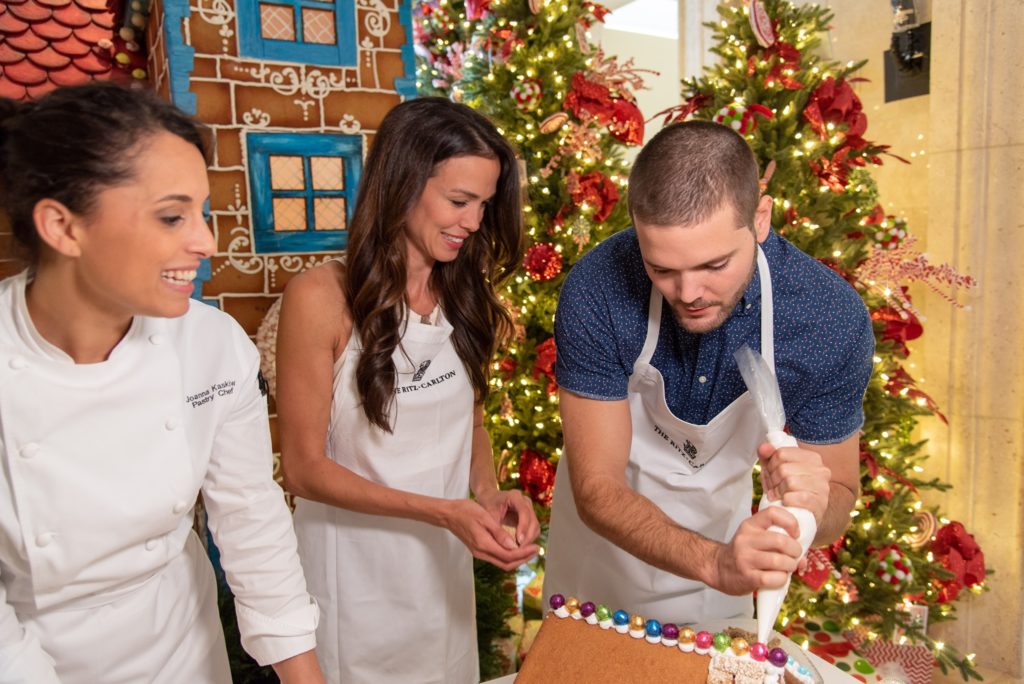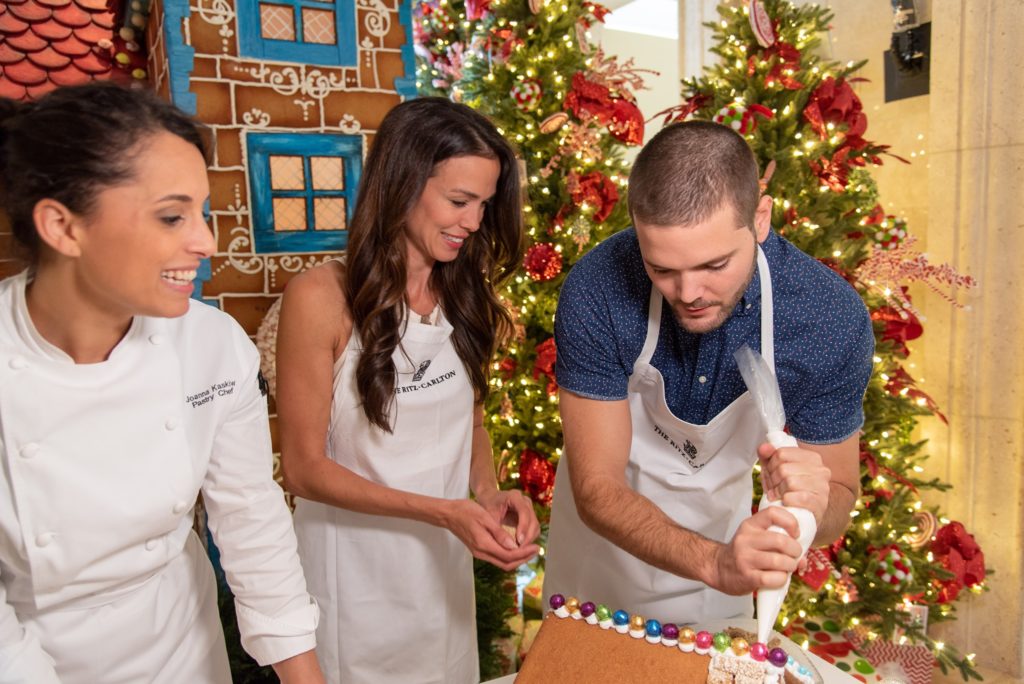 Christmas Cookie Class
Saturday, December 14, 10am
Truffles and Trifles
Make impressive Christmas cookies!
$59
DIY Alcohol Ink Holiday Ornaments
Saturday, December 14, 10am
East End Market
Learn the ins and outs of painting with alcohol inks, then apply what you've learned to make two hand painted ornaments, complete with gift boxes – just in time for the holiday season!! All materials and supplies are included in the cost of the workshop.
$35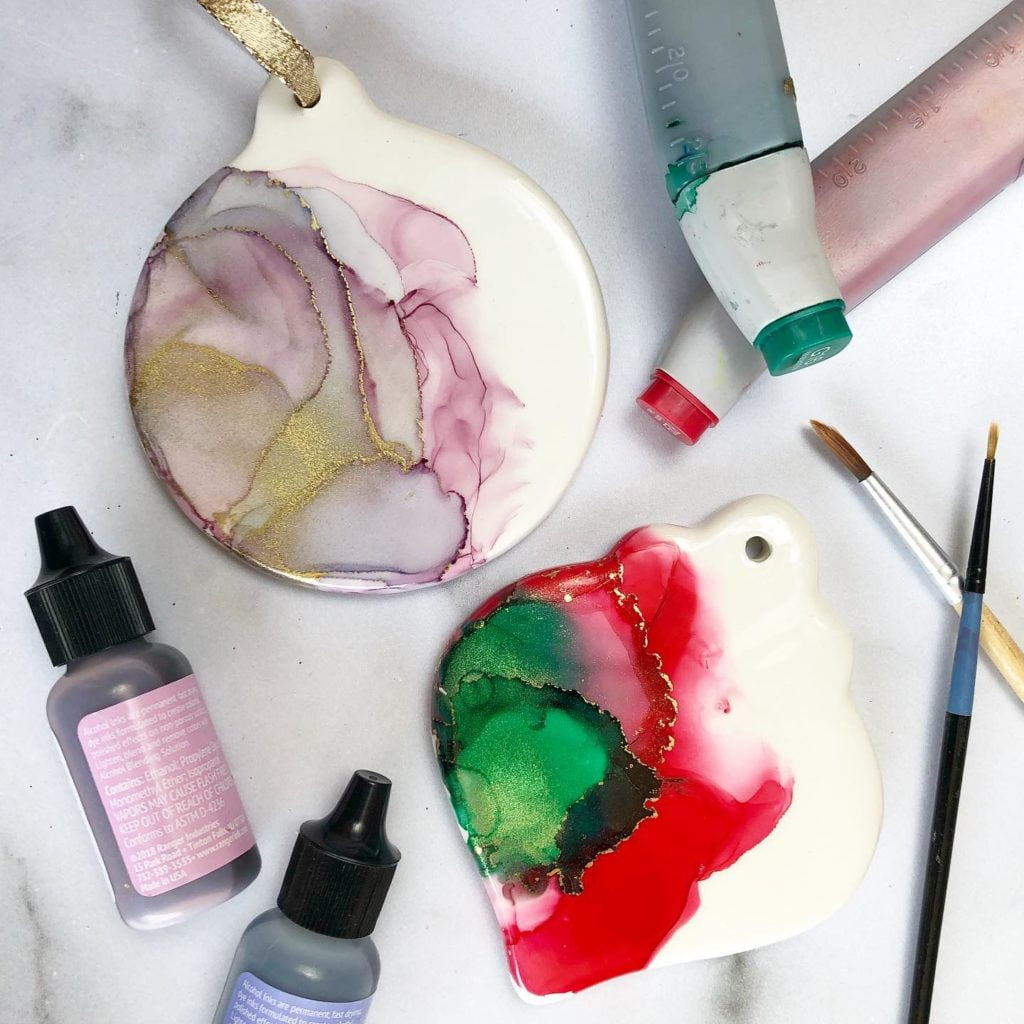 Gift Wrapping Workshop
Sunday, December 15, 4 & 5pm
The Heavy
Wrap a present with beautiful greenery for that special person. Hot toddies to be served while you decorate a personalized wreath to go on your present wrapping it in a natural Kraft paper.
$35
Calligraphy for the Holidays
Monday, December 16, 4pm
Orlando Public Library
Create gift tags and place cards, embellish holiday decorations, and get help addressing envelopes for the holiday season. Feel free to bring your favorite calligraphy pens
Free with your OCLS library card
Couples Holiday Entertaining
Tuesday, December 17, 6pm
Publix Aprons Cooking School – Dr. Phillips
Learn the easy way to entertain with these simple yet delicious party classics.
$100 per couple
Holiday Cocktail Class
Saturday, December 21, 2-4pm
Luke's Kitchen and Bar
Learn to make three holiday concoctions with your own personal flair.
$40
Holiday Cocktails
Saturday, December 21, 3:30pm
Bitters & Brass
Learn to make fun holiday cocktails.
$50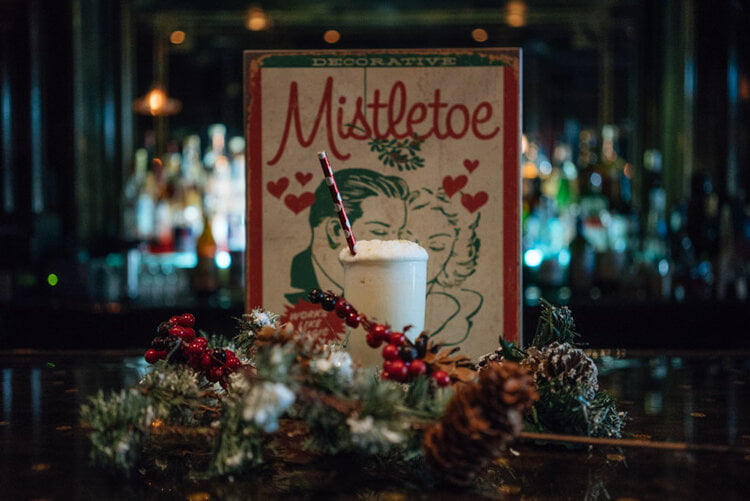 Check out our guide to where to take a cooking class in Orlando for even more ideas.
ACTIVE CLASSES
Musical Theater Jazz
Wednesdays December 3 – 17, 7:30pm
Orlando Ballet School
This class will explore many different styles of dance seen in a variety of Broadway shows!
*Check out the full list of weekly classes offered by Orlando Ballet, including Yogalates, Barre Fitness and more.
$15
Lightsaber Fitness
Wednesdays (December 4, 11, 18), 7:30pm
Studio K
Using a lightsaber, our instructor will lead you through a class like none other merging fight choreography, toning and cardio techniques. Please bring your own lightsaber if you have it but if not, one will be provided!
$10
Hip Hop for Beginners
Thursdays (December 5, 12, 19 and 26), 7pm
DGBEK Studios
Learn a choreographed dance to the latest hits and get in a great workout.
$10
Yoga at the Farmer's Market
Saturday, December 7 and 21, 9:30 and 10:30am
Winter Garden Farmer's Market
Join in on a yoga class at the market. Bring your mat.
FREE
Hourglass Pints with Peacocks
Saturdays (December 7, 14, 21 and 28), 11am
Hourglass Brewing (Curry Ford Rd)
Gather to pause, breathe, stretch, move and then toast to being alive with a beverage from Hourglass Brewing.
$12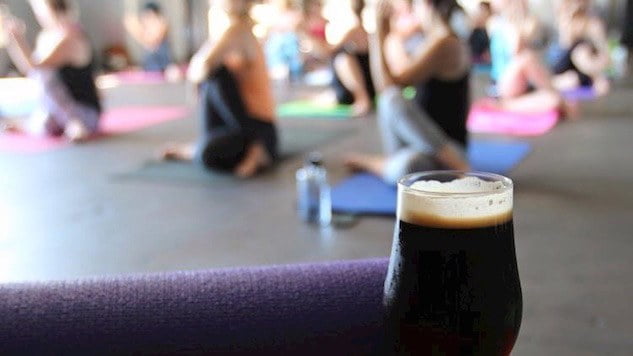 Intro to Tantra: Empowerment and Embodiement
Sunday, December 8, 5pm
YogaMix Orlando
This is the perfect intro to Tantra for curious minds and those ready to explore further along their spiritual and personal growth plans.
$20 per person
Bellydance with Jessica
Friday, December 13 and December 27, 6:30pm
Studio K
Learn the basics of Bellydance, plus choreography to challenge your dance ability and give you a great workout at the same time!
$10
Bootcamp & Brunch
Saturday, December 14, 10am
Luke's Kitchen and Bar
Enjoy a 45-minute instructor-led workout plus a complimentary adult beverage at brunch. Call 407.674.2400 to reserve your spot.
$10 minimum donation
Get Down Dawg: Hip Hop Holidaze
Friday, December 20, 6pm
YogaMix Orlando
Get in the holiday spirit with this energetic yoga class set to a hip hop playlist.
$18
Yoga Under the Stars & More
Friday, December 20, 7:30pm
Orlando Brewing
1 pint of beer + 1 hour of all-levels yoga taught by Sarah Burnett, aka ACROSARAH.
$12 in advance; $14 walk in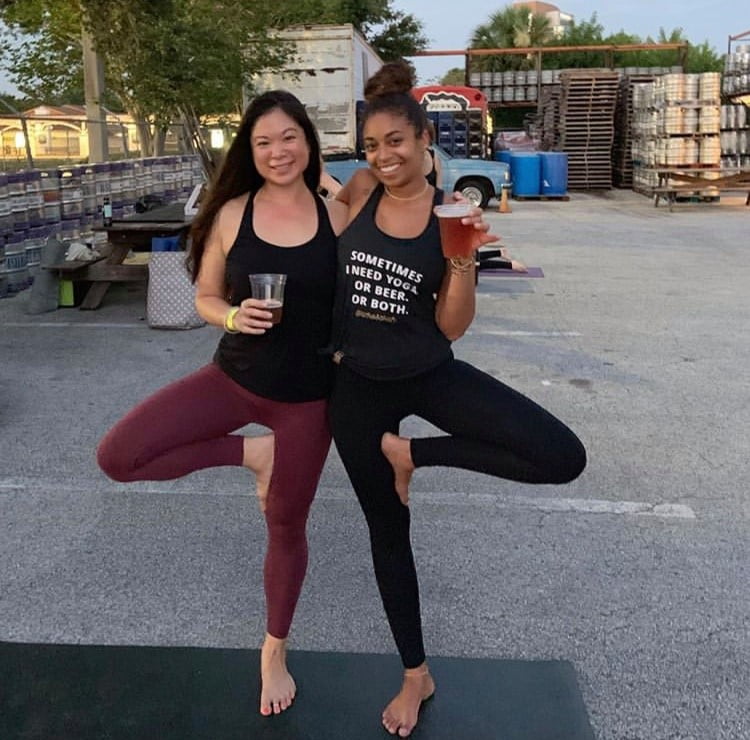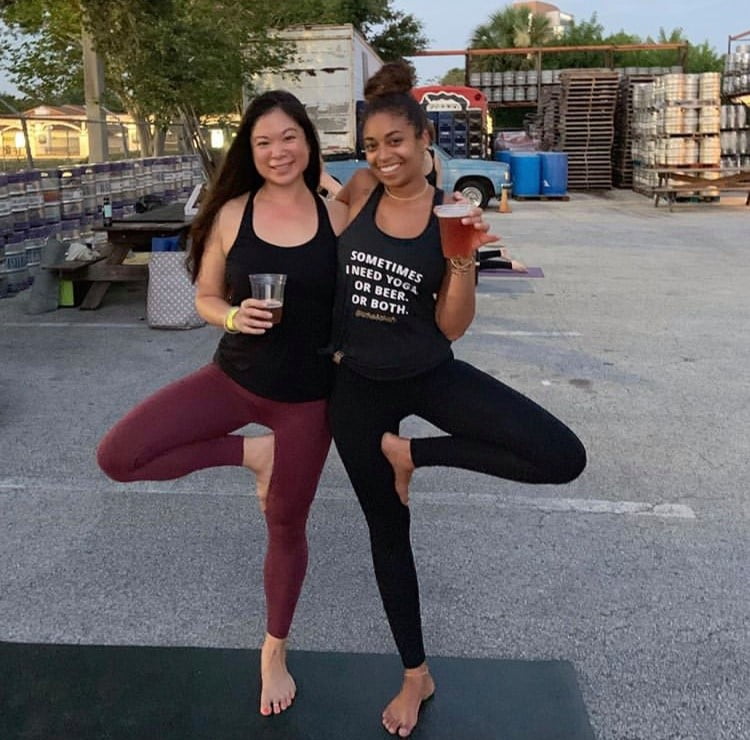 Yoga in the Mennello Museum Sculpture Garden
Sunday, December 29, 9am
Mennello Museum of American Art
Start your Sunday morning out blissfully with a relaxing lakeside flow.
$10
COOKING + DRINK CLASSES
Food Gifts
Wednesday, December 4, 6:30pm
Truffles and Trifles
Learn how to make food gifts for the holidays.
$59
Steakhouses Around the World
Friday, December 6, 6:30pm
Publix Aprons Cooking School – Winter Park
Our Chefs are going to recreate some truly classic dishes made famous from around the world.
$50
Cold Weather Comfort Food
Monday, December 9, 6pm
Publix Aprons Cooking School – Dr. Phillips
As the weather changes and Jack Frost starts nipping at them toes fight back with these warming comfort flavors.
$45
Cuisine Corner: Coquito
Tuesday, December 10, 6:30pm
Orlando Public Library
Learn to make coquito, a traditional Puerto Rican drink.
Free with your OCLS card
Tea Education and Tea Tasting
Wednesday, December 18, 10:30am
Orlando Public Library
Enjoy tea education for everyone from non-tea drinkers, to those who have drank tea their whole life.
FREE with your OCLS card
Lazy Days Braise
Thursday, December 19, 6pm
Publix Aprons Cooking School – Dr. Phillips
Who doesn't like a one pot dish, especially during the busy holiday season?
$45
A Moet Holiday to Remember
Thursday, December 19, 6:30
Publix Aprons Cooking School – Winter Park
Join a Champagne Specialist and our Aprons chefs for a bubbly holiday celebration.
$55
Holiday Cocktail Class
Friday, December 20, 6:30, 7:30, 8:30pm
Evening Exchange – East End Market
Make two different holiday cocktails with Domu's bartending team!
$20
Marshmallow Decorating Class with Sugar Rush Marshmallows
Friday, December 20, 6:30, 7:30, 8:30pm
Evening Exchange – East End Market
Get creative and decorate your own marshmallows while sipping on delicious hot cocoa!
$25
Wine, Cheese and Chocolate Perfectly Paired: Best of 2019
Friday, December 27, 7-9pm
Quantum Leap Winery
Experience the best pairings of 2019! These pairings were the hands-down favorites and you get to experience them all in one class. This class includes favorite wine, and cheese and chocolate pairings for the class of 5 wines, 5 cheeses, and 5 Peterbrooke Chocolatier of Winter Park chocolate confections.
$50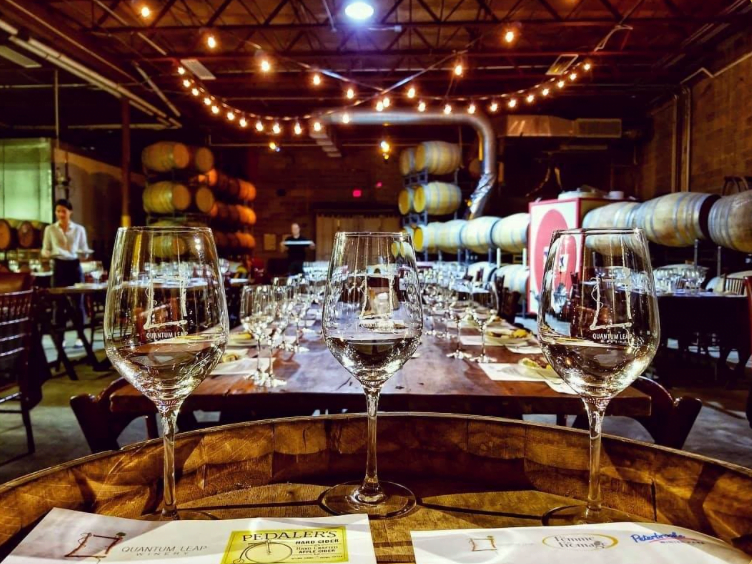 Date Night: New Year's Party
Tuesday, December 31, 8:30pm
Truffles and Trifles
$150/couple
Check out our guide to where to take a cooking class in Orlando for even more ideas.
ART CLASSES
Dirty Pour Project
Sunday, December 1, 2pm
Hourglass Brewing
This is your chance to create unique one of kind incredibly beautiful works of art, with a little help and know how! Of course nothing gets the creative juices flowing like a beer or two, don't worry we've got wine too!
$55
Pearl Bracelet Workshop
Wednesday, December 4, 6pm
Driftwood Market – Winter Garden
Use freshwater pearls to create a beautiful bracelet. Add an inspirational pewter bar to make a personal statement.
$30
Intro to Pour Painting with Sally Dehler
Saturday, December 7, 12-2pm
Via Francesca
Learn the basics of poured/fluid painting and make 3 pieces to take home!
$50
Wild Art and Wine
Tuesday, December 10, 6:30pm
Central Florida Zoo
See the lanterns along the entry path to the Zoo and paint a gorgeous canvas themed around these gorgeous elements while meeting animals up-close, drinking wine, and enjoying hors-d'oeuvres.
$45
Wine and Create Night
Wednesday, December 11, 6pm
Good Crowd
Enjoy a sommelier-led wine tasting and create a custom seed bead necklace.
$30
BeachScapes Workshop
Sunday, December 15, 10am
Blue Jacket Park
This unique workshop will walk guests through the process of creating an aerial beach scene using the fluid painting method.
$75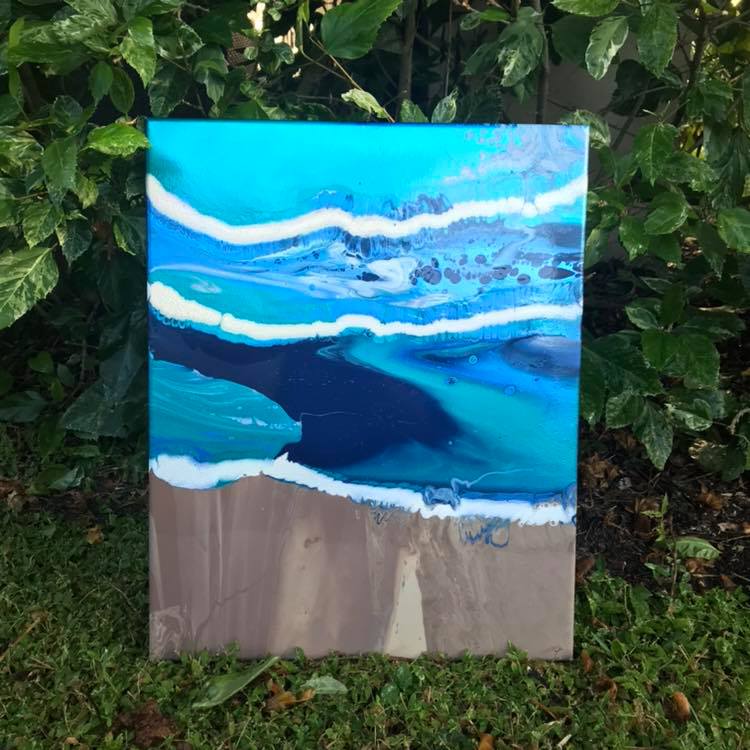 Art Night Out: Pop Art Portraits with Lindsay Thibault
Wednesday, December 18, 6-8:30pm
Orlando Museum of Art
Inspired by the portraits of Roy Lichtenstein, these paintings will take on a comic flare. Bring a photograph of a friend or family member and translate this into a Pop Art-style painting complete with a witty saying.
$30
OTHER CLASSES + WORKSHOPS
Aromatherapy and Botanical Perfume Making Workshop with Essential Oils
Monday, December 2, 9:30am
Leu Gardens
In this fun DIY workshop you will make your very own custom perfume using 100% pure essential oils and botanical flowers.
$65
Glass Blowing 101 Workshop
December 3-7, 4pm
FACTUR
Learn the basics of glass blowing and enjoy a walkthrough of the process to create your own custom object.
$50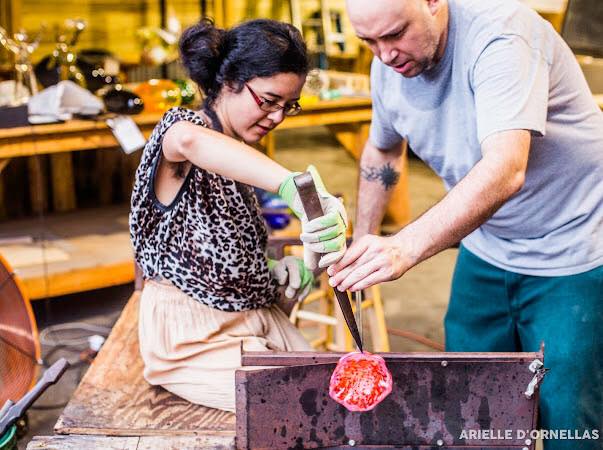 Laser Engraved Cutting Board
Thursday, December 5, 5:30pm
Orlando Public Library
Learn about laser engraving and make your own design to take home a custom laser engraved cutting board.
$5 materials fee; ($15 for class and materials if out of district)
Houseplant 101 Workshop
Thursday, December 12, 6:30pm
The Heavy
Time for another House Plant Workshop! Participates will be learning which house plant best suits them and how to care for it, from our knowledgeable plant specialist. During the workshop you will choose a house plant, pot it, and learn all about this new house addition. Wine is included!
$40
Bathbombs and Brews!
Saturday, December 14, 2pm
Redlight Redlight
Join Artisan Lab to make six beer-inspired bath bombs while sipping on a brew of your choice.
$39
Know of an awesome class we missed? Share it in the comments!
Feature image credit: Lemesto