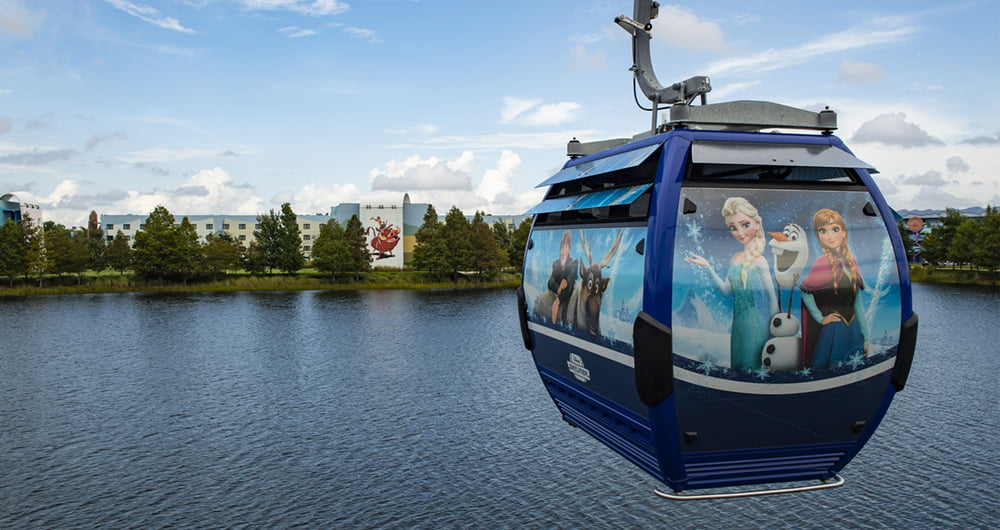 There's magic in the air! The much-anticipated Disney Skyliner gondola transportation system is now open at Walt Disney World Resort. This marks the largest addition to Disney's transportation options since the monorail system.
One of the most fun ways for local couples to enjoy this new Disney experience is on a DIY gondola crawl. Much like the popular do-it-yourself monorail crawl, creating your own gondola crawl is sure to be one of your most memorable Disney dates ever. And with five Skyliner stations along the route you've got a lot of options. Check out our four themed itineraries below to create your own date night gondola crawl.
Basic Info
The system's hub is Disney's Caribbean Beach Resort, which serves as the connection point to each of the other destinations. You will have to disembark here to then select your next destination.
At this time there are no official restrictions limiting use of the Disney Skyliner to only resort guests or those with a dining reservation. However, it may be possible during high peak season that some sort of policy could be enforced, especially since parking at the resorts is often limited. Disney officially suggests that day guests not staying at one of the resorts on the Skyliner route park at Disney's Hollywood Studios.
Disney Skyliner Stations
Epcot International Gateway: A beautiful station inspired by European and Art Nouveau style with decorative elements that resemble moments of flight welcomes you to Epcot's World Showcase. With park admission, you'll enter Epcot via the International Gateway between the France and United Kingdom pavilions.
Disney's Hollywood Studios: Located near the park's front entrance, this station mirrors the same Art Deco style. One perk of arriving to the park via the Skyliner is that it's the only place you get an elevated view of the park.
Disney's Riviera Resort: The newest Disney resort is home to one of the most elegant stations on the line. The Riviera Resort is a new Disney Vacation Club Resort set to open in December 2019. Currently, only guests staying at Disney's Caribbean Beach Resort can utilize this station.
Disney's Caribbean Beach Resort: This station acts as a hub connecting all three Disney Skyliner routes.
Disney's Pop Century Resort and Disney's Art of Animation Resort: Many guests have said that this station has some of the best views. You'll soar above the larger-than-life colorful structures of the resort and the lovely Hourglass Lake.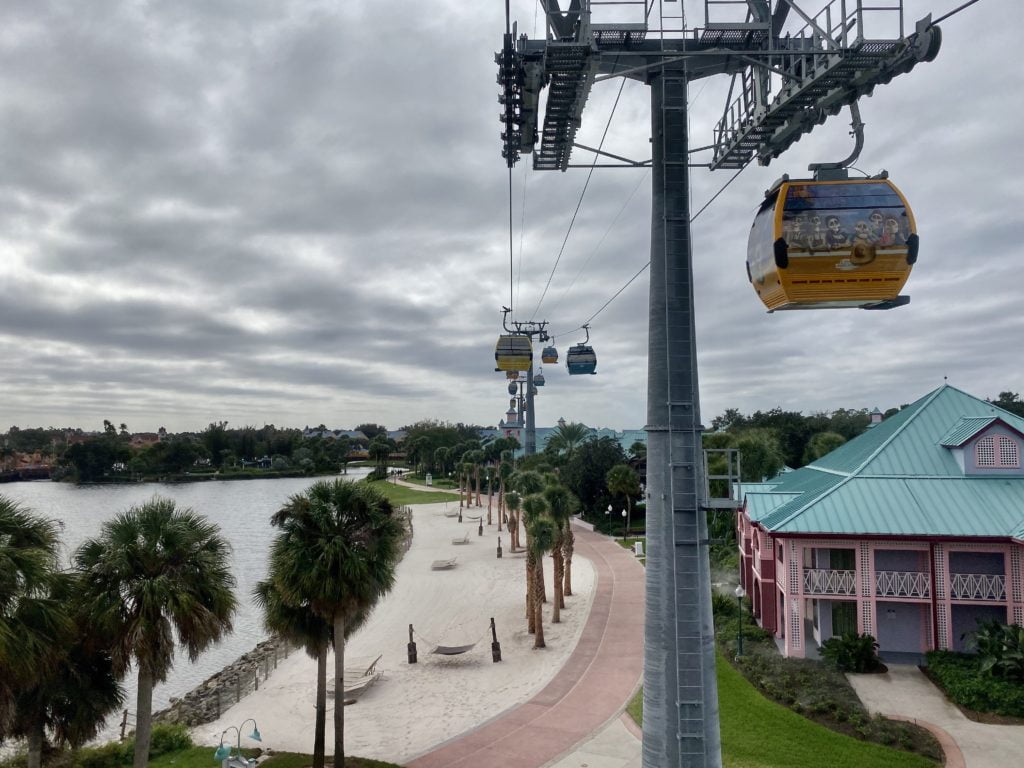 Skyliner Routes
Disney's Hollywood Studios to Disney's Caribbean Beach Resort
Epcot to Disney's Caribbean Beach, with a pass through Disney's Riviera Resort
Disney's Pop Century and Art of Animation Resorts to Disney's Caribbean Beach Resort
Check out this map of the Disney Skyliner routes for reference.
Itinerary 1: Dessert-Only
Satisfy your sweet tooth with your sweetie! At Disney's Caribbean Beach Resort, stroll from the station to the Centertown Market and take in the island atmosphere. At the Market, choose between the Chocolate Creme' Tart and the Tropical Tart, or get one of each! For an added touch of romance, sit outside by the water as you indulge.
From Disney's Caribbean Beach Resort, board your gondola and head for Disney's Pop Century and Art of Animation Resorts. From the station, stroll across the towards the Pop Century side of the resort. On your way to Everything POP for dessert, consider stopping by the section of the resort that pays tribute to the decade of your birth to take unique photos. The Tye-Die Cheesecake is a favorite among many Disney fans and has been on the menu since opening day. Or, for a spin on a nostalgic treat, consider the Oatmeal Cream Pie: two oatmeal cookies filled with a marshmallow buttercream drizzled with dark chocolate and cinnamon fondant icing and finished with rainbow crispies.
With Hollywood Studios admission:
Need more to satisfy your sweet tooth? Head to Disney's Hollywood Studios. Once inside, make your way to Tune-In Lounge (part of the 50's Prime Time Cafe) and order the famous PB&J Milkshake, or go for the comforts of home with Mom's Brownie a la Mode.
Without park admission:
Take the Epcot route and disembark at International Gateway. From here, walk over to Disney's Boardwalk Resort to Ample Hills Creamery for some incredible ice cream.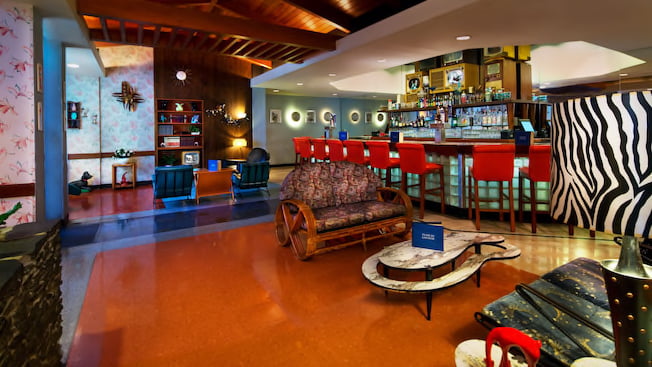 Itinerary 2: Hooray for Hollywood
Have you and your honey got a flair for Hollywood? Then head over to Disney's Hollywood Studios and Disney's Art of Animation Resort for a three-stop crawl that will have you singing "Hooray for Hollywood."
Start off at Disney's Hollywood Studios (you'll need valid park admission), and set the tone by heading to the glamorous Hollywood Brown Derby Lounge. This outdoor drinking and dining location is ideal if you don't want to commit to a full dining experience at The Brown Derby. Nosh on the Artisanal Cheeses and Charcuterie Board or the The Famous Hollywood Brown Derby Cobb Salad. Sip on the Martini or Margarita Flights while sitting outside in the energetic hub of the park.
From here, head further into the park to Baseline Tap House. This walk-up bar features California craft beers, California wines on tap, and a small selection of cocktails on tap. The vibe is very nouveau L.A. Be sure to scope out all the details, like little tributes to Disneyland in California. The giant pretzel with beer cheese and mustard is a popular noshing item. Plus, you'll be near Muppet-Vision 3-D and Star Wars Galaxy's Edge if you want even more Hollywood vibes.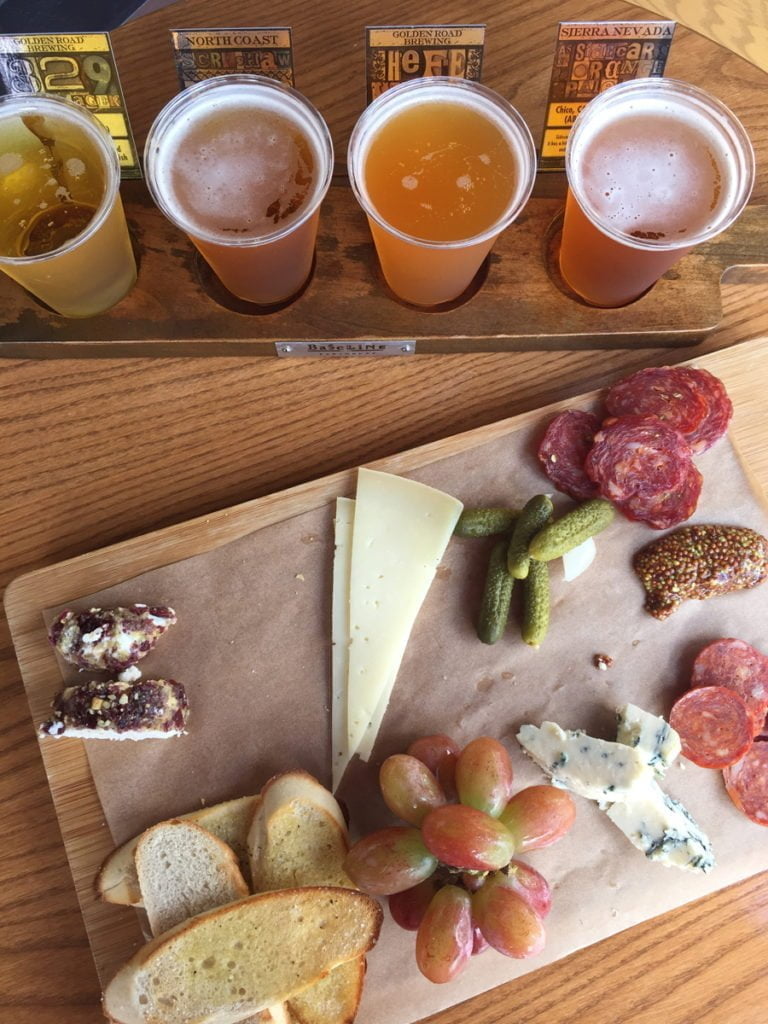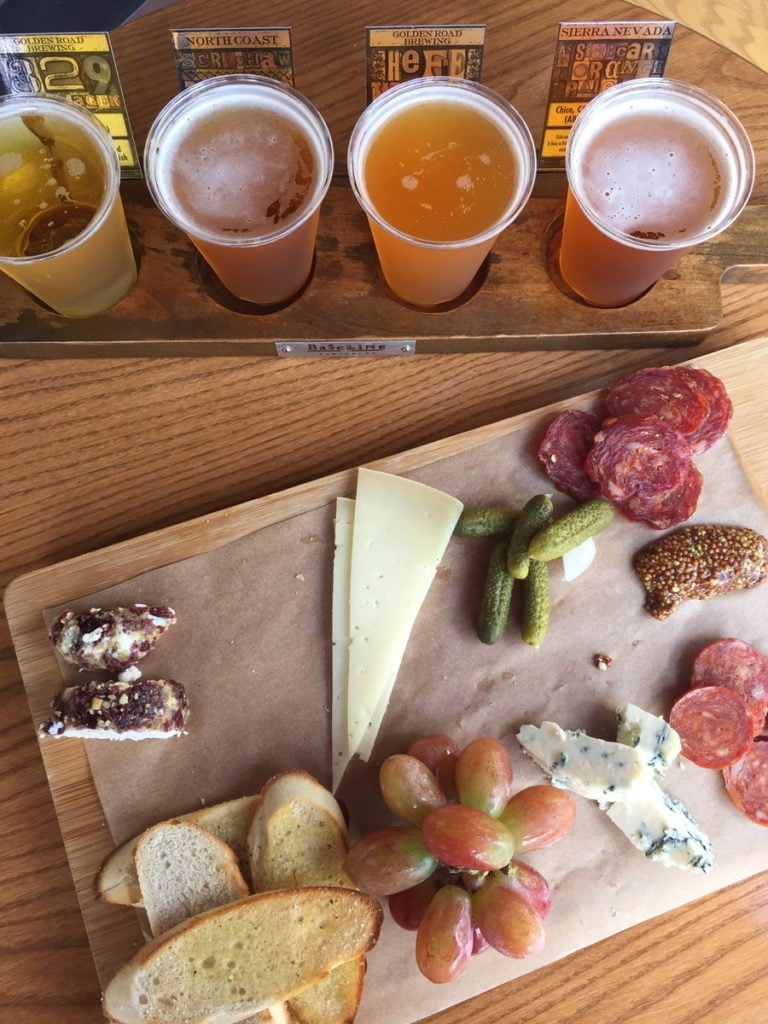 When you're ready, head out to the Skyliner station for a quick ride to the Caribbean Beach hub, then transfer over to the route for Disney's Art of Animation Resort. Once you've reached the Pop and Art of Animation station, stroll over to the Art of Animation side and get ready for countless Instagrammable moments with some of your favorite Disney movie characters. The Drop Off Pool Bar is where you'll find a list of libations to imbibe. I suggest the Frosé or the classy Bourbon Breeze.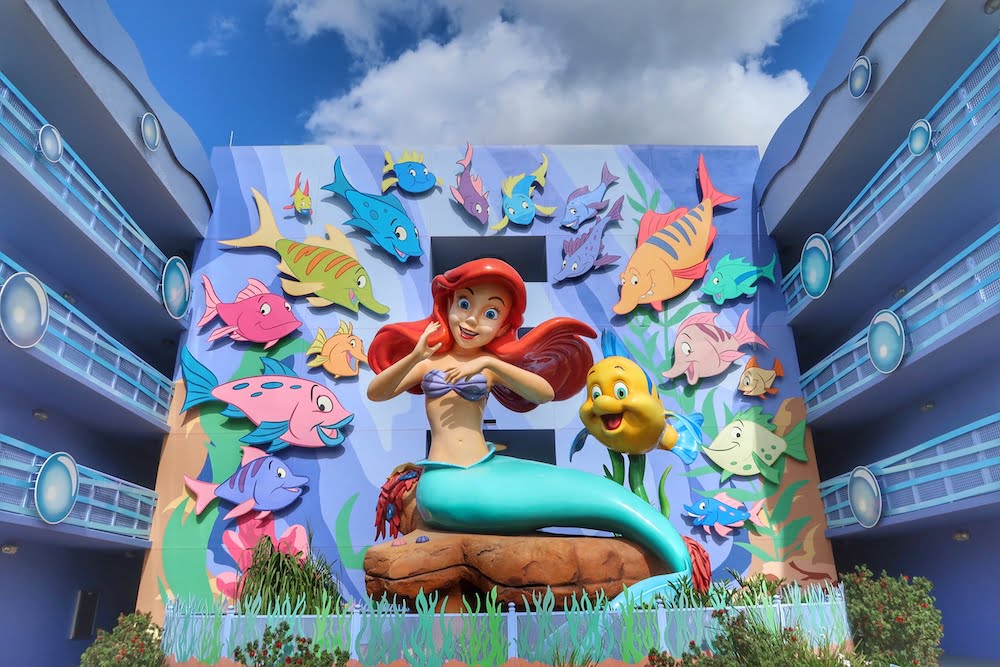 Itinerary 3: Waterside
If you're the type of person that loves to be by the water's edge, this is the gondola crawl for you. Begin at Disney's Caribbean Beach Resort with a visit to Banana Cabana outdoor lounge. This poolside and waterside lounge is the perfect place to enjoy tropical, tranquil views. Tip: the "featured cocktails" are ones that are special to the resort. Release your inner pirate with Hoist the Colors (Cruzan mango and guava rums, Bols Blue Curaçao and Odwalla lemonade with pomegranate juice) or Captain of the Port (Captain Morgan Original Spiced Rum, Plantation Original dark rum, black tea, pure cane sugar and lime juice).
After soaking up some island time, board your gondola for Disney's Art of Animation Resort. Once you disembark, enjoy the Hourglass Lake as you make your way to The Drop Off Pool Bar. Stick with the poolside theme and enjoy the Blue Ocean (Bacardi Superior rum, Svedka vodka, Bols blue curaçao and Odwalla lemonade) or the Poolside Iced Tea (Absolut vodka, Bacardi Superior rum, Beefeater gin, Corazón blanco tequila, Cointreau and Sweet-and-Sour topped with Coca-Cola).
With Epcot park admission:
Head back to Caribbean Beach and transfer to the Epcot route. La Cantina de San Angel at the Mexico pavilion is a quick-service spot for Mexican food and a refreshing margarita. They also offer a few Mexican liquor floaters that can be added to a cold beer. Enjoy the panoramic views of the World Showcase lagoon; La Cantina is the only Epcot quick-service location with waterside seating.
Without park admission:
Take the gondola to Epcot. The Epcot station is at the International Gateway, which is located right next to Disney's Yacht and Beach Club. Take a walk along the boardwalk towards the Stormalong Bay pool and you'll find Hurricane Hanna's Grill. The drink menu is essentially the same as all over Disney pool bars, but the atmosphere is blissful with the pool on one side and Crescent Lake on the other.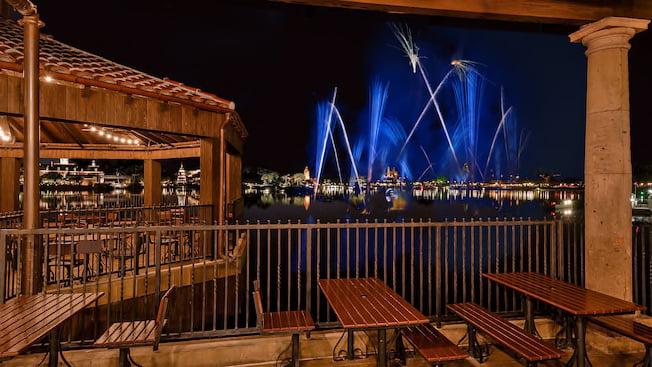 Itinerary 4: Do it All
If you're the go-big-or-go-home type and have lots of stamina, then here's your itinerary. It's best to start at the hub of Caribbean Beach since all routes connect to this station. Enjoy the relaxing waterside setting of Banana Cabana, setline in to share an appetizer or two.
Up next, head over to Disney's Pop Century and Art of Animation Resorts, which is one of the shortest routes. Venture to Petals Pool Bar at Pop Century or The Drop Off Pool Bar at Art of Animation. I recommend The Drop Off since it is slightly newer. From here you will need to head back to Caribbean Beach to get to your next destination.
With Hollywood Studios admission:
Board the Disney's Hollywood Studios route since it is only a three-minute ride. I suggest starting at Tune-In Lounge, the quintessential Disney's Hollywood Studios bar, and then go full hyperspace to Oga's Cantina inside Star Wars: Galaxy's Edge (reservations recommended).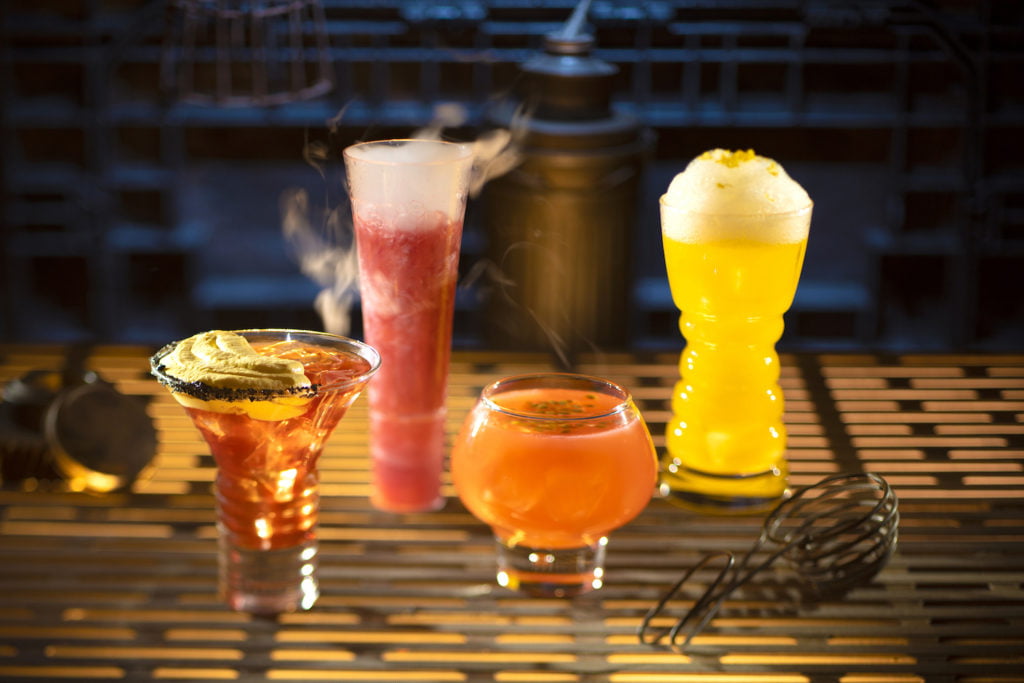 With Epcot park admission:
Continue from Disney's Hollywood Studios to the Caribbean Beach hub and transfer to the Epcot route. This 10-minute ride will give you some time to rest. The United Kingdom pavilion (stop at Rose and Crown Pub) and the France pavilion (try the much-loved Grand Marnier slushy) are the closest stops near the Skyliner station park entrance. Consider timing your visit to where you can be inside of Epcot for the fireworks around 9pm. What a fantastic way to end your epic do-it-all gondola crawl.
Without park admission:
Take the Epcot route to explore the Epcot Resort area. There are around 10 lounges to choose from. I suggest AbracadaBar or Belle Vue Lounge at Disney's BoardWalk or Ale & Compass at Disney's Yacht Club Resort. You'll want to save the theme parks for the last two stops since they take longer to get into and you have more options for dining and drinks.
Final Tips and Information
Disney Skyliner system is relatively new and may experience occasional downtimes, especially during severe weather.
Seating on each gondola is wooden benches that face each other. To get the best views I suggest turning around and looking out the window behind you.
The gondolas slow down, but do not stop, for boarding.
The route from Disney's Caribbean Beach to Epcot tends to have the longest wait time.
Resort stations are not at the front of the resorts. There will be walking involved to get from the Skyliner station to the resort's restaurants and lounges.
Feature image credit: Walt Disney World Resort (David Roark, Photographer)