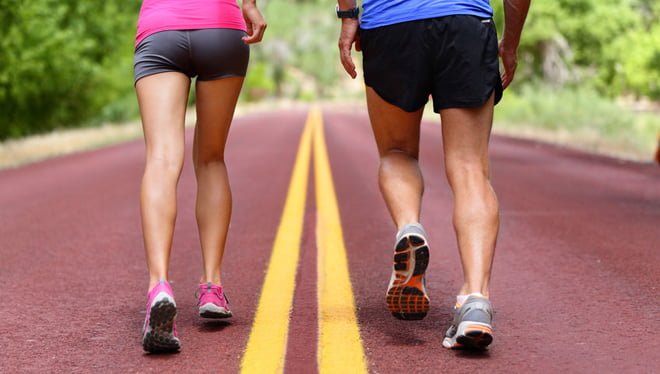 As we have entered a new year many of us are working on implementing healthier habits. Maybe you and your sweetheart have decided to run more in the new year. We've sorted through hundreds of running events and weekly run clubs in the Orlando area to try with your running buddy. This guide is sure to help you both keep up a healthy running habit together.
Weekly Run Clubs
Orlando Runners Club
Sundays and Wednesdays, with occasional extra dates each month
Morning and evening runs depending on day and location
Winter Park, College Park, and Mills 50
Perhaps one of Orlando's very first running groups. Founded in 1976!
Running for Brews Orlando
Every Wednesday, 6:45pm
700 E Washington St, Orlando, Florida 32801
Run a 5K course or opt for a shorter distance and cap it off with some food and drink at Graffiti Junktion. Enjoy downtown Orlando and Thornton Park! Also check out the weekly SODO Coffee Runs Sunday mornings at 6:45am.
St. Johns River Runners
Days and locations vary
Tuesday, Wednesdays, and Fridays usually 5am
Saturdays usually 7am
This group covers the St. Johns River area. Runs are regularly scheduled in DeBary, Deltona, DeLand, Orange City, Sanford and Lake Mary. Be sure to check their Meet Up page for the latest schedule and to request to join the group.
Ten10 Run Club
Every Tuesday, 6:30pm
1010 Virginia Dr Orlando, Florida
One of Orlando's first brewery associated running groups. There are 2 mile, 5k, and 10k routes to follow. The location is great because it is right on the Orlando Urban Trail.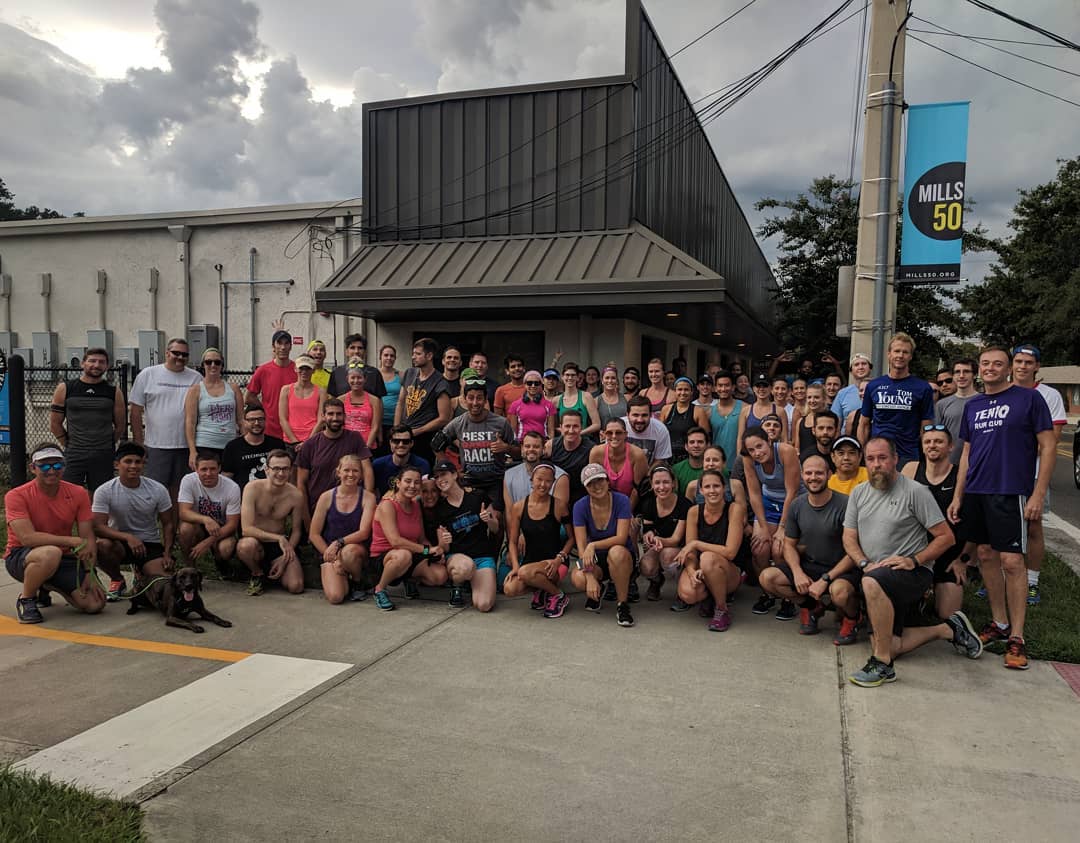 Hunter's Creek Running Club
Wednesdays, 6:30pm
Sundays, 7am
5100 Town Center Blvd Orlando, FL 32837
Saturdays, 6am
14101 Town Loop Blvd Orlando, FL 32837
This group does have an annual fee of $25.
Hourglass Brewing Run Club
Every other Wednesday at 6pm
Hourglass Brewing (Longwood location)
This brewer-led run club explores downtown Longwood and celebrates at Hourglass Brewery after the run.
Deviant Wolfe Brewing Group Run
Every Wednesday at 6pm
121 W 1st St, Sanford, FL 32771
Enjoy a run through historic downtown Sanford with this weekly run club at Deviant Wolfe Brewing. This brewery is very runner friendly and helps support a local annual 5K, Melissa's Race that raises money for brain cancer research.
Lake Nona Run Club
Tuesday and Thursday Mornings 5:30am
Tuesday and Thursday Nights Oct-Apr: 6:30pm; May-Sept: 7pm
Email lakenonarunclub@gmail.com for locations.
Our picks for 2020 Runs and Races
Charity-Loving Runs and Races
Have a great time together while doing good for charities and philanthropic organizations.
5K Run & Walk for RA
Saturday, January, 18, 2020
8:30am
Bill Frederick Park
3401 S. Hiawassee Rd
Orlando, FL 32835
This 5K is great for both runners and walkers. Funds raised by this run support efforts to find a cure for Rheumatoid Arthritis (RA).
Kiss-Im-Mee 5K
Saturday, February 8, 2020
7:30am
Kissimmee Lakeshore Park
201 Lakeview Drive
Kissimmee, FL 34741
This event will promote heart health with a portion of the proceeds benefiting the American Heart Association. Participants will enjoy a serene lakeshore run as the early morning fog rolls over Lake Tohopekaliga. They will take in some of Kissimmee's beautiful historic homes and find great shopping and dining venues as they run through the historic downtown. This event is for runners and walkers of all abilities. Strollers are welcome. This race encourages you to dress in Valentine's Day attire and includes three costume contests. They even have an option to register as a couple's team.
Jenny Albert Hatchling Dash 5K
Saturday, March 25, 2020
8:30am
Bill Frederick Park
3401 S. Hiawassee Rd
Orlando, FL 32835
If you enjoy supporting the natural world this 5K race is a great choice. During her 12 year career with SeaWorld, Jenny Albert helped to rescue and rehabilitate over 900 sea turtles. This 5K takes place in Bill Frederick Park, a very popular venue for many running events in Orlando. Enjoy the natural scenery along Turkey Lake as you help fund support for sea turtle rescue and research.
Southeastern Guide Dogs Walkathon
Saturday April 11, 2020
Cranes Roost Park
Altamonte Springs, FL
This event is absolutely perfect for couples that love doggies. This 3K walkathon is dog-friendly, resulting in an adorable cavalcade of fur-babies. It takes place on a scenic walking route around the lake.This event benefits Southeastern Guide Dogs which trains and provides guide dogs and lifetime services for those in need of a guide dog, particularly Armed Forces veterans.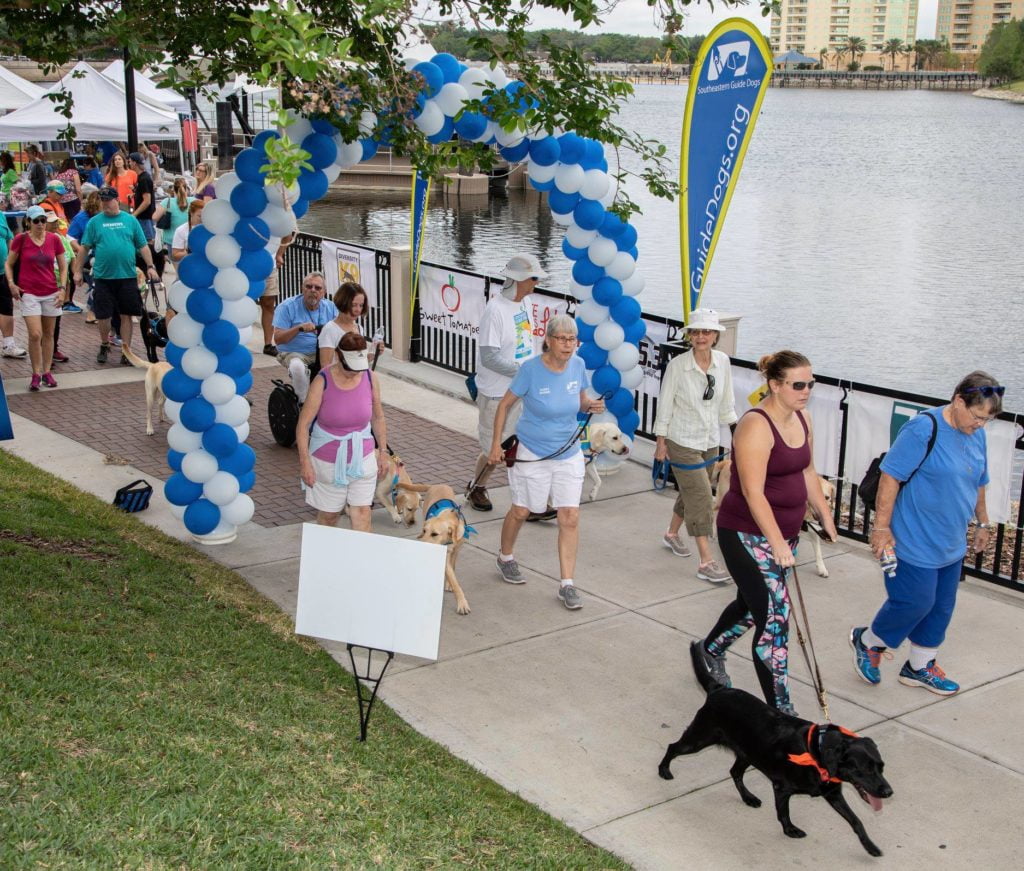 The Florida Run
Saturday, April 11, 2020
Colt Creek State Park
16000 FL-471
Lakeland, FL 33809
Saturday, November 21, 2020
Lake Louisa State Park
7305 U.S. Highway 27
Clermont, FL 34711
Do you love the Sunshine State? Then there is no better way to enjoy the natural beauty of the southernmost state than with a run or walk through one of the state's best state parks. Whether you choose to participate in April at Colt Creek Park or in November at Lake Lousia you'll enjoy Florida's natural beauty. This race benefits the Florida State Parks – what a great way to preserve the state that we all know and love! Both races offer a 1-mile, 5K, 10K, or half marathon. If you participate in both races (Colt Creek in April and Lake Louisa in Clermont) you'll earn a third medal!
Melissa's Race 5K to Battle Brain Cancer (Fifth Annual)
Saturday April 25, 2020
7:30m
Fort Mellon Park – Sanford, FL
600 E 1st St, Sanford, FL 32771
Each year Melissa's Race grows, raising more awareness for brain cancer and more money for brain cancer research. Have a wonderful Saturday morning together by participating in this 5K race that is suitable for both runners and walkers. This is a chip-timed race, but casual runners and walkers can enjoy the beautiful scenery along the water and the charming storefronts in this bustling, historic city.
If you can't make it to Sanford you can participate virtually anywhere, anytime. Either way you'll earn a t-shirt, a medal, and support a great cause! Melissa's Race is created by Melissa Vosburg Inc, a non-profit organization run by family and friends of Melissa Vosburg, a Sanford-area teacher who passed away in 2013 from Gioblastoma Multiforme, the most common form of brain cancer.
New this year: The "Brews for Brains" after party takes place immediately after the race at Fort Mellon Park. Whether you participate in the race or not, you can enjoy this party with some Sanford's best breweries, eateries, and more!
Special promotion: Now through 11:59 PM EST on Valentine's Day 02/14/2020, anytime two people register for Melissa's Race together, signing up at the same time, they'll receive $10 off per couple. No special code needed.
Adventurous and Themed Runs
These runs are fun and adventurous and include things like color runs, glow in the dark runs and more.
2020 Running Universal Epic Character 5K and 10K
Saturday, February 1, 2020 – 5K
Sunday, February 2, 2020 – 10K
6:15am
Universal Orlando Resort
Universal Orlando has been offering running events here and there throughout the years, but nothing like this Epic Character race weekend. Whether you choose the 5K or the 10K, your run will take you through part of the Universal Orlando theme parks with opportunities for photos with characters. FYI, if you're participating in this race, Hilton Orlando is offering a special Epic Race weekend package that includes self-parking, two daily complimentary i-Ride trolley passes,15% savings at the hotel's restaurants and bars and 25% off poolside cabana rentals. You can also show your race medal for a discounted sports massage treatment at eforea Spa.
Track Shack's Run 4 Love 4 Mile
Saturday, February 15, 2020
7:30am
Showalter East Fields
250 Perth Lane
Winter Park, FL 32792
Get an early (and healthy) start to Valentine's Day celebrations by participating in this fun love-themed run. This annual run celebrates love and the love of running. Wear your best costume for a chance to win the costume contest.
Cupid's Undie Run
Saturday, February 15, 2020
12-4pm
Elixir, 9 W. Washington St. in Orlando
Keep it PG-13, but as the name suggests get in your undies and go for a run for a good cause too! All proceeds benefit neurofibromatosis research. This "brief" run (get it? brief?) is a short run that ends in a fun party, certainly a fun way to run with your valentine.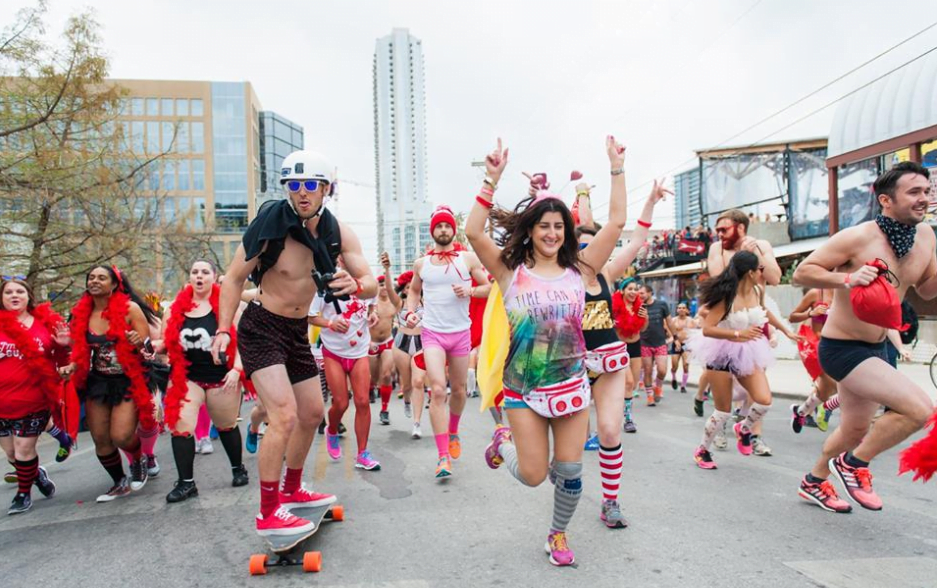 Quack Attack 5K
Saturday, February 15, 2020
8am
Harbor Park at Lake Baldwin, Orlando, FL
Help raise funds for United Against Poverty Orlando while running a 5K in which participants are required to wear an inflatable duck-shaped pool float through the course featuring bubble, squirt gun and quack zones.
Fiddler's Green 5K
Saturday, February 22, 2020
Fiddler's Green Pub
544 W Fairbanks Ave, Winter Park, FL 32789
Get an early start on St. Patrick's Day fun with one of Central Florida's most fun 5Ks. It's dog friendly, too! Wear your best green or Irish gear and run through Winter Park. After the race and awards runners are invited for a beer and some fun at Fiddler's Green Irish Pub. 100% of the proceeds from the event will benefit local charities: Habitat for Humanity of Winter Park-Maitland and Conductive Education Center of Orlando.
6th Annual Purple Pride 5K
Saturday, February 22, 2020
8am
Exploria Stadium
655 W. Church Street Orlando, FL 32801
Join Orlando City's top fans on a run to kick off the start of soccer season in Orlando. Registration includes a t-shirt, finishers medal, and a ticket to the Orlando City Home Opener on Saturday, February 29 against Real Salt Lake. This run is extra fun for fans because this year the course ends on the sideline of the field inside of the stadium. Runners will also get to exit the field through the black-lit player's tunnel.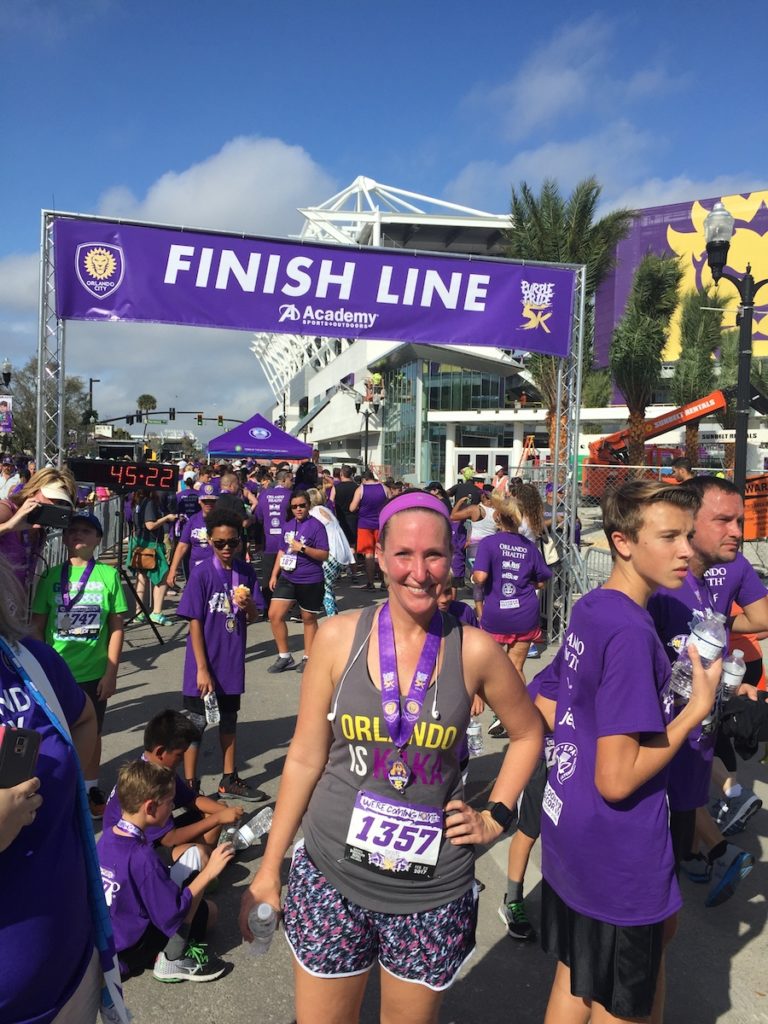 Born to Be a Unicorn- 5K, 10K, or Half Marathon
Saturday, April 5, 2020
All races begin at 7:30am; Fun Run at 9am
Blue Jacket Park
2501 General Rees Avenue
Orlando, FL 32802
This series of races is absolutely perfect for anyone wanting a little extra encouragement. The course is on a two-mile loop, enabling you to be surrounded by encouragement as you pass the beverage, food, and aid station. Additionally, runners of all distances are given four hours to complete their race, and the after-party keeps going all the way through to when the last runner crosses the finish line.
The Great Inflatable Race 5K
Saturday, April 25, 2020
9am
Bill Frederick Park
3401 S Hiawassee Rd.
Orlando, FL 32835
Not for the faint of heart, this race is sure to challenge anyone, but in a fun way. Inflatable obstacles await throughout the course. You're sure to make some unforgettable memories together in this race!
Night Nation Run
TBD
Orlando Amphitheater at the Central Florida Fair
4603 W. Colonial Drive in Orlando
You just can't beat the energy of this event where music festival meets running event! High energy EDM DJs will keep you moving before, during and after the run. The course includes such zones as "lantern land" and "bubble world" with DJs throughout.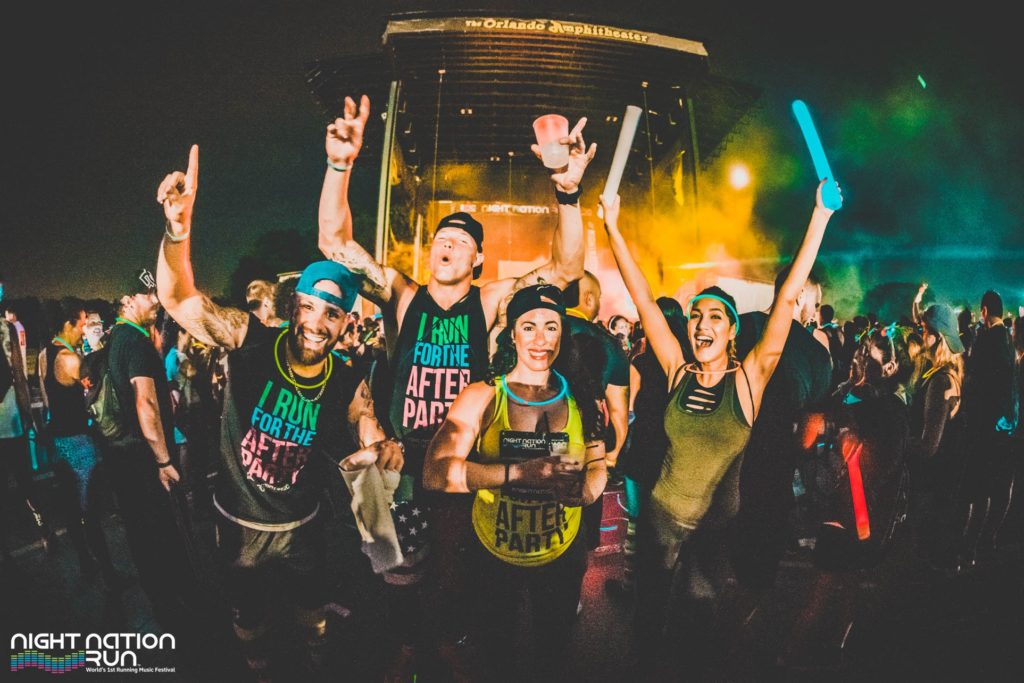 Foodie-Themed Runs
Foodies will love these food and drink themed runs that are sure to get your appetites into shape.
Annual PIG RUN of Lake Nona
Saturday, April 11, 2020
YMCA @ Northlake Park
9055 Northlake Parkway
Orlando, FL 32827
This run is hilariously based on how many donuts you can consume at the halfway point of the race. Don't worry about the extra calories, you're sure to burn them off and don't worry about trying to finish at a certain time, this is all about fun and consuming as many donuts as possible.
Clermont Clay U Run U Pick Blueberry 5K
Saturday, April 25, 2020
7:30am
Southern Hill Farms
16651 Schofield Road
Clermont, FL US 34714
Southern Hill Farms' annual Clermont Clay U Run U Pick Blueberry 5K welcomes you with clay roads and countryside rolling hills! After the race enjoy a pancake breakfast and then pick a pound of blueberries.

AdventHealth Watermelon 5K
July 4, 2020
7:30am
251 Park Avenue South
Winter Park, FL 32789
Start your Independence Day the right way with a 5K! Join friends, family and neighbors for a morning celebration with ice cold watermelon and American pride.
Red, White, and Brew 5K
July 4, 2020 – to be confirmed
Time and date TBD
1523 Town Center Dr.
Lakeland, Florida 33803
This patriotic 5K ends in free pancakes and lots of swag. In addition to the pancakes, you have the choice to pick an awesome shirt, a headband, or a beach towel, fun finisher's medal, complementary root beers, and a brews from neighboring Brass Tap! There is also a "Lil' Firecracker Run" for kids.
Extreme Runs
There's nothing more extreme than these races! Be prepared, these will put you to the test.
Masters of All Terrain 2020 Race Series
Saturday, March 14, 2020
Seminole State Forest
Orlando, FL 32801
Sunday, June 28, 2020
Location TBD
Saturday September 5, 2020
Location TBD
Choose from a 5K or half marathon as you run through rugged terrain. Have a tough pup? You can run in the canine division together!
Ron Jon Cocoa Beach Triathlon
Sunday, April 5, 2020
GPS Address: 1500 Minutemen Causeway, Cocoa Beach, FL 32931
This Space Coast Triathlon is an enjoyable one for established athletes, but has proven itself as a great test for first time triathletes. It all starts with a .25 mile swim in the Banana River. The swim is a beach entry and beach exit, followed by a 12.5-mile out and back flat bike route along a riverfront golf course. The run portion now takes place entirely on a golf course. With its beach town location many participants don tropical attire at the after party!
Moss Park Forest Run
Saturday, July 18, 2020
12901 Moss Park Rd
Orlando, FL 32832-6228
5K / 10K / 15K Challenge
Moss Park Forest is claimed as one of the best off-road running venues in the state of Florida. Enjoy the shade-covered trail and natural environment during this challenging but rewarding running experience. Benefits the Green Beret Foundation.
Insane Inflatable Race 5K
Saturday, November 21, 2020
2500 Parkway Dr
Melbourne, FL
Inflatable obstacles are pretty fun. But insane inflatable races go to a whole new level. You'll conquer some of the most insane inflated obstacles known to man or woman. This race is near the coast, so make it a beach trip!
Feature image credit: maridav / 123RF Stock Photo