One of the best times of year is upon us in Central Florida. Strawberries and citrus fruits are in season, the weather is ideal for exploring the outdoors, and, my personal favorite of all, it's azalea season! These flamboyant flowers bloom in a variety of shades like coral, fuchsia and violet. When you find yourself in a park or garden with an abundance of these flowers you'll feel enveloped by the colors. Now through February is the perfect time to plan a romantic stroll through a garden or a picnic in a park. And we've got some perfectly paired date ideas so you can enjoy this season together.
Jim Houser Azalea Garden + Picnic Lunch
A popular Orlando suburb, Maitland is sometimes overlooked for date potential. During azalea season my personal favorite park is Jim Houser Azalea Garden. It is packed with azaleas along winding pathways with plentiful places to sit and reflect. Picnic tables invite you to grab lunch or an early dinner nearby. There's also a covered bridge just a few steps away.
For a bite to eat, Kappy's Subs is just down the road, or try Houndstooth Kitchen and Eatery at Maitland City Centre – a mixed used development with excellent eateries and a few shops. For a classic, albeit indulgent lunch, go with Kappy's. The roadside spot has been serving up subs since the 1960's. They are known for their cheesesteaks, including ones served Kappy's style which is chopped ground beef. Grad a few subs to-go for a messy but fun picnic in the park. They're open for breakfast too if you prefer a morning date. Alternatively, Houndstooth is a newer gourmet lunch spot with healthful options. Bring along Fido and sit outside or pack up your food to-go for a flavorful lunch in the park.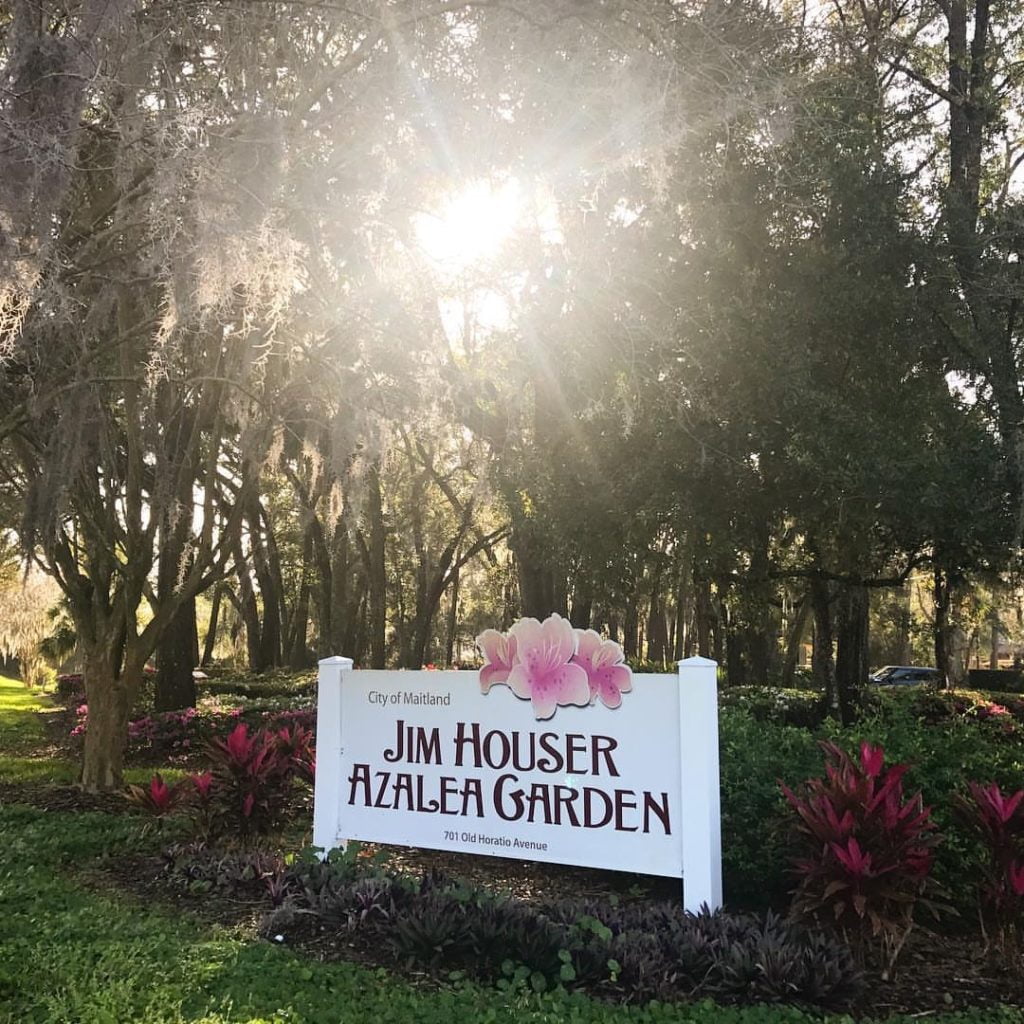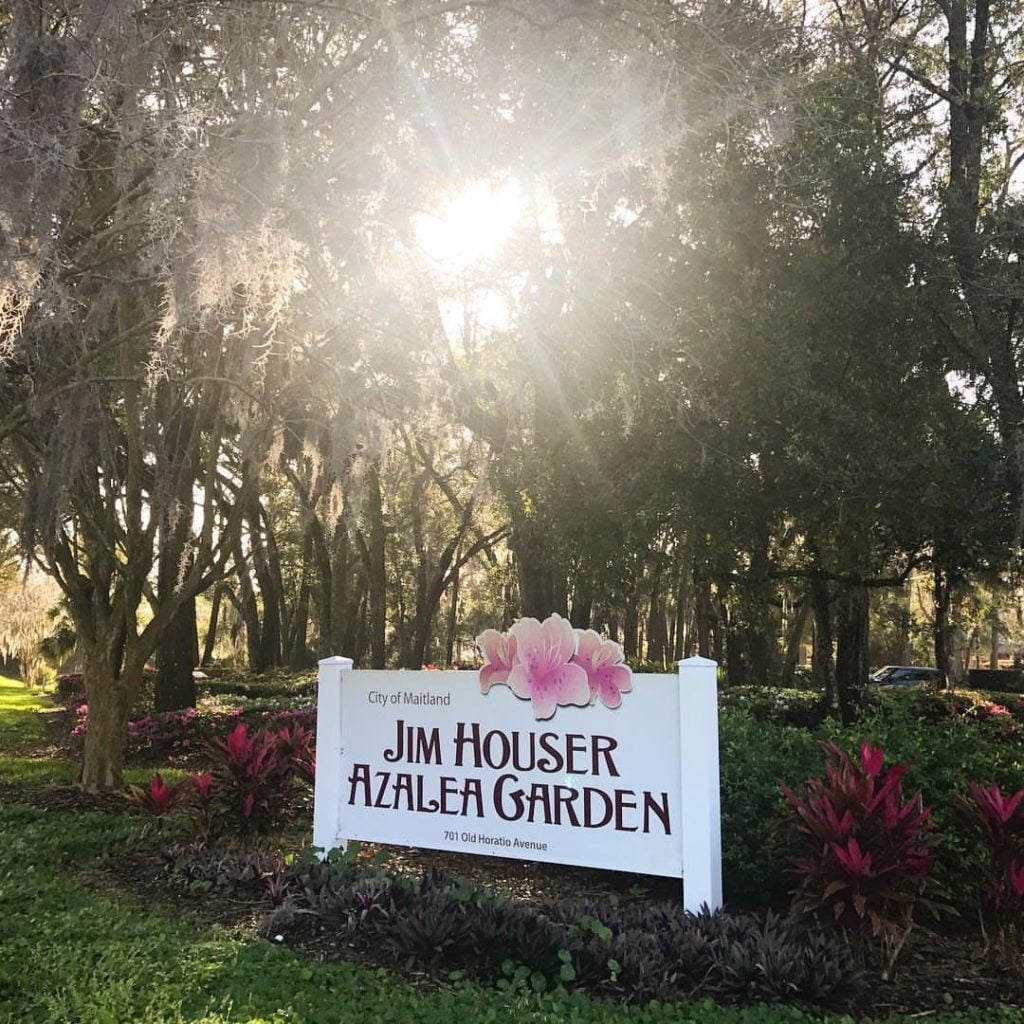 Dickson Azalea Park + The Milk District
As the name of the park implies, the bright and brilliant azalea flower is the focal point of Dickson Azalea Park during azalea season, generally through the end of March. This beautiful park provides peaceful moments in the middle of an urban neighborhood. You and your sweetheart will be treated to pops of color all around.
Just a few blocks away at the edge of downtown Orlando lies The Milk District. There are plentiful restaurants, bakeries and a few breweries waiting to be enjoyed here. Grab some food to go and have a picnic in the park. Sandwiches from Bad As's Sandwiches are sure to satisfy, or pick up something sweet from Se7en Bites. Dickson Azalea Park is not too far from the Thornton Park District so there is opportunity to explore this beloved neighborhood too. Consider starting your date with brunch at Maxine's on Shine as an alternate idea.
Bok Tower Gardens + Blue Palmetto Cafe
When you think of impressive Central Florida gardens, it is hard not to think of Bok Tower Gardens. One of Florida's oldest and most loved attractions, visiting Bok Tower Gardens is akin to entering a fairy tale garden, the setting for countless stories. Late winter and early spring are some of the best times to visit because so many flowers are in bloom. In fact, this time of year the staff hosts special walking tours to highlight some of the best flora in the gardens. This walking tour is included with regular admission and is offered Monday – Saturday at noon and 2pm, and on Sundays at 2pm.
There is a charming cafe in the grounds that offers a lovely setting to dine, or you can package up your meal and enjoy it in the park itself. Or, time your visit with one of the periodic dinners at the outdoor kitchen. You will leave with incredible memories and some spectacular photos, too.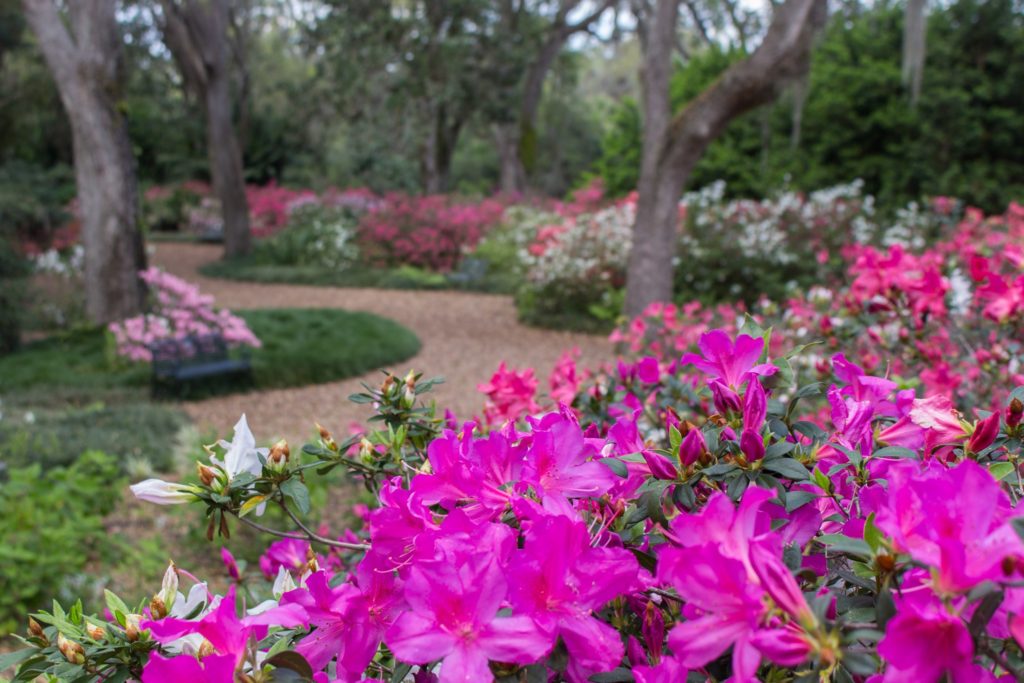 Kraft Azalea Garden + Winter Park Courtyards
One of Orlando's poshest streets, Park Avenue, is home to charming parks, gardens and lovely cafes. Nearby is Kraft Azalea Garden, a popular spot for outdoor weddings that is beautiful anytime of year. The allure of this park is elevated during azalea season. Stroll through the winding pathway as the brilliant flowers bloom around you, and head to the sparkling lake. This park radiates romance.
While you're in a romantic mood, make the most of one of Park Avenue best features – its charming courtyards. Park Avenue and Winter Park are already unique destinations, but the courtyards and hidden gardens make it even more special. Check out our Winter Park Courtyard Date Ideas for foodie inspiration.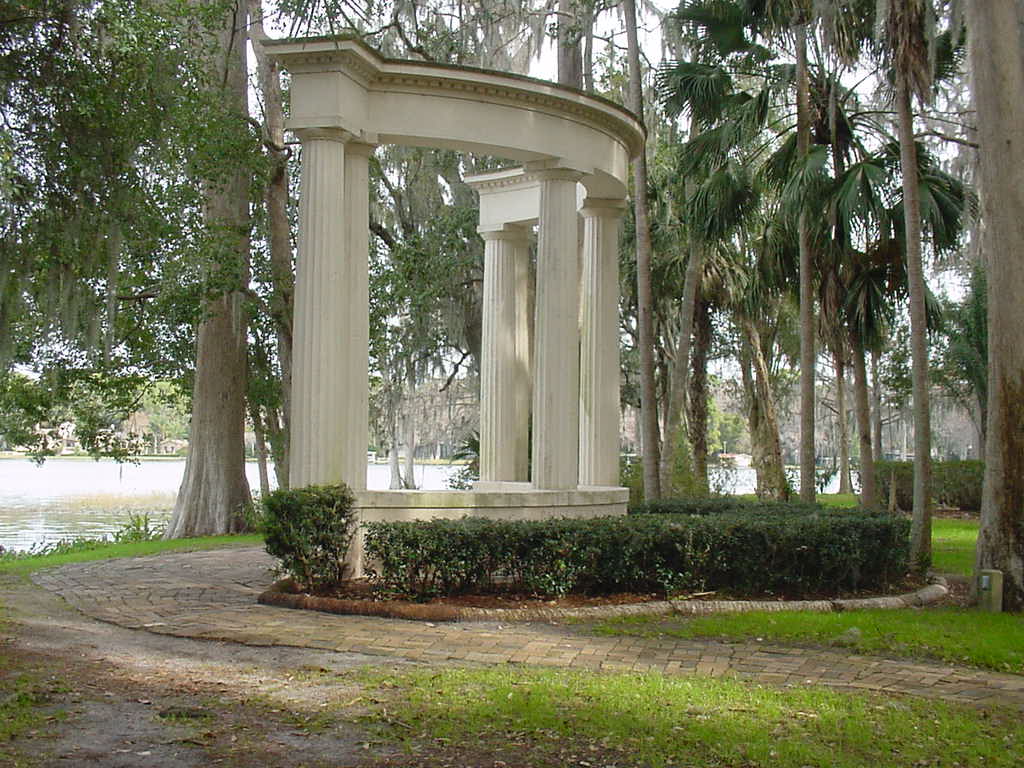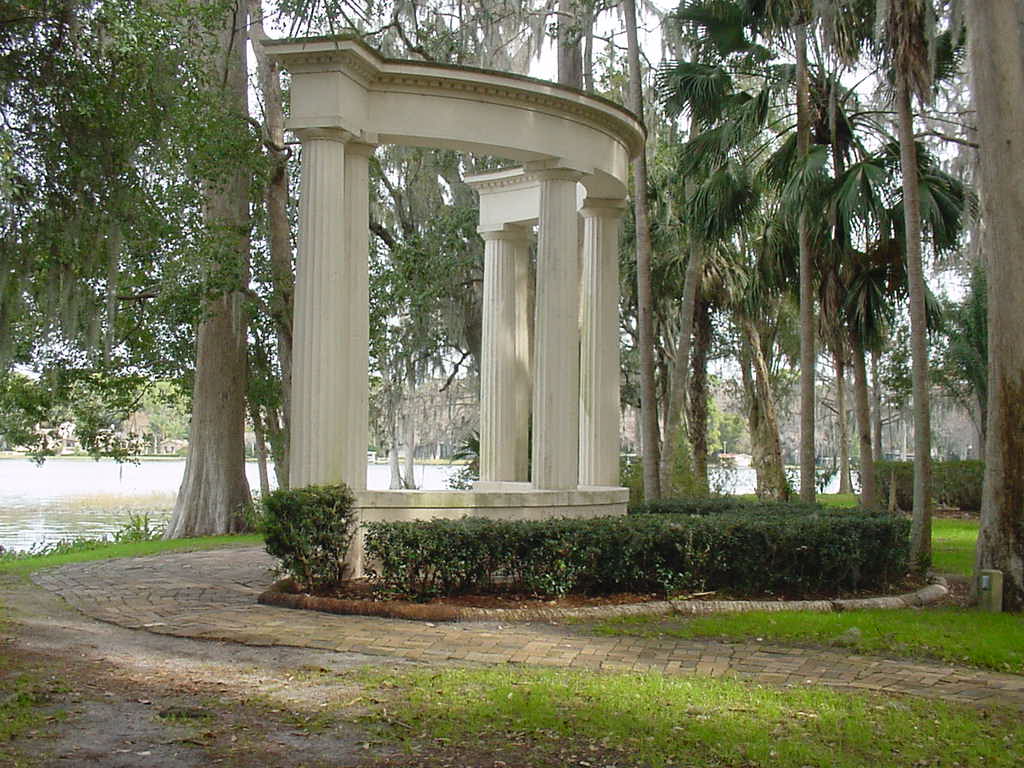 Mead Botanical Garden + Mills 50
Tucked down a neighborhood street in Winter Park is Mead Botanical Garden. You'll find much more than azaleas here, but of course visiting during this season does enhance the already pretty scenery. Enjoy a stroll through the butterfly garden, and savor the peace and quiet on the lovely front porch of the park's welcome center. Bring bikes to hit the paved trail, which exits the park, guides you through residential streets (a portion of this path is on the road), links up to the Orlando Urban Trail and leads you towards the Mills 50 District.
Mills 50 is one of the most creative and special neighborhoods in Central Florida. Named for the intersection of Mills Avenue and Colonial Drive (State Road 50), it's in this district that you'll find an abundance of eateries and shops, many decorated with fascinating murals. While you're in the area you have to stop at one, if not more, of the many awesome restaurants in Mills 50. My favorite casual spot is King Bao. No one executes the tender airiness of bao better than King Bao, in my opinion. And the flavorful combination of ingredients and toppings they come up with is mind-blowing. Follow our Guac and Graffiti Itinerary for another option.
Ravine Gardens State Park + Ocala Eats
If you're looking for a day trip adventure, consider driving up to Ravine Gardens State Park. This park features a 1.8-mile drive down the ravine itself, and is known for azaleas surrounding much of the pathway. February is the best time to plan a visit if you're coming for the azaleas. Ravine Gardens State Park is in Palatka, which is just north of Ocala. While you're in the area consider booking a horse drawn carriage with Horse Country Carriage Co. Ocala also has a charming historic downtown for wandering and strolling. Check out our day trip guide to Ocala for a bevy of activities and eateries to pair with your state park visit. You could even make it a true getaway and stay a night or two at Grand Oaks Resort.
Feature image by Stephanie Patterson