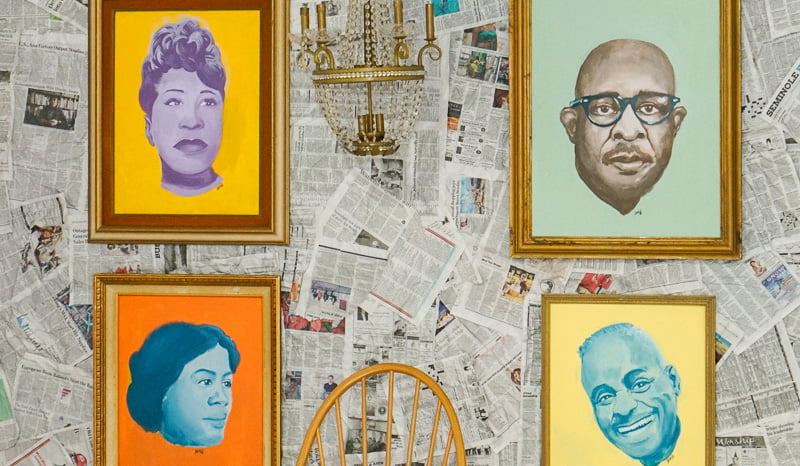 Every February, we celebrate the history, achievements and contributions of African Americans during Black History Month. From the many African-American neighborhoods and towns, including Parramore and Eatonville, there's an abundance of ways to celebrate Black History Month in Orlando. Check out some of our favorite ways to commemorate Black History Month and try incorporating one of the below activities into your next date night.
Museums & Exhibits
Black History Month at Wall Crawl
Nestled in Orlando's Parramore district, selfie heaven Wall Crawl has debuted a special wall in honor of Black History Month in partnership with the Wells' Built Museum of African American History & Culture. Painted by local artist Jamile Johnson, the wall honors African American historical figures who had direct ties to Parramore. I recommend the Date Night packages which range from $50 for two general admission tickets and one 4×6 image keepsake to $100 for two tickets plus 20 edited digital images from your visit. Deal alert: Throughout February, Wall Crawl will cover your admission to the Wells' Built Museum with the purchase of a Wall Crawl general admission ticket!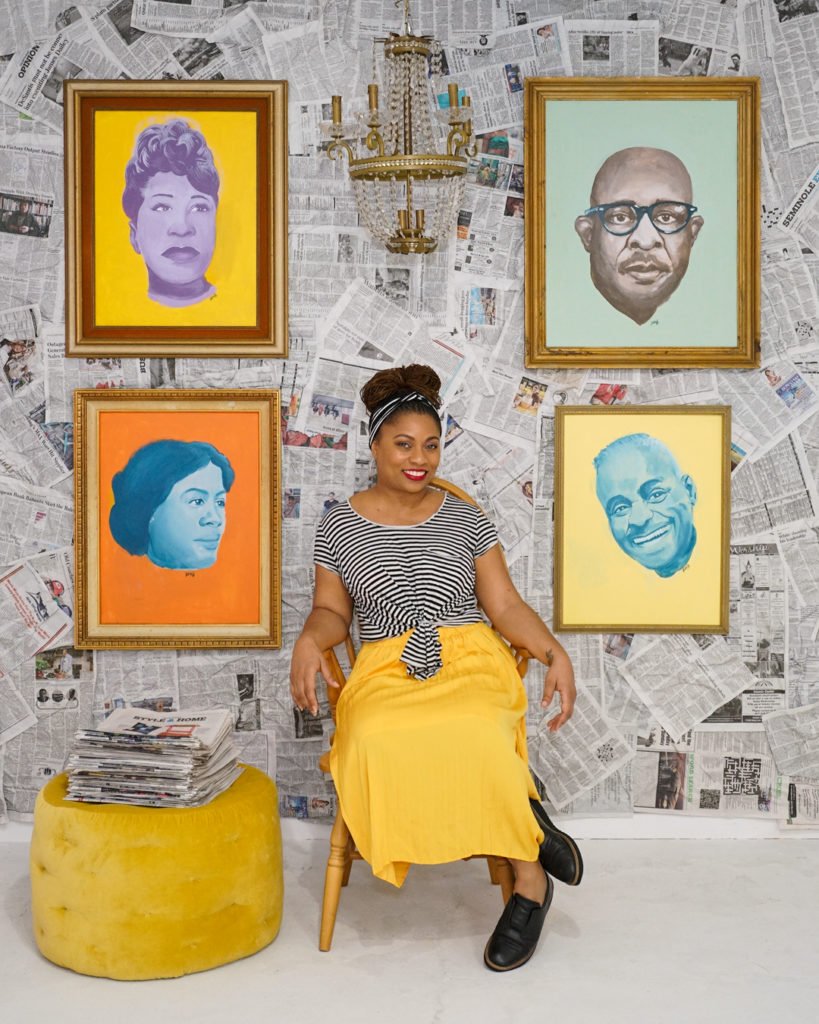 The Wells' Built Museum of African American History
Formerly the Wells' Built Hotel, which hosted the likes of musical legend Ella Fitzgerald, the Wells' Built Museum boasts 6,000 square feet of African American memorabilia from right here in Orlando. Tickets are $5 per adult and you can snag an annual membership for $30. If you visit Wall Crawl first, you'll receive a free ticket to the museum throughout February.
Living Color: The Art of the Highwaymen – Orlando Museum of Art
The Orlando Museum of Art highlights the Highwaymen in this brand new exhibit. The Highwaymen are a group of African American artists who captured Florida's natural beauty in their artwork. Living Color: The Art of the Highwaymen features 100 paintings you do not want to miss! The exhibit runs through May 10, 2020 and admission to the museum is $15. Consider visiting during 1st Thursdays, an after-hours monthly event featuring a themed art show, beer and wine for purchase and full museum access for $15. There's also a free paneled art discussion, Perspectives on Highwaymen Art, in April.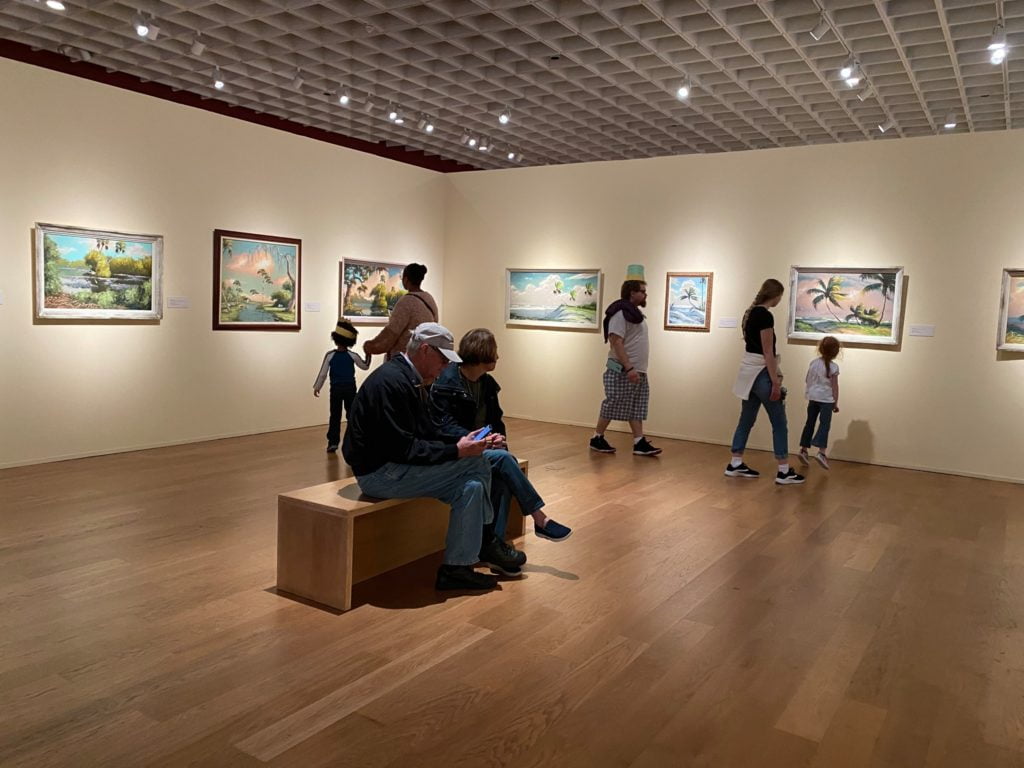 Zora Neale Hurston National Museum of Fine Arts
Head to the heart of Eatonville to visit the Zora Neale Hurston National Museum of the Fine Arts. Since 1990, the museum has presented nearly 50 exhibits showcasing works by artists of African descent. There is no set admission fee for visitors but donations are appreciated.
African American History Exhibit – Orange County Regional History Center
The Orange County Regional History Center is home to a permanent African American History exhibit, which aims to expand your understanding of the triumphs and tragedies of African Americans throughout Central Florida's history. The exhibit includes paintings from The Highwaymen. Tickets are $8.
Events
Movieola – Akeela and the Bee – Feb 7
The City of Orlando's movie-in-the-park series, Movieola, will screen Akeelah and the Bee! in honor of Black History Month. Grab your picnic blanket and enjoy this drama about Akeelah, an 11-year-old Los Angeles girl who dreams of winning the National Spelling Bee. This is a free community event.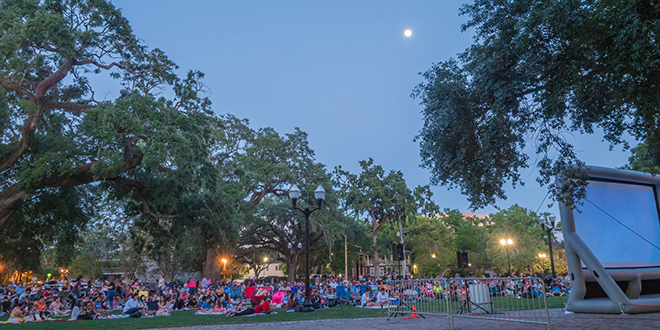 Black History Month-Professionals Night Out Social Event – Feb 9
Whip out those business cards with bae! Several professional organizations, including the African American Chamber of Commerce of Central Florida and the National Black MBA Association, Inc. Central Florida Chapter have teamed up to bring you the premier Black History Month networking event. This social event is free and open to the public.
Painting with a Twist – The Tribal Goddess – Black History Month – Feb 11
Visit Painting with a Twist February 10 to bring Black History Month to the canvas. Try your hand at painting a beautiful tribal goddess.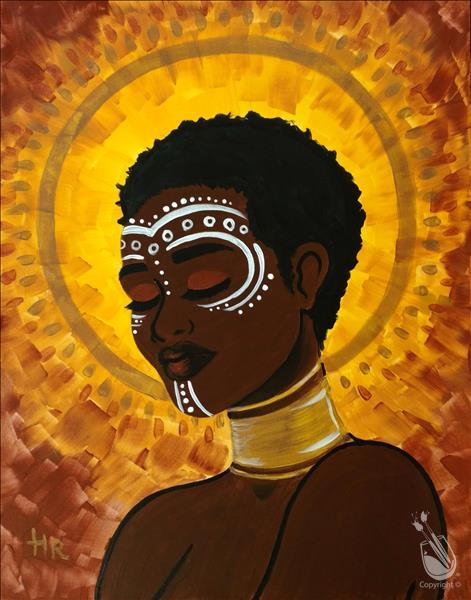 City of Orlando Black History Month Reception – Feb 12
Enjoy an evening of celebration and cultural performances at the City of Orlando's annual Black History Month Reception. This year's theme is "2020- African Americans and the Vote." This is a free community event.
African American Read-In – Feb 16
The Orange County Library System's annual African American Read-In is a celebration of African-American literature in poetry, story and song. Local luminaries perform and read various works on the main stage at the Orlando Public Library. This event is free and open to the public.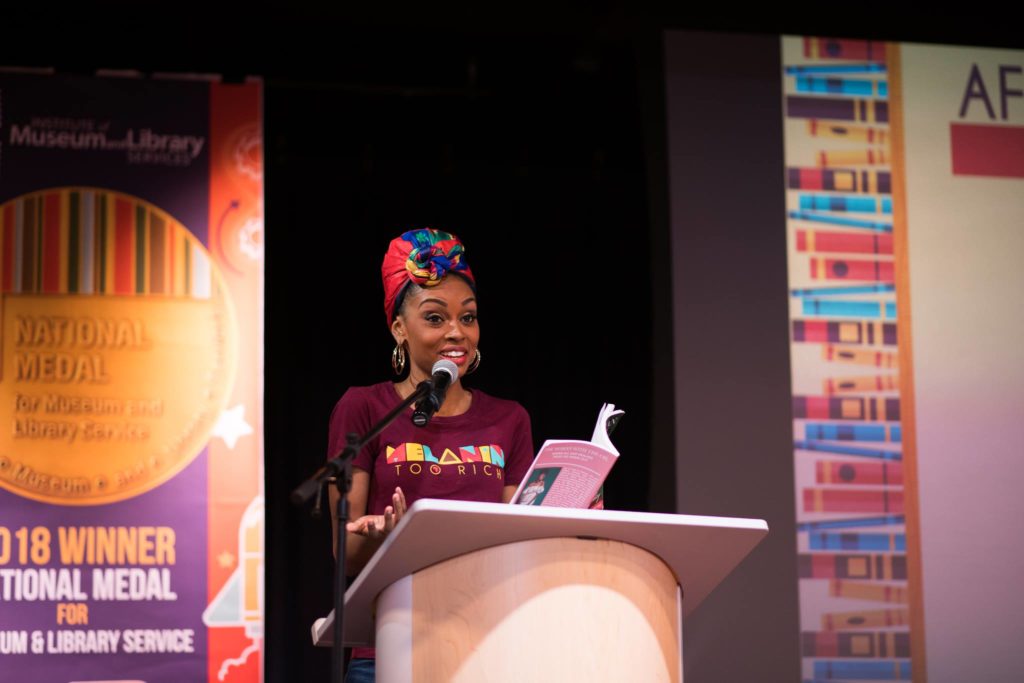 Sanford Jazz Ensemble's Black History Concert – Feb 23
Enjoy some jazz tunes during the Sanford Jazz Ensemble's Black History Month Concert at the Wayne Densch Performing Arts Center. The group of diverse volunteer musicians will perform material ranging from classic swing to contemporary jazz. Tickets are $15.
Restaurants
DaJen Eats Cafe & Creamery
Located steps away from the Zora Neale Hurston Museum in Eatonville, DaJen Eats specializes in vegan Jamaican food. Favorite dishes include the "Honey" Ginger Chipotle Cauliflower Bites, Jamaican Jerk BBQ Jackfruit Sliders and the Looney "Toona" Sammich. If you've got a sweet tooth, check out their dairy-free ice cream, Irie Cream!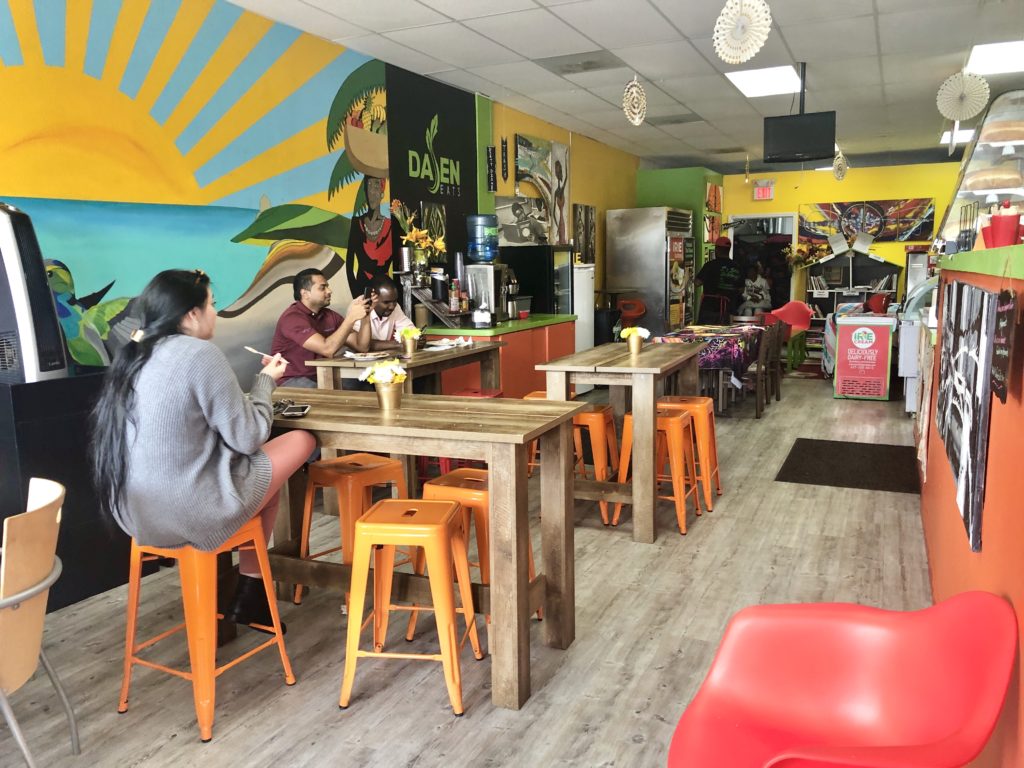 Nikki's Place
If soul food is your jam, you must head to Nikki's Place to enjoy "Southern Cuisine the Way It Used to Be." Since 1999, Nikki's has been serving up traditional southern dishes, including Smothered Rib Tips, Baked Chicken and Fried Wings alongside Collard Greens, Candied Yams, Corn Muffins and more.
Eat N Wash
At Eat N Wash, you can enjoy seafood and barbecue while getting your car washed! Note: Car washes are by appointment only. All meals–ranging from crab legs and lobster to barbecue chicken wings–are made fresh-to-order.
Know of an event, museum, exhibit or restaurant we missed? Share your favorites with us in the comments to help this list grow!
Feature image credit: Wall Crawl, art by Jamile Johnson