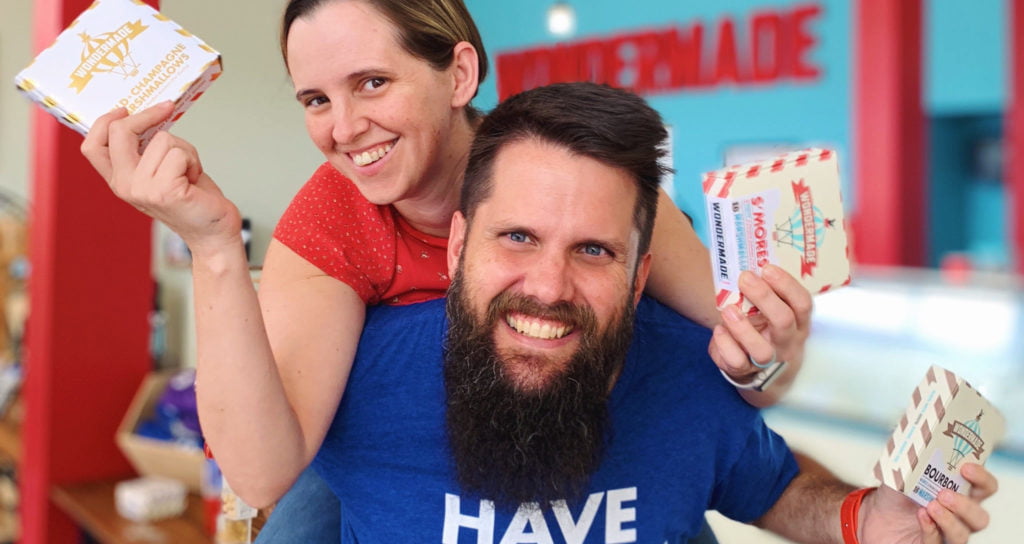 How can you combine your love for local businesses with your love of love, all year long? Support one of these couple-owned businesses in Orlando on a date night with your special guy or gal!
EATS + DRINKS
Hungry Pants, Joey Conicella and Alex Marin
Husbands Joey and Alex have been together for 15 years and first ran the Yum Yum Cupcakes food truck together, selling the business in 2014. They later opened Hungry Pants on S. Orange Ave. as a "plant-curious" eatery – a place for omnivores, carnivores, and everyone in between to eat in harmony together. You can find the "Hungry Pants" on the walls inside the restaurant!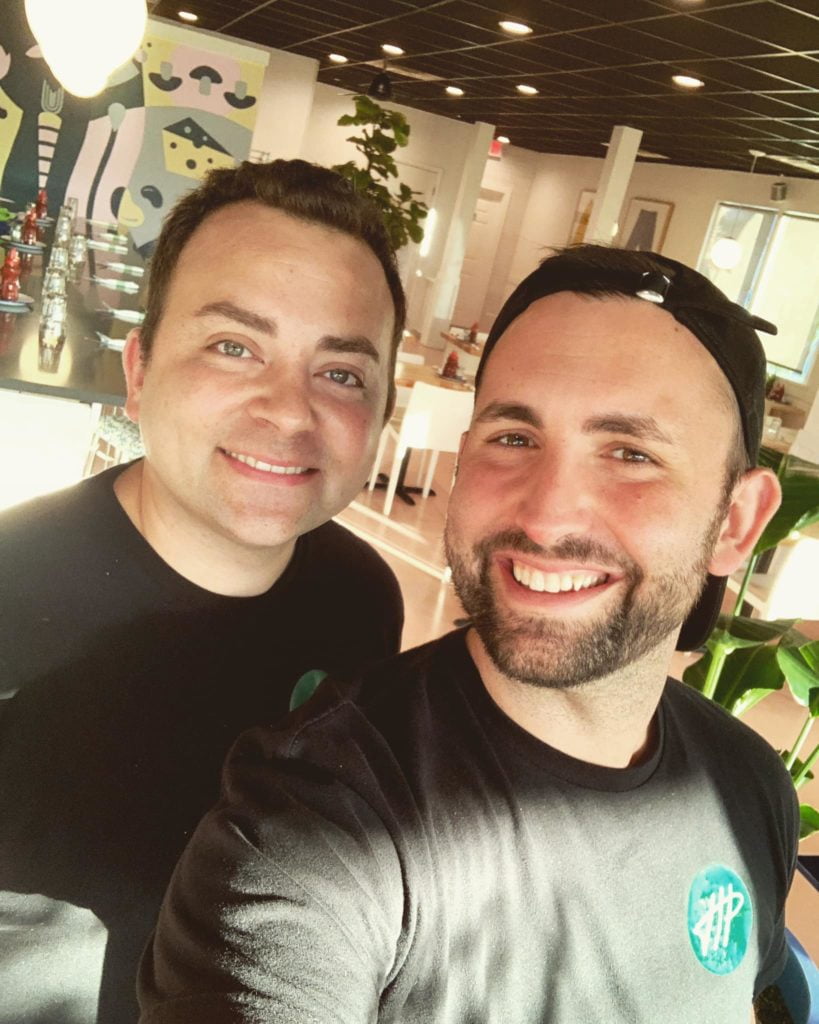 Jason and Sue's business ventures began at the original Seito Sushi before they were married. Jason washed dishes and learned to make sushi. Sue worked as a server and met Jason and his family at the restaurant. They got back in contact with each other seven years later, dated, married, and later took ownership of the Seito Sushi in Baldwin Park. (Side note: Jennifer and Eric Springer, another husband and wife team, own the Sand Lake location!) Sue became a food stylist and interior designer.
Fast-forward to 2015, Sue and Jason opened the Osprey Tavern, a classic take on American fare in Baldwin Park. But they didn't stop there! The duo then welcomed customers to Reyes Mezcaleria in 2017, a Tulum-inspired restaurant serving Mexican cuisine in Downtown Orlando.
In 2012, Alban and Aurelie Malagnoux moved their family from Paris to Orlando to open their French café, Le Gourmet Break. This quaint breakfast and lunch spot on Magnolia Ave serves up tasty pastries, coffee, panini sandwiches, soups and salads – all made from scratch with love from the Malagnoux family.
Craft & Common, Lindsay and Brandon Duensing
If you like SoCal décor and creative caffeinated drinks, then you'll love Craft & Common in Downtown Orlando. Before opening the coffee shop, husband and wife owners Lindsay and Brandon traveled the country in their RV. They settled back in Orlando, Lindsay a Florida native and Brandon a UCF alum, and opened their shop in 2018. You might find Lindsay watering the live plants and stop by Craft & Common for coffee, beer, wine, brunch, local goods like greeting cards and pins, and more.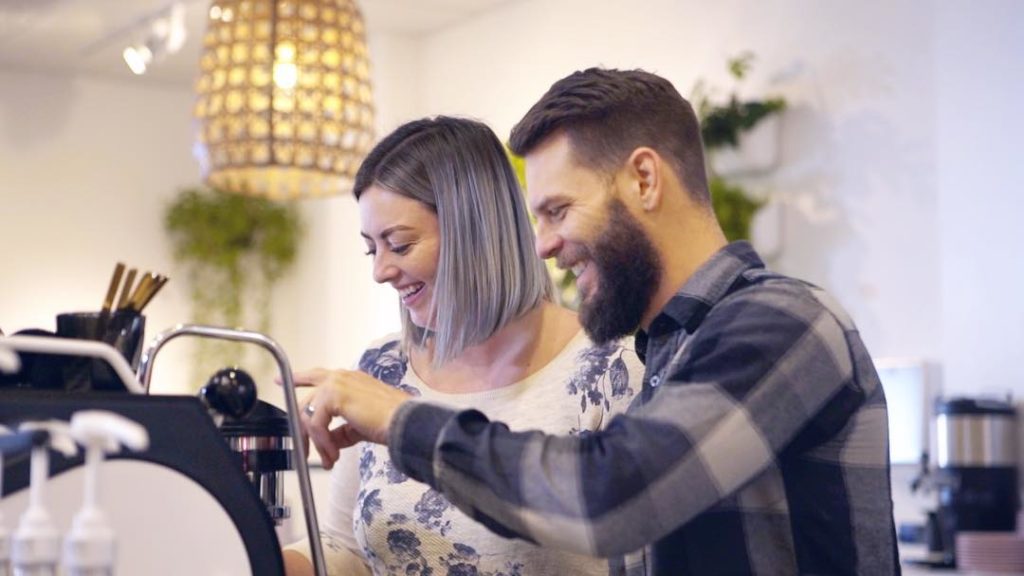 Farm & Haus, Brittany and Patrick (and Fitz) Lyne
Farm & Haus began as what Brittany and Patrick refer to as a "personal passion for cooking healthy and delicious meals." They were later offered a permanent café location at East End Market, serving breakfast, lunch and dinner with local, organic ingredients. They also run Mobile Café, delivering pre-ordered, on-demand dinners on select nights.
Jedidiah and Amanda founded Grounding Roots, the first juice bar in College Park, to help people live a healthier lifestyle. Their cold pressed juices and other products provide natural sources of vitamins and minerals.
Se7en Bites, Trina Gregory-Propst and Va Propst
After Trina Gregory-Propst worked in the spa industry for 21 years, she says she never thought this would be her path, but she's happy to be where she is today in her career with her wife, Va. They first opened Se7en Bites, serving breakfast and lunch all day, along with sweet treats and special drinks. Trina was required to intake 7 bites per meal after a sleeve gastrectomy in 2007, which inspired the restaurant's name.
The eatery's Vanilla Bean Bourbon Bacon Moon Pie was also featured on the Food Network's Diners, Drive-Ins, and Dives with Guy Fieri.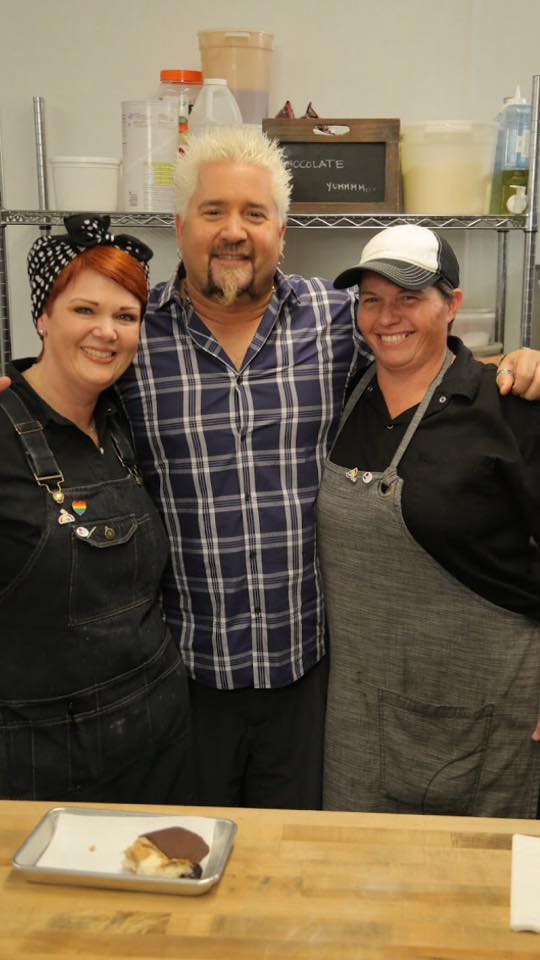 The original owner, Phyllis, named the shop after her son and daughter and sold the shop to husband and wife team Kevin and Jami in 2007. You can now step inside the shop on Park Ave to fill a bag with chocolate covered popcorn, indulge in a bottle of chocolate wine, or take home pretzel sticks adorned with tuxes and bridal gowns.
Yojan and Lisa describe their cuisine as "elevated Cuban street food." Yojan, from Cuba, and Lisa, from Miami, create modern versions of classic Cuban dishes. They focus on using all the food they have so nothing goes to waste and offer specials throughout the week. You can find the chefs and their food truck traveling all over Orlando.
Sherry and John started making wine in Apopka in 2005. They've won Gold, Double Gold, and Bronze medals from the Florida State Fair and planted their own vineyard in 2007. Both Sherry and John worked in the medical field, retiring from medicine together in 2010 and devoting their time to the family and pet-friendly winery, founded in 2013. Their locally grown Muscadine grape wines and other wines made from California, Chile, Italy, and New York can be sampled in their quaint tasting room.
Wondermade, Nathan and Jenn Clark
In 2010, Nathan and Jenn started making homemade marshmallows as a Christmas gift. They didn't plan to start a business, but wound up selling millions of huge, flavored marshmallows worldwide online and opened their store in Historic Downtown Sanford in 2014.
Their store continues treating customers to marshmallows, hot chocolate, ice cream, and more sweets. Plus, they host monthly family and date night workshops that include a tour of the kitchen and a special walk-through on how to make marshmallows.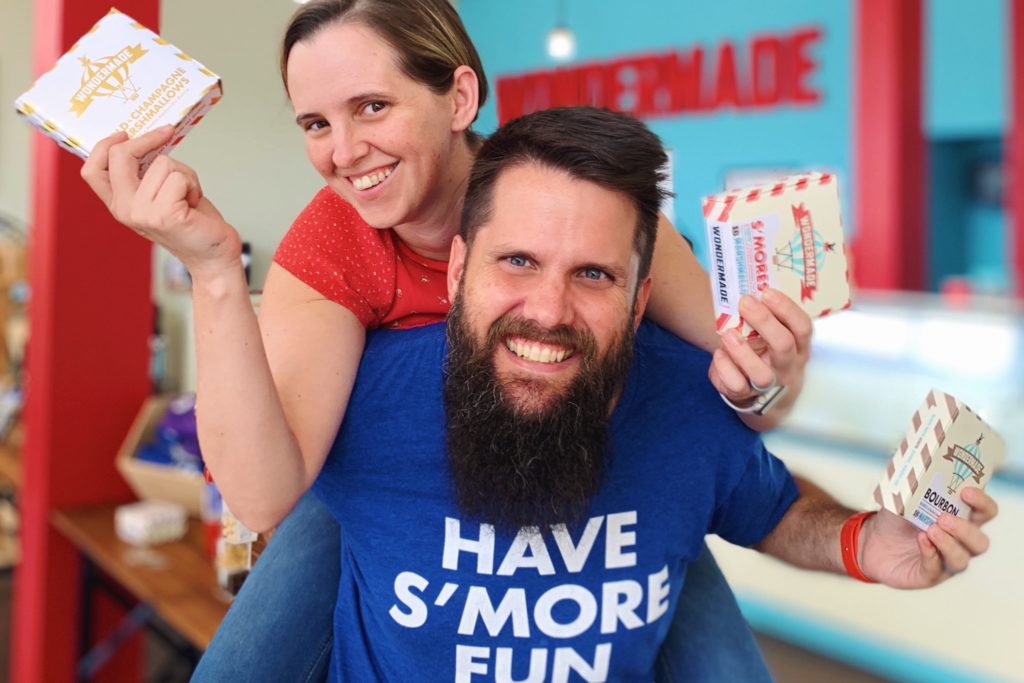 Axum Coffee, Mathias and Suzanna Bernal
Mathias and Suzanna founded the sustainable coffee company in 2010, naming it after visiting a city of the same name in Ethiopia. They label themselves as the "yellow brick road in between" Starbucks and McDonald's, offering both breakfast and coffee options. 100% of Axum Coffee proceeds are donated to charities around the world to help benefit areas with poor living conditions, and some proceeds go right to Axum, Ethiopia. Axum Coffee is located in Downtown Winter Garden.
Marcelino and Celia decided to open their business together after Celia developed back problems from working in the hair salon business. Once Marcelino tasted Panther coffee, now their coffee supplier, he decided the Windermere coffee shop was the way to go and named the shop after his mother. Paloma Coffee serves up coffee, espresso, teas, and Raemella Palmers – Arnold Palmers named after a combination of Marcelino and Celia's kids' names.
EXPERIENCES
Wall Crawl, Jeanette and Joshua Johnson
You might recognize Wall Crawl as the backdrop-frenzy, photographer-friendly spot that's been circulating Instagram for the past 5 months. Husband and wife team Joshua and Jeanette Johnson own the creative space and work together on Jeanette's blog, J's Everyday Fashion.
Jeanette and Joshua came up with the Wall Crawl concept while brainstorming the next phase of their lives. Joshua wanted to open a professional photo studio and coworking space. When Jeanette toured a space with him, she asked Joshua if she could have some dedicated room in the space to create a wall for J's Everyday Fashion.
"Wall Crawl is very much a love note to Orlando," Jeanette said. "It is a place to feature, employ, and promote local artists – whether they painted the wall or are taking the photos – and a place for the people who live here to tap into their own creativity and experience the joy of photography. We love this city and we love photography – so it's the perfect pairing."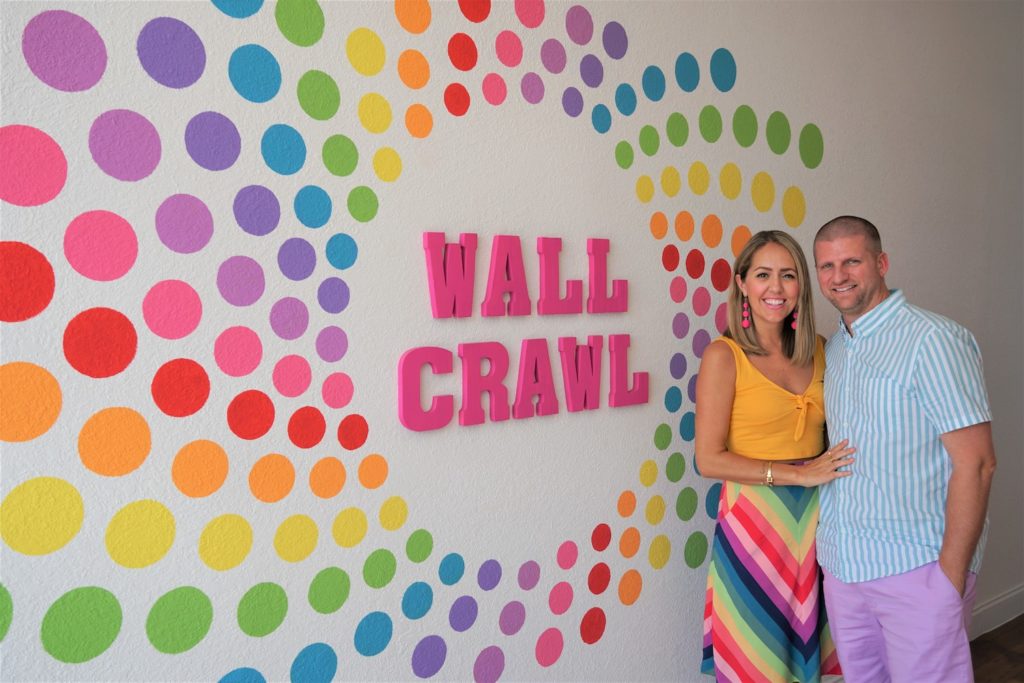 SERVICES
Two Chef Mission, Anthony and Melissa Badeaux-Shepherd
Anthony and Melissa created Two Chef Mission to show how living a healthy lifestyle can be convenient and accessible to anyone. The husband and wife team offers customized packages ranging from food to fitness to faith and fun. The husband and wife duo builds 10-minute meal plans, offers personal chef events to prepare meals in your home, and creates postpartum meal options.
"Running a business together allows us to spend time together and work in the field we love and met in. Communicating within the business and working together can bring its challenges but has helped develop a stronger bond with each other. Orlando is our home, so it's been a blessing to be able to grow a business right in our backyard so to speak," they said.
Orlando Date Night Guide writer Dani Dennison shared what she and her husband love about Two Chef Mission. "It saves us the daily headache of figuring out what to make for dinner and also saves us money because each meal is created in mind with maximizing the groceries on the list that week."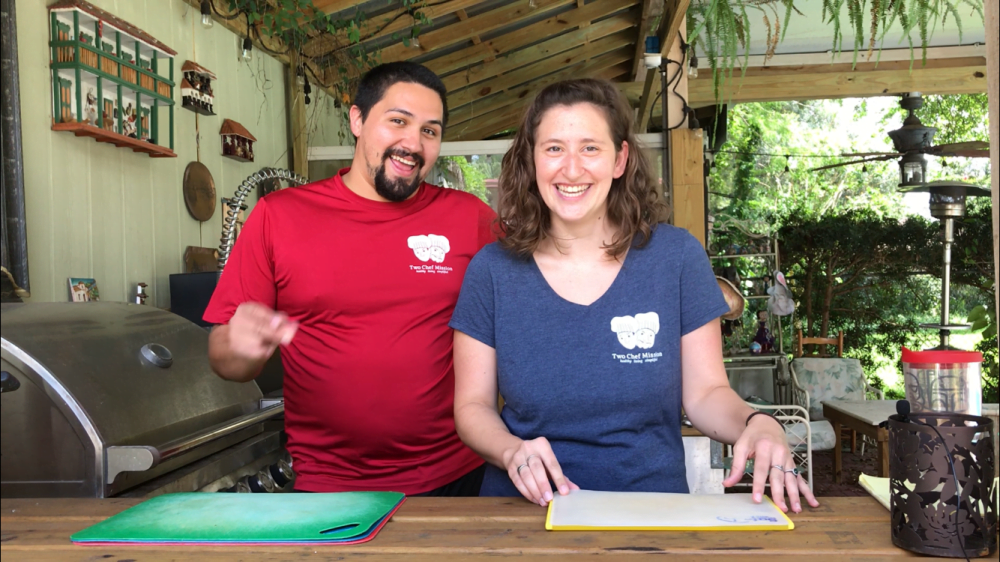 Need a place to get some work done with your favorite plus one? Coworking spaces are everywhere in Downtown Orlando. There's at least five on Orange Ave. alone! Lindsay and Burk Hedrick co-own and run Venture X Downtown Orlando, located on the corner of Pine St. and S Magnolia Ave. After celebrating their grand opening in 2019, the couple opened the space to host events, offer more than 250 desks and more than 50 private offices, as well as expanded office rentals to the first and fifth floors of the building.
Robby and Stephanie took wedding creativity to a whole new level after planning and building their own wedding. At a young age, Robby watched as his dad built European TV show sets in Brussels, Belgium, where he grew up. Robby later graduated from Full Sail's Film program with years of experience building sets while Stephanie spent 8 years in TV production and graduated with a masters in business marketing.
The duo decided it would save them a lot of money to build their own vintage Tuscan-themed wedding. Fast-forward to a year later, Robby and Stephanie opened Ocean Hawks Rentals, providing wedding designs and décor, as well as Ocean Hawks Productions, their set building company.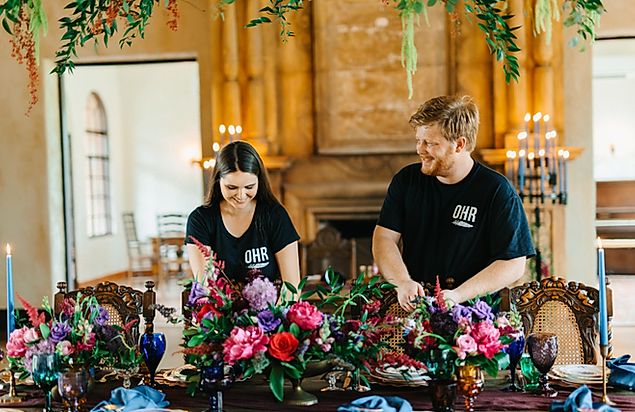 Wash & Wik, Gary and Ariel Bruckner
You may run into this husband and wife team selling their scented candles and soaps at local pop up markets like the Evening Exchange at East End Market. They dreamed up the idea for the business while on vacation and launched into action almost immediately. A Certified Sommelier, Ariel is in charge of blending the scents. Each candle is hand poured and made of 100% soy wax and soaps are made using donkey and goat milks.
Hellcats USA, Brittany Reagan and Clark Orr
Before Brittany and Clark created Hellcats USA, they owned businesses individually. "One day we were in the car talking about more ideas we had, and then the lightbulb when on," Brittany said. "We decided instead to create a whole new brand together. It just made so much sense. We knew we would be stronger together."
They design and package products in-house, including posters, pennants, pencils, and more. They also host monthly workshops — perfect for date night!
Some people question why the duo hasn't moved to L.A. Brittany shared, "We love where we are, and why would we move to a bigger city just to be a part of the noise? The internet allows creatives to reach people from anywhere. We love the growing creative scene in Orlando, and we love to get to be a part of it. We are proud to live here."
What couple-owned business in Orlando do you love?
We know there are more couple-owned business in and around Orlando. Let us know what your favorite business is or let us know if we missed one that you love!