Ready to heat things up? In the kitchen, that is. Some of Orlando's innovative chefs and restaurants are now offering unique at-home cooking experiences, from dinner kits and cooking classes to sharing chef secrets and more. We've rounded up a few of our favorites below.
The Foreigner Domestic
Local chef Bruno Fonseca is the brains behind The Foreigner Experience, a unique interactive dining experience featuring a 5-course omakase-style feast. With public gatherings halted at the moment, he's pivoted to bring the experience direct to your kitchen with The Foreigner Domestic. Each week, Bruno crafts a new multi-course menu, shops for all the ingredients and delivers the full meal kit to your doorstep along with a Sommelier-curated bottle of wine from local favorite Swirlery Wine Bar. You'll also receive access to a pre-recorded video teaching you how to make your meal step by step. Then, join an optional virtual session on Saturday to ask questions, share your cooking experience and mingle with other participants.
To participate, sign up by Tuesday for delivery by Friday at 6pm. The cost is $75/couple (one ticket feeds two). Tickets are typically available beginning on Sunday for the upcoming week.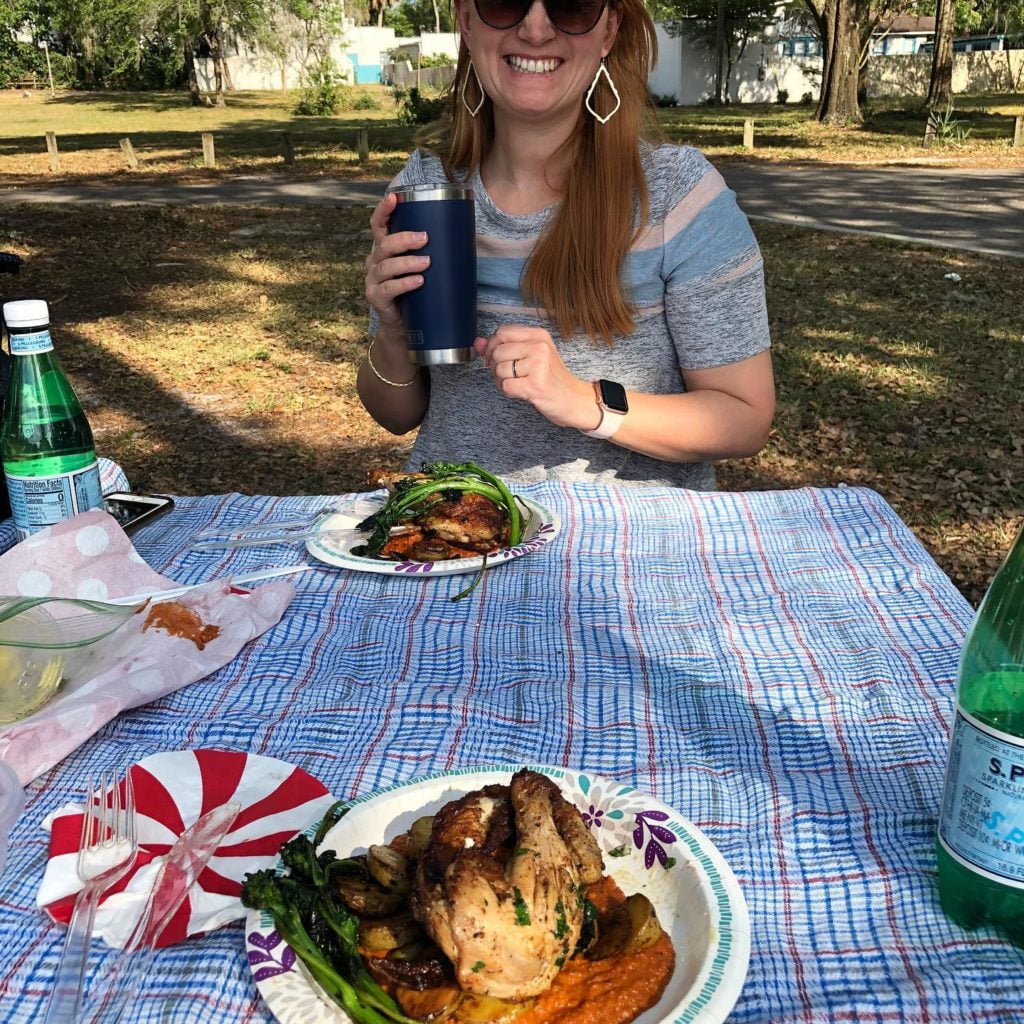 The Tasty Trio Virtual Wine, Cheese & Chocolate
The Tasty Trio's quarterly Wine, Cheese and Chocolate Perfectly Paired classes at Quantum Leap Winery are now going virtual. The trio, comprised of Tonda Corrente (owner of La Femme du Fromage), Lisa Wilk (founder of Orlando Uncorked), and Jill Ramsier (co-owner of Quantum Leap Winery) hosted a live tasting on Friday, May 1 at 6pm to teach you the basics of pairing wine, cheese and chocolate. Follow along by purchasing the the Wine, Cheese and Chocolate pairing pack available for purchase through Quantum Leap Winery and La Femme du Fromage. You'll then be guided through the pairings, just like during the in-person pairing events. Although the live pairing has passed, you can still purchase the pairing pack and participate by watching the live video replay at least through May 10. Each pairing package includes cheese, chocolate and two full bottles of Quantum Leap Winery wine for $70. Pairing packages will be available for pickup or delivery (select zip codes only).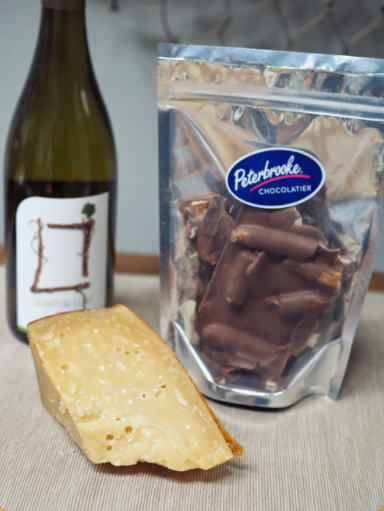 FitLiving Eats Cooking Series
If you want to add a healthy dose of veggies to your plate, local chef and health coach Carly Paige goes live on Instagram every Wednesday and Sunday to teach you how to make plant-based meals or healthier versions of classic recipes. The weekly menu and ingredients lists are posted on Instagram ahead of time so you can come to the cooking session prepared. She also offers in-home cooking classes (which will resume when we're all allowed to leave our houses again) and group cooking classes in Winter Park.
Treehouse Truck Live Cooking Sessions
Struggling to come up with recipe ideas each week? Chef Vinnie, of local food truck The Treehouse Truck, is serving up inspiration by cooking live on social media every Sunday evening at 5pm. You can participate by joining the corresponding Facebook group to get the ingredients list each week. Pick up the necessary ingredients ahead of time then watch and cook live along with Chef Vinnie.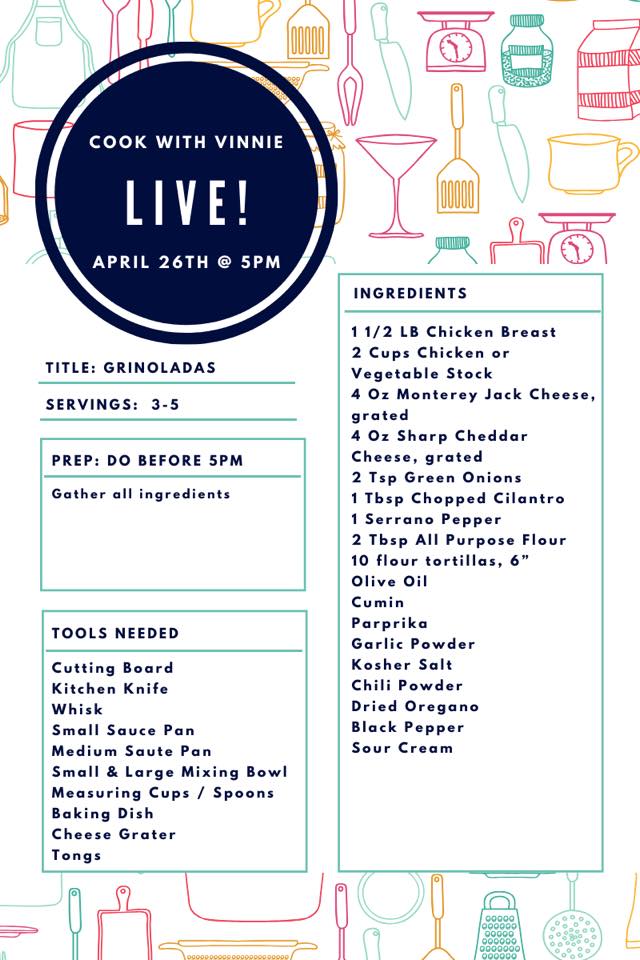 Elize Restaurant Dinner Box
We're all missing the normalcy of heading to our favorite restaurants for a fancy night out. But why not bring the fine dining experiencing to your own dining table? Elize (formerly The Rusty Spoon) has crafted a special dinner box dreamed up by Chef Leon which changes each week. The box includes everything you need to make a multi-course meal at home in under 30 minutes plus detailed plating instructions for making your meal restaurant worthy. A new box is released every Thursday for ordering through Wednesday of the following week (available for pickup or delivery on Friday).
The cost for each box is $42 per person. Add on a special Gin & Tonic pairing for $9/person.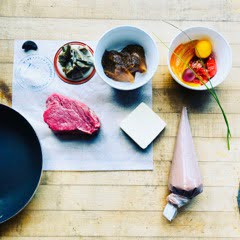 ABC Fine Wine & Spirits Virtual Tastings
Missing ABC's $5 tastings? You can now join tastings virtually each week covering everything from local distilleries to wine and bourbon. Order the featured spirits ahead of time for curbside pickup and then follow along on Zoom. Each class is limited to 100 participants, so sign up early. Upcoming classes include instruction on how to pair food with sake, a cooking and cocktail demo with Wicked Dolphin (a local Florida rum distillery), a bourbon cocktail demo with Four Roses Bourbon and more. Check out the full schedule here.
MORE IDEAS:
Feature image credit: Arlene Laboy
Disclosure: ABC Fine Wine & Spirits is one of our valued advertising partners.