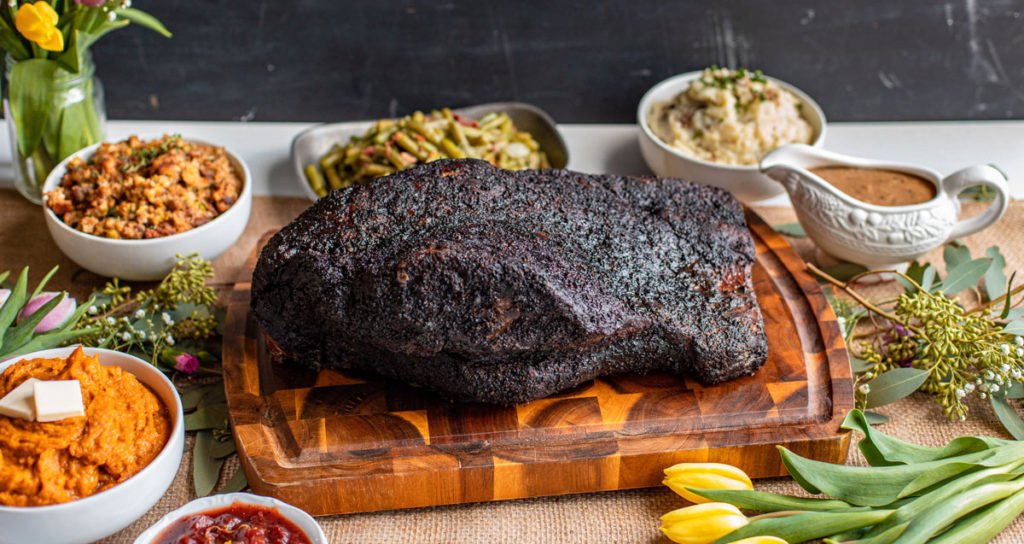 Easter Sunday is going to look a little different this year for most of us, as we can't have family over or dine at our usual restaurants. However, many local restaurants have pivoted to curbside and takeout orders, even offering special Easter dinner menus for all of us to enjoy. We've compiled some of our favorite picks for Easter dinner to go in Orlando, featuring dinners, cocktails to go, and even Easter baskets with adult beverages!
If we missed one, please email Arlene at marketing@orlandodatenightguide.com and we'll be sure to add it!
Ruth's Chris Steak House
Easter celebration meals include a choice of Roasted Beef Tenderloin or Roasted Prime Rib, a family-sized salad, two of Ruth's signature sides and a house-made dessert. Place your order online or via phone at the location most convenient:
Orlando – 7501 W Sand Lake Rd 407-226-3900
Winter Park – 610 N Orlando Ave 407-622-2444
Lake Mary- 80 Colonial Center Pkwy 407-804-8220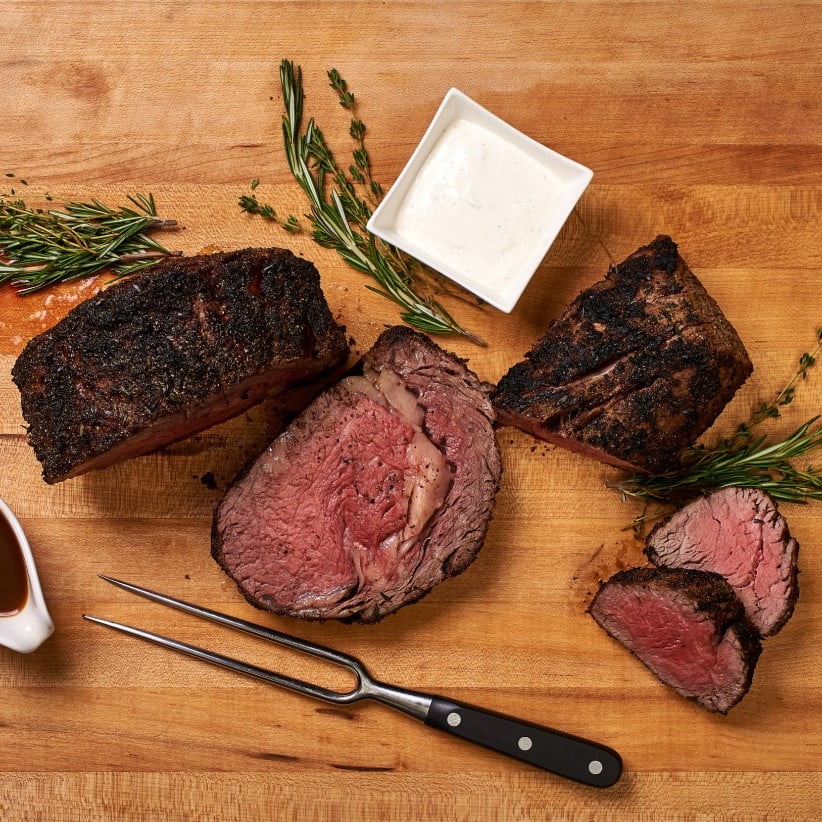 DoveCote
DoveCote is serving up a 3-course Easter dinner for up to 4 people. Choose from curbside pick-up or delivery ($5 local flat rate delivery fee). Orders can be picked up Easter Sunday between 11am and 3pm. The cost is $149.95. To view the menu and place an order, order online or call 407-930-1700.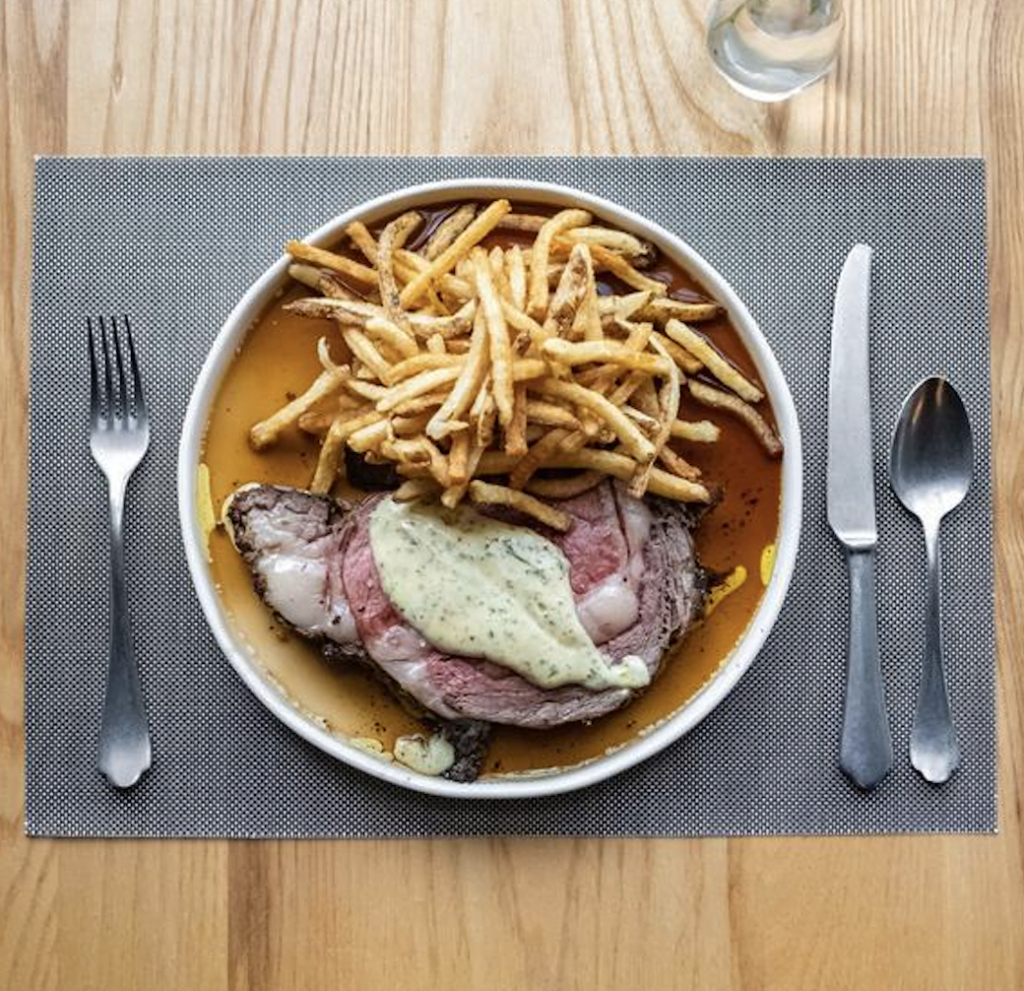 Marlow's Tavern
For Easter, Marlow's is offering both Easter Brunch and dinner options. The brunch menu features your choice of entree from the following: Seasonal Vegetable Frittata, Roast & Pulled Pork Breakfast Hash, or Marlow's Shrimp and Jalapeño Corn Grits. The meal also includes two sides and a salad for $59. Additionally, you can add a bottle of Bubbles for Mimosas for $16 or a bottle of Marlow's Signature Bloody Mary Mix, Celery, Olives, Pepperoncini for $10!
The dinner menu includes your choice of entree from the following: Blazed Grilled Chicken and Jalapeño Pepper Jelly Glaze, Roast Prime Rib with Red Wine Demi Reduction or Baked Atlantic Salmon, Caper & Grainy Mustard Crusted. In addition, your feast comes with a Tavern Salad, seasoned buttered Broccoli & Carrots, dinner rolls and butter, and fresh-baked assorted cookies as well as one side for $69. To up the ante, add a bottle of Sauvignon Blanc, Ch. Ste. Michelle, Columbia Valley '16 or Pinot Noir, Chateau St. Jean, California '17 for $20 each. Place your order online for pickup at Lee Vista, Waterford Lakes or Oviedo.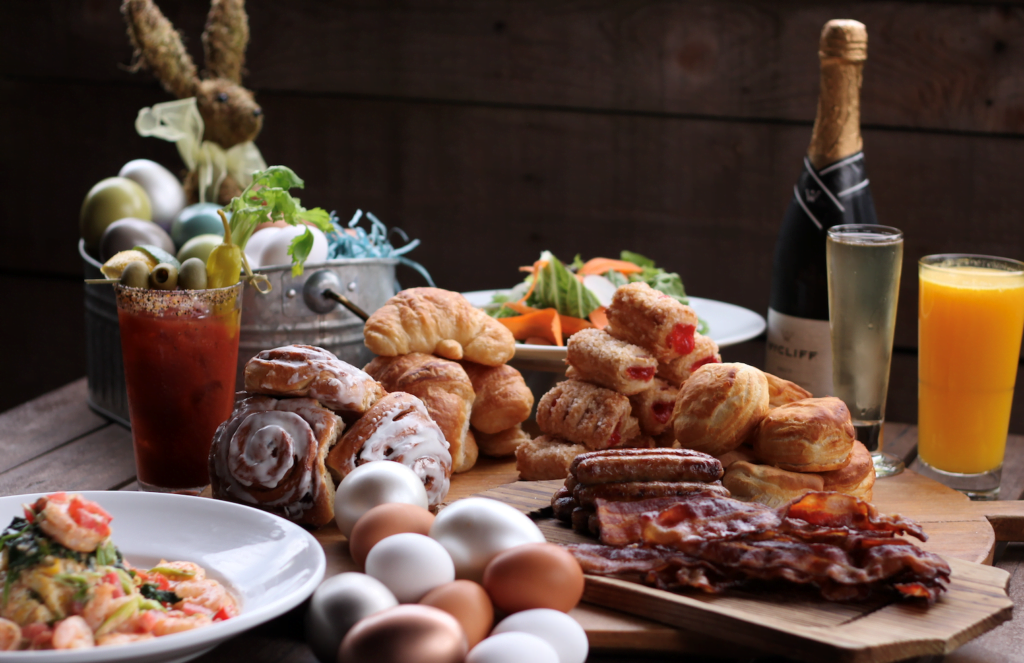 Canvas Restaurant & Market
There are two dinner options to select from with an option to feed 2 or 4 people. The menu features a Roasted Leg of Lamb with Mint Chimichurri, Glazed Baby Carrots (from Frog Song Organics) and Whipped Potatoes ($35/70). The second option is a Honey-Glazed Ham with Pineapple Chutney, Glazed Baby Carrots (from Frog Song Organics) and Whipped Potatoes ($30/60). Order by Thursday, April 9, at 5 p.m for pick-up on April 12 from 12 to 4 p.m. To place an order, e-mail jamescartee@canvaslakenona.com.
Soco Thornton Park
With Soco's Easter Take Home Packages you can select dinner for 2 or 4. The menu features your choice of one of the following: Sorghum and Honey Glazed baked ham ($65/130), Indulgent Chicken Pot Pie ($55/110), or Roast Leg of Lamb with House-made Peppermint Jelly ($75/150). You'll then choose five (!!!) sides and a dessert. Pre-orders are preferred and can be placed by calling 407-849-1800. Curbside pickup is available, as is free delivery within 5-mile radius, with a minimum purchase of $55.
TIP: Soco is also offering pre-batched cocktails to go! The cost is $25 each (above four servings) and includes the Soco Old Fashioned and my favorite – Gin & Juice. Plus, they are offering 50% off select wines.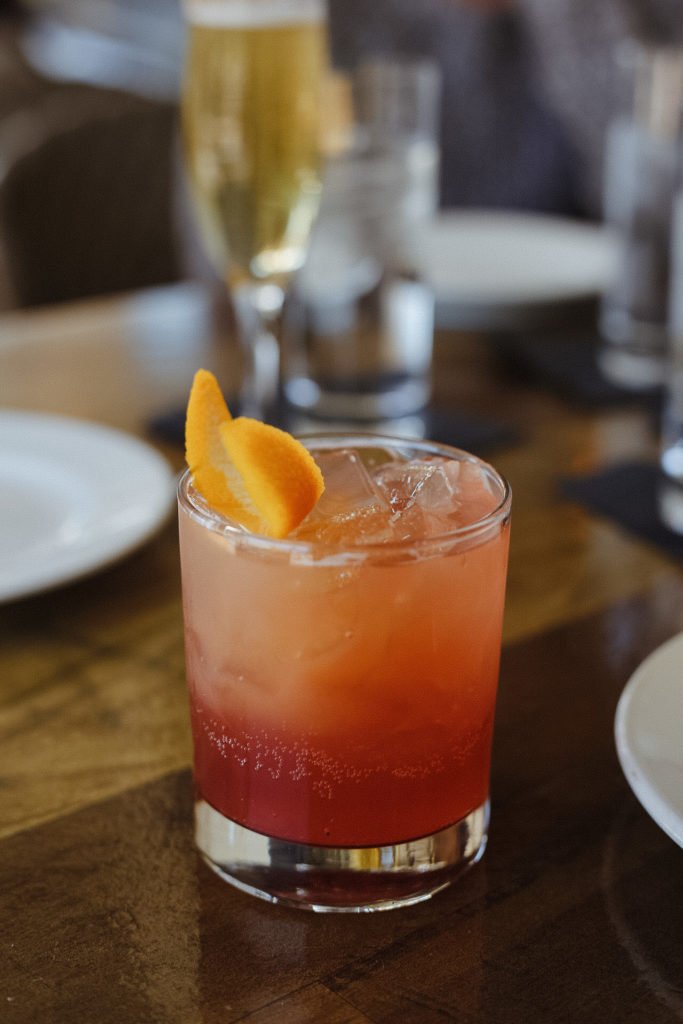 4 Rivers Smokehouse
All locations are now taking Easter pick-up orders for classic 4 Rivers smoked meats, homestyle sides, and fresh-baked desserts. Orders are available until Friday, April 10th and require heating as they are packaged cold. To place an order, call 844-474-8377 or order online.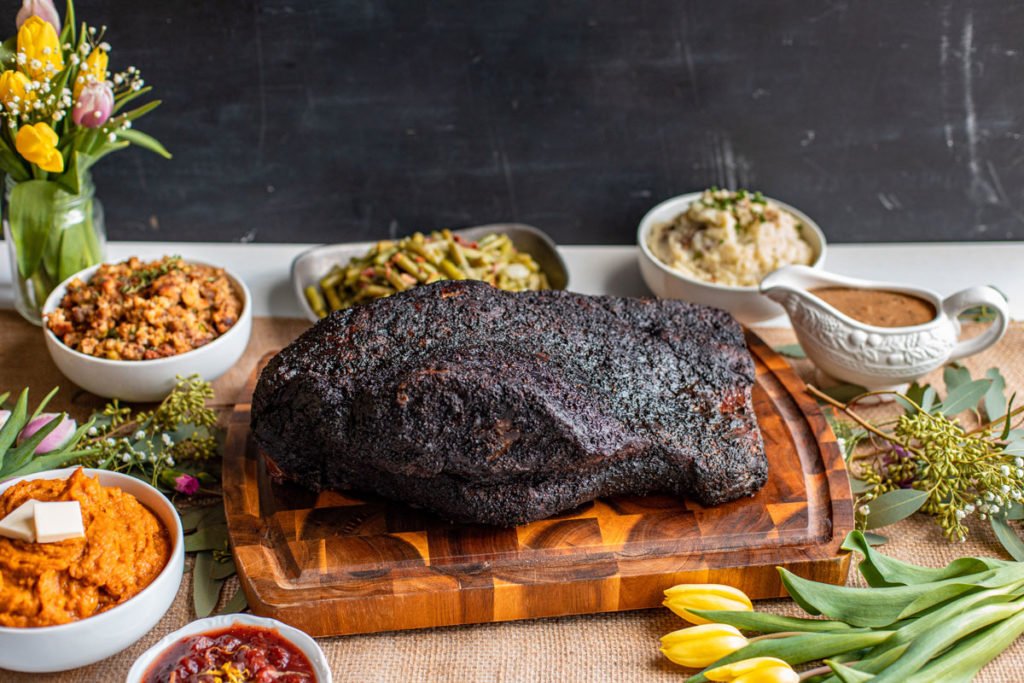 Quantum Leap Winery
How about a wine basket to accompany your meal? Quantum Leap's Easter Basket Red-Red (pictured) includes a bottle of Quantum Leap Kaley's Rescue Red, Red Blend, Columbia Valley and a bottle of Quantum Leap Pinot Noir, Wilamette Valley. It also comes with these Peterbrooke Chocolatier of Winter Park goodies: Milk Chocolate Covered Popcorn, Dark Chocolate Easter Bunny, Milk and White Chocolate Covered Peeps and a Sea Salt Dark Chocolate Bar. The cost is $100 (on sale for $75.)
The Easter Basket Red-White includes a bottle of Quantum Leap Kaley's Rescue Red, Red Blend, Columbia Valley and a bottle of Quantum Leap Pinot Grigio, Veneto plus the same Peterbrooke goodies listed above.
Orders will be accepted during the week and baskets will be ready for curbside pick-up or free delivery Friday and Saturday afternoon. Note: Free delivery is available for select zip codes. To place an order, call 407-730-3082 or order online.
TIP: Select "pick-up at winery" for curbside.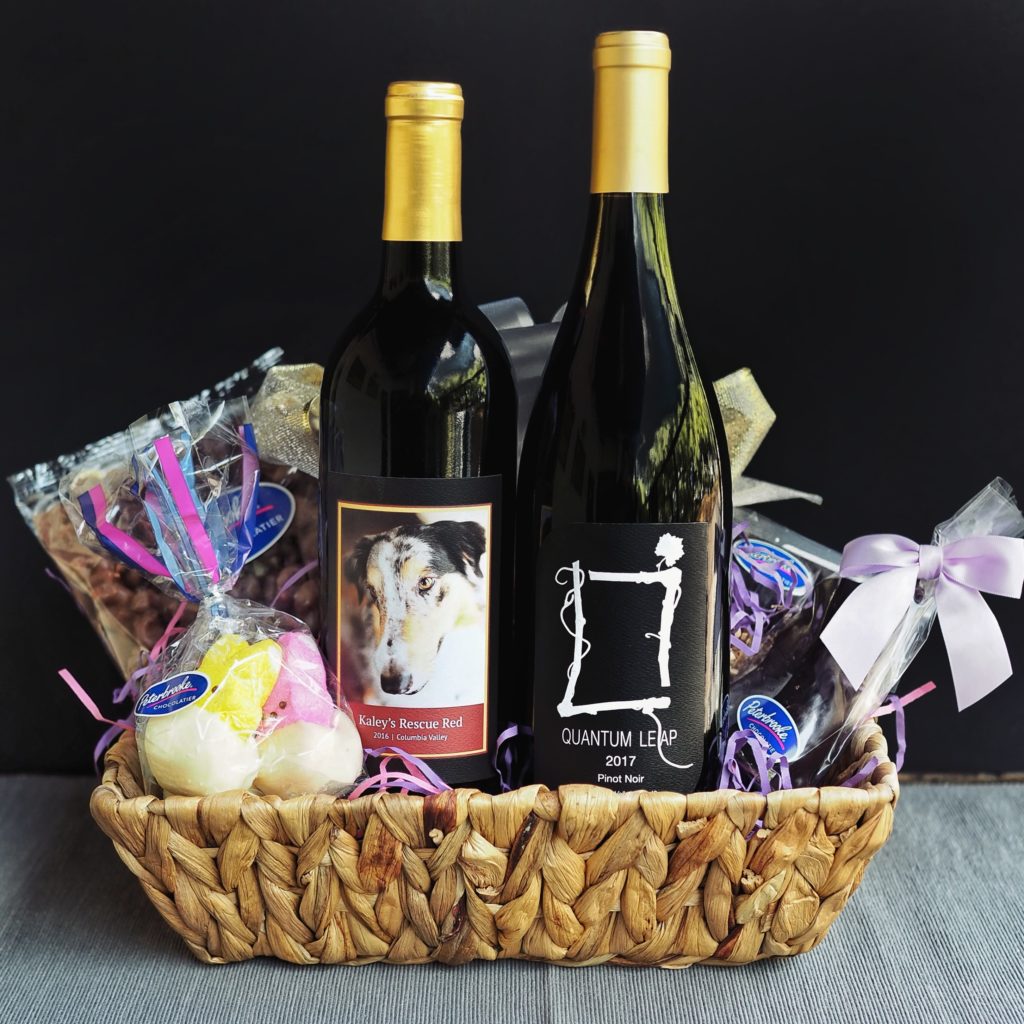 The Ravenous Pig
The Ravenous Pig's Easter Dinner for 2 includes a Smoked Leg of Lamb with Green Tomato-Olive Relish, Lemon Oregano Potatoes, Tomato-Dill Braised Collard Greens, Parkerhouse rolls with chive butter, and Rhubarb Cobbler for $65. Orders placed now can be picked up Saturday, April 11. To place an order, email scott@theravenouspig.com
TIP: Ravenous Pig is also offering cocktails to go, featuring tasty libations such as Bacon-Infused or Sweet Tea Old Fashioned, C & L Vodka Lemonade, and Aperol Spritz among others! The cocktails are served in sealed bottles to retain freshness and can also be picked up curbside by calling 407-628-2333.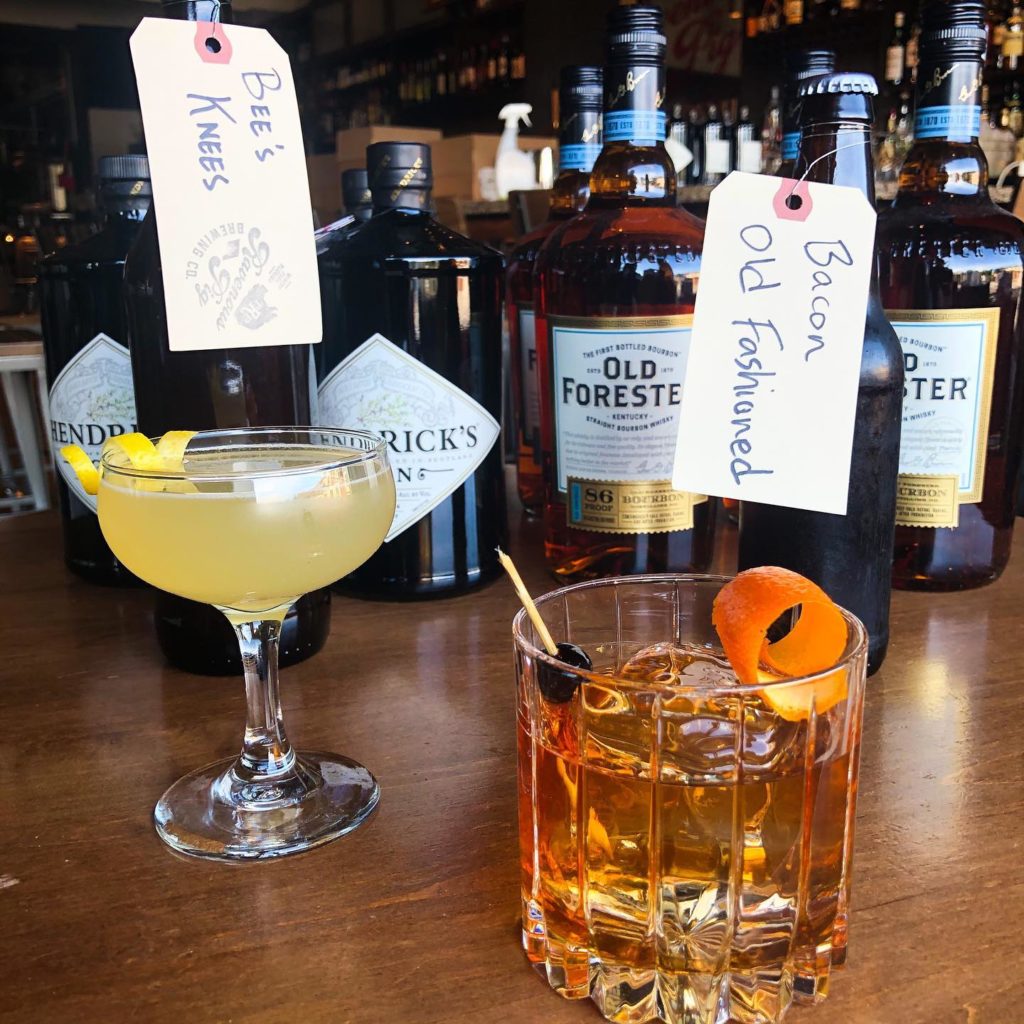 Sixty Vines
Sixty Vines' family meal kits start at $85 and include your choice between Roasted Lamb or Pork Tenderloin as main courses. Wine, cocktail and cupcake kits are also available! To place an order, call (407) 410-8005.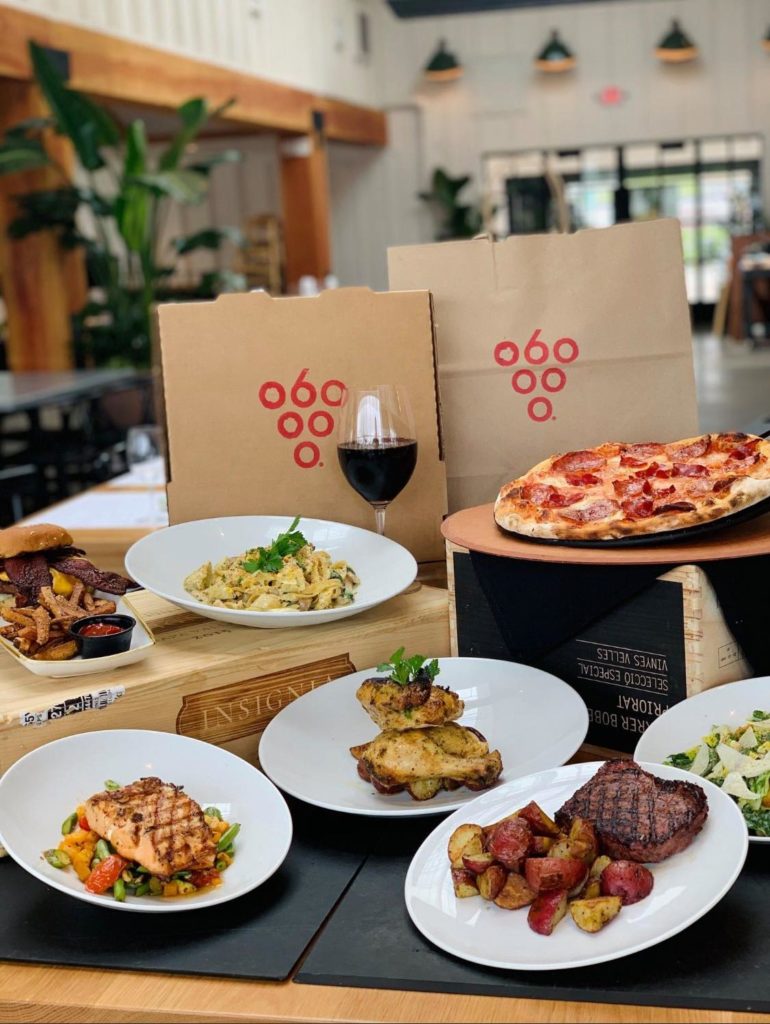 Del Frisco's Double Eagle Steakhouse
For Easter, Del Frisco's will be offering a pre-order menu for $60 per person to be ordered before April 9. The special menu comes with appetizers, salad, a main course, sides, dessert and any wine at 50% off. To place an order, call (407) 351-5074 or order online.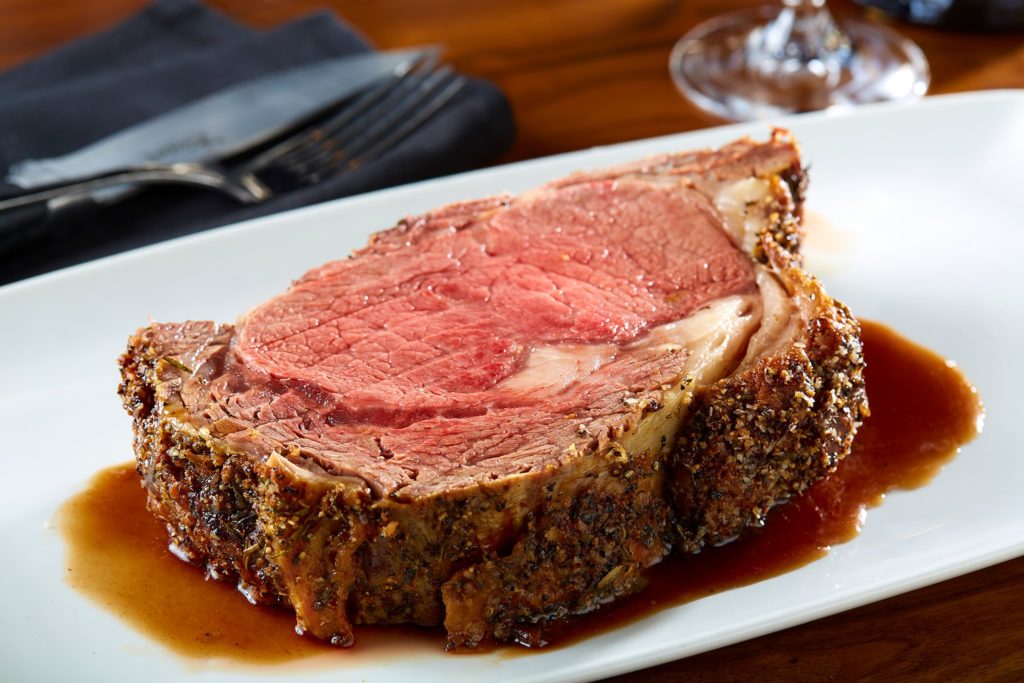 Osprey Tavern
The Osprey Tavern's Easter dinner features Braised Short Rib, Focaccia, Mac n Cheese, Artisan Salad, and Blueberry Lemon Buckle dessert. There are 2 options: dinner for 2 for $60, or dinner for 4 for $120. Orders must be placed by Friday evening, April 10. To place an order, call 407-960-7700 or order online.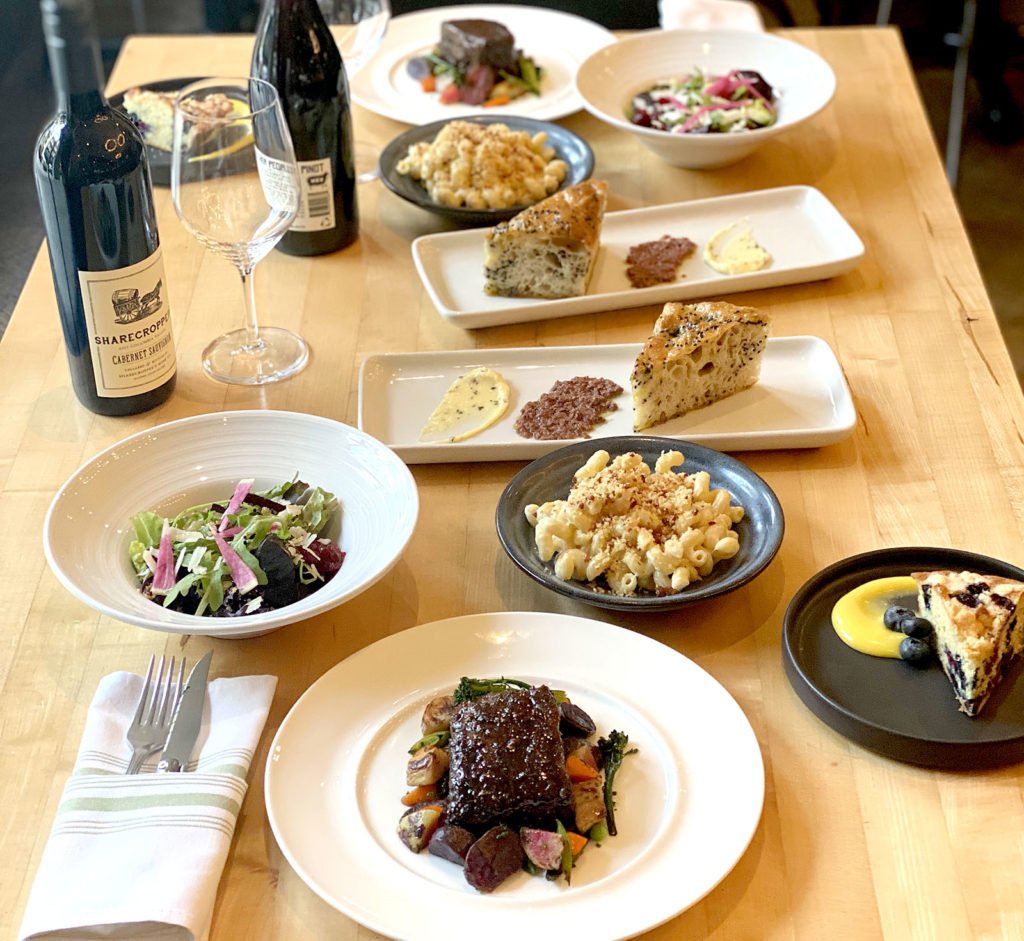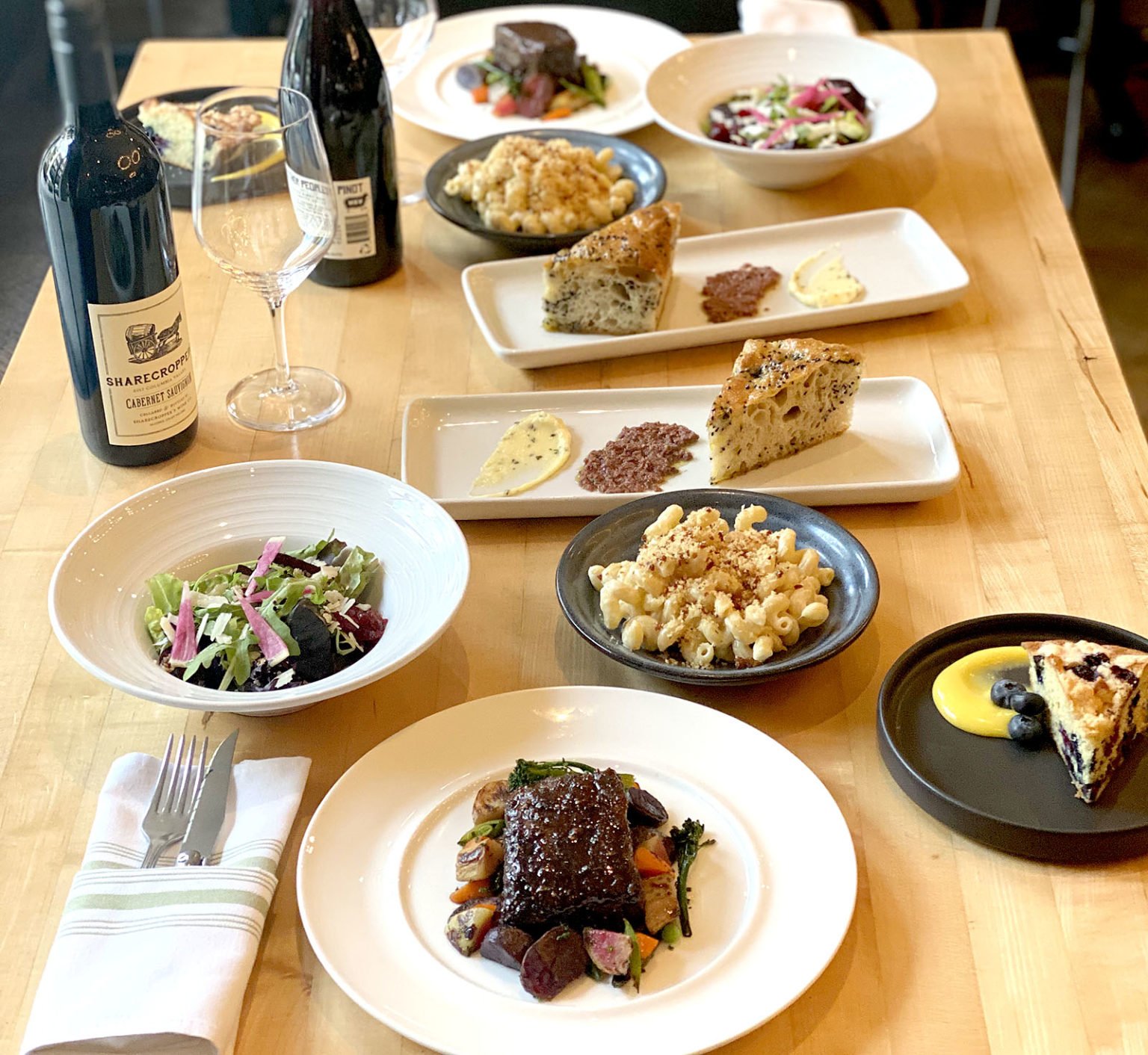 Reyes Mezcaleria
Fancy a carnivorous feast? Reyes Mezcaleria is serving up a Prime Rib dinner for 4 for $60. Your meal includes Prime Rib seasoned with ancho chile and garlic with beef jus, Au Gratin Potatoes with Oaxacan cheese, Glazed Carrots and house-made bread. Orders must be placed by Friday evening, April 10. To place an order, call 407-868- 9007 or order online.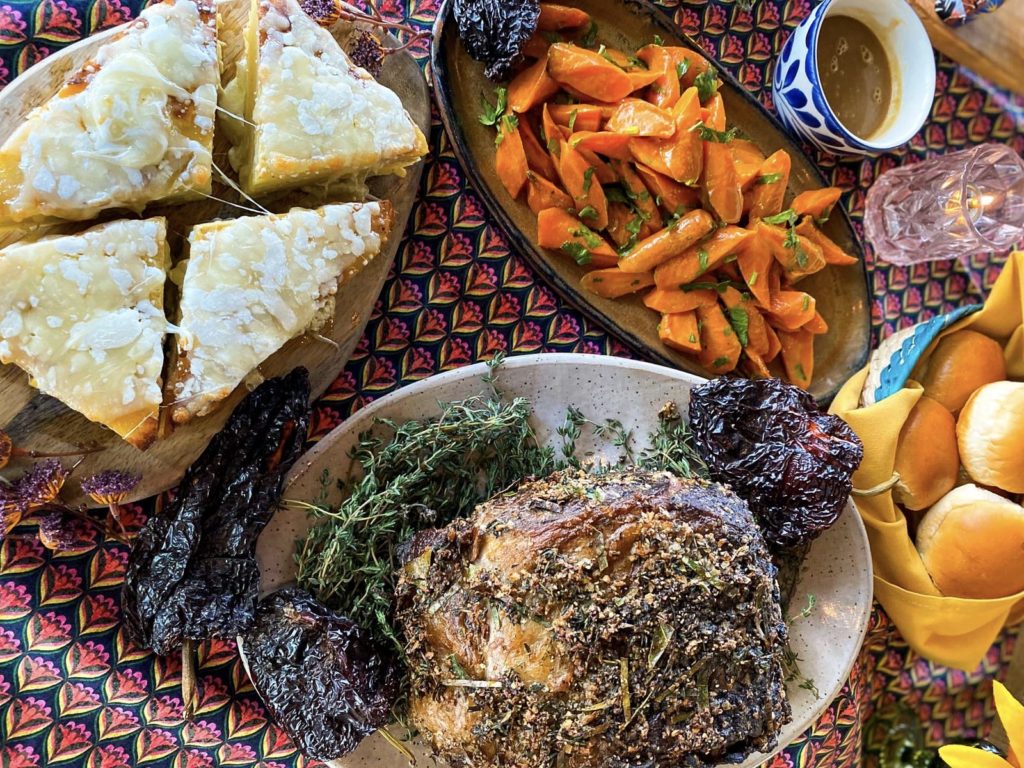 Swine & Sons
Swine & Son's Easter menu features many of their popular items available a-la-carte. Options include Coffee Braised Brisket and Nashville-Spiced Chicken, available as a half chicken. The menu also features sides, salads, and desserts, and most selections will serve about 4 people. To place an order, email catering@swineandsons.com or you can order online.
TIP: The team recommends you choose two types of meat, two sides, a salad, rolls or biscuits, and a dessert.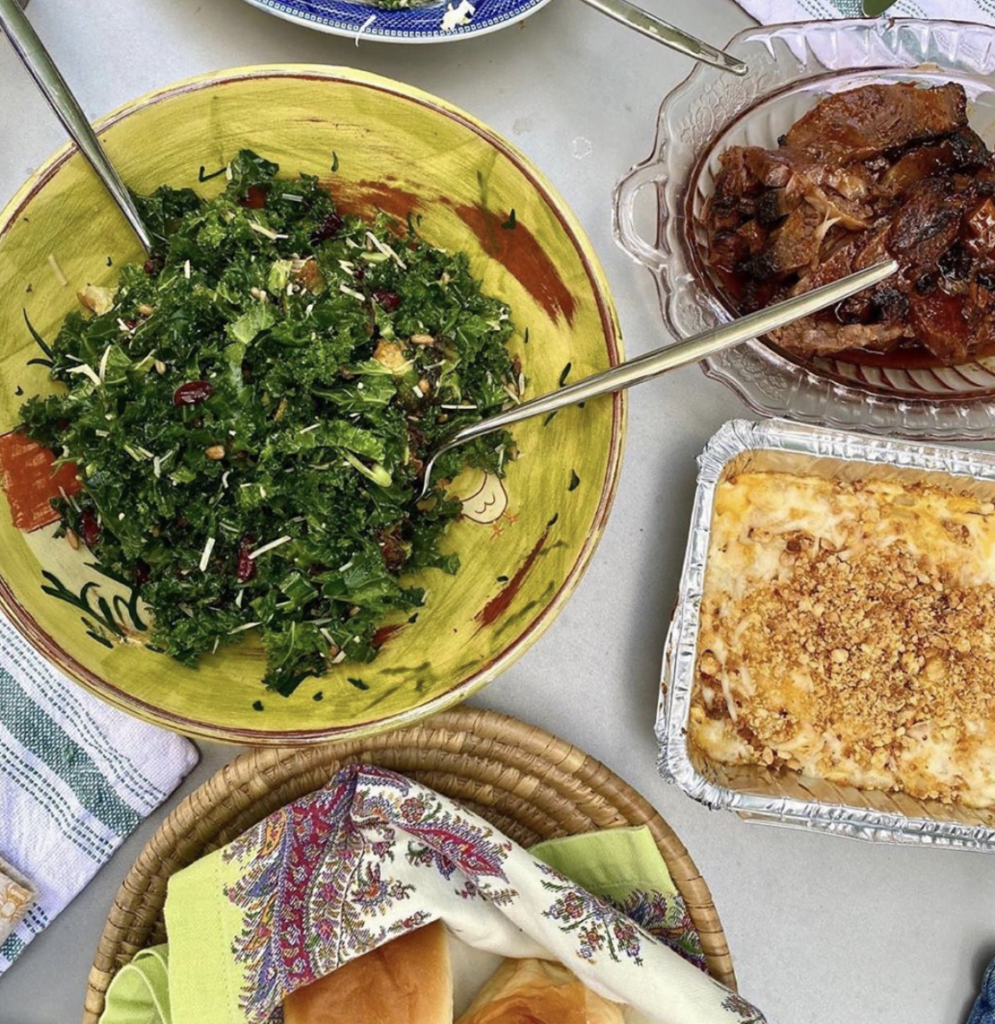 Hawkers Orlando
For Easter, Hawkers is bringing back the beloved curry mash for one day only! Dinner is available to feed either 4 people for $75 or 8 people for $135. Dishes include Roasted Duck, Char Siu, and Chicken Curry. Plus, select bottles will be available with each Easter Meal for just $8.88. Orders will be accepted until Friday, April 10th at 9pm for pickup on Saturday or Sunday. Reheat instructions will be provided for each dish. To place an order, call (321) 999-7200 or e-mail Holidays@EatHawkers.com.
Shula's 347 Grille
The Easter menu at Shula's 347 Grille in Lake Mary includes Deviled Eggs, Tossed or Caesar Salad, Herb-Roasted Boneless Leg of Lamb, Rosemary Red Bliss Potatoes, Honey-Glazed Carrots and Pineapple-Coconut Bread Pudding with Myers Rum Crème Anglaise. The cost is $150 and will serve 4-6 people. Additionally, 10% of the proceeds from this menu will go to the Shula's Restaurant Relief Fund for employees of the restaurant group. To place an order, call 407-531-3567. Pre-orders are available until Wednesday, April 8 for pick-up on Easter Sunday.
The Easter takeout menu at American Social has two options: Easter breakfast or dinner. Easter breakfast includes options such as Peeps Funfetti Pancakes and Biscuits with Country Gravy. For dinner, you can select from dishes such as Honey-Glazed Ham and Truffle Mashed Potatoes. Find their menu here to see the different selections. Breakfast selections feed 4 for $45, and dinner options feed 4-6 people with prices ranging from $75-85 or $35-45 for dinner for 2.