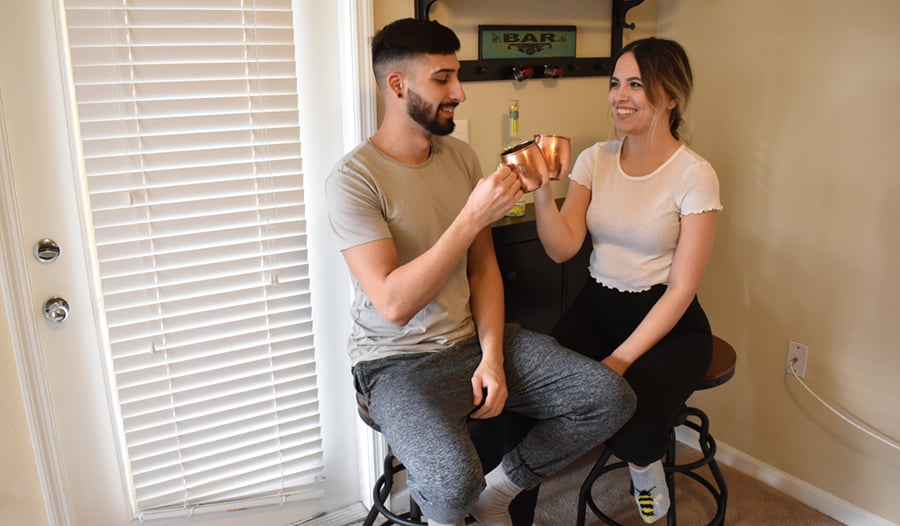 What to do when you're stuck at home or on a strict budget but still want to indulge in a memorable date night with your partner? We recently asked you, our readers, what the most fun activity you've enjoyed together at home has been so far. Your answers were so fun and inspiring we couldn't resist sharing them in a post to help other couples in Orlando and beyond. Use these creative stay at home date night ideas to plan a night at home you won't soon forget. We've sprinkled in a few of our personal favorite ideas, too!
HAVE A STAY AT HOME COOKING DATE
"We had an Italian date night and made pasta and pesto from scratch. Also a virtual game night through Zoom using Jackbox. We also just had a recent 'Chopped' theme date night."
-Paola G.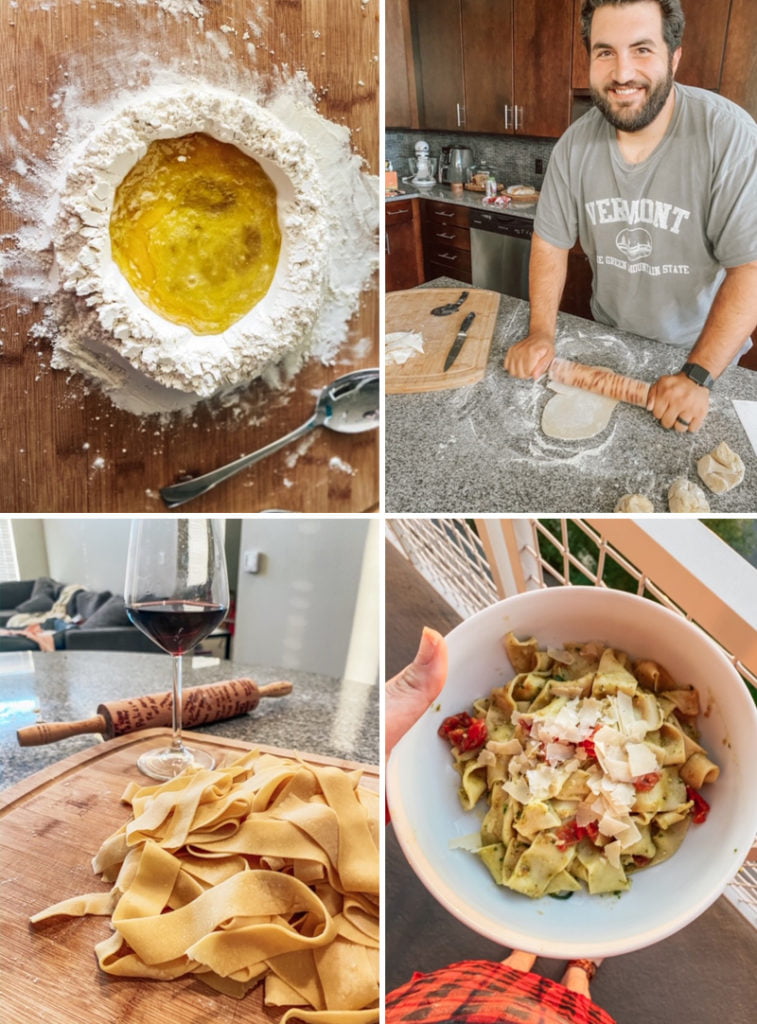 PLAN A GAME NIGHT
"My bf and I are long distance.. while we're apart we play silly messenger games like connect four (it's on your iPhone messenger next to gifs). When we were together last week between binge watching Ozark we pulled out the Uno cards for some old school fun."
-Joanne M.
"Evening bike rides, and delish cheese plate and wine while playing board UpWords. UpWords is scramble except you can stack a letter on top so 'book' becomes 'took.' It's so fun laughing at each other as we check the dictionary to find out if we've made up words."
-Nancy D.
"Video games, card games and outdoor fun. Like walks or roller blading while he's on his jumping stilts. Oh, and watching him cook as I indulge in ice cream. #winning"
-Sadia A.
"Puzzles."
-Melissa H.
Our pick: Order a Bingo set and host a Bingo night with your friends! Orlando Date Night Guide founder Kristen Manieri recently hosted a charity Bingo game night over Zoom. Bingo cards were $10 each and we received photos of our cards via email to print before playing. The couple with the Bingo set will be in charge of calling and checking numbers. Then, the winner of each round picks a local charity in her or his city to send their share of the winnings. All in all, the game night raised $600!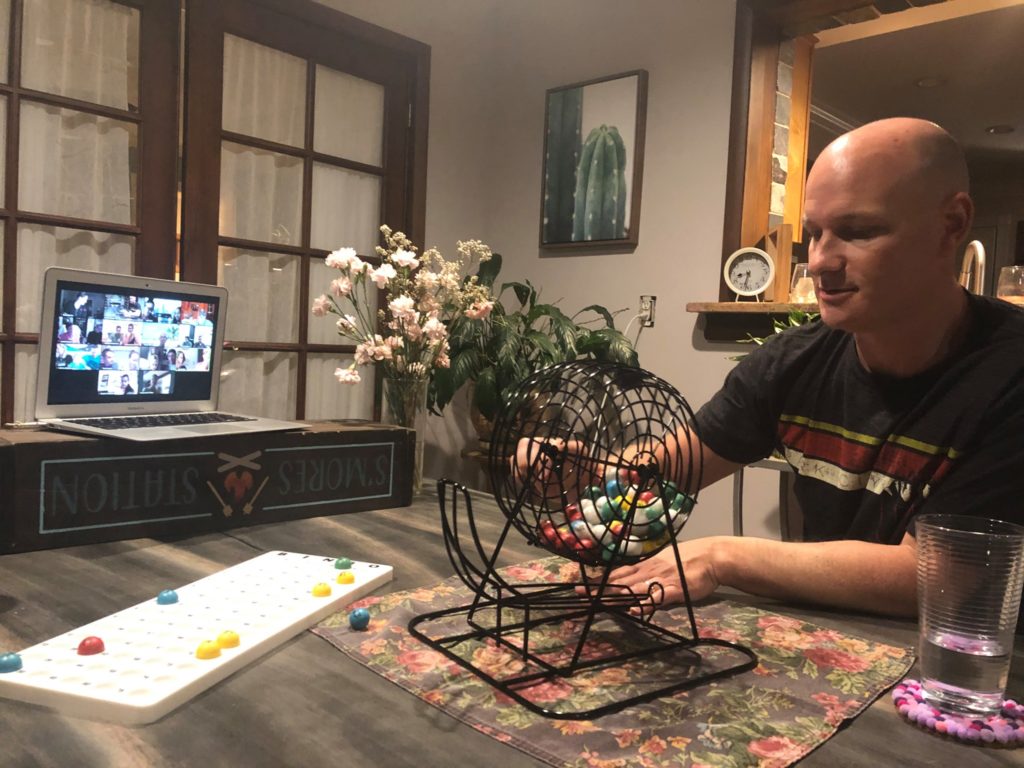 BE AT-HOME MIXOLOGISTS
"Try an at Home Mixology Class! Open up your liquor cabinet, bring out different ingredients and get creative. One person can lead the class and the other can follow the steps or you can take turns. This is the perfect time to use your fancy glasses and martini shakers. You can even get dressed up to make it a fancy at home night. We did ours in our backyard, tiki style! We made extra sour lemon drop shots, Cuba Libres and a Jameson creamsicle."
-Stephanie M.
"We love making cocktails together! We have a little bar at home and make our drinks pretty so it feels like we're having an actual date night at a bar. We usually go for mojitos! Easy to make and so good."
-Natalie M.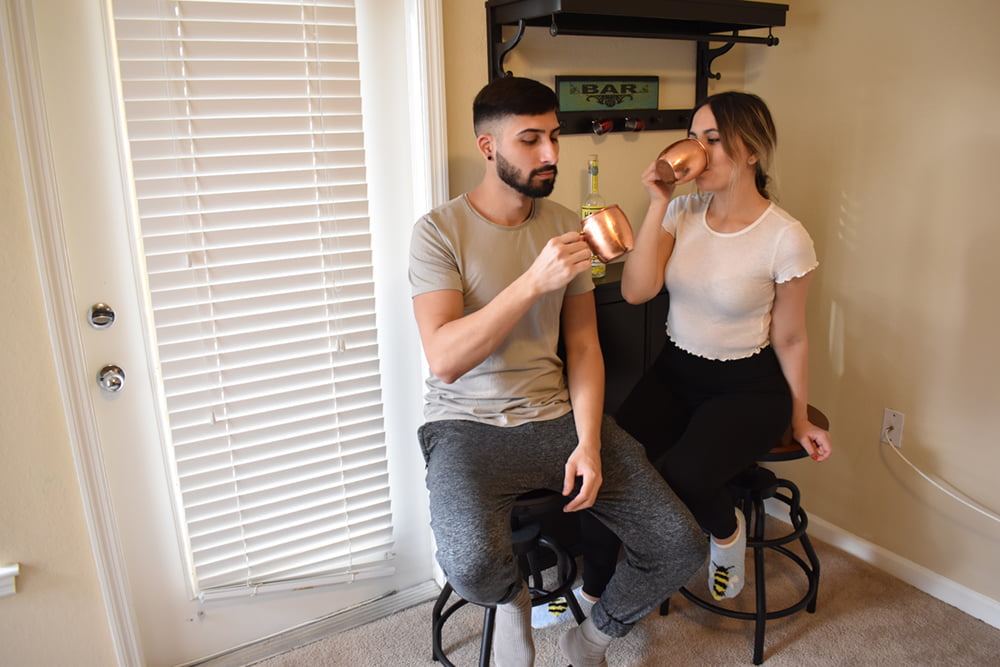 THROW YOUR OWN PARTY
"We have had a Mario Kart Battle and a Pool Party in our backyard. We also virtually rode several Disney rides."
-Amanda G.
CREATE YOUR OWN THEME NIGHT
"We've had a Star Wars night with movie and trivia, and a tiki bar night with tropical drinks (mai tais!) and a Jimmy Buffett concert. I dressed up since during the day I am in clothes that allow me to chase my toddler around all day. Jimmy Buffett is doing a "Virtual Cabin Fever Tour," replaying momentous concerts from the past including one at a drive-in theater and one in Hawaii. These concerts are broadcasted at Margaritaville.TV most Wednesdays and Saturdays at 8PM. We have our own tiki bar we made when our son was born so that way could still have date nights."
-Dani M.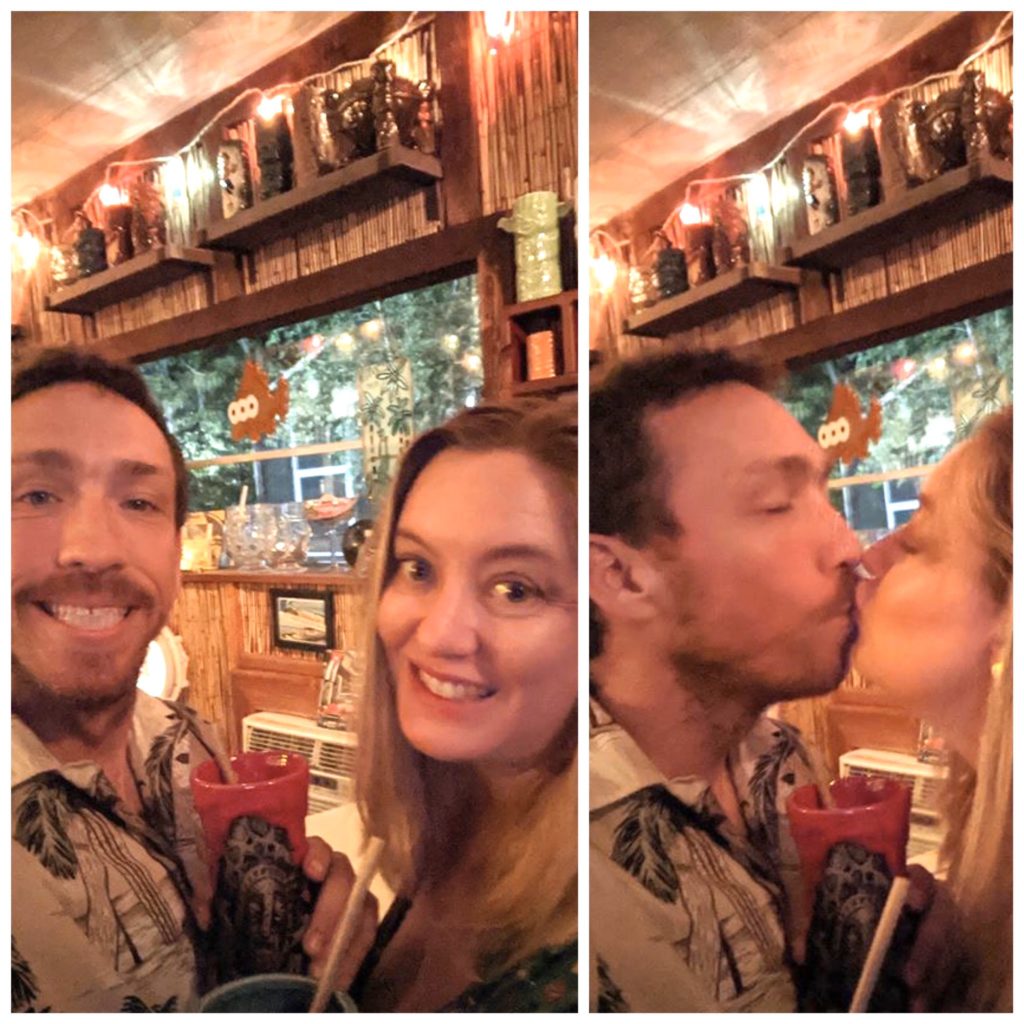 "We had a Mario Kart Battle last week. The week before we did ladder ball and darts. This week we're having a Disney themed date night and next week is camping themed!"
-Heather B.
Our pick: Create your own stay-at-home camping date with an epic pillow fort, gourmet snacks and twinkle lights.
HAVE ANOTHER HONEYMOON…AT HOME
Regular Orlando Date Night Guide contributor Stephanie Machado and her hubby, Jesus, made lemons into lemonade when they had to cancel their honeymoon plans due to social distancing measures. They decided to have an at-home honeymoon (read about it here), which Stephanie has documented via her Instagram story. From a themed resort day (with a kiddie pool in the backyard) to making Cuban coffees together and even hosting a hallway runway show, their creative home honeymoon is bound to inspire you. If you're already married, use it as inspiration to have a fun bonus honeymoon together!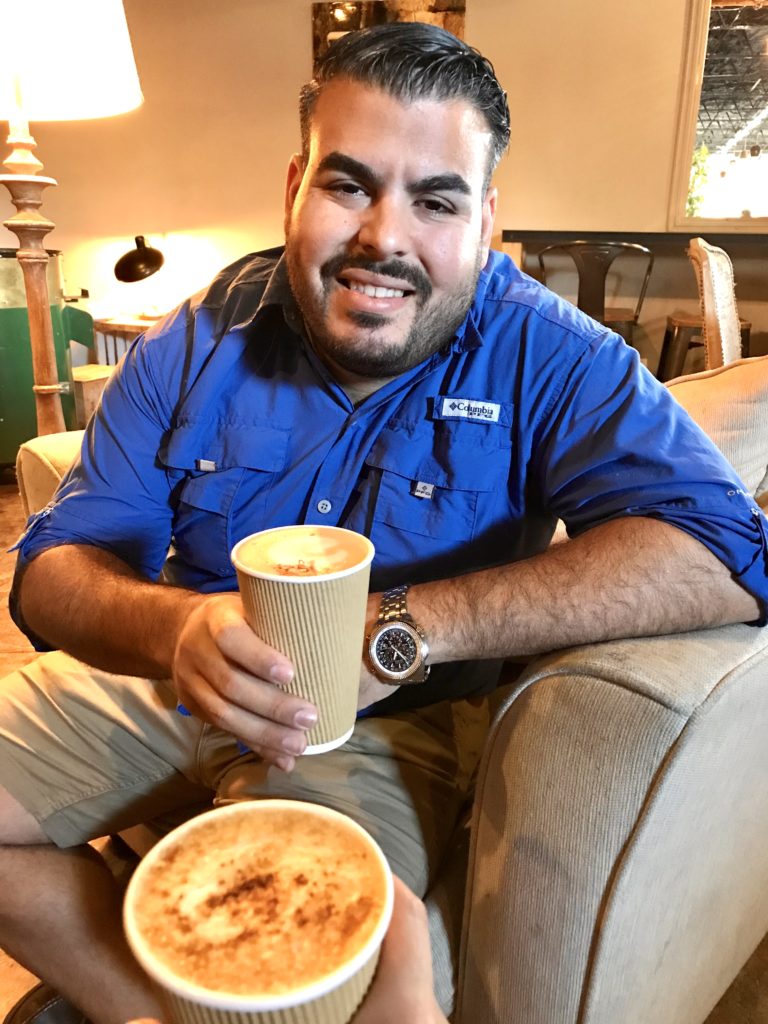 HOST A VIRTUAL DOUBLE DATE GAME NIGHT
"Dave and I like to play virtual Mario Kart with our friends. We put our friends on speaker and then create a game online together, so we're racing each other while chatting. Also, the other day Dave and I played the Oregon Trail card game. It's a cool game because the goal is to beat the game, not each other. Everyone's trying to get to the end of the Oregon trail together which is a fun collaboration."
-Kelsey G.
TURN YOUR YARD INTO AN OBSTACLE COURSE
"We made an obstacle course using our front & back yards. We had to roll a log, limbo under a rope, climb a tree…. I haven't climbed a tree in at least 35 years!"
-Tia M.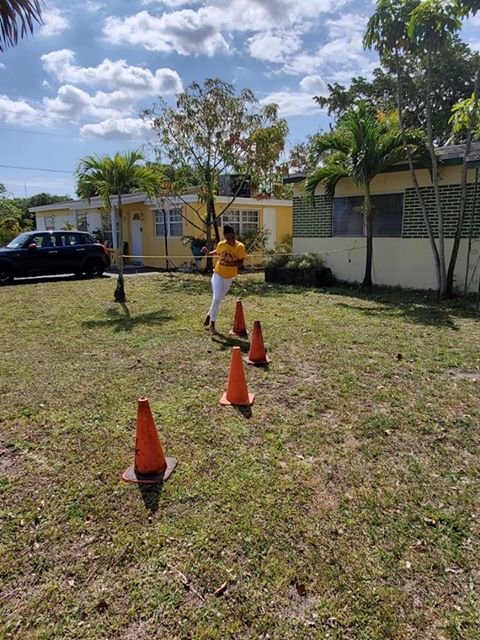 GIVE EACH OTHER AN AT-HOME COUPLES MASSAGE
"We've been having a weekly date night – couple's massage! We light the candles, put on serene music and help each other take out some of the tension from the week. We've enjoyed it so much, it's going to stay in the mix, even after stay at home is lifted! We both deserve a break and it's been such a great way to show how much we appreciate each other for the work we're putting in!"
-Chris W.
Check out this post for tips on creating your own at-home spa night. You can also find loads of inspiration on our national site, Date Night Guide.
Want your stay at home date night idea added to the list? Send an email to Stephanie editor@orlandodatenightguide.com so we can keep improving this list.
Feature image credit: Natalie M. @roamsick