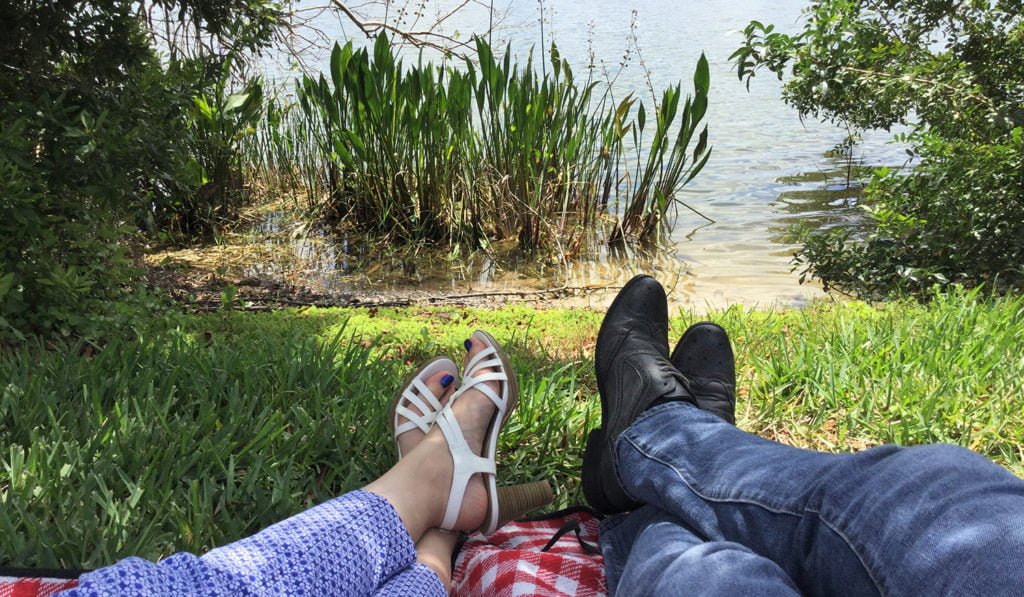 Grab your best sneakers and your plus one – we're heading out for some dates in the great outdoors! It's time to get some fresh air and sun. These free, outdoorsy date ideas in and around Central Florida will help keep your spirits up.
We've broken this down into two sections: places that are open to visit now, and places to visit later when they reopen. Let's go!
Places to Visit Now
Developed by The Walt Disney Company, Celebration is a picture-perfect community with pastel townhouses, bright flowers, and the ever-popular boardwalk filled with bakeries and boutiques. Bike around town and then grab a seat in the shade by the lake (wooden benches, tables, and chairs included).
610 Sycamore St, Celebration, FL 34747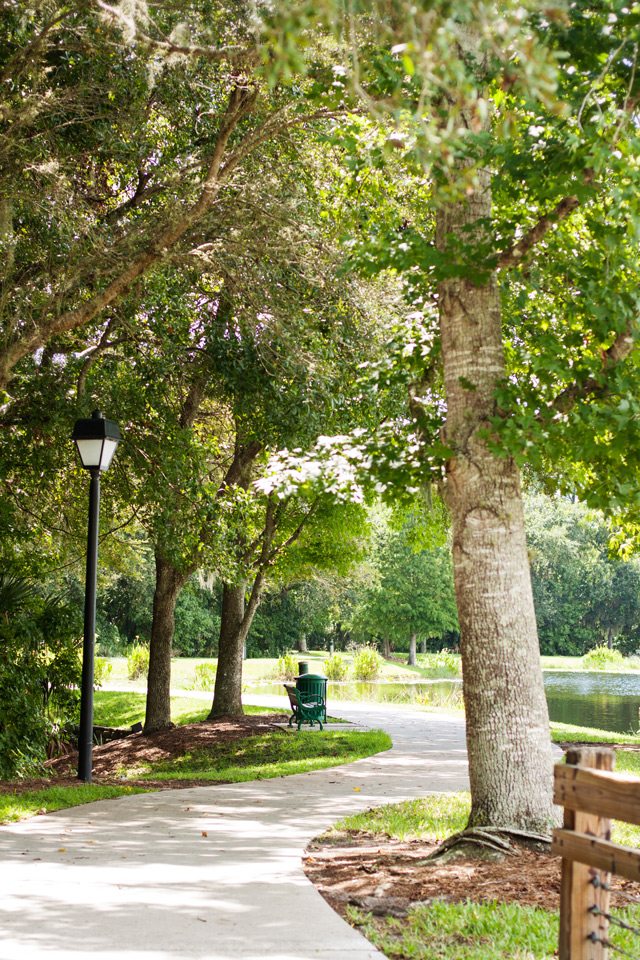 A small park located in the neighborhood of Thornton Park, Dickson Azalea Park is a popular spot for walking, taking portrait photos, and bringing your dog for some fresh air. We encourage you to get creative by bringing some picnic food to enjoy at this quaint park. Parking is limited, so be sure to park on a nearby street, or park closer to downtown and walk from there.
100 Rosearden Dr, Orlando, FL 32803
Bike, walk, and even boat through this 9.3-mile trail together. There are multiple entrances to the trail throughout Kissimmee and west Orlando, and plenty of parking. This beautiful trail is home to lots of wildlife, including the limpkin. Must-haves for this date: sunscreen, bug repellent, sunglasses, snacks. You'll be out all day!
Park: 925 S Bass Rd, Kissimmee, FL 34746
Trail: Multiple entrances in Orange and Osceola County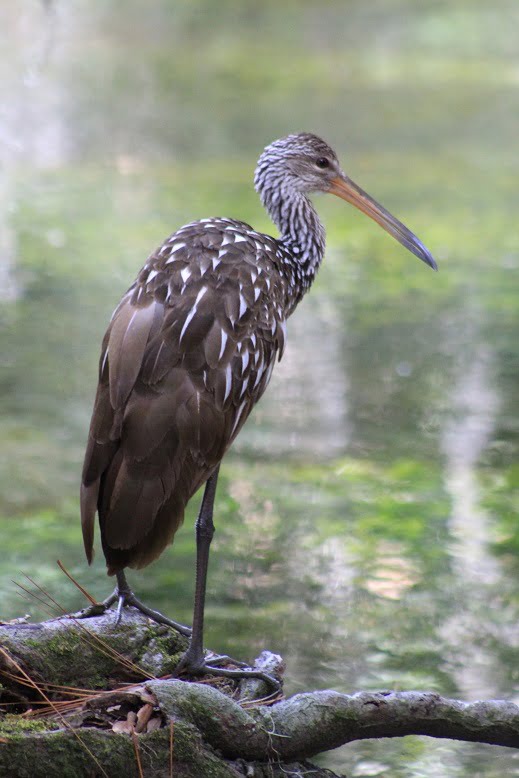 This beautiful park located right on Lake Tohopekaliga (better known as Lake Toho) has something for everyone. There's a large parking lot right by the park, so you'll be able to get started on your adventure right away. You can walk the lake, venture out to the docks, fish, and snap photos of the wildlife.
After your trip around the Lakefront Park, take a stroll through the historic downtown . You and your date can explore the city's sculptures and murals surrounding the nearby cafes.
FYI: Face coverings are required in Osceola county unless exercising.
201 Lakeview Drive Kissimmee, FL 34741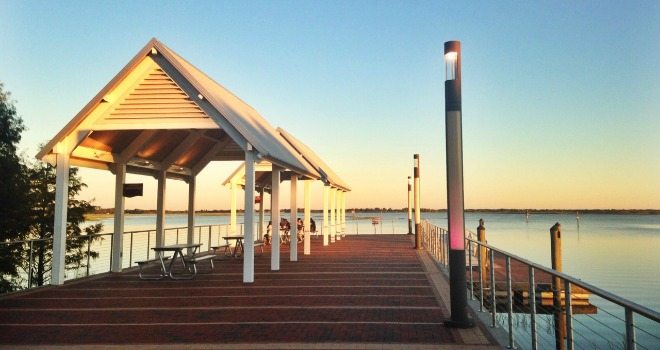 This county park on the shore of Lake Butler is a great spot to enjoy a picnic, take a hike, stroll through the butterfly garden, and wildlife watch.
8777 Winter Garden Vineland Rd, Orlando, FL 32836
Lake Millenia
This best-kept secret is a great spot for a picnic and walk with beautiful wildlife. There are two docks where you can get a little closer to action (by action, we mean the turtles popping their heads out and the birds exploring the area!). Bring a picnic blanket to relax in the shade or chow down at one of the nearby picnic tables. If you visit during the right time of year, you might even spot a family with baby ducks!
4700 Millenia Blvd, Orlando, FL 32839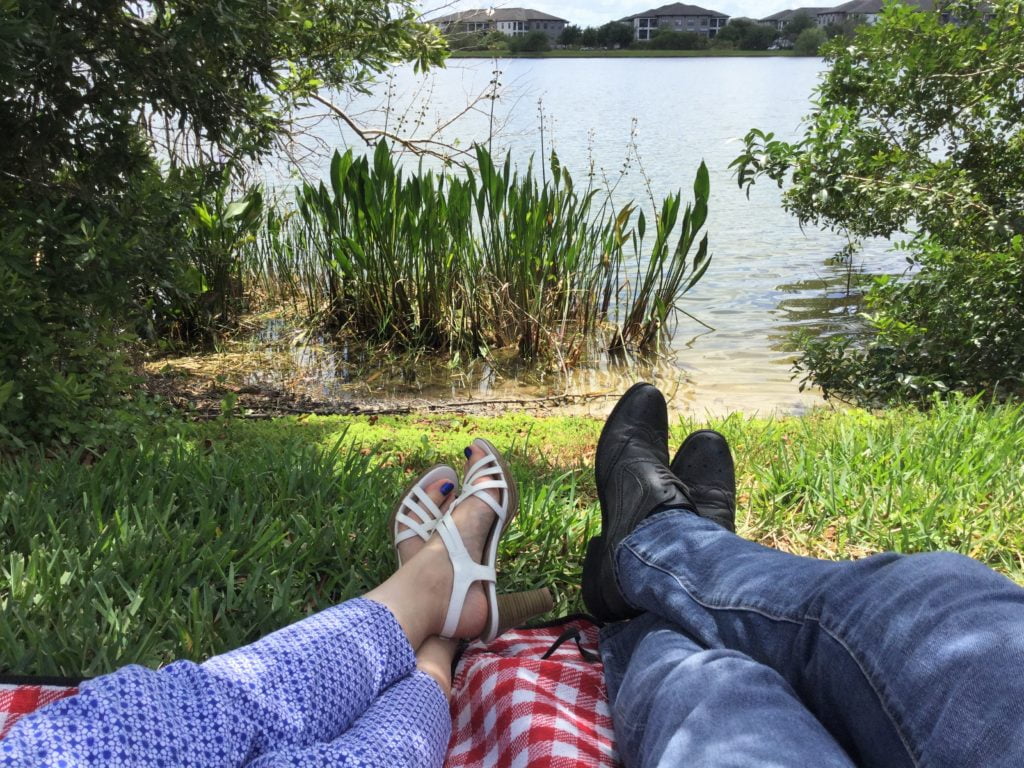 This 22-mile long trail runs through Oakland, Winter Garden, and Apopka. Most of the trail was built on railroad alignments, gaining recognition as a rail-trail. Our favorite routes are from Killarney Station to Downtown Winter Garden (with a stop at the Oakland Nature Preserve), or from Winter Garden Station to Chua Bao An Buddhist Temple (Apopka Vineland Station).
The trail is open from sunrise to sunset. It does get busy on the weekends, so plan accordingly. Check out our tips for experiencing the trail here.
501 Crown Point Cross Rd Winter Garden, FL 34787
Venture out to this beautiful park filled with woodpeckers, tortoises, gators, birds, and other wildlife. The boardwalk will lead you to a breathtaking view of Lake Apopka. There are also several short nature trails to follow. This park is a great stop along the West Orange Trail and bike racks are available in the parking area for locking up your wheels during your adventure.
747 Machette Trail, Oakland, FL 34760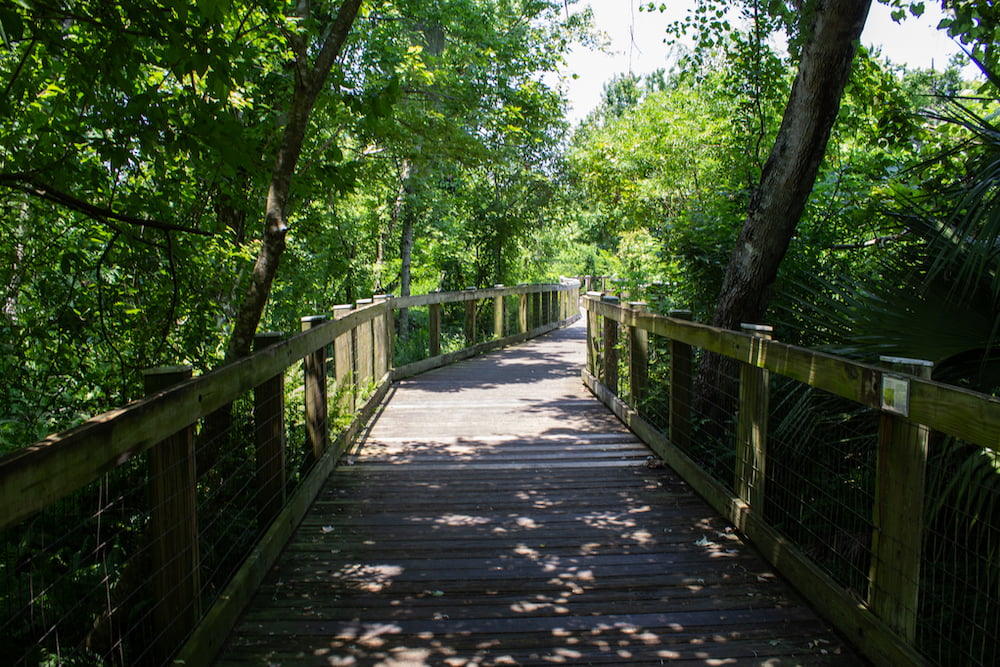 The Winter Garden Farmers Market is a must-visit to browse local makers' creations, try savory food, pick up fresh honey, and enjoy live music. Downtown Winter Garden is full of history, cobblestone roads, and brick buildings. Plus, there's plenty of free parking in the garage on S Boyd St. The market is currently open on Wednesday evenings to provide fresh food from 3 – 7 p.m., and open regularly on Saturdays from 8 a.m. – 1 p.m.
104 S Lakeview Ave, Winter Garden, FL 34787
This nearly 15-mile trail is great for taking your bikes out and riding through the scenery. Stop by Magnolia Park to enjoy the butterfly garden and a quick picnic break.
2929 S Binion Rd Apopka, FL 32703
Lake Lotus Park is the place for you if you love spotting wildlife (including gators). Stroll the 1-mile boardwalk together, go fishing, and pack a picnic lunch to complete your visit. Alcohol is not permitted. For more info, read our post on Hiking Lake Lotus Park.
1153 Lake Lotus Park Rd, Altamonte Springs, FL 32714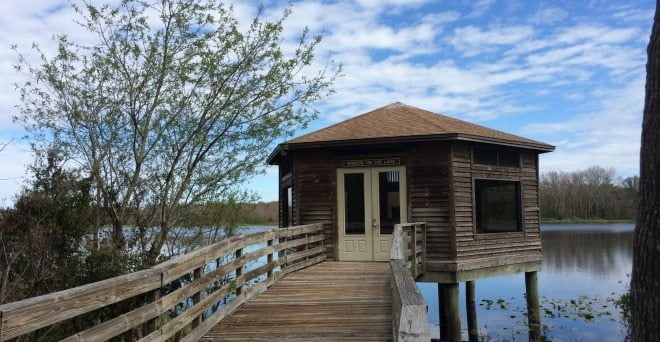 Lake Lily offers a 1/2-mile walking trail, gazebo, and picnic seating. Check for local events as Lake Lily Park is home to an annual art show and weekly farmers market.
701 Lake Lily Dr, Maitland, FL 32751
Winter Park's Park Avenue will make you feel like you've stepped into a movie. Everything is bright, the shop owners are friendly, and there are tons of photo ops (like the Park Aire Apartments). Walk, shop, and bring your pup on this date. Explore the nearby Central Park on S Park Avenue (without the pup). Be sure to check out The Ancient Olive where you can try unique flavors of olive oil, like blood orange olive oil and chocolate balsamic vinegar (yes, really!).
110 N Park Ave, Winter Park, FL 32789
This is one of my favorite spots to visit. It's worth the drive! Tucked away in Winter Park, Mead Botanical Garden is a popular spot for free meetups such as birdwatching. Bring your binoculars and camera and pick up a brochure when you walk in if you're up for birdwatching. Or, walk through the garden path to create your own adventure. You'll see great blue herons, butterflies, and beautiful red-bellied woodpeckers.
1300 S Denning Dr, Winter Park, FL 32789
This beautiful lakefront park tucked away on the shore of Lake Maitland is home to cypress trees, owls, and other wildlife. Plus, the exedra monument makes for a romantic photo op on your date. Parking is limited, so be sure to get to the garden early.
1365 Alabama Dr, Winter Park, FL 32789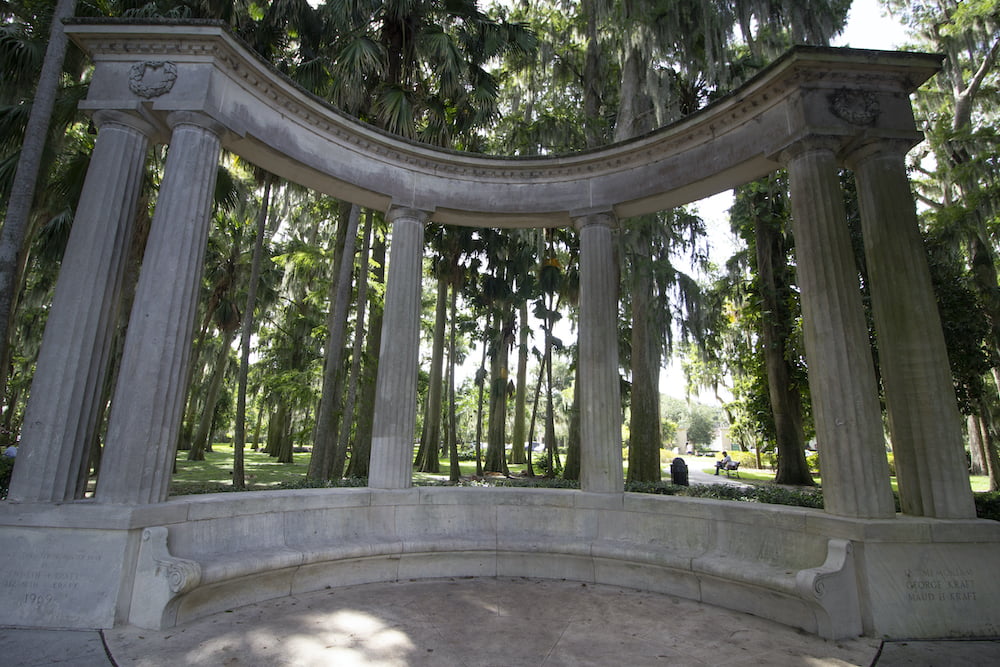 Our go-to local park has a bit of history, officially being declared a park in 1892. It was once a zoo, an area with tennis courts, and even a horse track. If you're driving to the park, keep an eye out for free, 3-hour parking along S Eola Dr and E Washington St near Thornton Park. Keep in mind, street parking is free all day on Sundays.
512 E Washington St, Orlando, FL 32801
Uptown Altamonte's Cranes Roost Park features a 1-mile walk around Cranes Roost Lake, an amphitheater, and plenty of benches to take a moment to relax together. Keep an eye on events held at Cranes Roost Park – many community events are free and include live music.
274 Cranes Roost Blvd, Altamonte Springs, FL 32701
Check out this bike-friendly and fitness-friendly park with workout stations and a paved trail around Lake Underhill. Plan your visit during sunset for scenic views included the distant Orlando skyline.
4355 Lake Underhill Rd, Orlando, FL 32803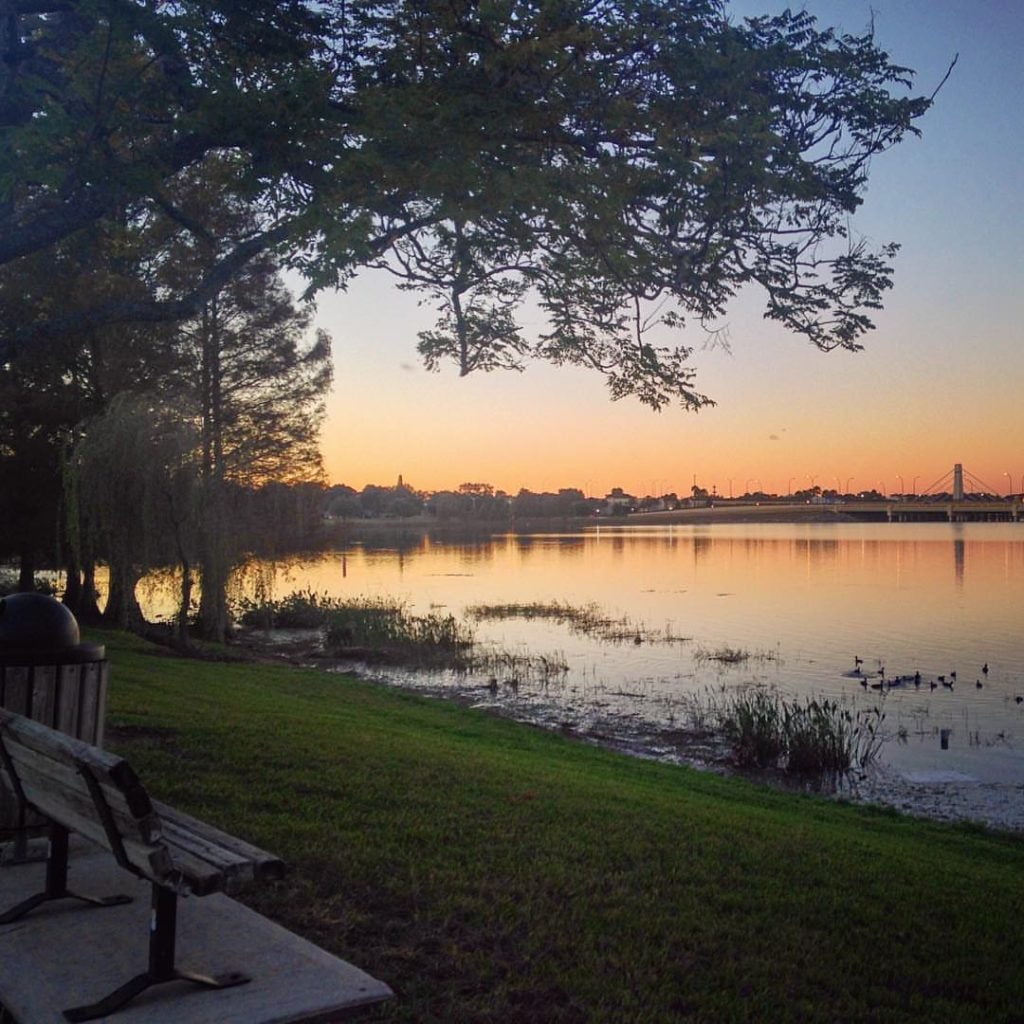 Home to couple-owned Osprey Tavern, Seito, and more, Baldwin Park is a quiet town with plenty to explore. The nearby Lake Baldwin Trail spans 2.5 miles for a quick walk or bike around the lake. You can bring food to feast at the picnic tables, spend time out on the pier, or bring your pup for some playtime at the park. If you're planning to visit mid-week, the park opens after 12 p.m. every second and fourth Wednesday of the month for maintenance.
2000 S. Lakemont Avenue Winter Park, Florida 32789
This is the perfect date for walking, running, or biking around town. You'll see six lakes and two bridges on this 3-mile trail that runs through several Orlando Main Street Districts and past Loch Haven Park. The trail also links up to Mead Botanical Garden.
N Magnolia Ave, Orlando, FL 32804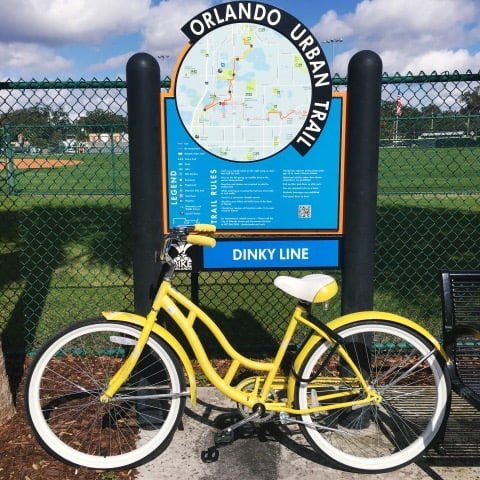 This park is full of open land, a dock with a view of Lake Minneola, green grass, and plenty of space to walk, run, or bike.
450 North 12th Street Clermont, FL 34711
Located at Lake Lily, you and your plus one can walk around the lake, explore the local vendors, and enjoy live music at this weekly market. Stop by the Heartsong Cookies booth for the best cookies around.
Sundays, 8:30 a.m. – 1:30 p.m.
701 Lake Lily Dr, Maitland, FL 32751
This park was home to the Orlando Naval Training Center for more than 30 years. It's now a historic site and a park for picnics, walking, and grilling.
2501 General Rees Ave, Orlando, FL 32814
Hike and bike your way through this natural area. You'll see plenty of wildlife, including white-tailed deer, tortoises, and potentially even rattlesnakes.
3895 Curryville Road Chuluota, FL
Check out the market for baked goods, fresh groceries, handmade jewelry, and orchids on Saturdays, 9 a.m. – 1:30 p.m.
This small park on a pond is a great, quiet spot on weekdays. The park contains a gazebo, picnic tables, and benches. Get a new perspective of the town on the Lake Mary Boulevard pedestrian bridge where you can see the clock tower and fountains down below.
100 N Country Club Rd #100, Lake Mary, FL 32746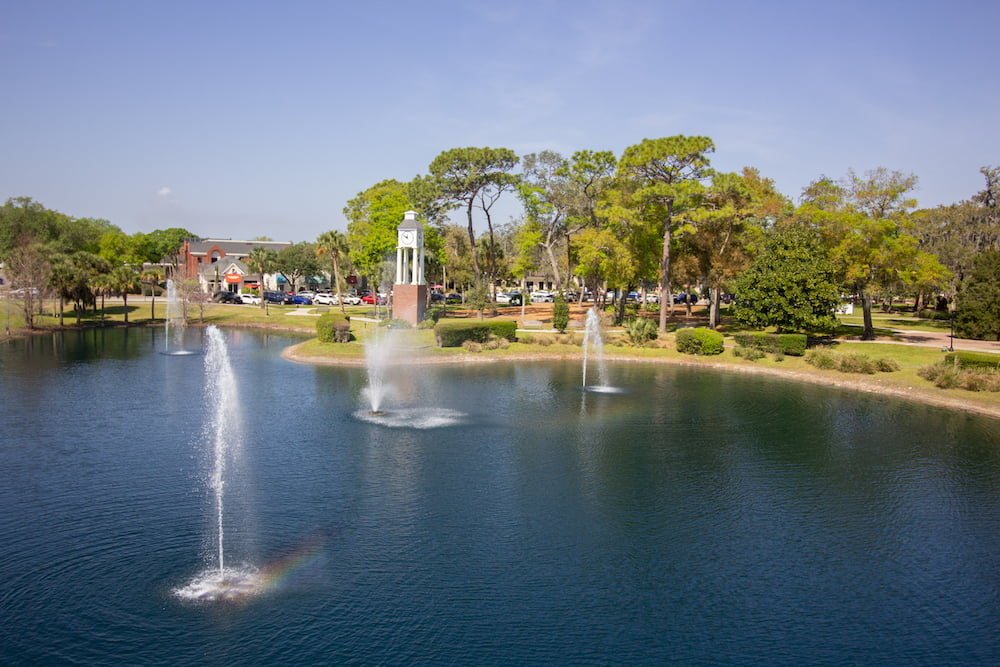 This park honors veterans and is located on Lake Monroe. You'll find palm trees, park benches, and plenty of trail to walk here. Sanford was once referred to as the Historic Waterfront Gateway due to Lake Monroe's connection to the St. Johns River.
Stick around to take a stroll through Historic Downtown Sanford. Here you'll find brick roads, colorful shops and unique eateries.
110 W Seminole Blvd, Sanford, FL 32771
There once was a National Champion Bald Cypress Tree in this park that was 3,500 years old, known as "The Senator." Now, "The Phoenix," a clone of the Senator, and other large cypress trees occupy the area.
761 General Hutchinson Parkway, Longwood, FL
Take in the flowers, the open fields, and a renovated estate house from 1925 on Lake Jessamine at this local park.
290 Holden Ave, Orlando, FL 32839
Belle Isle is home to a total of 11 parks. Walk, bike, or run the trail surrounding Lake Conway. This park also has grills, picnic tables, and workout stations for your enjoyment.
3406 Warren Park Rd, Belle Isle, FL 32812 (Warren Park, one of the 11 parks)
Other Trails to Explore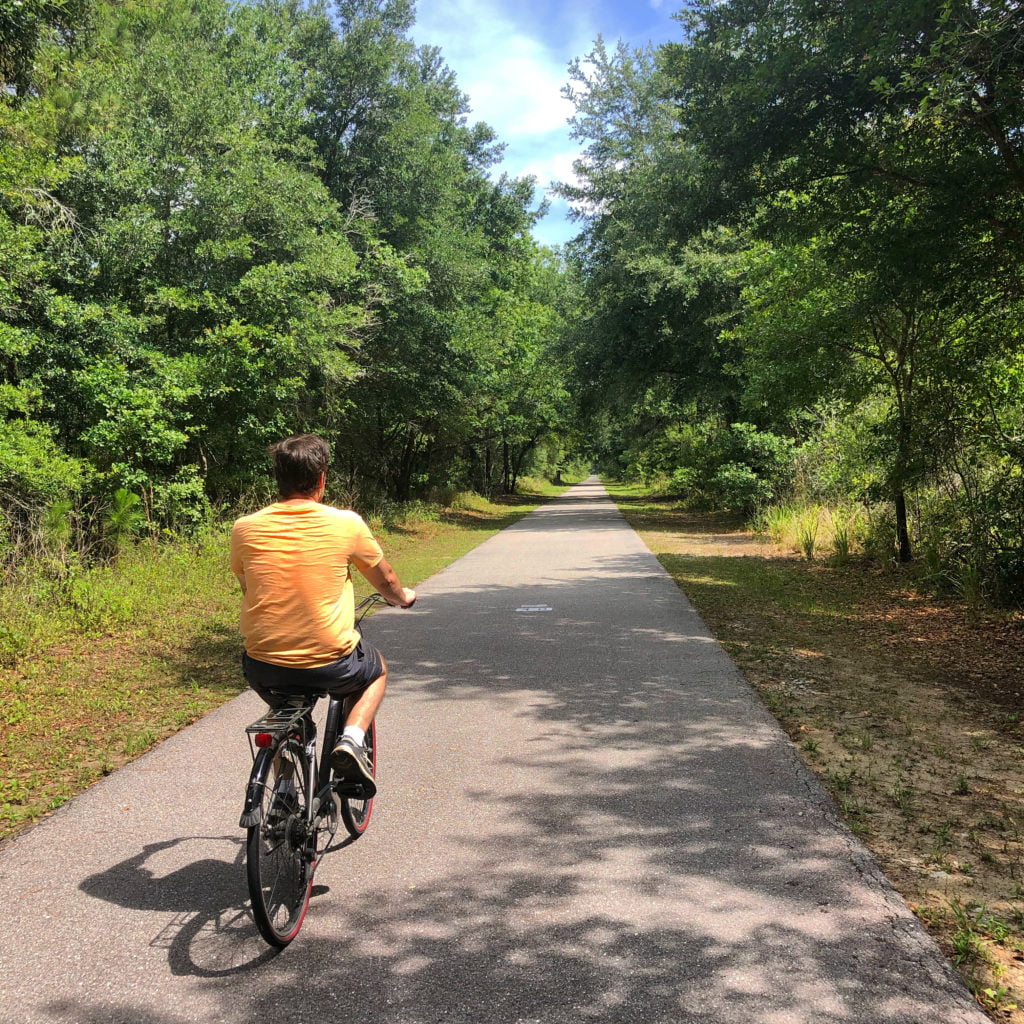 Places to Visit Later
This Downtown Orlando staple runs later than most farmers markets, so you can sleep in and enjoy the market in the late morning / afternoon. Remember: street parking is free on Sundays.
Sundays, 10 a.m. – 4 p.m.
20 N Eola Dr, Orlando, FL 32801
Plan a day out at this park where you can walk, bike, fish, grill, and explore the workout stations. You can even camp out overnight at one of the primitive campsites.
1301 Tropical Ave, Chuluota, FL 32766
This self-guided, drive-through tour of Florida wildlife is a must-see. There are more than 360 species of birds at the Lake Apopka North Shore, plus other animals and plants to explore. You can tune in to an audio tour on the website at any time during your drive. Keep your eyes peeled for big alligators crossing the road!
The scenic drive is currently closed. Check the Facebook page for the latest updates on when it will reopen.
2850 Lust Rd, Apopka, FL 32703
Enjoy the sunset by the glass house near Canvas Restaurant and Market. Check out the town's art installations, including The Global Angel Wings Project mural, the mirrored dog sculpture, The Code Wall, and The Beacon which projects movie nights. Also explore Boxi Park, a unique area with vendors and live performances, all constructed from repurposed shipping containers. Parking is free on the streets and in the nearby garage.
6877 Tavistock Lakes Blvd, Orlando, FL 32827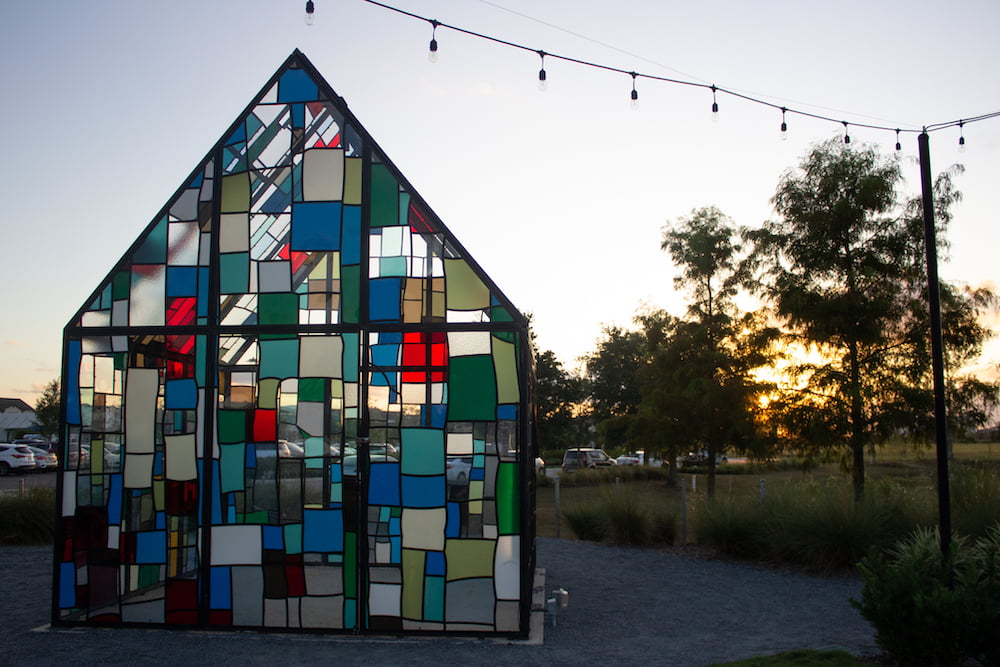 Peruse the local vendors and stock up on your favorite sweets, treats, fruits and veggies at the Winter Park Farmers Market. The market is currently open at a temporary location on Saturdays from 7 a.m. – 1 p.m. with limited vendors. Consider saving your visit for when the market returns to its usual spot at the train depot.
200 W New England Ave, Winter Park, FL 32789
Stroll through Downtown Clermont for the weekly farmers market on Sundays from 9 a.m. – 1 p.m. The market will be reopening on May 31.
685 W. Montrose Clermont, FL 34711
This is a great spot for hiking, biking, and some friendly competition on the tennis courts. Stop by on Thursdays for a late morning / afternoon date – the park hosts a pickleball program from 10 a.m. – 12 p.m.
5100 Turkey Lake Rd, Orlando, FL 32819
All photos by Kelly Lamano unless otherwise noted