By Arlene Laboy and Stephanie Patterson
Being a mom in the age of social distancing is H.A.R.D. Between work, housework, and distance learning, moms deserve to be celebrated more than ever! Though you might not be able to take her to her favorite restaurant, local eateries are providing you with ways to bring the experience home with brunch family meals, dinners, and mimosa kits. And if she loves sentimental gifts, a custom order from a local shop or a craft experience she can do with her little ones will melt her heart. We've done the leg work for you for how to do Mother's Day in Orlando, while social distancing!
PS: Check out our post 10 Totally Awesome Things to Do for Her on Mother's Day for more fun ideas.
Take her to Brunch (or grab some to-go)
Tapa Toro and Taverna Opa are doing Mother's Day right with two amazing brunch boards! Each board is $69 and serves 4-6 people. First, you have the option of a Waffle Board Kit, complete with Waffles, Nutella, chocolate chips, pecans, peanut butter, maple syrup, strawberry jam, vanilla yogurt, granola, and fresh fruit.
Second, you have the Bagel Board Kit, which comes with assorted bagels, bacon, boiled eggs, smoked salmon, cream cheese, capers & spices, strawberry jam, peanut butter, Nutella, and fresh fruit. Want to really celebrate mom? Add a DIY Mimosas for $15 because she deserves it! Order for pickup or delivery Saturday, May 9th from 4-7pm or Sunday, May 10th from 8-10am.
Note: Both restaurants are also open for dine-in (limited reservations). For online orders, contact megan@opatoro.com to coordinate your pickup or delivery.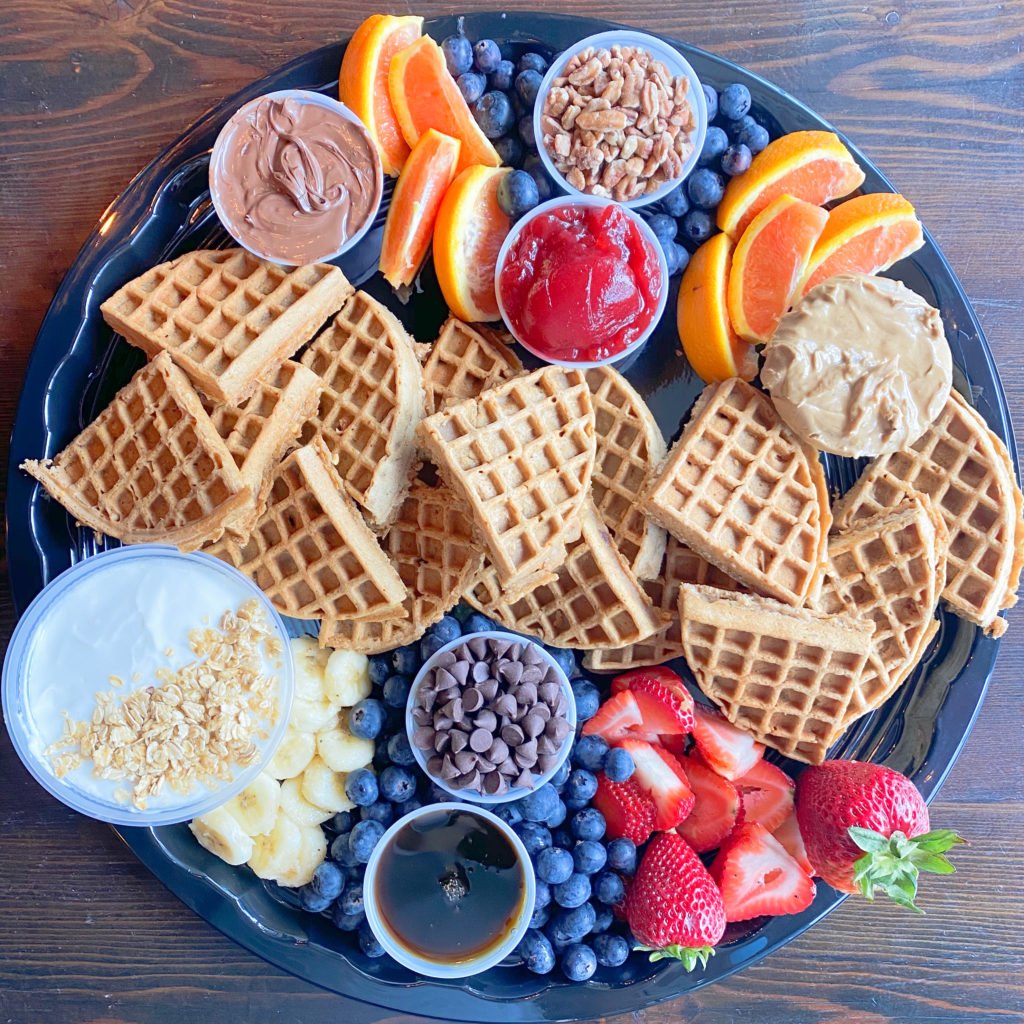 If French cuisine is the way to mom's heart, DoveCote's Mother's Day Special ($149.95) has her name written all over it. The feast feeds 4 people and includes roasted lemon thyme chicken, butter glazed baby carrots, roasted fingerling potatoes, and country biscuits with whipped butter. Finish the meal with vanilla bundt cake with strawberries and an assorted DC cookie bouquet which is guaranteed to make her swoon! Note: DoveCote will be OPEN for dine in on Mother's Day, with outdoor seating in the courtyard with six feet of space between tables and indoor seating at 25% capacity.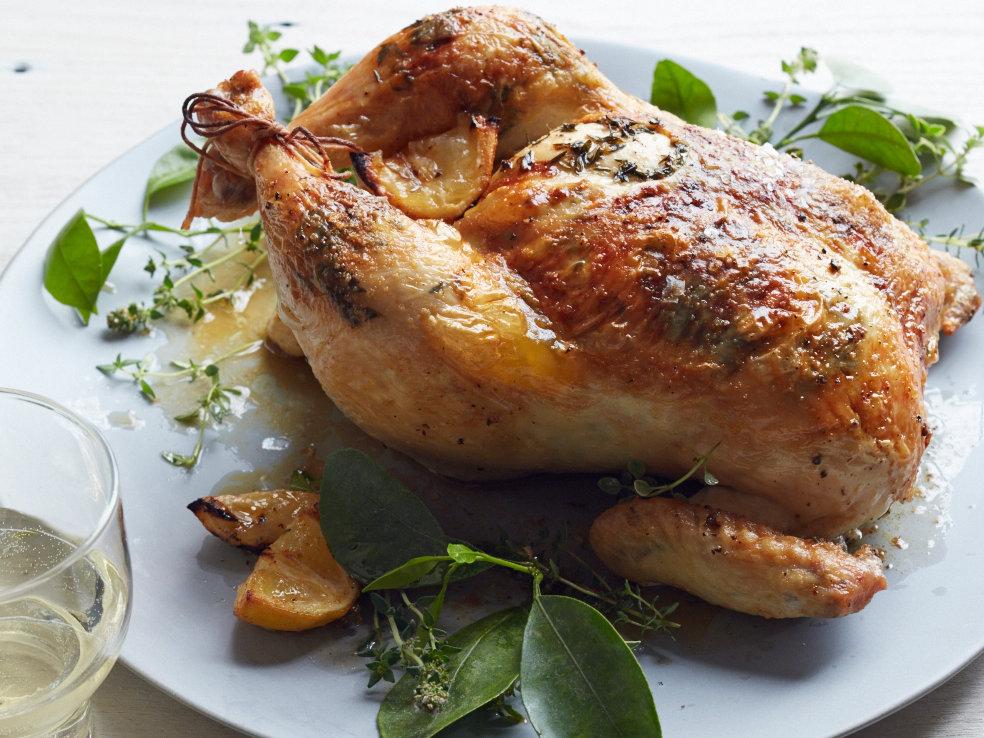 World of Beer Downtown Orlando is serving up a tasty Mother's Day brunch this Sunday from 11am-2pm complete with beermosas and a selection of brunch favorites. Brunch is available for pickup, delivery or dine-in (limited capacity).
Mia's Italian Kitchen, which is operating out of Café Tu Tu Tango, is offering guests a three-course Mother's Day menu for 2 ($59) or 4 ($89). You will have your choice of a salad, an entrée, sides, and Mia's famous Tiramisu for dessert! To pre-order, call 786-374-8176, or e-mail hilary@alexrestpart.com. Orders will be available for pick-up at Café Tu Tu Tango on May 10.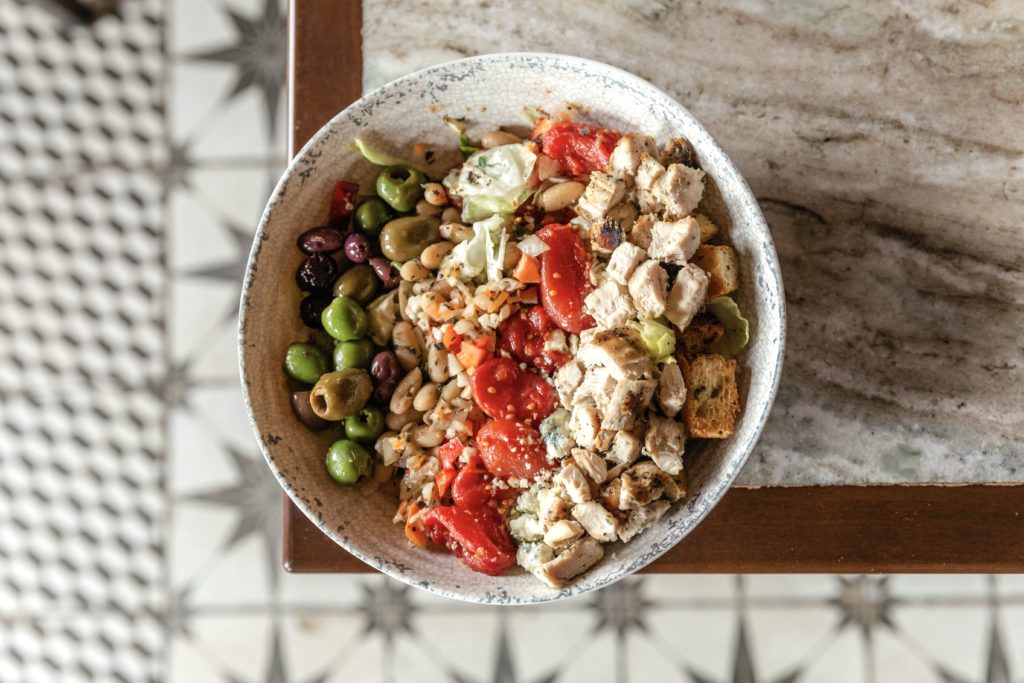 Right next door, Cafe Tu Tu Tango has a Mother's Day meal either for 2 ($59) or 4 ($89). For your feast, you'll select one item from each of Café Tu Tu Tango's main menu categories, then choose one of two special entrées with sides, and finish with Chocolate-Dipped Cheesecake Lollipops for dessert. To pre-order, call 786-374-8176, or e-mail hilary@alexrestpart.com. Orders will be available for pick-up on May 10.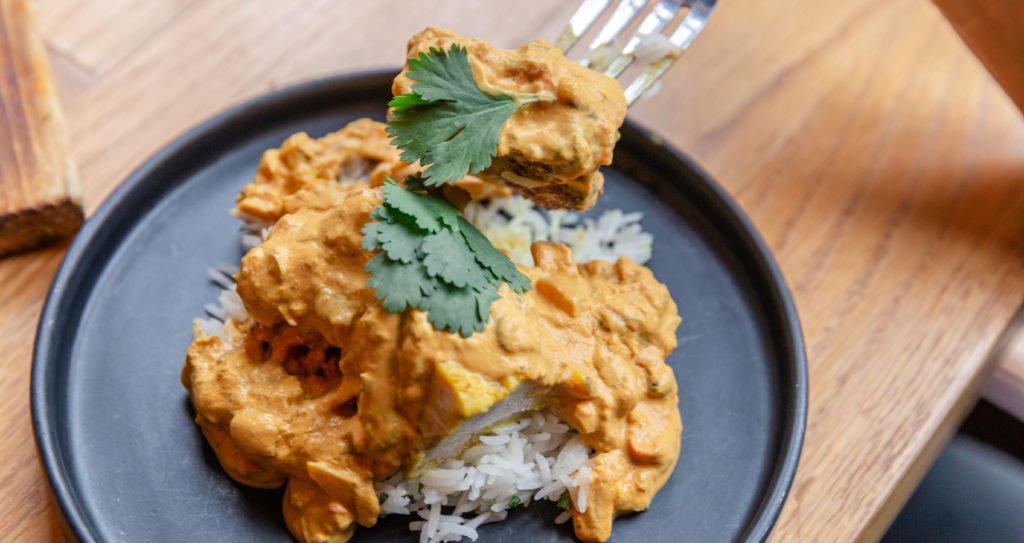 If you want to celebrate in serious style, head to the rooftop restaurant Eleven at Reunion Resort. The stylish eatery has prepared a brunch and dinner for mom. Brunch includes complimentary mimosas plus kids dining with mom will be invited to craft a special Mother's Day gift. Dinner is a three-course prix fixe affair with an optional wine pairing add on ($15). Really want to blow her mind? The resort spa has a special Mother's Day package which includes a massage, express facial, manicure AND pedicure for $244.
The Osprey Tavern is helping you celebrate with a Mother's Day Brunch Package, available for 2 ($55) or 4 ($95). Add lemon ricotta pancakes for $14 or a mimosa kit for $25! To place your order, call (407) 960-7700 or place your order online. Note: Pre-Orders must be made by Friday, May 8. Orders will be available for pickup or delivery on Sunday, May 10. Alternatively, sister restaurant Reyes Mezcaleria is preparing mom a Mother's Day Dinner Package that feeds four for $85. You can also add on a summer blueberry peach galette for $15.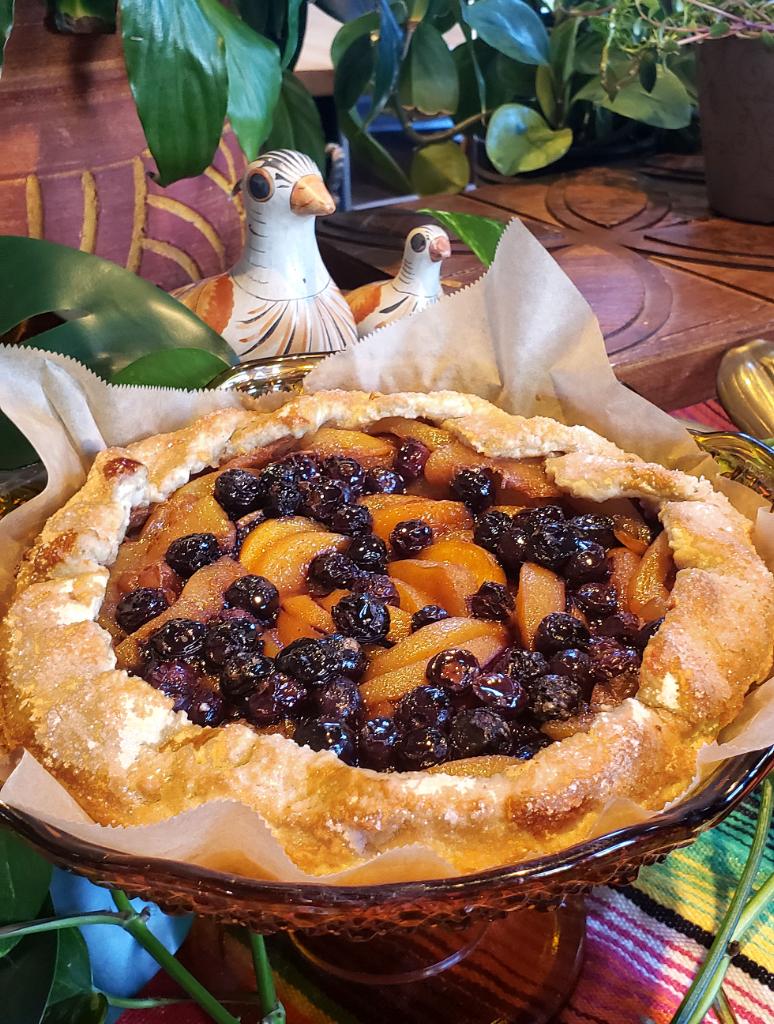 If you fancy a swanky feast, Ruth's Chris Steak House is offering a special prix fixe family bundle starting at $180 for four people. The family meal option includes roasted beef tenderloin, choice of salad, choice of two sides and personal mini cheesecakes. A surf & turf dinner option is also available. This offer is available for takeout at all three Orlando area locations.
Lake Nona's Canvas Restaurant is also offering two ways to do Mother's Day. The first is their Breakfast in Bed package for two people ($25) or four ($50). Pro tip: Add a MOMosa kit ($18) or a Bottle of Bloody Marys ($16), they are necessary brunch staples! Second, the dinner option includes a meal for two ($35) or four ($70). To place an order, call 407-313-7800 (between noon – 5pm). Note: The deadline to place pre-orders is Thursday, May 7 at 5pm. Meals will be available for pickup on Sunday, May 10.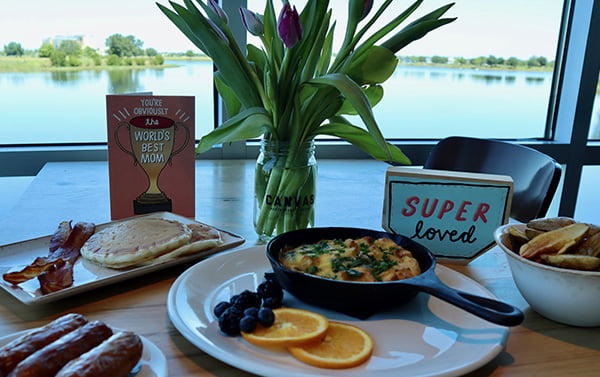 For an easy peasy Mother's Day treat, Hungry Pants put together four Mother's Day Brunch Boxes for all the mamas you want to celebrate. The Baker's Box includes their vegan croissant, vegan shortbread biscuit, Greek yogurt banana bread, a vegan blueberry pop tart from Orlandough and black currant jam. The three savory boxes include Cauli Hashbrowns, exotic fruit cup, and your choice of breakfast wrap (egg or tofu). Note: Pre-order your selections prior to Sunday, which you can do online or by calling 407-412-6300. A limited selection will be available day of.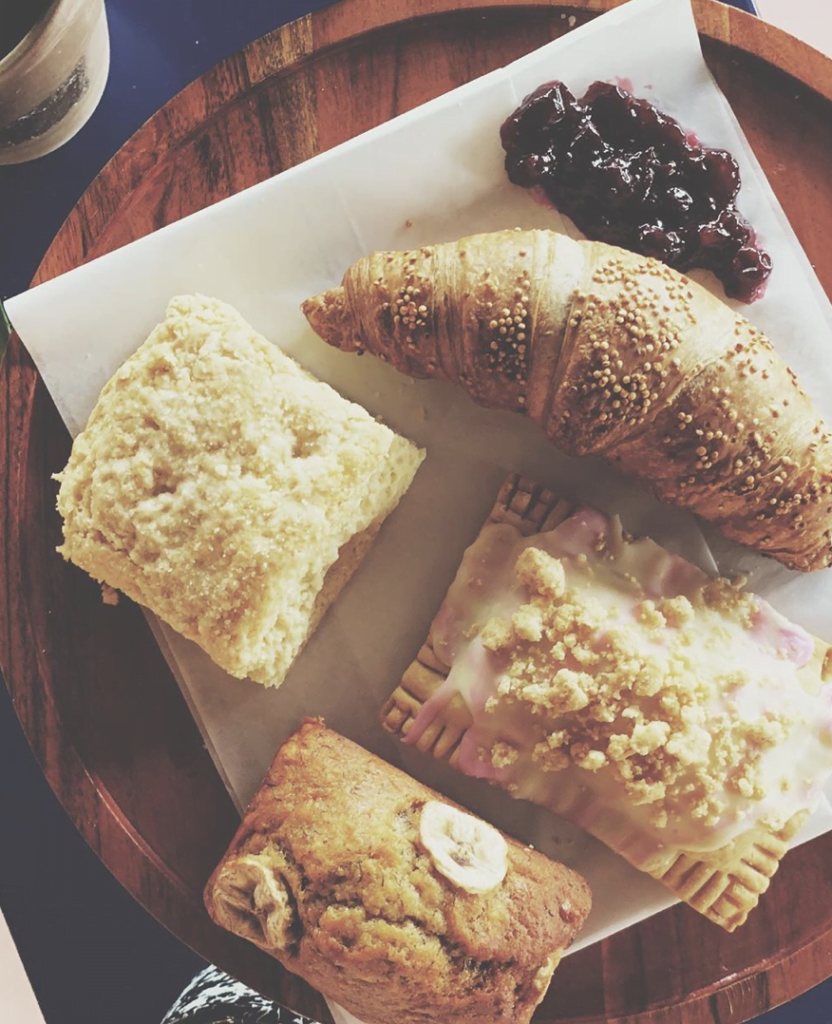 The Ravenous Pig has dreamed up a special meal deal with its Mother's Day Pamper Pack. Guarantee she won't have to cook all day with the combined brunch AND dinner pack which feeds two for $100. Add on a mimosa kit to make it extra special. To place an order for the pamper pack, send an email to scott@theravenouspig.com. Orders will be available for pickup all day on Saturday, May 9.
The folks at East End Market have collaborated to offer a special Mother's Day Collection that you can have delivered to that special mom in your life! The collection includes:
A bottle of Simonet de Blanc Brut (sparkling) from La Femme du Fromage
A cute potted plant from Porch Therapy (she already wants this)
1/2 lb granola, cheese twists and a sourdough boule from Olde Hearth
Farm & Haus' seasonal Strawberry Lavender Jam
A Gideon's Chocolate Chip Cookie (!!!)
Avocado Chocolate Pudding from Skyebird (yummy yet healthy treat!)
Hinckley's Fancy Meats delicious country pate
Deliveries will take place Thursday – Saturday. Visit their website for delivery days/times and get that order in asap!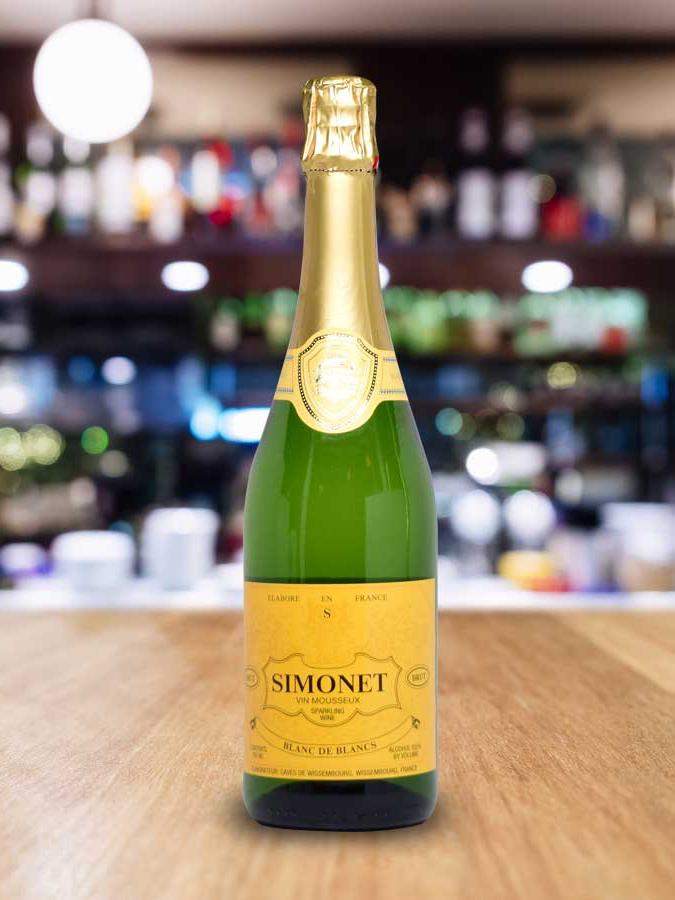 Hunger Street is bringing some of mom's favorite vendors together for their Sweet Mama and Salty Mama packages ($46.99). The Sweet Mama package brings 1 incredible Mexican chocolate cookie from Gideon's Bakehouse, One super cute cactus from The Heavy, and a liter of margaritas from Hunger Street. The Salty Mama Package brings a cute cactus from The Heavy, a delish liter of prickly pear margaritas and guac and chips from Hunger Street.
Note: To order your package email catering@hungerstreettacos.com; quantities are limited. Pick up on Saturday between 2-4pm.
Del Frisco's Double Eagle Steakhouse's Mother's Day Family Package ($130) comes with Crab Cakes with Cajun Lobster Sauce, choice of salad, choice of beef tenderloin or Salmon, two sides, and a Butter Cake with caramel and sweet vanilla whipped cream. The package is available for pickup only and serves 2 adults and 2 children.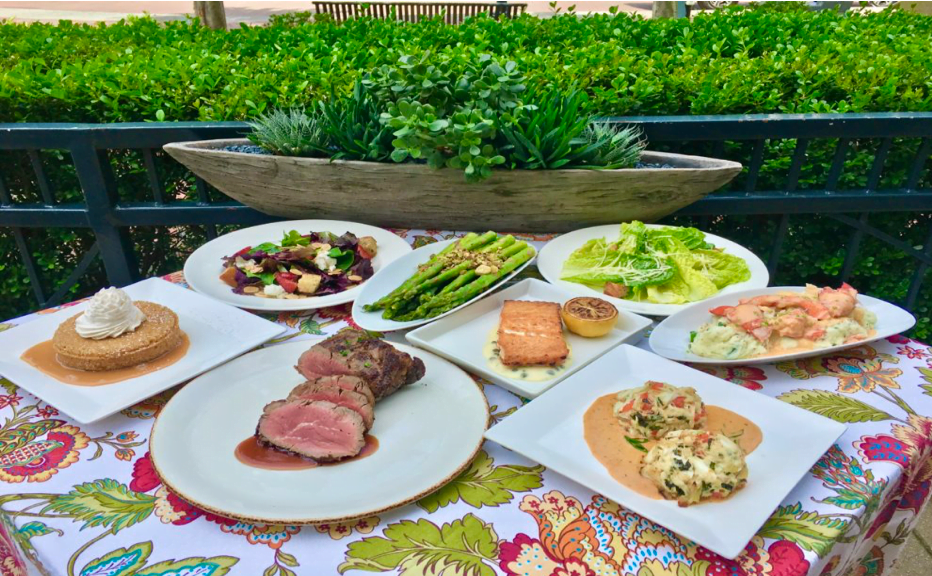 For a comprehensive list of restaurants that offer takeout by neighborhood, check out Visit Orlando's Orlando To Go page!
More Takeout Ideas
Marlow's Tavern is giving you two ways to celebrate mom: a Mother's Day brunch or dinner! If mom's all about that brunch, Marlow's selection feeds 4 for $85. French Toast Casserole, White Cheddar Grits, Home Style Hash Browns, and Applewood Smoked Bacon are some of the deliciousness you'll get, along with 4 slices of NY Cheesecake. For a later meal, the $85 dinner offering feeds four and will leave the whole family satisfied. Add a bottle of champagne to either meal for $16 so mom can have a toast with her cheesecake!
For the mom that loves American comfort food, Dexter's New Standard offers both brunch and dinner options to make mom happy. You can also purchase side dishes, wine, and cocktails to go, or add a mimosa kit for $15! In addition, you can choose from 3 orchid arrangement options courtesy of Tiny Orchid Co, ranging in price from $25 to $75.
Is mom a Hawkers fan? Bring her favorite to her with Hawkers' Mother's Day meals, available for 4 (mains and sides, $75), 8 (mains and sides, $135), or get sides only for 4 ($40). The deadline to order is this Thursday, May 7 at 9pm. All orders may be picked up Saturday, May 9 between 1-4pm at either Orlando or Windermere locations.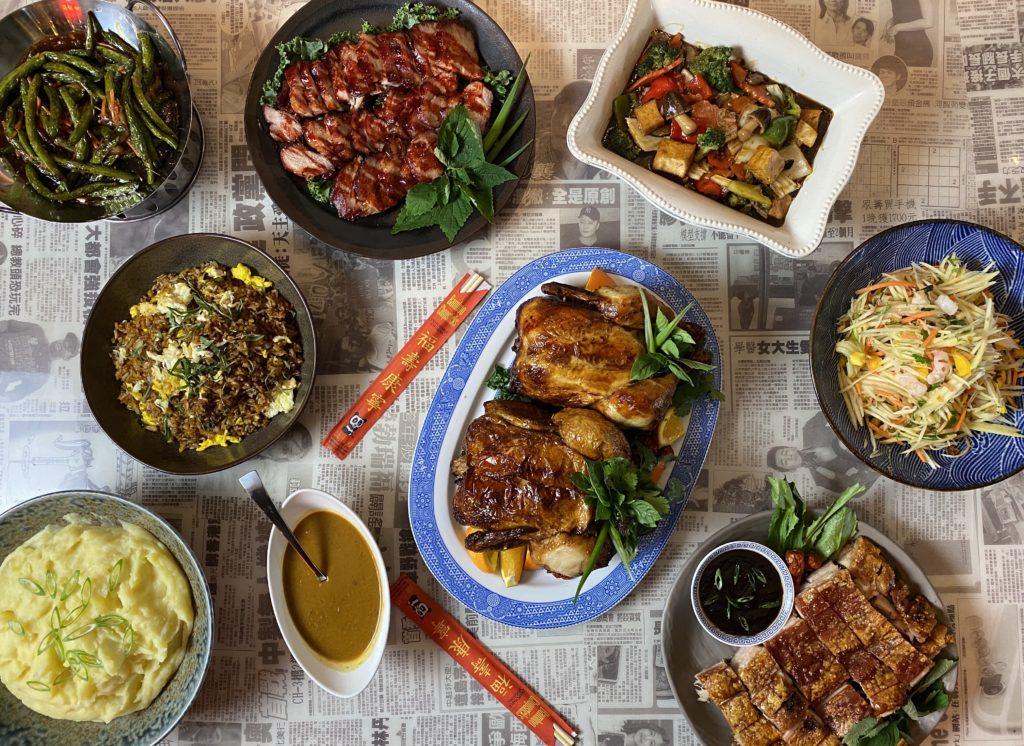 Get crafty
What better activity to do together than making your own custom candle! Wash & Wick's Make Your Own Candle Kit ($44.97) includes everything you need to make four 6 ounce candles. You can choose from over 20 scents including Coffee, White Tea, and my personal favorite Lost At Sea. Additionally, there are special Mother's Day Gift Packs that feature either four 6 ounce candles ($29.97) or 3 Wick Tumbler, Citrus Sugar Scrub, Pink Himalayan Salt & Grapefruit Soap ($41.97).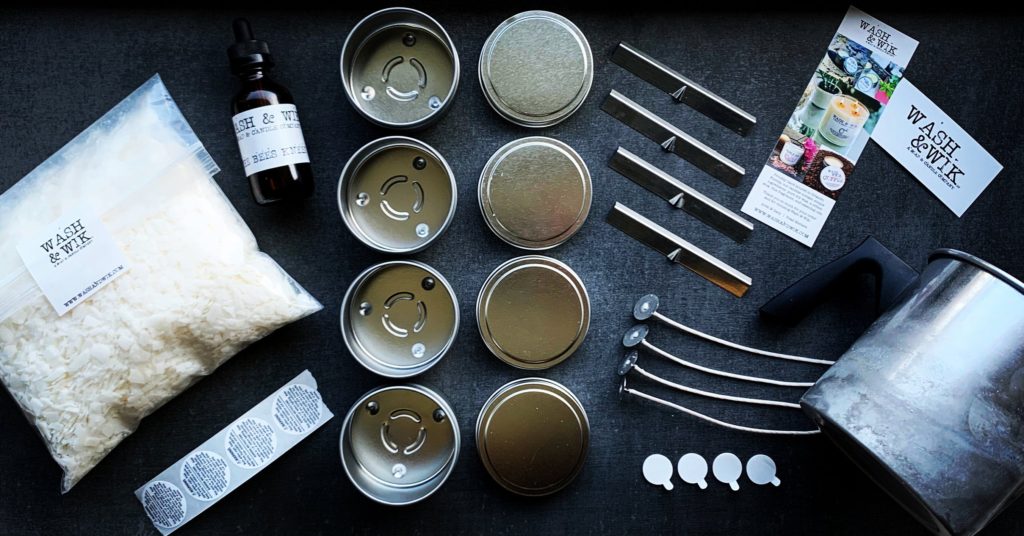 If the mama you're shopping for loves to create, Aramore's Clay To Go ($35 – $45) box is perfect! You get a kit that comes with demo instructions, access to 2 demo videos, sponge, water cup, wooden tool, 2 bags, clay, and a plastic bag to wrap in once you are done. You then message Aramore who'll pick up your pot, fire it, and deliver it!
Don't forget the flowers
Dahlia's Flower Truck has 3 hand-tied bouquet options for Mother's Day, which you can either have delivered to the mom in your life or you can pick it up at Infusion Tea in College Park or Maple Street Biscuit in Oviedo. Is the mom you're shopping for classic, chic or cool? There's a bouquet for each type of mom and for any budget, with prices ranging between $35 – $150.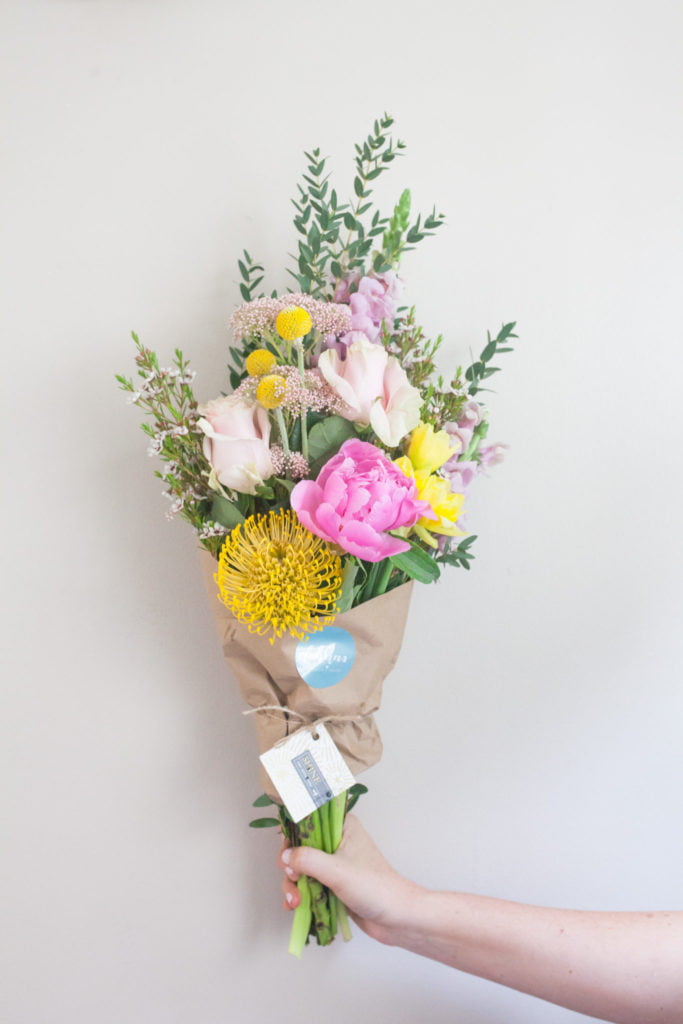 In Bloom Florist never disappoints when it comes to breathtaking bouquets, and their Mother's Day arrangements are no exception! There are 2 main bouquets to choose from: The Sunbeams ($125), and Mulberry Meadow ($110). Additionally, the Flowers & Frangrance Basket (starts at $115) includes variety of Capri Blue signature candles and beauty products, paired with a floral matchbox set and a petite arrangement of fresh floral. The floral shop has transitioned to contact-less curbside pickup and delivery so you can shower the moms in your life with gorgeous flowers while keeping everyone safe.
We can't think of a better trio than wine, flowers, and strawberries! The Bottles, Bouquet and Berries Bundle ($75) from Quantum Leap Winery is guaranteed to make you mom's favorite. You select 2 bottles, get a beautiful bouquet, and 3 chocolate covered strawberries from Peterbrooke Chocolatier of Winter Park. Note: Pre-order by 5pm on Wednesday, May 6 for pick-up and delivery on Friday, May 8 and Saturday, May 9.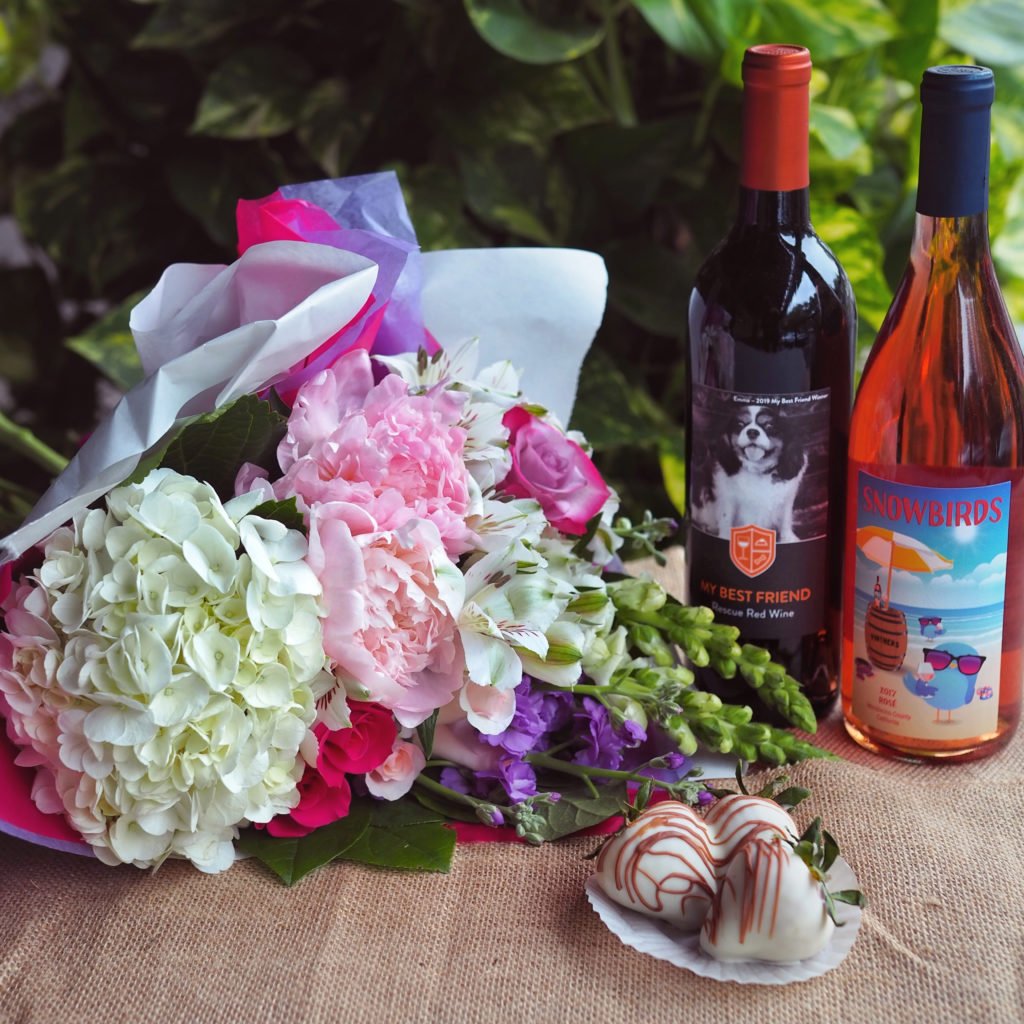 If she's more of a plant mom, Ouch.Plants. offers delivery of their adorable succulents and cacti! Find them on Facebook to see current selections and to place an order.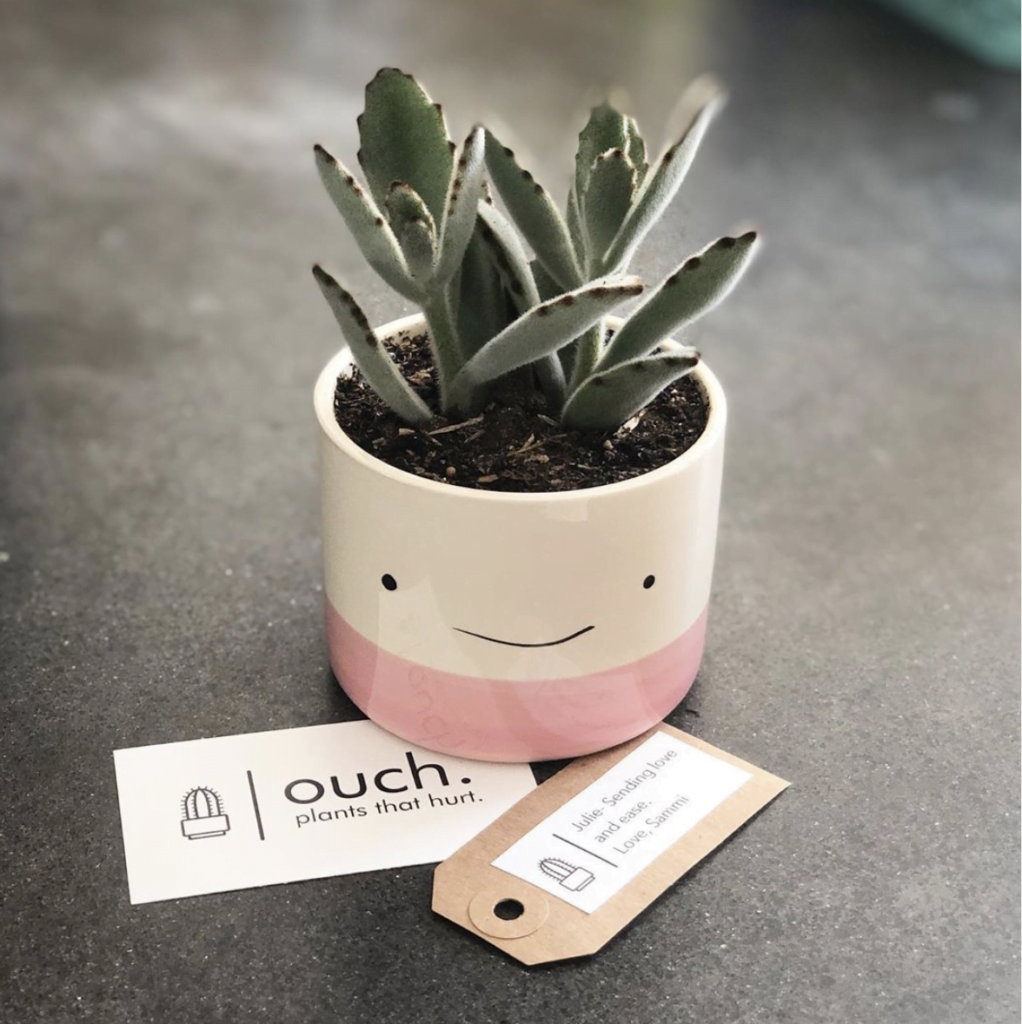 Is she the kind of girl who can't resist getting new plants (aka me)? The Heavy has a brand new online shop with many of their best selling insta-worthy plants, planters, home decor, and some stunning Mother's Day Fresh Floral Preorders priced between $45 – $85. Order yours asap as they sell out fast!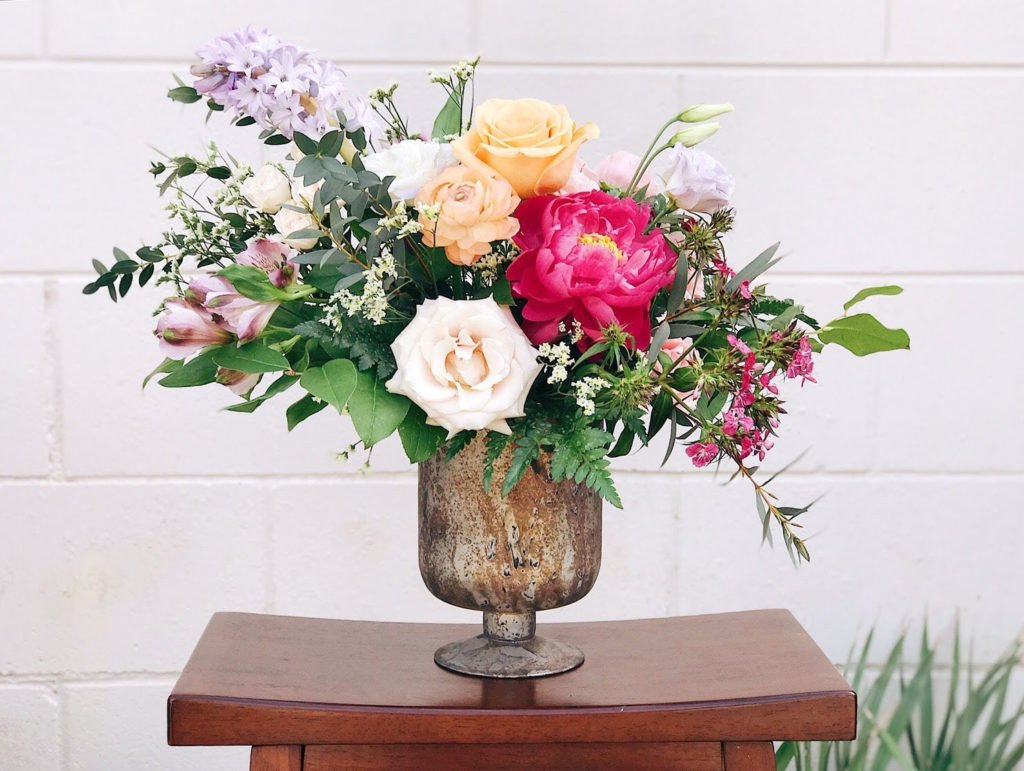 Get her something sweet
Is it a special occasion if Gideon's Bakehouse isn't involved? This month's limited edition cookie is a glorious Roasted Coconut Caramel Chocolate Chip creation from the heavens. These babies are limited to two per person without a preorder, while supplies last. Get there early OR be a Gideon's MVP and preorder from their site. Note: Gideon's is operating strictly out of their walk-up window and is not accepting cash at the moment, so plan accordingly. You can place your next day pre-order and get it via contact-less pickup here.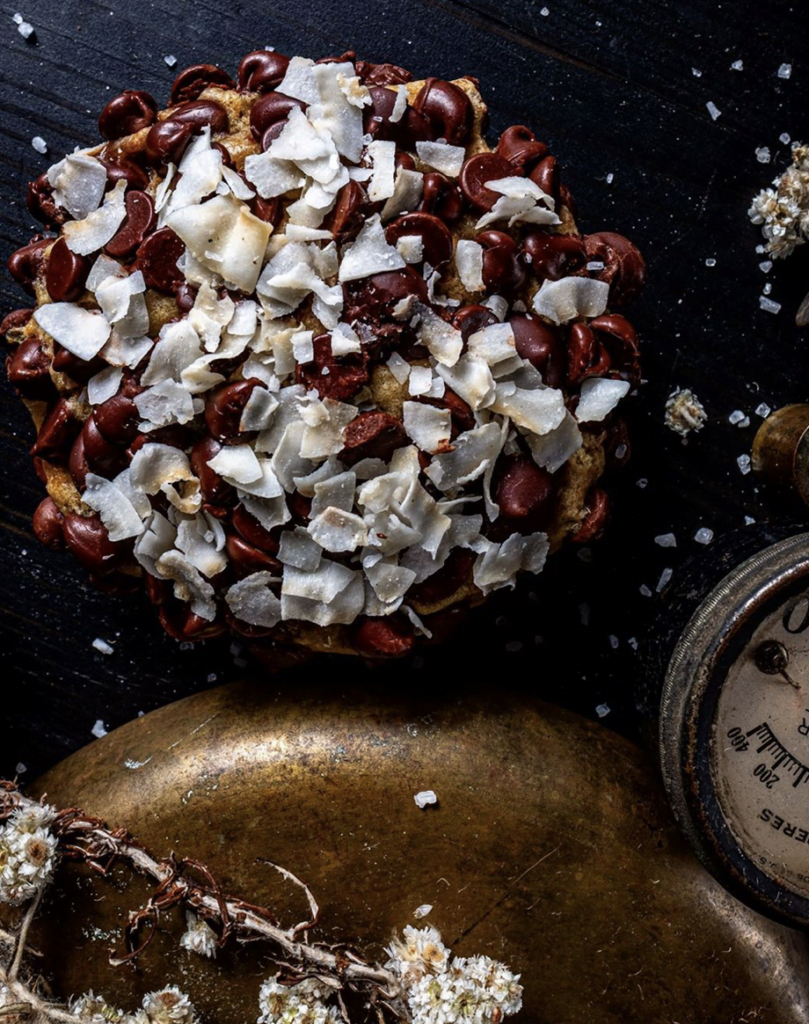 In addition to dozens of creamy, homemade flavors, Kelly's Homemade Ice Cream carries ice cream cakes and cupcakes you can pick up for mom! Limited delivery of pre-paid pints and quarts is available to select areas (Lake Nona, Avalon Park, Waterford, Maitland & Altamonte Springs). Delivery is free with a minimum order of $20 but is limited to 30 deliveries each day to ensure availability. Keep an eye on their social media for updates on new routes and availability.
For an edible bouquet, Shack Sweets at ICON Park has a special cupcake bouquet that includes a dozen cupcakes. The cutoff for ordering for guaranteed delivery by Mother's Day was May 5, but you can still order the bouquet for a sweet (if a bit belated) treat.
If you love gifts that give back, a Mother's Day Gift Sets from A Spoon Full of Hope should top your list. There are two options: Mom's Nourishment Gift Box ($29) which includes Wildflower Honey for Good, coupled with shortbread Cookies for Good and tea. Additionally, the Mommy & Me Cookie Decorating Kit ($19.99) is filled with six shortbread Cookies for Good and a bevy of toppings to decorate cookies together. Best of all, all of the proceeds from both gift sets go back to Second Harvest's Culinary Training program.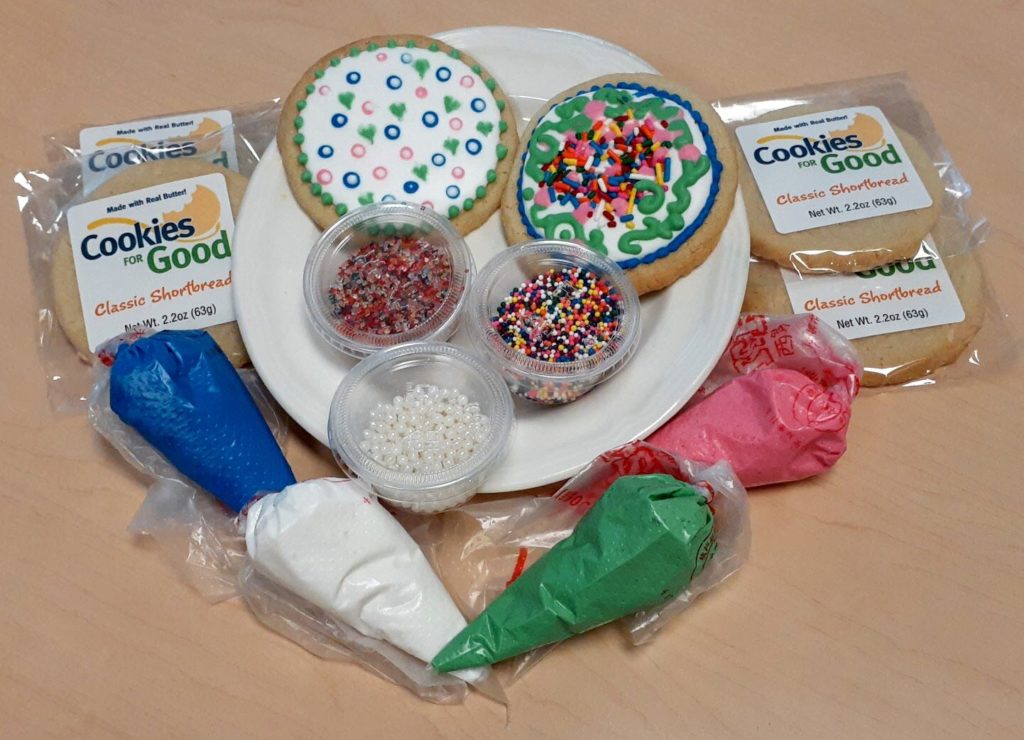 Visit a Garden
Leu Gardens is open daily from 9am-5pm and is offering free admission until further notice. The picturesque garden is still adhering to social distancing recommendations by asking guests to stay 6ft apart while there. What better way to do Mother's Day in Orlando than strolling these beautiful gardens and enjoying the fresh air?! (Note: The historic Leu House Museum remains closed.)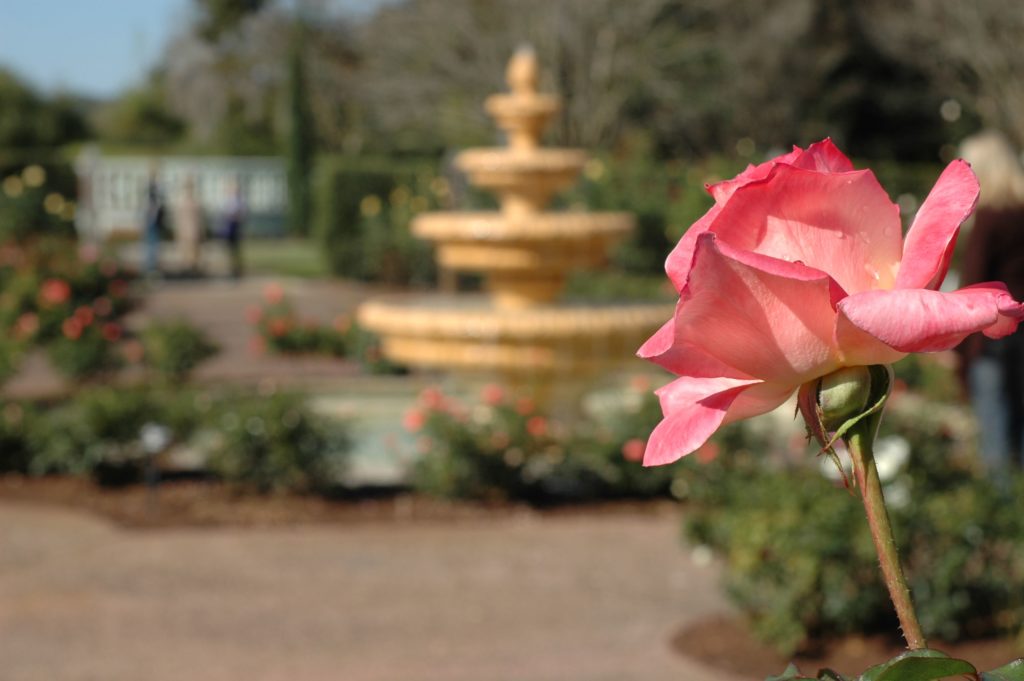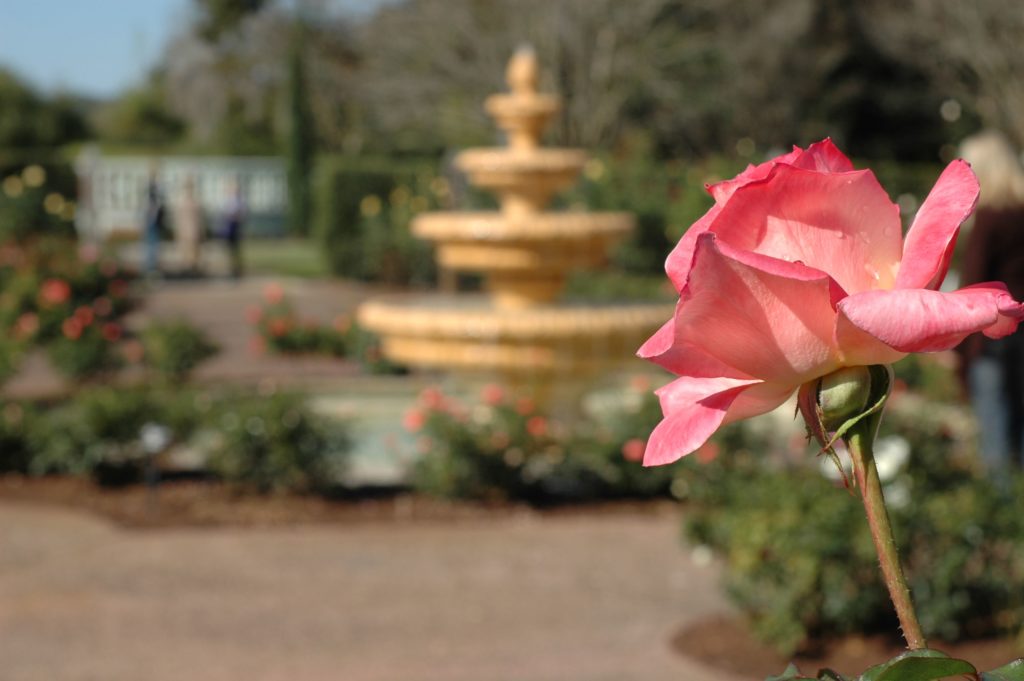 Get her local made goods
Mother's Day Box from The Good Crowd: Owner Sarah has curated a perfect selection of goodies and created 3 different Mother's Day boxes for mom ranging in price from $65 – $100. We love the Mother's Day Box + Bouquet Duo ($100), which includes:
Good Crowd gift box containing a Rifle Paper x Corkcicle floral stemless wine tumbler and a ceramic flower candle (Pink = Coconut Milk Mango, White = Gardenia)
Small bouquet of fresh flowers (designer's choice) with a vase from Dahlia's Flower Truck.
Local delivery within a 5-mile radius of 32804 (delivery outside that range is available for an additional charge)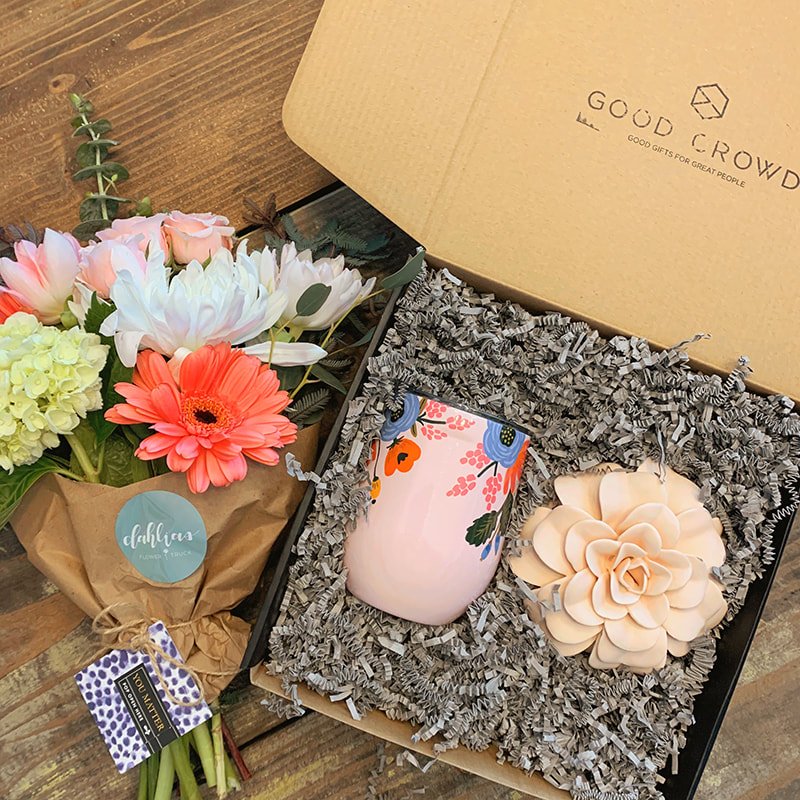 Get Mama a Custom Gift from Alyssa Makes Something: Alyssa makes literally everything: from a recipe wood burned onto a cutting board to custom hand-lettered recipe downloads. Her lettering is so unique and custom gifts are always the way to any mama's heart!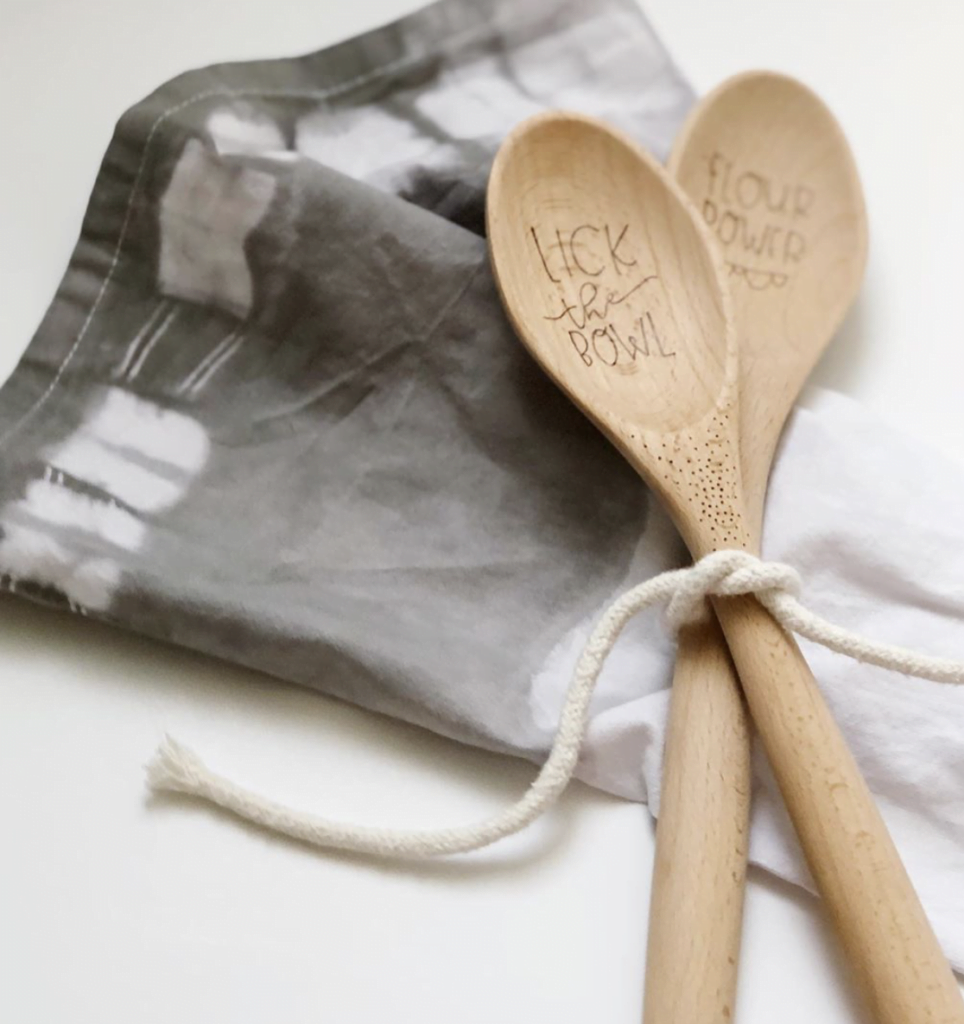 Two local mamas collaborated on an awesome mom-themed t-shirt! Friendlily Press and Jacobs Goods Supply Co. created a Mom Mode ($25) shirt that would make a perfect gift for any mama in your life.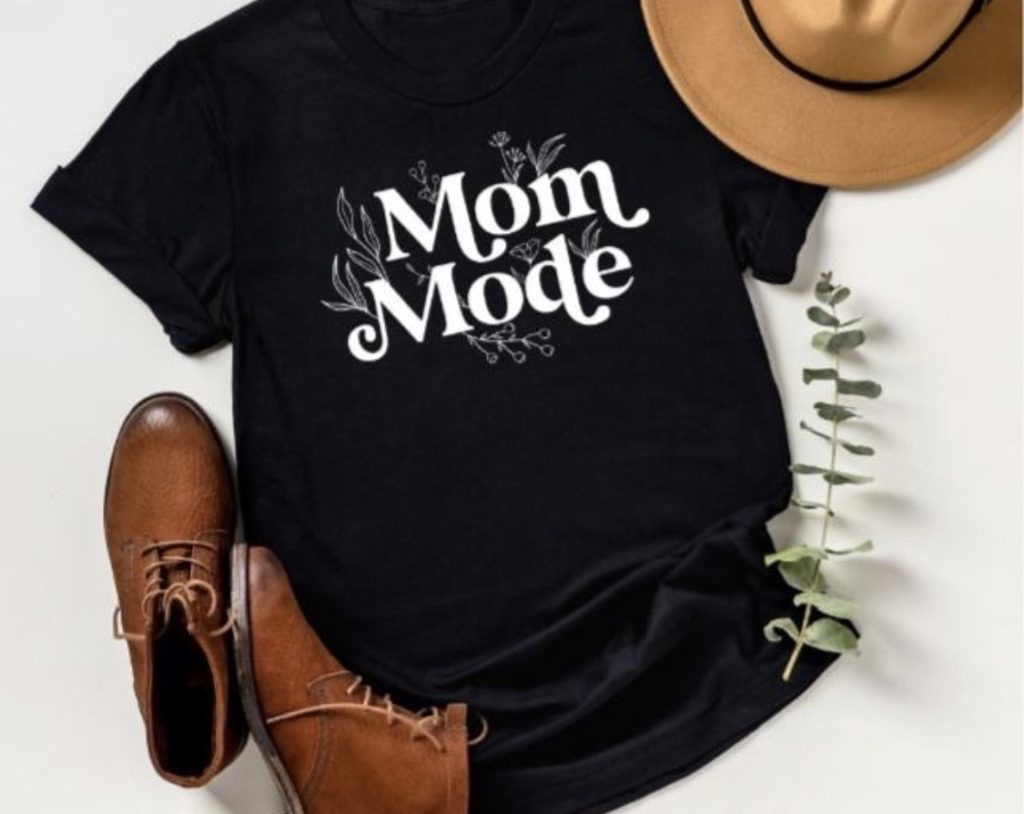 Plant-Themed Gifts from Aramore Art: This adorable local business has a selection of handmade planters, earrings, pitchers, and more available via her Etsy shop.
Concierge Book Box Service from Writer's Block Bookstore: The book experts at Writer's Block Bookstore have 2 options for mom ranging from $49.99 – $59.99. The box will contain a carefully curated selection of books selected by the Writer's Block staff. All you have to do is let them know a little bit about the mom who'll receive it!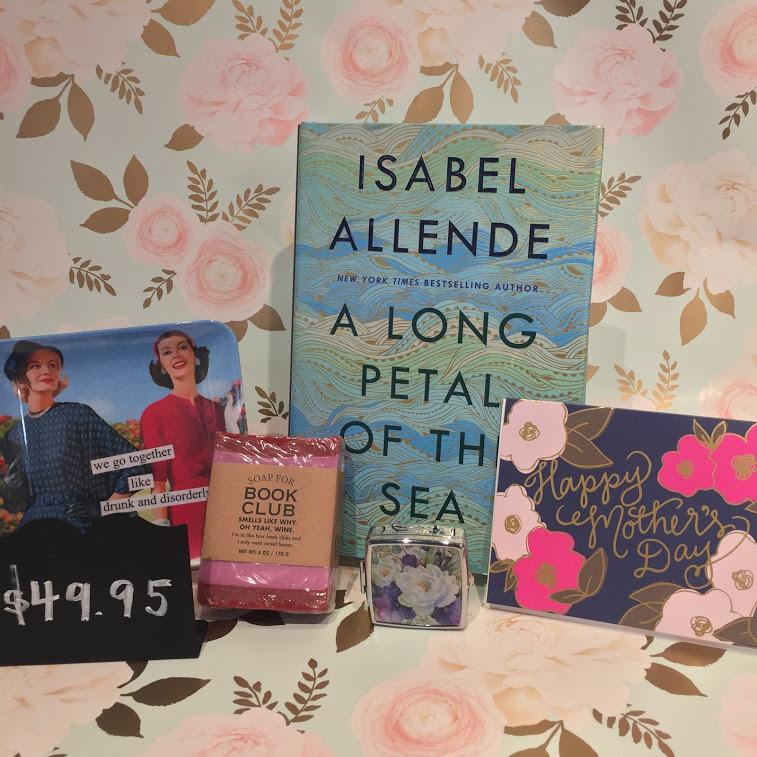 Pick up a Mother's Day Gift Set from Alma Candles: Owner Jessica makes her unique candle scents using the best ingredients and she has put together 3 gift sets for the moms on your list: a Tea and Pampering Basket, a Sachet Mini Basket with Macrame Holder, and a Fabric Scented Heart Sachets with Candle set. For more information on the gift sets, you can reach her via Facebook or Instagram. Additionally, you can select from a number of beautifully scented candles from Alma's collection.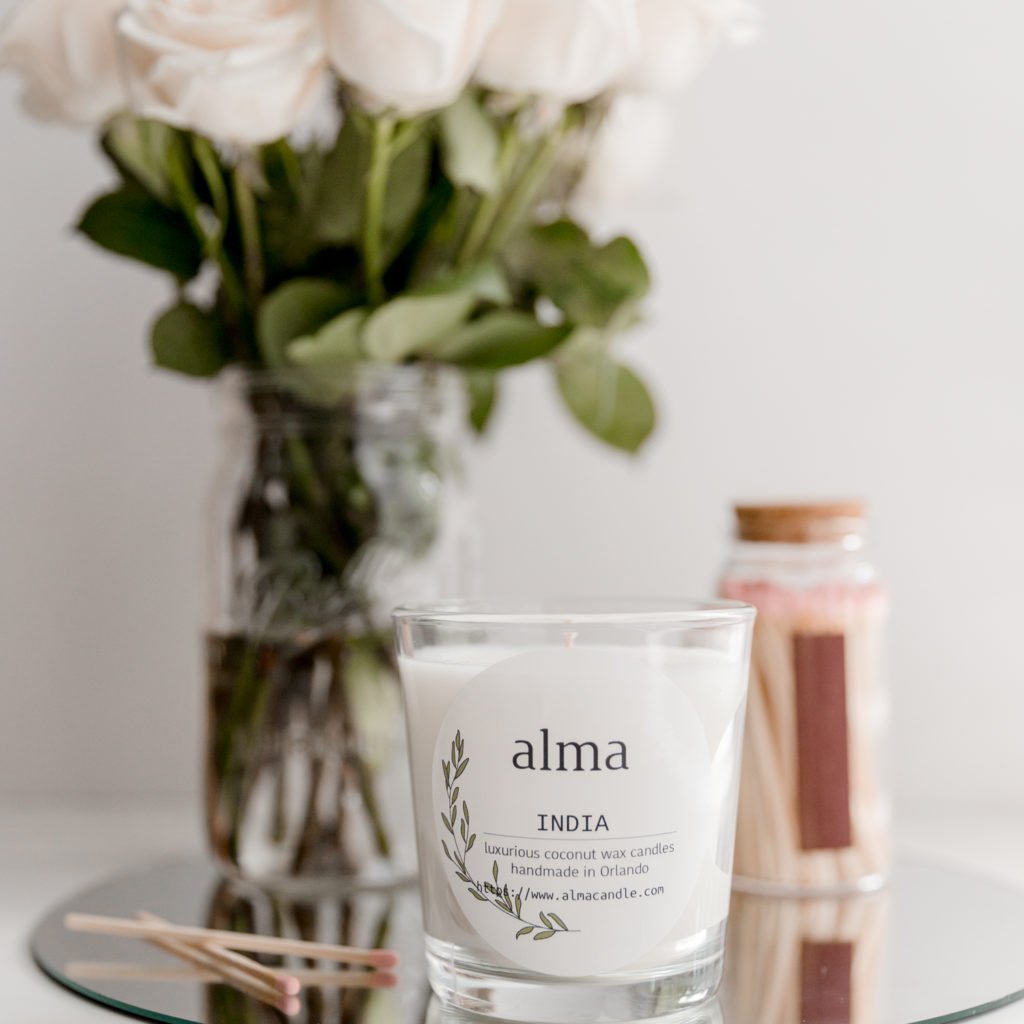 Events
ABC Wine With Mom Virtual Tasting
Friday, May 8, 7:15pm
Join wine experts in a virtual wine tastings and sample wines with Mom or get expert help to find her the perfect gift. Place your order for the wines being sampled online for curbside pickup at your local ABC to follow along during the live tasting. Note, tastings are limited to the first 100 guests to join.
Gospel Brunch Live Stream
Saturday, May 9, 2pm
Let your soul soar with our world-famous House of Blues Gospel Brunch experience, streaming LIVE on YouTube with joyous Gospel music by Men 4 Christ, of M.A.N.D.A.T.E. Records. The live stream will be aired on the Live Nation C&T YouTube account and can be viewed again anytime after it ends.
FREE
Virtual Wine, Cheese & Chocolate Perfectly Paired
Through May 10th
Partake in a virtual Wine, Cheese & Chocolate paring! First, pick up your paring kit from Quantum Leap Winery. Then, join the free virtual class for a guided pairing. Though the live class happened on May 1st, you can still order the kit through Mother's Day here, and you can watch the replay of the live pairing class on Facebook.
$70