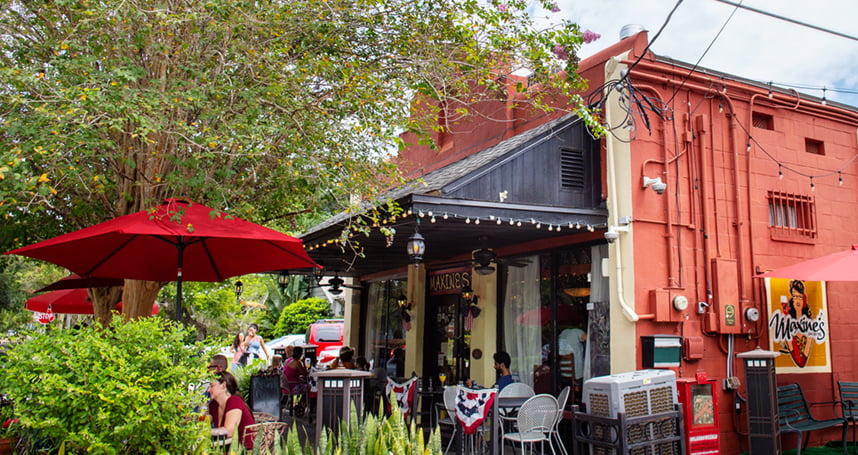 How about a little bit of sunshine and fresh air with that mimosa? A major perk of living in Orlando is that outdoor dining is enjoyable year round. With dozens of local restaurants boasting fantastic brunch menus and spacious patios to match, here's where you can indulge in an outdoor brunch this weekend.
Bonus tip: you can now score free 2-hour parking at various spots in Downtown Orlando through September 1, 2020. Full details here.
Pharmacy Orlando
(Note: Pharmacy has temporarily closed through July 13)
Pharmacy Orlando is a go-to spot for savory eats from Chef Loren Falsone and craft cocktails in a speakeasy-inspired space. But the restaurant also has a fantastic brunch served on weekends, and you can enjoy it on the recently-expanded outdoor patio. I've got my eye on the waffles with berries and mascarpone whipped cream, or the eggs benedict made with local eggs, house sourdough crostini and house-cured bacon. Twinkle lights, plants and a European vibe make this spot extra romantic. Don't forget to add on bottomless mimosas and red sangria for $20/person.
Saturday & Sunday 10am-2pm; Reserve online or call 407-985-2972.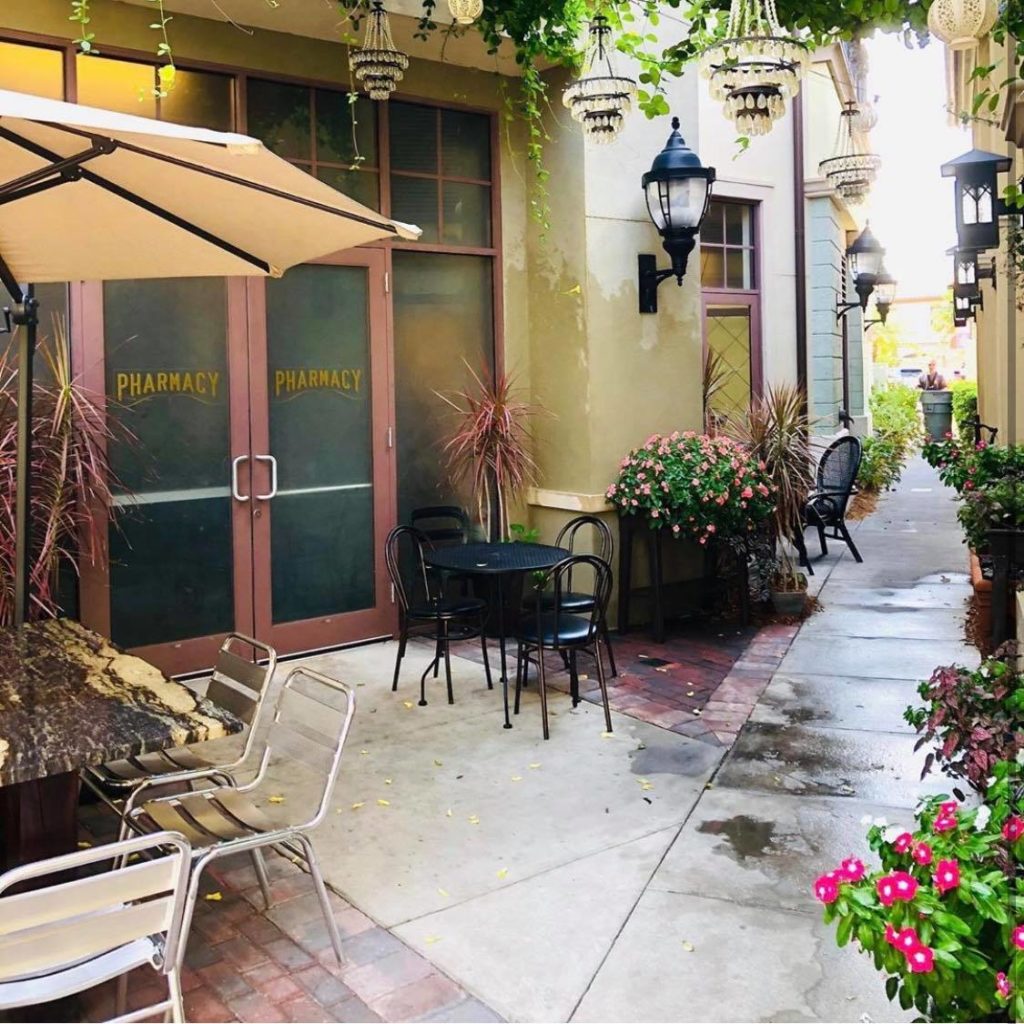 Maxine's On Shine
Maxine's On Shine has been a longtime brunch favorite, but the restaurant has gotten especially creative over the past few months. Brunch is available for takeout every weekend, or dine outdoors on the expanded patio. Maxine's has created "Islands of Dining" which are moveable dining platforms featuring tents with mesh siding, a fan and special decor lending a more intimate (and socially distanced) dining experience. I recommend an order of chicken & waffles paired with one of Maxine's famous Bloody Marys.
Friday, Saturday & Sunday 10am-3pm; Reserve online or call 407-674-6841.
Dovecote
Dovecote's huge outdoor patio is the perfect place to indulge in a hearty weekend brunch. Pair favorites like the herb omelet or crab & gruyere quiche with bottomless mimosas, Bloody Marys and rosé. And if you don't feel quite ready to dine-in, the restaurant also offers a special takeout brunch menu available on Sundays.
Saturday & Sunday 10:30am-2:30pm; Reserve online or call 407-930-1700.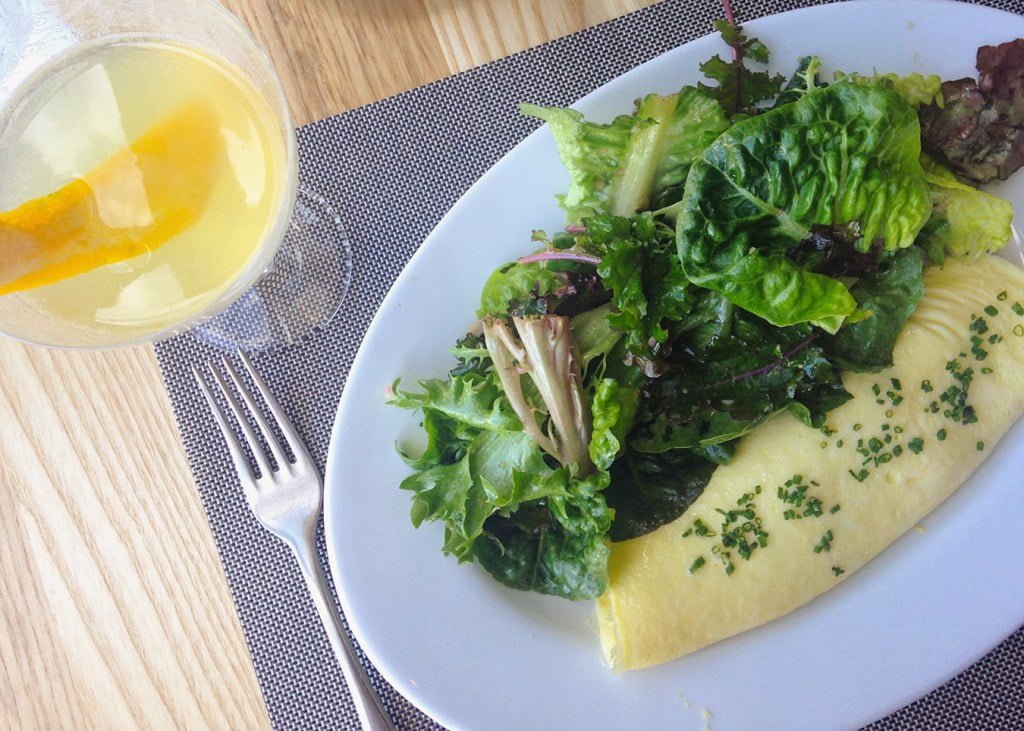 Soco Thornton Park
Brunch and people watch from Soco Thornton Park before doing a lap or two around nearby Lake Eola. This bustling curbside spot has a new patio awning and expanded outdoor seating, plus bottomless mimosas ($15/person) and Southern-inspired favorites every weekend. Add on an order of the homemade pop tarts; the flavor changes weekly based on Chef Greg Richie's whim. Brunch is also available for takeout if you feel like dining on your own patio.
Saturday & Sunday 10:30am-3pm; Reserve online or call 407-849-1800.
Bem Bom on Corrine
Nestled in the Audubon Park Garden District, Bem Bom on Corrine is a fusion restaurant specializing in Mexican and Portuguese cuisine. While the cozy outdoor patio is a wonderful place for an evening dinner date, it's equally lovely for a weekend brunch, which often features a jazz musician. Nosh on a handful of egg dishes or try the inventive pancake taco. Bottomless mimosas are available, but for a real treat try a glass of the Azores Rosé Vulcanico.
Saturday noon-3pm and Sunday 11:30am-3pm; Reserve online or call 407-960-5101.
Rosallie
Brunch is served all day at Rosallie, a charming curbside French cafe in the heart of Downtown Winter Garden. Satisfy your cravings with a variety of quiches, croissant sandwiches, and more with one of the cafe's signature drinks (I love the rose mocha). Wine is also available by the glass or bottle. This is a popular spot, so arrive early on weekends to snag a table at the expanded outdoor space. If you're visiting on a Saturday morning, head across the street to pick up local produce for the week from the Saturday Winter Garden Farmer's Market, which is set up from 8am-1pm in the summer months.
Brunch available daily; reservations not accepted.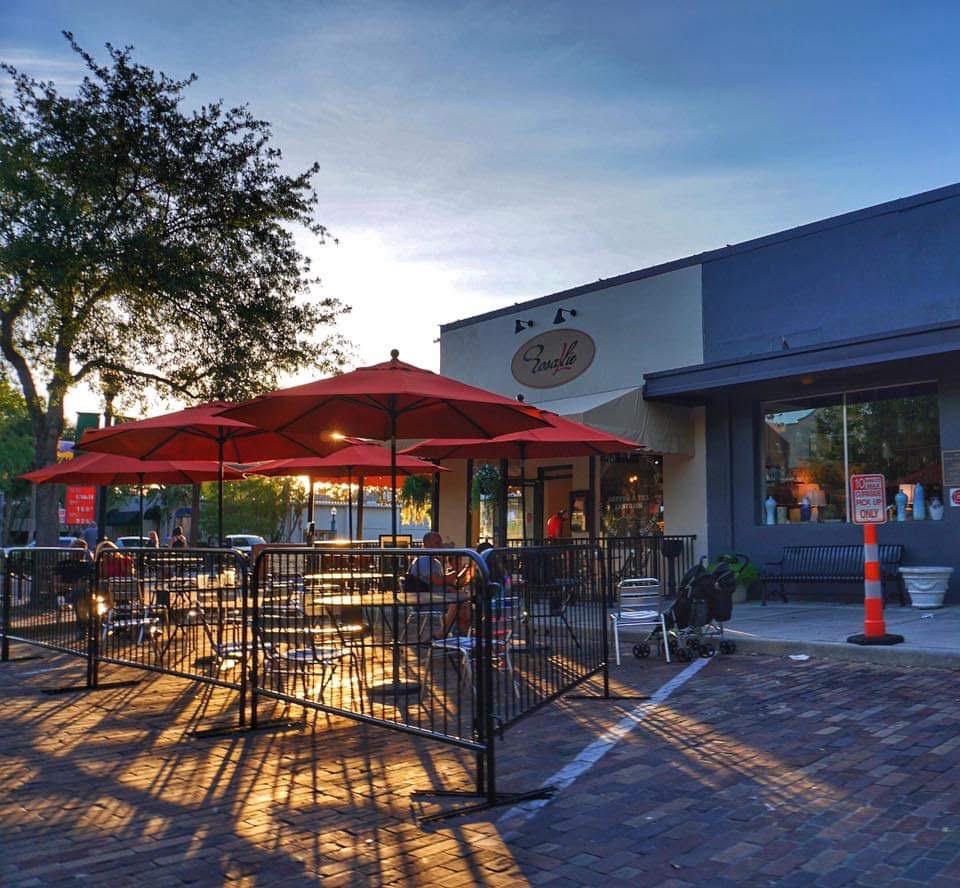 Reyes Mezcaleria
Feast on Mexican-inspired fare while sipping mimosas and sangria by the bottle ($20/person) at Reyes Mezcaleria. Notable menu items to try include the tres leches French toast, hearty chilaquiles, and chicken tinga hash. The restaurant's outdoor patio is spacious and covered to keep you cool despite the summer heat.
Saturday & Sunday 11am-4pm; Call 407-868-9007 to reserve.
Tapa Toro
For a totally unique Sunday brunch experience, head to Tapa Toro at ICON Park for an outdoor feast. Rather than a traditional brunch menu, this Spanish eatery offers all you can eat paella for $25. The paella options rotate weekly and two varieties are available each week. Add on bottomless mimosas or sangria for $16/person. Limited patio seating is available and you'll have awesome views of The Wheel while you dine.
Sundays 11am-3pm; Reserve online or call 407-226-2929.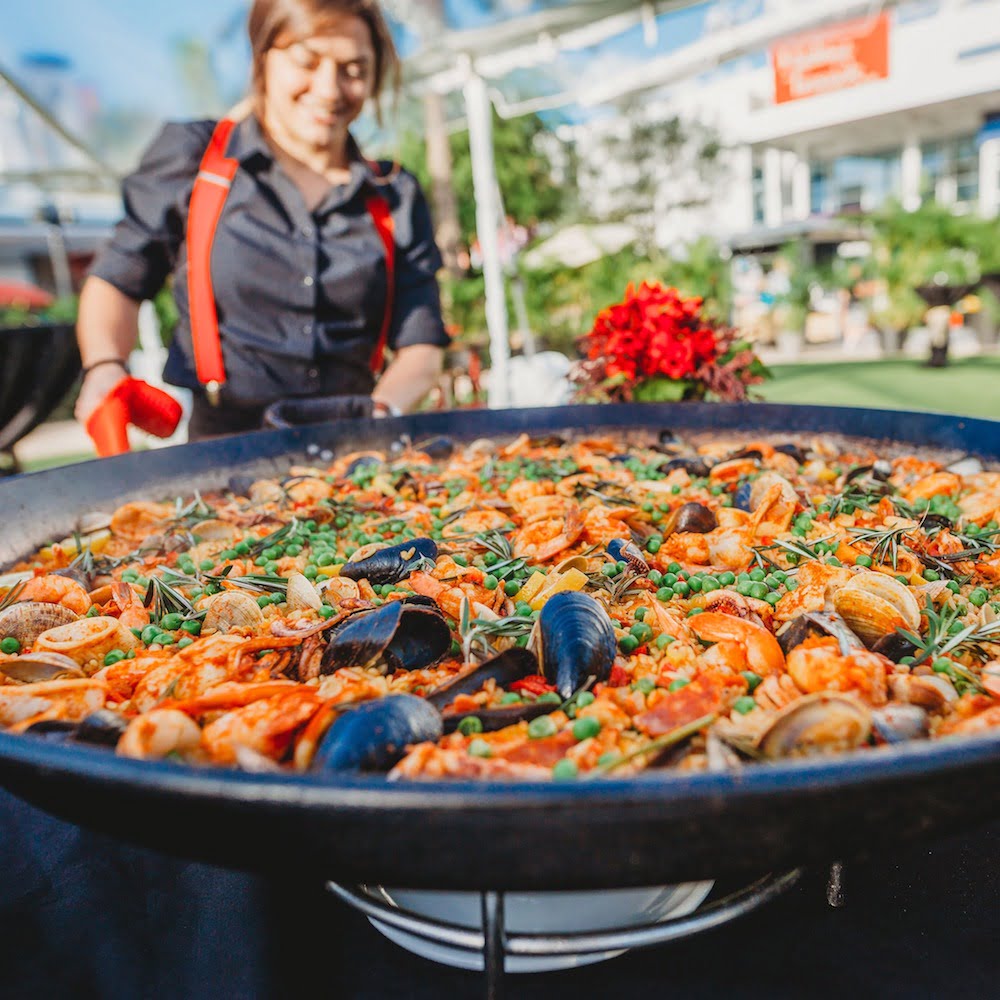 Canvas Restaurant & Market
With its bright interior, worldly menu and waterfront patio, Lake Nona's Canvas is ideal for a Sunday funday brunch with your love. Feast on menu highlights like chilaquiles (my favorite), sweet and tart Meyer lemon pancakes, or go all in with the lobster Benedict. The patio dining area features an assortment of tables overlooking the water so there isn't a bad seat in the house. Opt for a signature brunch cocktail to pair with your meal.
Sundays beginning at 10am; Reserve online or call 407-313-7800.
Santiago's Bodega Orlando
A favorite for just about any meal, the Orlando location of Santiago's Bodega especially shines during happy hour and brunch. On the weekends, pull up a seat on the curbside patio and indulge in an endless feast of sweet and savory dishes to share. While the restaurant typically offers an endless brunch buffet, the current offering has been tweaked to a special family-style brunch menu for $49.95. Bonus: mimosas and sangria are included in that price! Reservation times allow you to dine and sip for up to two hours maximum.
Saturday & Sunday 10am-3pm; Reserve online or call 407-412-6979.
Café Tu Tu Tango
Come to Café Tu Tu Tango hungry (and perhaps in your stretchy pants) to take advantage of the bottomless brunch dining menu for $26.62/person. This option allows you to order whatever you want and as much as you want from the bottomless menu. Hit the Bloody Mary and mimosa bar to design your own brunch beverage with help from the gloved server who will assemble it for you. Or, add on bottomless mimosas or sangria for $16/person. The vibrant outdoor patio is the ideal place to enjoy your feast while watching the comings and goings along I-Drive.
Saturday 11am-3pm and Sunday 10am-3pm; Reserve online or call 407-248-2222.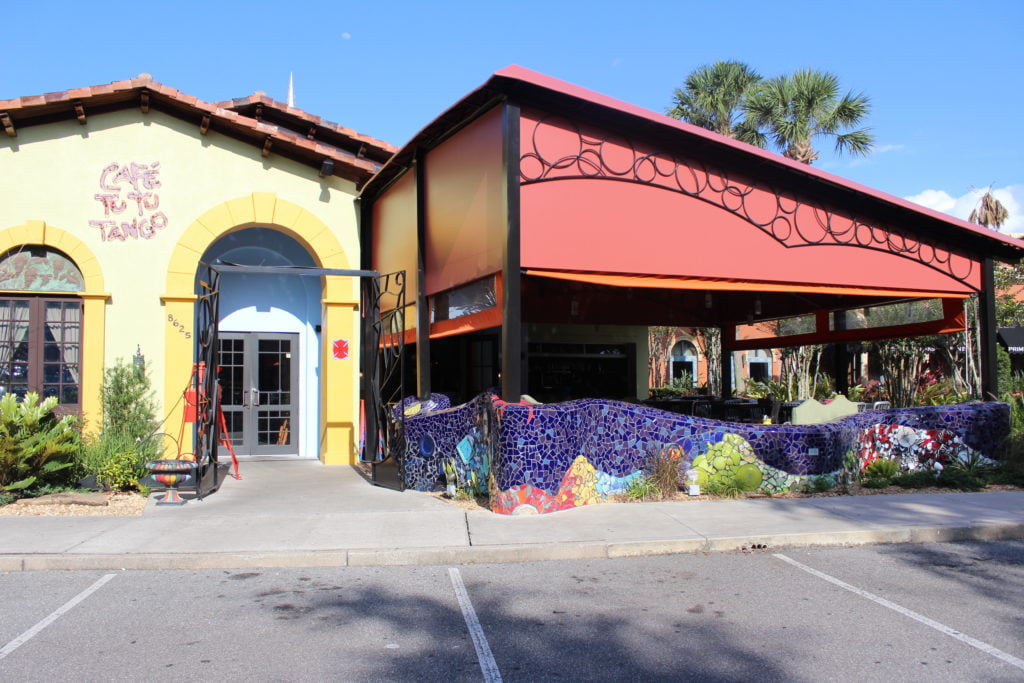 Boca Winter Park
I'd be remiss not to mention at least one Park Avenue spot in this list, as Winter Park's beloved main drag is popular brunch territory. Boca's Winter Park location includes curbside patio seating plus bottomless mimosas & Bloody Marys every weekend. Expect brunch favorites with a twist, like the BBQ Pork Benedict and Boca Smoked Hash with eggs and chorizo.
Saturday & Sunday 11am-4pm' Reserve online or call 407-636-7022.
Bulla Gastrobar
Located just a few minute's drive from Park Avenue, Bulla Gastrobar is a tapas-style eatery ideal for a sharable brunch feast. Reserve a seat on the breezy outdoor patio and kick off your brunch with bottomless mimosas & sangria. Notable brunch specials include blueberry & ricotta pancakes and the shrimp omelet. Don't forget the churros!
Saturday & Sunday 11am-4pm; Reserve online or call 321-214-6120.
ALSO TRY:
Disclosure: Pharmacy Orlando, DoveCote and Tapa Toro are some of our valued advertising partners.