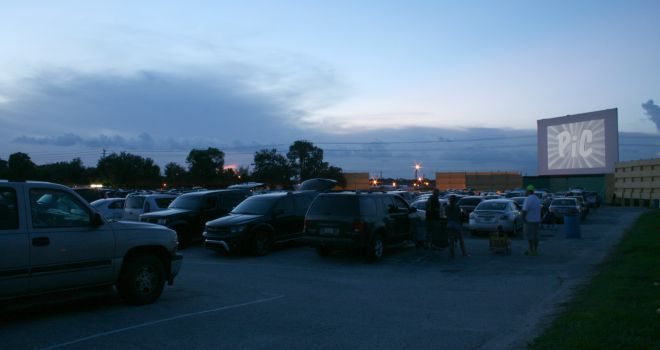 Looking for something different, maybe even something a little old school? Visiting a drive-in movie theater could be just the thing to for you! With drive-in movie experiences currently soaring in popularity, we thought now would be the perfect time to highlight our nearest drive-in movie theaters in the Central Florida area. Near or far, there are quite a few drive-in movie theaters near Orlando for a night of nostalgic fun. Plus, you'll be contributing to keeping the drive-in movie theater experience alive and well here in Florida.
Post last updated January 2021
Drive-In Movie Theaters Near Orlando
Silver Moon Drive-In Theater
4100 New Tampa Hwy Lakeland, FL 33815
At Lakeland's Silver Moon Drive-In Theater, take your pick from two screens featuring a nightly double feature of different first run movies. The concession area is stocked with affordably-priced drinks (including beer!), popcorn and other snacks. On a chilly night, you can even get hot cocoa. Similar to the Funlan Drive In, the Silver Moon also hosts a weekly swap shop during the day on Saturdays and Sundays. If you want to enjoy dinner before the show, head out early to visit Lakeland's cool new food hall, The Joinery. It's about a 15-minute drive from the theater.
Admission is $6 per adult ($2 per kiddo) and includes both movies. You can read more about our visit to Silver Moon Drive-In here.
Joy-Lan Drive-In Theater
16414 U.S. 301 Dade City, FL 33523
Since 1950, the Joy-Lan Drive-In Movie Theater has been providing a prime movie experience. At this drive-in, you can enjoy back-to-back flicks Wednesday-Sunday on the largest digital screen in Pasco County. Joy-Lan is also the last remaining drive-in theater in the county, so keep the experience alive by paying it a visit. A concession stand serves up snacks including popcorn, hot dogs, pizza, soft drinks and more for nominal fees. Plan to arrive 30 minutes before showtime to snag a good spot.
Admission is $6 per adult and $2 per kid.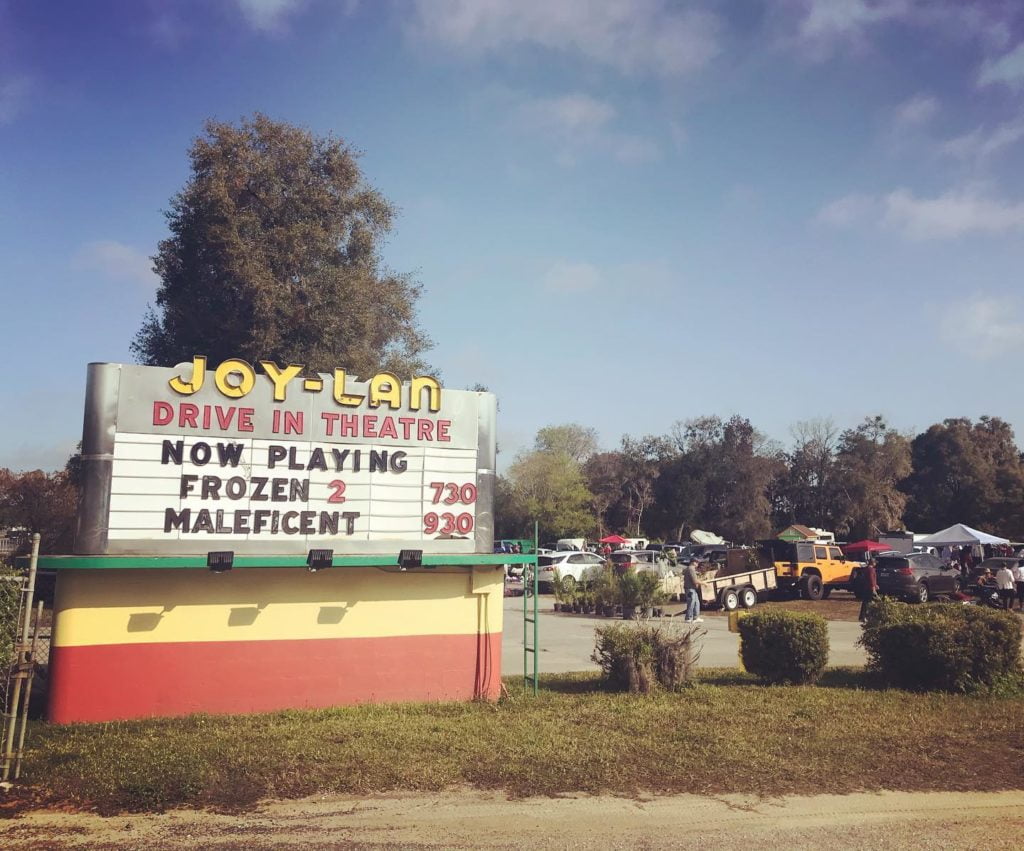 Ocala Drive-In
4850 S Pine Ave, Ocala, FL 34480
If you're looking to visit multiple drive-ins throughout the state, make the 1 hour 15 minute trip north to Ocala Drive-In. Choose from nightly double features on two separate screens. FYI: bringing outside food is not permitted at this theater so hit the concession stand if you're hungry. Well-behaved dogs on leashes are welcome here, too.
Admission is $6 per adult and $3 for kids (free for kiddos 5 and under).
Funlan Swap Shop & Drive In
2302 East Hillsborough Avenue Tampa, FL 33610
Funlan Drive-In Theater has three screens each showing a nightly double feature. Bring your own date night fare, or visit the concession area for snacks and drinks. During the day on weekends, the theater grounds double as a lively flea market.
Admission is $7 per person, and that includes both movies!
Ruskin Family Drive-In
5011 US Highway 41 North Ruskin, FL 33572
South of Tampa you'll find the Ruskin Family Drive-In, which has been around since the hey-day of drive-in movie theaters in the '50s. The theater opened in 1952 with "Singin' in the Rain," and still sticks to tradition even today. Admission grants you access to watch both movies featured nightly on the theater's single screen. Snacks, drinks and popcorn (only $5 for a large) are available for purchase at the onsite snack bar. Theres a $5 fee per car if you opt to bring in your own food and drinks (no alcohol allowed). If you're looking to do date night with the kids in tow, this family-friendly theater is your best bet. Admission is cheap and there's a play area for the kids. You can even bring the family dog; friendly pups on leashes are welcome to join.
Admission is $6 per person, $1 for kids 5-8 years old and free for kids under 4. Payment is cash only.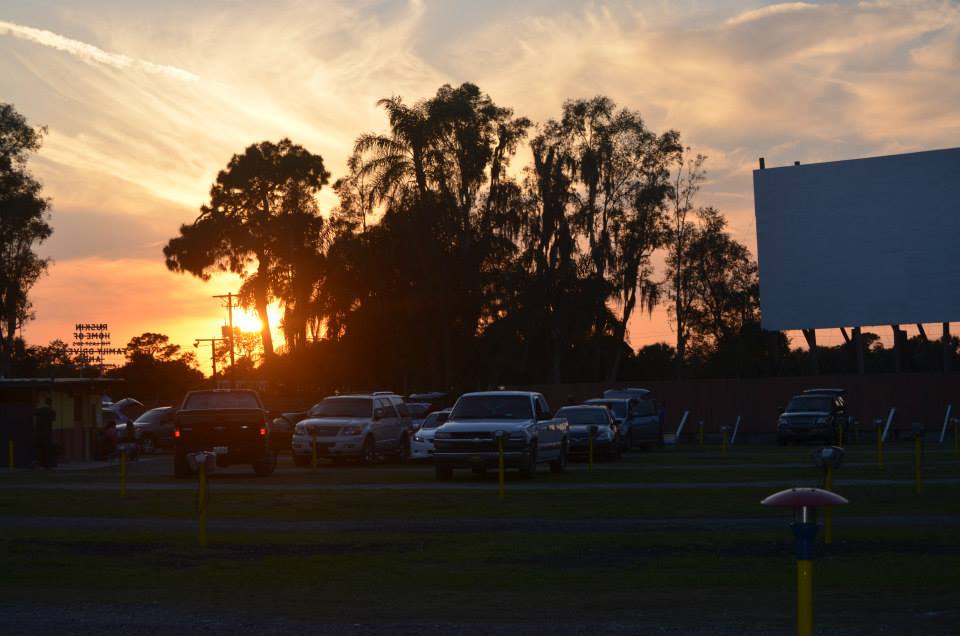 Pop-Up Drive-In Movie Theater Events
As drive-in movie theaters continue to soar in popularity, several local spots around Orlando and Central Florida have created pop-up movie nights for nostalgic fun. Here are a few of our favorites:
Swirlery Wine Bar Wine-In Drive-In
1508 Michigan St E, Orlando, FL, 32806
This cozy wine bar in Orlando's SoDo District typically hosts periodic drive-in movie nights. Featured flicks have included Dirty Dancing, The Lost Boys, The Goonies, Napoleon Dynamite and more since the series launched back in May. Admission includes your reserved parking space for the movie plus two bags of popcorn. You can also order off of the wine bar's to-go menu for curbside delivery.
Admission is $10 per car. Purchase tickets to upcoming events online here.
West Volusia Drive-In
933 Hollywood Blvd., Deltona, FL, 37725
Local movie theater Epic Theaters of West Volusia has pivoted to offer moviegoers a drive-in experience just 30 minutes north of Orlando. Order refreshments from your car at the box office, turn on your car radio to 100.1 FM, recline the seats and enjoy. Restrooms are open, and they often screen classic movies from the 70s and 80s. Drive-in movies are only offered on select dates, check the theater's website for upcoming dates.
Admission is $20 per car, and you can purchase drive-in movie tickets in advance online.
Tips for a Drive-In Movie Date
Bring blankets and pillows from home for an extra comfy movie-watching snuggle session. This is especially fun on a chilly night!
Turn your car back on in between movies if you're worried about your battery running low. Most theaters have jumper cables in the event your battery dies.
Snack bar sales largely keep drive-in movie theaters in operation, so spring for the popcorn and support the theater if you can.
Always arrive early (30-45 minutes before showtime) to stake out your spot! Trust us, you'll want time to get situated, set up your car or chairs, and visit the concessions for essentials like popcorn and sodas.
For theaters with multiple screens, you must choose one screen and stick to it. You won't be permitted to move about from one screen to the other.
Note: this article originally appeared on our sister site, Tampa Bay Date Night Guide.