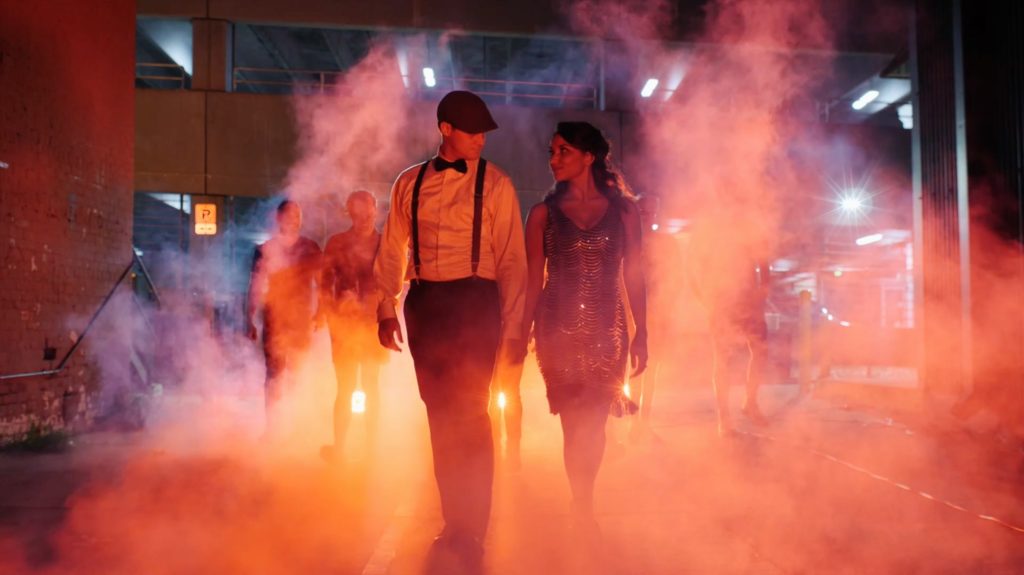 The fall season is upon us! And in Orlando that means warm, breezy days, fall festivals, outdoor Halloween happenings and more. This month, our curated event calendar is packed with a mix of virtual and in-person happenings perfect for date nights at home and out on the town. From fall festivals and beer dinners to haunted drive-thru Halloween experiences, here are our favorite October events in Orlando.
This content is proudly supported by Orange County Library System (OCLS).
October 1 – 4
1st Thursdays: At the Table
Thursday, October 1, 4-9pm
Orlando Museum of Art (in collaboration with Edible Orlando)
Within the context of the national reckoning on racial injustice and inclusion, what does it mean to have a seat at the table? Artists are encouraged to submit work that speaks to being part of (or not part of) a community.
$15
Fall at Southern Hill Farms
Thursdays – Sundays through November 8, hours vary
Southern Hill Farms
Head to the farm for fun seasonal activities including sunflower and zinnia picking, fall eats (like apple cider donuts and hot apple cider), a pumpkin patch, fall photo ops, s'mores kits and so much more. Face masks are required when in lines, participating in activities and when social distancing cannot be maintained. Admission must be purchased online in advance.
$8 – $12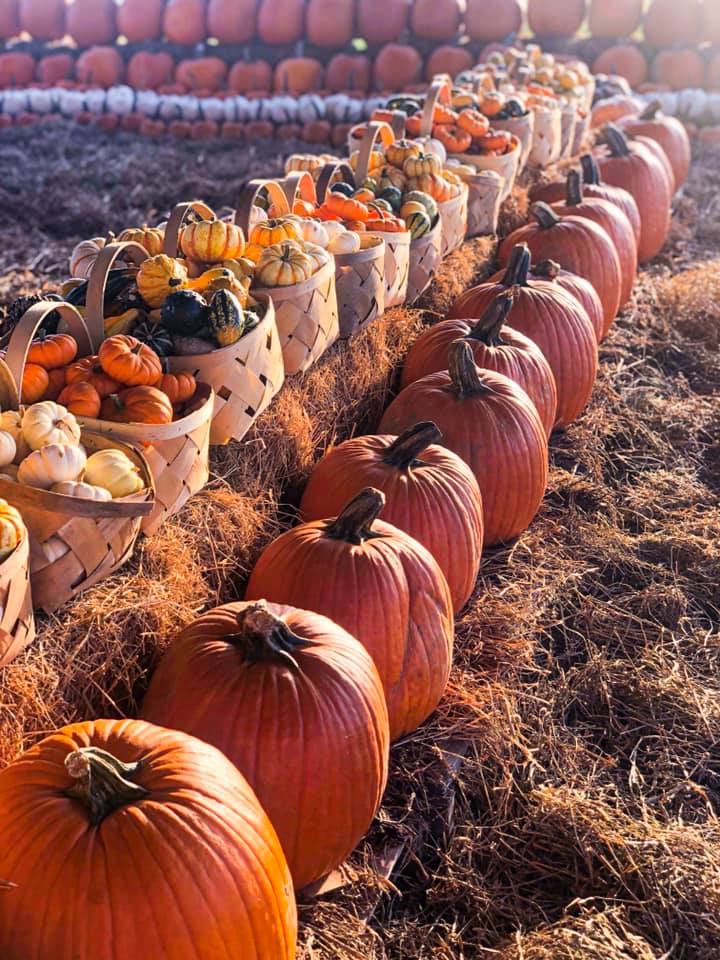 First Fringe Friday
Friday, October 2, 7pm
*Virtual event hosted by Orlando Fringe
Tune in to watch three short, Halloween-themed performances including Horror Happy Hour, The Chilling Adventures of Rhiannon: Unauthorized Witchy Audio Diaries Told through the Music of Fleetwood Mac, and Corsets and Cuties – Thrills and Chills. Watch on the Orlando Fringe website, Facebook or YouTube.
FREE; donations accepted
Community Drive-In: Remember the Titans
Friday, October 2, 7-10pm (gates open at 5:30pm)
Camping World Stadium
Pop-up drive-in outside Camping World Stadium. Registration is good for one parking spot in view of the screen, with enough space for your vehicle and a small 'tailgate'-sized area for seating outside the vehicle. Concessions will be available for purchase.
FREE
Bright Young Things: An Immersive Site-Specific Adventure Through Downtown Orlando
Fridays and Saturdays through November 23, times vary
Downtown Orlando
One-of-a-kind immersive, choose your own adventure experience from The Creative City Project, where audiences will choose which characters to follow for a unique journey: The Entertainers, The Smugglers, The Lovers, The Agents. You will meet your duo at an secret location in Downtown Orlando. There, you will step into another universe: a modern society where the Prohibition Act of the 'Roaring 20s' had never been repealed. Each storyline is a unique genre and style of experience.
$35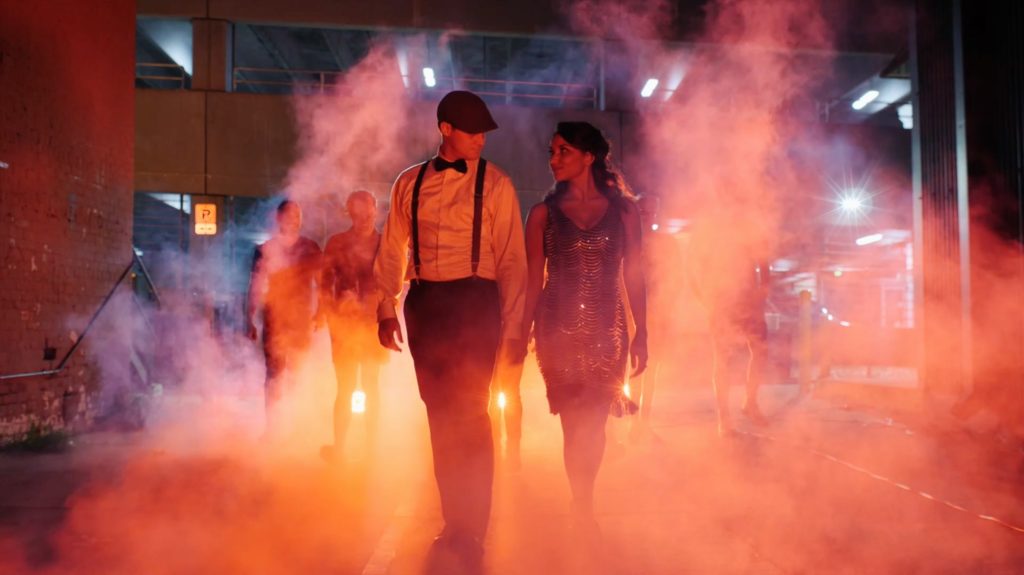 Fall on the Farm
Saturdays and Sundays through November, 10am-3pm
Whisper Creek Farm at Grande Lakes Orlando
Enjoy family-friendly, autumn-centric activities including a hayride, pumpkin picking, and pumpkin carving and painting workshops with the resort's Olympic World Champion culinary artist and carver Victor Dagatan. Read more about this fall festival here.
$35
Uncasked Concert: A Musical Celebration with Grove Roots Brewery
Saturday, October 3, 3-4pm
Bok Tower Gardens
Enjoy a special flight of craft beers from Grove Roots Brewery while enjoying a musical journey through sips and songs with Geert D'hollander.
$34 ($20 for members)
The SOKO Marketplace in Hannibal Square
Sunday, October 4, 11am – 4pm
Shady Park
Enjoy The SOKO Marketplace at Shady Park in the beautiful African American neighborhood of Hannibal Square! Come support businesses created by people of color, entertainment, and great food!
FREE admission
Drag Show Brunch
Sunday, October 4, 12-3pm
Tin Roof Orlando
Food prices vary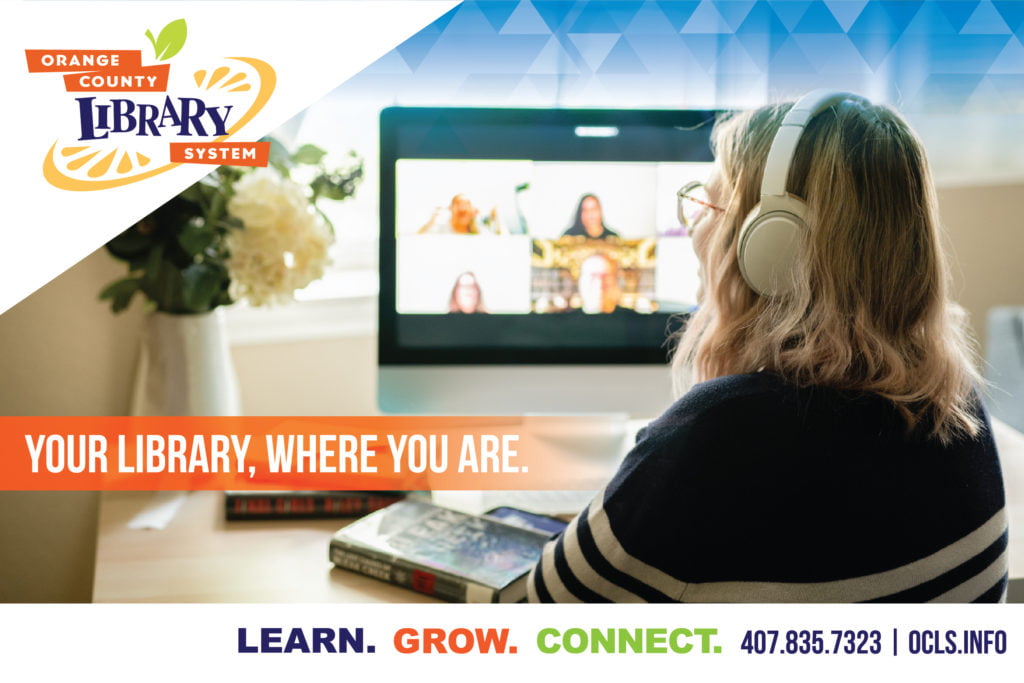 Halloween Drive-In Movie: Beetlejuice
Sunday, October 4, 7-9:30pm
Old Town Kissimmee
Event parking opens at 6:00pm and is first come, first serve with limited availability. The movie begins at dusk and is located in Old Town's large parking lot.
$10 per vehicle
October 5 – 11
RE<<WINED Wednesdays
Wednesday, October 7, 5-9pm
DoveCote
Enjoy a mix of 60's, 70's and 80's classics, light fare, and all you can drink wine, rose, and sangria.
$20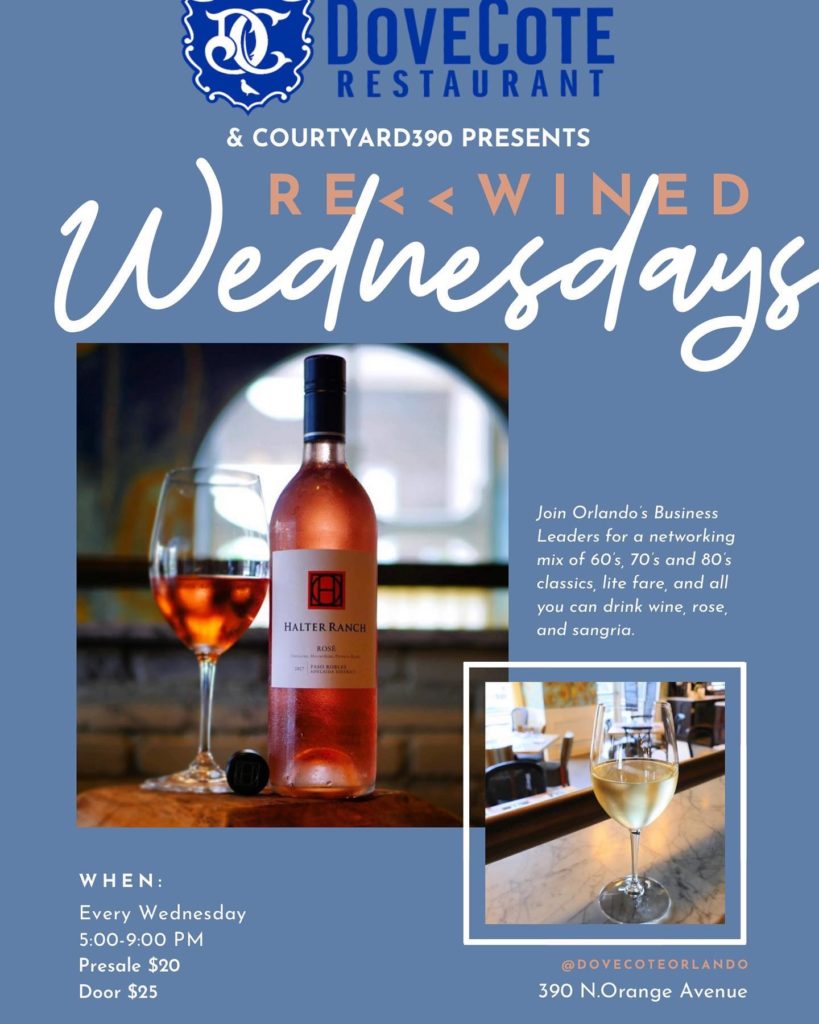 Second Saturday's Seconds: Monthly Vintage Market
Saturday, October 10, 9am-4pm
215 W. Grant St
The Carousel Emporium, Antiques & Fine Art has relocated into a 5,500 sq. ft. warehouse district in SODO. Browse mid-century modern furniture, art, jewelry, clothes, holiday decorations, collectibles, home accents and more, plus food trucks & live music!
FREE Admission
Goat Yoga at Alaska Farms
Saturday, October 10, 10-10:45am
Alaska Farms
Limited to 15 guests per yoga class. Class includes 30-35 minutes of yoga plus time for feeding and playing with the goats.
$27
Pride In The Streets
Saturday, October 10, 12-3pm
Downtown Orlando
On October 10, 2020, join the biggest vehicle procession Orlando has ever seen! Hundreds of Pride-decorated cars travel a 15+ mile route around Orlando to celebrate Pride in a social-distanced setting. We pass by LGBTQ+ landmarks to signify that we are all still very much connected during these times.
FREE
Bierfest
Sunday, October 11, 4-6pm
Luisa's Cellar
Come and taste over 20 beers celebrating Oktoberst! Light German Appetizers provided by The Empress Table. Limited to 20 people for social distancing.
$20
October 12 – 18
Virtual Wine Tasting with Sixty Vines
Wednesday, October 14, 7:30pm
*Virtual event hosted by Sixty Vines Winter Park
Pick up your food & wine kit from Sixty Vines Winter Park and tune into Zoom for an evening of games, fun and sustainable sips! Each take-home virtual wine tasting kit includes three plates to share plus four 167ml bottles of the featured wines. Each kit is portioned for two.
$79/couple
11th Annual Día de los Muertos & Monster Event
Thursday, October 15, 5-10:30pm
CityArts
Now, in its 11th year, the Día de los Muertos & Monster Art Exhibitions will showcase Day of the Dead and Halloween-inspired art created by regional, national, and international artists. This unique art exhibition will be paired with an outdoor experience on opening night that will feature food, drinks, entertainment and spooky art vendors.
$5 for CityArts entry; dining experience $35-$40
Sunset at the Zoo
Thursday, October 15, 5:30 – 7pm
Central Florida Zoo
Adults-only evening at the zoo including live music, beer and wine for purchase, and animal sightings during sunset.
$5
En La Cocina Cooking Class
Thursday, October 15, 6:30-8:30pm
Tapa Toro
Enjoy an evening of cooking and eating around the paella pit as Tapa Toro's talented chefs guide you in creating some of their favorite recipes. Seating limited to 12 people per class. Guests are required to wear face coverings and gloves while cooking and can remove these for the eating experience. All items are made per individual so there is no sharing. October's menu includes cod croquettes, Cornish hen and an apple cinnamon tartlet.
$54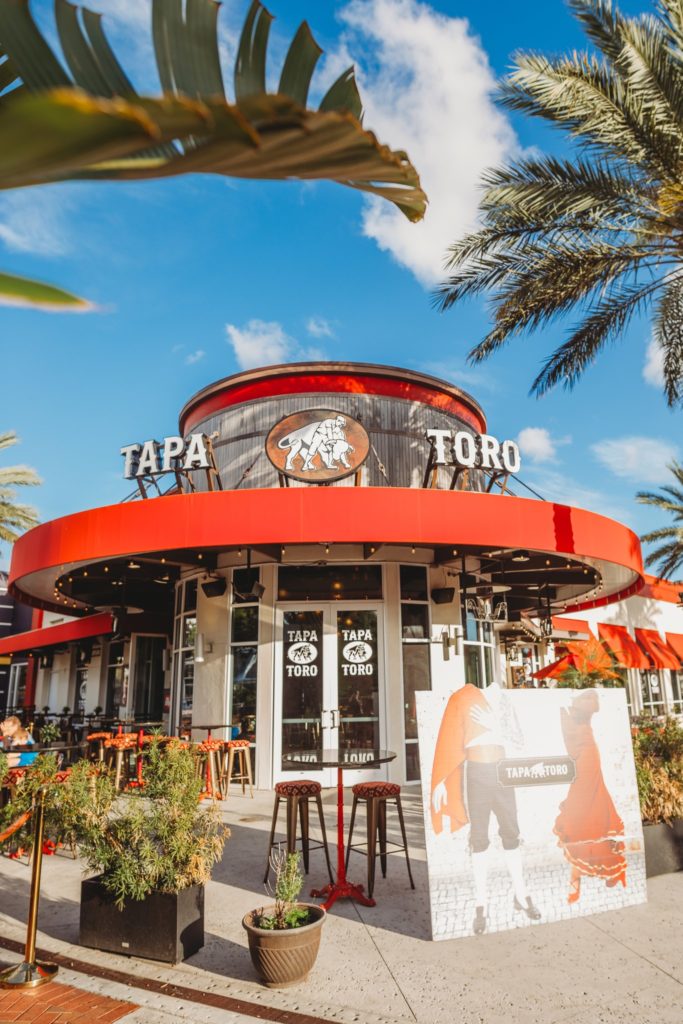 Scary Movie Trivia
Thursday, October 15, 7-9pm
Ivanhoe Park Brewing Company
FREE Admission
Phantasmagoria XI "Plague Tales"
October 15 – 18
*Virtual event hosted by Phantasmagoria
Join Phantasmagoria's evocative troupe of storytellers, dancers, and chorus as they embark on their first ever VIRTUAL TOUR to celebrate the 2020 Halloween Season.
$22 per household
Paint & Flick Movie Event: Hocus Pocus
Thursday, October 15, 7pm
Pinspiration North Orlando
Pick a special canvas design to paint while enjoying a Halloween movie plus food and drink specials available for the evening. Reservations in advance encouraged but not required.
Prices vary depending on project
Happy Hour Brews Cruise (Bring Your Own Bike)
Friday, October 16, 4:30-7pm
Ride starts at Ivanhoe Park Brewing Company
Grab your bike and join BrewCycle Orlando for a guided, happy hour bike ride. Your tour guide will lead you on a bike ride through downtown that includes some fun facts about Orlando, an opportunity to meet new people, and three beers at local breweries.
$50
The Chocolate Genius Virtual Fundraiser
Friday, October 16, 6-9pm
*Virtual event hosted by the Doglando Foundation
Indulge in a unique chocolate experience, without putting on pants. Led by world-renowned Chocolatier Paul Joachim, you will partake in a one-hour virtual culinary adventure of divine Swiss chocolates. The kit will be shipped to your door in dry ice and you'll receive an invite via email to the Zoom live demonstration.
Candlelight Concert
Saturday, October 17, 5-8pm
Bok Tower Gardens
Enjoy a luminary stroll and the Gardens by the light of a 1000 candles. The evening begins with opening jazz concert and ends with a carillon concert finale. Charcuterie boxes available for pre-order.
Included with gardens admission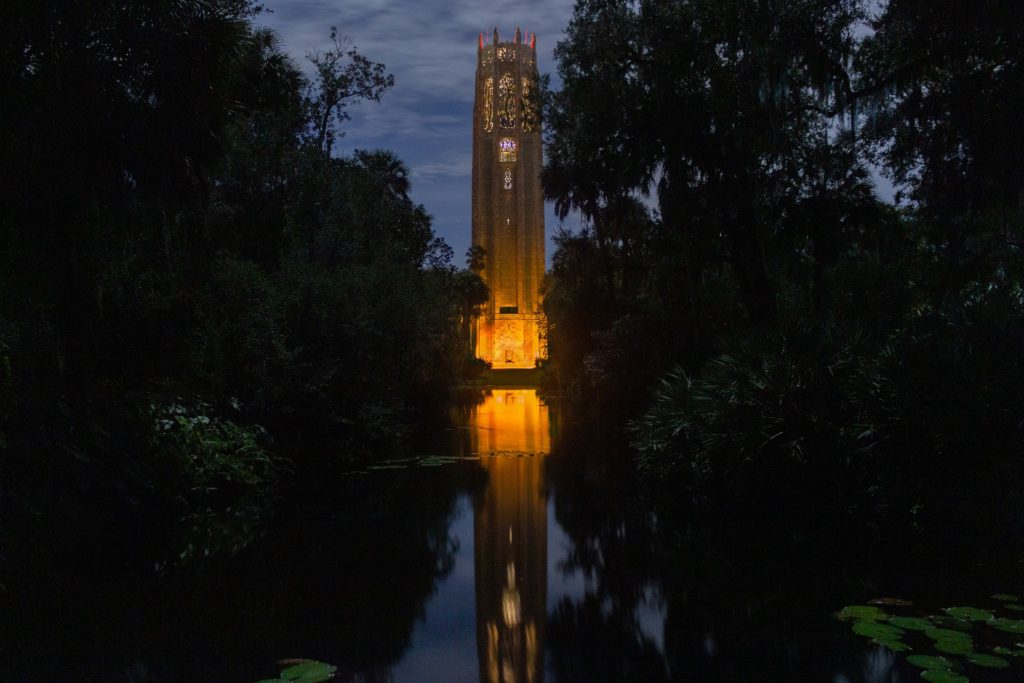 Crescent Cinema: Hocus Pocus
Saturday, October 17, 6-9pm
Crescent Park in Laureate Park, Lake Nona
Spooky outdoor movie night with seasonal eats and more. Social distancing will be maintained. The movie will begin at 7pm
FREE Admission
Mar – A Seafood Dinner by The Foreigner
Saturday, October 17, 7:30pm
The Heavy
Bruno and team, will present MAR, a 5-course seafood dinner with a contemporary approach to food & wine. Add wine pairings for $35/person.
$100
Ponies & Paddle Boarding
Sunday, October 18, 8:30-3pm
Ocala – exact location will be sent to ticket holders
Paddle and ride through Ocala's lush forest! Clear your schedule and enjoy a full day adventure with Lake Life Paddle. During one portion of our adventure we will set out on a one hour trail ride on horseback through the lush forest, surrounded by butterflies and fresh air. The other portion of our tour is at Silver Springs State Park where we will paddle The Fort King paddle trail starting at the stunning head spring.
$108
Bazaar Botanica – Plants Art Vintage and Oddity Market
Sunday, October 18, 1-6pm
Ivanhoe Park Brewing Company
Bazaar Botanica is Orlando's Creative Garden Market! Featuring over 30 artists, crafters, designers, and makers, plus local food, drink, and entertainment.
FREE Admission
Halloween Drive-In Movie: Scream
Sunday, October 18, 7-9:30pm
Old Town Kissimmee
Event parking opens at 6:00pm and is first come, first serve with limited availability. The movie begins at dusk and is located in Old Town's large parking lot.
$10 per vehicle
October 19 – 25
Carolanne Miljavac's She Laughs Comedy Tour
Wednesday, October 21, 7:30-9:30pm
Orlando Improv Comedy Club
$62/couple
Paint & Flick Movie Event: Edward Scissorhands
Thursday, October 22, 7pm
Pinspiration North Orlando
Pick a special canvas design to paint while enjoying a Halloween movie plus food and drink specials available for the evening. Reservations in advance encouraged but not required.
Prices vary depending on project
Popcorn Flicks in the Park: Hocus Pocus
Thursday, October 22, 7pm
Ward Park – Winter Park (2527 Cady Way, Winter Park, FL 32792)
Enjoy a free outdoor movie screening in the park as part of Enzian Theater's 13 Films of Halloween series.
FREE
The Sleeping Beauty – Orlando Ballet
October 22 – 25
Dr. Phillips Center for the Performing Arts
Kicking off the 2020-21 season, the charming fairytale will feature some of classical ballet's most challenging yet enchanting choreography. Featuring luxurious sets and costumes, Tchaikovsky's glorious score and a cast of fanciful characters, The Sleeping Beauty will awaken the senses.
$24 and up
Poe: Deep Into That Darkness Peering
October 22 – November 1
*Virtual Video on Demand experience hosted by Orlando Shakes
This deliciously dark and compelling drama is about one of America's most haunting poets, Edgar Allan Poe. The play opens on the night before his untimely death as Poe undertakes a desperate wager to save his life. He must unravel an intricate puzzle that draws him into the macabre dreamland of his own stories and poems.
$30 per couple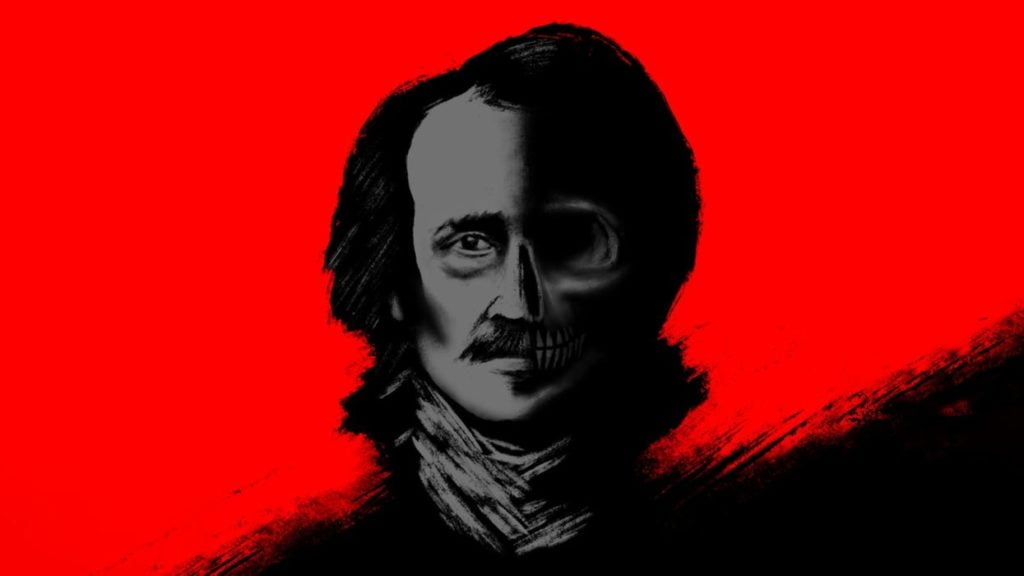 Diversitastic! Dining – Portugal
Thursday, October 22, 7-9:30pm
Lisbon Portuguese Cuisine
Each month FusionFest will offer patrons a chance to immerse themselves into exploring the tastes, sights, sounds and mindsets of another part of the world.
$50
TPD 6th Annual Putt N' Pour
Saturday, October 24, 12-4pm
Thornton Park District
TPD's Putt N' Pour is part Pub Crawl, part Miniature Golf and all fun! Golfers will be challenged by holes designed and built by nine Thornton Park District bars and restaurants while enjoying drink specials and prize giveaways. After the crawl, golfers and spectators converge back at the Osceola Circle for the official post party complete with DJ. drink specials and raffles.
$15 in Advance/$20 Day of Event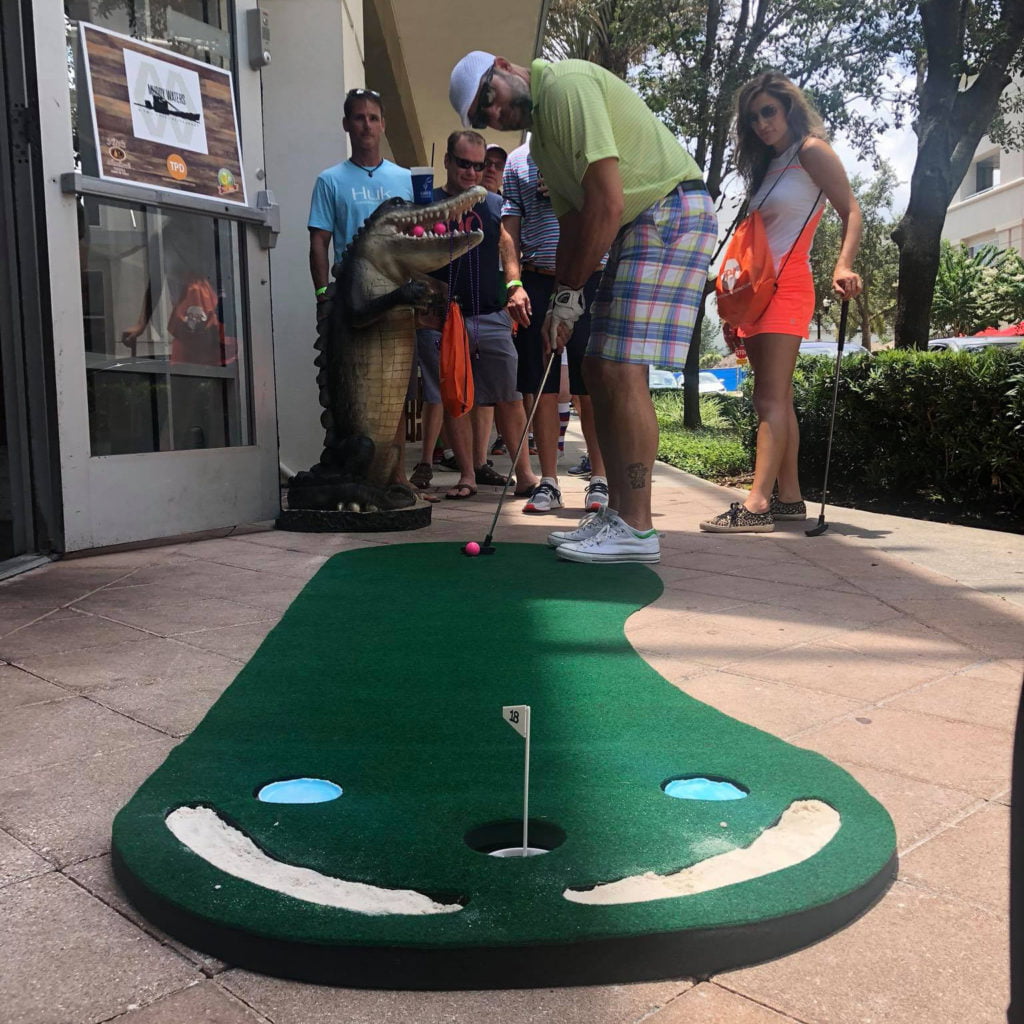 Washington Street Outdoor Market
Saturday, October 24, 5-10pm
The Falcon
The Washington Street Market is a monthly event highlighting uniquely fantastic local makers + artists. Social distancing & masks are required.
FREE Admission
Sister Hazel's Drive-In Series
Saturday, October 24, 7-10pm
Central Florida Fairground
Car placement will begin at 6:00pm. Show starts at 7:30pm. Vehicles will be placed on first come first serve basis.
$149/vehicle (up to 4 people); $169/vehicle VIP
October 26 – 31
Pompeii: The Immortal City
October 26, 2020 to January 24, 2021
Orlando Science Center
This remarkable exhibit is coming to the Science Center for a limited run. Orlando will be one of only three sites in the United States to host Pompeii: The Immortal City. Through artwork, interactive mechanical devices, and multimedia experiences, you will embark on a journey through time into the daily life of a first-century Roman town.
$26
Halloween Beer Dinner
Monday, October 26, 6-9pm
The Aardvark
The Aardvark and Central 28 are bringing you a 4-course food and beer pairing and costume contest.
Tickets TBA
Wine & Foot Massage Night
Thursday, October 29, 4-8pm
Quantum Leap Winery
Treat yourself to a night that is dedicated to relaxation with great wine and talented massage professionals! Pamper your feet with a soothing herb-infused foot bath followed by a relaxing lower leg and foot massage by the professionals at The Barefoot Spa. 30, 45, and 60 minute sessions available; call call Harris at 407-539-1491 to reserve.
Pricing varies
Beer 'Round Here Dinner
Thurdsay, October 29, 6 -8:30pm
Ole Red Orlando
Celebrating American Beer Day, this special evening will feature five courses of elevated, Southern-inspired Floridian cuisine by Executive Chef, Mark Boor. Each course has been expertly paired with a craft beer selection from one of Florida's top breweries, Crooked Can Brewing Company. Enjoy presentations from Chef Mark and Crooked Can as they take you on a mouth-watering journey for this one-time only menu pairing. Live Music by Mighty Swell.
$60, plus tax & gratuity -SOLD OUT-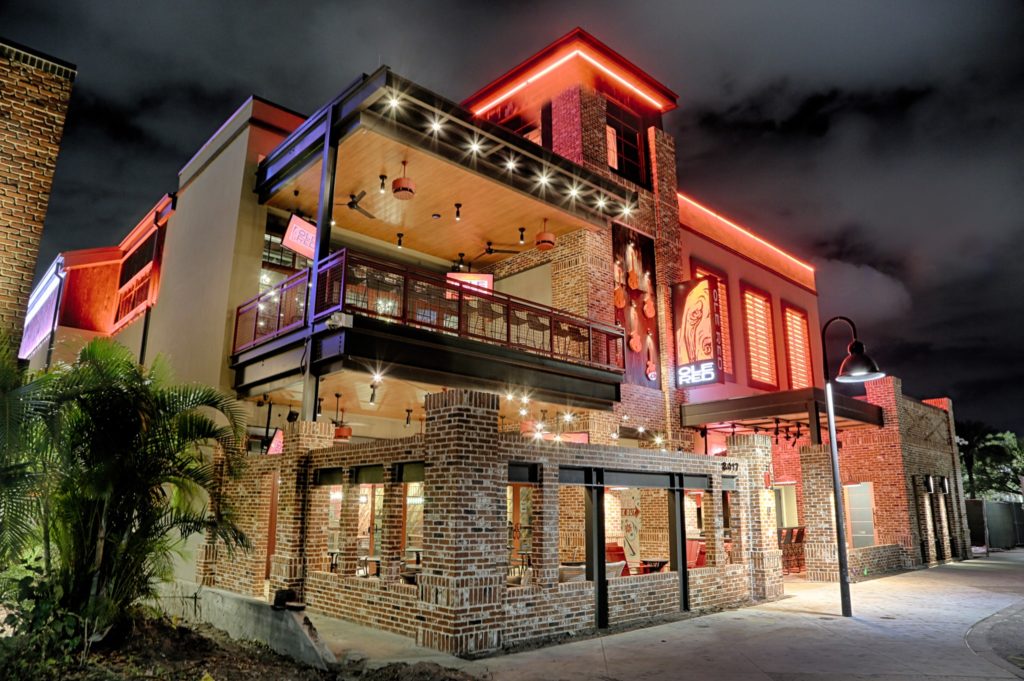 Cuisine for the Cause – Cooking Class with Chef Norman Van Aken
Thursday, October 29, 7-8pm
*Virtual event hosted by Chair the Love
Cuisine for the Cause will kick off with an introduction by Chef Norman and a presentation about Chair the Love, followed by a step-by-step recipe and ending with the presentation of the final dish. Chair the Love is a non-profit organization focused on providing equipment and services to people with mobility-related issues and assisting them in regaining their independence.
$50
Virtual Event: The Birth of American Horror Film
Thursday, October 29, 7:30-8:30pm
*Virtual event hosted by Orange County Library System (OCLS)
Beginning in colonial Salem and progressing through literature, plays and art to show the roots of the horror film genre in America. Dr. Gary Rhodes leads a discussion on the often overlooked genre. This event occurs online through YouTube and Facebook Live.
FREE
ICEBAR Orlando's Frozen Freakshow
October 30 – 31
ICEBAR Orlando
Head to International Drive for a weekend of thrills and chills for ICEBAR Orlando's Frozen Freakshow. This festive weekend celebration includes happy hour daily from 5-7pm followed by live DJ entertainment from DJ ET until 2am. There's also a nightly costume contest.
FREE Admission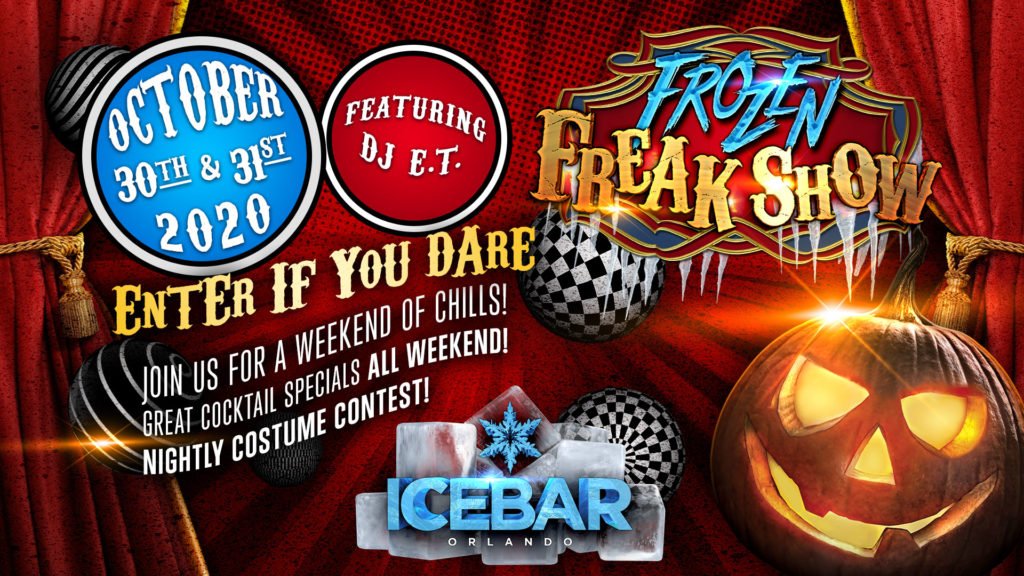 Walt Disney World Swan and Dolphin Food & Wine Classic: Limited Edition
Friday, October 30, 5:30-8pm
Walt Disney World Swan and Dolphin
A new Food & Wine Classic experience, this event features fan favorites from the well-known Walt Disney World Swan and Dolphin Food & Wine Classic in a more intimate setting. Enjoy VIP access, unlimited beer and wine samples, endless food samples and more. Event capacity is limited to 200 people and each party will have a reserved table for the night.
Event only tickets: $110/person
Staycation package: $395 includes a room and admission for two to Friday's event
The Foreigner & Ravenous Pig Brewing Co Beer Dinner
Friday, October 30, 7:30pm
The Heavy
Brewmaster Larry Foor will be pairing his beautiful beers with The Foreigner's October menu for this special beer-paired dinner.
$125 -SOLD OUT-
Boos Cruise (Bring Your Own Bike)
Saturday, October 31, 1-3:30pm
Ride starts at Ivanhoe Park Brewing Company
Grab your bike and Halloween costume and join BrewCycle Orlando for a guided bike ride through downtown with stops at 3 local breweries.
$50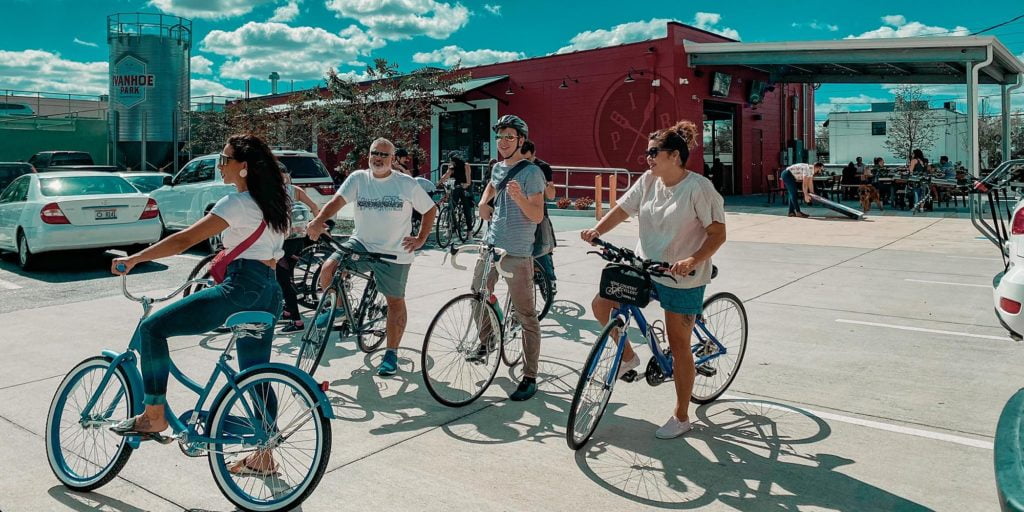 Midnight MASKquerade
Saturday, October 31, 10pm-1am
The Nook On Robinson
Halloween celebration and annual costume contest with a twist: to enter, your costume must incorporate your mask.
FREE Admission
Ongoing events
Visit Orlando's Magical Dining
August 28 – October 31
Participating restaurants
Enjoy three-course, prix-fixe meals at more than 50 participating restaurants throughout Orlando. $1 from each meal will be donated to Feed the Need Florida.
$35/person
Free Weekday Gator Park Admission at Wild Florida
Monday – Friday for the month of October
Wild Florida
Happy 10 Year Anniversary to Wild Florida! The park is celebrating all month long by offering FREE weekday Gator Park admission with a canned food donation.
FREE with canned food donation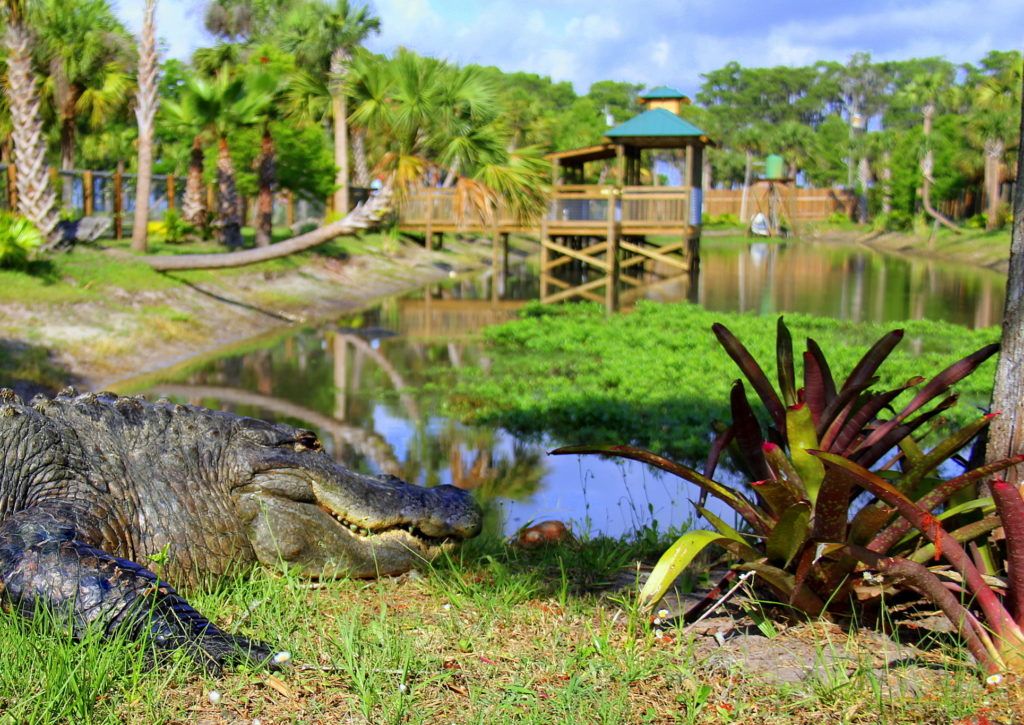 Sip, Savor and Stay Saturdays: A New Twist on the Food & Wine Classic Experience
Saturdays through October 24, 5:30 – 7:30pm
Walt Disney World Swan and Dolphin Resort
Every Saturday evening, a different culinary experience will take place exclusively for guests staying on the new Sip, Savor and Stay Saturdays overnight package. These limited-capacity, themed events created by the resort's award-winning food and beverage team are inspired by elements of the popular Swan and Dolphin Food & Wine Classic.
One-night packages beginning at $295; October 17 Food & Wine Classic: Limited Edition experience starts at $395
Scream n' Stream Haunted Drive-Thru
Select nights September 25 – October 31
Boggy Creek Airboat Adventures
Drive-Thru Halloween event featuring a nighttime haunted road and a daytime drive-thru Trick-or-Treat.
$60 per car
The Haunted Road: A Drive-Thru Halloween Experience
Select nights September 25 – November 7
15239 Lake Pickett Rd
The Haunted Road combines theatrical storytelling, horrifying creatures and unexpected scares in a completely drive-thru Halloween experience. Guests will be driving and parking their car at each scene so they're not able to escape the horror that lurks around every corner.
$15 – $30/person
Spooktacular Activities + Oktoberfest
October 1 – 31
ICON Park
Take advantage of specials at The Wheel at ICON Park like the Spooktacular Florida Fun Pack which includes a private capsule on The Wheel for up to six people, plus receive wicked popcorn and a devilish drink like bloody red wine, Oktoberfest brews or spooky cocktails. There will also be a free, 10-minute Halloween-themed light show each night (8pm Sunday-Thursday, 8pm and 10pm Friday-Saturday).
Fun pack: $119.99; light show FREE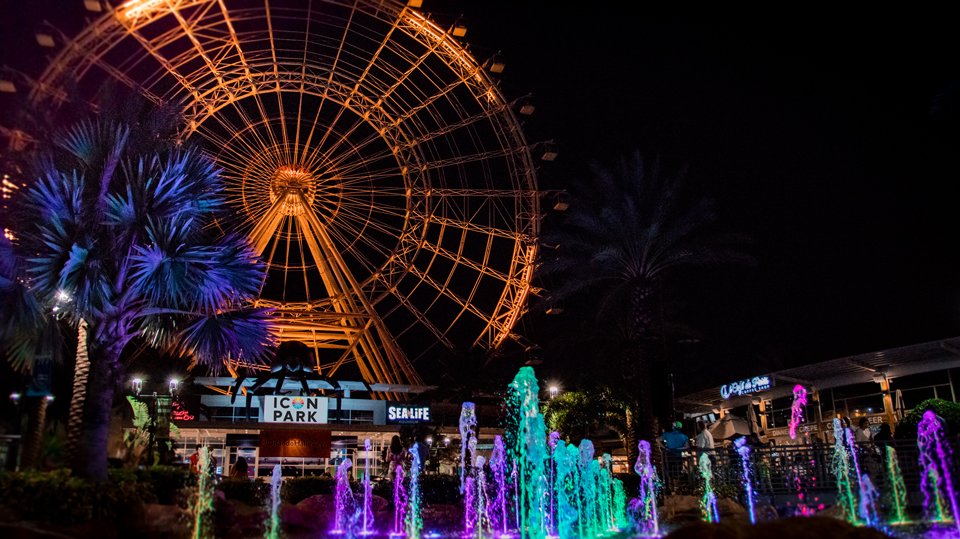 PlayFest 2020
Select Friday & Saturday nights October 3 – November 7
*Virtual event hosted by Orlando Shakes
PlayFest 2020 features six readings of new plays in development. For the first time in its history, the annual new play festival will be a completely virtual event. Through the virtual readings, patrons will experience groundbreaking new works while participating in the creative process by sharing their reactions directly with the playwright and creative team at a post-show talkback.
$10 per showing or $48 for all-access PlayFest Pass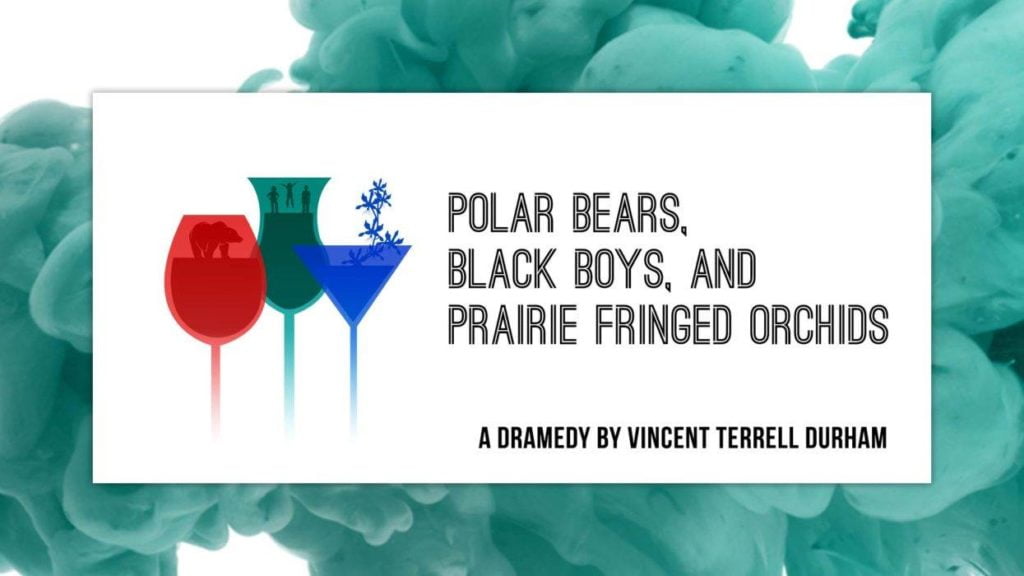 Sunset Yoga & Social
Wednesdays through October 28, 7-8pm
Stardust Lounge
Join DJ Down Dawg & Friends for a mix level fun yoga flow w/ tunes!!! Class led by your favorite YogaMix and Pla.Yoga instructors. After class enjoy music, bars & food trucks until 10 PM.
$10
Saturday Yoga in the Garden
Saturdays from 9-10am
Mead Botanical Garden
Connect with yourself and nature during this 1-hour all levels outdoor yoga class. Class is held weekly at the Grove Stage within the garden. Bring your own yoga mat and water.
$10
---
Want your Orlando event listed here?
Learn more about advertising with us and submit your event here.
Disclosure: Some, but not all, of the events featured in this post are hosted by our valued advertising partners.
Feature image credit: Creative City Project