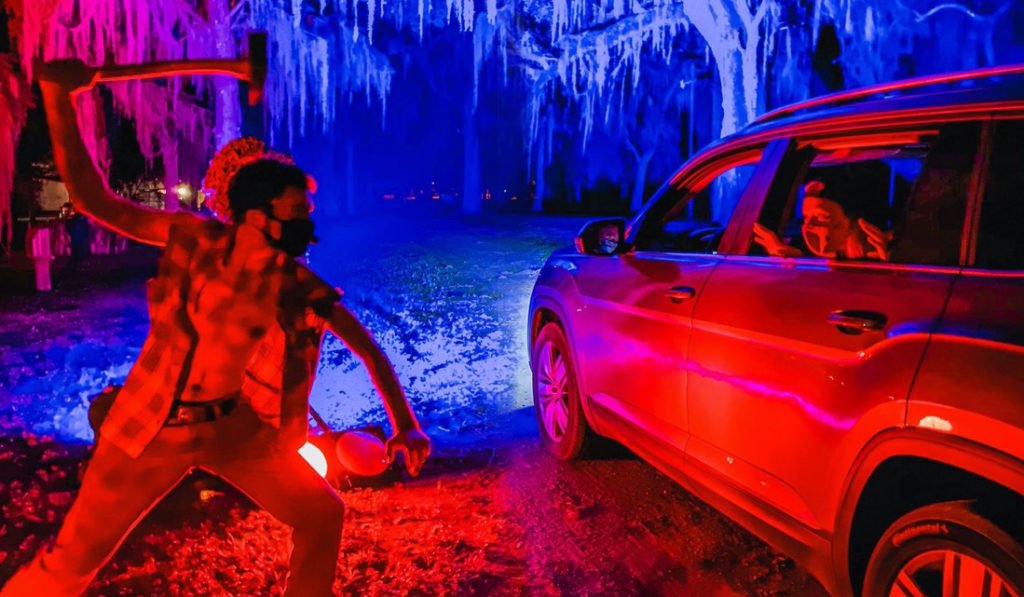 This year's Halloween season is certainly different than any years past, but there's still lots of spooky fun to be had. You and your special boo can reconnect and have a ghoulishly good time together with these Halloween events in Orlando. Here's how to celebrate the season while social distancing.
Did we miss any? Be sure to submit your event here: orlandodatenightguide.com/submit-an-event.
Orlando Haunted Houses and Experiences
Select nights October 15 – 31; $20 and up – tickets on sale soon
Now in its 13th year, this local haunt in Altamonte Springs is an outdoor, haunted trail totally worth the drive from Orlando. After waiting in line, you're sent into the trail with just your group, allowing you to experience all of the jump scares on your own.
This year, tickets will be available in timed entry slots, and you'll show your ticket on your phone for contactless entry. Other safety measures in place include a mask requirement for guests and staff, limited capacity each night, non-invasive temperature checks, and hand sanitizing stations placed at the trail entrance. A Petrified Forest is currently in the process of finalizing all safety protocols to ensure a super safe visit; tickets will be on sale soon.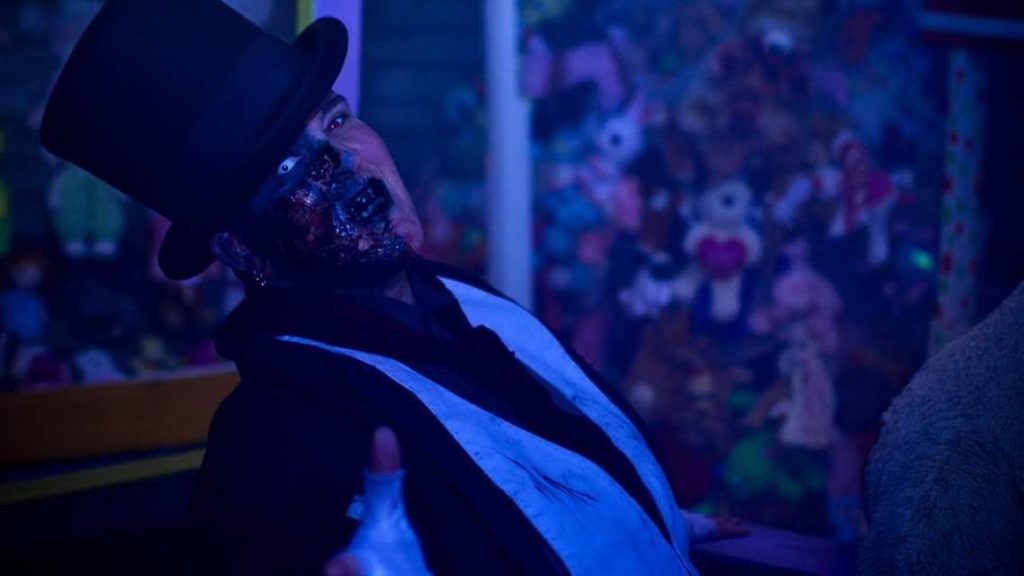 October 1 – 31; $17.50 – $87.50 per person
This Halloween event taking place on International Drive includes an original haunted maze called "Tunnel of the Damned," created and executed by Halloween Horror Nights veterans Patrick Braillard and Kim Gromoll. The Orlando Forum will also host a dinner show experience called "The Dark Seance: A Haunted Dinner Experience," nightly at 6pm. Highlights include a three-course dinner and immersive, historic horror experience led by medium, "Claire Voyant."
Face masks are required and social distancing will be maintained when dining and going through the maze. Expect a non-invasive temperature check before entering.
Weekends through October 31; theme park admission required
Although Universal's beloved Halloween Horror Nights is not officially happening this year, Universal Orlando surprised fans by offering two daytime houses. A virtual queue is required and spots fill up fast early in the day. There's also The Tribute Store which features Halloween Horror Nights merchandise, Halloween treats, and incredible themed rooms. Don't miss The Skeleton Bar serving spooky themed cocktails.
Select nights through October 31; $60 per car
Experience what it's like to drive your car *into* the movie screen and witness a horror movie unfold as a live performance. Scream n' Stream's drive through experience, located at Boggy Creek Airboat Adventures, is completely contactless and suitable for the whole family. Scare actors maintain a safe distance from your car and will be wearing masks at all times.
Local couple, The Orlando Duo, has the full scoop on what to expect plus a review of the experience, which you can read here.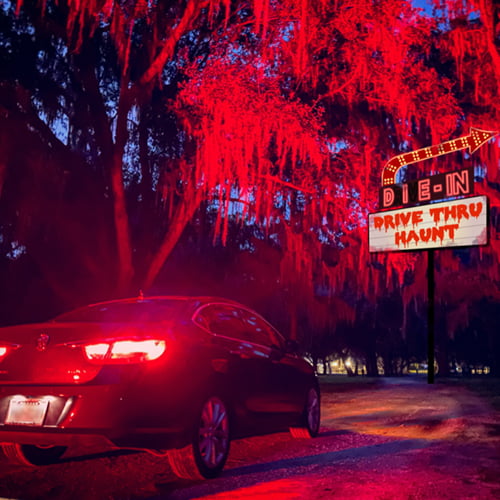 Open nightly through November 1; general admission tickets starting at $22.95
Not your average haunted house, Scream-A-Geddon is a full blown horror park in Dade City complete with six separate attractions plus a Monster Midway and designated beer garden. Enter the Ravenhill Asylum to explore at your own risk, visit a demonic village, immerse yourself in the mind-bending and disorienting Rage 3D (spoiler alert: there are clowns), get lost in an inmate-controlled prison and more. Several of the attractions have an interactive option in which brave souls may be sent off to hidden rooms or isolated from their group.
The park is operating at 50% capacity and all staff and guests will undergo a temperature check for entry. Face coverings are required in most areas of the park. While the park is doing their best to enforce all of these measures, it's worth mentioning that the staff will still get close to you in the attractions. You may also come into close proximity to other groups. You can check out the park's full safety plan here.
Select nights through November 7; $15 – $30 per person
The Haunted Road is a new, completely contactless Halloween experience. You'll drive your car and park to watch multiple scenes play out right in front of you. While opening weekend got off to a rocky start and ticket sales have been temporarily halted, the attraction is taking all feedback into consideration to make important changes, like reduced capacity for lower wait times and more scares. Get the latest updates on Facebook.
MOVIE SCREENINGS
Sunday nights October 4 – 25, 7:30pm; $10/vehicle
Pop-up drive-in movie theaters are having a moment as a safe way to get out of the house while enjoying a flick. Old Town, located in Kissimmee, will be transforming its parking lot into a drive-in theater screening Halloween classics Sunday nights. The lineup includes Beetlejuice (October 4), The Nightmare Before Christmas (October 11), Scream (October 18) and Hocus Locus (October 25). Tickets much be purchased online in advance.
Select dates October 6 – 31; $9 and up
Catch a classic Halloween movie at Enzian Theater and sip on one of the theater's themed cocktails of Halloween available throughout the month. This year's movie lineup includes cult classics like Mars Attacks! and The Blob, Halloween season favorites like Hocus Pocus, several free outdoor movies and more.
Capacity is limited to allow for physical distancing, so get your tickets early. For outdoor movies, you'll need to RSVP in advance to reserve a private 10×10 space.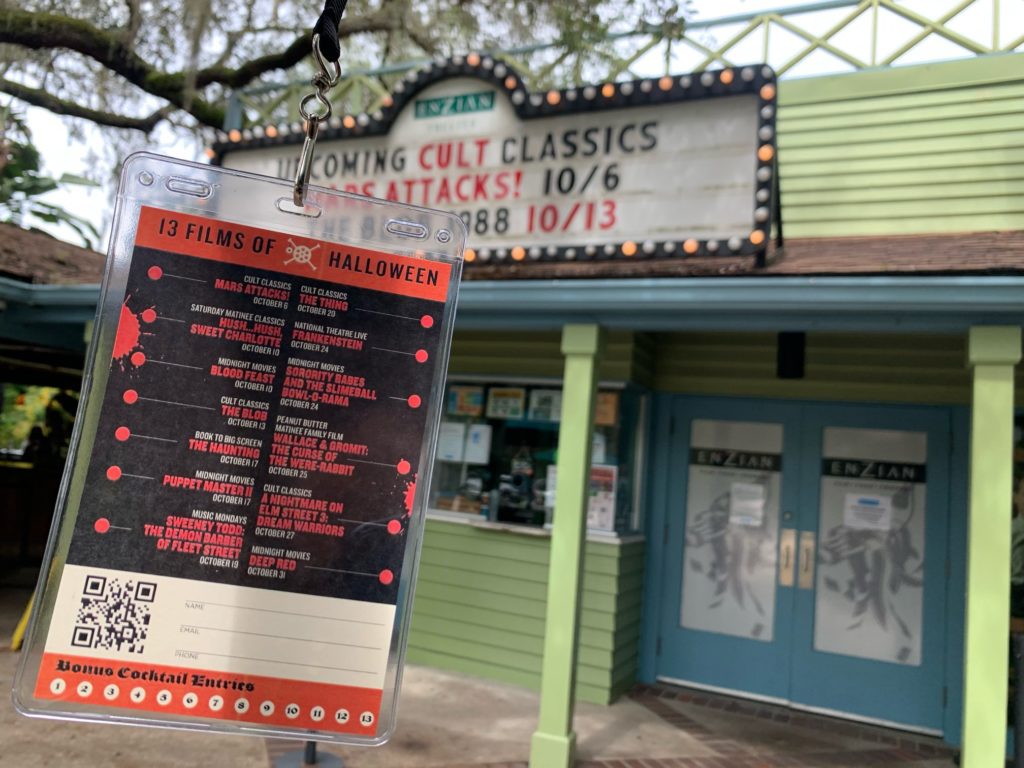 Select Friday and Saturday nights through October 31; $40/vehicle
It's the perfect season for a spooky movie under the stars at SeaWorld Orlando. Drive in for a safe, nostalgic experience that starts with enjoying fare from local food trucks and ends with watching a classic Halloween feature (or two) from the comfort and safety of your car. The first feature of each evening is a family-friendly movie at 7:45pm followed by a more sinister title beginning at 10:30pm for the late night crowd.
Here's the lineup:
Frankenweenie + The Purge: October 3
Beetlejuice + Pyscho: October 10
Tim Burton's Corpse Bride + A Nightmare on Elm Street: October 17
TBD Family Friendly Flick + Scream: October 23
Casper + The Exorcist: October 24
TBD Family Friendly Flick + Friday the 13th (1980): October 30
Hocus Pocus + Halloween: October 31
Every Thursday and Sunday October 15 – 29; pricing varies depending on project selected
Get creative while watching a Halloween movie! Options range from family-friendly favorites during the day on Sundays to spooky favorites on select Thursday nights. Select a canvas to paint while you watch Halloween favorites. Reservations are encouraged but not required. This local craft studio also has a bar and specialty food and drinks will be available for each event. The lineup includes Hocus Pocus (October 15), Edward Scissorhands (October 22), Trick r' Treat (October 29) and more.
Thursday, October 22, 7:15pm; $10/vehicle
Enjoy a screening of this essential Halloween movie at Swirlery's pop-up drive in movie event. Tickets include 2 bags of popcorn and a reserved parking space for the show.
More Halloween Events in Orlando
Through October 31
ICON Park Orlando
Take advantage of specials at The Wheel at ICON Park like the Spooktacular Florida Fun Pack which includes a private capsule on The Wheel for up to six people, plus receive wicked popcorn and a devilish drink like bloody red wine, Oktoberfest brews or spooky cocktails. There will also be a free, 10-minute Halloween-themed light show each night (8pm Sunday-Thursday, 8pm and 10pm Friday-Saturday).
Fun pack: $119.99; light show FREE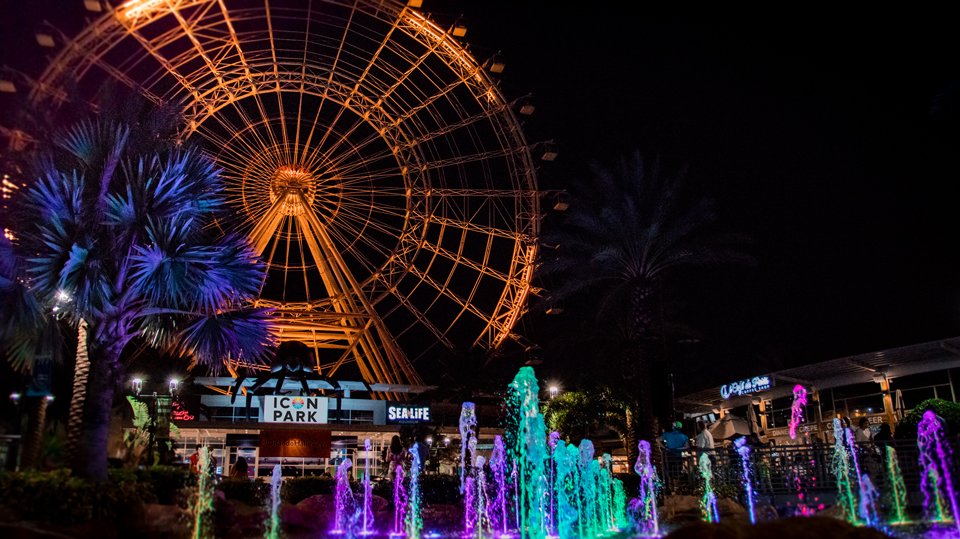 October 30 – 31
ICEBAR Orlando
Head to International Drive for a weekend of thrills and chills for ICEBAR Orlando's Frozen Freakshow. This festive weekend celebration includes happy hour daily from 5-7pm followed by live DJ entertainment from DJ ET until 2am. There's also a nightly costume contest.
Weekends through October 31
Gaylord Palms Resort & Convention Center
This year's Goblins and Giggles Weekends at Gaylord Palms has even more activities than before. Couples won't want to miss the SpookEasy bar experience, a haunted hideaway straight out of the prohibition era featuring spine-chilling craft cocktails and a spooky atmosphere. Other themed offerings include a nightly 9pm Halloween light show in the atrium and the Castillo de San Marcos ALIVE! Ghost Experience, in which storytellers recount ghost stories ($14.99/person).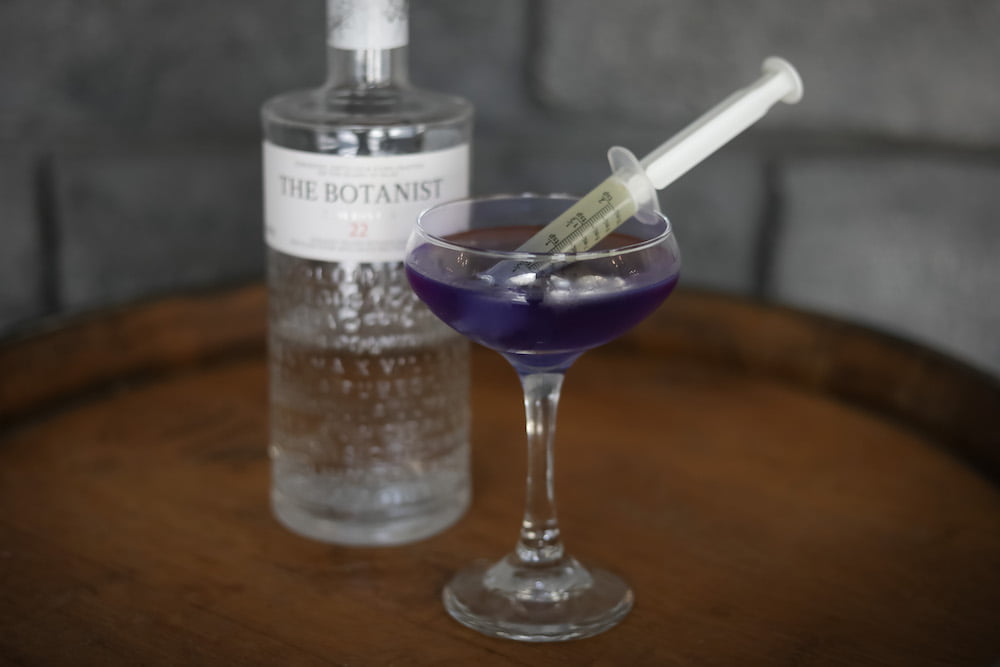 Friday, October 2, 6:15pm
Dinky Dock, Winter Park
A haunted journey will take you around the gorgeous Winter Park chain of lakes into the dark night as scary stories are told.
$38 – $58
Weekends October 10 – November 1
Gatorland
Along with up-close views of Gatorland's namesake reptiles and other Florida animals, Gators, Ghosts and Goblins features costumed character meet-and-greets, creepy decorations, plenty of photo opportunities, and a spooky open-air train ride. A daytime trick-or-treat trail is open 11:00 a.m. – 2:00 p.m. and all guests are welcome to dress up. Adults will especially appreciate Frank & Stein's Octoberfest, which offers music from an "undead polka band," as well as German beer and food for purchase. Social distancing practices are in place, and masks are required.
Included with park admission
Thursday, October 15, 2020 (opening reception)
CityArts
The annual Dia de los Muertos and Monster Event is a themed exhibition at CityArts and an outdoor experience with live performances, vendors, and more!
$5 for gallery admission, $35-$40 for the outdoor dining experience
October 15 – 18
*Virtual event*
Phantasmagoria is a Victorian horror troupe known for inventive horror shows. While performances are typically held at local theaters around the state, the troupe is going virtual this year with a brand new program, Plague Tales, available to stream from your living room. The lineup this year includes five brand new tales of terror, plus truly terrifying folk stories, legends, and myths from the likes of Edgar Allan Poe and Robert Louis Stevenson. With elements of dance, aerial arts, puppetry, fire dancing and more, these shows are impressive and entertaining.
$25/household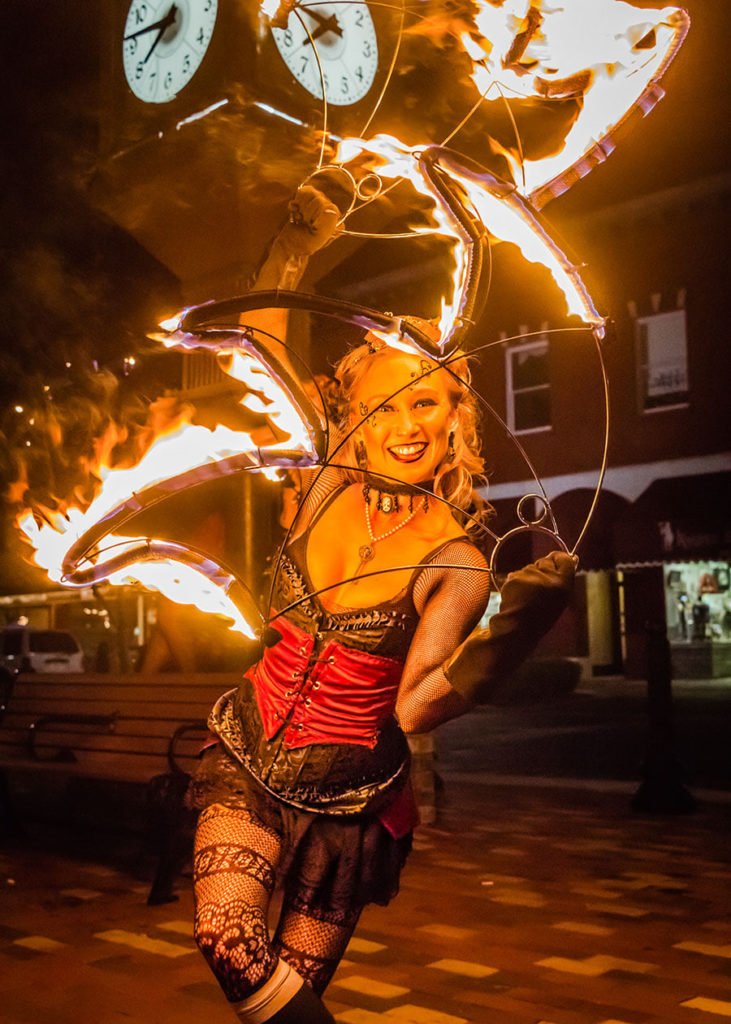 October 29 – October 31
Museum of Seminole County History
Take a nighttime tour of this haunted museum, complete with a visit to the spooky basement.
$5/person
October 30 – 31
EPIC Theaters at Lee Vista
Now in its 15th year, this annual film fest screens the best new independent horror films over the span of a weekend.
$20-80
Saturday, October 31, 1-3:30pm
Ride starts at Ivanhoe Park Brewing Company
Grab your bike and Halloween costume and join BrewCycle Orlando for a guided bike ride through downtown with stops at 3 local breweries.
$50
Saturday, October 31, 10pm-1am
The Nook On Robinson
Halloween celebration and annual costume contest with a twist: to enter, your costume must incorporate your mask.
FREE Admission
Through October 31
Colorado Fondue Company, Casselberry
You have got to see the place during Halloween. It is decorated from top to bottom, and with spooky lighting too! A three-course meal with fall flavors and Halloween themed cocktails await. Reservations only, call 407.767.8232
Menu prices vary
Through October 31
Magic Kingdom
Although Mickey's Not So Scary Halloween Party is not officially happening this year, you can still find lots of Halloween fun at Magic Kingdom. Character cavalcades with Disney pals and villains in their Halloween best, decorations, and Halloween treats await. The best part is it is included in regular admission.
Included with theme park admission
Looking for Halloween Events in Tampa Bay, or Family Friendly Pumpkin Patches and Halloween fun in Tampa Bay?
Looking for more date night events this month? Check out Best of October: Our Favorite Date Night Events in Orlando.
Feature image credit: Scream n' Stream
Disclosure: ICON Park is one of our valued advertising partners. Learn more about advertising with us here.