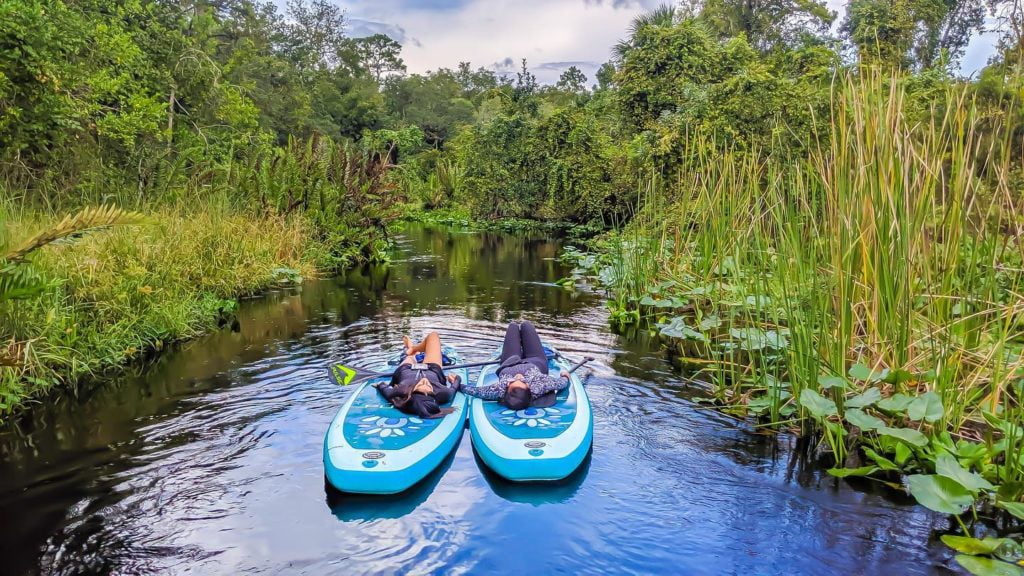 Relationships stay afloat when well-balanced, right? So, listen up couples and comrades… It's time to test your stability – literally – with epic stand-up paddleboard (SUP) adventures. There's no shortage of awesome watersport companies facilitating SUP rentals and/or guided tours throughout Greater Orlando. But, for an even bigger date night splash alongside your first mate, get on board with one of the following uniquely exhilarating Central Florida paddleboarding experiences.
Puppy Paddle
Hey, we're not talking about the formative swim stroke of our youth. We really mean paddling with pooches!
Jenny Brown, who co-owns Lake Life Paddle with her husband Richard shares, "We and our guides have multiple dogs that we 'loan out' for the Puppy Paddle session." And, post-Covid19, Brown hopes to partner with local shelters to showcase how incredible rescue dogs can be. If preferred, paddlers are welcome to bring their own pup along for the ride (dog life vests are provided).
The tail-wagging time is typically led on either Lake Ivanhoe or the Winter Park Chain of Lakes. Paddlers love to feel the wind in their hair while on the open water and, as it turns out, so do dogs. According to Brown, a partner puppy likely feels as though it's sticking its head out of a window enjoying the breeze.
When you're doggoned tired from floating with Fido, guides like to join paddlers at The Hammered Lamb or Vanbarry's Public House. Both eateries have dog-friendly porches, and The Hammered Lamb even has a doggie dining menu. Group tours and special events start at $38 (paddle price only; with additional brunch cost); private tours and/or Lake Life Paddle Airbnb experiences average $53.
Lake Life Paddle offers tons of other outings as well, such as a Full Moon Paddle, Paddle Meditation, Paddle & Mimosas, a Bioluminescence Paddle and, for a limited time through the winter season, Ponies & Paddleboards (exploring Ocala National Forest on horseback and Silver Springs via paddleboard).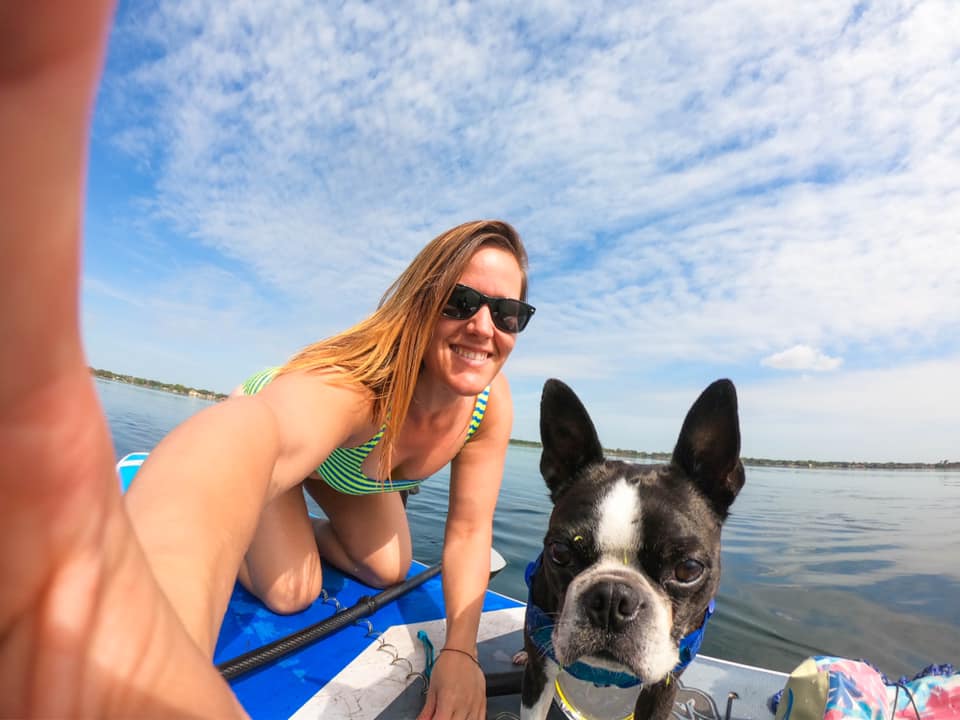 Paddleboard Pairings
As a Lake County native, Katrina Aho believes lake life is the best life. She founded Adventure Outdoor Paddle in Tavares as a way to "connect people with the outdoors and combine fitness with an adventurous activity." As an added bonus, the company seems to exemplify date night by perfectly pairing Central Florida paddleboarding experiences with a secondary activity.
Drink up a scenic mile-long stretch of Lake Harris Chain of Lakes on the Paddle and Brü tour, currently led on Fridays. Expect an imaginative paddle here and on the Dora Canal, with towering cypress trees and wildlife on either side. Afterwards, rehydrate with a refreshing beer flight at the Brü Tap House, which has 30 different craft beers on tap. The $54 tour price includes a two-hour paddle and a voucher for a brewski flight. If hunger strikes, Brü operates the neighboring restaurant, BTW (short for Burgers, Tacos and Waffles). This eatery conveniently delivers grub to the tap house.
Similarly, Adventure Outdoor Paddle recently launched Paddle and Brunch in partnership with Puddle Jumpers restaurant. On Sunday mornings, the tour ($55 per person) includes a guided two-hour paddle through Dora Canal plus a post-paddle brunch voucher allotting for one mimosa or non-alcoholic beverage and one brunch entrée.
Other exciting experiences included Sunset Paddle, SUP Fitness and Fly Out Paddle In, an adrenaline-packed tour in partnership with Jones Brother's Seaplanes.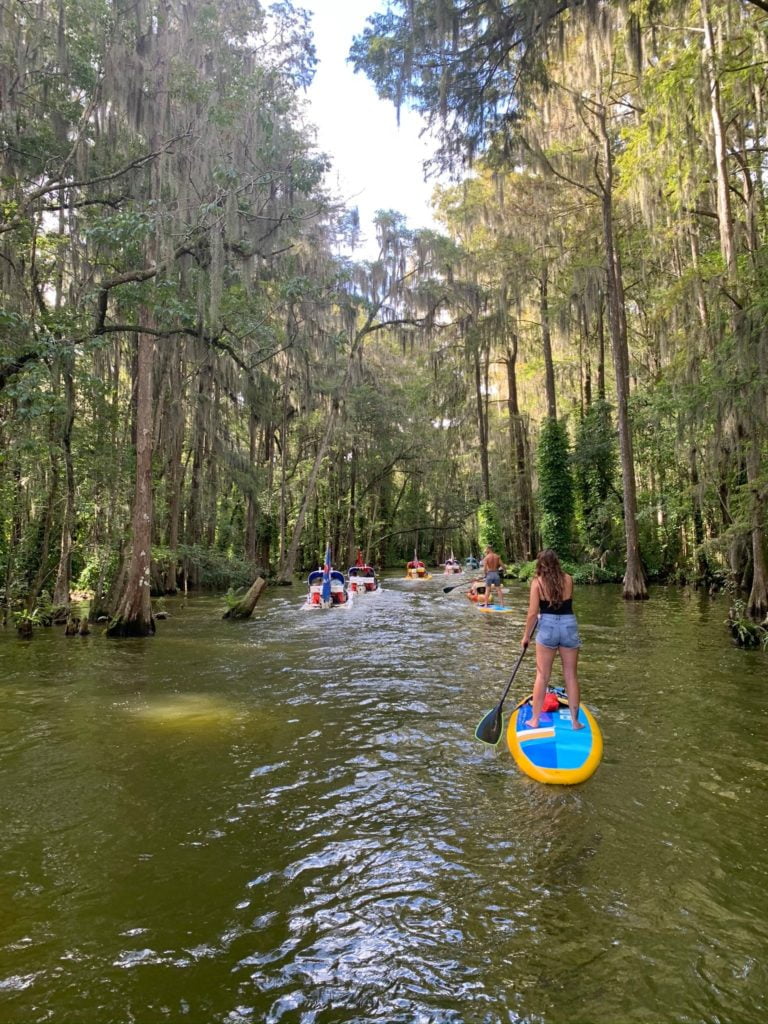 Paddleboard Yoga
To stretch your SUP skills, get on board with a yoga class. Several Orlando-area SUP companies offer paddleboard yoga sessions throughout Central Florida. These unique experiences encourage participants to master the fluidity of movement within a tranquil floating studio.
Otter Paddle Orlando offers money-saving SUP yoga pass packages for 1, 2 and 4 paddlers with options available for BYOB (bring your own board) or rental inclusion. Non-committal types can, of course, also check out a two-hour session. "Winter Park Chain of Lakes is an urban paddling paradise," shares Craig Huff of Otter Paddle Orlando. "With lush tropical vegetation, historical homes and boathouses lining the shores and abundant of wildlife, everywhere you look you can see why Winter Park is known as a nature's lover destination."
Certified SUP yoga instructor Donna Kirk begins sessions with a leisure paddle from Dinky Dock and brief meditation before diving into the core strengthening poses that'll engage your mind, body and soul. Can't you just picture the peaceful savasana while coasting on the water's surface? Reservations are required with single-class rates listed as $40 with rental or $20 BYOB.
This company also leads eco-tours on the Winter Park Chain of Lakes and at Rock Springs Run.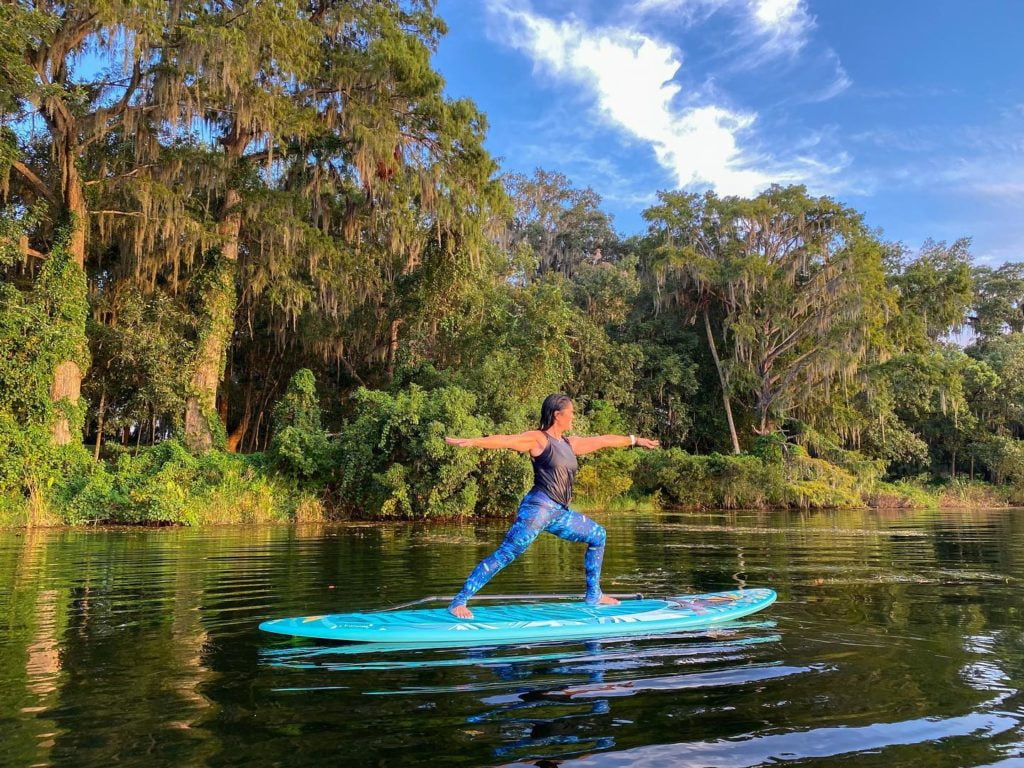 Purposeful Paddle
How about spending time with the person you love on the water with a do-good and feel-good volunteer activity? Paddle With A Purpose is a conservation nonprofit with change-making chapters currently serving Fort Lauderdale, Key West and our hometown of Orlando. In just two years' time, the organization says its volunteers have removed more than 14,000 pounds of trash. Wowzer (and thank you)!
Paddle With A Purpose is set to host a socially-distanced clean-up in partnership with Wekiva River Outfitters at Lake Ivanhoe on Sunday, October 25, 2020. Bring your own SUP or borrow a complimentary kayak from Paddle With A Purpose. Attendees are encouraged to make a donation to support the mission and to wear a protective face mask. Flotation devices and all clean-up supplies, such as gloves, trash bags and pickers, will be provided.
Robert Figueroa with Paddle With A Purpose tells Orlando Date Night Guide that some good clean fun will definitely be had too. The do-gooder that collects the most trash (by weight) will win a prize! Plus, you'll soak up educational tidbits about the types of pollution in our waters and ways to live more sustainably.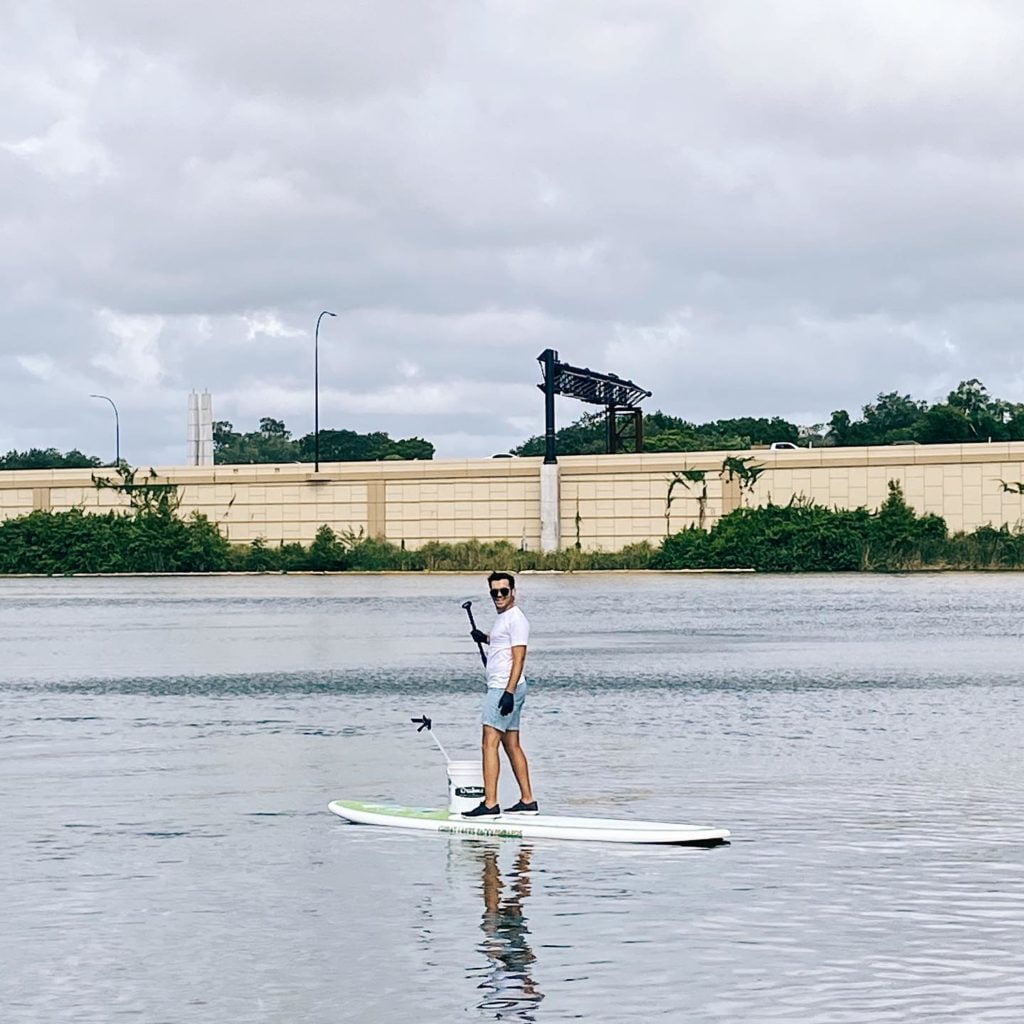 SUParty
If you're planning on taking the plunge into marriage, save the date for a SUParty bachelor or bachelorette party with Wave of Wellness. The SUParty package includes 10-15 boards for two instructor-led hours (starting price of $399). In fact, why not spice things up with a joint bachelor-bachelorette party with Wave's SUP X-Games option?
"SUP X-Games offers the opportunity for adult play ─ to purposefully get wet, laugh (a lot), connect as a team and challenge each other as friendly rivals," owner Jessica Cichra describes.
Pssst… for lovebirds looking to amp up cardio before the big day, Cichra explains, "Our games enhance your wellbeing and fitness, without feeling like you're working out." Cheer on your bridal party as they compete in splashtastic quests. With Tug Life Relay, one paddleboarder pulls the other behind through a short course before a quick switch up; and during Tandem Challenge, two paddlers balance on one shared board and race to the finish.
And if you're not tying the knot, Wave of Wellness has plenty more awesomeness for couples and groups. Think SUP eco-tours, lessons, yoga and equipment rentals.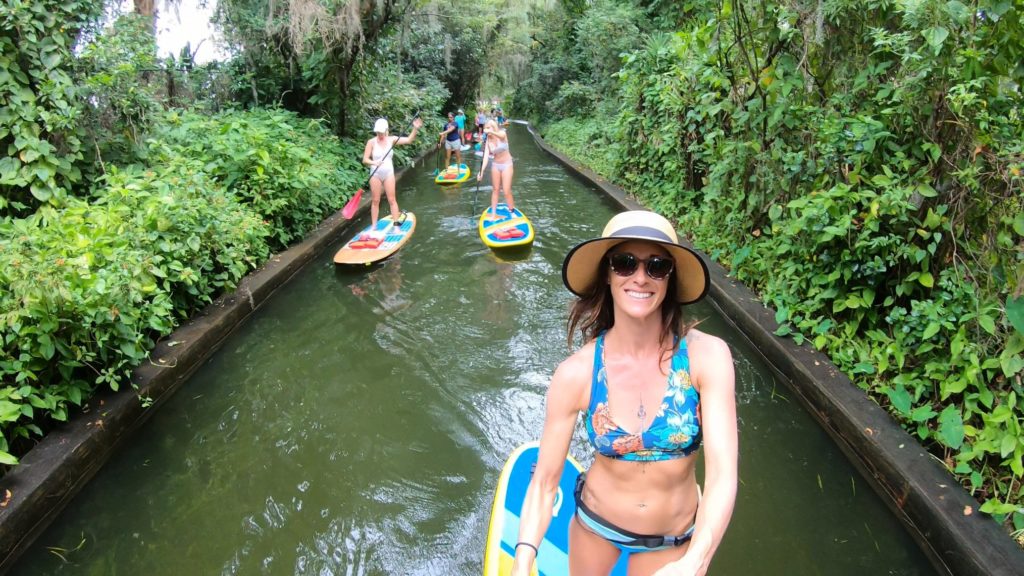 Mermaids and Merriment
OK, so you won't exactly be paddling tandem with a mermaid but the Weeki Wachee Eco SUP Adventure: Mermaids and Merriment led by Paddleboard Orlando ($65 per person) is the next best thing. While this tour is temporarily unavailable, bookmark it for when it becomes available again.
The whimsical city of Weeki Wachee is famous for its live mermaid show, recognized as one of Florida's oldest and most unique roadside attractions. But Weeki Wachee is also known for its fast-flowing crystal clear river, which just so happens to be one of Paddleboard Orlando's favorite downriver SUP runs. The memorable trek on the Weeki Wachee River rises from a first magnitude spring. Plan to spend three peaceful hours twisting and turning about.
Paddleboard Orlando is among the most popular guide companies in our area. In addition to lessons, try themed tours such as the Full Moon Glow Paddle and Silver Springs SUP Adventure: Monkeys and Manatees. Or, stay local with the Wekiva River SUP & Swim.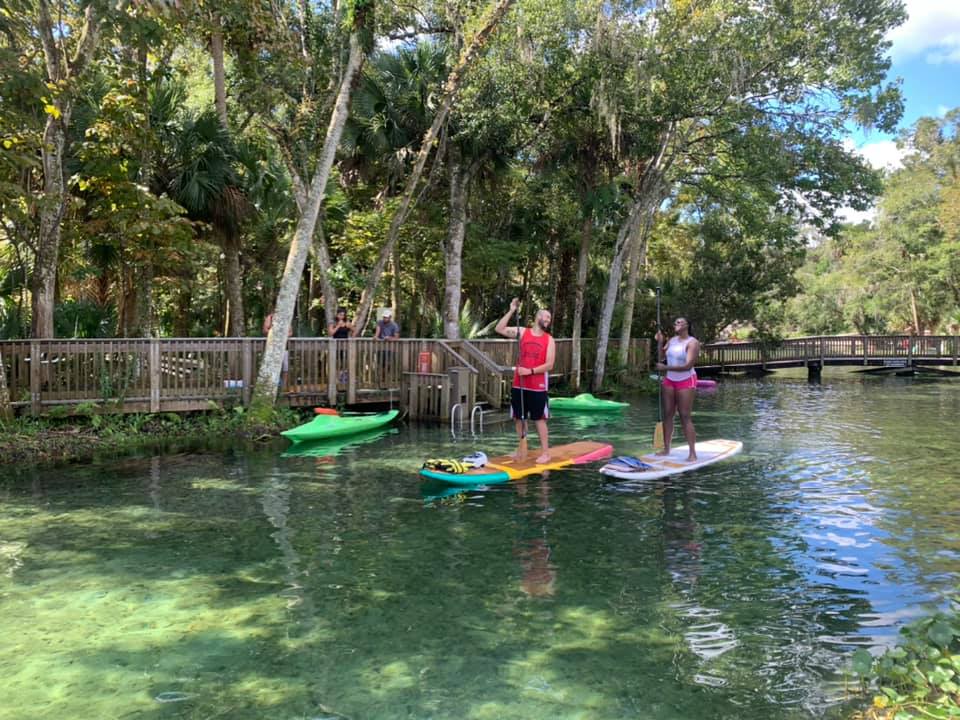 Sunrise or Sunset Paddle
If a romantic getaway to the coast floats your boat, you'll love a scenic paddle through the Turkey Creek Sanctuary with Paddling Paradise in Palm Bay. Tours are offered daily for $50. Though your best bet for a date is an illuminating sunrise or sunset tour. The sunrise session includes a picturesque paddle into Palm Bay and the Indian River Lagoon. You may just spot dolphins and manatees along with a spectacular sunrise. Contact Paddle Paradise directly to book one of these specialty tours.
Paddling Paradise also hosts SUP yoga, waterside ukulele classes and multi-sport races, such as their run-paddle series.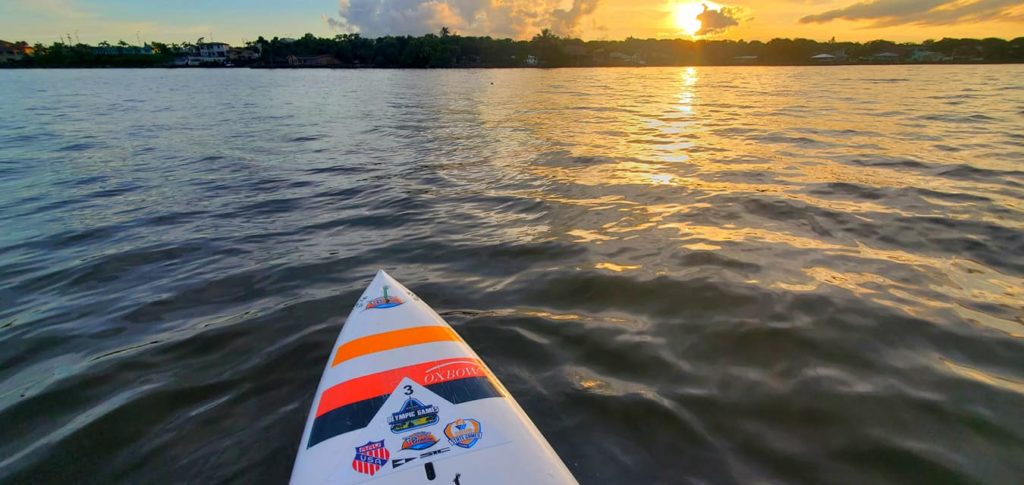 Nature Tour
With Paddleboard Winter Haven as your guide, a SUP is your ticket to spot local wildlife along the Winter Haven Chain of Lakes. After you depart from the shore, you'll set sail on a leisurely paddle through Lake Summit or Lake Roy and into Lake Eloise. Because this tour goes at a slower pace, it's perfect for first timers. Plus, it's a steal at just $35 per person.
Other unique tours include a Pirate Tour with views of Legoland's Pirate ski show, scenic sunset tours and more.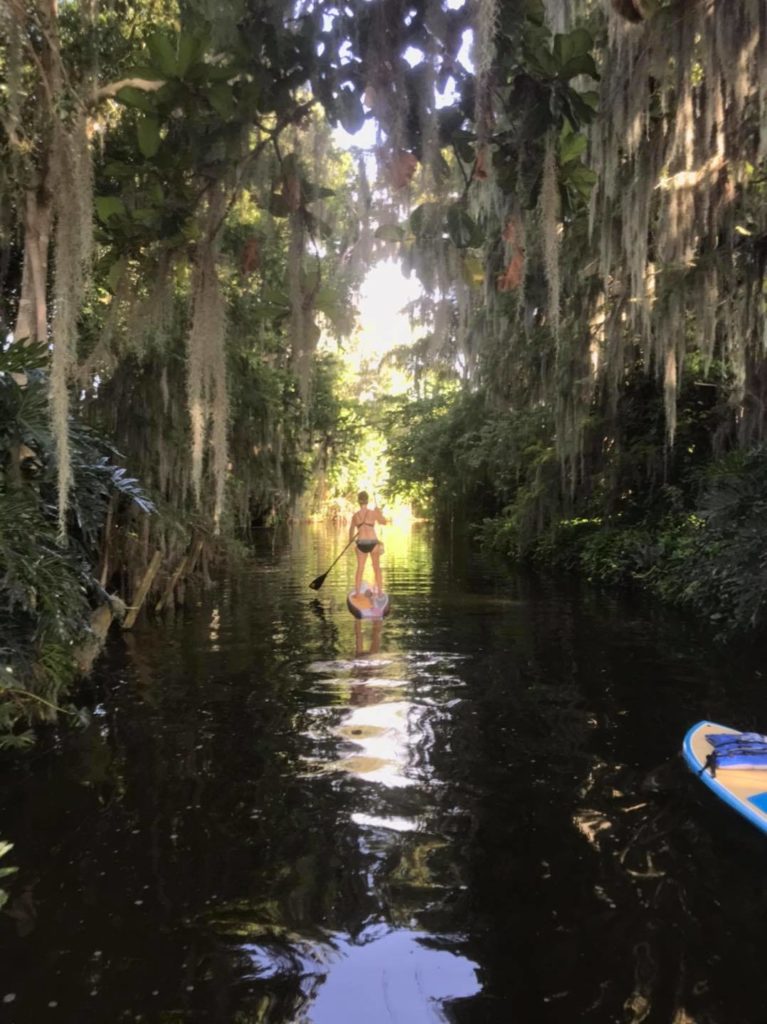 Also Try:
Tips:
Pack snacks/drinks in a water-resistant bag to enjoy a picnic – on your board or nearby shoreline.
Bring a waterproof speaker, waterproof cellphone case and, if paddling at night, glow sticks or a SUP LED kit.
Consider sunscreen, sunglasses, a hat and, if you're THAT couple (which we love), matching swimwear.
If and when these excursions convert you into a SUP enthusiast, find other board peeps through MeetUp – Paddleboard Orlando!
Feature image credit: Otter Paddle Orlando