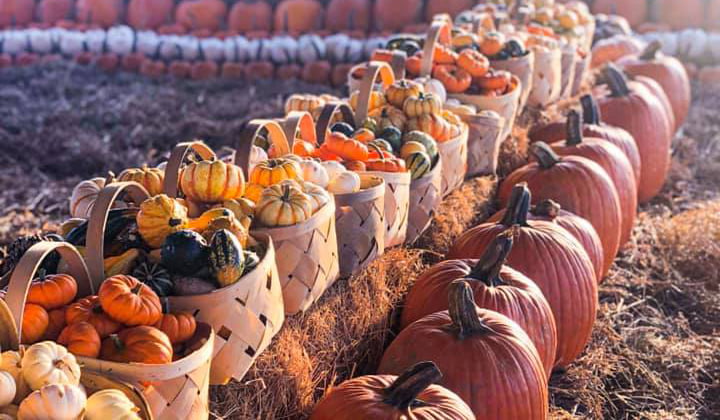 Temperatures may still hover close to 80 even in our coolest months, but any remotely "crisp" day by Florida standards warrants a visit to the closest fall festival, pumpkin patch or craft brewery. Fall festivities understandably look a bit different this year, but there are still loads of fun ways to celebrate the season. From pumpkin patches and fall festivals to events for foodies and craft beer aficionados, plan a fall date with our guide to the best Orlando fall festivals and foodie events.
Fall Festivals + Pumpkin Patches
Celebration Pumpkin Patch
Open daily 11am-7pm
Community Presbyterian Church – Downtown Celebration
Pick out the perfect pumpkin and check out the photo ops at this annual pumpkin patch located just steps from Market Street in Downtown Celebration.
Pumpkin prices vary
Painted Oaks Academy Pumpkin Patch + Corn Maze
Pumpkin patch: Open daily 10am-6pm through October 31
Corn maze: Open daily 10am-6pm through November 30
Painted Oaks Academy
Spend the afternoon picking out a pumpkin, weaving your way through to corn maze, snapping selfies at various photo ops and more. This event also features live music on the weekends. Reservations for timed entry required.
$5/adult for pumpkin patch (pumpkins are $1 per lb); $15/adult for corn maze
Sanlando Pumpkin Patch
Open daily through October 31
Sanlando United Methodist Church
Come out for Sanlando's annual Pumpkin Patch, a FREE community event that features pumpkins of all colors and sizes and other fall decorations, plenty of backdrops for family photos, gourds, hay bales and more! Pumpkin Patch hours are Monday-Friday from 2-8pm, Saturdays from 10am-8pm, and Sundays from 1pm-8pm. This event is not pet-friendly.
Pumpkin prices vary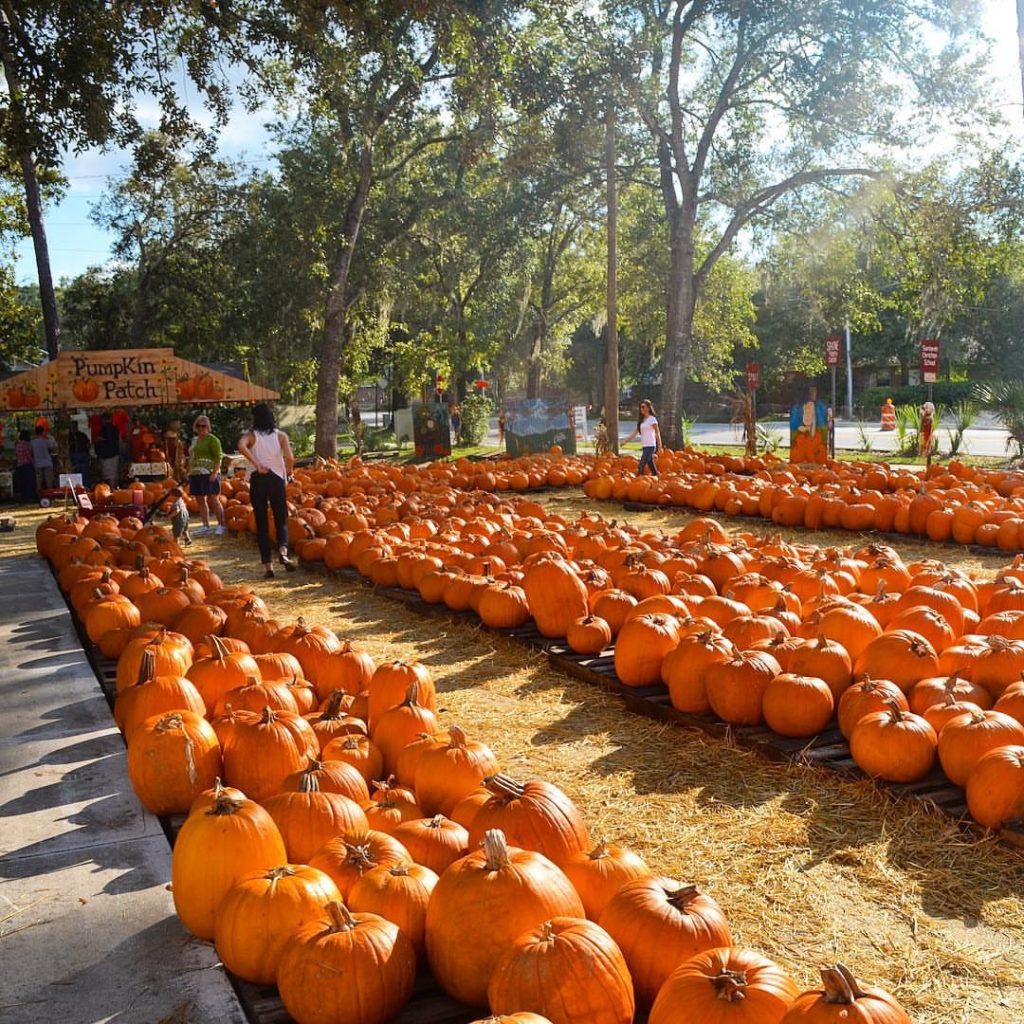 Fall at Southern Hill Farms
Thursdays – Sundays through November 8, hours vary
Southern Hill Farms
Head to the farm for one of our favorite Orlando fall festivals. Fun seasonal activities include sunflower and zinnia picking, fall eats (like apple cider donuts and hot apple cider), a pumpkin patch, fall photo ops, s'mores kits and so much more. Face masks are required when in lines, participating in activities and when social distancing cannot be maintained. Admission must be purchased online in advance. Friendly dogs on leashes welcome.
$8 – $12/person
Partin Ranch Corn Maze
Saturdays and Sundays through November 8, 10am-5pm weather permitting
5601 N Canoe Creek Rd, Kenansville
Wander through the 5-acre corn maze, check out the pumpkin patch, browse goods from local vendors, take advantage of fall photo ops and stock up on fall goodies at this annual corn maze and festival.
$10/adult
Veranda Fall Festival
Saturday, November 14, 2-6pm
The Veranda at Thornton Park
Family and pet-friendly fall festival at one of Thornton Park's best event venues! Details TBA.
Fall on the Farm
Saturdays and Sundays through November 29, 10am-3pm
Whisper Creek Farm at Grande Lakes Orlando
Enjoy family-friendly, autumn-centric activities including a hayride, pumpkin picking, and pumpkin carving and painting workshops with the resort's Olympic World Champion culinary artist and carver Victor Dagatan. Reservations are required. To reserve, call 407-206-2400 or email guestrelations.orlando@ritzcarlton.com. Read more about this fall festival here.
$35/person
18th Annual Long & Scott Farms Corn Maze
Saturdays and Sundays through December 13; 10am-5pm on Saturdays, 12-5pm on Sundays
Long & Scott Farms
The theme of this year's 6.5-acre corn maze is Farm to Table. Other event highlights include a cafe, market, food vendors and fun activities for the kiddos if you're brining the whole family. Couples will love the special nighttime maze events on October 24, 31 and November 7 from 6-10pm. Advance ticket purchase recommended.
$12/adult; night maze $10/adult
Looking for Halloween events?
Check out our guide to 20+ Socially-Distanced Halloween Events in Orlando.
Beer + Wine Events
2nd Annual PumpkinFest
October 23 – 30
Á La Cart Orlando
Celebrate the week of Halloween with an exclusive lineup of Á La Cart Orlando's favorite pumpkin beers, cider and coffee. The resident food truck vendors will also be serving unique dishes incorporating pumpkin, including a Smokin' Pumpkin Donut from Smoke & Donuts and a Homemade Pumpkin Burger from Steak it Easy.
Prices vary
Weekends at the Winery
Saturdays & Sundays through November 1, 12-4pm
Lakeridge Winery
Pack a picnic blanket and some chairs to enjoy an afternoon of wine, food trucks, complimentary wine tours, an outdoor wine bar, lawn games and more.
FREE Admission
SeaWorld Orlando Craft Beer Festival
Weekends through November 1; 3pm-close on Fridays, 11:30am-close Saturdays and Sundays
SeaWorld Orlando
SeaWorld's Craft Beer Festival features more than 100 crafts brews. Sample an unbeatable mix of domestic and local Florida favorites. Plus savor more than 20 food items expertly paired to match your preferred brew.
Theme park admission and reservation required; Sampling lanyards start at $45/person
Oktoberfest Biergarten
Saturday, October 24, 5:30-7:30pm
Walt Disney World Swan and Dolphin
An Oktoberfest-inspired party with German-themed music and tastings alongside a full selection of brews.
Event only tickets: $75/person
Staycation package: $295 includes a room and admission for two to Saturday's event
Beer 'Round Here Dinner
Thurdsay, October 29, 6 -8:30pm
Ole Red Orlando
Celebrating American Beer Day, this special evening will feature five courses of elevated, Southern-inspired Floridian cuisine by Executive Chef, Mark Boor. Each course has been expertly paired with a craft beer selection from one of Florida's top breweries, Crooked Can Brewing Company. Enjoy presentations from Chef Mark and Crooked Can as they take you on a mouth-watering journey for this one-time only menu pairing. Live Music by Mighty Swell.
$60/person plus tax & gratuity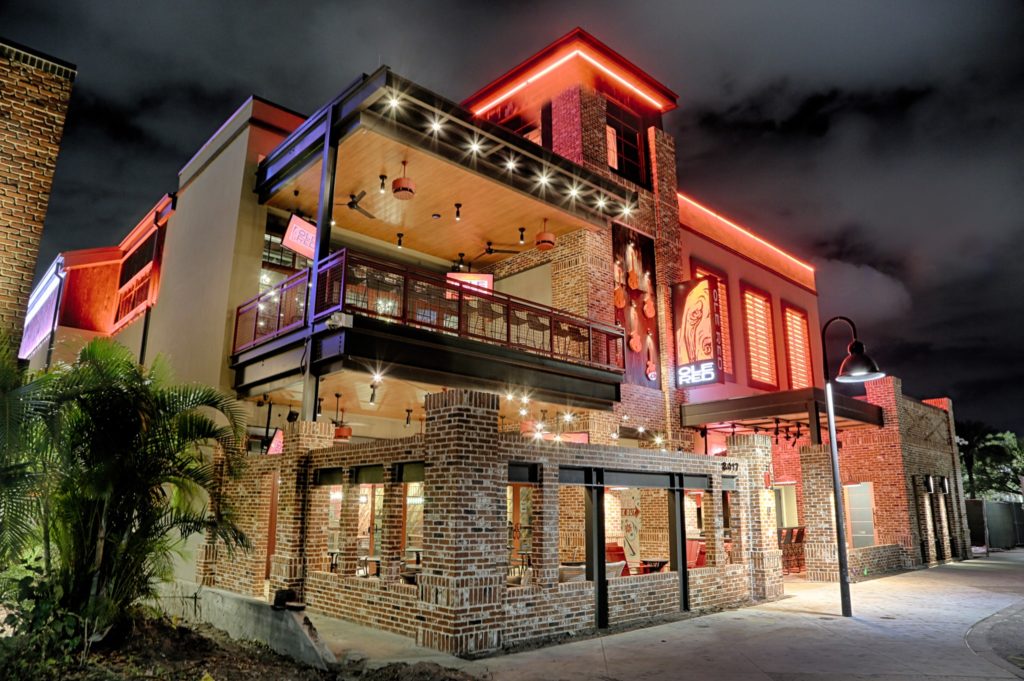 RockPitOberfest 2020
Friday, October 30, 6-11pm
RockPit Brewing
RockPitOberfest will feature 5 (or more) beer releases, Smoked Brats from Cecil's BBQ, Potato Pancakes, and more. Plus, the front parking lot will be closed off for plenty of extra outdoor seating. Contests of strength, drinking ability and costumes will be afoot.
FREE Admission
Thornton 2nd Thursday Wine & Art Walk
Thursday, November 12, 6:30-9:30pm
Thornton Park District
The monthly wine & art walk is back! Head to the Thornton Park District for tasty tastings at multiple participating bars and restaurants throughout the district, plus live music and art vendors along the way. Glass pick up is at The Circle 431 E Central Blvd (by Aku Aku Tiki Bar). Masks required.
$10/person
Foodie Happenings
Visit Orlando's Magical Dining
August 28 – October 31
Participating restaurants
Enjoy three-course, prix-fixe meals at more than 50 participating restaurants throughout Orlando. $1 from each meal will be donated to Feed the Need Florida.
$35/person
Food & Wine Weekends
Weekends, October 16 – November 22, 2020
Waldort Astoria Orlando and Hilton Orlando Bonnet Creek
Now in its 10th year, our Food & Wine Weekends event returns with an impressive menu of culinary treats. Plus, guests also enjoy continuous luxury motor coach transportation to the Taste of Epcot International Food & Wine Festival. Highlights include the Bull & Bear Chef's Table, Taste of La Luce 4-course menu, a beer garden and the much-loved Bar du Chocolate and Champagne Tasting.
Pricing varies; staycation packages available with $75 resort credit
Walt Disney World Swan and Dolphin Food & Wine Classic: Limited Edition
Friday, October 30, 5:30-8pm
Walt Disney World Swan and Dolphin
A new Food & Wine Classic experience, this event features fan favorites from the well-known Walt Disney World Swan and Dolphin Food & Wine Classic in a more intimate setting. Enjoy VIP access, unlimited beer and wine samples, endless food samples and more. Event capacity is limited to 200 people and each party will have a reserved table for the night.
Event only tickets: $110/person
Staycation package: $395 includes a room and admission for two to Friday's event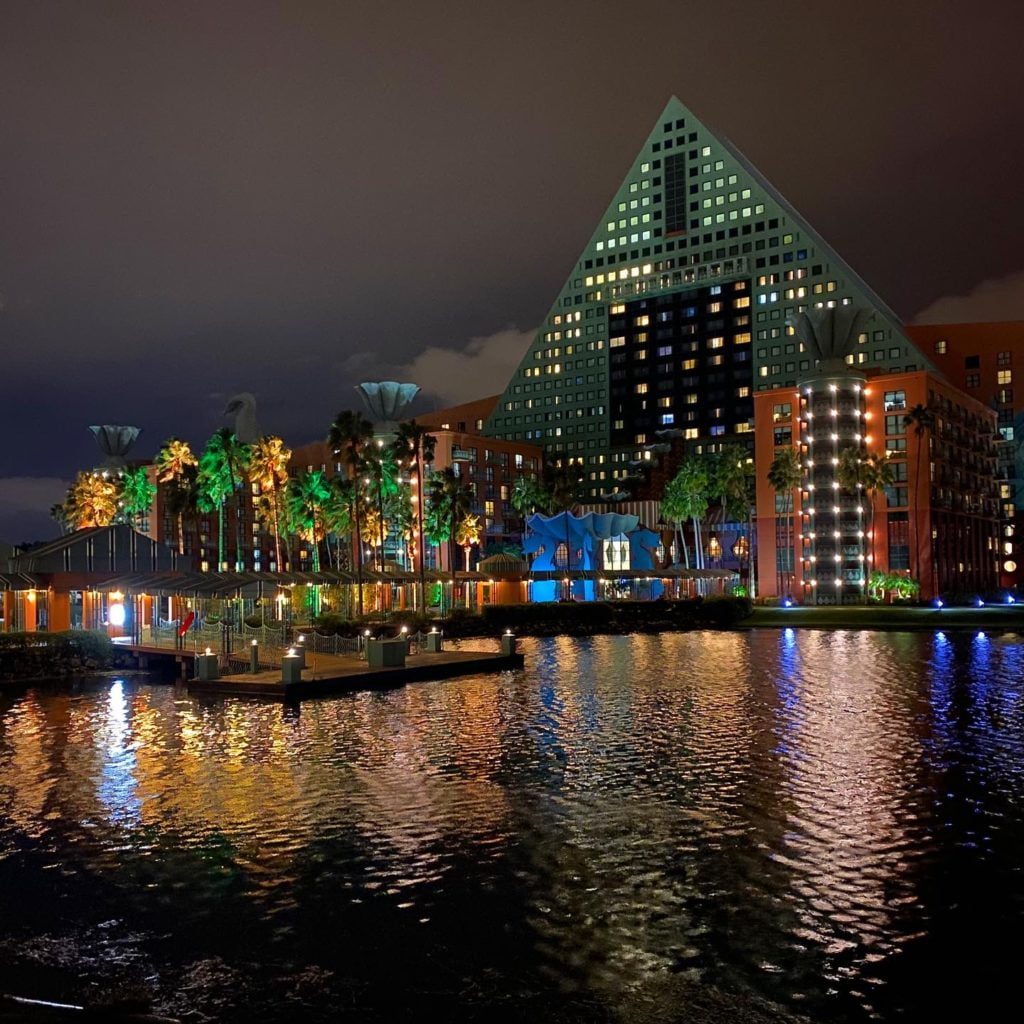 Flavors of Fall Wine Tasting & Food Pairing
Saturday, October 24, 6-7:30pm
Luisa's Cellar
Fall is here and harvest season is the perfect time to introduce new flavors and revisit favorite dishes. Taste 4 wines perfectly paired with 4 plates as we celebrate the autumn flavors. Only 26 seats available to provide social distancing. You will be charged $10 at check out and the rest will be paid the day of the event along with the gratuity for the full amount.
$30/person
A Picnic in the Gardens
Saturday, November 7, 11am-12:30pm
Bok Tower Gardens
Join Pam Brandon, Katie Farmand and Heather McPherson, editors of "Good Catch" and "Field to Feast" Florida cookbooks for a cooking demonstration for the perfect Florida fall picnic. Sip a cocktail (alcoholic or non-alcoholic) while you watch the demo. Then head out into the gardens with your own picnic for your family and friends and enjoy a picnic in the gardens. All you'll need are chairs or a blanket!
$35/person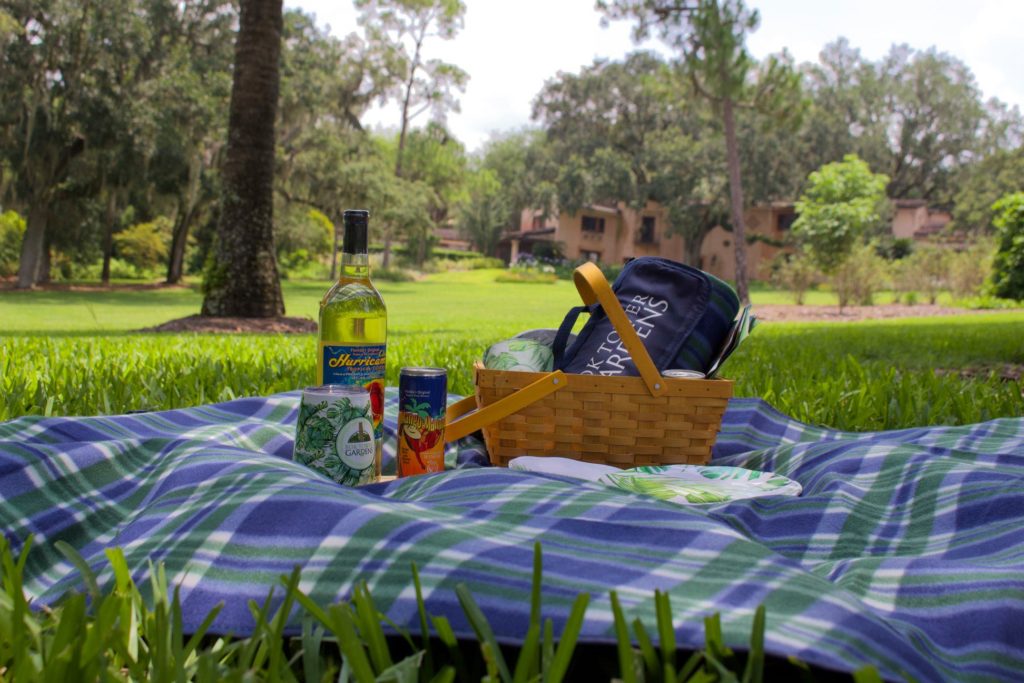 Pompeii's Table Dinner Series – Imperial Rome Reinvented: Inspired By Ancient Italy
Wednesday, November 11, 7pm
Ravello at Four Seasons Resort Orlando
Pompeii's Table is a series of culinary and artistic events produced by Joseph Hayes and The Company of Eccentric Beggars supporting, and supported by, the exhibit Pompeii: The Immortal City Coming to Orlando Science Center October 26, 2020 – January 24, 2021. For the Pompeii's Table project, a baker's dozen of Orlando's most inventive chefs, culinarians and creative artists have been given a list of ingredients used by cooks in 1st century Pompeii and must "limit" their creations to that inventory. Executive Chef and Italian native Fabrizio Schenardi will prepare a 4-course dinner, offering today's version of an ancient Patrician banquet. Seating limited to 75 diners.
$125/person
FusionFest
November 28 – 29
Seneff Arts Plaza (in front of Dr. Phillips Center for the Performing Arts)
Cultures from all across the world will fill the Seneff Arts Plaza in front of the Dr. Phillips Center for the Performing Arts and Orlando City Hall Commons Plaza for the free, two-day festival, which draws people from more than 110 different cultures to experience music, dance, food, visual arts, spoken word, games and interactive activities and features over 1,000 local artists, who will perform and showcase their work on the stages, gallery and interactive installations at FusionFest.
FREE Admission
Pompeii's Table Dinner Series -Antiqua Cervisia: Reviving Ancient Ales
Wednesday, December 2, 6-8:30pm
Redlight Redlight Beer Parlour
Pompeii's Table is a series of culinary and artistic events produced by Joseph Hayes and The Company of Eccentric Beggars supporting, and supported by, the exhibit Pompeii: The Immortal City Coming to Orlando Science Center October 26, 2020 – January 24, 2021. Pompeii's Table consulting chef Jes Tantalo joins forces with Redlight Redlight head brewer Brent Hernandez to present a week of Pompeiian snacks and wines highlighted by a dinner on Dec 2, inspired by Pompeii's historically available ingredients and traditional processes. The dinner features five paired courses featuring Southern Italian wine and vintage ales opposite hand-crafted small plates, reflecting Jes's remarkable talent for flavors and Brent's dual loves of history and beer. Seating limited to 20 diners.
$75/person; call 407-893-9832 for reservations

Pompeii's Table Dinner Series – La Tavola Reinvents Saturnalia
Sunday, December 13, 7pm
Edible Education Experience, 26 E King St
A pioneer of the local and seasonal food scene in Orlando, Chef Kevin Fonzo recreates the ancient Pompeiian holiday feast of Saturnalia in his own inimitable style, full of food and holiday merriment. Seating limited to 28 diners.
$95/person; bring your favorite wine
Disclosure: Some, but not all of the events listed here are hosted by our valued advertising partners. Learn more about advertising with us.
Feature image credit: Southern Hill Farms