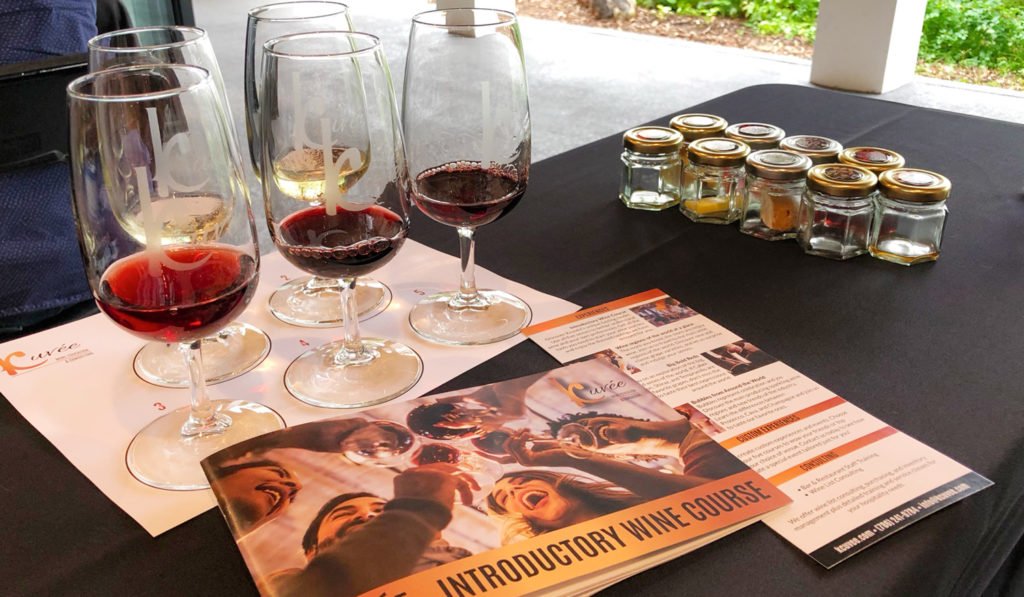 Whether you consider yourself a bit of an aficionado or just an enthusiastic consumer of wine, there's something for every wine lover to enjoy during the new wine courses in Orlando being offered by Kcuvée.
Founded by friends Katie Bean and Carolina Marin, this new Orlando wine school aims to bridge the gap between casual tastings and more formal wine education. The result is an engaging and informative wine education experience that's perfect for date night. You've even got the option to add on a multi-course meal from local chef Kevin Fonzo after the tasting for an extra $49/person, which I highly recommend.
Courses are currently hosted monthly at the Emeril Lagasse Foundation Kitchen House & Culinary Garden in College Park.
INTRODUCTORY WINE COURSE EXPERIENCE
Beginners can start with the Introductory Wine Course. This intro course focuses on how to properly taste wine, highlights different wine regions and varietals, and dabbles in wine theory and process. From there, expand your palate with additional courses focused on bubbles, bold reds, French wines and more.
I attended the Introductory Wine Course during a recent hosted visit and loved the experience. Upon arrival, you're greeted with a glass of welcome bubbles while you sign in, fill out a name tag and pick your seat. The main space features retractable glass doors overlooking the garden that can be opened fully to the fresh air.
Each socially-distanced station is equipped with a workbook for taking notes, scent jars to help you identify aromas, glasses, a bottle of water and hand sanitizer.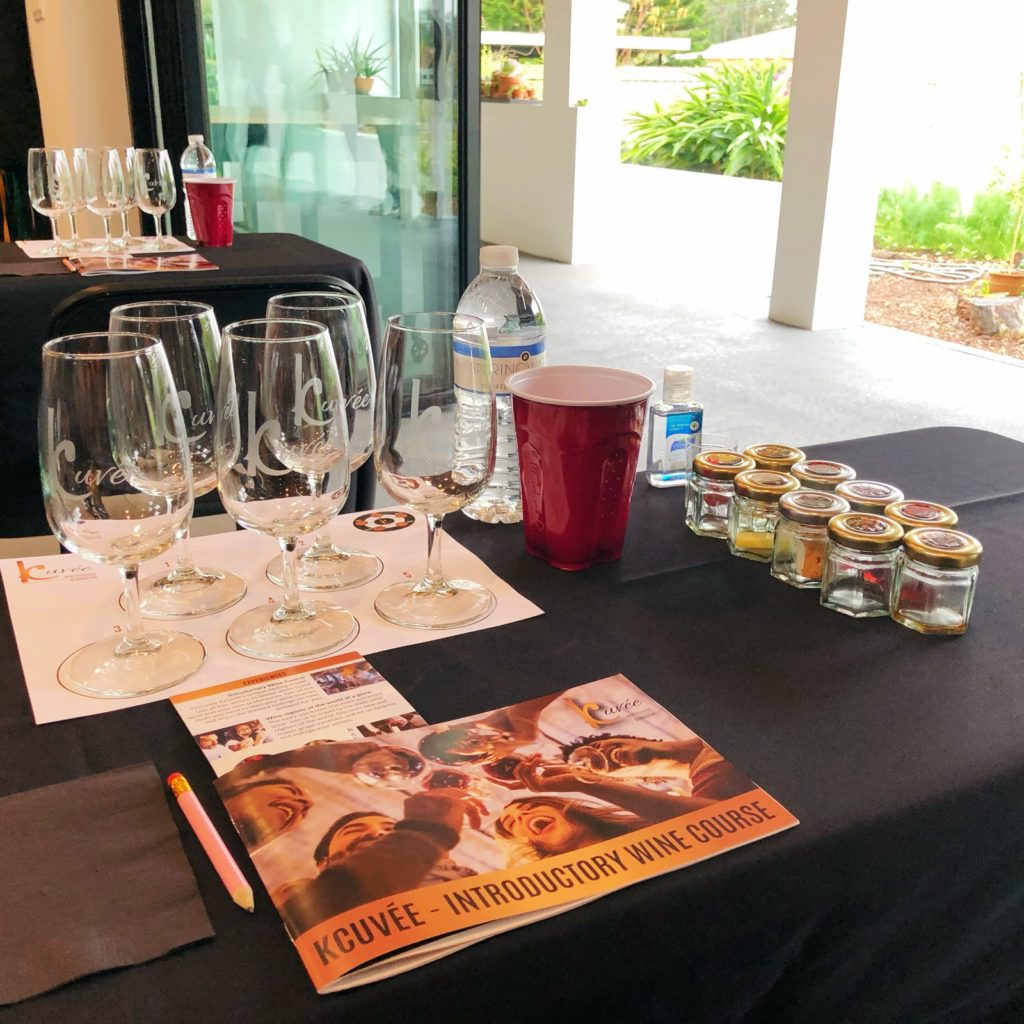 Kcuvée's signature is a five senses approach to wine tasting. You'll learn to assess the color of the wine you're drinking and engage your nose to pick up on primary, secondary and tertiary aromas. Touch focuses on temperature, while unique hands-on learning experiences, like a fun grape tasting, teach you which parts of your tongue taste sweetness, acidity, bitterness and tannins. And in the case of bubbles, you'll use your sense of sound.
The intro wine course features 5 unique wines. We tasted a Sauvignon Blanc, Chardonnay, Pinot Noir, Cabernet and Rioja.
Each course lasts for just under 2 hours. Following the course, you can opt to add on a multi-course dinner for an additional fee.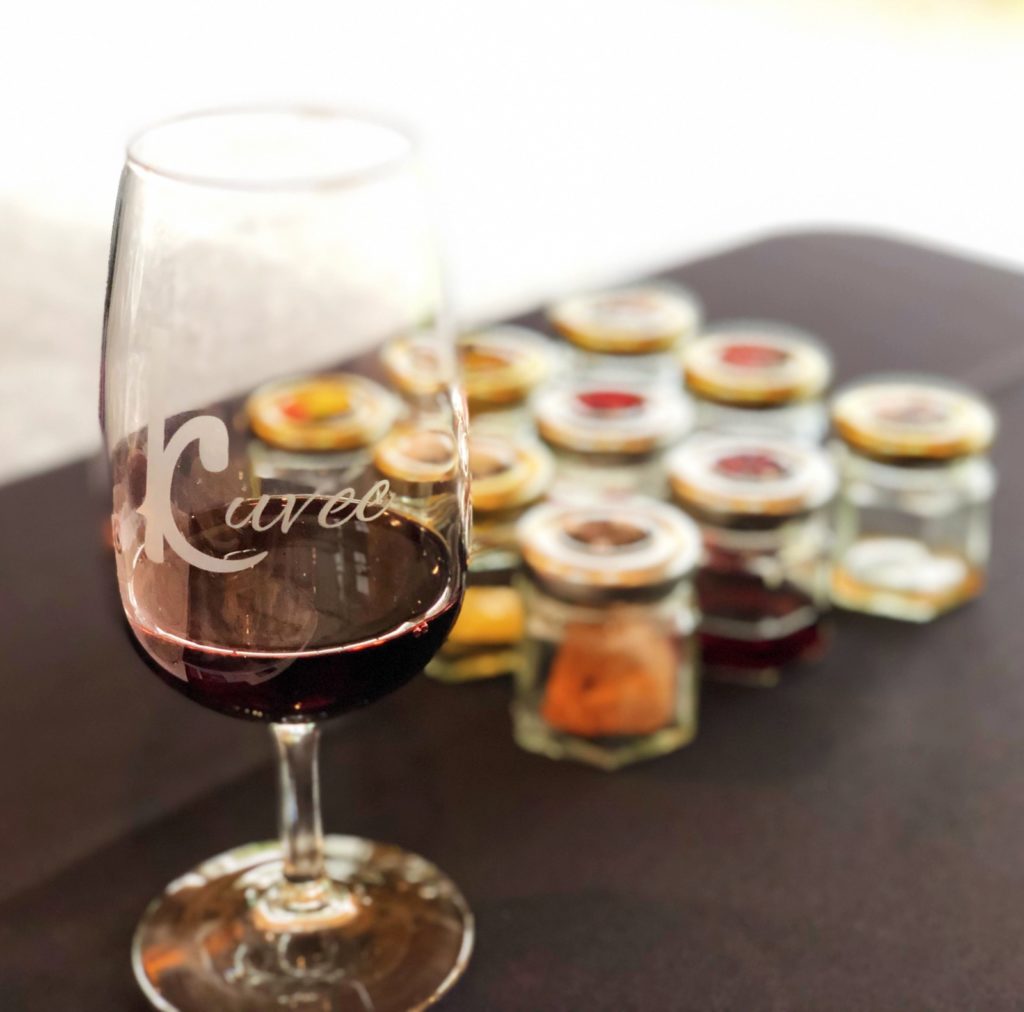 \
DINNER
Food is not offered during the wine courses because it can alter the taste of each wine. However, after sipping 5-6 different wines, you're likely to be hungry after the course. Lucky for you, Kcuvée has teamed up with Chef Kevin Fonzo to offer a post-course dinner for $49/person.
Dinner is a multi-course affair, featuring a variety of scratch made hearty Italian dishes. I gobbled up a mini cheese plate, Tuscan bean soup, bitter green salad, and gnocchi. A delicious cannoli ended the meal on a sweet note.
If you'd like to add dinner to your experience, check the box for the dinner add-on when signing up for your chosen wine course online.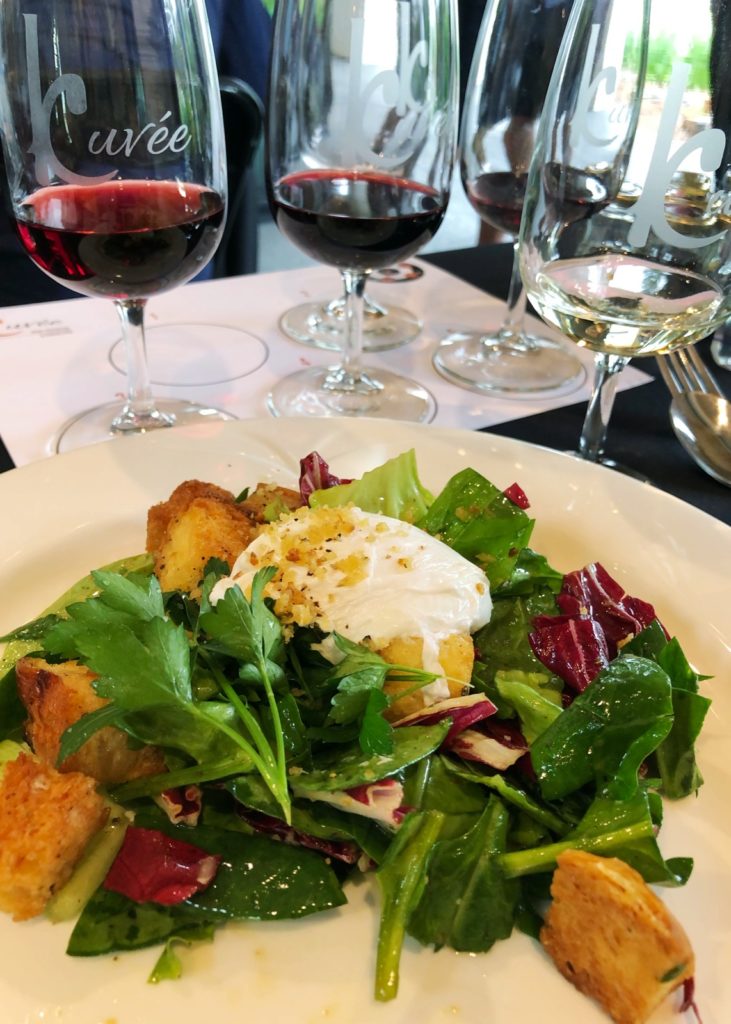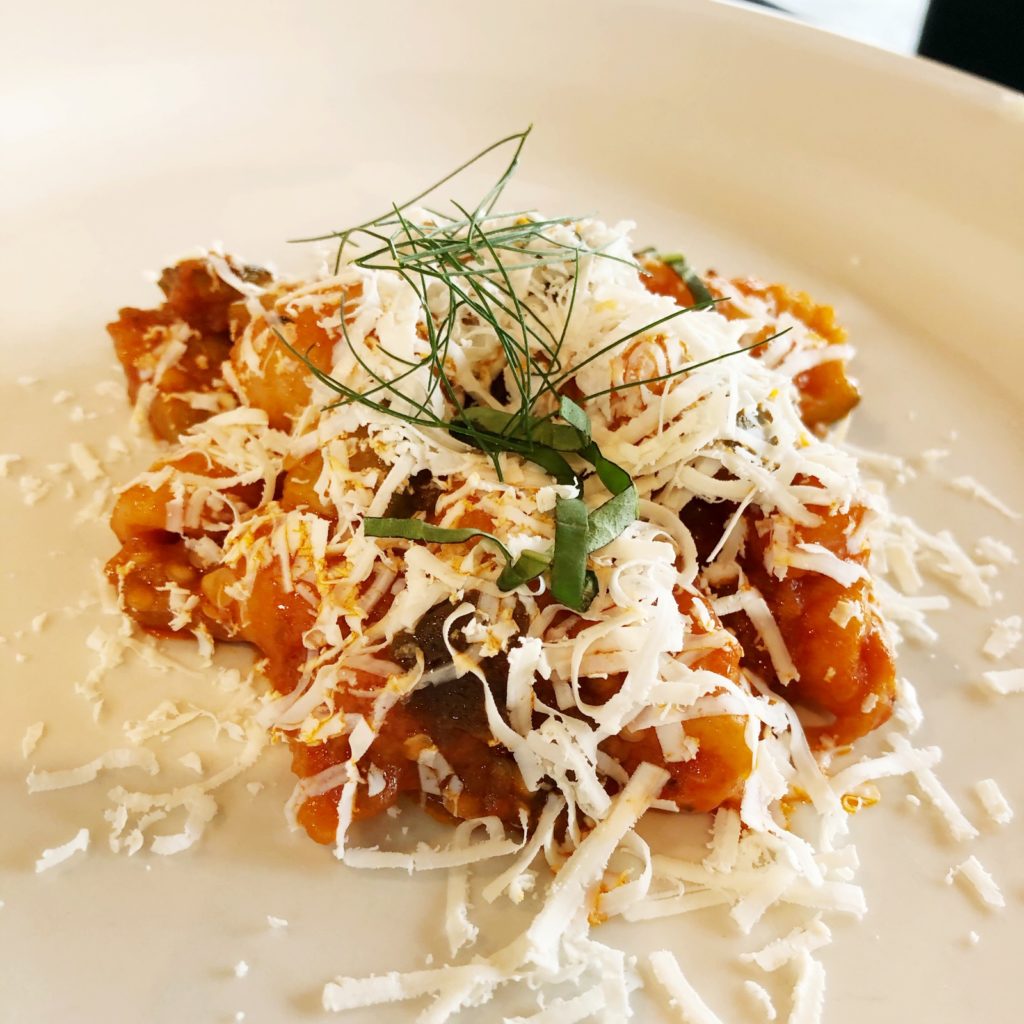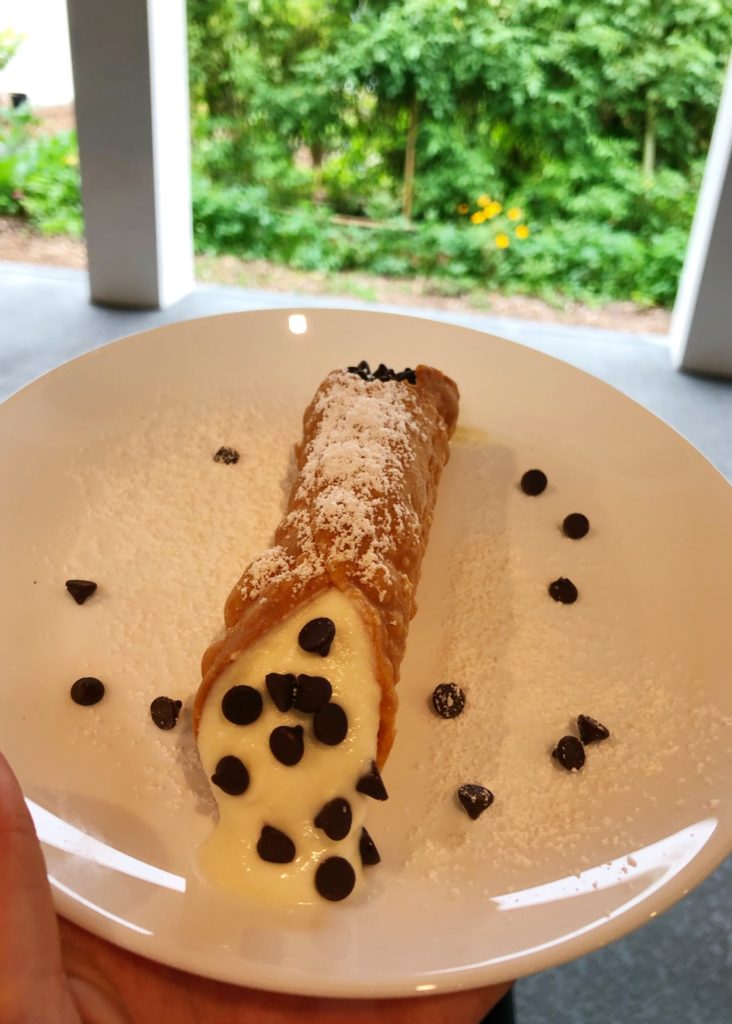 UPCOMING KCUVÉE WINE COURSES in Orlando
Bubbles from Around the World
Bubbles represent celebration and joy. Discover the main producing sparkling wine regions of the world and new trends of the industry. Learn the differences between Prosecco, Cava and Champagne and join us to taste our favorite ones.
$200/person; $49/person additional for dinner add-on
Saturday, February 13, 5:30pm
Introductory Wine Course
Employing all five senses, Kcuvée brings the terroir of the world to you through an experiential, tactile wine education experience. Discover unknown grapes, learn the stories behind the labels, and most importantly, discover what you truly enjoy so you won't have to punish your palate again.
$125/person; $49/person additional for dinner add-on
Saturday, February 13, 11:30am
Thursday, March 4, 5:30pm
Saturday, April 10, 5:30pm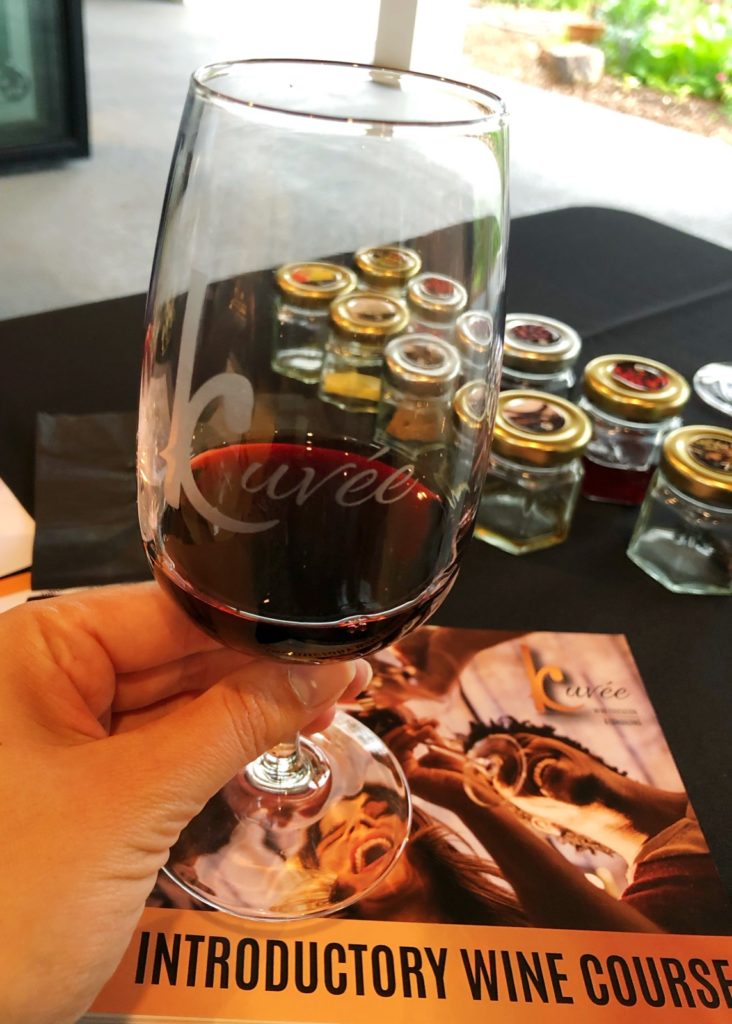 France Discovered
Discover what has made France the ultimate wine country. Unveil the mystery behind French wine labels and become a connoisseur. Learn the history of Kcuvee's favorite wine regions in France: Bordeaux, Burgundy, Alsace, Beaujolais and Rhone. We recommend completing the Kcuvée Introductory Course to take this class.
$150/person; $49/person additional for dinner add-on
Saturday, March 20, 5:30pm
Wine Regions of the World
The more you know, the more you enjoy wine. Join us to travel to the main wine regions of the world. Discover new and classic grape varieties, and let us surprise and indulge your senses. We recommend completing the Kcuvée Introductory Course to take this class.
$125/person; $49/person additional for dinner add-on
Thursday, April 22, 5:30pm
For full details and to purchase tickets to Kcuvée's upcoming wine courses in Orlando, visit kcuvee.com.
Disclosure: Kcuvée provided this experience at no cost to the writer.