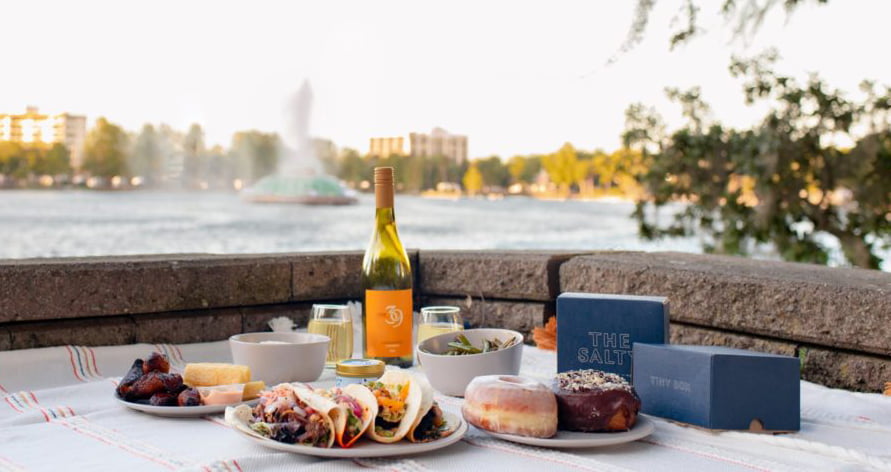 This past year taught us many lessons. One such lesson is how to get creative with your date night routine. Whether you're ready to head back out and enjoy some normalcy, or still keeping things low key, Pig Floyd's monthly date night kit deal makes for a fun to-go date night together.
I was recently invited to try it out on behalf of Orlando Date Night Guide, and I am happy to tell you it is as wonderful as you would imagine.
How it Works
On the second Saturday of each month, Pig Floyd's offers a special date night deal for couples.
Each kit costs $44.99 and includes four tacos, three sides, two beers or one wine (equal to two glasses) plus two desserts from a local bakery (rotating each month).
But wait, there's more! Each kit also includes a small scented candle from The Solo Candle Co. and a card with cheeky conversation starters. You'll also get disposable plates and utensils in case you want to set up a picnic.
You can choose any combination of sides and tacos regularly offered at Pig Floyd's. You also get to select which two beers you'd like from the beer case. If you opt for wine, it comes in a small bottle that equals two glasses of wine. Mix and match flavors to try something new together.
You can preorder your Date Night Kit from Pig Floyd's by calling 1-833-PIG-LOVE. There is limited same day availability, so I recommend ordering yours in advance to avoid any disappointment. You can pick up your kit for takeout, or if you'd like to enjoy it there instead, just let the staff know so they can set it up for you.
Check Facebook for upcoming date night kit details.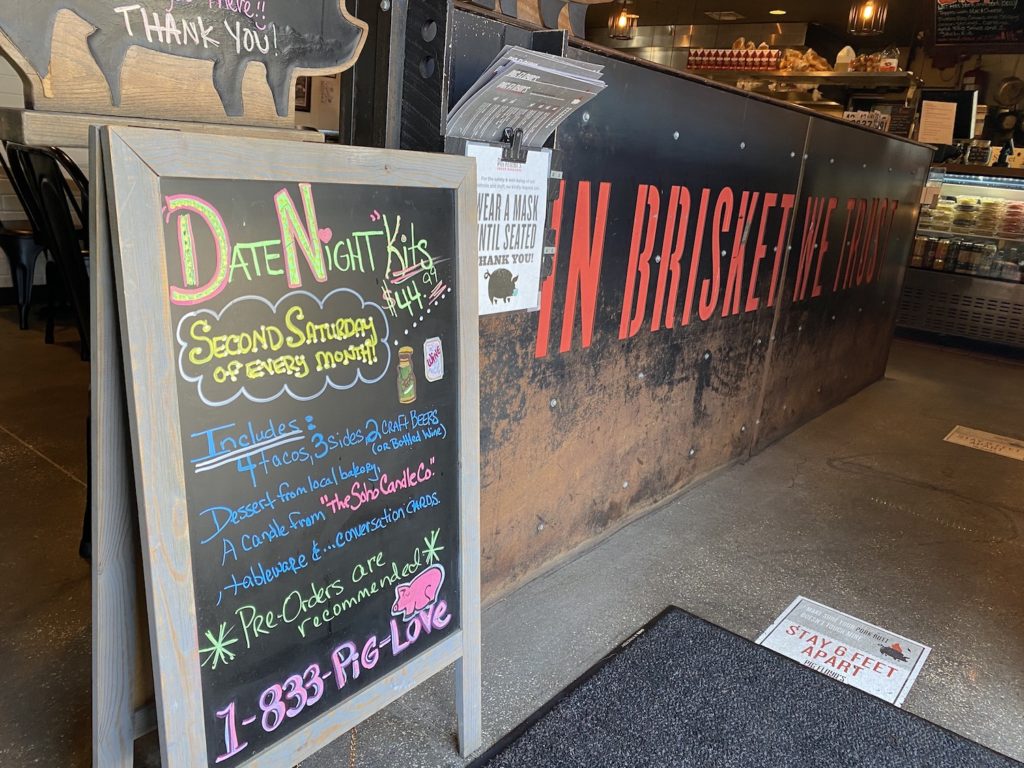 Pig Floyd's Monthly Date Night Kit Review
I picked up my date night kit on a day that my husband had to work unexpectedly. We both work long hours, and schedules can change quickly, which is why our date night routine is so important.
The team at Pig Floyd's plated everything for me first so I could get some good photos before packing it up neatly in to-go boxes. It all looked so delicious.
I decided to order two of the Pork Belly Tacos and two of the Chicken Al Pastor Tacos. I am proud of myself for patiently waiting to dive into these tacos until my husband got home.
The Pork Belly Tacos shined as the star. Pig Floyd's is known for these tacos specifically and it is no surprise. The pork belly is deep fried, making it succulent and indulgent. Then toppings of peanuts, scallions, citrus peanut slaw, and Lucky Dragon Sauce are piled to the brim of each flour tortilla. I had to reheat these in our air fryer and the quality stayed perfectly in tact. Order at least one of these tacos!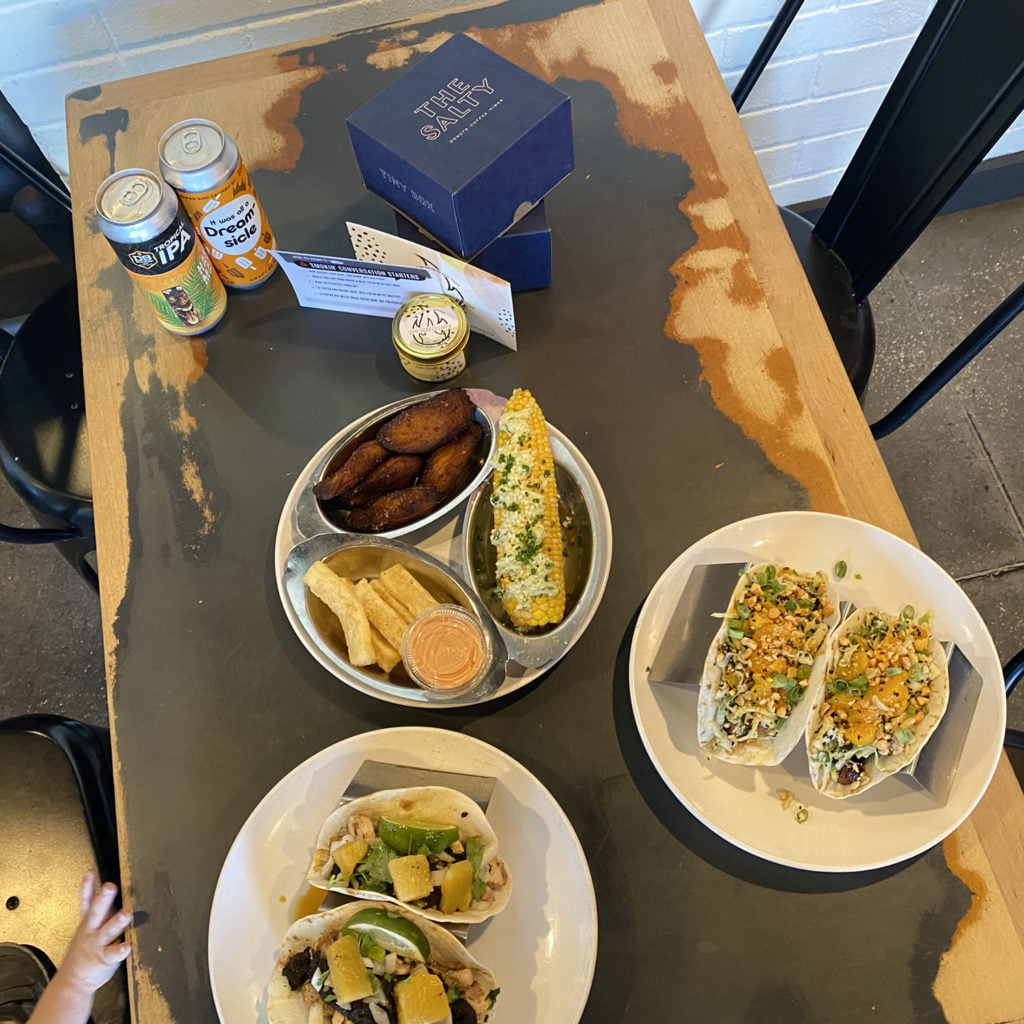 For sides I selected Sweet Plantains (Maduros), Yuca Fries, and Street Corn. Not a single side disappointed, although I wish the Yuca Fries had been a slightly larger serving. I don't know what Pig Floyd's does to their Sweet Plantains to make them so sinful, but the slightly crispy exterior is addicting.
The Date Night Kit we received included two donuts from The Salty Donut, which has created tons of local buzz since opening in Audubon Park. We split one donut that night for dessert, and held onto the second one for breakfast the next morning. Just one bite was all it took to understand why so many people are raving about these donuts. The dessert selection rotates monthly to feature different local bakeries and sweet shops.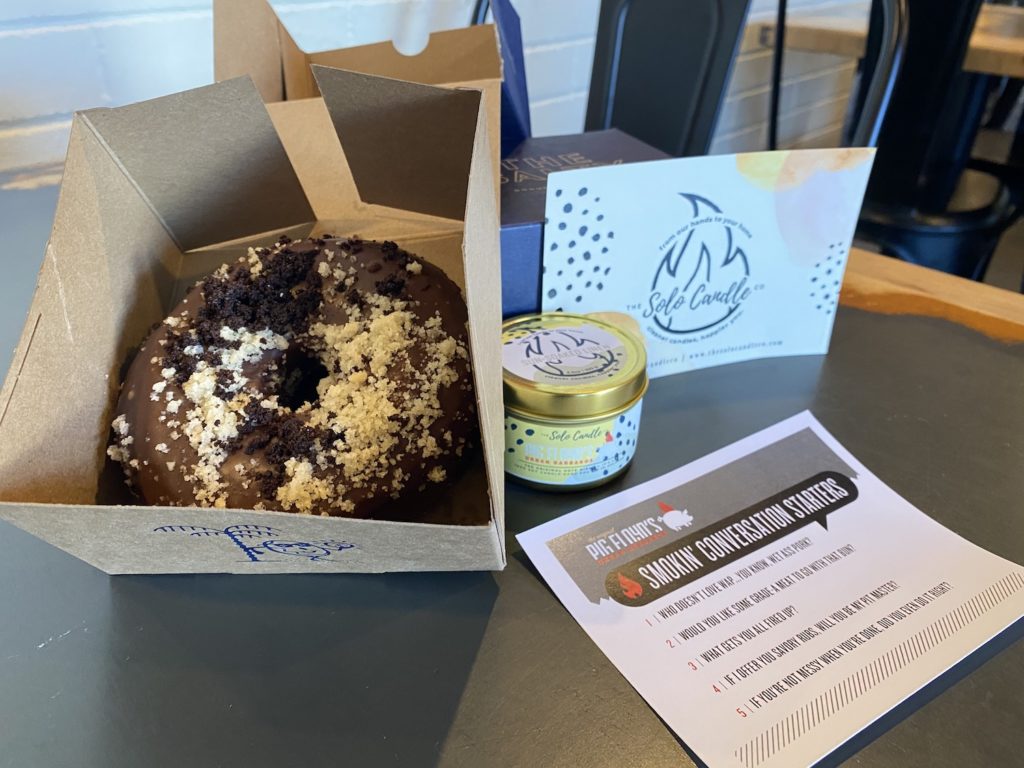 We haven't even talked about the beer yet! Each kit comes with your choice of two craft beers or a half bottle of wine. The wide variety of craft beer available impressed me. There's craft beer from local breweries as well as around the country. You're sure to find something special and unique.
With so much food and goodies for $44.99, the Date Night Kit is a good value. Showcasing local flavors and food that's fun to eat, it is a special way to create a casual date night, with minimal effort. This just might become a monthly tradition in our household.
Nearby Parks for a Picnic
If you want to enjoy your Pig Floyd's date night kit as a picnic, there are a number of parks near the Mills 50 area.
I recommend Mead Botanical Garden in Winter Park. It is just five minutes down the road from Pig Floyd's. Most visitors to Mead Gardens tend to park in the main parking lot at the back of the park, near the small amphitheater. There are some picnic areas back there, but many more are available at the front of the park among towering pines and palm trees. Also in the front of the park you can explore winding paths among intimate gardens.
If you'd rather enjoy an urban park, then take a ten minute drive over to Lake Ivanhoe Park. Surrounded by Ivanhoe Village, which is well worth exploring after your picnic, Lake Ivanhoe Park has a great urban feel. And yet, with the sparkling lake and towering cypress trees, it offers a natural respite among the energy of downtown Orlando.
For something tranquil and serene, consider Dickson Azalea Park. Less than a ten minute drive from Pig Floyd's you'll find lush landscaping and a charming bridge. This is a popular photography spot, so consider dressing for the occasion and make it a picnic plus photoshoot date together.
Check out our picnic guide for more ideas.
Details
Pig Floyd's monthly date night kit is available on the second Saturday of each month.
The cost is $44.99/couple and includes four tacos, three sides, two beers or two glasses of wine and two desserts from a local bakery. You'll also get a scented candle and conversation starters, plus utensils.
Place your order in advance by calling 1-833-PIG-LOVE.
---
All images by Dani Meyering unless otherwise noted
Feature image credit: Pig Floyd's