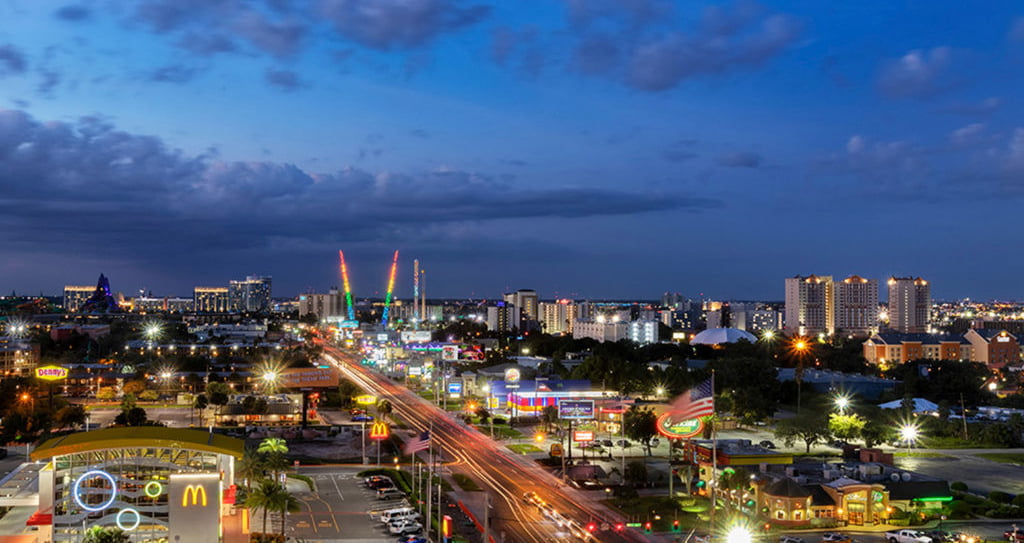 International Drive isn't just for tourists. It's a playground for locals, too, thanks to a host of fantastic restaurants, walkable entertainment complexes, exciting attractions and a constant stream of new additions. And now is the perfect time to visit and play before summer tourists arrive. We checked in with our partners at the I-Drive District to get the scoop on what's new on I-Drive for locals. Check out all of the details below on new I-Drive restaurants and attractions, an in-progress transformation of Pointe Orlando, what's reopening and so much more.
New Restaurants and Reopenings
Brand New Places to Brunch
Soak up the coastal vibes while sipping on a frosé bellini at The Hampton Social, a brand new addition to Pointe Orlando on I-Drive. This stylish eatery marks the beginning of a total transformation of Pointe Orlando, complete with comfy patio furniture, neon signs, photo ops galore and a spectacular menu to match. Brunch is perfect for a girls' day outing or casual date. Did we mention there's live music? The menu features exclusive brunch dishes, cocktails AND mocktails alongside some favorites from the regular dinner menu.
While not a new restaurant, The Pub (located at Pointe Orlando) debuted a new brunch menu earlier this year, available Saturdays and Sundays. Menu highlights include a British Skillet (piled high with bangers, mushrooms, tomatoes, cheddar cheese, roasted potatoes and house-made sausage gravy), and the 'Hold the Hangover Bowl' with scrambled eggs, a biscuit, cheddar cheese, chopped bacon, and sausage gravy with roasted potatoes. Mimosas come in multiple flavors and are $7 each or $14 for a carafe.
Lastly, Bronze Kingdom is a newly-opened art museum showcasing an important spectrum of African bronze, beaded, and wood sculptures from all over the continent. The gallery's on-site Serengeti Restaurant and Bar serves authentic African epicurean cuisine. Feast on dishes prepared by Executive Chef Fitz Campbel and Executive Sous Chef Linda Kong, as well as award-winning Party Chef Dionna Hurt. Brunch is served Sundays and yes, bottomless mimosas and sangria are available.
Read about more places to do brunch on I-Drive here.
Restaurants Reopening + New Restaurants on I-Drive
It's been a tough year and a half for our local restaurants. Get out and show your support by dining at a new or recently reopened restaurant.
One of our favorites along I-Drive is Marlow's Tavern, which just reopened its Pointe Orlando location to diners on April 22, 2021. Along with the news of the reopening, Marlow's also debuted a brand new happy hour menu exclusive to the Pointe Orlando location. The menu includes an assortment of $5 bites and drink specials under $5. Happy hour is available daily from 4-6pm. Also at Pointe Orlando, Cuba Libre has reopened for dining and dancing as of July 2021.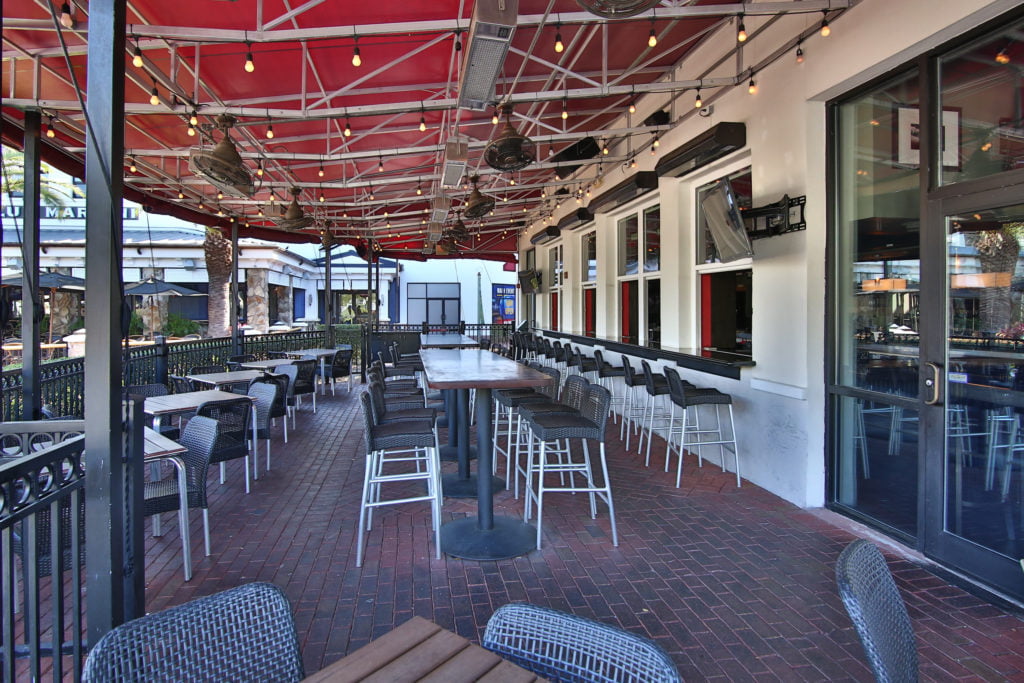 Want to dine somewhere totally new? KAVAS Tacos + Tequila, a Mexican restaurant, is slated to open in Fall 2021. This will be the third dining concept for restaurateurs Katerina and Vassilis Coumbaros, who also own Taverna Opa and Tapa Toro (both wonderful date night spots in their own right).
---
New Attractions
Jurassic World VelociCoaster
Calling all Jurassic Park fans! Universal Orlando just announced that the much-anticipated new Jurassic World VelociCoaster will officially open on June 10, 2021. This roller coaster will reach speeds of up to 70 mph, sending riders along a 4,700 feet trek of ruthless coaster track. Some other features include a "top hat" that will propel riders 155 ft into the air before a deep plunge at an 80-degree drop. Plus for all you Jurassic Park fans, you can expect this coaster to provide an original story based on the popular Jurassic World franchise, as well as characters that you're sure to recognize throughout the ride.
Bronze Kingdom
Bronze Kingdom just opened up to the public in December 2020. You'll love strolling through the extensive collection of amazing African statues and art. Everything is made out of bronze and has been collected directly from African leaders by philanthropist and entrepreneur, Mr. Rawlvan R. Bennett, over the course of 37 years. Bronze Kingdom offers guided tours and self-paced walkthroughs. This is a great date for learning something new and seeing some amazing art.
More new attractions:
Museum of Illusions opened earlier this year at ICON Park and is the perfect spot for quirky selfies together
Later this summer, get your adrenaline pumping on the new 430-foot tall ICON Park Drop Tower and the 450-foot tall ICON Park Slingshot
SeaWorld Orlando's new Ice Breaker coaster is anticipated to open in 2021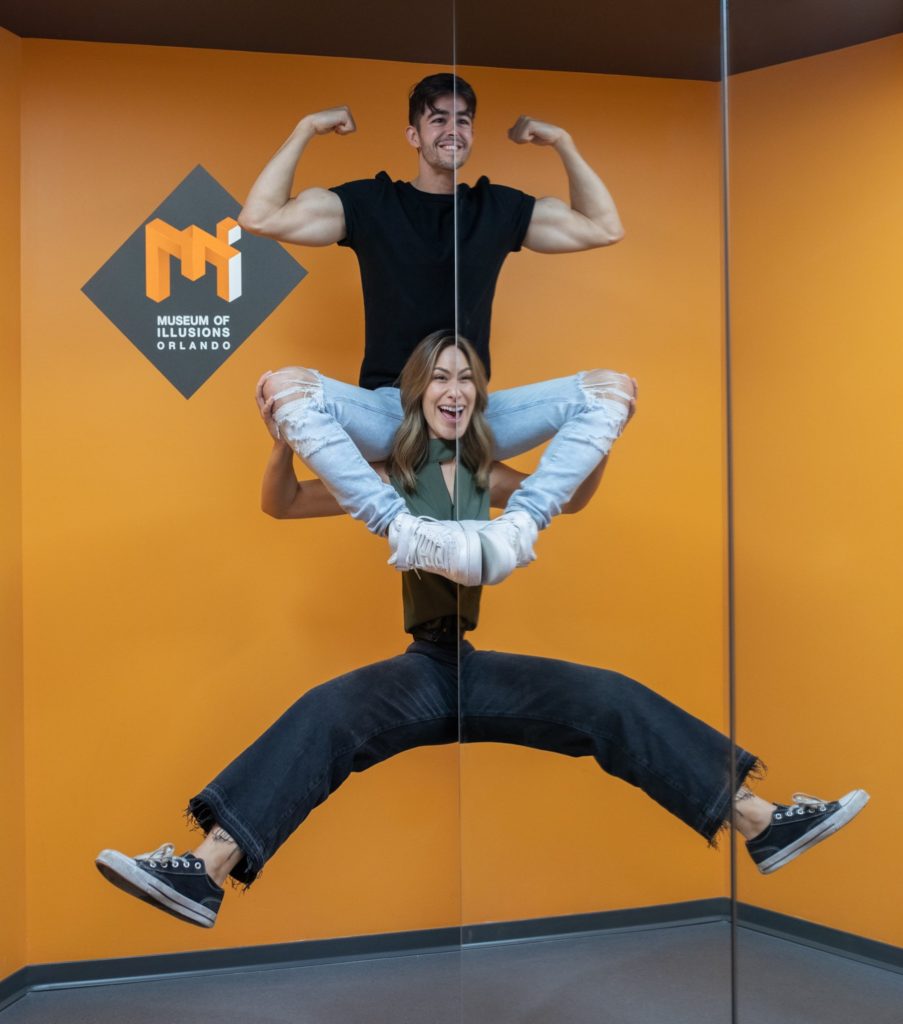 ---
Pointe Orlando Renovation
Pointe Orlando has been undergoing a $32 million redevelopment project that started earlier this year. When complete, it will include The Link, a new 100′ passageway; escalator; gathering space; upgraded valet areas; new landscaping & signage, and more. The project is expected to be completed in 2021. If it's been awhile since your last visit, now is the perfect time to go and check out some of the new digs. New restaurants like The Hampton Social are already adding a fresh vibe alongside old favorites.
Standbys like the Regal Pointe Orlando 4DX & IMAX reopened just a few weeks ago, just in time for some anticipated summer blockbusters debuting exclusively in theaters. If you've never been, this theater is unique due to the 4DX experience, which immerses you into the action with motion activated seats and more interactive sensory experiences.
---
New Entertainment
Couples who play together, stay together! In The Game is a new out of the ordinary arcade that has pioneered a whole new kind of play, creating a completely immersive gaming experience unlike any other. Located inside of The Wheelhouse at ICON Park, step into transformative worlds that will challenge and delight all ages. Highlights include everything from digital diversions to real-world and interactive play-lands.
More new entertainment:
Dezerland Action Park opened an indoor arcade and indoor go-kart track in December of 2020
Main Event Entertainment, located at Pointe Orlando, is expected to reopen this June
---
To stay up to date with what's new on I-Drive, visit internationaldriveorlando.com. Follow the district on Facebook and Instagram for more ideas.
Disclosure: The I-Drive District is one of our valued advertising partners.