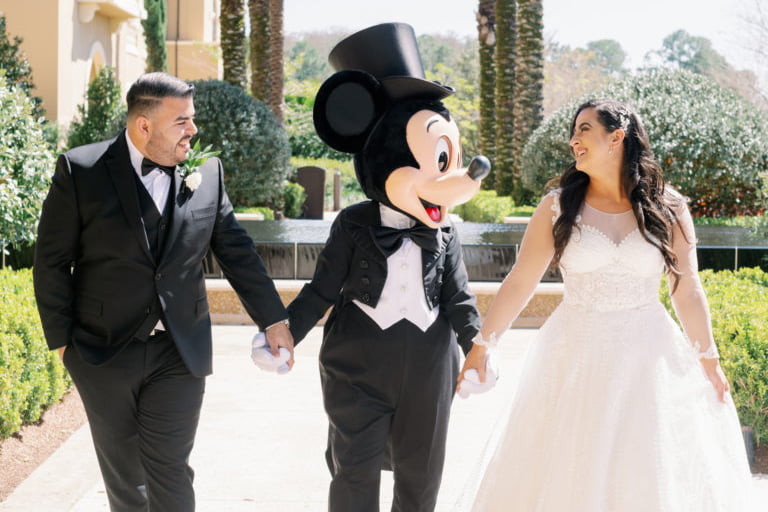 Run by Stephanie, an Orlando local and Disney expert, @datingindisney is full of ideas for your next Disney date. Engaged and married on Disney property, Stephanie shares her best Disney date tips for keeping love alive as adults in the theme parks. She is on a mission to share that Disney is for grown ups, too!
Instagram is our favorite social media platform, so we've launched a series to showcase some of our favorite Orlando Instagrammers. Periodically, we choose a different local digital storyteller to feature. We love following them and we hope you will too! This time we put a spin on our usual feature because our guest, Stephanie, has created a community on the new-ish social media platform, TikTok, along with Instagram. Follow her on Instagram and TikTok to keep up with her daily park adventures.
Here are some of her best Disney date tips and ideas!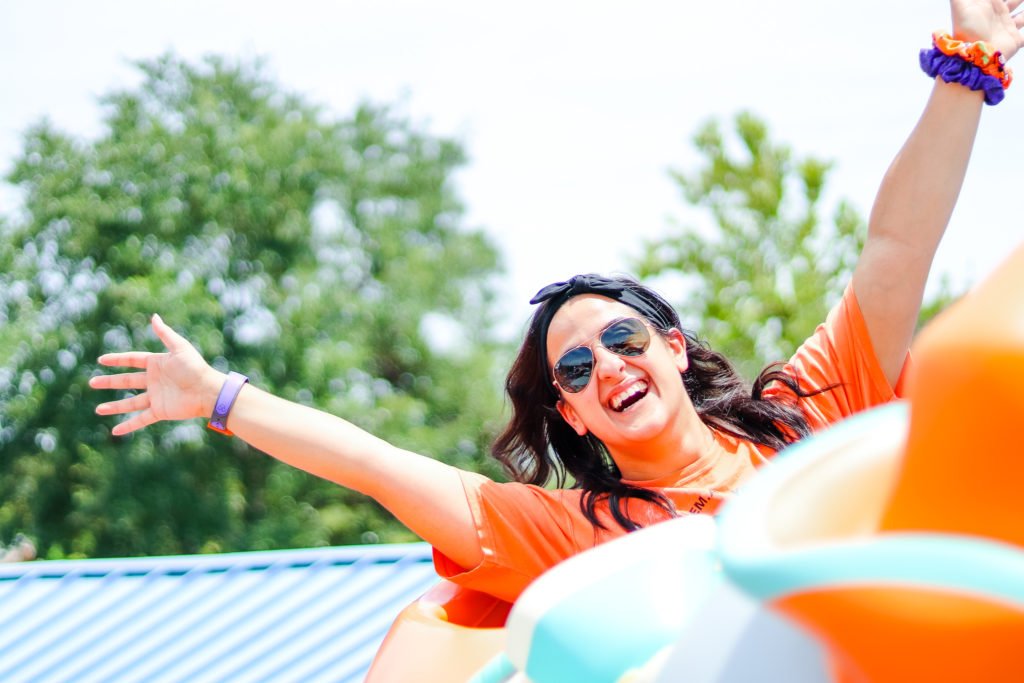 Many people know about drinking around the world at EPCOT, but there is another fun way to grab a drink on Disney property that does not require a park ticket.
The Contemporary, Grand Floridian and Polynesian Resorts are all connected by the monorail loop. Each of these resorts has multiple bars and restaurants. Start at The Wave in the Contemporary Resort with a cocktail and cheese board for a strong start. Next, hop back on the monorail to the Polynesian. Head to Tambu Lounge and try their impressive Lapu Lapu drink which is served in a whole pineapple. Finally, loop around to the Grand Floridian. The Enchanted Rose is a gorgeous Beauty and the Beast themed bar. The drinks are fancy and the vibe is romantic. It makes for the perfect ending to your bar crawl date night.
*Note: Polynesian stop is temporarily unavailable
Situated on top of the Contemporary Resort, this magical restaurant offers sweeping views of the Magic Kingdom. Known for it's delicious food and romantic atmosphere, California Grill is popular date night spot for good reason. Make sure to make a reservation in advance for this hot spot. When fireworks resume, try to book your reservation to fall within the fireworks time as they will pipe in the music from the parks to the restaurant and you will be able to see the show without leaving your table. If you are unable to get a reservation during the fireworks, you can return to California Grill with your dining receipt to watch the fireworks from the restaurant's observation deck.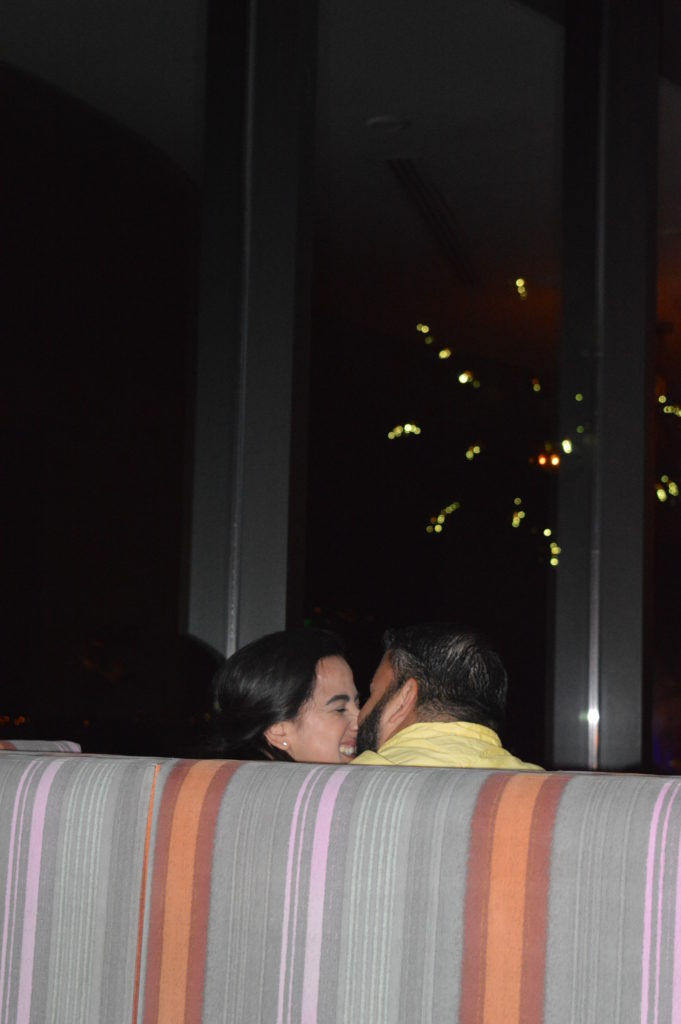 Date Night Dining Tip
Reservations are highly sought after on Disney property and often times it can be a challenge to score the one you want. Here is a tip for you! Most restaurants on property have a bar that takes walk ups. If you can't secure a reservation, you can ask to sit at the bar. You will often get lucky and score a seat there. You can still order from the full menu and enjoy the laid back atmosphere at the bar.
Throughout the year, Disney hosts ticketed events outside of regular park admission hours. These events usually come with extra privileges like extended park hours, shorter wait times and special treats. The Halloween events even allow you to dress up in the parks which is usually not allowed for adults. For locals, these events are a great way to avoid large crowds and have unique experiences in the parks. Look out for the Boo Bash this year, which will be a Disney after-hours event granting you access to Magic Kingdom after dark with a fun, spooky twist.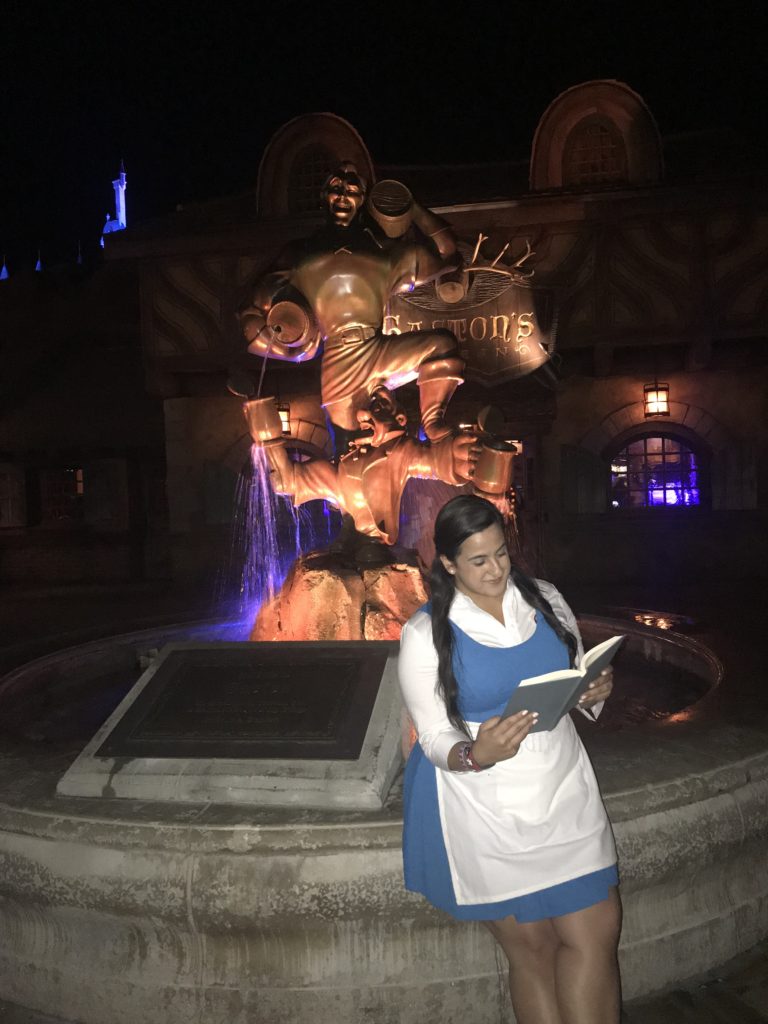 On a cool night in Orlando, Floridians are often looking for unique outdoor activities. Not only does Disney have traditional mini golf courses, but they also have a unique pro mini golf course where you can try your hand at an actual round of golf on a smaller scale. Fantasia Gardens and Fairways Miniature Golf is great for couples who are up for a challenge! Be prepared for sand, hills and water obstacles throughout.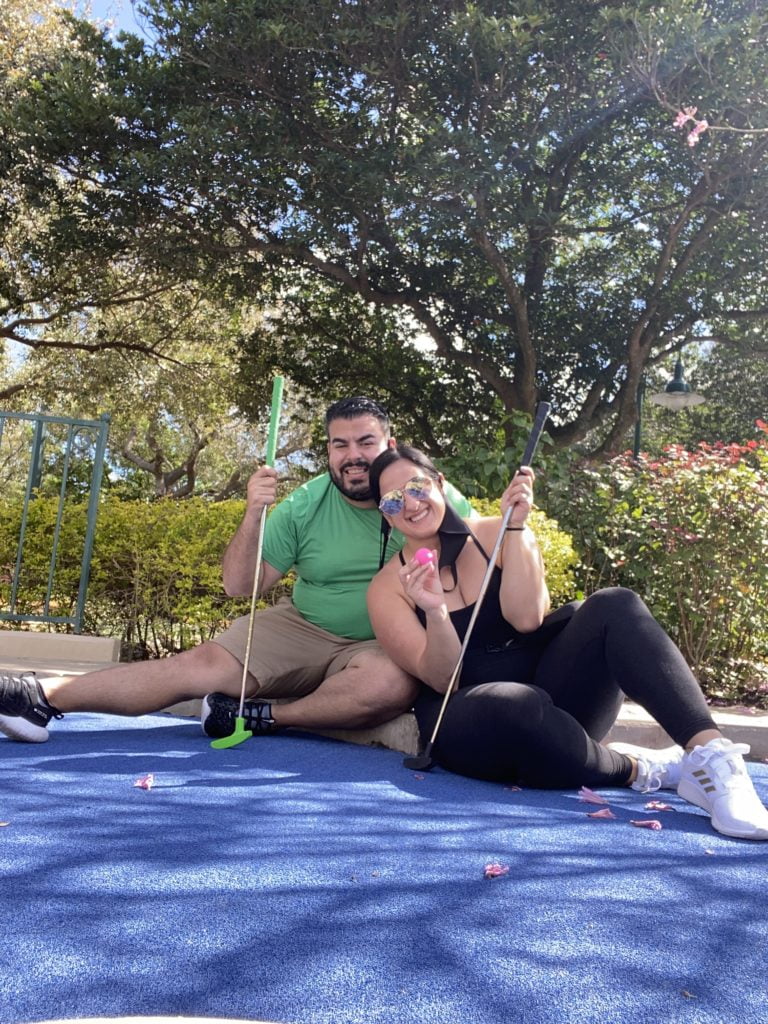 If you love a cheese board, you have to check out the most impressive one on Disney property. Wine Bar George is located at Disney Springs and their Big Board is something that dreams are made of. It features delicious cheese, meats and accompaniments. Pair it with their frozen Dole Whip drinks for the perfect elevated Disney date night. If the weather is nice, the outdoor tables on the balcony offer great views!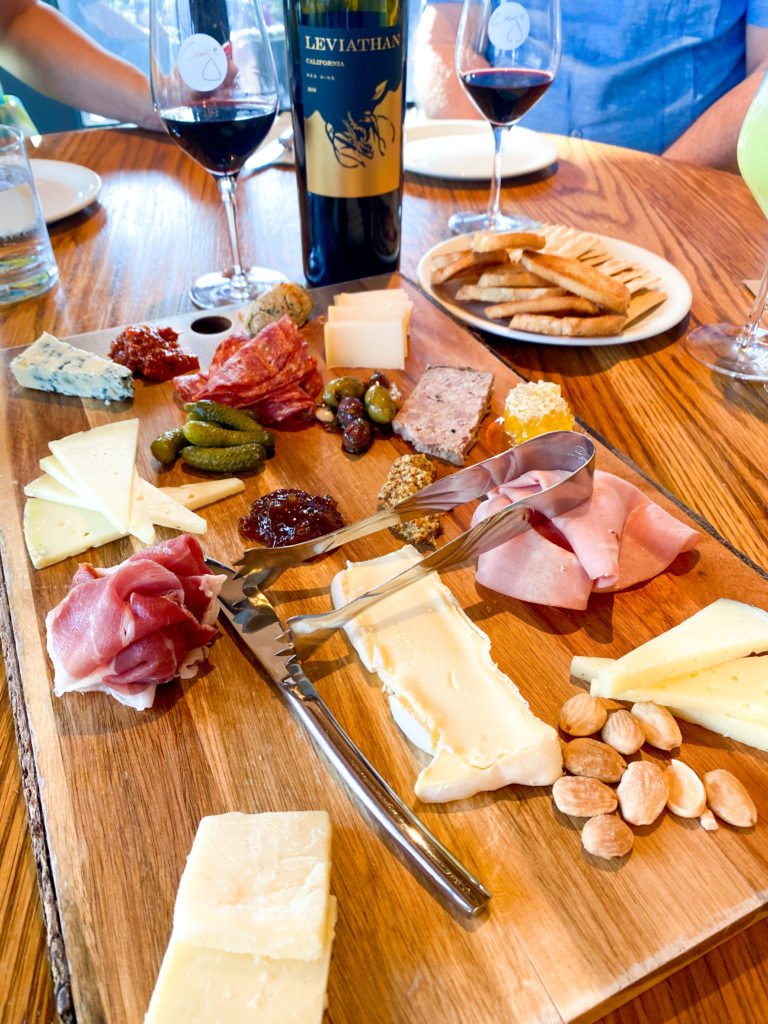 Accessible from the Boardwalk Resort, Disney's Boardwalk is open to guests staying on and off property. Set up like a traditional boardwalk, you can often find bike rentals, games, food options and even movies playing on the lawn around the water. See it all lit up at night for a great date night atmosphere. Be sure to stop at Abracadabar, a magic themed lounge, for magic themed drinks and the best fries on Disney property. You can catch the latest sports game at the ESPN club, too.
The Boardwalk is set to fully reopen in July, with the return of live entertainment plus the anticipated reopening of Jellyrolls, Disney's dueling piano bar, to follow shortly after. Drinks, live tunes and the infamous popcorn make for the perfect nightcap.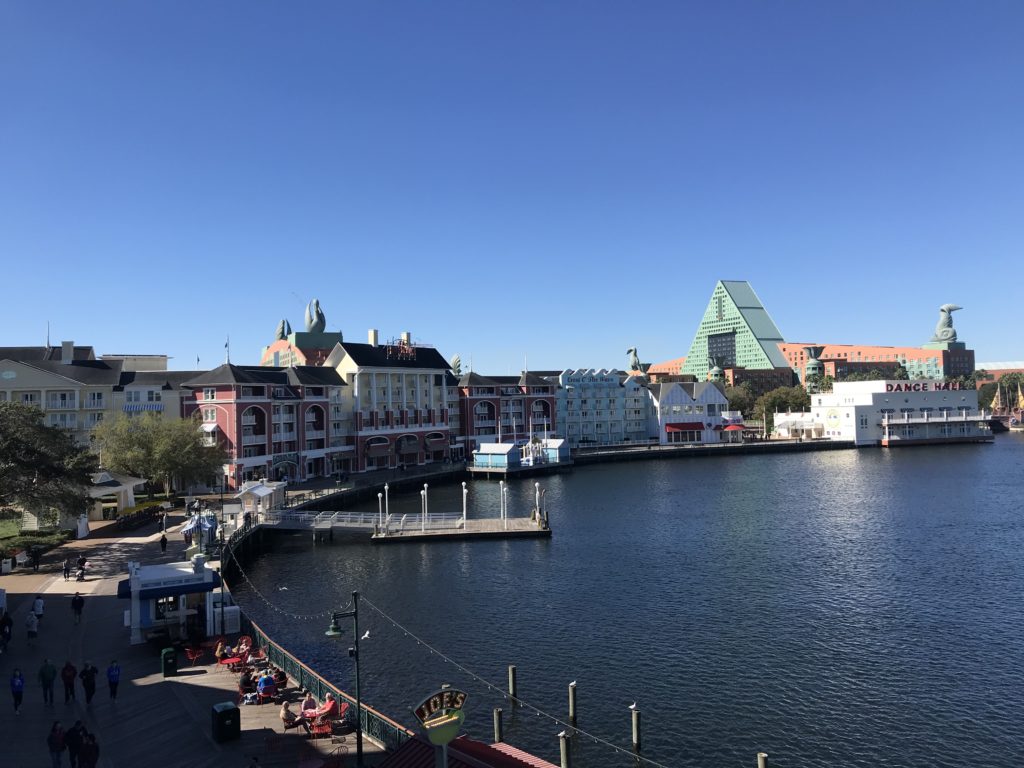 Did you know that Walt himself loved coffee? There are nods to him all throughout Disney, including readily available coffee everywhere you go. Disney is known for Joffrey's coffee, which is featured in the resorts and parks. Joffrey's has a variety of roasts and styles available but you have to try the featured lattes. For example, the Roaring Fork at the Wilderness Lodge has an out of the world s'mores iced latte. At Joffrey's in Disney Springs, you can top your coffee with a design like a mickey face or special message. You can also find Starbucks locations in the parks and Disney Springs.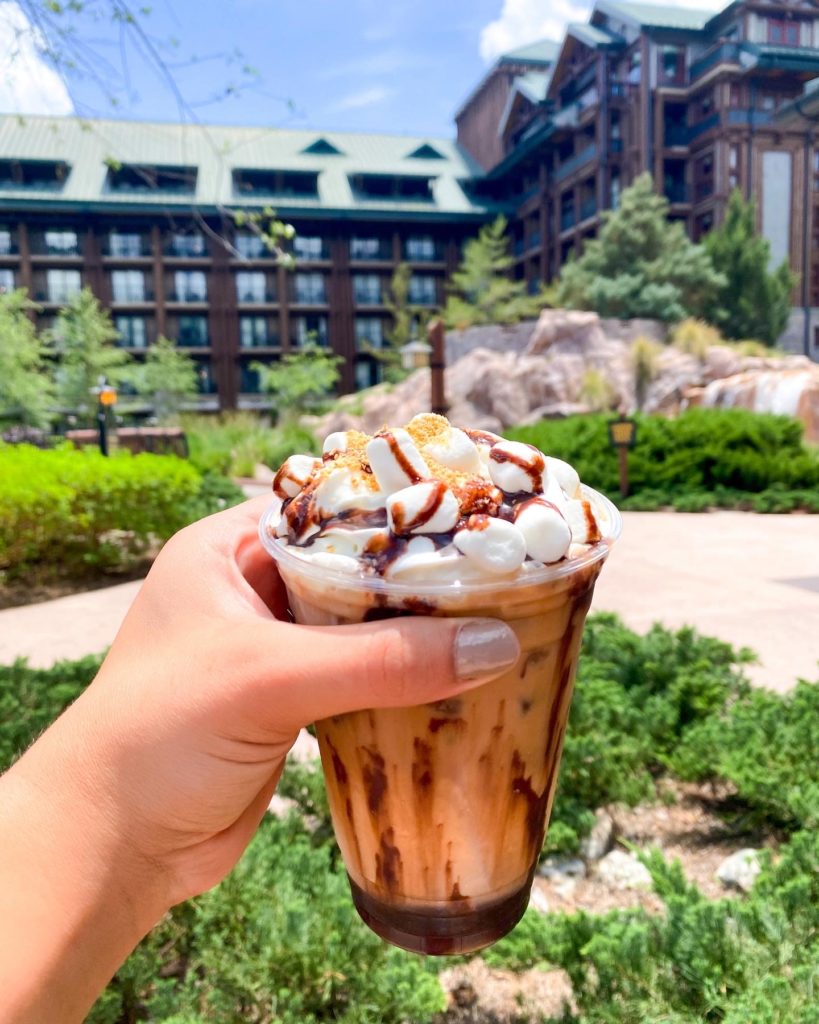 Get the Perfect Castle Picture
Here's a Disney date tip for couples who are looking to get that iconic Disney photo together. Everyone wants the perfect photo with Cinderella's Castle, but that means it can be a very crowded spot in the park. In order to get a great picture you either have to get to the parks early, stay very late or find a creative spot.
One of those creative spots can be found near Sleepy Hollow in Magic Kingdom. When you are facing the castle, there is a bridge on the left hand side that makes for a perfect spot. Walk to the bridge and you will get a side view of the castle with no people in the background.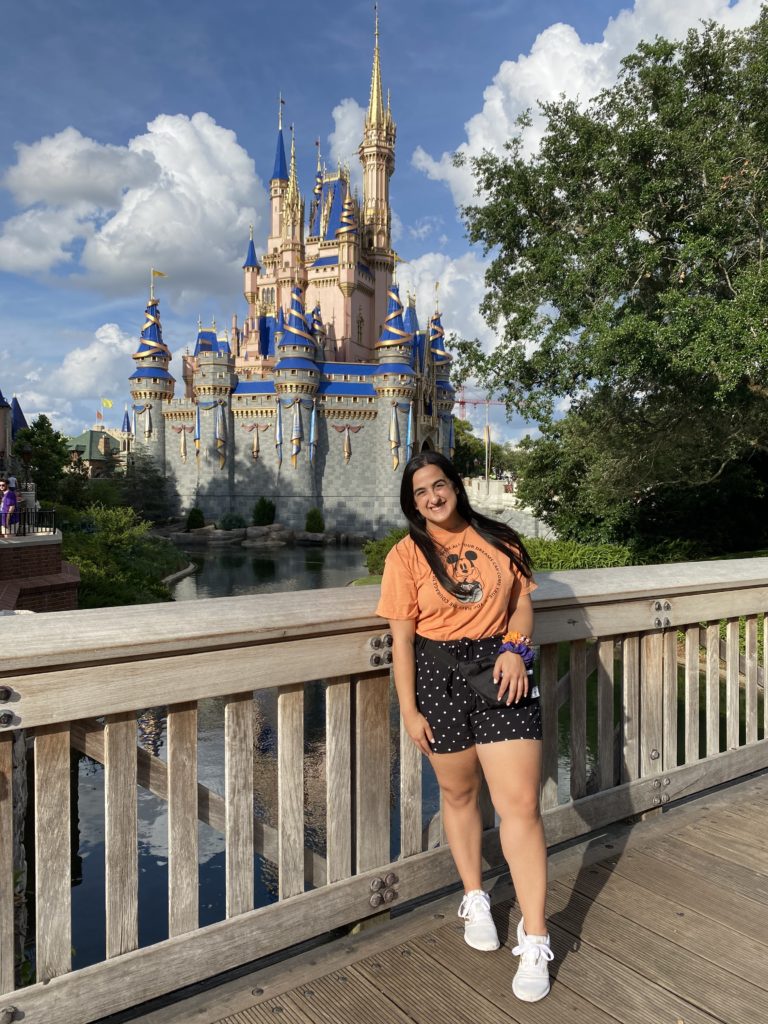 One of the best Disney dates I've ever gone on was during my first trip to Disney with my now husband. He rented a pontoon boat and we sailed the Seven Seas Lagoon for lunch on the water. You can dock the boat near Cinderella's Castle and enjoy lunch with a view. Boat rentals are by the half hour and are available at many Disney resorts. If you are up for a thrill, you can rent a Sea Raycer and go for an adventure on Disney waters. For a fancy date night, rent the Yacht One for your own private chartered yacht ride. Catch the fireworks and order Mickey Bars for a night you will remember!
*Note: boat rentals are temporarily unavailable
Follow along with Stephanie on TikTok and Instagram for more Disney date tips on how to make your next Disney visit a unique and magical one!
All images courtesy of @datingindisney