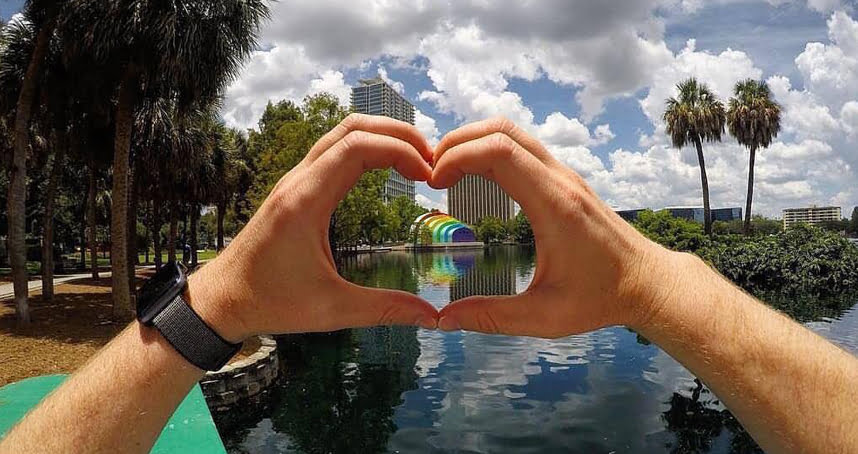 June 12, 2021 marks the 5-year anniversary of the tragic Pulse Nightclub shooting, a day that devastated—and united—the Orlando community. In honor of the 49 lives lost and all of those affected by the Pulse tragedy, we've put together this list of Pulse memorial events, exhibits, and more happening around the city to honor all of those affected by the events of June 12, 2016.
While the pain, hurt, and confusion will never subside, we continue to remember and honor those whose lives were lost by taking action, spreading love and kindness, and remaining united. And this year, the ability to be together again in person to honor and remember the survivors and victims carries even more meaning.
We will continuously update this list, so check back often for new information. And please leave us a comment if there's an event we've missed.
FIVE-YEAR PULSE REMEMBRANCE WEEK EVENTS (JUNE 5 – 12)
Fifth Annual CommUNITY Rainbow Run Benefiting onePULSE Foundation
June 5, 2021 | 7am
Wadeview Park, Orlando, FL, USA
The run follows a special 4.9K course and includes a "Remembrance Journey" guiding runners past the Pulse Interim Memorial along the 0.6-mile route victims took from Pulse to the Orlando Health Trauma Center in the early morning of June 12, 2016. Proceeds raised will benefit onePULSE Foundation.
$49
Straight Men Real Makeup
June 6, 2021 | 7:30-10pm
HÄOS on Church
Straight Men Real Makeup is an annual benefit event for onePULSE Foundation created and presented by Makeup and Creative Arts and Morphstore.com. Eight straight men will step out of their comfort zone and individually perform a choreographed routine to a song of their choice while dressed in full drag.
$10 – $49
An Evening of Reflection & Promise
June 7, 2021 | 7pm, doors open at 6pm
Frontyard Festival at Dr. Phillips Center
This evening will acknowledge the religious trauma carried by our LGBTQ+ community and create space to dream of a better future, of harm reduction, of greater understanding and inclusion. The program will include a panel of LGBTQ+ persons sharing their personal experiences, music from the Orlando Gay Chorus, remarks from Orlando Mayor Buddy Dyer and other local leaders, and representation from a variety of local faith and thought leaders.
FREE
My Portraits of Pulse: An Orlando United Story
June 8, 2021 | 8pm, doors open at 7pm
Frontyard Festival at Dr. Phillips Center
In 2016, the city of Orlando was changed forever by the shooting at Pulse nightclub. The loss of 49 souls from the LGBT and LatinX communities reverberated around the world. JD Casto a professional photographer, would go on to capture thousands of images in the weeks and months to come, experiencing events like no other person. This is the story of Pulse as told through his eyes. The Orlando Gay Chorus will add beautiful music to further illuminate JD's storytelling in an evening of song and reflection.
FREE
Overcoming Barriers Between the LGBTQ+ and Faith Communities
June 9, 2021 | 7pm
St. Luke's UMC; virtual option available via Zoom
Join St. Luke's UMC Diversity, Equity, and Inclusion Committee and the onePULSE Foundation for a conversation on Overcoming Barriers Between the LGBTQ+ and Faith Communities.
FREE
United We Dance
June 10, 2021 | 6pm
Church Street, in front of HÄOS on Church and Hamburger Mary's
Join HÄOS and Hamburger Mary's outside on Church St to honor and remember our 49 and give thanks to our First Responders and the people of The City Beautiful. "TO WATCH us DANCE is to HEAR OUR HEARTS SPEAK." And so we dance with DJ SCOTT ROBERT (PULSE ORL) in celebration of the love and light of the Orlando Community. Proceeds go to One Pulse Foundation and Unspoken Treasure Society.
$10; $50 for VIP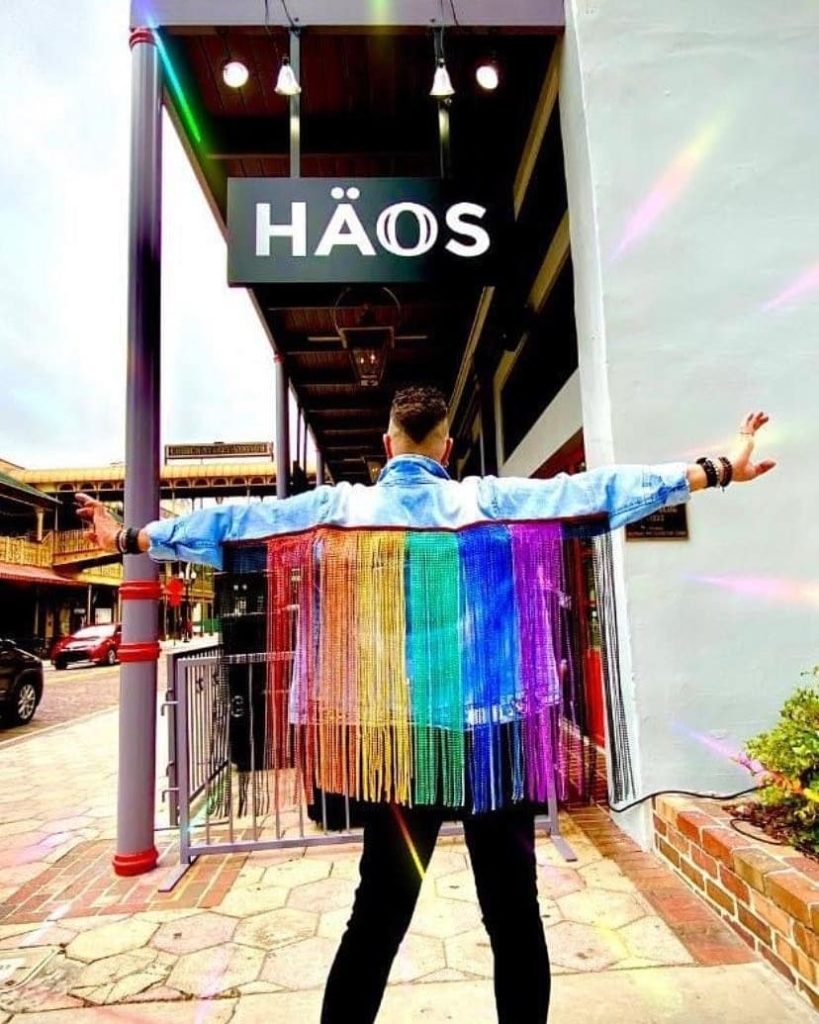 Inhala Exhala' – New Moon Yoga for Pulse Remembrance (5 Years After)
June 10, 2021 | 6-8pm
The Center
An event created to gather community members to practice restorative yoga as a way of channeling intentions. Five years after the Pulse tragedy, we pause to acknowledge our emotions and sow seeds of hope and transformation.
"Inhala Exhala" – New Moon Yoga for Pulse Remembrance es un evento creado para reunir a miembros de la comunidad para practicar yoga restaurativo como una forma de canalizar intenciones. Cinco años después de la tragedia de Pulse, hacemos una pausa para reconocer nuestras emociones y sembrar semillas de esperanza y transformación. ¡Únete a nosotros!
FREE
JUNE 12 PULSE MEMORIAL EVENTS
Ringing of the 49 Bells
June 12, 2021 | 12pm
First United Methodist Church – 142 East Jackson Street
On June 12, 2021 bells will toll 49 times in unison around the world as a tribute to the victims taken during the Pulse Nightclub tragedy.
FREE
Online Pulse Memorial Vigil
June 12, 2021 | 12pm
VIRTUAL event hosted by St. Luke's UMC
St. Luke's invites you to an online memorial vigil as we remember the lives lost in the Pulse tragedy. Head to St. Luke's Facebook page to watch this live streamed event and support the LGBTQ+ community in this time of grief by bringing light to our beloved city.
FREE
Pulse Remembrance – 5 Years Later
June 12, 2021 | 2-3pm
Abbey Bar – Downtown DeLand
Join DeLand Pride at Abbey Bar beginning at 2pm. From there we will walk down to the corner of New York and Woodland to honor those lost on the night of June 12, 2016 and all those affected by the shooting at the Pulse Nightclub in Orlando. Bring your signs and flags and wear a mask.
FREE
PULSE The 5-Year Remembrance
June 12, 2021 | 5pm
National Moderated Panel Discussion; 6 p.m. National Moment of Silence for 49 seconds. Presented by The Coalition For Pulse: 5 Years Later.
FREE
Legacy Work: 5-Year Journey after Pulse Tragedy
June 12, 2021 | 5-7pm
Virtual Event hosted byQLatinx
This event is intended for staff members of organizations that have supported survivors and community members affected by the Pulse tragedy 5 years ago. It is going to be facilitated by Yolanda Martínez-San Miguel, an experienced death doula that focuses her work on legacy projects.
FREE
Five-Year Pulse Remembrance Ceremony
June 12, 2021 | 7-8pm
Frontyard Festival at Dr. Phillips Center (livestream for general public of event from Pulse Interim Memorial)
On June 12 of each year, onePULSE Foundation holds an Annual Remembrance Ceremony at the site of the Pulse nightclub. The observance brings together the families of those whose lives were tragically taken and provides them a space to remember their loved ones in peace. We also honor all who survived, the brave first responders and our trauma teams who sacrificed so much to save so many. The general public is invited to watch a live stream of the annual ceremony at the Frontyard Festival™ at Dr. Phillips Center for the Performing Arts. The ceremony includes performances, comments from City of Orlando and Orange County representatives; onePULSE Foundation representatives; Pulse family members, survivors and first responders; and the Reading of the 49 Names by Pulse family members.
FREE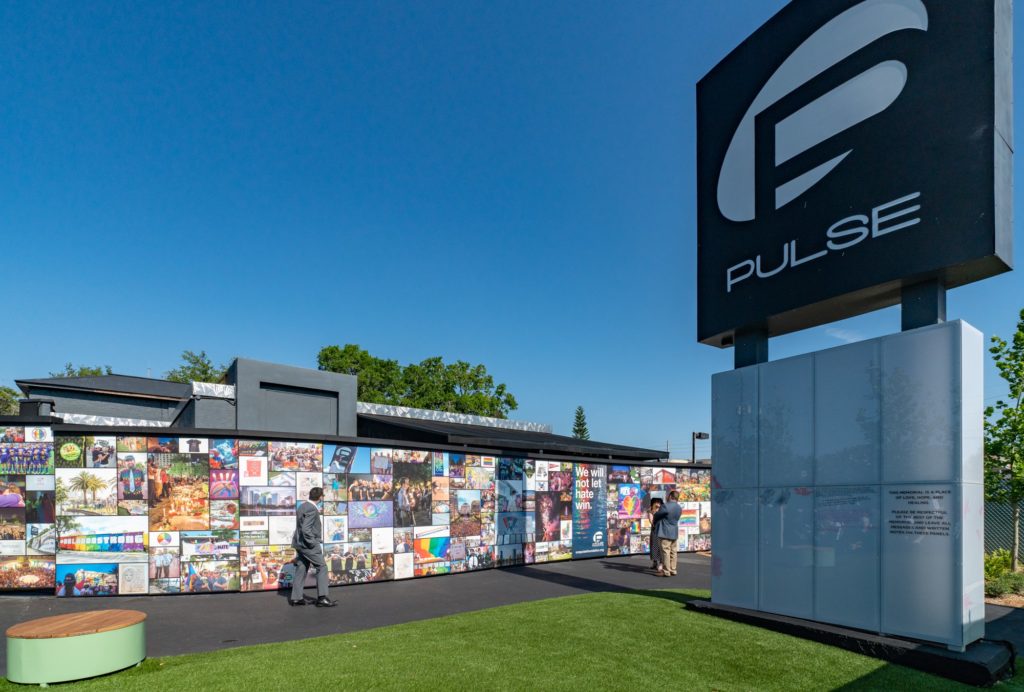 OTHER PULSE MEMORIAL EVENTS
UCF Remembers Pulse
June 10, 2021 | 7pm
UCF Student Union
UCF Remembers will honor the 49 lives taken at Pulse and celebrate the diversity and equality that unite us all. The event will have speakers from UCF students, staff, and Orlando Community Members, as well as a reading of the names of the 49 victims.
FREE
Pulse Memorial Candlelight Vigil (Ages 13-24)
June 11, 2021 | 6-8pm
Colonialtown Square
Join Zeba Coalition in honoring the 49 lives we lost with a vigil at the Pulse Memorial Labyrinth at Colonialtown Square. If you are ages 13-24 and would like to join, please meet us at the Zebra House (911 N Mills Ave, Orlando, FL 32803 ) between 6-7pm.
FREE
Community Care Rooms After Pulse Remembrance Events
June 13, 2021| 9am-noon & 1-4pm
Virtual Space
QLatinx is holding two virtual community care spaces on June 13th, 2021 for first responders, organizations' staff, and the community in general.
FREE
Brews for Drew: Dine N' Drag
June 13, 2021 | 2-6pm
Burton's Thornton Park
Join The Dru Project to celebrate the life of Drew Leinonen, honor our scholars, and raise more money for LGBTQ+ youth! Enjoy a beer pong tournament, drag performances, an auction, and more!
FREE
Orlando Pride Match "Mission Rainbow"
June 20, 2021 | 6pm
Exploria Stadium
Celebrate our true colors, as we remember those lost in the Pulse tragedy five years ago and celebrate love in the City Beautiful.
$16 and up
Orlando City Match "Pride in Our City"
June 22, 2021 | 7:30pm
Exploria Stadium.
Show your pride in our city, as we remember those we lost in the Pulse tragedy and celebrate love in the City Beautiful.
$16 and up
EXHIBITS, MURALS AND INSTALLATIONS
Community: Five Years After the Pulse Tragedy
On exhibit May 29 – August 15, 2021
Orange County Regional History Center
This remembrance exhibition examines how communities of all kinds were touched both locally and across the globe. Visitors will follow the story of Pulse nightclub, from its earliest conception through 2016, as well as the response to the devastating event and the lasting impact in the time since. To ensure that this exhibition is accessible to the entire community, admission will be free June 5 -13. The white memorial crosses will be available for viewing June 11-13.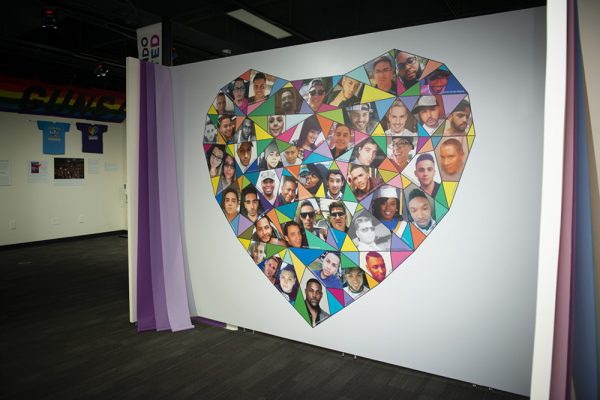 Together we Remember: Stars of HOPE, turning tragedy into hope after five years
On display June 3 – 30, 2021
The Center
Stars of Hope® USA is honored to present an art installation in remembrance of the lives taken at Pulse nightclub on June 12, 2016, by inviting viewers to look up at the stars. This art show opens on June 3 from 6-8pm. In this exhibition, 'Together Again,' artist Kim Murphy provides the Orlando community with an opportunity to come together and remember the beautiful lives of the 49 people who were taken from us five years ago.
FREE
Pulse Interim Memorial
Open daily from 7:30am-midnight (extended hours during Pulse Remembrance Week)
1912 South Orange Avenue
Establishing a sanctuary of healing and a beacon of hope by memorializing the lives taken, the lives saved and all the lives affected by the Pulse Nightclub tragedy of June 12, 2016 – ensuring Pulse's legacy of love lives on.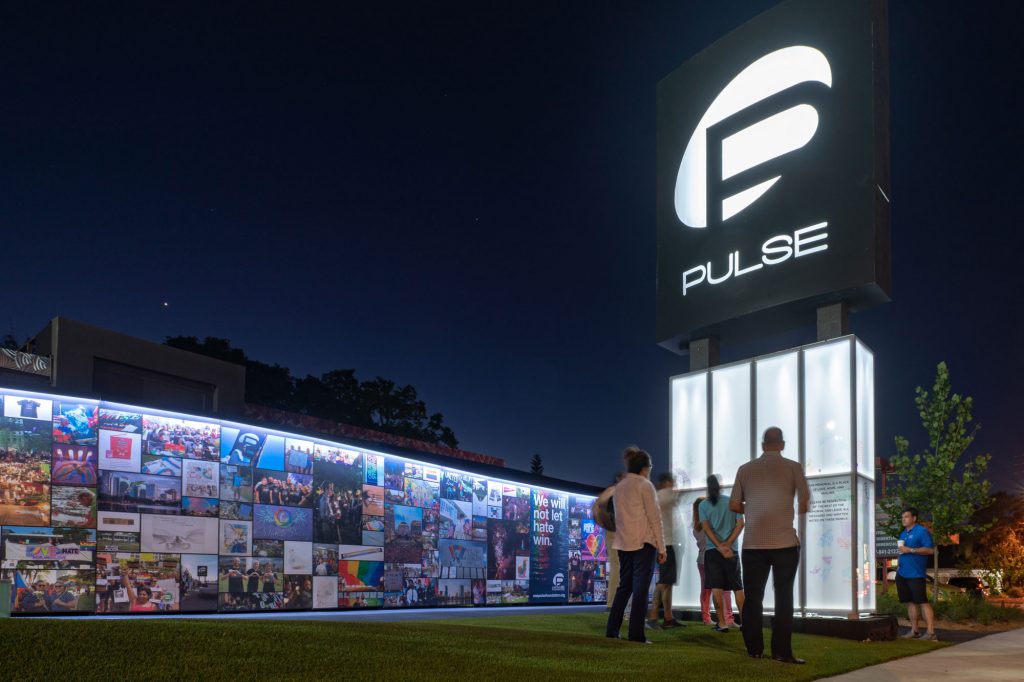 Colonialtown Labyrinth
Open from sunup to sundown
820 N. Ferncreek Avenue
Meditation labyrinths are used as a path for healing. Intentional walking in a quiet place on a set path allows for a level of focus and release. The Colonialtown labyrinth had been planned, but the names of the Pulse victims and the fractured heart were added at the request of the Colonialtown Neighborhood Association. The labyrinth was constructed with Capital Improvement Funds from Orlando District 4 Commissioner Patty Sheehan.
Orlando Health
Lake Beauty Drive
The forty-nine limestone pavers feature the names of the 49 Angels lost in the Pulse Nightclub tragedy, just around the corner from the hospital. The pavers have been placed in a circular design around the hospital's entryway fountain, forming a memorial garden at Lake Beauty Park on the Orlando Health campus.
Murals:
#OrlandoStrong mural by @luceskyart and @hepsfury at Pho Hoa, 649 Primrose Drive
Love Orlando Orange mural by @rhettwithey and @ashleybgraphics at Pho Hoa, 649 Primrose Drive
#OrlandoStrong mural by Track Shack staff and volunteers at Track Shack garage, 1050 N. Mills
Orlando Strong mural by Ric Sosa at The Center, 946 N. Mills
Love Wins mural by Patty Sheehan and Zebra Coalition youth at 948 N. Mills
We Matter mural by Patty Sheehan and Zebra Coalition youth at Zebra House, 911 N. Mills.
You Mattered mural by Andrew Spear at iFixYouri, 1200 E Colonial Drive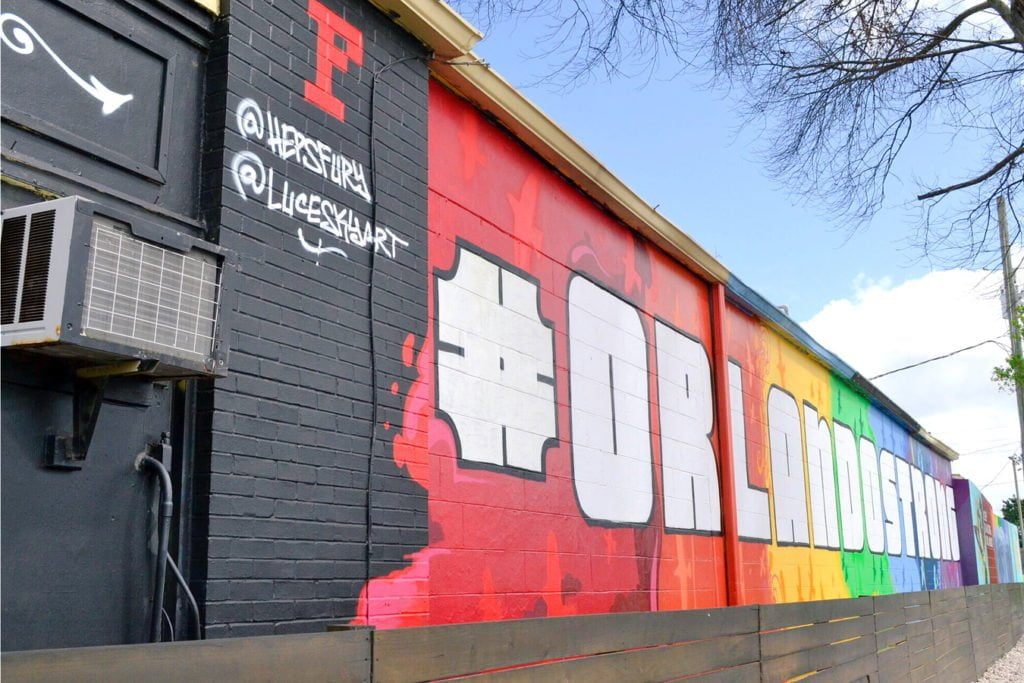 GET INVOLVED
Support an LGBTQ+ Supporting Organization. The One Orlando Alliance list is a good place to start.
Make a donation to the onePULSE Foundation, The Dru Project, Contigo Fund, Better Together Fund or The 49 Fund.
Donate blood. UCF is also hosting a blood drive on June 9, 2021. Details here.
Read the stories of the Orlando 49 in this series from Orlando Weekly. You can also view the names of the 49 victims here.
Do you know of an event, memorial, or project that we missed? Please share it with us and we'll get it added to this listing.
Feature image credit: @chriskernstock